Monster Energy Supercross—The Official Videogame Released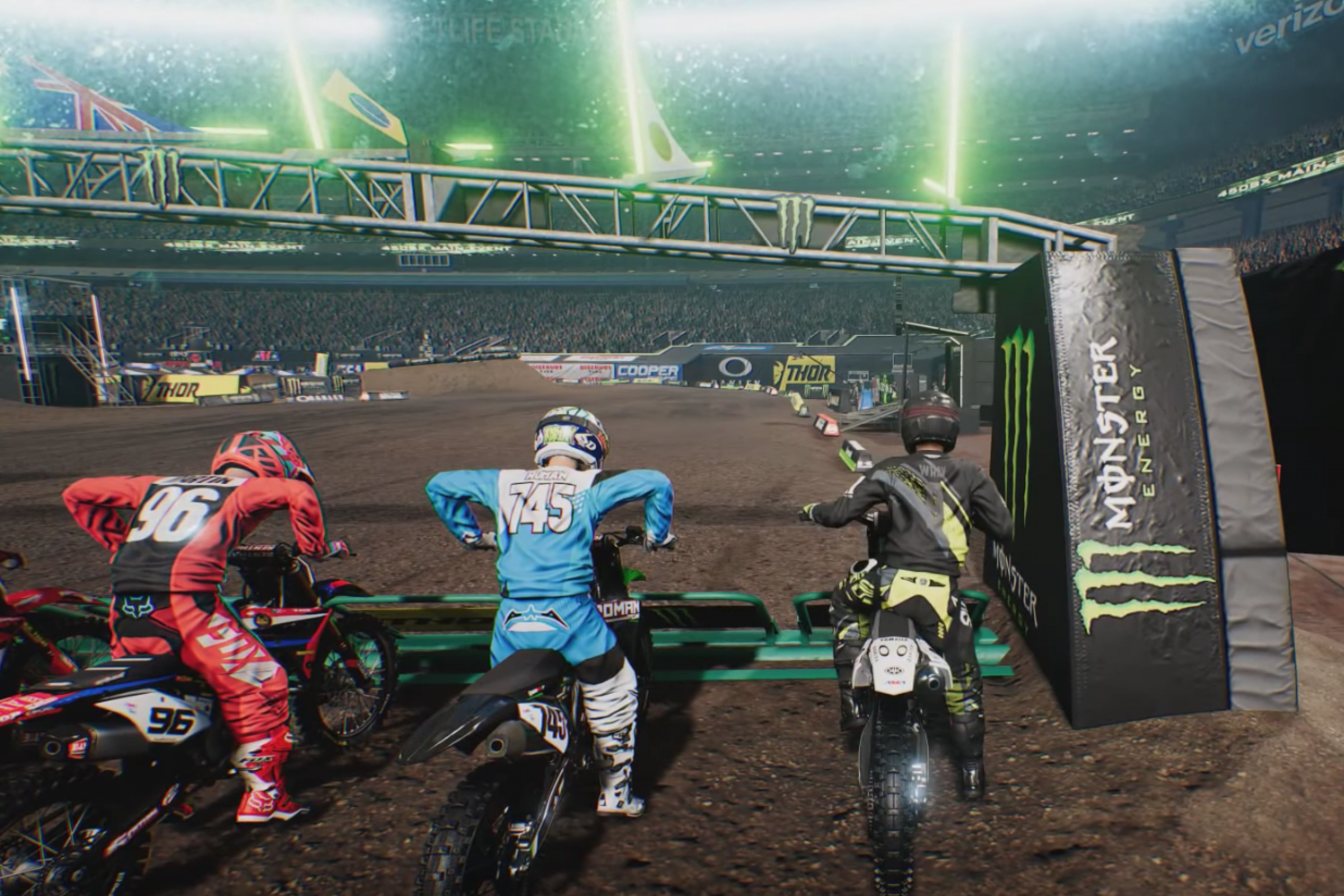 MILAN, Italy — The time has come: Monster Energy Supercross—The Official Videogame is now available in stores and on digital for PlayStation 4, Xbox One, Windows PC/STEAM, and Nintendo Switch.
Starting from today, users can purchase also the Monster Energy Supercross Season Pass for $14.99 to get additional exclusive content. The Season Pass, which is available for PlayStation 4 and Xbox One, includes five DLCs in total, three of them available at launch:
A DLC with 60 liveries—10 for each manufacturer —and 10 rider tracksuits to customize bikes and riders
An exclusive set of 15 additional icons and 15 butt patches to further expand your customization options
The Credit Multiplier DLC
Shortly after, users will get access also to two additional DLCs:
Monster Energy Cup, set to offer all fans the exact replica of the 2017 Monster Energy Cup track at Sam Boyd Stadium in Las Vegas for both offline and online modes
Compound, a training space with two new tracks for players to train on supercross and motocross circuits.
Featuring innovative track designs and set inside recognizable and prestigious stadiums, Monster Energy Supercross—The Official Videogame is the most realistic and immersive supercross fan experience.
Key features include:
The official 2017 Monster Energy Supercross Season
Official bikes, iconic tracks, including Daytona, and athletes from both 250SX and 450SX Classes: Chad Reed, Ken Roczen, reigning champion Ryan Dungey, and others will race across official challenging tracks
An exciting career mode with extreme customization options for customizing both riders and bikes with the maximum flexibility to advance in racing classes
A powerful track editor for endless gameplay possibilities. Thanks to the track editor, players can create their own custom tracks, race on them, and share them online. Once uploaded on the server, users can "like" other gamers' creations, vote on their favorite tracks, and increase the prestige of the track designer.
Top-notch graphics for a world-class game quality and a next-level immersive experience
Online modes, with multiplayer for up to 12 players who can ride on both official and custom tracks
The track editor and online modes will only be available on PlayStation 4, Xbox One and Windows PC/STEAM.
Standard Edition of Monster Energy Supercross—The Official Videogame is available for PlayStation 4 and Xbox One for $59.99, while the Special Edition, including Full Game and Season Pass, is $69.99. The game for Windows PC/STEAM is available at $49.99 and for Nintendo Switch at $59.99.
The Supercross Championship also released on mobile platforms, with the app Monster Energy Supercross Game now available on iOS.
Follow us on:
Website: www.supercrossthegame.com
Facebook: facebook.com/SupercrossTheGame
Instagram: Instagram.com/supercrossthegame
Hashtag: #supercrossthegame