Jacob Hayes Takes Over Points Lead With Win in Madison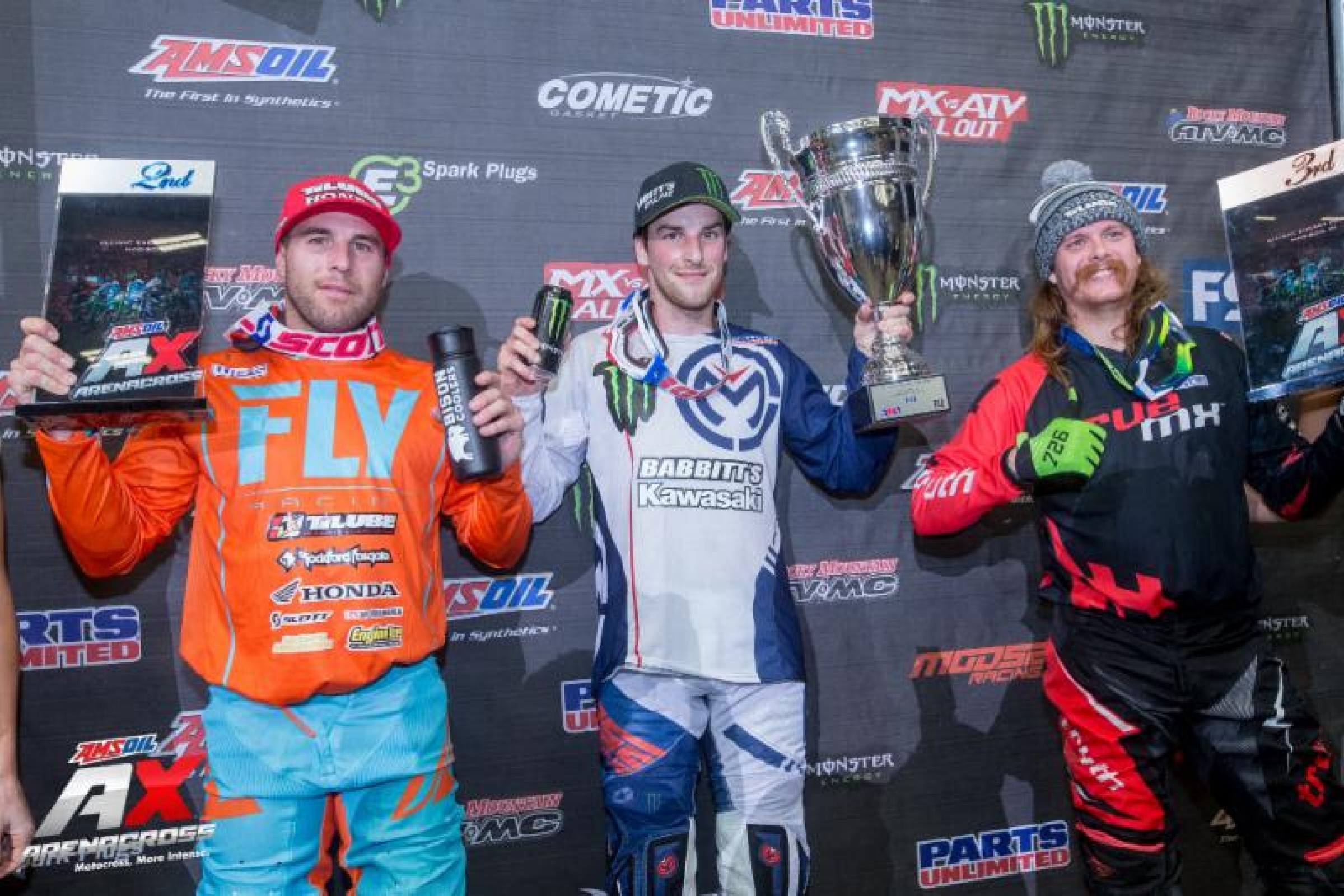 MADISON, Wis., - AMSOIL Arenacross returned to the Alliant Energy Center after a six-year hiatus where fans witnessed Jacob Hayes clench both 250AX Main Event wins and take over the points lead from two-time reigning AMSOIL Arenacross champion, Gavin Faith. Faith took the Rocky Mountain ATV MC Head to Head Challenge victory over Hayes.
The first 250AX Main Event started off with a first turn pileup and the red flag coming out, forcing a full gate restart. Key riders in this pileup such as Daniel Herrlein and Gavin Faith did not line up again for the second start for Main Event 1. The second start for Main Event 1 saw Hayes grab the holeshot and lead all 15 laps for the first Main Event win.
The second 250AX Main Event saw similar with Team Babbitt's Monster Energy Kawasaki rider, Hayes, lead the entire 15 laps to the checkered to take his second overall victory of 2018. TiLube Rockford Fosgate Honda's Chris Blose finished with a pair of 2's right behind Hayes for second overall and Gared Steinke went 3-3 to finish third place overall.
In the AX Lites East Class Main Event, TiLube Rockford Fosgate Honda's Heath Harrison got the holeshot and never looked back, taking the Main Event victory. Harrison's teammate, Jared Lesher, finished second and GPF Babbitt's Online rider Isaac Teasdale rounded out the top 3.
250AX Class Main Event Results
1. Jacob Hayes, Greensboro, N.C., Kawasaki (1-1)
2. Chris Blose, Phoenix, Ariz., Honda (2-2)
3. Gared Steinke, Woodland, Calif., Kawasaki (3-3)
4. Kyle Bitterman, West Pelzer, S.C., Kawasaki (4-5)
5. Heath Harrison, Silverhill, Ala., Honda (7-4)
6. Kevin Moranz, Topeka, Kan., KTM (9-7)
7. Lane Staley, Chillicothe, Ohio, Kawasaki (5-11)
8. Jacob Williamson, Swartz Creek, Mich., Kawasaki (10-8)
9. Gavin Faith, Duncombe, Iowa, Kawasaki (15-6)
10. Shane Sewell, Westville, Ind., Kawasaki (6-13)
250AX Class Championship Standings
1. Jacob Hayes, Greensboro, North Carolina, Kawasaki (158)
2. Gavin Faith, Duncombe, Iowa, Kawasaki (145)
3. Chris Blose, Phoenix, Arizona, Honda (144)
4. Gared Steinke, Woodland, California, Kawasaki (115)
5. Kyle Bitterman, West Pelzer, South Carolina, Kawasaki (97)
6. Jacob Williamson, Swartz Creek, Michigan, Kawasaki (94)
7. Shane Sewell, Westville, Indiana, Kawasaki (92)
8. Daniel Herrlein, Bethesda, Ohio, KTM (83)
9. Heath Harrison, Silverhill, Ala., Honda (64)
10. Lane Staley, Chillicothe, Ohio, Kawasaki (50)
AX Lites East Class Main Event Results
1. Heath Harrison, Silverhill, Ala., Honda
2. Jared Lesher, Ball Ground, Ga., Honda
3. Isaac Teasdale, Robbinsville, N.C., Kawasaki
4. Jyire Mitchell, Devonshire, Bermuda, Yamaha
5. Mason Kerr, Altoona, Iowa, Kawasaki
6. Tanner Basso, Alpine, Calif., Yamaha
7. Hunter Hilton, Youngsvilla, La., Kawasaki
8. Tanner Stack, Shawnee, Kan., Yamaha
9. Preston Taylor, Hastings, Neb., Kawasaki
10. Tanner Ward, Woodstock, Ontario, KTM
AX Lites East Class Championship Standings
1. Heath Harrison, Silverhill, Alabama, Honda (71)
2. Isaac Teasdale, Robbinsville, North Carolina, Kawasaki (66)
3. Garrett Marchbanks, Coalville, Utah, Kawasaki (47)
4. Josh Mosiman, Menifee, California, Husqvarna (28)
5. TJ Albright, Mount Marion, New York, KTM (26)
6. Tanner Ward, Woodstock, Ontario, KTM (25)
7. Tanner Stack, Shawnee, Kan., Yamaha (14)
8. Tanner Basso, Alpine, Calif., Yamaha
9. Jeremy Hand, Mantua, Ohio, Honda (21)
10. Jyire Mitchell, Devonshire, Bermuda, Yamaha (20)