Welcome to Racerhead, five races into the 2018 Monster Energy AMA Supercross Championship, with one more to go in California before everything heads east. It's been a very entertaining series so far with lots of twists and turns, as well as a surprising rise of title contenders.
Think about if someone told you two months ago that the top six as we near the one-third mark of the tour would be: 1) Jason Anderson; 2) Ken Roczen; 3) Justin Barcia (and on a factory Yamaha!); 4) Cole Seely; 5) Justin Brayton; 6) Weston Peick…. Back around Thanksgiving, people were still speculating if Roczen would even be out there, let alone nearly as fast as he was when 2017 started. Sure, Anderson and Seely are not that big of a surprise, but not seeing Marvin Musquin or Eli Tomac up there is the bigger shock. Both will be digging out of the holes they're in for many races to come, to the tune of -42 points for Marvin and -52 for Eli, after starting the series as the co-heirs apparent to Ryan Dungey's abdicated throne.
And then there's last weekend's main event on a tricky, challenging Oakland track, which gave us a last-lap duel for the win between Rockstar Racing Husqvarna's Anderson and HRC Honda Factory Racing's Roczen. You could see how badly both wanted that win—especially Roczen. He came up short, but the way both rode bodes well for their near and distant futures. Same goes for Yamalube/Star Racing's Aaron Plessinger, who won that 250SX main event while fighting the flu—and it showed in his eyes and body language afterward that the flu was maybe winning. I've been saying it since AP was an amateur: he's going to be even better when he gets on a 450, just like he was as back then.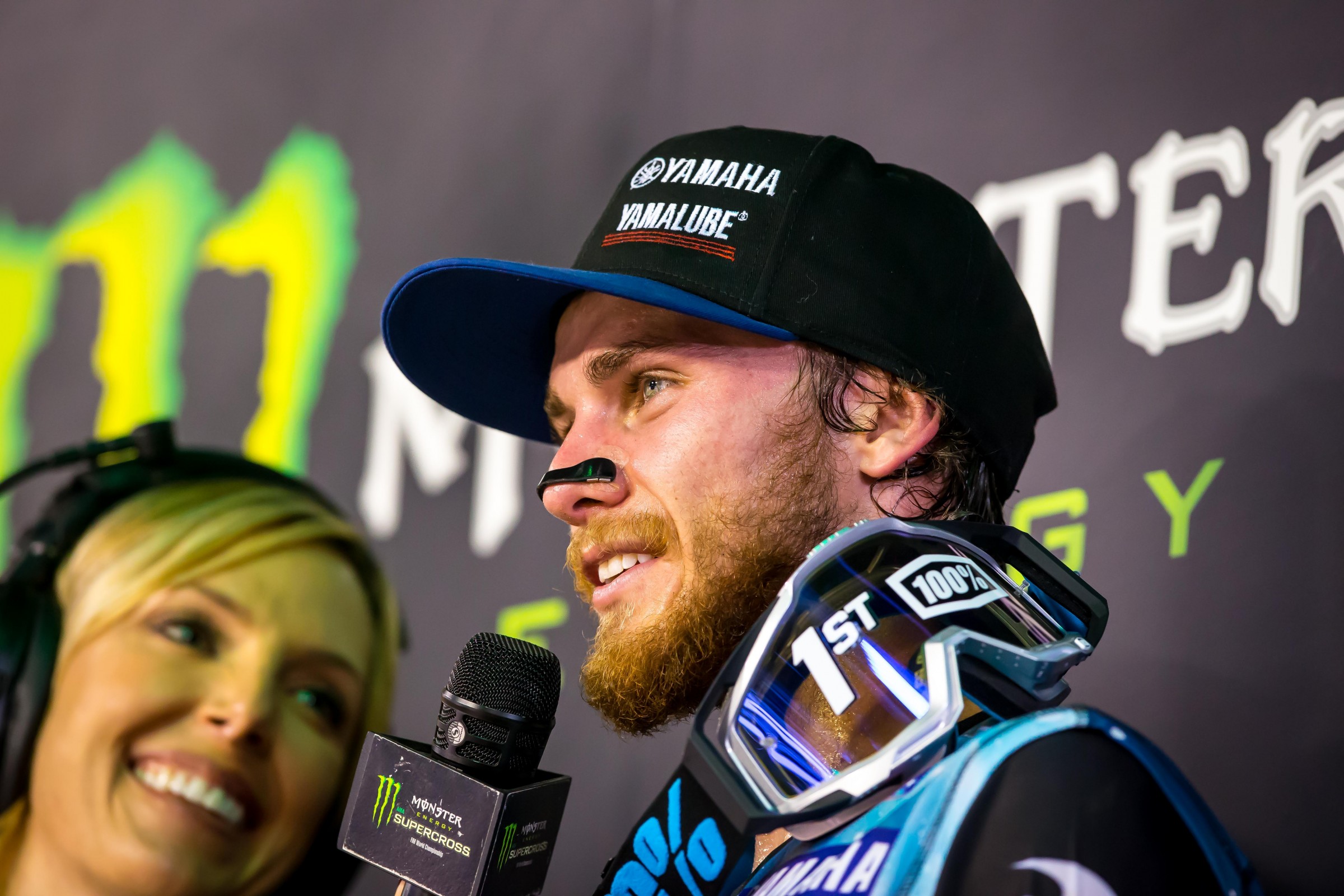 Finally, before we get into the week that was, congratulations to Davi Millsaps on reaching the end of his professional racing career. I've been lucky enough to know Davi since his Cobra days, and he's always been fast and funny. I remember his minicycle days when his dad used to show up at the races with a parrot on his shoulder, the feuds with the Alessis, his mom Colleen's rise as a coach, the huge expectations on him to win immediately in supercross, and, of course, that neck donut he wore under his helmet. He had to overcome injuries time and again, and his messy departure from Kawasaki after breaking team rules in 2015 was a chapter he'd certainly rather forget. Beyond that, Davi won races at every level, and while he didn't quite get the championships many thought he would, he enjoyed a long and prosperous career. He will be missed at the races by fans and us media types alike. We'll have more about his career down below. Good luck to Davi and his family with whatever comes next.
Okay, here's Racerhead.
Anderson Evolution Part 5 (Jason Weigandt)
In what now feels like a recurring weekly feature in Racerhead, I'm reporting on another stride taken by Jason Anderson. Hi Oakland win was great, and I talked to Aldon Baker this week to got some insight. This year, Anderson is really trying to be precise in his riding—a contrast to his usual hang-it-out style. What does that mean? Instead of just smashing things, he's trying to hit his marks, be smooth, and follow the right lines. But Jason felt he actually tried to be too precise in Glendale, and that's why he uncharacteristically went backward after a good start and could only pull himself back to fourth at the finish. He tried the precise thing again in Oakland and it wasn't working, as he struggled in practice, especially after that huge crash. He spent the day trying to figure it out: should he be precise and just try to find lines and hit his marks perfectly in the ruts, or should he just smash everything? In the main event, he found the right approach by hanging it out a little more and just trying to go fast the way he used to. It worked.
Baker doesn't consider soft, rutted tracks the best conditions for Anderson because they usually reward the precise guys, not the guys who hang it out. Anderson figured it out, so that's a big step for him. Maybe he ditched some of the "must be precise and smooth at all times" plan, but clearly some of those new skills are still in place.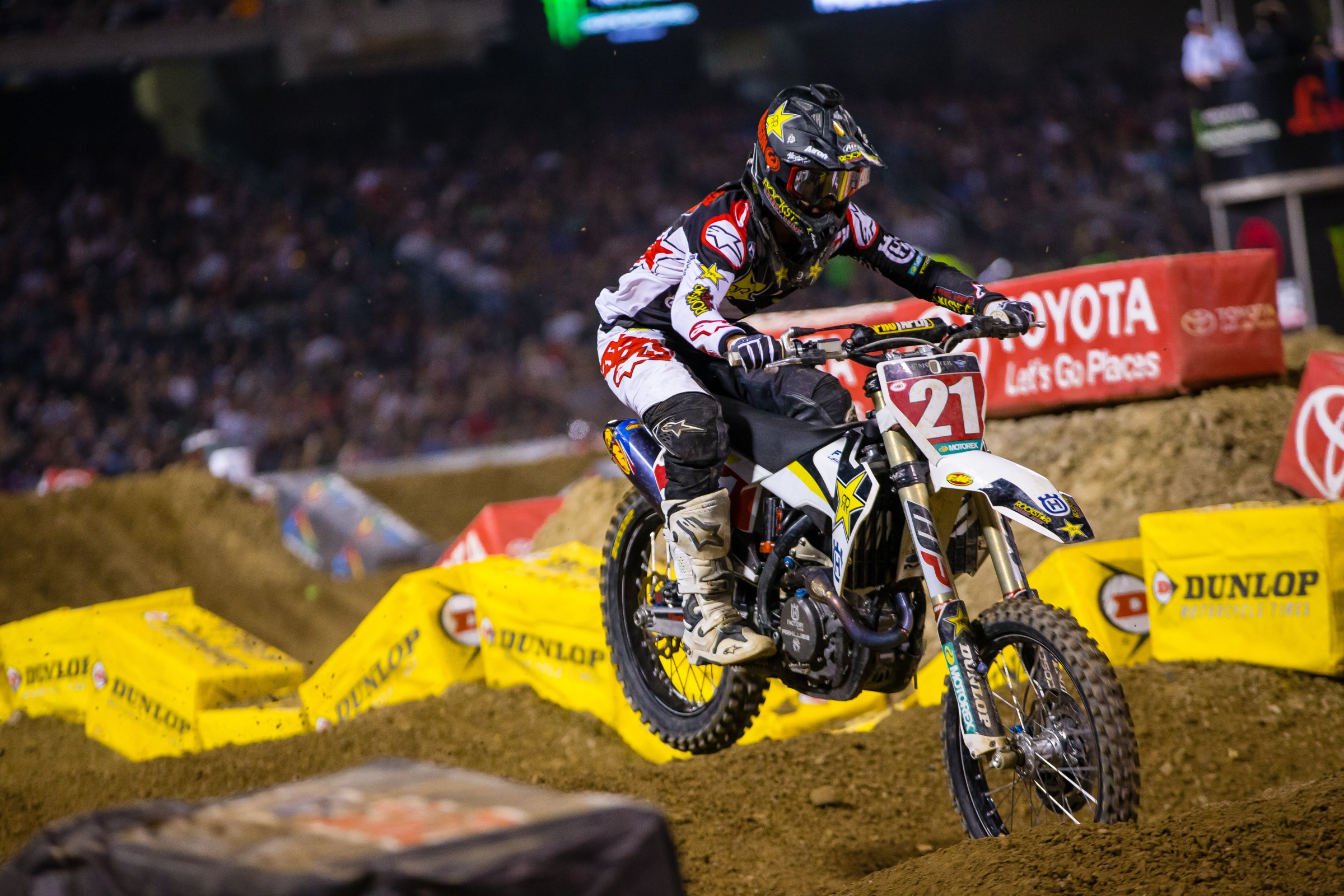 I also asked Aldon about Marvin Musquin's struggles in the whoops. He thinks part of the problem is that Marvin is so good at jumping the whoops that he sometimes gets caught, unsure of which technique to use: should he jump or skim? A rider has to be fully committed heading into the whoops, but sometimes Marvin tries to make a decision at the last moment instead of just going for it.
Aldon says there was no tension between his riders this week despite last weekend's pass, where Anderson came into contact with Musquin and left Marvin on the ground. Aldon says they just "ran out of room" in the corner because of the inside line Jason was taking through the whoops, which then forced him to the outside on the exit of the corner. I reported that on Wednesday and immediately heard from many people saying they're not buying that and that Aldon is just trying to calm the situation down.
I asked Aldon two things for proof. Did the two interact this week as they normally do? He said yes, and he didn't have to sit anyone down and make anyone apologize to anyone. Second, I asked if we should expect some kind of retaliation from Marvin, and Aldon said no, because Marvin understands that type of retaliation riding isn't really good for anyone. He also said Marvin isn't really good at that type of thing anyway.
I've talked to Baker extensively this season about the Musquin-Anderson relationship, and he assures me that with them, and all of his clients, there must always be respect. He says the respect is still there this week and everything is fine. We're moving on to San Diego!
SELENA 'SHOPPED (DC)
The online moto community received a nice little gift this week when pop star Selena Gomez's moto-photo cover shoot for Bazaar fashion magazine was released. She's featured on the cover and inside the book posing in gowns and high-end fashion while freestylers, led by "Cowboy" Kenny Bartram, jump and ride all around her.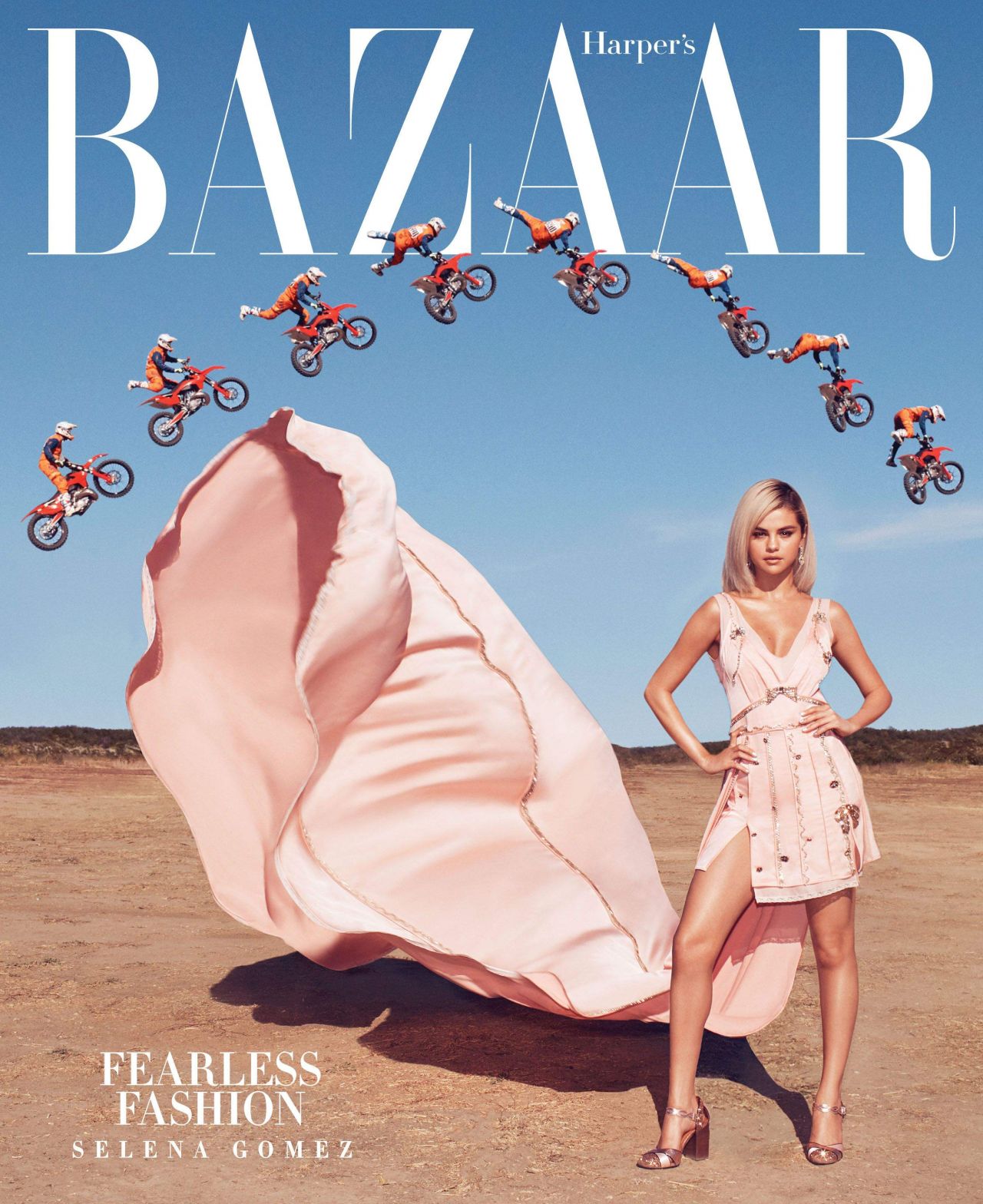 But inside the magazine there is one shot of Selena that seems to be cleverly Photoshopped, where the rider is popping a wheelie and she's nonchalantly hanging off the back of his bike. That inspired some more Photoshopping by a few friends in the actual moto industry that were pretty damn funny, as you can see here:
BAGGETT BREAKS THROUGH (Matthes)
Rocky Mountain ATV/MC-KTM-WPS rider Blake Baggett grabbed his first podium of the year in Oakland with a calm and steady ride. I was talking to Blake before practice and mentioned that I hadn't, outside of the Triple Crown race, seen him up front off the start in any mains. He agreed with me but pointed out his starts in the heats have been good. Last season it seemed that Baggett had more raw practice speed than we've seen this year, but in Oakland he was back to bouncing around the board with good times. A few weeks ago I talked to team manager Michael Byrne, and he was encouraged with some bike changes the team made and thought it would pay off soon. Remember, this KTM 450 SX-F Factory Edition machine is pretty different than last year's model. So it took a few races, but Byrner's faith in the changes paid off.
Baggett now has three career 450SX podiums: one in Daytona, one last year in Atlanta, and now Oakland. Two of the three tracks were rutty and leaned more toward an outdoor-ish type of feel, which is where Baggett shines. I don't think that's a coincidence, and I asked Blake about that afterwards in Oakland.
"I think the hard-pack, super-slick flat tracks hurt me a little bit," he said. "I think the ones that are more rutted and a little gnarlier help because, like you say, it's more like outdoors. I don't want to be an outdoor-only guy, but that's just kind of where I'm comfortable. When it's nasty, rutted … just nasty, that's when I'm comfortable. I felt really comfortable tonight all the way and was just plugging away. I hit my marks. I was trying not to make any mistakes, and I felt like I was fast. I felt like I was right there."
He's definitely not, as he says, an "outdoor-only" guy, because he's gotten many top-fives in his 450SX career, but yeah, the gnarlier the track, the better it is for the #4.
HOT FRESH PULP LINKS
Want to know what former factory star David Vuillemin thinks of what happened at Oakland? Well, you're in luck! It's all right here.
Our own Cory Moser texted back and forth with Scott Champion about what it was like to come up Just Short in Oakland here.
Kris Keefer watched Oakland SX alongside former 125SX champion Travis Preston and this is what he thought of the race.
Heroes and Humanity by Swizcore here.
The Book Closes for Davi Millsaps (Andras Hegyi)
With the announcement of Davi Millsaps' retirement, here's a look at what he posted in the record books as we close his chapter.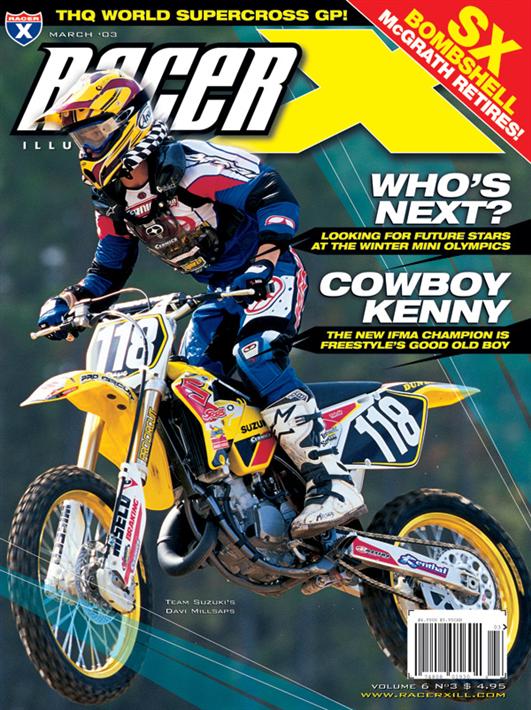 After racing his first two professional seasons with Suzuki, Millsaps switched over to Team Honda in 2006. In his first Honda season, Millsaps earned his first title in the East Region Lites Supercross. It was Honda's first East Region championship since Doug Henry in 1993. But the most important thing was that Millsaps gave the Honda CRF250 its first championship in any AMA professional motocross and supercross series.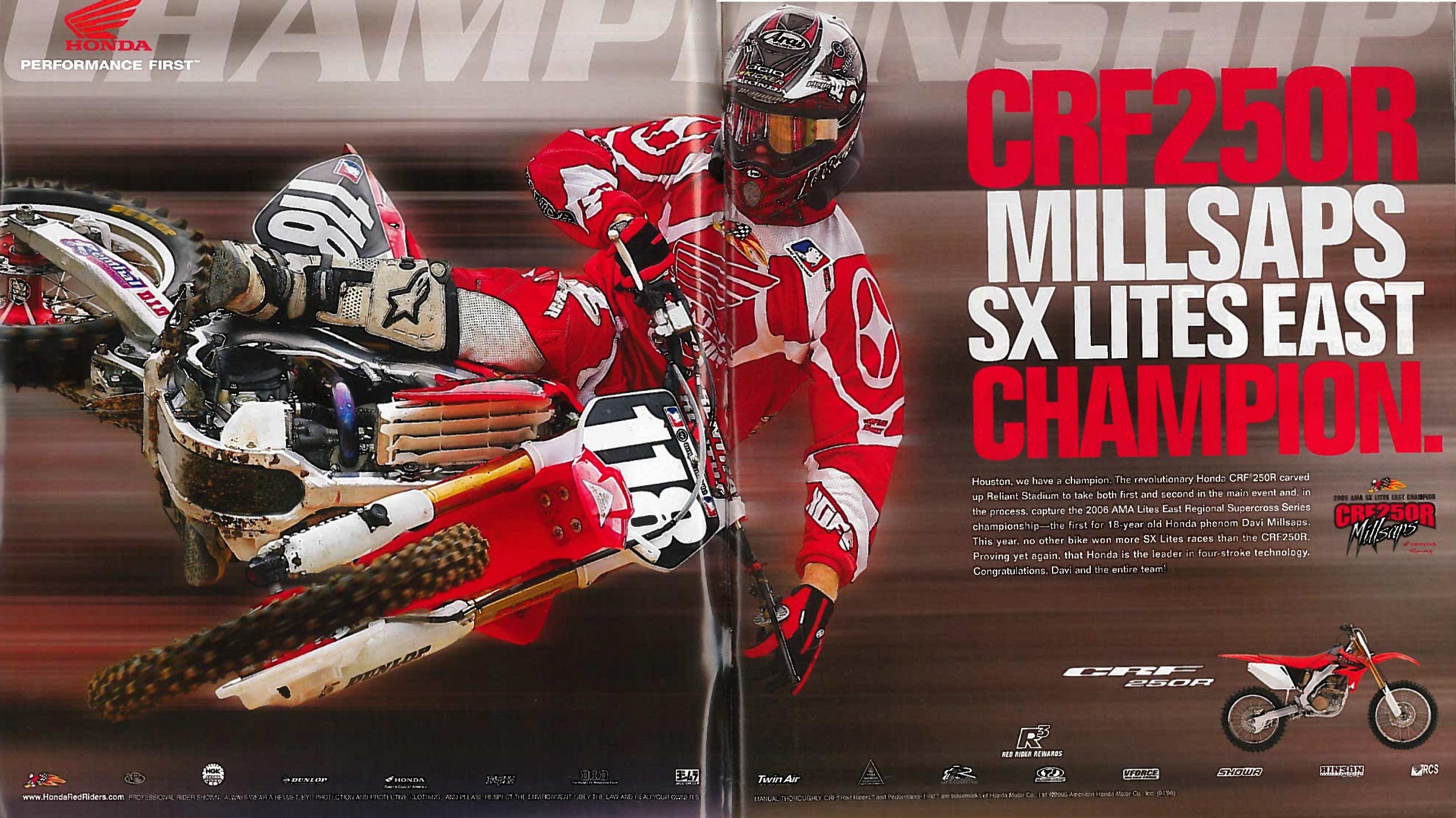 In both 2012 and 2013 450 supercross seasons, he finished runner-up in the overall rankings. Millsaps is the only rider to be runner-up in two consecutive seasons with two different brands, having ridden a Yamaha in 2012 and a Suzuki in 2013 . (Mark Barnett, Damon Bradshaw, Ron Lechien, and Ezra Lusk finished second two years in a row with the same brands.) Plus, thanks to Millsaps, both Joe Gibbs Racing (2012) and Rockstar Energy Racing (2013) took their best overall results so far in 450 supercross.
On October 18, 2014, Millsaps had a memorable night in Las Vegas. Between May of 2013 and October of '14, he was not able to race because of injuries and surgeries. He returned after missing a year and a half, and for the first time ever raced in the Monster Energy Cup, and for the first time in his professional career he rode with Kawasaki. Millsaps ended up with a huge victory, earning himself $100,000.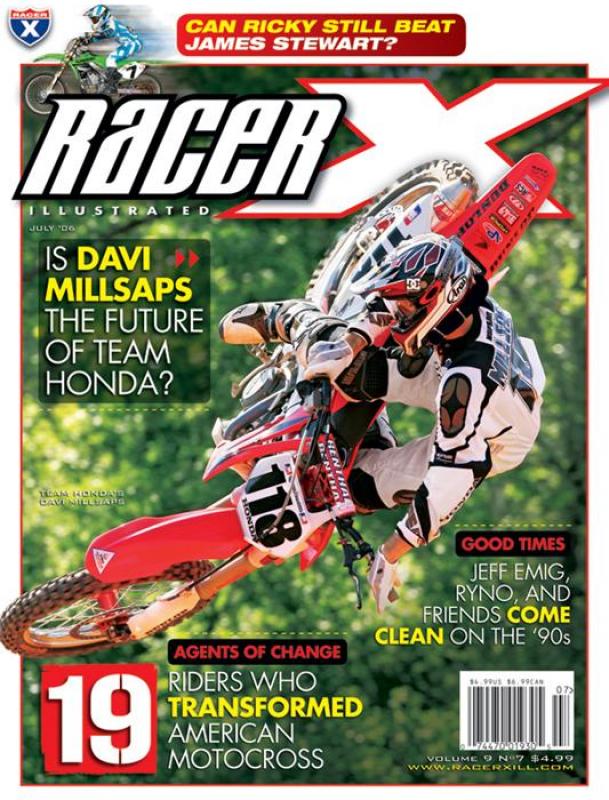 Millsaps debuted in the Canadian Motocross Championship in 2016, and as a rookie he was able to get a historic title. He became the first champion in MX1 in the saddle of KTM.
Millsaps is one of eight riders who took part in at least 150 races in their careers, alongside Mike LaRocco, Chad Reed, Kevin Windham, Larry Ward, Nick Wey, Jeremy McGrath, and Jeff Ward. Millsaps participated in 151 races in 450 supercross.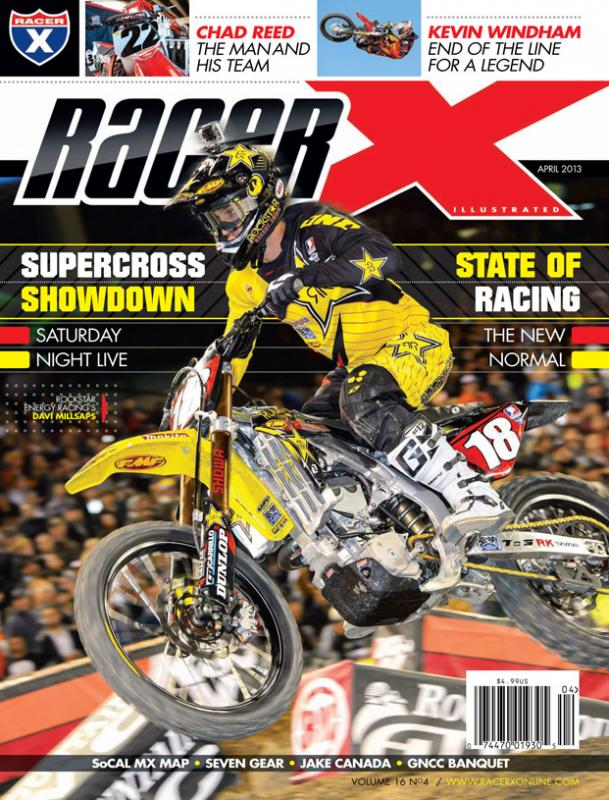 Millsaps collected 450SX wins with factory Honda and in the saddle of a Rockstar Racing Suzuki. He is one of 19 riders who got victories with at least two different brands.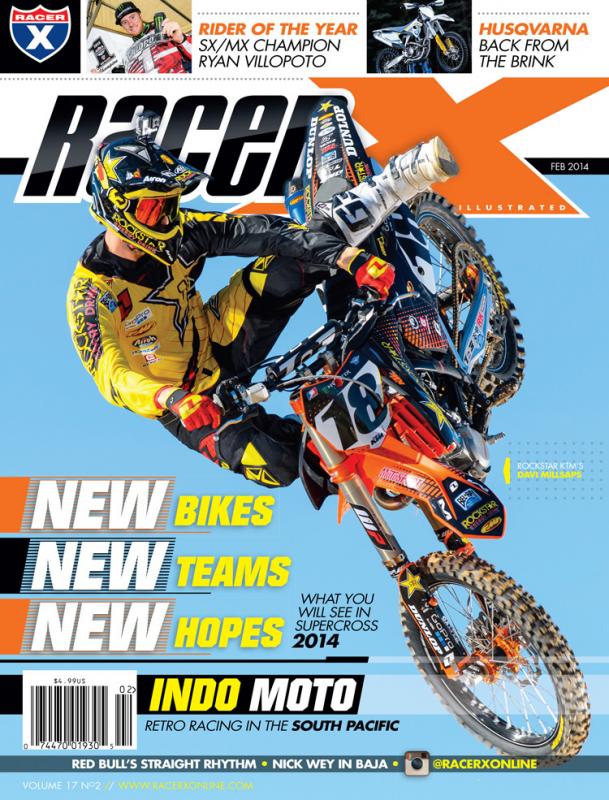 On the February 9, 2013, Millsaps rode his 100th race in the 450 SX. He celebrated by winning that jubilee 100th race—which took place in San Diego. Besides Millsaps, only Jeremy McGrath, Ricky Carmichael, and Jeff Stanton managed to win the 100th race they entered.
Suzuki Success (Andras Hegyi)
Justin Hill got his season on track in Oakland, netting his first podium of the season and JGR's first podium in the 250SX class, where they debuted just last year. And it's been practically two seasons (28 rounds, including West and East rounds) since Suzuki last got a 250SX podium—back in March 2016, Matt Bisceglia was also third with Suzuki in 250SX in Toronto.
Hill also became the 21st rider to podium in the 125/250SX class with at least three different brands. Hill also collected podiums with Kawasaki and KTM. Among those 21 riders are two record-holders: Martin Davalos and Nathan Ramsey have podiums with five different brands.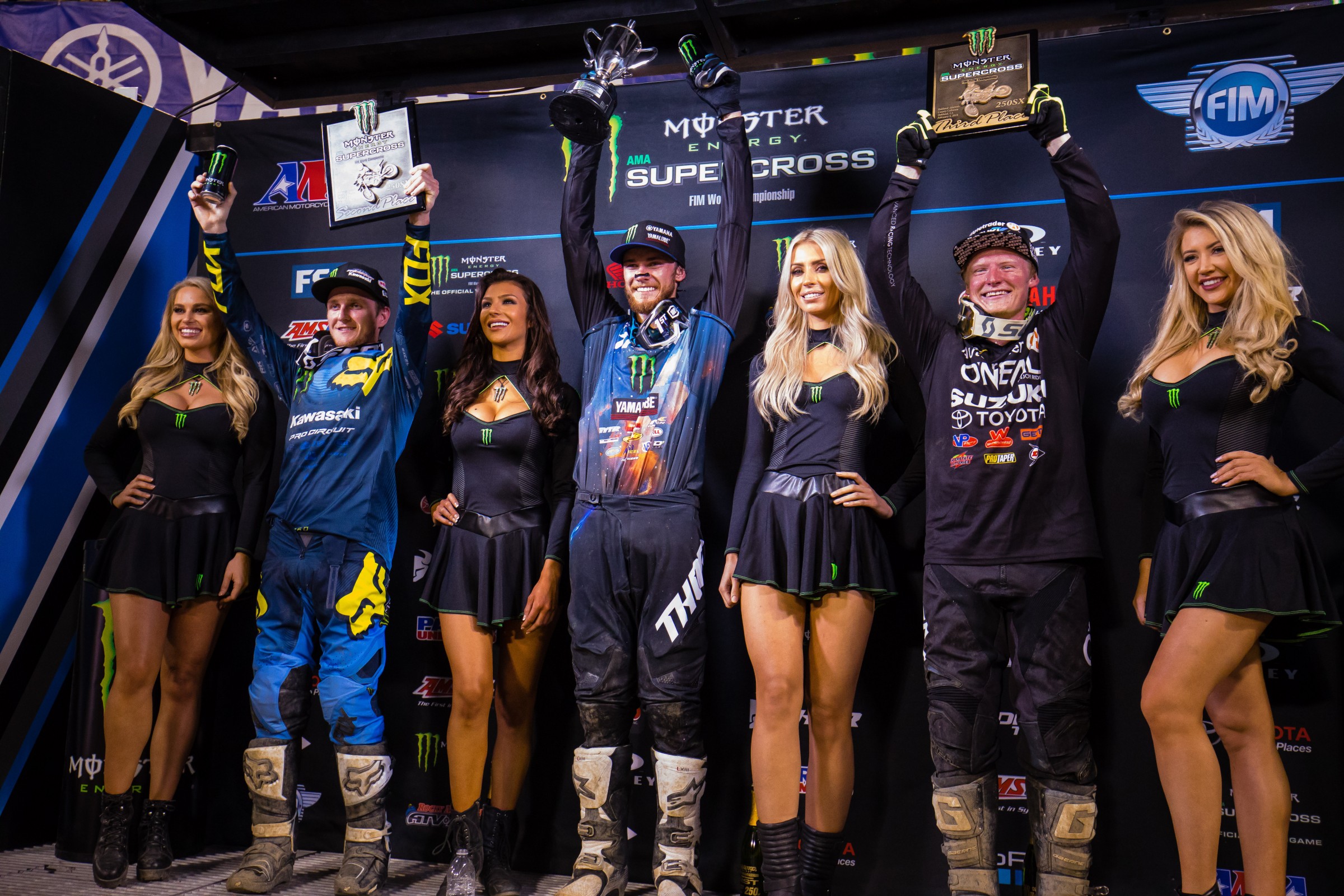 Here are the riders to get podiums with at least three different brands in 125/250 SX:
Martin Davalos, 5 brands (KTM, Husqvarna, Yamaha, Suzuki, Kawasaki)
Nathan Ramsey, 5 (KTM, Honda, Kawasaki, Yamaha, Suzuki)
Brock Sellards, 4 (KTM, Yamaha, Kawasaki, Honda)
Brett Metcalfe, 4 (KTM, Honda, Yamaha, Kawasaki)
David Pingree, 4 (KTM, Kawasaki, Suzuki, Honda)
Danny Smith, 3 (Honda, Suzuki, Yamaha)
Robbie Horton, 3 (KTM, Suzuki, Yamaha)
Travis Preston, 3 (Husqvarna, Honda, Suzuki)
Stephane Roncada, 3 (Honda, Yamaha, Kawasaki)
Robbie Reynard, 3 (Suzuki, Honda, Kawasaki)
Tim Ferry, 3 (Yamaha, Suzuki, Honda)
Greg Schnell, 3 (Suzuki, Honda, Yamaha)
Jimmy Button, 3 (Honda, Yamaha, Suzuki)
Ryan Morais, 3 (Kawasaki, Suzuki, Yamaha)
Ryan Sipes, 3 (KTM, Yamaha, Suzuki)
Ivan Tedesco, 3 (Kawasaki, Yamaha, Honda)
Rodrig Thain, 3 (KTM, Suzuki, Yamaha)
Joshua Hansen, 3 (KTM, Kawasaki, Yamaha)
Zach Osborne, 3 (Husqvarna, Honda, Yamaha)
Branden Jesseman, 3 (Suzuki, Yamaha, Kawasaki)
Justin Hill, 3 (KTM, Suzuki, Kawasaki)
ANAHEIM'S HOMELESS (Kyle Scott)
If you've been to an Anaheim Supercross in recent years, you may have noticed a large number of homeless people living along the Santa Ana riverbed next to Angel Stadium. The number of people living next to the stadium reached a record high of over 500 this year, with tents, tarps, and bicycles lining the path for over a mile. The city has recently began clearing out the riverbed and is seeking relocation for these individuals.
Posted by Rick Yeager on Facebook:
More photos of the encampment:
Stumbled upon this very cool old film about Suzuki's 1970 Grand Prix motocross season:
Cole Seey's GoPro footage from Oakland:
Racer X Films: 2014 Yamaha YZ250 Build
Racer X Films: Garage Build 2018 Suzuki RM-Z450
Racer X Films: 2004 Suzuki RM125 Build
Head-Scratching Headlines of the Week
"Yamaha Factory Supercrossers Barcia and Webb Are Ready To Release The Hounds At Petco Park This Saturday" —Yamaha PR of the Week
Here's an advertising headline with some ad-speak that no one could get away with today...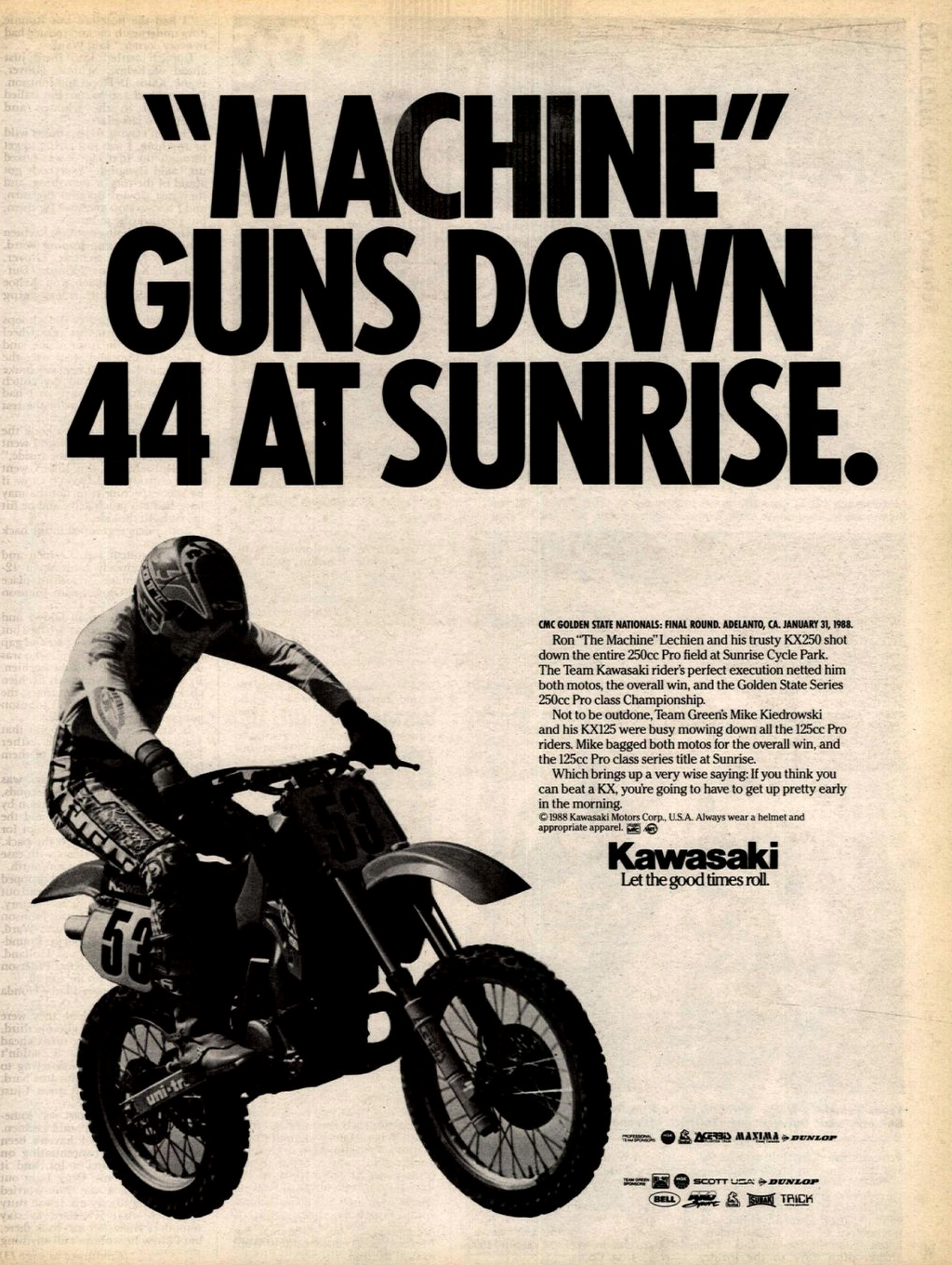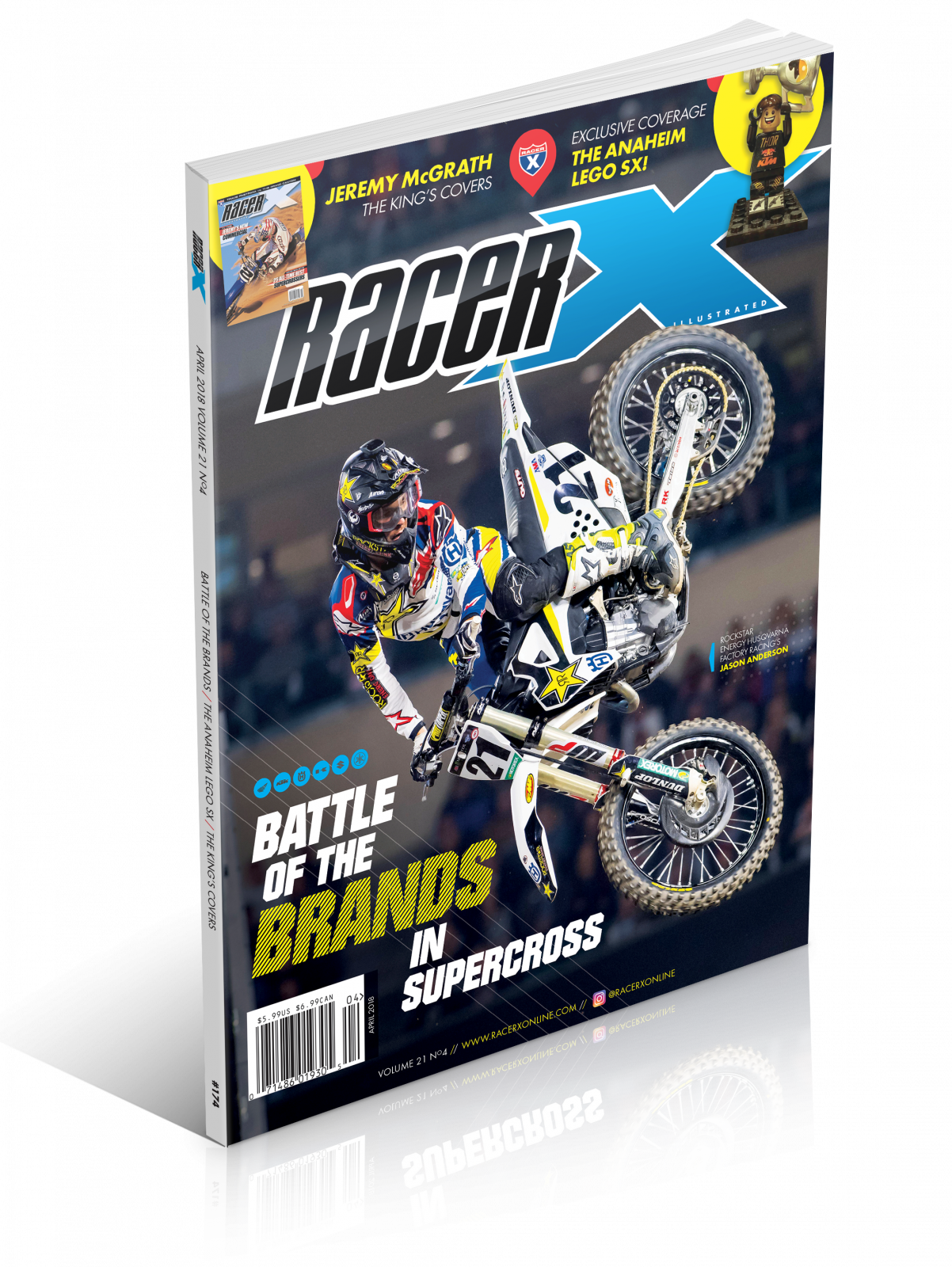 Pick up your copy now and read our 24-page feature article about the Big Six manufacturers searching for answers heading into the 2018 Monster Energy Supercross season—this is exclusive information not found anywhere on the web. Also, Jeremy McGrath reflects on all eight of his Racer X Illustrated covers. Perhaps the coolest piece? The recreation of all the action that took place at Anaheim 1 using Legos, courtesy of @lego.mx.
Congrats to Racer X contributor and all-around fast guy (still!) Ryan Sipes!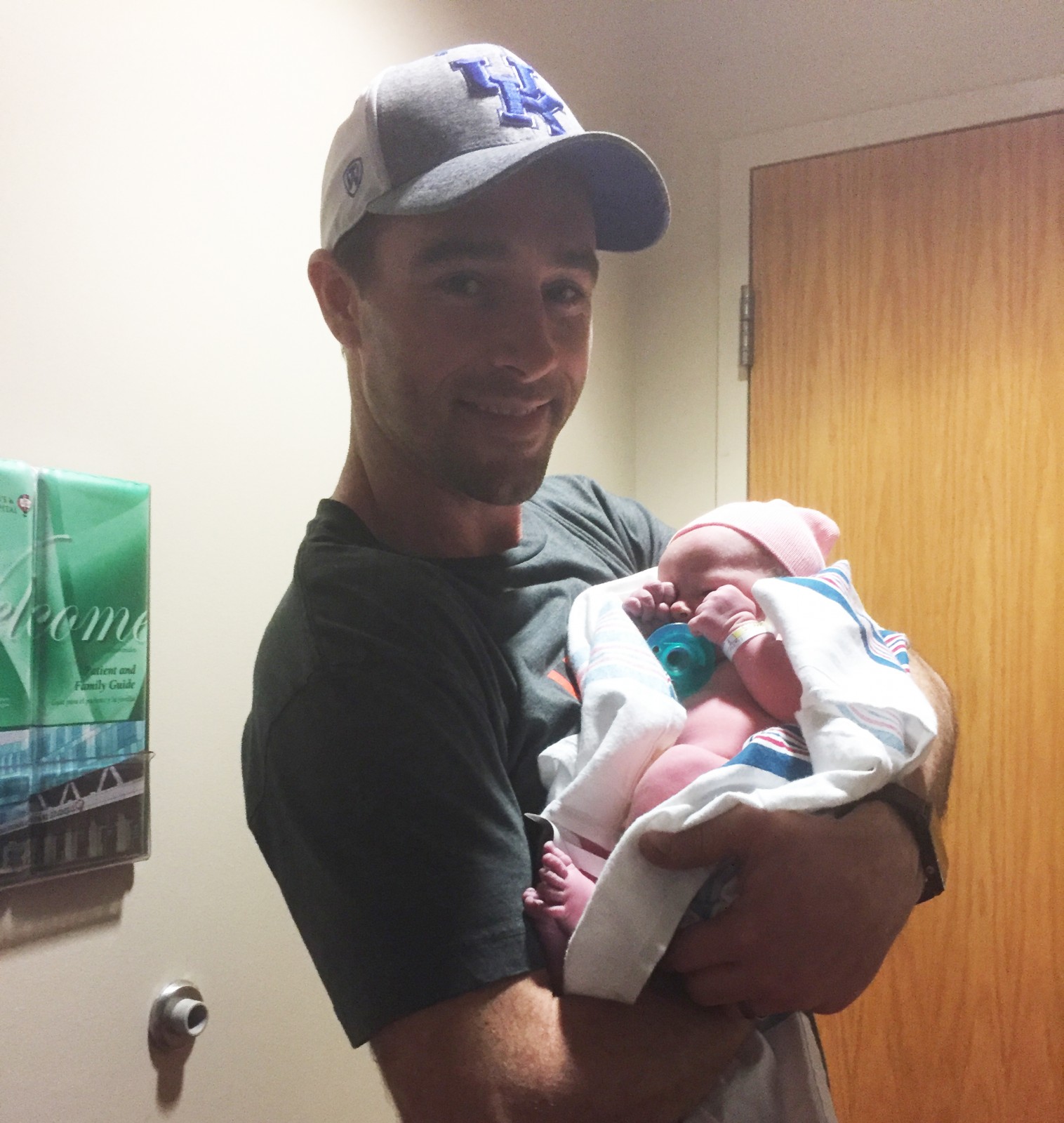 San Diego is known as a military town, so Scott goggles is equipping riders like Justin Barcia, Joey Savatgy, and Adam Cianciarulo in a limited-edition Military Appreciation Prospect goggle this weekend. Check out @scottmotoports on social media for more info on these. 'Merica!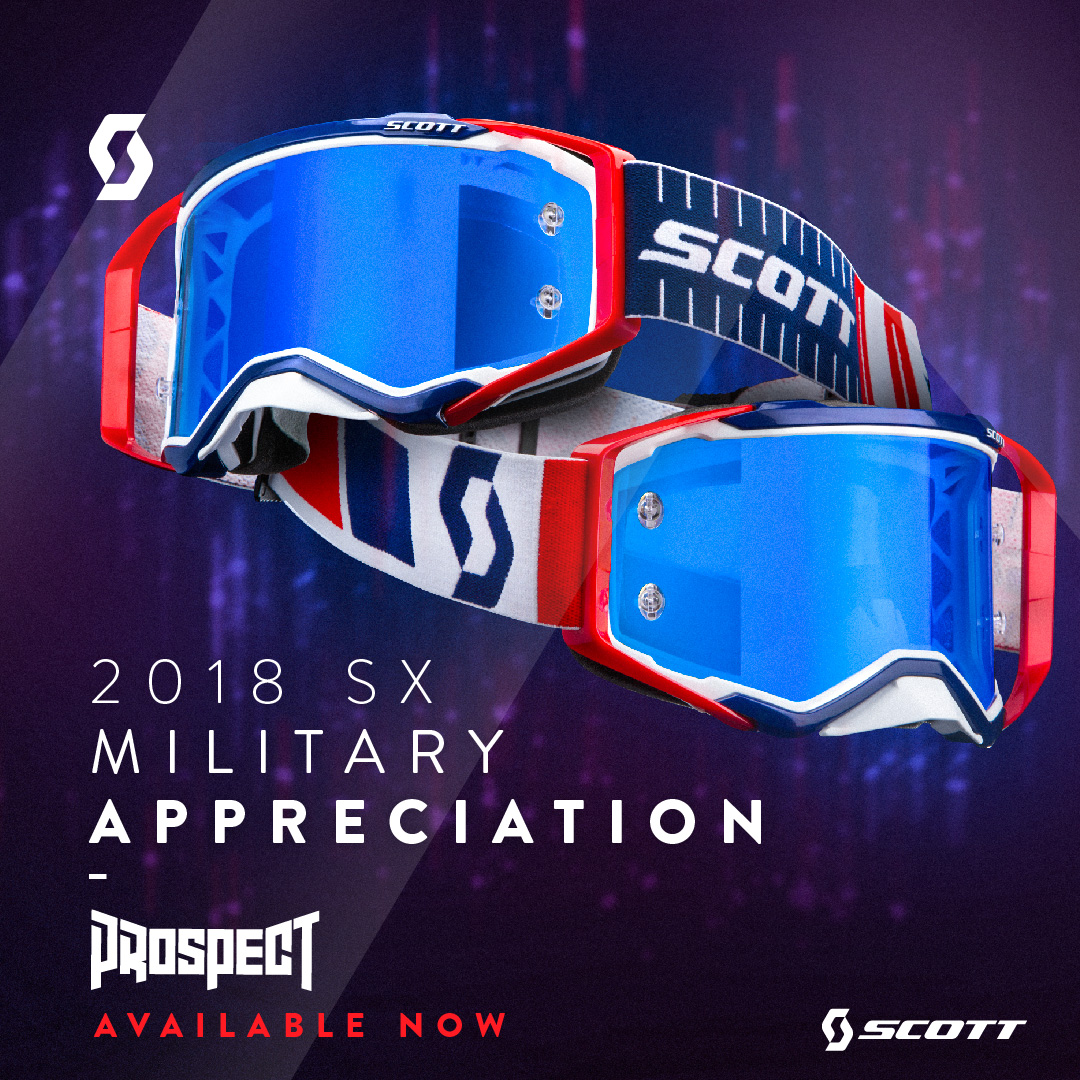 META posted the amazing feature our friend and contributor Brett Smith wrote about Budds Creek 1995 and "The Day That Doug Henry Fell From the Sky." Well worth the read this weekend.
Subscribe Now and Get a Free EVS Gift Pack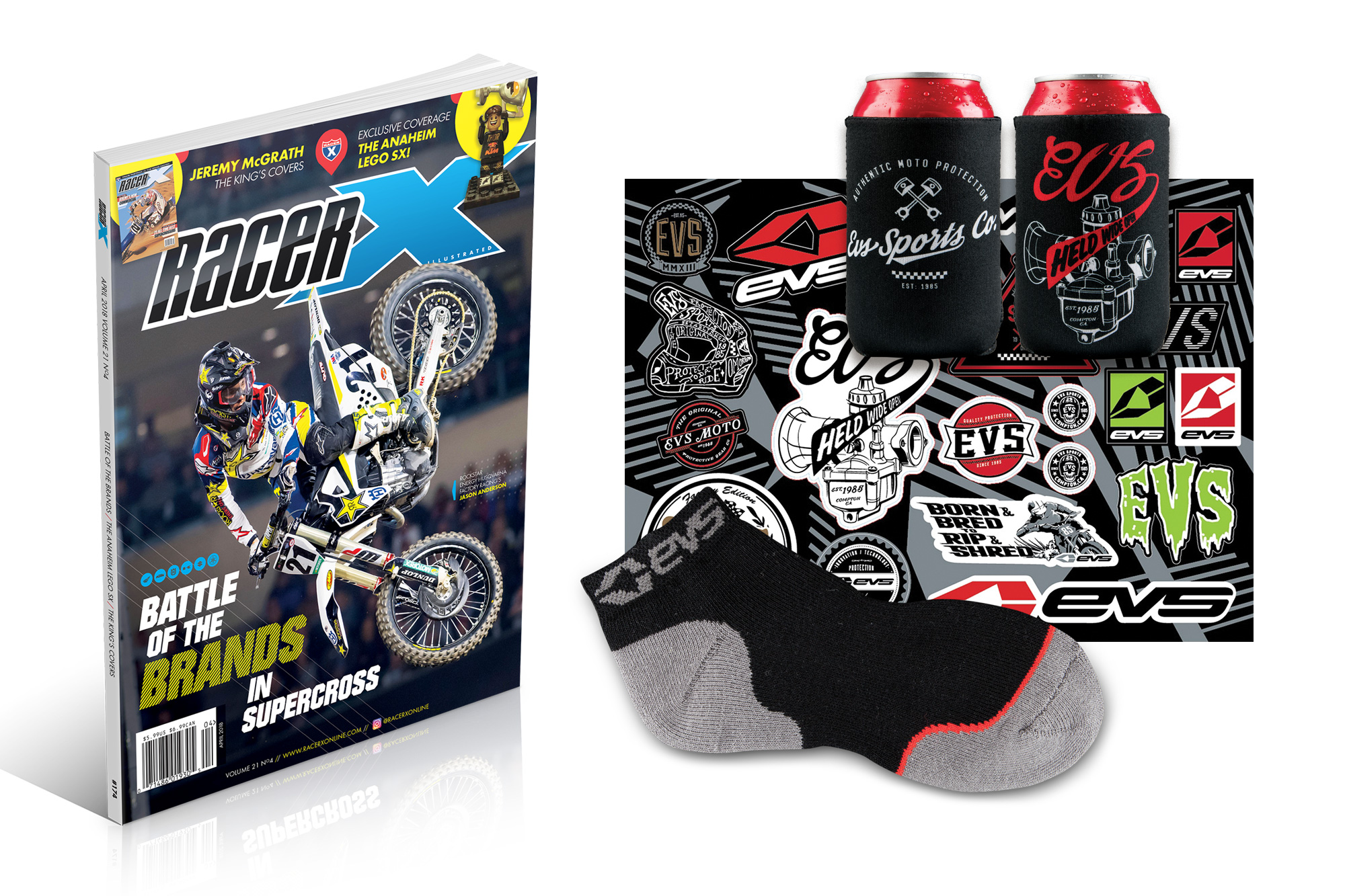 Subscribe now for as low as $9.98 and receive a FREE EVS Gift Pack plus access to our digital edition.
Alta Ride Free | Part 1 — Shredding The Moon
Alta took Darryn Durham, Tyler Bereman, and Dustin Nowack on a little adventure to the ultimate moto playground, a place we can only imagine is the closest thing to riding on the moon. With silky dirt and giant gaps, the potential was endless at Swingarm City. What' freeriding look (and sound) like on an electric bike? Check it out.
Alta Ride Free | Part 2 — Mars Moto
After an epic session on the moon, a.k.a. Swingarm City, the guys drove east with the Redshift MXR toward the red planet of Moab. Breathtaking scenery and ripping around with your buddies on a bike in the middle of nowhere—this episode is what freeriding is all about.
Racer X Brand Garage Sale | 30% Off Select Apparel
Discounts are still available for the Racer X Brand Garage Sale! Make sure you head over to Racer X Brand to receive 30 percent off select apparel and up to 70 percent off other items. Hurry though, there are limited quantities left so make sure you get your gear before it's gone. Visit Racer X Brand and use coupon code: GRGSALE18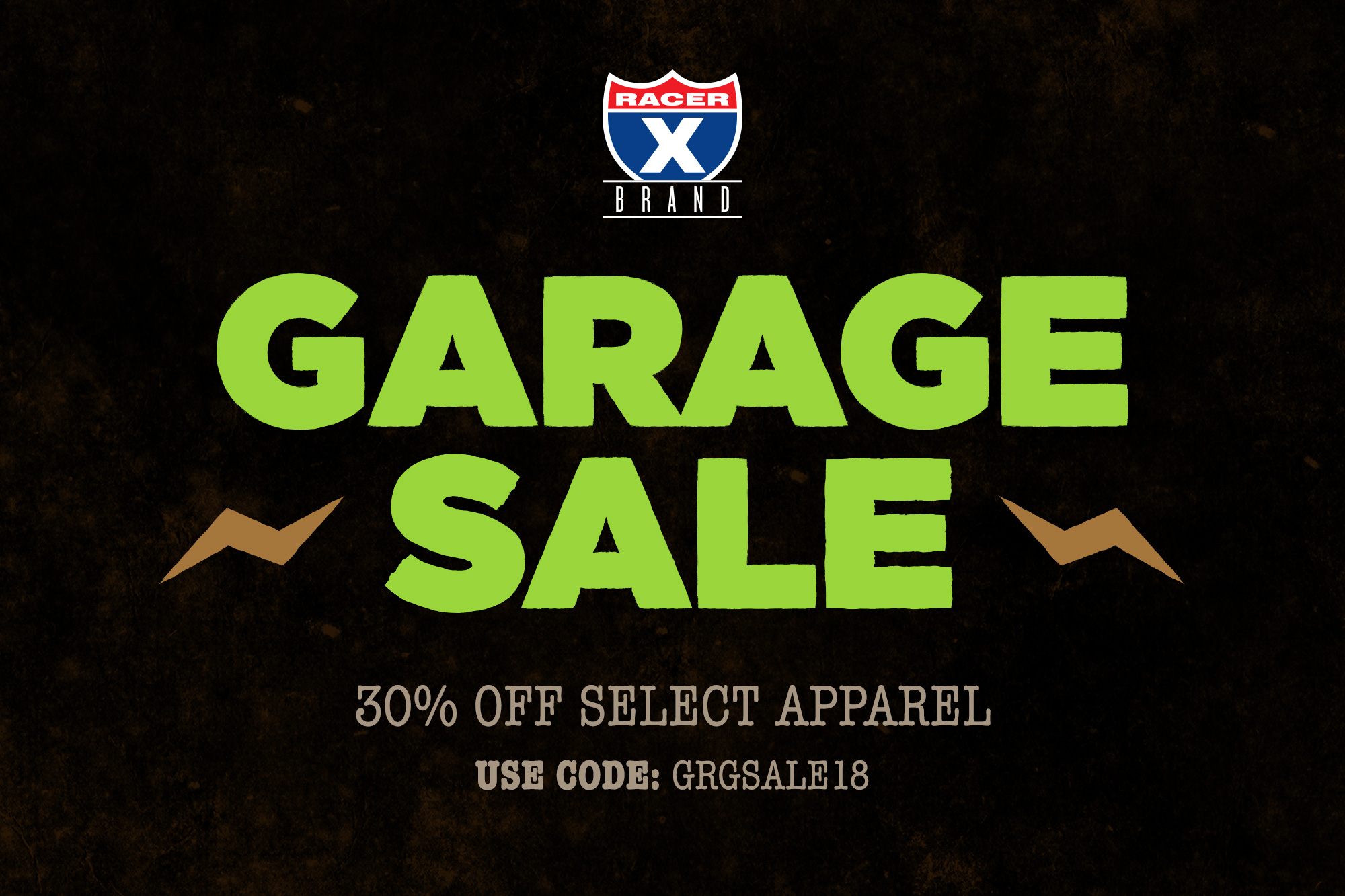 Supercross Hangout with Matthes, Weege and/or Jason Thomas
Subscribe to Racer X Illustrated today—every month, exclusive insider features and stories you won't find anywhere else. You can sign up for as low as $9.98 and even get a chance to win two free tickets and all-day pit access to the following Monster Energy Supercross event of your choice: Seattle, Minneapolis, Foxboro, Salt Lake City, or Las Vegas. If you win, you'll get to hang out with Steve Matthes as well as Racer X's Jason Weigandt or Fly Racing's Jason Thomas for part of the day, which could include scouring the pits for free lunch and a brief tour of some race rigs—basically, whatever Matthes, Weege, or JT get themselves into on a normal day at the races. Weigandt will be available to attend Foxboro and Las Vegas; Thomas will be at Minneapolis, Seattle, and Salt Lake City. Matthes is there no matter what because we assume he wants to escape all those dogs at home each weekend.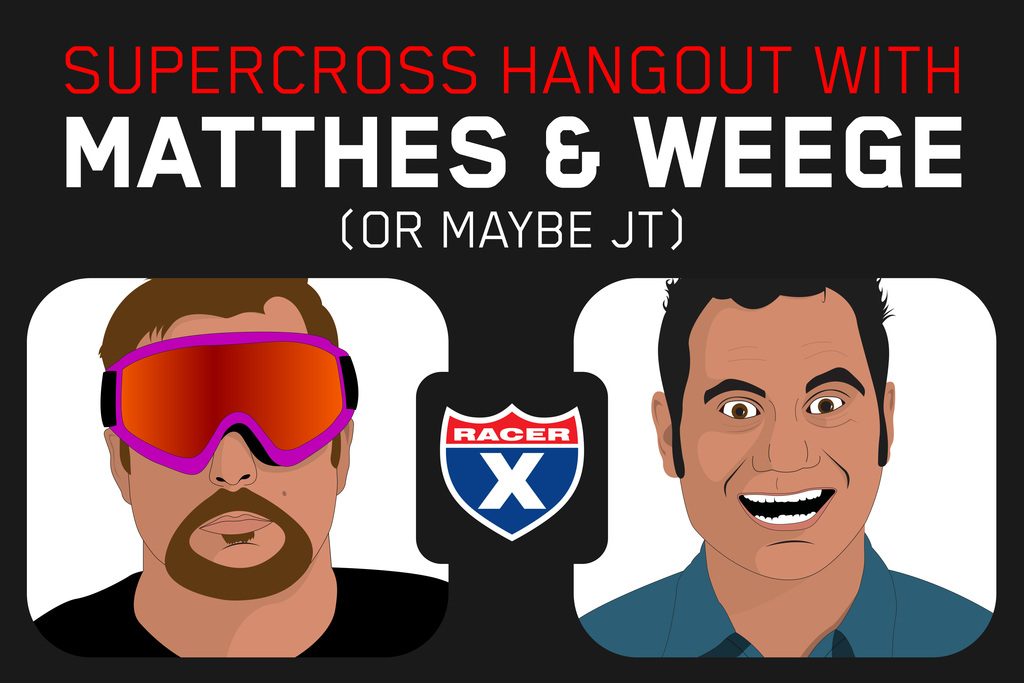 Available races are: Seattle, Minneapolis, Foxboro, Salt Lake City, or Las Vegas
The Supercross Hangout winner will be randomly chosen and contacted the Monday before the Seattle Supercross. Upon being contacted, the winner will choose their preferred event: Seattle, Minneapolis, Foxboro, Salt Lake City, or Las Vegas. If the winner fails to respond within 24 hours, a new winner will be chosen. The winner will also be announced on the Fly Racing/Racer X Podcast during the week leading up to the Seattle SX. For questions and concerns, email online@racerxonline.com or harass Weege, Matthes, or JT on social media. Travel and hotel accommodations not included. Weege, also, might ask you to give him something for free. You've been warned.
That's all for now. Thanks for reading Racerhead. See you at the races.