O.co Coliseum
Oakland

,

CA
Oakland
Monster Energy AMA Supercross Championship
Rockstar Energy Husqvarna's Jason Anderson extended his points lead to 15 points over Ken Roczen with his second win of 2018. Anderson and Roczen battled in the later stages of the race to the last lap, with each rider making several mistakes that allowed for some exciting racing. He put in a championship performance with his up-and-down day. "Today was a roller coaster day," Anderson said in a team statement. "I went over the bars in the first practice, then was able to regroup and come out third in qualifying. I didn't have the best heat race, but then came back in the main and had the battle of my life. It was great. The track was insane, but I'm happy to come out of it with a win."
"It was a great race tonight," Honda HRC's Roczen said in a team statement. "I was really bummed because we worked so hard just to pretty much give away the win on the last half of a lap. All in all, though, we're healthy and in the championship hunt, so it was a good night. We're moving forward and getting that much closer. I got a good start and tucked right in there behind Cole (Seely). He was going really good but made a mistake in front of me and I took over the lead. I was trying not to get too amped up and push even more because I knew the track was going to get worse and worse. It's easy, especially in those tight rhythm sections, to rush and possibly make a mistake, so I just tried to be patient. There were definitely a few close calls out there with lappers and the track, but I feel like I rode pretty clean for most of the race. The last couple laps were something else, though. Jason [Anderson] got by me somehow—can't even remember, to be honest, because it was like tunnel vision—but we had a good battle to the very end. I really wanted that win, but it was good to lead laps. We've got a lot more races to go, so we'll keep chipping away at it."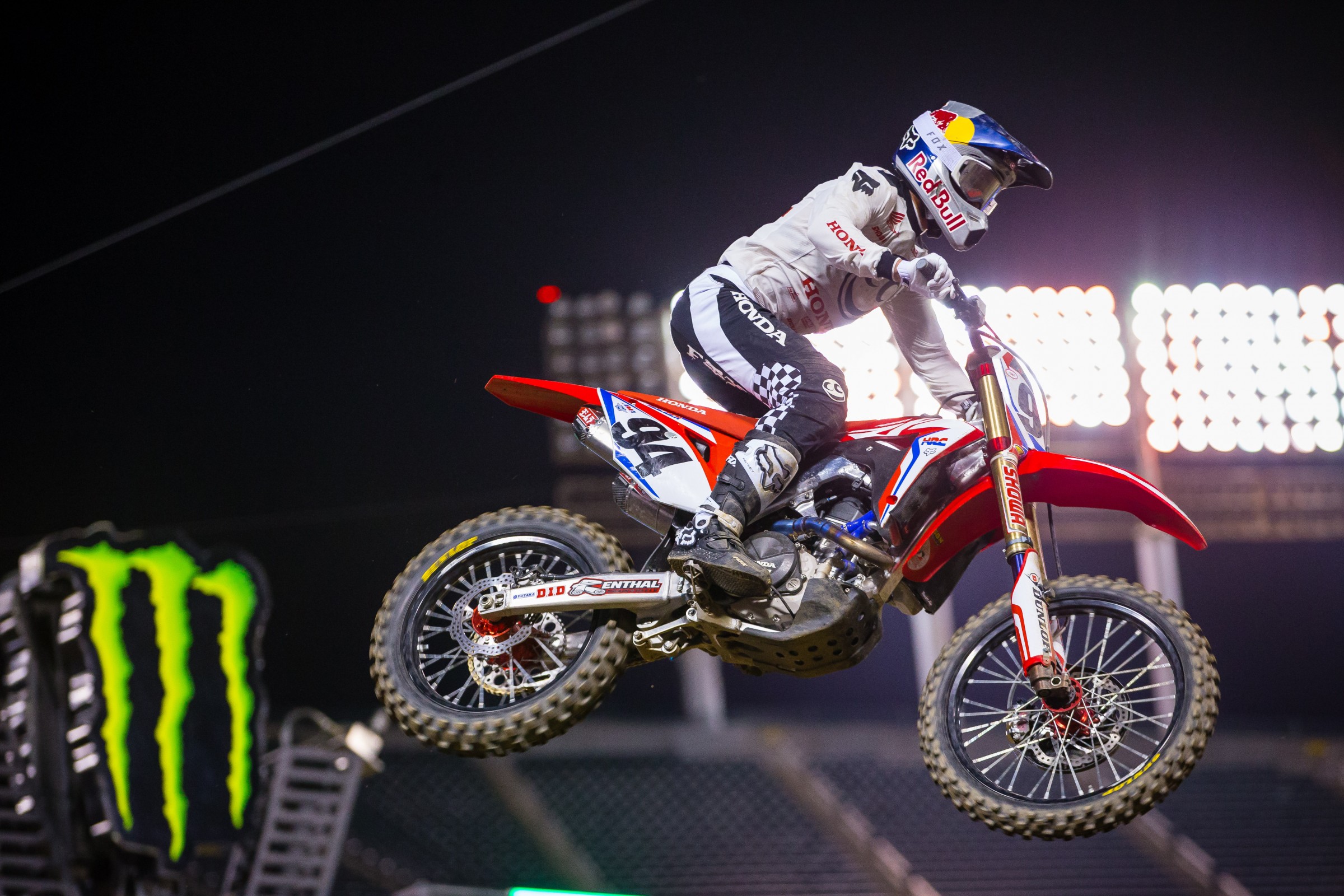 "Tonight was a good night," Rocky Mountain ATV/MC-KTM-WPS' Blake Baggett said after taking third. "Track was tough and I struggled a bit in practice with the deep ruts and the rhythm lanes. We made a few adjustments to my WP Factory Services suspension before the night show that helped me feel comfortable with the conditions. My starts were awesome all night, which helped with track position. I rode consistent and hit my marks every lap. I'm excited to get a podium and am looking forward to next weekend in San Diego, ready to battle for the win."
Red Bull KTM's Marvin Musquin was knocked down by his training partner, Anderson, in a corner after the whoops and he wasn't happy about it. In a team statement, Musquin said, "It was a good day overall. I was feeling really good in practice, the track was technical and rutted, and I got a lot of good laps in. I had great starts in both the heat race and the main event, which was really nice. I was running third in the main event, pretty happy with my riding, and Jason ran me really high in the berm and then I crashed. That was a bummer, but I got up pretty quick. I was able to pass [Cole] Seely after he made a mistake. We battled for a couple laps and from that I was running fourth place and basically on my own; there was nothing really I could do at that point. I was looking forward to getting back on the podium tonight and I was feeling good until that crash really slowed me down. But I'm happy with the training I've done this week and the shoulder is feeling a lot better, so I'm feeling like myself again and looking ahead into San Diego."
When we asked him about the move Anderson pulled, Musquin said, "I feel like it's been two weekends in a row. He's racing hard, which is understandable, but also I'm mad at him because we know each other. It's a bummer to make somebody crash like that. It's not like he's racing me for the championship right now. Last week, yeah, it could have been a little dirty, but everything was fine and he got me. But I feel like today he got a little hot. Next time it'll be my turn."
Honda HRC Cole Seely pulled the holeshot in the main and was riding really well out front until he made a big mistake on lap 11 in the rhythm that shuffled him back to fourth. He wasn't able to find the same intensity as in the early stages of the race and would be passed by another two riders. "I'm pretty upset and bummed tonight, but at the same time happy with the progress that I showed. I felt strong all day. During the main event, I got another great start and was hitting my marks well. I was putting down consistent laps but couldn't shake Kenny; he was applying pressure on me the whole time. We came up on lappers and one didn't get out of the main line for a while, which forced me to take another line that I hadn't taken before. That's when I made that big mistake that cost me the lead and even a podium. I got back going in around fourth, but it took me some time to get back into a rhythm and I ended up losing two more spots. It's part of racing and everyone out there was dealing with the same conditions and situations, but it's still unfortunate that lappers play such a huge factor. I know I'm capable of running up front and really want to get a win."
Red Bull KTM's Broc Tickle mentioned in a team statement, "We're continuing to build each and every week. I feel like I've had the best week that I've had in a while, so I'm going to continue to work on improving for next round. I feel like I'm in a good spot to keep going but I'm not showing myself 100 percent—I feel like I'm showing 85-90 percent compared to what I'm capable of—so I know I need to keep working. It's round six next week, we're getting close to the midpoint of the season and that seems to be when I turn it around, so I'm looking forward to going back East and heading back to Florida in a couple weeks."
Monster Energy Kawasaki's Josh Grant went down in the corner after the whoops early in the race. He quickly remounted and spun around, but then went over the edge of the berm while trying to adjust the clutch lever that was knocked up. Grant has been in the top ten every round so far this season. "Today went well," Grant said in a team statement. "I think we made a lot of progress during the week and I felt comfortable on the bike all day today. I just need to eliminate some of the mistakes and I'll be where I want to be."
"I definitely had a better weekend," Rockstar Energy Husqvarna's Dean Wilson said in a team statement. "My shoulder is still recovering, and it's so tough to try and recover but still race. It's still a little weak. Overall, though, my day was better. I'm just going to try and keep improving. I was in a top-ten position but then was waived the blue flag and wanted to get out of the way of the leaders, which lost me my top-ten spot. I was just trying to be a good guy and get out of the way for the guys up front. I want to steadily improve every time I'm out there." In a video with Transworld Motocross, Wilson mentioned thinking he was being lapped by Grant so he moved out of the way, costing himself a tenth-place finish.
"During track walk in the morning I knew that the dirt was going to rut up, but I had no idea it was going to be nearly that bad," JGR AutoTrader.com/Yoshimura Suzuki's Weston Peick said in a team statement. "Even before the main event began, the track crew went out and smoothed out the two rhythm sections, but the ruts returned almost immediately. I think it was a result of the dirt sitting outside all year and collecting moisture. This weekend I wasn't getting the best launches off the pad, but I still made it work. In the main I was right behind the leaders going into the first turn, and I figured they would push wide. I stuck to the inside and made it work. For a while I was in good position, but then I began making mistakes. Then, with about four laps to go, I cross-rutted on a jump and did an endo off the track. My RM-Z450 had gotten stuck on a hay bale, so it took about 20 seconds to get back going. That dropped me about four positions."
Peick had started the year with 5-5-5-6 finishes, so this 12th marks his first rough finish of the year.
Monster Energy Kawasaki's Eli Tomac came together with Justin Barcia in the main and went down before the finish. In a team statement he said, "Today was a rollercoaster. I struggled all morning with the track conditions and I couldn't put in one clean lap in timed qualifying. I felt better in the heat race, and heading into the main event we made a small change which would have helped if I hadn't got tangled up with a few riders and gone down. There's nothing we can do; that's racing, and we'll rebound next week." Tomac is now 52 points down from points leader Jason Anderson after his 13th-place finish in Oakland.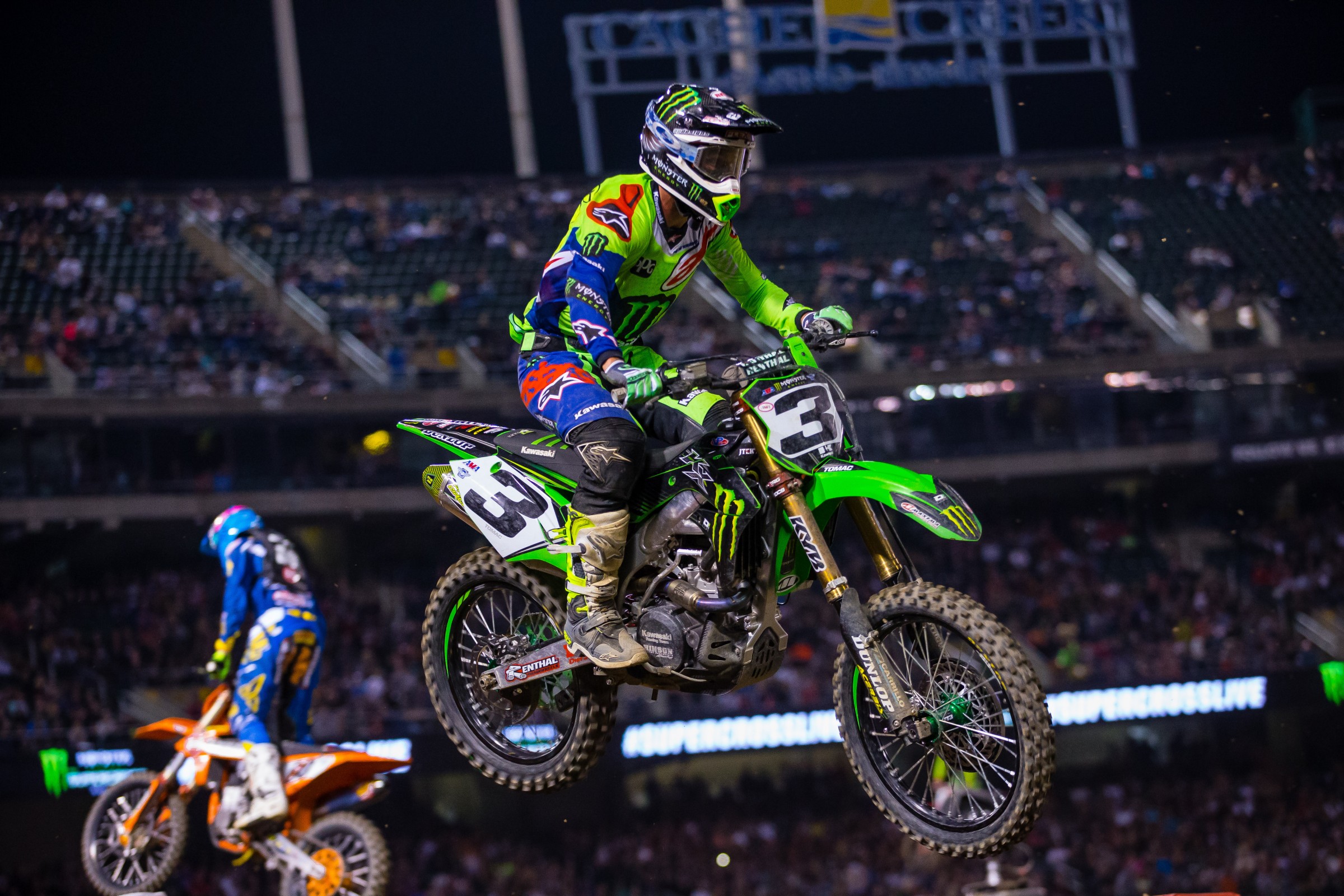 After taking 17th place, JGR AutoTrader.com/Yoshimura Suzuki's Justin Bogle said in a team statement, "After spending the week testing in North Carolina and having a race under my belt, I was much more comfortable this weekend, even though the results don't show it. Bad starts really put a damper on my night. Then, in the main, I crashed and was stuck between lanes of the track for a while. I struggled through another rough night, but we made progress with the bike and myself. We'll continue to get better as we go."
"It was an up-and-down night," Rocky Mountain ATV/MC-KTM-WPS Benny Bloss said in a team statement. He finished 20th. "It was one of the toughest supercross tracks I have ridden, and I am happy to come out of here healthy. Unfortunately, I had a little issue in the main event that hindered my performance. We leave here on a positive note and ready for next weekend in San Diego." After the race, we talked to him and he said, "Practice was horrible. And then the heat race was really good. I ended up sixth. In the main, the first half was sick. I was 12th, riding good behind Tickle and then just made some mistakes. Ended up crashing pretty hard. I went down on the on-off before the whoops, and I ended up in the middle on some boulders. Just not what I wanted. Really need to pull it together and have some good races. My second race back, something to build on and excited for more."
Tyler Bowers had a scary crash in the main event where he launched a triple in a rhythm lane, ghost rode his bike, and landed to flat on his left hip. He also sustained a large gash to the left side of his face. He later posted on Twitter, saying, "Thanks everyone for the kind tweets, I'm alive and umm well I'm just alive. [Scott Donk] and I are driving the boxy home now. I'll address the damage tomorrow." He later wrote, "Worker stacked a tough block back on the track just about 2" out of line, and us riders where searching for every edge to avoid ruts... I picked the wrong edge clearly."
JGR AutoTrader.com/Yoshimura Suzuki's Malcolm Stewart went down in the heat and had to go to the LCQ, where he fought his way to the front. He made a mistake on the last lap of the LCQ and he nearly went down in a rhythm, but saved it and finished second. He pulled out of the main event and finished 22nd. In a team statement he said, "Oakland didn't go as planned. I had a get-off in the heat. Then I got going, but made another mistake a few laps later. I was riding in so much pain during the main event that I couldn't hold on anymore and had to call it quits. Nights like that will bring the best out of you, that's for sure. We'll keep moving forward. There's still lots of racing left. Thanks to everyone for sticking behind me."
Yamalube/Star Racing Yamaha's Aaron Plessinger was sick coming into Oakland. After rolling the finish line to the checkered flag, he was clearly drained and exhausted. He did not attend the post-race press conference.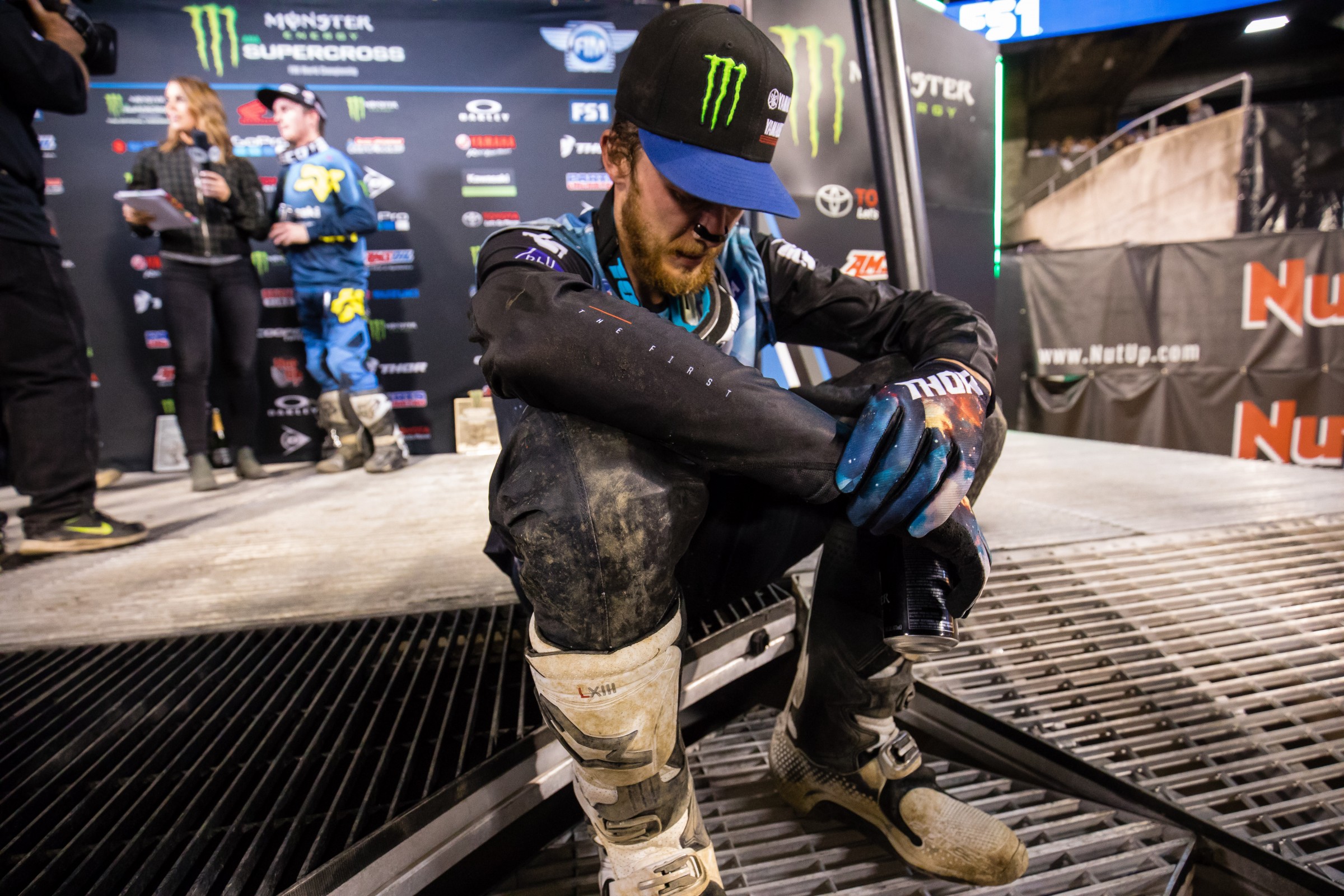 Monster Energy/Pro Circuit Kawasaki Joey Savatgy now sits second in points after his second-place finish in Oakland. He and Justin Hill battled for second at the end of the race. "At the beginning of the race, I felt like I was riding a bit tight," Savatgy said. "By about halfway, I settled in and tried to hang with the rider in front of me and see what he was doing different. It helped me relax and then I was able to turn it on at the end. I had a great time. I just hope next time we are battling for the lead and the win." In a team statement, he said, "Overall, it was a good weekend. I felt we improved throughout the day and put it all together when it counted. I'm pumped on the finish and moving up to second in the points."
JGR AutoTrader.com/Yoshimura Suzuki's Justin Hill put in his best ride of the season and made his first trip to the podium in 2018. In a team statement he said, "The day was honestly pretty average. It wasn't like, 'This is going to be the day to end all days.' I felt decent in practice. I didn't do anything spectacular, but everyone was close on time with the last practice. I knew that the track was going to break down and get really difficult, which would work to my advantage. I wasn't rushing the track, because if you did, then you were going to hit the deck pretty hard. When I came through the first turn in a decent spot, it gave me a bit of oxygen to breathe and go to the front-runners. I've been saying the whole time that I want to battle with some guys and cause a ruckus. It was clean racing with Joey [Savatgy], and it put me back into a good mindset. I remember how it feels again. That's the silver lining. It was a third, but a third that could have been a first. I'm learning more and more about myself, and also the RM-Z250. It feels good to be a guy on the box again."
While leading in Oakland, GEICO Honda's Christian Craig cross rutted in a rhythm and jumped completely off the track to flat. He landed upright and on two wheels, but a tough block knocked him over and caused him some time and his hope for a podium. In a team statement, Craig said, "I honestly had a good day in Oakland. I finally have myself in a good spot mentally which is I think is a constant battle in this sport. I was super happy with my riding all day. I qualified third. Had a terrible start in my heat but was able to work my way up to third. For the main, I went in the completely inside gate and was just hoping for the best. I ended up with an awesome jump and was second out of the first turn. I was able to pass Alex Martin pretty fast and got into the lead. I led a good portion of the race before cross rutting and going off the track. Luckily I was able to get up into fourth, but pretty far back from the top three. It's a huge bummer because my first win of the year was so close. But things happen and I'm lucky to be safe and moving on to San Diego where hopefully I can get a win in my home town."
Troy Lee Designs/Red Bull KTM's Alex Martin came into Oakland with four days on the bike since breaking his collarbone at the season opener 28 days prior. He got the holeshot in the main and led some laps before being passed by Christian Craig in the whoops. "This West Coast is a pretty deep field. Obviously to miss three races and to be coming off of injury, confidence is a little knocked down, so more than anything I just wanted to get out of here healthy and try to build some momentum. I do feel like I that. I lead two-three laps, my starts were good, so I was happy with that and to be out front. Obviously those guys ran me down and obviously my whoop speed needs to be better, but for the most part I'm pumped. It was good to be up there battling with the guys." Martin mentioned in an interview after the race, "I've raced Oakland a few times before, but I feel like that was one of the worst Oaklands. I didn't race the mud race last year that they had, but they just couldn't keep up with the ruts and kickers today. That was probably one of the most technical races I've ever done. Especially the last few [laps]."
GEICO Honda's Chase Sexton said after the race, "It was pretty good all day. I had good speed. The heat race was good. I kind of started off slow and ended up third. In the main event, I had a good start. I came into the corner third and I did pretty much a 180 in the first corner and just blew it. I was pretty much dead last and came back to sixth, which was I guess about as good as I could do. A-Mart and Christian [Craig] were right in front of me at the end, but didn't have enough time. Sixth was not where I want to be, but we got next week."
Monster Energy/Pro Circuit Kawasaki's Adam Cianciarulo came together with Phil Nicoletti and went down. He got up quickly, but wasn't able to keep his bike running and re-kicking to start it cost him time. He ultimately finished seventh. "After the start and going over the Tuff Block, I was trying to not get too flustered, but I was forced to regroup after going down on the first lap," Cianciarulo said. "It's mentally tough, knowing you have the speed to at least run up front but not being able to be there and battle with those guys. There is still a lot of racing left, so we'll get back at it this week and try and learn from the mistakes…. I felt really good today. I qualified on pole again and finished second in my heat. Unfortunately, the opening lap in the main event didn't go my way and I ended up having to fight my way through the 19-lap main. I'm glad to be leaving here healthy and I'm looking forward to racing San Diego next weekend." Cianciarulo is now fourth in the point standings and 25 points behind points leader Plessinger.
"Definitely happy with the progress we've been making," 51Fifty Energy Drink Yamaha's Kyle Chisholm said in a team statement. "The bikes looked so cool today with the Race for Autism graphics and I had a lot of fun from start to finish. My starts were on point once again and it was awesome to race up front with those guys. Eigth is strong but I want to up in the top five and I'm making strides to get there."
Mitchell Harrison had to go to the LCQ after a crash at the beginning of his heat. "I had my work cut out for me today," the Rockstar Energy Husqvarna rider said in a team statement. "I didn't have the best qualifying time, then went down in the first corner in the heat race. I ended up having a strong ride in the heat race and came back to an 11th, then took the win in the LCQ. I got a great start from the outside in the Main. I rode strong and came away with a ninth. It was great progress for me, and I'm excited to come back next weekend for San Diego."
"The track was really challenging today, but I had a great heat race and felt like I'd be up front in the main," 51Fifty Energy Drink Yamaha's Hayden Mellross said in a team statement. "I just didn't get a good jump out of the gate, but overall I'm satisfied with the outcome of the night…. I feel like I continue to make strides in the right direction every weekend. Really happy to see the team get two top-tens and looking forward to keep that momentum moving forward."
Troy Lee Designs/Red Bull KTM's Shane McElrath was second in points and only one point behind points leader Plessinger coming into the weekend. In the main at Oakland he went down in the first turn, pulled into the mechanics' area to check himself and fix his clutch lever, and then went down again later in the race. In an interview afterward, he said, "I really had a good jump. I just got squeezed out by the Kawasaki guys. I got hung up in the first corner. A hay bale stuck in my shifter. It was one of those things where you just kind of got to calm down and ride. I felt really good on the bike, which is what I'm pumped about. Fifteenth place for the championship is not good. I ended up going down. Just cross-rutted and landed on a hay bale. Landed in the berm and just really, really shook me up. I hurt my chest, hurt my ribs. I'm not real sure how everything is, but even afterwards I felt good on the bike. Just one of those nights where you get as much as you can and you move on."
After Oakland, McElrath is 19 points down in the championship.