We're four rounds into the 2018 Monster Energy Supercross season and there is plenty to bench-race about.
With that in mind, last week we probed you to ask anything of our esteemed editor-at-large Jason Thomas, a 15-year pro supercross and motocross veteran. JT picked the best questions and provided his answers below.
Some questions have been lightly edited for clarity.
Will JGR keep Malcolm or will we see he him on a Kawasaki in two weeks?
I think they will find a way to keep him. He is very popular and it just makes sense for everyone involved to find a way to make this work. Money doesn't grow on trees, but I bet he stays.
---
Why do we have to watch the winner of the LCQ ride all the way to the podium and get his congratulations instead of watching the awesome, last-corner passes for the final transfer position??? Can't someone figure out a way to face a camera so it catches both the finish line and the final corner??
There's some sort of rule about making sure that the winner of the race is shown crossing the finish line. I do like the "double box" idea where we could see both. Good idea.
---
Would it give more of a points battle if for the Triple Crown you split the overall points between the three races? Example: first place Race 1 (8 points), Race 2 (8 points) and Race 3 (10 points).
I think the current bonus structure on factory contracts caused some complications, and if they awarded points per main event in the Triple Crown, the teams would be forced to pay bonuses on each. That's a lot of potential money not planned for in any budget and not insured by the factory teams. Otherwise, maybe we see points per main implemented.
---
With so much emphasis on being "fit," is Fly Racing going to come out with an athletic line? Cross trainer shoes and gym shorts, or am I blind and can't find them on your website?
We make an athletic shirt in multiple colors that I wear quite a bit, but we are pretty committed to being an off-road and motocross brand versus a casual clothing-minded brand. We want to stay true to what we do best.
---
How often do riders not get signed to a team due to other sponsors not gelling with the team, such as gear sponsors or energy sponsors?
It's pretty rare. Most of those scenarios are team deals and would supersede any individual deals. Mookie and Barcia's gear deals are examples this year, but it doesn't happen very often. Most riders know that getting factory equipment is paramount to the other deals.

---
Jason, every week Fox shows the start from a different camera angle and we seem to miss the most crucial moments in the first turn. I was really happy with the overhead view and thought it really showed the bar banging and who keeps it pinned. Your thoughts on the best camera angle for the start?
Overhead seemed to work really well. It would be cool if we could one day have multiple options like ESPN offers for college football. That's big money and probably a pipe dream for SX, but we can always hope for more.
---
What's the beef with Coop and Bam Bam? Also, is it just a coincidence that Barcia is doing well with Hill's championship mechanic? Is Longhorn the common denominator?
Coop and Barcia just had an on-track run in that will be fine long-term. Racing aggressively will always cause emotions to run high. Nothing new there and that won't ever change. As for Barcia's turnaround, I have heard from more than a few people that he loves that bike and it has been the difference.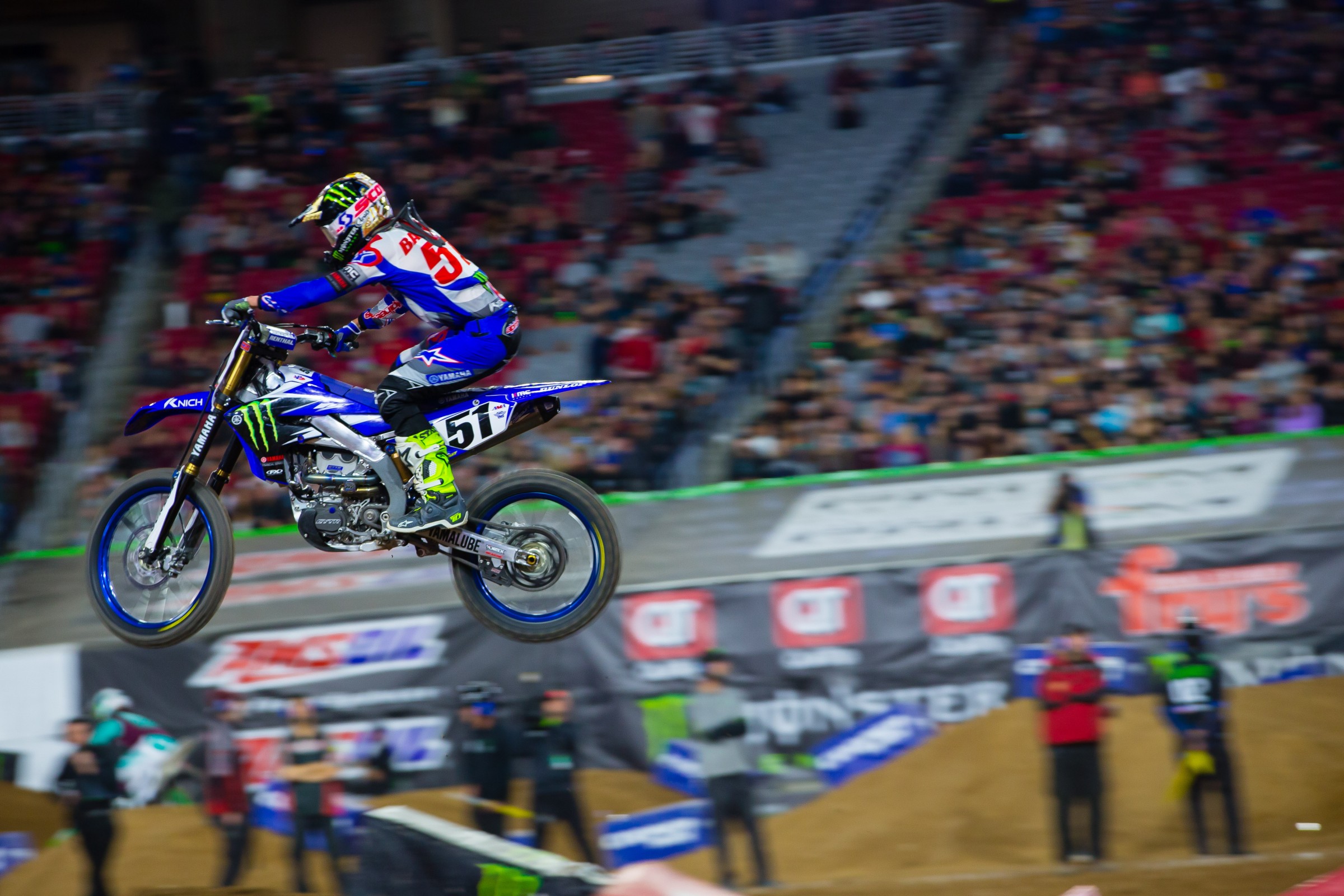 I like the idea of multiple main events rather than one. I like the fact that every race counts. There were times with the old format I would just fast forward through the semis because the format was drawn out and it got a little boring. Instead of three different-length mains, what are your thoughts in just two mains of equal length a la outdoors? And if they need to fill dead air between races, why not show replays of the LCQs... some of the best racing, and it still allows those riders some sponsor time.
The Triple Crown is the best option we have to offer. It's not perfect, but it's a step forward, in my opinion. Give the fans more meaningful racing and you can't lose. The dead air will get addressed sooner rather than later, I think.
---
I liked 40 minutes plus one outdoors and I like 20 plus one in SX. I feel that in racing, much like in life, all good things take time. What's your take on shorter races? Do you really want to see riders who cannot win a long race have a chance to win a short race?
I like the format as long as it's only one of three that count toward an overall. I don't think anyone too far out of the lead group can win a race that's eight minutes plus one anyway. That's ten laps or so and far too long for a mid-pack guy to hang at the front.
---
JT, you mentioned on one of the Racer X SX Preview Shows that the sport needs more participants, as fans merely watching pro racing do not support the bottom lines of companies like Fly and WPS by buying products. Can we correct this, and if so, how? Is this the million-dollar question that needs to be answered to keep the sport sustainable at the amateur level?
It is definitely one of the most pressing issues for the sport's future. Any solution for getting people out on their motorcycles as well as introducing both kids and new audiences to dirt bikes is a must. I don't have the answers, but I think many have correctly diagnosed the problems. We don't have as many people outside playing as previous generations. Xbox's and iPad's have replaced a dirt bike for far too many.
---
I was wondering what you would do to make the TV program for the night show have more racing and fewer commercials and filler, but enough time to give teams a long enough break. Maybe put amateur racing into the night show and insight on the behind-the-scenes of a racer's life, like how Red Bull does MX Nation. But that's just what I think. What do you think can make it more interesting and more fun for the viewers and bring more fans to the sport?
Having amateurs on the same track as the pros would be a disaster as far as injuries go. Even on a tame track like the Monster Cup, the crashes are hard to watch during the Amateur All-Stars and Super Mini portions. I would like to see us adopt an analysis show during the downtime to explain what we just saw from the prior race and what to expect. Educating the fans on what they witnessed and the intricacies of racing only adds intrigue.
---
JT,
What do you think about allowing each rider to throw out their worst finish of the season, like they do in the MXoN? It would seem like this would solve the issue of a DNF ending a tight points battle and would allow riders to take more chances without worrying about throwing away the season. It would also make for some interesting dynamics going into the final rounds, with some riders already having posted a bad finish, requiring them to be more conservative while others who don't have any bad races are able to ride more aggressively.
I don't think it's a terrible idea at all. I think you might get pushback from the teams, but that seems to be the norm for any proposed changes.
---
Please explain how some of the stars of moto can do a single-handed helmet removal without destroying their ears. Thank you.
Good question! I am not sure because I have tried it and wow, that hurts. Maybe they have small ears or maybe they have done it so many times they have gotten used to it. I am out on that technique, though.
---
I'm going to get a lot of grief for this, I know. It's "Ask a Question," so I'm asking. What qualifies you to be an "expert" in response to anything? I don't recall you being more than a mid-pack rider at best. Not being rude, just asking.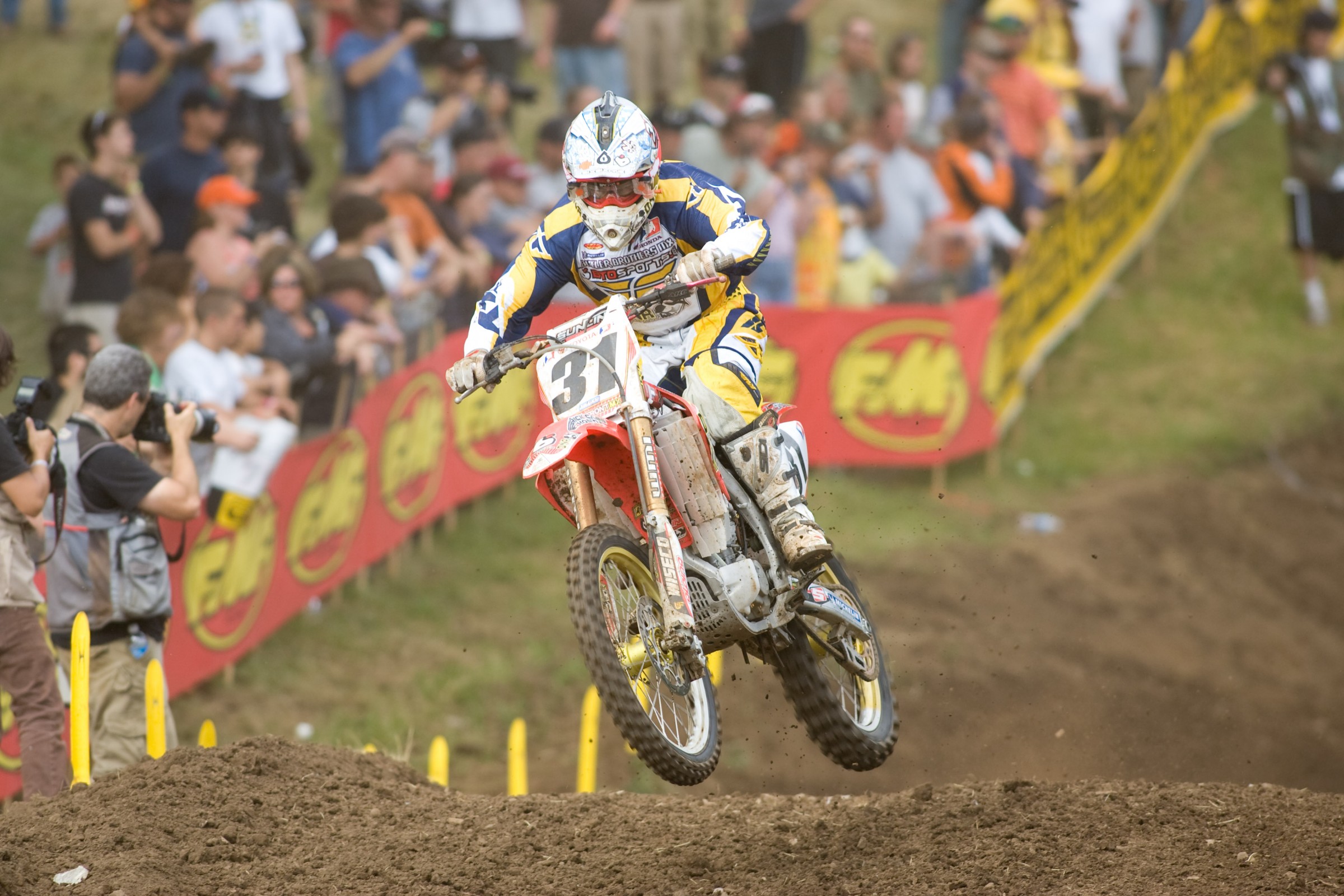 Hey, Jerry. Thanks for asking. I wouldn't classify myself as an expert, per se. I am just sharing my opinions and Racer X has been kind enough to offer a platform to do so. I will list some of my info below and you can make up your own mind.
132 AMA Motocross Starts
Best finish: 5th overall 450 Class, Budds Creek 2006
123 AMA Supercross Premier Class Starts
16 top-ten finishes
Best finish: 7th place Houston 2005 (6th at Vancouver 2005)
31 AMA Supercross 125 SX Starts
Eight top-ten finishes
Best finish: 6th, Indy 1999
2002 Guatemalan SX Champion
2004 Chemnitz, Germany SX winner
2005 Montreal, Canada SX winner
2005 Stuttgart, Germany SX winner
2005 Chemnitz, Germany SX winner
2005 Munich, Germany SX winner
2005 German SX Champion
2006 Stuttgart, Germany SX winner
2006 Vienna, Austria SX winner
2007 Stuttgart, Germany SX winner
2009 Montreal, Canada SX winner
2009 German SX Champion
Sales manager for a worldwide leader in off-road apparel (Fly Racing), 2012-present
Racer X contributor, 2012-present
Undefeated and reigning champion against any and all chicken quesadillas worldwide.
---

An expert is just someone who has lost his pert status. Simply put, if someone pays you a living wage ($60k min/year) to do something for more than a year, you are a subject matter expert. Ten years at that wage and you are an industry expert. Twenty years of this makes you an insider. Thirty years of this makes you bitter and resentful. Forty years of this makes you a dinosaur.
This is new info for me, but I will take under advisement. Maybe this is what happened to Matthes?
---
Hey JT, can you give us your top ten combined MX/SX racers of all time? Now that the two Ryans have retired, I'd love to see how they stack up against the all-time greats. I know a few years back (2011, I think) Racer X did a Bench Racing Ammo feature on the top 100 AMA riders. Could we possibly see an updated list? Thanks.
Oh wow, this is a highly debated topic. We need to revisit this, but I don't have time to break it all down here.
---
Do you think the racing is a little safer without James Stewart? I've been watching old races and he has taken out more people with his own wrecks, including yourself when he jumped into the back of you on a rhythm lane. Also, how frustrating is that, when "the fastest man on the planet" can't be conscious of other riders while on the track and plows you to the ground, he still gets the camera in front of his face? I'm sure you put in just as much hard work to be there than he did. Also, what do you think of his played-out retirement?
Tough question. I think racing is better with Stew involved, but he definitely made questionable decisions at times. He had the most raw speed of anyone I have ever seen, but he took chances that most would have thought twice about. I would prefer to have him racing than playing golf, though.
---
JT, lately I have noticed that the time has not run out when the leader of a race gets to the finish line, but they throw the white flag. So my question to you is, are they actually running the races as long as they are scheduled?
Really? Are you positive about that? Maybe it's just a TV glitch or something. I watch the timer on the finish line structure and it's always correct with the white flag flying. That is something that would be addressed immediately if it happened. 

---
Do you think that somebody who hasn't won a 450 supercross championship should be wearing an "Alpha Dog" butt patch?
I know better than to say what people should or shouldn't do. These guys at the top are always playing the mental game war in every way possible.
---
If the Nationals were to start out as the first series of the year, do you think Tomac would have a couple of bad races like he does in SX?
I actually don't think he would have this year, minus that crash. He was the fastest guy at A1 but just lost concentration for a split second and the rest was history. He is the best guy in the class, but that 50-point deficit might be too much to overcome.
---
JT, being a professional athlete and now a businessman, what career is actually harder to do well? Obviously talent is the key to any successful path, but one of the two paths has to be easier on the soul than the other.
They are so different in so many ways. Racing is so much more dependent on one's own self to make it happen. Business has many more variables for me and will always be dependent on a team to be successful. I was very fortunate to land at Fly Racing and have the opportunities that I have been given. I have the smartest minds in the business to learn from and I have never taken that for granted.
---
Hey JT,
I don't have a question, just a comment. We appreciate your real-world opinions, especially on the podcasts, etc. Keep up the good work.
On another note, I am getting back into dirt bike riding after a ten-year hiatus due to the financial crisis brought on by raising a little one. Because of you and Shorty, I picked up a new set of Fly F16 gear and absolutely love it. Keep up the good work.
Thanks, man! Our company appreciates your business and personally, I am happy to hear that you are back on a bike again. Please check out some of our other gear lines as you keep improving and getting your race legs back under you.