Glendale, AZ
Glendale
Monster Energy AMA Supercross Championship
Yeah, Observations from Glendale! It's here! Last year was a great track, great race with Eli Tomac crushing everyone and Chad Reed coming from the back to grab a podium. This series is starting to remind me a little bit of a changing of the guard. Let's get into it…
Let's talk about the track. Going from Anaheim 2's track to Glendale was like eating a Firehouse sub versus a bologna sandwich… that you found in the gutter… and a hobo had stored in his jacket pocket for weeks. Seriously, Anaheim 2 (a track that Ken Roczen called "horrible" in the press conference) was SO bad. I don't know what happened. This week's track was amazing. Granted, baseball stadium versus football stadium, but still. The dirt was good, it was very busy but somewhat safe. Long-ass straight to pull up on people, some sand (more on that), and whoops that were perfect. Seriously, the whoops were beautiful. They weren't too big, they weren't too small—they were perfect. Box these whoops up and put them on every single track, please. Or at least get the same operator that built these to build them every single week. Long, pretty big, and round—just amazing!
But because this is Observations, that means there will be complaining. And my complaint is the same one that I've gone on and on about before. It's not cool that the track builders went into the sand and shaped some big-ass whoops between the second and third practices. The changes made the second practice (first timed) completely irrelevant because it was slower. Does the Indy 500 just add in a little chicane for the drivers in between practices? How in the hell does this happen?
There were 56 guys in 450SX and 48 guys in 250SX trying for 40 spots. Both timed practices mean the world to these guys, and if there's an issue in one of them where the track was changed, then that means they're done. You can't do this. If you're going to make adjustments, make them after the first untimed sessions. After that, do not change it. Yet this happens over and over and I'm not sure why people think altering the track when it effects qualifying is okay.
Let's get into the results, yeah?
250SX Results
1st | #23, Aaron Plessinger | Hamilton, OH | Yamaha YZ250F
Plessinger captured his second win of the year and got the red plate back. He was awesome and we know he's good at the soft, rutty dirt we saw at Houston, but last weekend on the hard stuff, he didn't do great. Well, this wasn't "Anaheim"-hard dirt, but it got slick out there and Plessinger was the man. Yeah, I didn't like his move over on McElrath either (Wil Hahn probably taught him that), but it happened and it wasn't the reason why Aaron won at all. Can this guy unlock his potential? We're finding out, and it's his last year in 250SX so he may be hitting his stride at the right time.
2nd | #28, Shane McElrath | Canton, NC | KTM 250 SX-F
Shane handled the move over by AP with class. He said he wasn't happy, but they talked and the beef is buried. We may underrate Shane as a rider, but the more you get to know him and watch him ride, it makes you realize that he might just really grow into a great champion.
3rd | #92, Adam Cianciarulo | New Smyrna Beach, FL | Kawasaki KX 250F
He hasn't won yet, but if you were to ask most people who the fastest dude is in the class for one lap, they'd say AC. That and five bucks would get you a Starbucks mocha. He's doesn't seem to be getting frustrated with his season yet. He told me, "I think it's not a disaster. I think everybody around can see that I've improved. I'm definitely better than I was last year. I'm far fitter than I was. I'm faster. I'm everything better." Which is typical honest AC, but if I'm being honest and I ask you if you're frustrated and you say, "I think it's not a disaster," that tells me that it's also not good!
4th | #17, Joey Savatgy | Thomasville, GA | Kawasaki KX 250F
I don't know what to think of Savatgy's night. He came in off the win last week but then had a bad crash in the whoops in his heat. He won the LCQ, which was good. Then he pulled the holeshot in the main from the outside, which is really great. Then he got passed by the top two guys and they pulled away from him before he reverted back to "Joey Savatgy 2017" and lost his front end in a turn, which allowed AC to get by. But all of his race has the umbrella of that hard crash in the heat, which had to hurt and take the wind out of his sails (figuratively) and body (literally). So, yeah, I'm confused.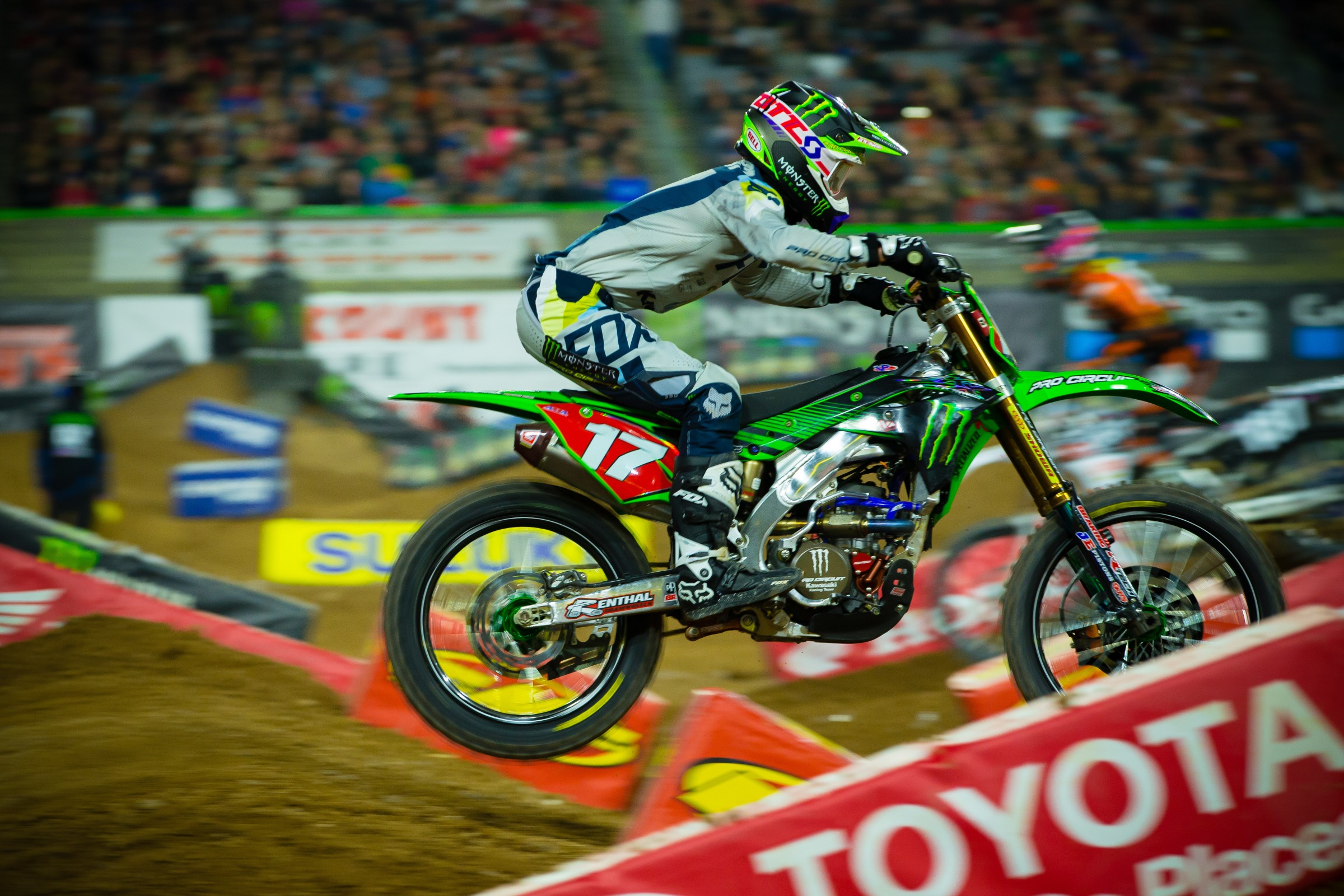 5th | #40, Chase Sexton | Clermont, FL | Honda CRF 250
All that hype leaving his ride in Houston, then the last main in Anaheim, then he's on the PulpMX Show and things are rolling for Chase. Then he has this night, which was not bad by any means but very quiet for him. Still, a fifth is fine, and he and the team are probably happy with it. By the way, there are plenty of things I can't stand about amateur motocross as I let everyone know every week on the PulpMX Show, but the one amateur I do like is GEICO Honda's Carson Mumford because he listens to the show and says hi to me. I explained this two weeks ago, and this week Mumford wheels past me on a scooter and says hi to me again. I'm telling you, he's starting to lay the groundwork for me to give him a pass in OBS every week when he turns pro. Very clever, and I'm onto you, Mumford!
6th | #53, Bradley Taft | Nixa, MO | Yamaha YZ250F
The Taft hype train is now leaving the station. It was stalled there for repairs for a couple of weeks, but ALLLLL ABOOOARDDD once again. Good ride for Taft.
7th | #1, Justin Hill | Yoncalla, OR | Suzuki RM-Z250
Hill's title defense has been a disaster for sure, but this track was perfect for him and his skills. If "it" was ever going to happen, then "it" was going to happen this weekend or not at all. And, well, we're still not sure. Hill put on social media he had no clutch, so this ride from 11th was good, all things considered. This is definitely something to build on for Justin and the team, and if the track in Oakland is like Glendale, then he can work again on getting a podium.
8th | #30, Mitchell Harrison | Tallahassee, FL | Husqvarna FC250
Harrison did well here last year, and I should've remembered that when it came time for fantasy SX picks. Then again, what I did remember was that his year has gone poo-poo for him, so there was no chance I had faith he could pull this off. His average qualifying this year is a 16th!
9th | #11, Kyle Chisholm | Valrico, FL | Yamaha YZ250F
With some help from the 51Fifty Energy Drink Yamaha, Chiz is going to do some 450SX on the East Coast, because you know what? Kyle's a racer and doesn't really care all that much about who's going to help him, or how much help he's got. He and Gare-Bear will get a bike ready, drive to the races, and make it happen. I admire that.
10th | #32, Christian Craig | Orange, CA | Honda CRF 250
I didn't see it, but Craig said he was taken out early on in the main and he was pretty far back. Sucks for him because this was a great track for him in every way. I was very surprised that he could only qualify sixth-fastest. It's like the perfect track!
11th | #54, Phillip Nicoletti | Bethel, NY | Suzuki RM-Z250
Phil was right up there and doing well. He was battling with his teammate Hill for a bit as well as Harrison before he dumped it. And then, in his words, he "fell apart" after that to get this spot.
12th | #59, Cole Martinez | Rimrock, AZ | Husqvarna FC250
How many tenth through 13th places in 250SX West has Martinez got in his career? I say 387.
13th | #68, Justin Starling | Deland, FL | Husqvarna FC250
Starling said on social media that Glendale was the best track he's ever raced a supercross on, and while there probably is some recency bias there, he might not be far off.
14th | #63, Hayden Mellross | Clermont, FL | Yamaha YZ250F
Mellross was very good last weekend and this weekend was dead, dead last early on in the heat. He rode very well to come up and make the cut for the main. It was a great ride.
15th | #992, Jean Ramos | Corona, CA | Yamaha YZ250F
Jean Carlo Ramos is now starring in The Main Event Regular, where he breaks into an elite 22-man army barrack each week in a daring fashion.
16th | #902, Killian Auberson | Corona, CA | KTM 250 SX-F
Auberson is someone that seems to be able to pull off good starts almost all the time.
17th | #52, Mitchell Oldenburg | Alvord, TX | Yamaha YZ250F
I feel like I bought tons of Freckle stock and I probably lost my ass this weekend, but I swear, we're going to go public one day real soon and I'll get rich! But until then, I gotta ride it out. Can't sell now.
18th | #137, Martin Castelo | Murrieta, CA | Yamaha YZ250F
19th | #388, Brandan Leith | Eagle Mountain, UT | Kawasaki KX 250F
20th | #805, Carlen Gardner | Paso Robles, CA | Honda CRF 250
Some big practice crashes didn't deter Gardner from putting it into the main, although he also crashed there as well.
21st | #217, Ryan Breece | Athol, ID | Kawasaki KX 250F
Breece is pretty underrated. Fantasy SX players everywhere know about him, though!
22nd | #67, Justin Hoeft | Castaic, CA | Yamaha YZ250F
Hoeft was a real story last year as a total privateer. He showed serious skills week-in and week-out. This year isn't working out as well for Justin.
450SX Results
1st | #3, Eli Tomac | Cortez, CO | Kawasaki KX 450F
Tomac rode amazingly. The metal grate might've been the thing he needed for consistently great starts. He faded a bit in the middle of the race when he had a big lead, and he told me it was a "crazy, crazy-fast pace" out there, and I would agree. After getting caught he picked it back up, and I love that about these races. You know how hard that is to do? You're getting caught, you can see it, and you have to pick it back up all while you're tired. It's impressive. He's now 36 points down in the title hunt, and although he faces long odds to get the title, all he can do is win and hope for some errors while not making any of his own. I also wrote this last sentence about James Stewart for about three straight years .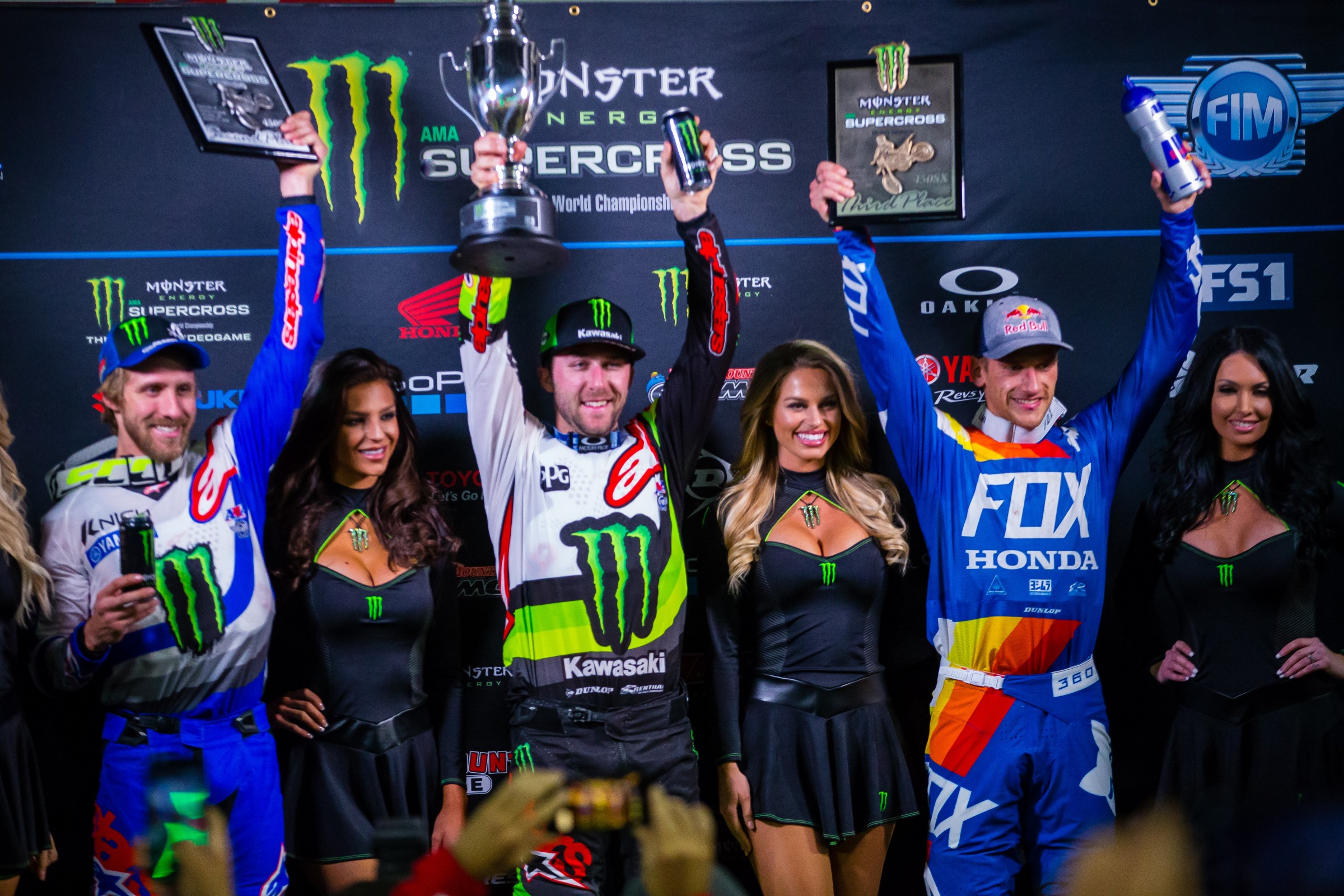 2nd | #51, Justin Barcia | Greenville, FL | Yamaha YZ450F
Well, the remarkable story continues for Bam Bam. And actually, he's trying to put that "Bam Bam" past behind him. Barcia rode great after getting a good start. Around halfway to three-quarters, he was catching Tomac pretty good before Tomac responded with a couple of great laps. Justin was cracking people up at the press conference when he admitted that in the past he's had run-ins with Eli, then Kenny, and pretty much the whole pits. He's really in a good spot right now and it's good to see him back up front. It was a few years ago (well, actually four) when I said he would challenge for a 450SX supercross title! But seriously, good for him, good for Yamaha, and let's watch this fascinating story. On another note, he came up to me before the press conference and said he's been meaning to talk to me. He wanted to let bygones be bygones and he'll talk to me—even come on my show, he said! I said sure, it was never personal with me, I was just writing about how bad he was riding because he was. Which he admitted. Anyway, we're back, and he came on the PulpMX Show on Monday in a fascinating interview.
3rd | #94, Ken Roczen | Clermont, FL | Honda CRF 450
Roczen started behind Barcia and Tomac and then got held up a bit by Peick—Barcia did as well. Once by the frisky Peick, he had a big gap to Justin and then even more to Tomac. Had Kenny gotten the start like Tomac, he would've won, and had Barcia gotten the start like Tomac, he would've won. Peick was a great buffer for the lead. Barcia and Roczen got up close to Eli at the end, but I think Tomac had it covered those last two laps. Who wins a race first, Roczen or Barcia? It's a real legitimate question right now. Who would've thought that?
4th | #21, Jason Anderson | Rio Rancho, NM | Husqvarna FC450
What a weird race for Anderson. It was amazing to watch and not one I've ever really seen from a red plate-holder. He started up front, dropped way back when he made some mistakes we're not used to seeing from him in 2018, then regrouped enough to fight his way back through all the dudes that passed him to get fourth. I think, although I'm not sure, that this race was a positive for Jason as he showed he could fight through some adversity. Also, the "new" Jason Anderson didn't get greasy with anyone he got by. As his trainer Aldon Baker told me, you can't make enemies on your way to a title. Look at the last two Ryans and how they did it. Stew and CR, well, that was different, but MOST of the time, you can't make enemies and win the title. And on that note, can we bring Stew back for an intermission race one-on-one with Chad? If that could happen, Feld would be able to print money.
5th | #25, Marvin Musquin | Clermont, FL | KTM 450 SX-F
Nice job for Marv to get a fifth with a shoulder that was bad enough last week that he had to pull off. And yeah, he wasn't great through the whoops, but he was good enough in them more times than not. Marv's shoulder isn't something that needs surgery; it'll get better each week, and until then, he just has to gut it out.
6th | #34, Weston Peick | Menifee, CA | Suzuki RM-Z450
Weston was going for it early in the main. Like, balls-out, bro, as he raced into second. He looked a tad sketchy at times hanging it out, but man, he's not scared. Peick was up and down, front to back throughout almost the entire main event. He had guys around him and passing back and forth—it was wild. Also, the triple off the tabletop that was so big, he came up a tad short more than most, which would cause him to not be able to make the next triple. Weaker men would've ate poop the number of times he clipped it, but he just held on tighter and rode it out each time. Fourth in the points, bro!
7th | #10, Justin Brayton | Mint Hill, NC | Honda CRF 450
This main event spot is good, but bro, can we talk about Brayton WINNING A HEAT RACE??? This isn't some easy track where he got a start and dudes fell in the first turn. Oh no, he just rode away from Tomac, Roczen, and Barcia. Yeah, that's first, second, and third in points, by the way. And he's got steel bolts everywhere you look on his bike! This just in: Brayton's back.
8th | #2, Cooper Webb | Newport, NC | Yamaha YZ450F
Webb's heat race was beyond horri-awful. Like, it was so bad Webb told he me wanted to quit racing after it was done. And I think he meant forever. So, bad gate pick for him, but he came out okay off the start and then had a front row seat to the epic battle with Anderson, Musquin, Seely, Peick, Brayton, and Baggett where they all swapped spots like it was the seventies at Studio 54. He was laying back there unable to really get into the mix, but he took advantage of the battles to get some guys at the end. Eighth isn't what he wanted, but afterward he sounded like he was okay with it. Props to him for coming to the press conference, because an elite dude like him usually isn't stoked on these finishes, so the last thing they want to do is wait around while we media jackals pounce on him.
9th | #4, Blake Baggett | Grand Terrace, CA | KTM 450 SX-F
I don't know, JT is claiming that it's just starts that are holding Blake back, and sure, I guess that's true. But I seem to remember Blake getting so-so starts last year and ripping through the pack. I know last week he got screwed by a Tuff Block on the track and otherwise rode well, but it's not been an ideal start for Baggett this year. We did see him on top of the practice times at one point this weekend, though.
10th | #33, Joshua Grant | Wildomar, CA | Kawasaki KX 450F
JG was right in the mix with all these dudes battling it out. He had a close call in the rhythm before the whoops one lap and then I don't know how it happened, but he leaped out of the sand, hooked a HARD right and went off the track and almost into the managers tower! Somehow he didn't hit a Dig Dug [track worker]. He saved it, and got back onto the track.
11th | #20, Broc Tickle | Holly, MI | KTM 450 SX-F
Still waiting.
12th | #14, Cole Seely | Newbury Park, CA | Honda CRF 450
Seely got a terrible start and then caught fire halfway through the race, going all the way from 14th after lap one to eighth. He looked to be able to get at least a couple more spots before the end of the night when he told me he had a "moment" in the sand, knocked the wind out of himself, and couldn't get anything going after that. So, all that work and in the end, he moved up only two spots from where he started. He was good before then, though!
13th | #27, Malcolm Stewart | Haines City, FL | Suzuki RM-Z450
This was an amazing track for Mookie, and we saw a glimpse of "HEAT RACE" MOOKIE that was glorious. In the main, though, he lost touch with the gang in front of him and then kind of rode around by himself. He's week-to-week with the JGR Suzuki guys right now. Seriously. That sucks; we need more Mookie out there.
14th | #55, Vince Friese | Cape Girardeau, MO | Honda CRF 450
This just in: Vince is much better in whoops than he's ever been! Watching him and his old teammate Mike Alessi go through big nasty whoops was, at times, a big and nasty pain, but Friese has been very good to start the year. Although he looked a bit tired at the end of the race (he was close to Stewart at one point), his whoop speed is pretty good.
15th | #15, Dean Wilson | Clermont, FL | Husqvarna FC450
Wilson's shoulder injury has been lost in the injuries to Marv and Eli. They've been able to somewhat rebound from their issues, but Wilson hasn't been as lucky. Sucks for him to finish this far back, and I'm sure he's mega-frustrated with the start to his year.
16th | #69, Tyler Bowers | Lake Elsinore, CA | Kawasaki KX 450F
The Bear drove to Phoenix old-school in a box van with his mechanic Donk. I hope they were blasting Strung Out tunes the whole way and talking about after-parties. I hope the Bear finds a way to head East for the series, but I'm thinking that's doubtful. Also, "Donk and the Bear" could be a name of an NBC sitcom on Thursday nights.
17th | #19, Justin Bogle | Cushing, OK | Suzuki RM-Z450
Bogle made his return to racing for the JGR guys and it went about as well as one could hope. With concussions, a lot of time the athlete can't exercise or do much of anything (I haven't talked to Bogle, I'm assuming), so all that base you have is gone. So, unfortunately for Justin, it's going to be a long climb back to where he wants to be, but you've got to start somewhere.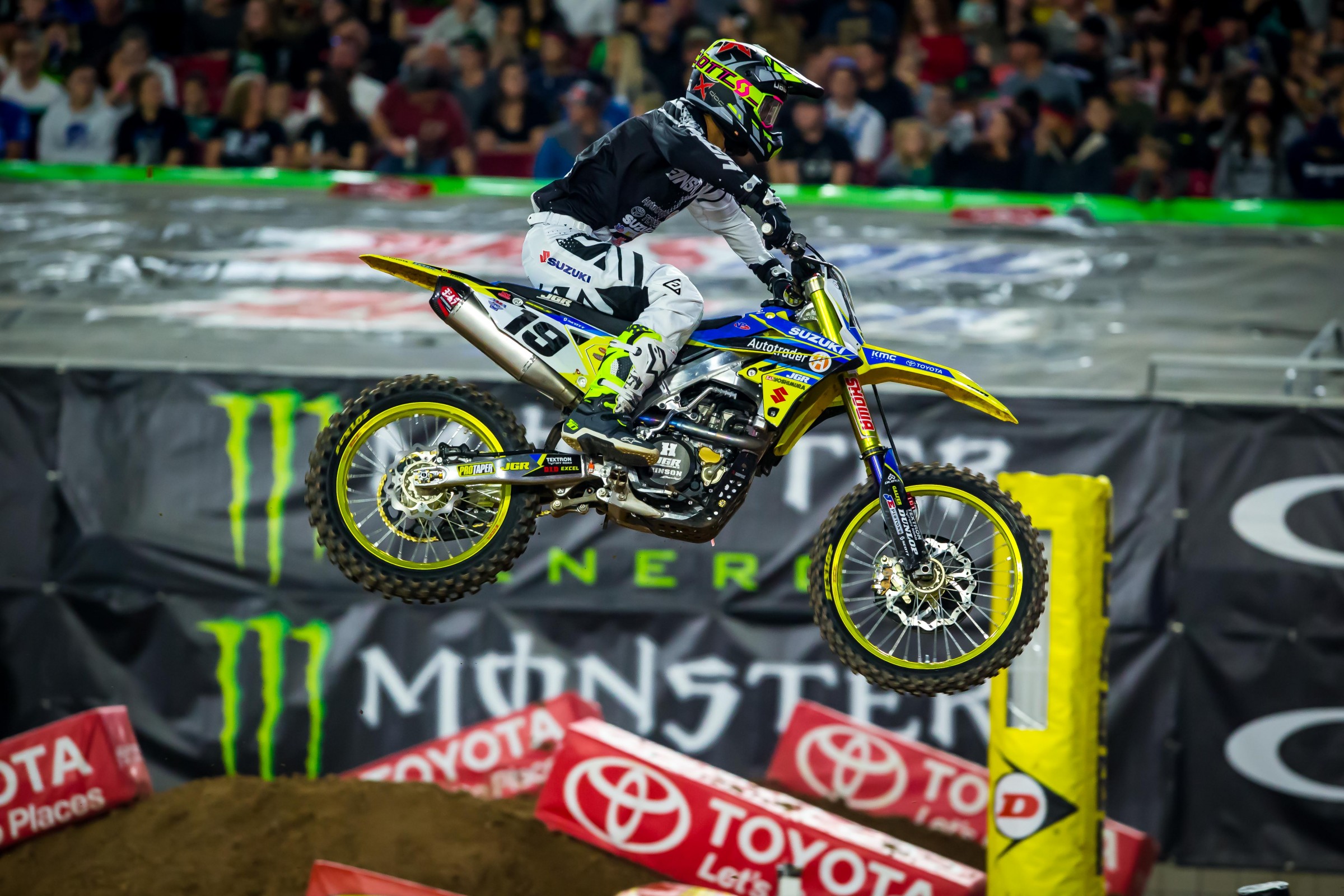 18th | #12, Jacob Weimer | Huntington Beach, CA | Honda CRF 450
Weimer's back! His first race back from injury and a tough track to jump into for sure. I asked him if was regretting this decision 15 minutes into the main and he replied, "More like three laps in!" Well, it'll be a while before he's at 100 percent, but there's no better practice than racing the main event.
19th | #22, Chad Reed | Dade City, FL | Husqvarna FC450
Not sure what happened, but Reed pulled into the mechanic's area at one point to get something fixed. He wasn't good all day, which was weird because: A) he's now riding during the week, B) you'd think he slowly be getting better, and C) this track was great for him. Maybe there's more going on with the ankle than we know?
20th | #60, Benny Bloss | Oak Grove, MO | KTM 450 SX-F
Bloss made his return to the series as well, and he had to win the LCQ to get into the main. From there he crashed, stopped in mechanic's area for a repair, and headed on out. I hope Benji can stay away from the crashes and just slowly build on getting closer to the top ten.
21st | #58, Matthew Bisceglia | Weatherford, TX | Suzuki RM-Z450
Bisceglia had a rough night with a fall in the LCQ and then I think in then main as well. However, I can guarantee you it was a better night for him than when he didn't make the main last week. The team owner for Bisceglia is Josh Hansen and we keep hearing Hanny is coming back every week, but then he's out. Stay tuned for the return of Hanny…
22nd | #91, Alex Ray | Milan, TN | Yamaha YZ450F
A-Ray was sick all day with some sort of respiratory infection. He told me that if he didn't make it into the main from the heat that was going to be all she wrote for him. Well, he rode very well in the heat (great start!) to make the main, but I knew that would be it for him. He wasn't going to do much, if anything, in the 20-minute plus one main.
Some other news and notes:
As anyone knows who follows me on social media knows, the Steve Matthes Memorial Nets got their first use this weekend in practice by privateer Colton Aeck. He clipped a jump, got some whiskey throttle, and shot over a berm where he was saved from certain death (okay, I may have exaggerated that part) from a net being there for his safety. He was cradled gently (another exaggeration) by said net and taken softly to the ground. This was all glorious. People were talking about me saving Aeck from hitting the concrete floor, and although this is true, I really just wanted the nets up so that we could improve racing by having bowl berms back on the outsides of the stadium floors. The side effect was rider safety, so yay for Colton and me, I guess!