NRG Stadium
Houston

,

TX
Houston
Monster Energy AMA Supercross Championship
Welcome to the Racer X Race Day Feed, your one-stop shop for the Monster Energy Supercross in Houston, TX. We'll be updating this post with news, notes, and results from today's races, so be sure to keep checking back throughout the day.
You can also follow Racer X on Twitter, Instagram, and Facebook to stay up on all the action.
Morning Report
A quick jaunt away from the West Coast for Monster Energy Supercross, and that's probably a relief because the California rounds bring tons of scrutiny and extra industry people milling in and out of the pits, which just adds to the anxiety that permeates through the early rounds. So getting out of California might be nice, but it hasn't worked out from a weather standpoint, because it's legit cold here in Houston. Shouldn't Texas be warm even in January? Some teams didn't even have warm jackets ready for a cold day in the pits, and we noted Monster Energy Kawasaki putting heaters next to Eli Tomac and Josh Grant's bikes.
Weather won't matter for racing, though, because NRG Stadium has a roof, and Houston still has that sweet, sweet dirt everyone has always loved. The track is cool, too, maximizing the football-field shaped floor space to put in five 180 degree turns, two whoop sections and a booter triple that sent the riders so high that even the top 450 riders rolled it a few times to get the timing right. It's a great layout. The center of the track has a big tabletop that riders are using to triple through the section. Only a few 450 guys did it in the first session, though.
Dean Wilson has decided not to race today, his shoulder was too sore to hang on. Eli Tomac is racing but didn't look good in the first untimed practice. He's working through that shoulder injury from last week.
Just about everyone says they'll be better this weekend now that the Anaheim 1 nerves are gone. Cooper Webb's new mechanic, Hutch, says he didn't even recognize the rider he saw last week--should be better this time. That's just an example. People are pumped to get the opener over with.
In untimed practice (which actually has times), Adam Cianciarulo and Jason Anderson scored the top times.
We'll be here with updates from practice and the night show. Enjoy round two!
First Timed Practice
In the first timed 250 session the Monster Energy/Pro Circuit Kawasaki teammates Adam Cianciarulo and Joey Savatgy immediately jumped to the top of the timing charts. They stayed there. Cianciarulo was also fastest in the untimed session (which is actually timed) earlier today so he's rolling right now. It's key for the 250s to nail a few rhythm sections, including the triple over a table top, and the triple-triple-double in the rhythm section before the finish. Everyone is making it over these, but no one is doing it consistently, especially the triple over the table.
Not good for Justin Hill. The defending 250SX West number-one crashed in this session and only logged the 14th-best time. Also, last week's race winner Shane McElrath was only 12th, we didn't see him jumping all the big rhythms yet.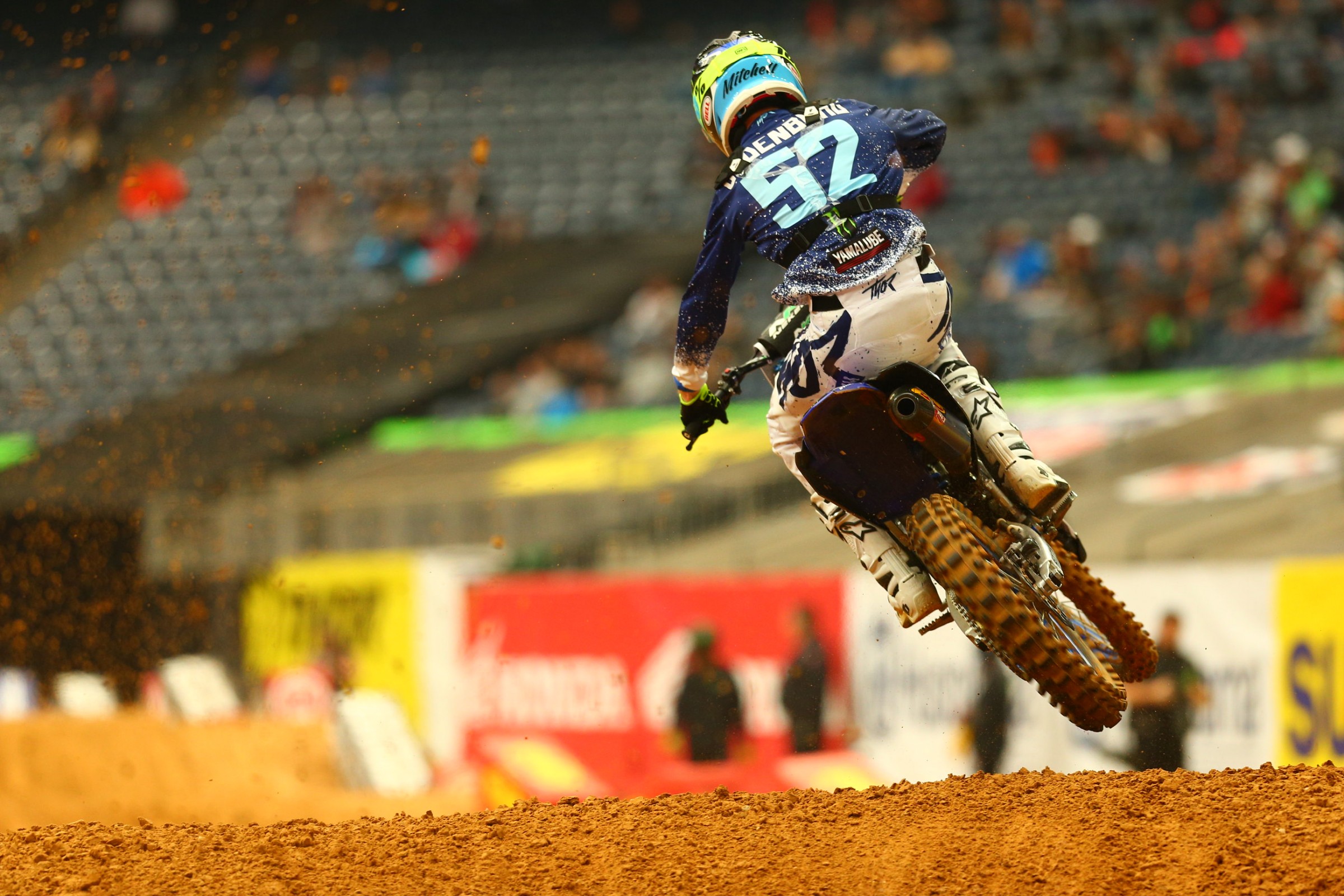 GEICO Honda's Christian Craig jacked up his ankle this week but is going to ride anyway. He pulled off early in this session but tweeted that he's just saving himself for the night show and will definitely line up tonight.
Houston - 250SX West Group A Qualifying 1
Full Results
Houston - 250SX West Group B Qualifying 1
Full Results
Potentially a big shakeup in 450SX: Eli Tomac, here nursing a bad shoulder after last week's crash, only logged one semi-fast lap in this session before pulling into the mechanic's area and riding back to the pits. He had the slowest time of anyone in this session. Could this signal Tomac is out for tonight? We'll go check at the Monster Energy Kawasaki pits in a few minutes.
Blake Baggett looked like a totally different rider from last week, he was one of the first to get the triple-over-table section dialed in the first practice, and he looked quick and explosive in sections here. He held the top spot for a good amount of this session until Justin Brayton, who also looks very good, took the top spot. On the last lap, Jason Anderson swooped in to take the fast time. The exact same thing happened in the untimed session earlier--Brayton was on top until Anderson took it away late. Brayton, Baggett and Anderson all rode press day here yesterday, that might be giving them an advantage here.
Series points leader Marvin Musquin was quiet in practice just like he was last week. Our man Jason Thomas thinks Marvin might struggle with the whoops tonight because both sessions come in the middle of straight aways, instead of after turns. Entry speed is going to be key, but entering whoops and blitzing at Mach 5 is not Marv's specialty.
There might be a saving grace for Marv fans, though. This dirt is soft and we think the whoops might become technical jumpers by the night show.
Houston - 450SX Group A Qualifying 1
Full Results
Houston - 450SX Group B Qualifying 1
Full Results
Final Practice
Adam Cianciarulo has a clean sweep of 250SX West qualifying today, as a late fast lap grabbed the top time in this final session--he was fastest in the first two sessions as well. Mitchell Oldenburg was the fastest for awhile--he's been looking very good today--but his teammate Adam Plessinger jumped him for the top spot before Cianciarulo moved ahead of both. On the last lap, Shane McElrath made his presence known by jumping into second in the session.
Monster Energy/Yamalube Star Racing Yamaha's Justin Cooper went down hard in the whoops during this session, which brought out a red flag. He was eventually able to get up under his own power and take a ride away on the Alpinestars Medic Mule. Not sure on his status tonight but it doesn't look promising after that big hit.
Houston - 250SX West Group A Qualifying 2
Full Results
Houston - 250SX West Group B Qualifying 2
Full Results
Houston - 250SX West Combined Qualifying
Full Results
The big news from the 450 class: Eli Tomac is out. He tried to go out again in this practice just to get a qualifying time, but then he pulled off the track. We later checked at the Monster Energy/Kawasaki pits where Tomac was being interviewed by Fox Sports' Jenny Taft. He said he's out for the night and will now take it day by day to determine his status for next week.
Jason Anderson is hauling today. He was fastest again. The Rockstar Husqvarna man is going to be hard to top if he can get a start tonight. One wildcard, though, is that we're watching them roll down a set of whoops with a skid steer right now, a set of whoops that were not working for Marvin Musquin. If the whoops get smaller, it could work to his advantage.
Houston - 450SX Group A Qualifying 2
Full Results
Houston - 450SX Group B Qualifying 2
Full Results
Houston - 450SX Combined Qualifying
Full Results
250 Heats
Joey Savatgy got the holeshot but privateer Bracken Hall was set up to the inside in the second turn and put on a block pass—and that slowed Savatgy up. Mitchell Oldenburg ended up with the lead with Shane McElrath behind him, and when Oldenburg bobbled in the whoops on lap two, McElrath rolled up to his rear wheel and they started to battle. With a block pass in the turn after the finish, McElrath took over the lead. Then, Savatgy, who was killing the whoops, caught them. Savatgy sent it in the single leading into a turn to try to get inside of Oldenburg and make the pass for second, but he came in too hot and tucked the front, going down. Then McElrath bobbled and Oldenburg came back on him, slicing from outside to inside to take over the lead. In the next turn, McElrath block passed Oldenburg right back, regaining the lead in the same spot where he passed him earlier. He held on for the win—so far he's undefeated in 2018.
Houston - 250SX West Heat 1
Full Results
Adam Cianciarulo grabbed the holeshot and checked out. Justin Hill and Mitchell Harrison were battling for second early and when Hill got into second it might have set up a good AC versus Hill battle, but Hill started losing ground and fell into the clutches of Chase Sexton, then Aaron Plessinger, then Christian Craig….not a great heat race for the defending champion. AC was gone but Sexton logged a solid race for second. Harrison ended up going down but recovered for the final transfer spot.
Houston - 250SX West Heat 2
Full Results
450 Heats
Josh Grant nailed a huge holeshot in heat one but went wide, so Ken Roczen and Cole Seely went underneath. This was a much better start for Kenny than anything we saw last week. Roczen was off to the lead with his teammate Seely chasing, then Grant and Broc Tickle. Tickle eventually made the pass for third. Up front, Roczen pulled away from Seely slowly until Seely found some speed in the final two laps, getting right to his teammates' rear wheel. They battled side-by-side until lapped traffic got between them and Roczen was able squirt back away and hold on for the win.
Houston - 450SX Heat 1
Full Results
Anderson nailed the holeshot in 450 heat two, with Barica right behind, and a big battle between Baggett, Peick and Musquin. Peick emerged with third early when Baggett bobbled and didn't triple. Two laps later, Baggett got the difficult table-to-double and got back past Peick. Justin Brayton joined the battle and blew past Musquin in the whoops before the finish, and then a lap later Marvin endoed huge in the whoops and crashed hard—he got up holding his shoulder, looking like it might have popped out of the socket. He eventually got back on the bike and rode off to the mechanic's area—if the series leader comes back, he'll have to race the LCQ to get to the main.
How many shakeups can this series handle in two weeks? Sheesh.
Up front Anderson pulled away. Barcia was under serious pressure from Baggett, Brayton and Peick but held on for second. Cooper Webb got a bad start and ended up sixth, getting around Malcolm Stewart along the way. Chad Reed and Adam Enticknap took the final two spots.
Houston - 450SX Heat 2
Full Results
250 LCQ
Chris Howell got the holeshot but like every rider that got a holeshot tonight, he went wide…way too wide and clipped a tough block, and going down. That ignited a pileup, the big loser being Bracken Hall, who got caught in the mess. Hall was the guy who got a great start in his heat race and block passed Joey Savatgy for the lead. Now he's not going to make the main.
Jean Carlos Ramos—the bloodsport kick boxer (or is that Jean Claude Van Damme?) held the lead and Justin Hoeft slowly closed in and passed him. Ryan Surratt and Broc Shoemaker then held third and fourth, but Julio Zambrano was clinging to a position trying to get in, and Shoemaker bobbled and lost positions. This put Zambrano back into the top four and into the main.
Houston - 250SX West LCQ
Full Results
450 LCQ
Austin Politelli—who was down in a heap and crawling off the track in his heat race—came back to lead this LCQ early. Dakota Tedder started closing in second, with AJ Catanzaro third and Henry Miller fourth.Then with a lap to go Tedder flipped in the whoops, shooting Tyler Enticknap into fourth. Miraculously, Tedder recovered instantly from his huge crash and immediately started attacking Enticknap for fourth. Somehow he repassed him to get into the main. This is what the LCQ is all about!
Houston - 450SX LCQ
Full Results
250 Main Event
Wow. This one was a statement.
Joey Savatgy grabbed the holeshot with Shane McElrath and Adam Cianciarulo second and third, then Christian Craig and Chase Sexton. The top three pulled away, then Craig closed back up, making it a close four-way battle. McElrath on lap three got next to Savatgy in the whoops but Savatgy held him off.
This battle kept getting better! McElrath took a few shots at Savatgy and then Cianciarulo took a few shots at McElrath. After six minutes, Cianciarulo made a move for second after the whoops and made it stick.
Not enough battling for you? Aaron Plessinger suffered a terrible start but worked past Brad Taft and Chase Sexton to catch Craig, who was right behind McElrath. Plessinger passed Craig in the whoops halfway through the race for fourth. He was setting scorching lap times and beginning to get the leaders in sight.
Up front, Cianciarulo tried to get inside of Savatgy but was way too nice, blew the corner and went down. He was up quickly, but lost spots to McElrath, Plessinger and Craig. Plessinger just kept coming, passing McElrath in a rhythm lane to get into second, with six minutes left to catch Savatgy. Plessinger was so, so, so far back early on!
With four minutes to go Plessinger passed Savatgy after a hard fight to take the lead. He then pulled away from there. He was completely on another level tonight, coming from behind in a stacked 250SX West field to win it. His move in the whoops—wheel tap, quad, quad—allowed him to get through a long whoop section in three leaps. He also had a handy wheel-tap move in the rhythm lane off the start. It was impressive.
Meanwhile, McElrath and Cianciarulo were catching Savatgy, and then McElrath got blocked by a lapper and Cianciarulo got by. McElrath made another bobble and Chase Sexton passed him—big shakeup for the points leader.
As the white flag came out, Cianciarulo crashed for a second time, chasing Savatgy. This put Sexton into third! Strong for just his second professional supercross race.
McElrath and Craig rounded out the top five, with Oldenburg and Cianciarulo sixth and seventh. Bradley Taft and Kyle Chisholm were next. Defending champion Justin Hill had another bad night. He chose the inside gate and of course smacked into the tough blocks, setting him way back. He struggled from there and finished tenth.
Houston - 250SX West Main Event
Full Results
450 Main Event
Barcia and Roczen battled off the start with Barcia emerging with the lead, Anderson and Peick were battling for third. On the start of lap two, Roczen got to the inside of Barcia and took over the lead, with Anderson also overhauling Peick for third. A few minutes in, Roczen and Barcia started pulling away from Anderson, and Barcia started putting extreme pressure on Roczen. Five minutes in, though, Roczen was able to pull out about a second on Barcia, and Anderson started to close.
Halfway through, Barcia bobbled and didn't clear the triple after the finish, and Anderson slipped past. Then Seely got around Barcia as well for third. Barcia started getting crazy, passing Seely back, getting sketchy, getting sketchy again….he was expending a lot of energy out there, refusing to give up on a podium spot.
Twelve minutes in, Roczen started fading and Anderson closed the gap big time. Two laps later, Anderson got to the inside and they battled side by side down a straight. Anderson busted out the table-to-double to emerge with the lead, an extremely patient attack.
Barcia just refused to give up, and with three minutes to go he repassed Seely to get back into third.
Behind that, Peick and Brayton battled at red-line heart rate the whole way, never giving an inch and never able to gain much or pull away much throughout the entire race. Peick held on for fifth, the second-straight fifth-place for him. Brayton, Baggett, Tickle, Grant and Jeremy Martin rounded out the top ten.
Up front, Anderson rode a solid, steady race to notch the win—this is actually two victories in the last three supercross races for Anderson. He'll also leave with the points lead after going 2-1 in the first two races.
Houston - 450SX Main Event
Full Results