We close our eyes and another year goes by… Welcome to the last Racerhead of 2017. It's been a long, strange year in America—and not just by moto standards. Yet, here we are, almost at the finish line, almost ready for the checkered flag to fall and the starting gate to go right back up, ready to drop on 2018. Anaheim 1 is right around the corner, and another Monster Energy AMA Supercross Championship up for grabs. We can't wait for Lurch to scream, "Are you ready for supercross?!!!" because we are. It's been a long off-season, but a good one—no real laundry list of injuries before the opener (knock on wood).
Before we get ready to look forward, how about one last look back at the year that was? We thought we'd do a "Best of 2017" for this last Racerhead of the year. Because when the calendar flips on Monday and another year begins, everyone will be tied in points, everyone will have a chance (on paper), and we will start all over again. This is a very incomplete and unofficial list—please feel free to add your own "best ofs" in the comments below.
Best Hour of 2017
Gotta be that last hour of the 2017 Monster Energy AMA Supercross Championship in Las Vegas. First, Jordon Smith throws away a straight shot at the 250SX East Region Region title after Zach Osborne goes down in the first turn, and then Joey Savatgy starts struggling, making it appear that Adam Cianciarulo will win, then Osborne comes up through the pack with outrageous speed and literally knocks the title out of Savatgy's hands! If that's not enough, the 450SX main goes from a game of chess to a round of bumper cars as Eli Tomac makes a desperate last lap attempt to keep Ryan Dungey from taking the title, and it turns into the ultimate walk-off title in AMA Supercross history—much, much more dramatic than the 80-lap beat-down Ryan Villopoto laid on everyone in the last four main events of his career in 2014.
Best Farewell
Ryan Dungey went out right. The man who won the first supercross race of his life in 2007 did not win the last supercross race of his life, but he didn't have to. He just had to run the gauntlet laid down by Eli Tomac in Las Vegas, and then he decided that the championship would do for the perfect mic-drop. More on that later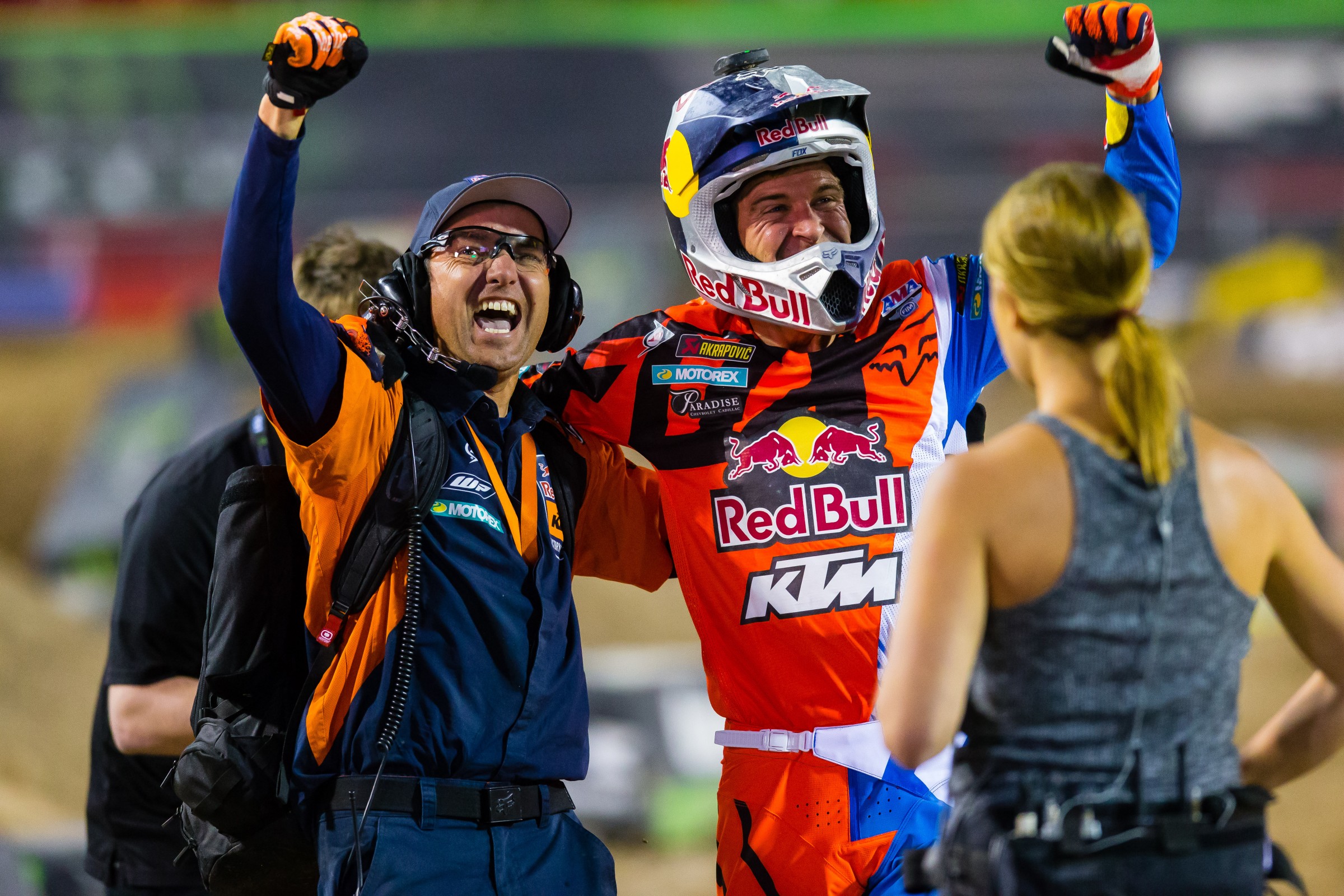 Best Veteran (Andras Hegyi)
Rockstar Husqvarna's Zach Osborne was a champion before 2017, but it's been quite a while. Back in 2004, Osborne won the Junior 85cc World Championship, as well as the 85cc (14-15) AMA National Championship at Loretta Lynn's (with a kid named Ryan Dungey finishing fourth). But that was it for the next 13 years. Between 2006 and 2016 he raced both in American and Europe, and along the way won just one MX2 Grand Prix (Turkey) and one Lucas Oil Pro Motocross (Budds Creek). That was it. Then 2017 happened and Osborne changed all that. First, he won the 250SX East Region title, then followed it up with the 250 Pro Motocross Championship. He also became Husqvarna's first small-bore AMA champion both in supercross and motocross. In addition, Osborne became Husqvarna's most successful rider ever in the U.S. regarding the number of the titles. Finally, the 28-year-old Osborne is the first racer to be small-bore SX and MX champion in the same year in the saddle of a non-Japanese bike. It's like he was an overnight sensation, 13 years in the making!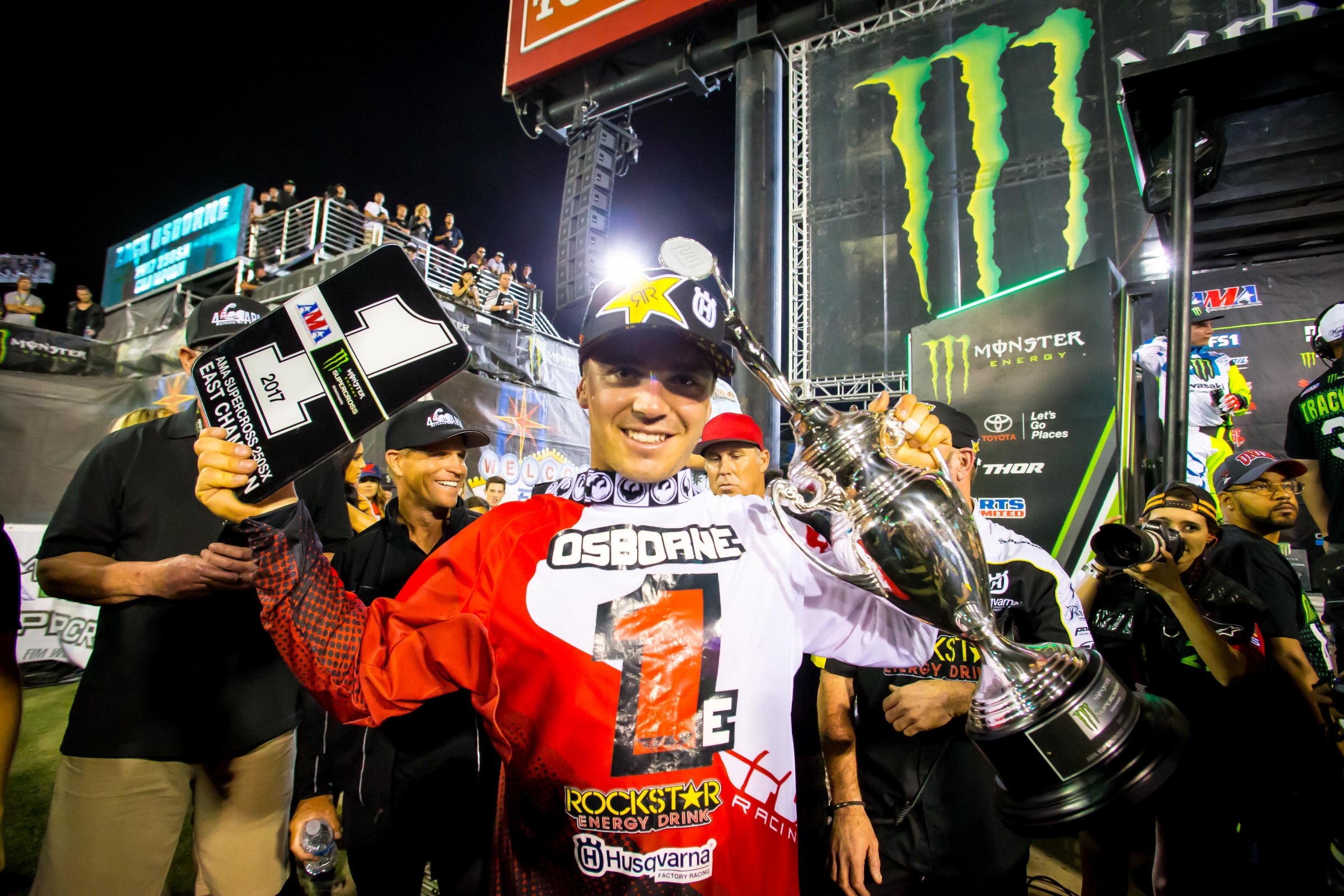 Best MXGP Veteran (Andras Hegyi)
Antonio Cairoli returned to world championship form again in 2017. The factory Red Bull KTM rider failed to win titles in 2015 and 2016 after sustaining injuries and being usurped first by Romain Febvre and then Tim Gajser. For his lack of success, Cairoli was written off by many people before 2017, as many expected MXGP to be a battle between Gajser and Febvre and the incoming Jeffrey Herlings, the best MX2 rider of all time. Instead, it was the great Cairoli who gave a perfect answer to all the critics. The Italian legend was able to earn his ninth FIM World Championship and seventh in the premier class. And this was the longest season yet, with 19 rounds, 37 motos (Indonesia was called off after one muddy moto). Cairoli was able to be the best in one of the strongest fields ever, beating past world champs Herlings, Febvre, Gajser, and Jordi Tixier. Cairoli proved that he is able to be world champion not only in his teens and twenties, but also being over 30. As a matter of fact, he's now 32. Next year, he has the chance to go after the all-time record of ten world titles, held by Stefan Everts.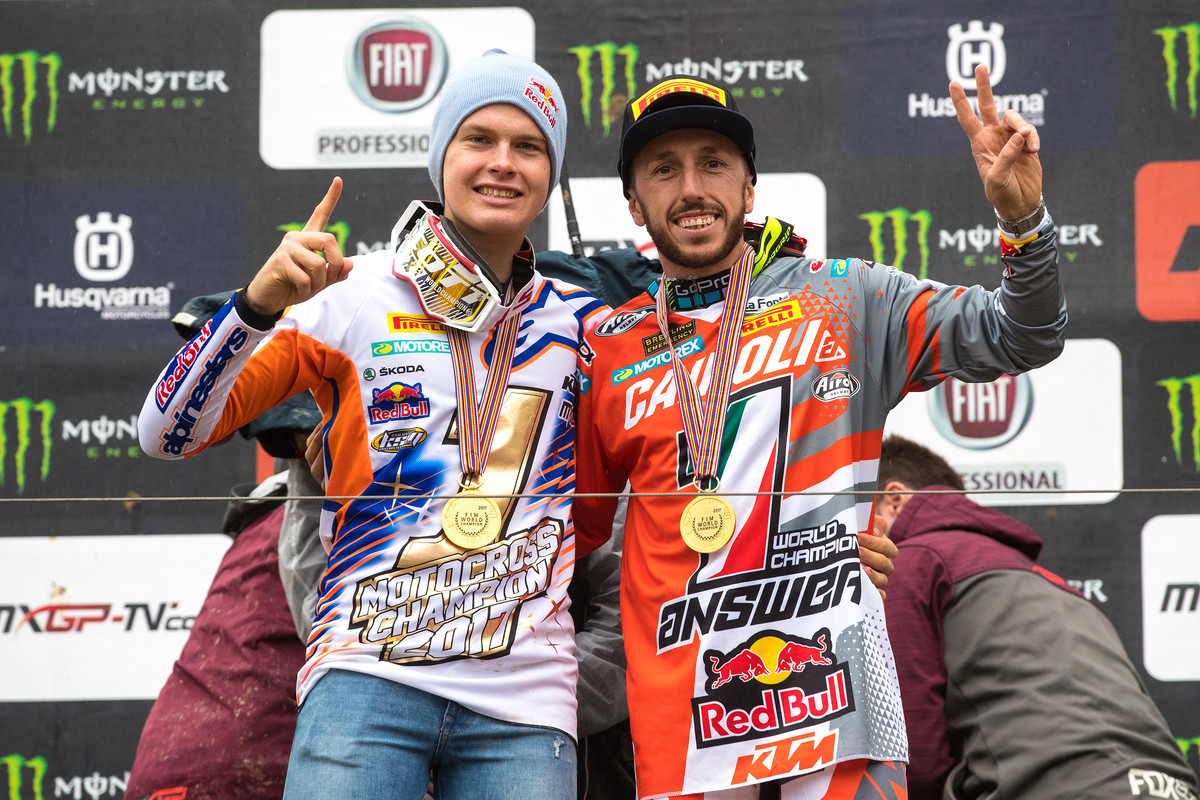 Best One-Off Ride
When MXGP title contender Jeffrey Herlings lost his last long shot at toppling Antonio Cairoli for the FIM Motocross World Championship, he decided to damn the torpedoes and go full-speed into the last round of Lucas Oil Pro Motocross. The Dutchman showed up at the Ironman National in Indiana and put on a fine performance in winning the first moto, but then a truly remarkable one in the second moto, coming from dead last to win when Red Bull KTM teammate Marvin Musquin threw away the win with a crash a lap and a half from the finish.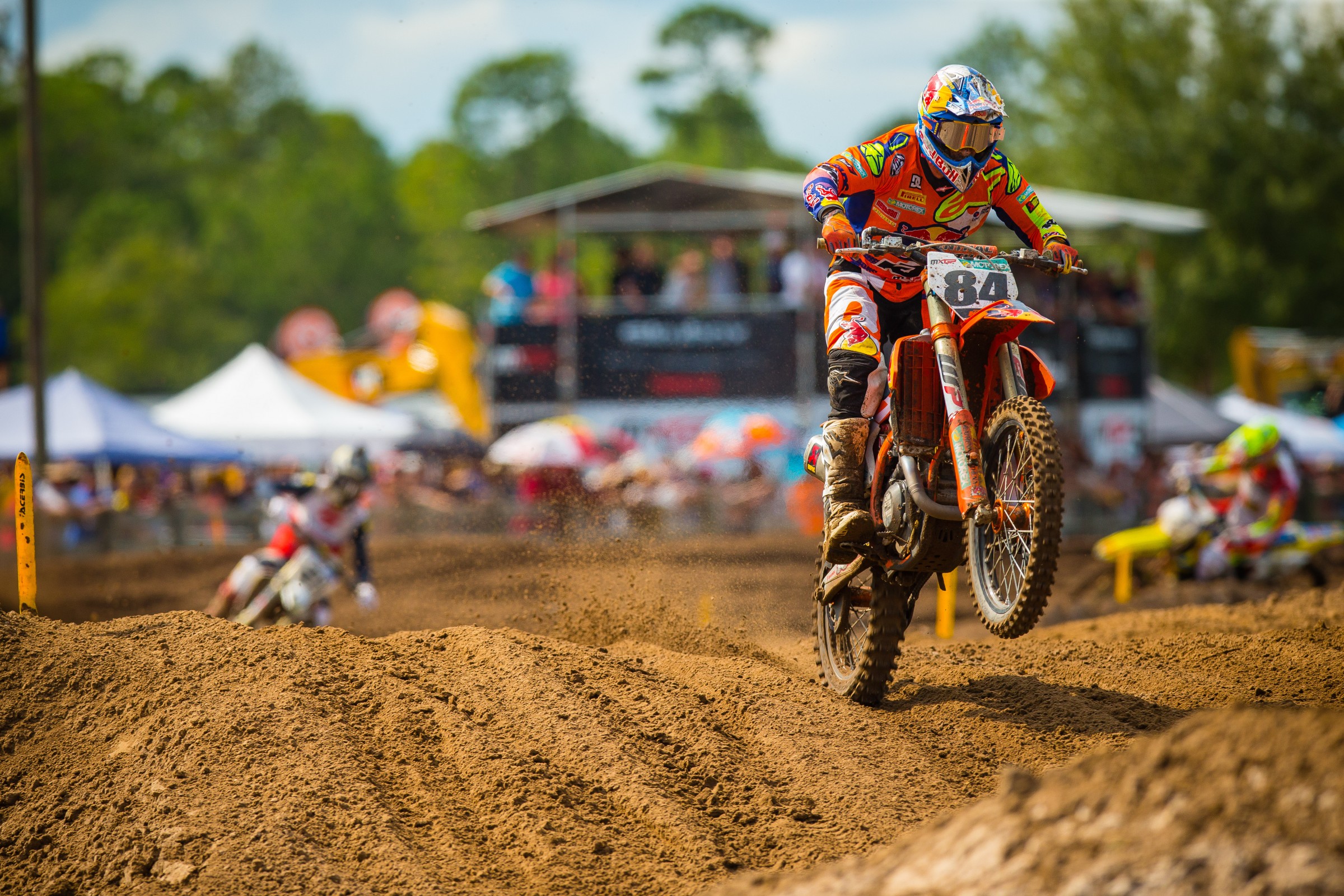 Second Best One-Off Ride
GEICO Honda's Jeremy Martin was not having the 250SX campaign he wanted out West and decided to hope on Ken Roczen's vacant Honda CRF450R for the Daytona Supercross. Starting from the far outside after qualifying fifth in the semi, Martin ended up leading one half of the main event before being overtaken by Monster Energy Kawasaki's Eli Tomac, then held on to second in the one and only 450cc ride of his professional career. It was impressive enough to earn him a 450 ride for the first three rounds of the 2018 season before he focuses on finally winning a 250SX East Region title.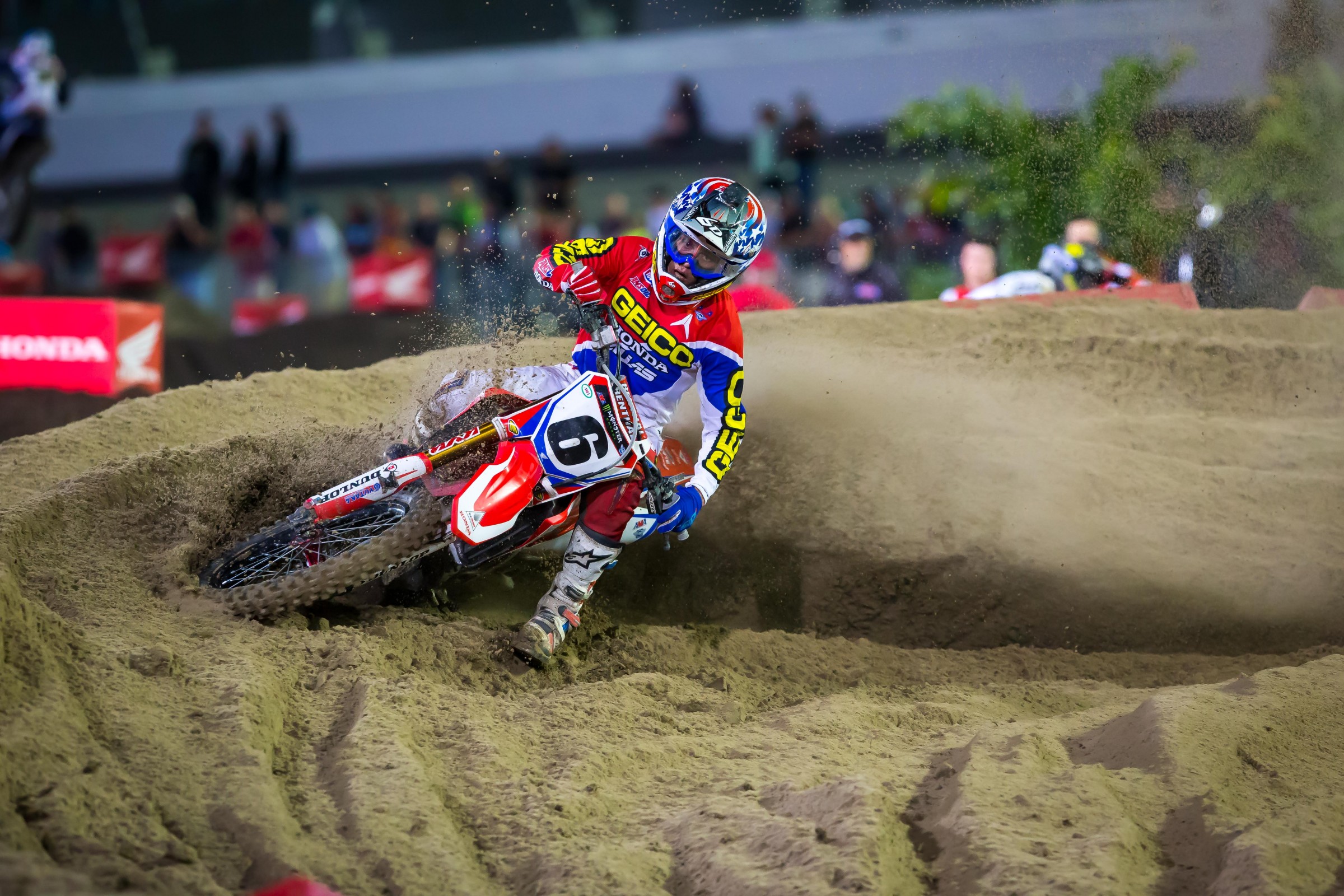 Best Line
At the Italian MXGP race in April, home favorite Cairoli found himself deep in the field on a fairly one-line race track. Nevertheless, the eight-time world champion (at the time) kept his head and kept motoring through the pack, finding a line on a step-up into a 90-degree left-hand corner that allowed him to cut inside others and block the exit of the corner. The Red Bull KTM rider put the line to excellent use, passing pretty much every top contender in the field using the line, lap after lap. He ended up somehow winning the race, much to the delight of the partisan fans. And now he's a nine-time FIM World Champion.
Second Best Line
At the MXGP of USA at WW Ranch in Jacksonville, GEICO Honda's RJ Hampshire finished last in the Saturday afternoon MX2 qualifying race after a breakdown, which meant that he would go last to the starting gate in both motos. Fortunately, Hampshire knew that there was a far, far outside medics line that was not off-limits because there were no track markers there, and because it was heavily traveled upon by the Alpinestars Mobile Medics and other official vehicles, it was packed down much more so than the sandy start stretch. When the gate dropped Hampshire immediately aimed for the lane to his right, losing time in the process, but as soon as he hit the hard pack it looked like his CRF250R had afterburners or something. He ended up at the front of the pack and went on to win both motos in his first-ever MXGP race. It was also his first win as a professional, and a fine way to end the 2017 season.
Muddiest Race
With a nod to the messy, thunderstruck motos at Unadilla, as well as the horrible conditions at the MXGP of Russia, the MXGP of Indonesia was so brutal and thick with mud that the FIM decided to call it a race after the first set of motos. Some of the best mud riders on the planet were getting stuck left and right, often being forced to abandon their motorcycles in the middle of the tropical ooze.
Upset of the Year
Riding for Team Great Britain, Max Anstie had the ride of his life at the 2017 Monster Energy FIM Motocross of Nations, sweeping both of his motos in front of an adoring crowd. Max also helped get the British on the podium for the first time in maybe his whole lifetime, though the winners (for the fourth year in a row) were the French.
And only in a fantasy world would there ever be an elimination match race that included former multi-time AMA Supercross and Motocross Champions Ryan Villopoto and Chad Reed, yet the final two positions came down to Gared "Stank Dog" Steinke and Ronnie Mac, but that was the Two-Stroke Challenge at Red Bull Straight Rhythm.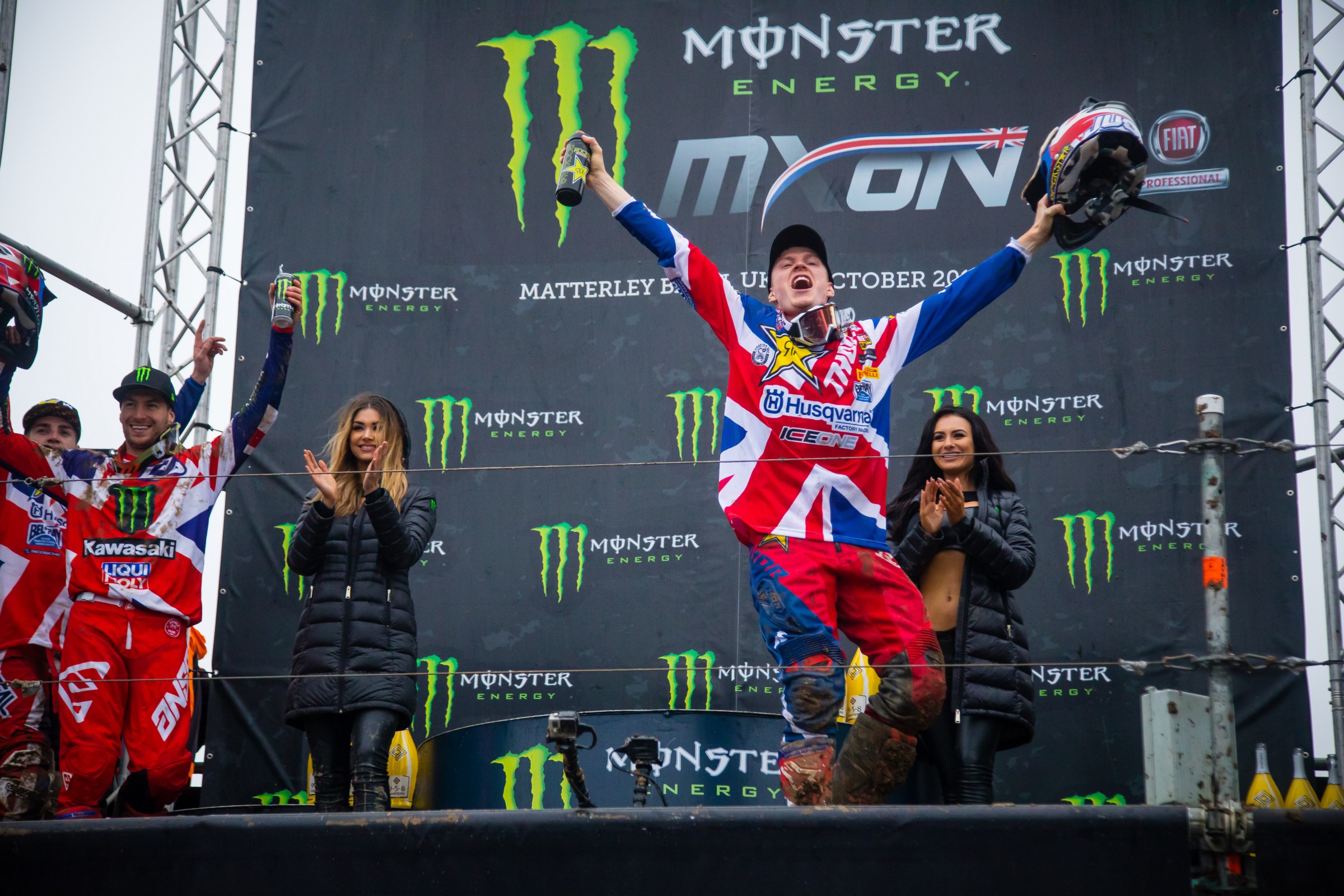 Best Decision
When France lost first AMA 250cc rider Dylan Ferrandis and then MX2 contender Benoit Paturel, they seemed to be running out of riders to round out their team for the Motocross of Nations in England, but someone suggested giving former MX2 Grand Prix racer Christophe Charlier a call. Now a full-time enduro racer and already a member of the winning French World Trophy team at the 2017 International Six Days Enduro, Charlier turned out to be the perfect choice, especially after rain absolutely flooded Matterley Basin and turned the MXoN into quite a mudder. Charlier did his part, along with team captain Gautier Paulin and world champion Romain Febvre, and France won for the fourth straight year. Maybe Team USA should have Kailub Russell or Thad Duvall on speed dial in case it starts raining before RedBud in 2018!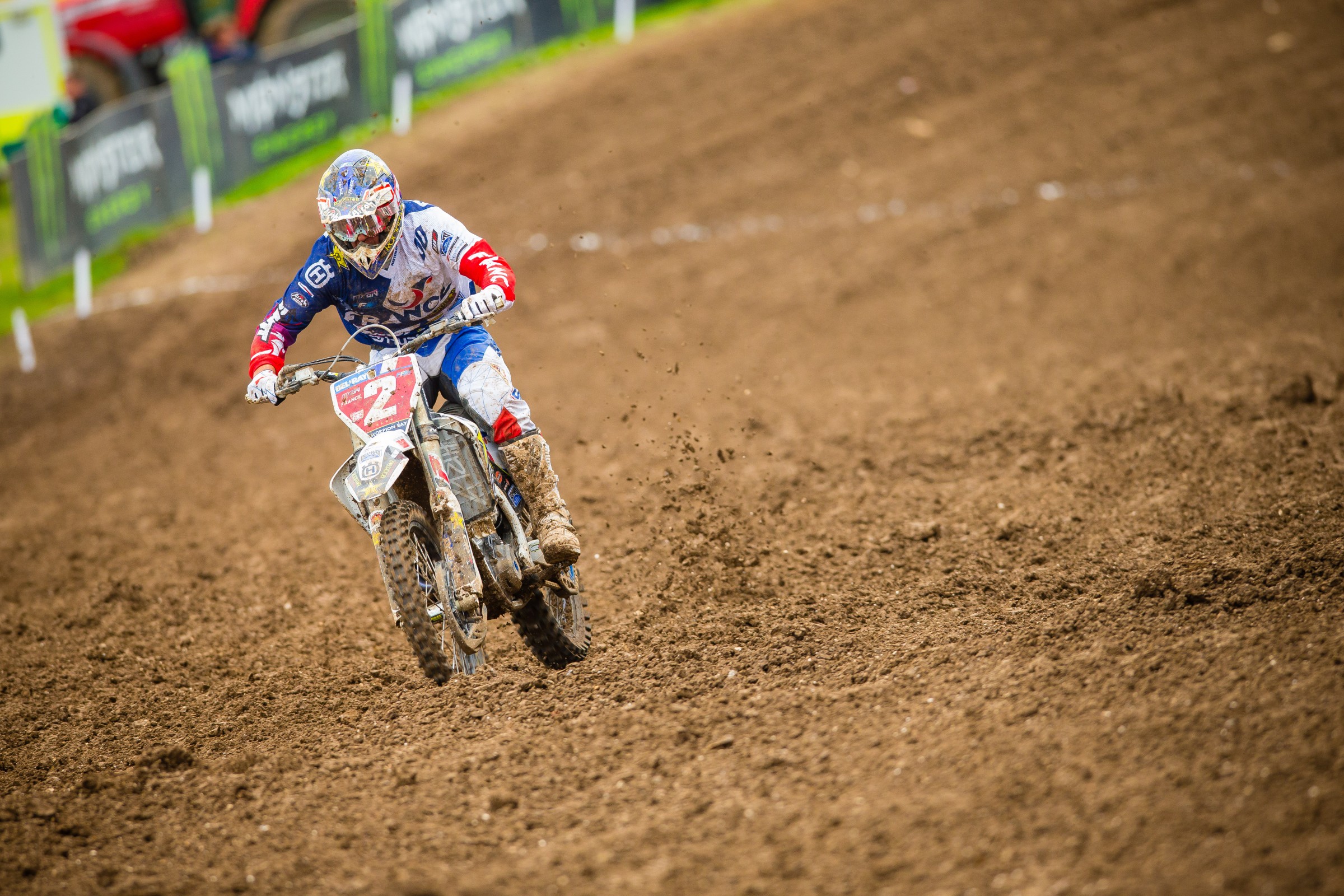 Worst Series Development
Husqvarna's Thad Duvall, a rising star in the off-road world, appeared to have his hooks in KTM's Kailub Russell as the Grand National Cross Country Series reached its crescendo. But Thad got hurt, and that took the air not only out of his title hopes, but the series' drama as well. Russell cruised to a fifth career title and surpassed Scott Summers' all-time record of 47 overall wins. Now attention turns to 2018 and Duvall's return—this time with a chip on his shoulder. This is about to get good…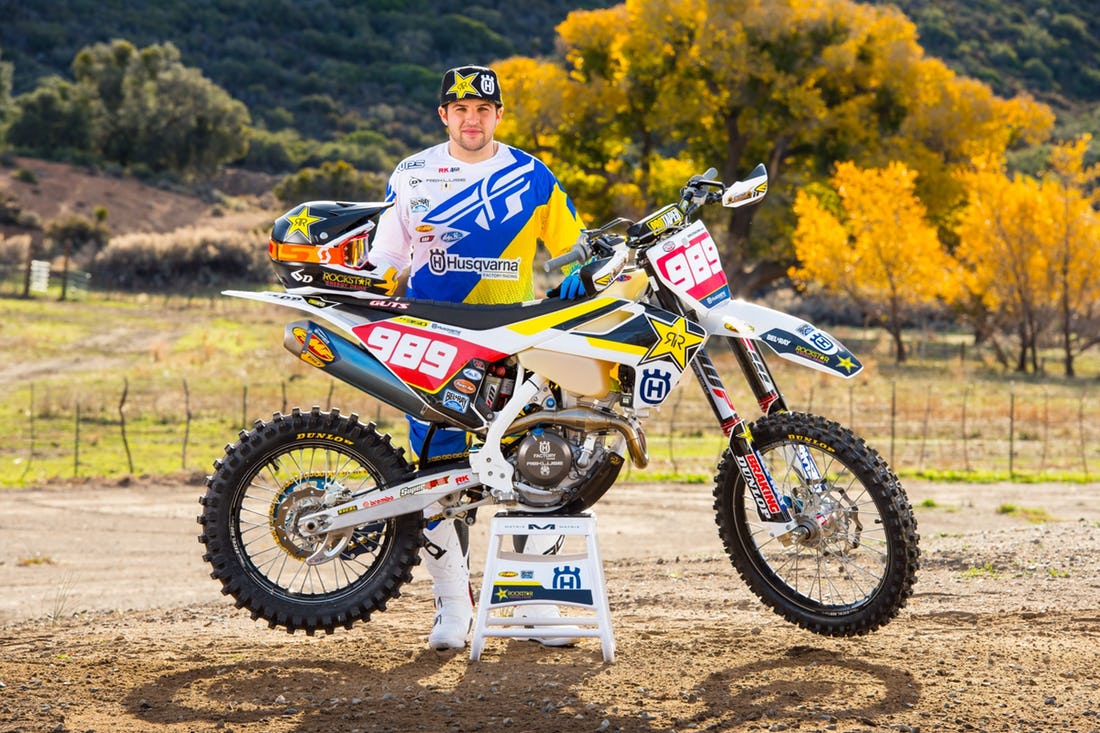 Crash of the Year
Ken Roczen. In an instant, his Anaheim 2 endo ended his season and changed the entire 2017 Monster Energy Supercross table, as well as Lucas Oil Pro Motocross, where he was the defending champion. How he does in 2018 could be the story of the year.
Comeback of the Year
Dean Wilson started his '17 campaign standing under his own awning as a privateer at Anaheim 1. He ended it as a Rockstar Energy Husqvarna factory rider standing on the podium of the Motocross of Nations as a member of the third-place British team. He also had an extended contract in his back pocket after putting in a solid SX season as a replacement for Christophe Pourcel, who told team owner Bobby Hewitt he no longer wanted to race in the stadiums and decided to do one more summer in Canada before calling it a career.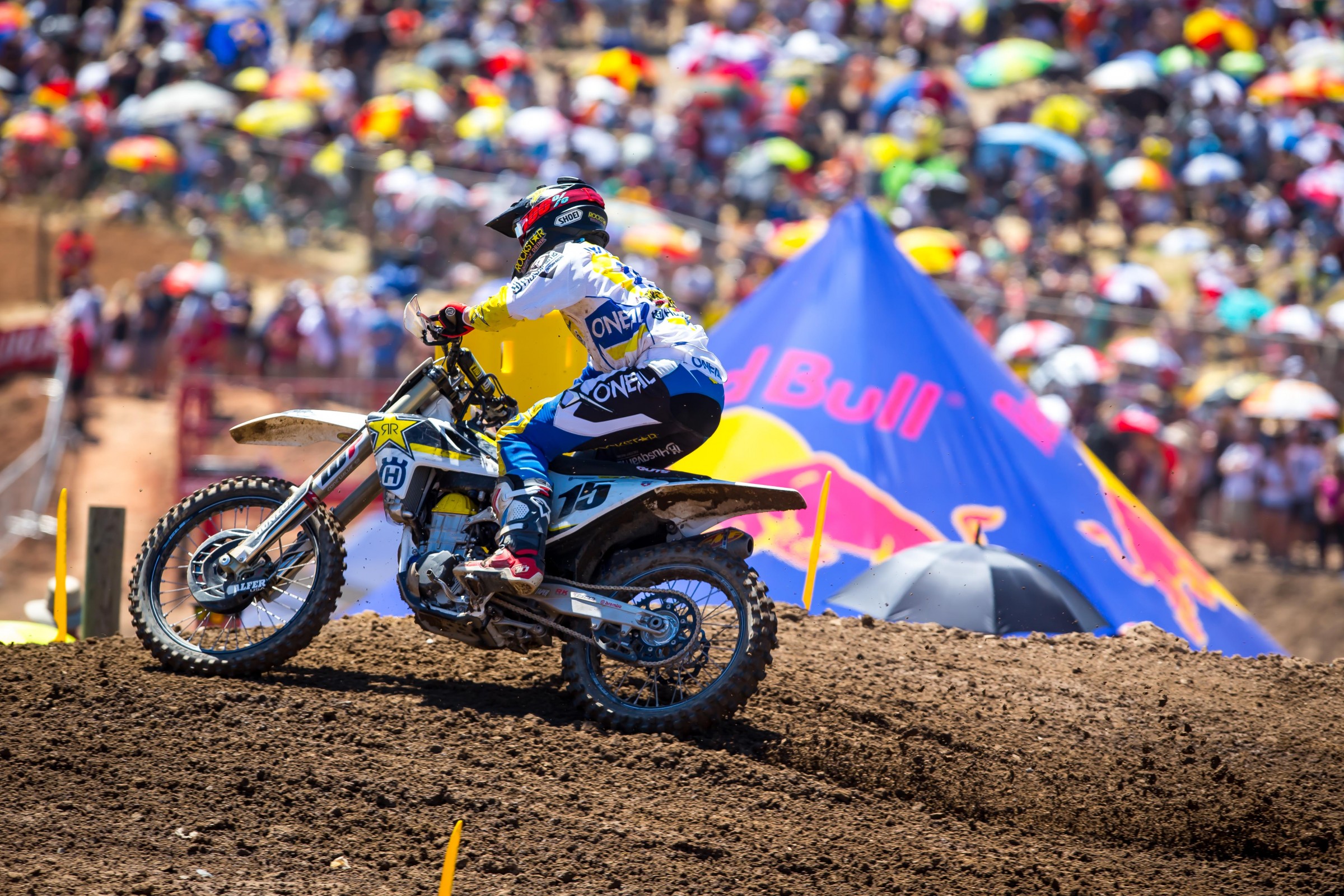 Best Trend
They seem to be coming on parallel tracks, both picking up momentum: the return of two-strokes and the arrival of electric bikes. The FMF Triple Crown Dream Races have been a big hit in Lucas Oil Pro Motocross, as have one-off races at Glen Helen and Washougal, not to mention the new XC3 class in GNCC Racing. As for the electric bikes, they might soon fill out the gates of the KTM Junior Supercross Challenge, as the brand announced that they are headed that way with their junior minicycles and the Alta continues to pick up "steam."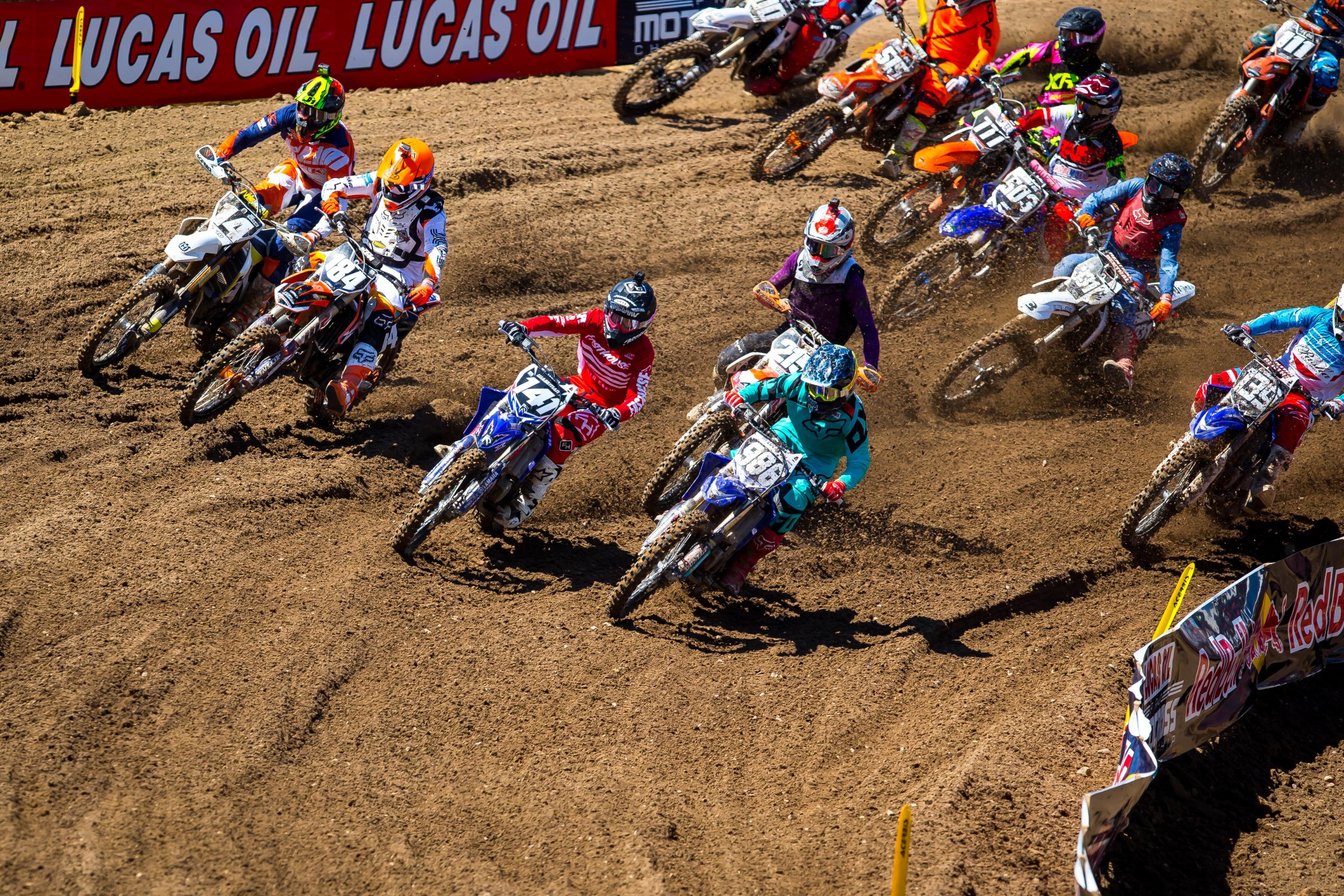 Worst Trend
The motocross world lost three former FIM World Motocross Champions. Victor Arbekov was the first Russian rider to win a world title in 1965, Gennady Moiseev the second in 1974. Both passed this year after long illnesses. And because these things seem to happen in threes, Sweden's Hakan Carlqvist also passed after suffering a stroke at the age of 63. Godspeed to all three. We will have much more on each, as well as other moto friends we lost in 2017, on New Year's Eve with our annual "The Lives They Lived" requiem. Don't miss it.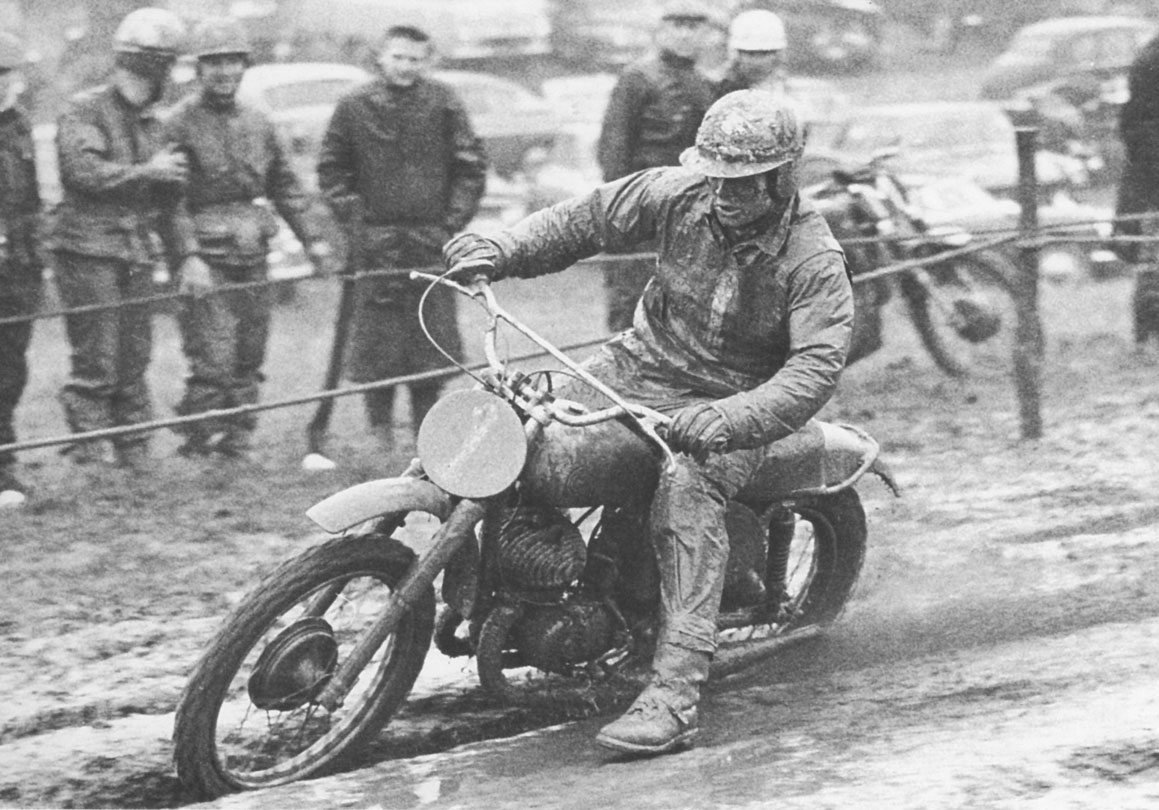 Best Export from a Small Country (Andras Hegyi)
Pauls Jonass hails from Latvia, a little Baltic state in Northern Europe; by area, it's only the 122nd biggest country in the world. But now Latvia has its first motocross world title in history of the FIM World Championship, which started in 1957. The 20-year-old Jonass won the MX2 World Championship in 2017. He set brand-new points record as well, collecting 771 points. That broke Antonio Cairoli's 2013 record of 761 points in what was then the MX1 category. Thanks to Jonass, Latvia became the 19th nation to produce a motocross world champion. But before Jonass' historic world title, Latvia had a reputation in the motocross world for its prolific sidecar motocrossers. Latvian sidecar motocrossers earned nine world titles in all.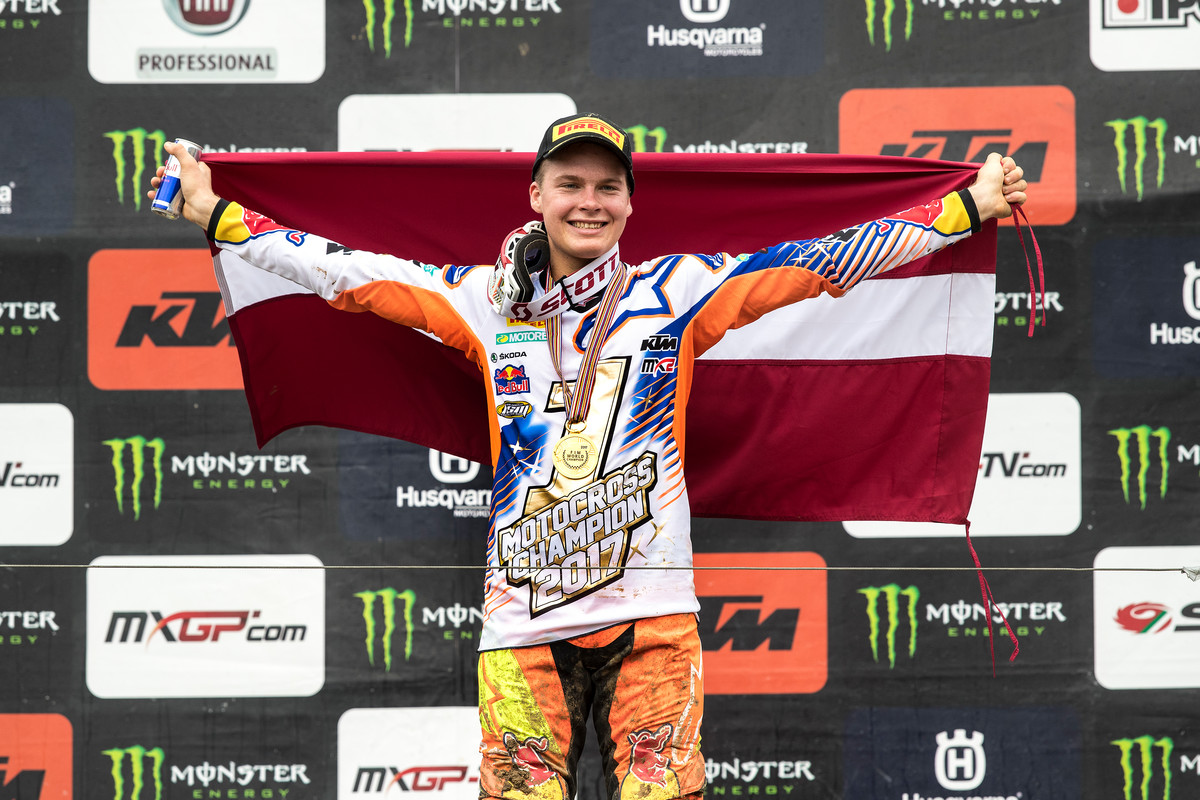 Best Late Christmas Present
MAVTV is finally in HD. After years of moto customer calls, suggestions, and complaints, the Lucas Oil-owned MAVTV can be found in hi-definition on DIRECT TV Channel 214, which means all four motos of each round of the 2018 Lucas Oil Pro Motocross Championship will be in HD on DIRECT TV. NBC Sports Gold (last year's Best Late Christmas Present) is also coming back, so there will be plenty of options to watch the races next summer.
Best Brothers?
With the book seemingly closing on the fast sibling chapters that were the Stewarts (at least James, not Malcolm), the Alessis, the Hahns, and the Pourcels, there are two sets of brothers now on the rise that will be making headlines in the years to come. Over in Europe, the Australian brothers Hunter and Jett Lawrence will do one more year of FIM racing, with Hunter going after the MX2 World Championship on a Honda and Jett racing a Suzuki in EMX250, and then both will move here full-time next October, with Hunter joining GEICO Honda's pro team and Jett on the Factory Connection Honda amateur development program (he will be too young to turn pro in AMA Pro Racing). At the same time, you can expect to see the Texas-based Masterpool brothers to join the pro ranks, as older brother Jake should be ready for a factory ride, and younger brother Ty is already hooked up with Monster Energy/Yamalube/Star Racing Yamaha for an amateur deal in '18, and then pro the following year. Jake and Ty are the younger brothers of #956 Jesse Masterpool, who passed away after a terrible crash at Lake Whitney in Texas seven years ago. In the 36-year history of the AMA Amateur Nationals at Loretta Lynn's Ranch, the Masterpools are the only three brothers to have all won titles.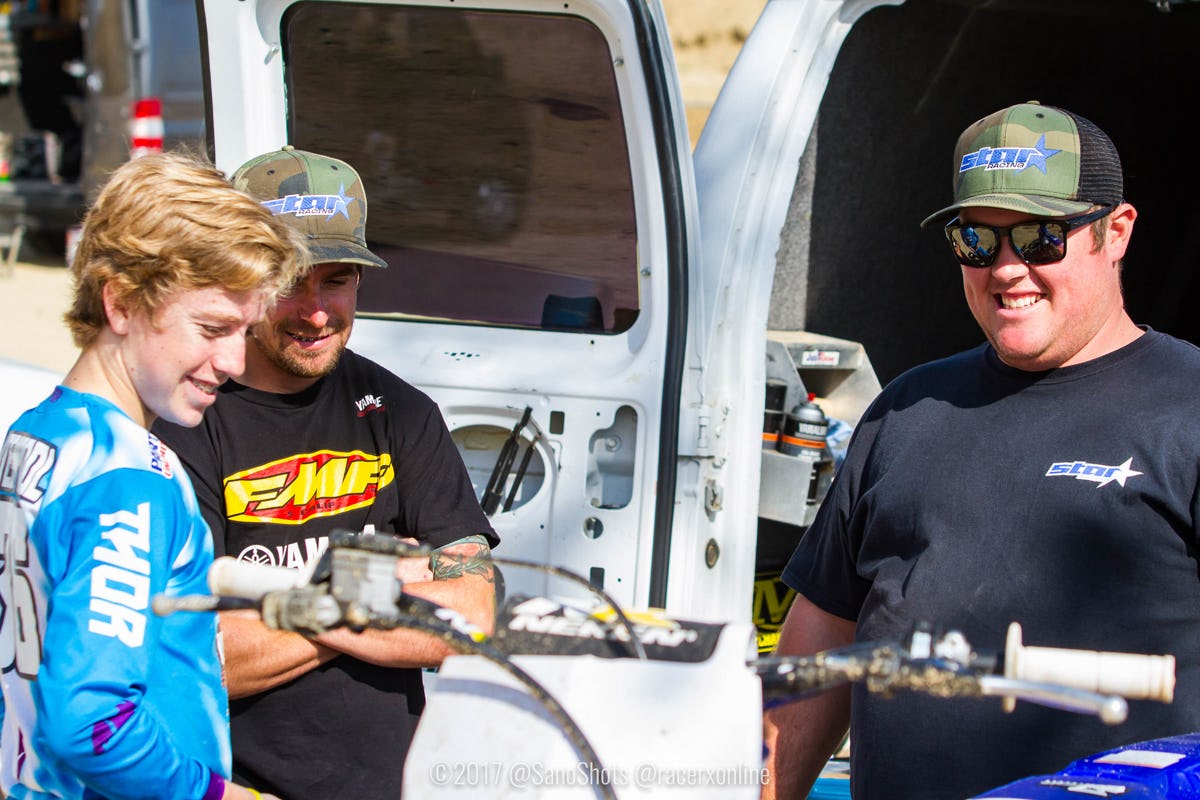 Most Deja Vu Series (Andras Hegyi)
2017 Supercross like 1992. If this year's Monster Energy Supercross title fight seemed familiar, maybe it's because something very similar happened 25 years ago, with Jeff Stanton in the role of Ryan Dungey and Damon Bradshaw as Eli Tomac. In 1992, Bradshaw won nine times, but it was Stanton who became SX champion (for a third time) while collecting only three wins. This past year, Monster Energy Kawasaki's Tomac played Bradshaw's role, getting the nine wins while Red Bull KTM's Dungey performed Stanton's part by taking a fourth SX championship with only three victories. And while Bradshaw's notoriously bad race came at the Los Angeles finale, Tomac's bad night came at the next-to-last round in East Rutherford.
As was always his style, Dungey became champion again by means of his sheer consistency, taking wins when they came to him but also settling for podiums when it wasn't his best night. This last SX title was Dungey's ninth-career major AMA title, and it also turned out it was the last one. Just ten days after Dungey clinched in Las Vegas, he announced his retirement from professional at the age of 28 years old. Dungey is one of the greatest American racers of all time, right up there with Ricky Carmichael, Jeremy McGrath, Ryan Villopoto, and more.
Bring on 2018!
Pro Perspective (Jason Thomas)
Well, this is it, folks. The last weekend off for the racing world is upon us. For the industry en masse, it's time to rack up frequent flyer miles and get back into the suitcase life. For the riders specifically, though, it's get-nervous time. All of the hard work done in the last few months will be put to the test next Saturday night under the bright lights of Angel Stadium.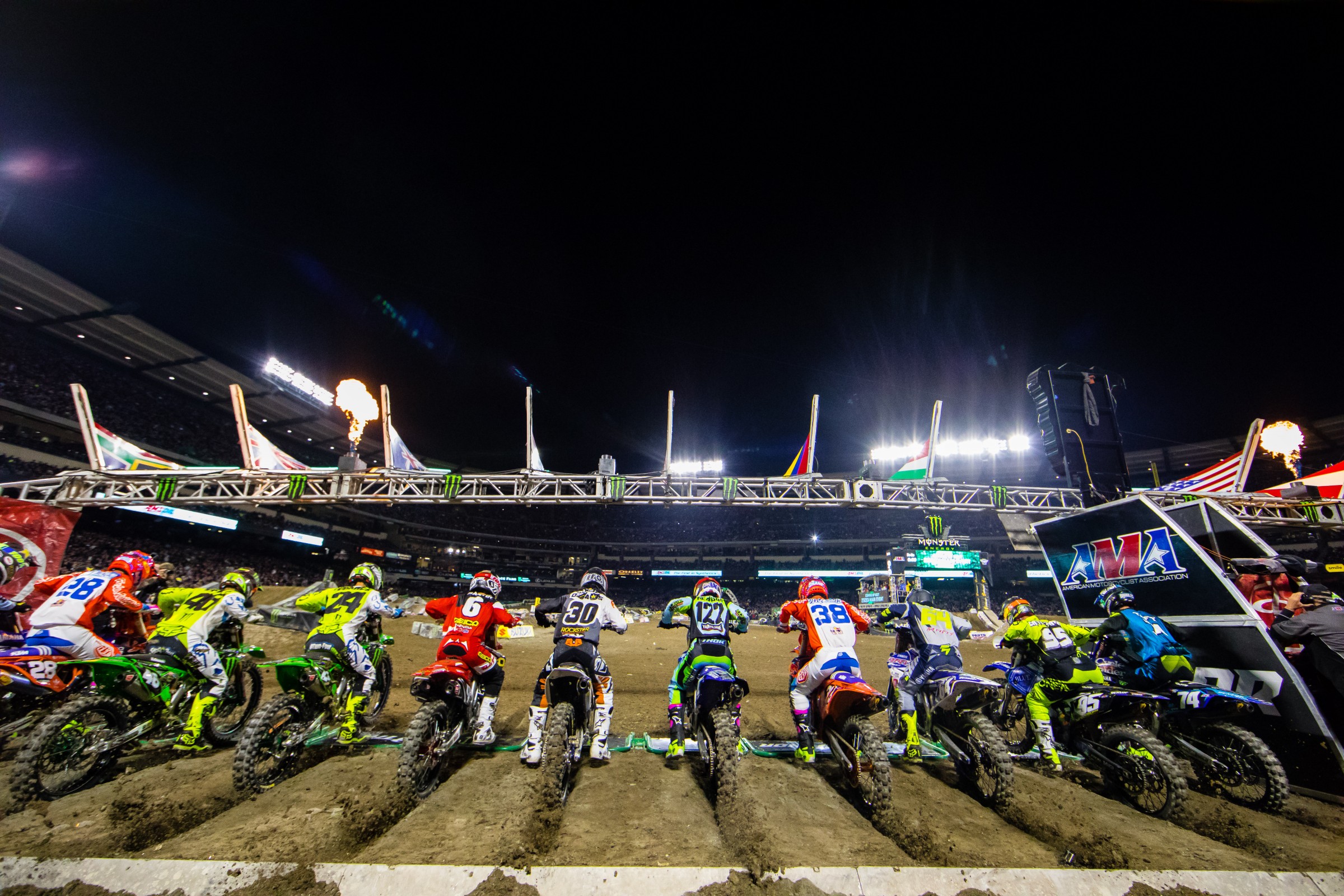 "Did I do enough? Did I do all of the right things? How will I stack up?" Those are all questions that riders will be either asking themselves openly or suppressing out of their psyche. In any case, these unanswerable questions roll through everyone's mind in the downtime leading up to A1. As exciting as the event is for the fans, it's even more stressful for the teams and riders. So much emphasis is put onto this one round when really no one seems to care about A1 come March or April. For now, though, it's absolutely the biggest Saturday night in each rider's life. They simply don't get any bigger than A1. Roll on 2018!
One More Race To Watch (Jason Weigandt)
Yes, the year is essentially over (and worthy of today's look-back) but there is one more event you can watch on TV in 2017, as Red Bull Straight Rhythm hits the NBC airwaves tomorrow afternoon at 3 p.m. EST.
Maybe you watched the live RedBull.TV webcast back in October, maybe you didn't, but if you're looking for a twist, there will be one. Word is that Ronnie Mac and the DMXSRadio.com boys will be putting together their own pirate version of the show on the new ronniemac69.com site. Turn your TV on to NBC, then go to that site at 3 p.m., hit play, and turn the sound down on your TV to hear these guys announce instead.
Of course, I'm one of the announcers on the NBC show (alongside the legendary Rick "Magic" Johnson) so there's a good chance I'll be in the targets of Ronnie's smack talk. To that I say... I think I've finally arrived.
DAVE HOLLIS AND TOM BENOLKIN (DC)
I owe a big apology for a mistake we made in the retro-fied version of Pit Pass in the February issue of the magazine. With Ryan Villopoto on a two-stroke on the cover, we decided to dip into the Dick Miller Archives and do an homage to the early eighties, with black-and-white images from the old Trans-USA races, the Wrangler Supercross Series, the Mr. Pibb AMA Nationals, the old 250cc U.S. Grand Prix at Unadilla, and more. One publicity-style photo showed Team Honda's Donnie Hansen and Team Yamaha's Broc Glover trying to pry a #1 plate away with two other riders I did not recognize. Since I knew Broc usually raced 500s outdoor at that time and Donnie was a 250cc rider, I jumped to the conclusion that it was either the '81 or '82 USGP at Unadilla or maybe a Trans-USA race and that the guys I didn't recognize were likely Europeans, so the caption reads "Donnie and Broc plate-wrest with some Euros."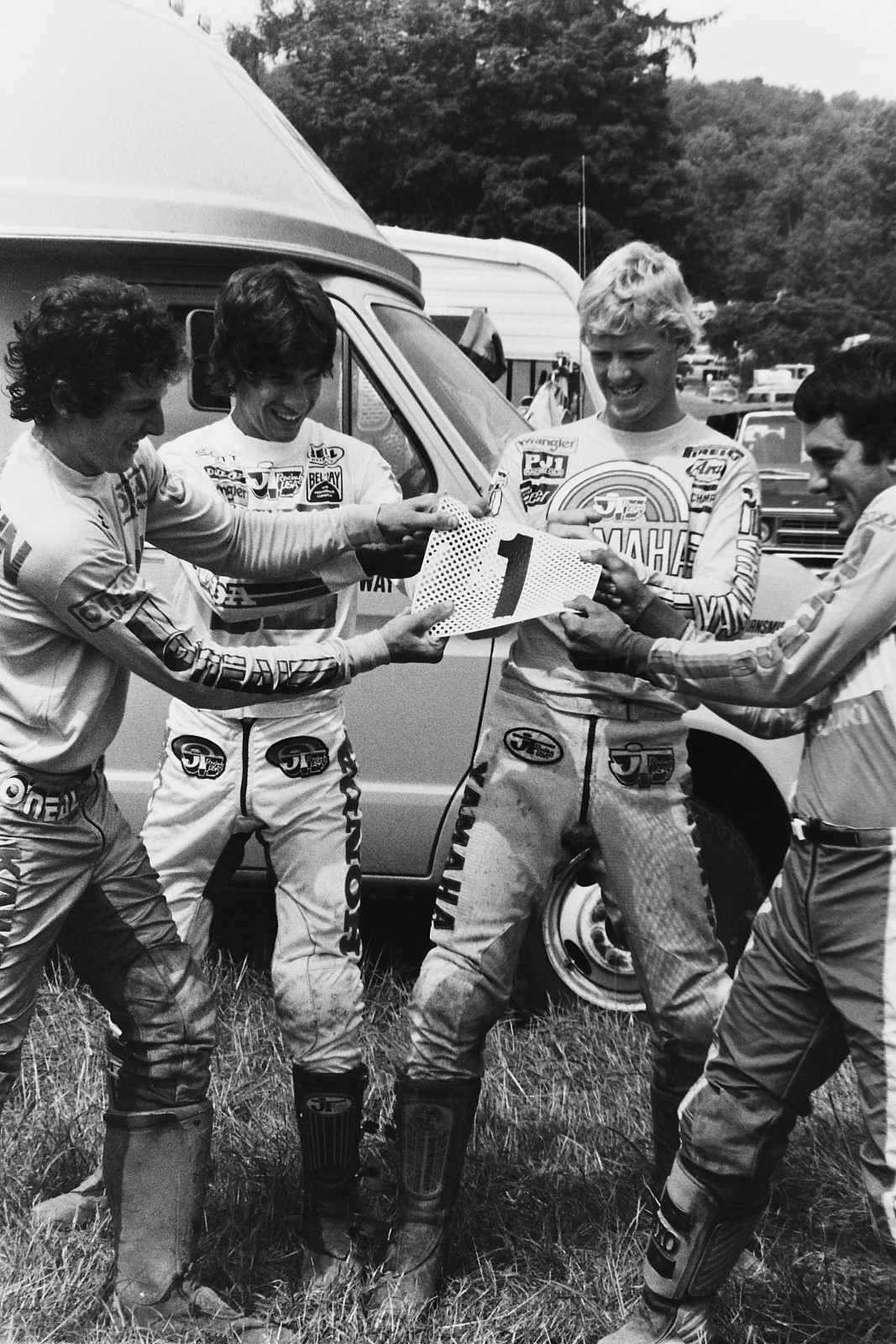 Wrong. And I knew it the moment I saw a Facebook message pop up from Dave Hollis, the former Yamaha factory rider from Michigan. Dave pointed out that the "Euros" were actually himself and former Kawasaki factory rider Tom Benolkin, who hailed from Minnesota. They were the guys in the photo, and I apologized to Dave on FB, and will do so here again to both Dave and Tom. They were before my time as a racer and gone from the national scene when I became a Cycle News and Dirt Rider reporter.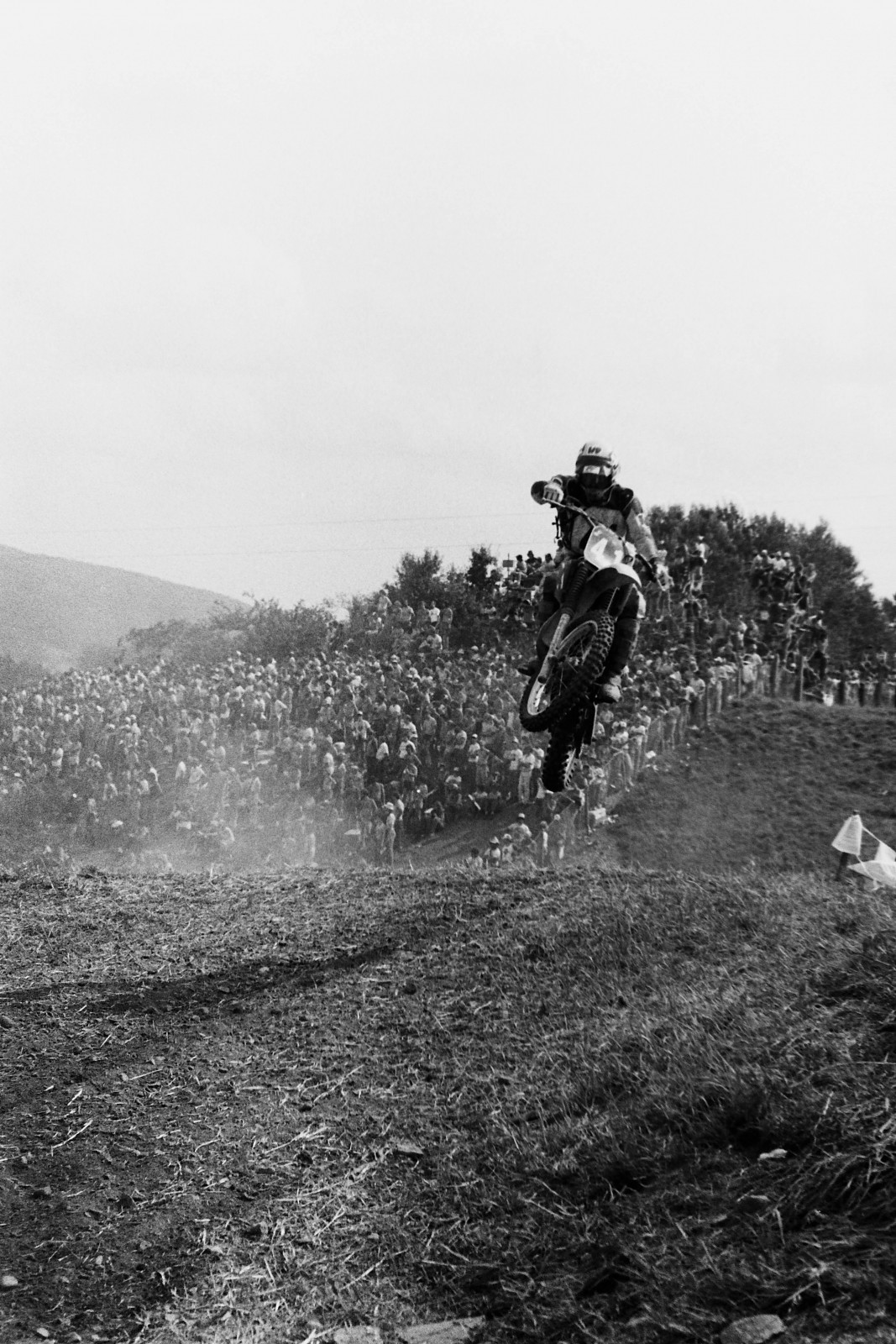 Dave Hollis was one of those very fast guys who emerged out of Michigan during the heyday of the Michigan Mafia and Team Dynamic, along with the Bigelow brothers, the Hinkle brothers, "Fast" Eddie Warren, Keith Bowen, and ultimately Jeff Stanton. He worked his way up into a Yamaha factory support ride and then found himself with a very unique place in motocross history: Dave Hollis was the last champion of the Trans-USA Series, once called the Trans-AMA Series. It ran from 1970-'82, and Hollis beat out Kawasaki's Billy Liles for the last title before the series went under as attention turned to early-season AMA Supercross racing instead of another late-season outdoor motocross tour. He joined these men as Trans-AMA/USA Champions: Dave Nicoll (Kurt's dad) in 1970, Sylvain Geboers ('71), Ake Jonsson ('72) Adolf Weil ('73), four-time champion Roger DeCoster (1974-'77), Bob Hannah ('78), two-time champion Kent Howerton ('79-'80), and Broc Glover ('81). Hollis' best finish in the Vault (which does not yet include the Trans-AMA results) was a fifth in a 250 National at the old Colorado track.
Tom Benolkin was a nationally-known amateur when he turned pro, just like Mark Barnett and David Bailey in those pre-Loretta Lynn's days of the AMA Amateur Nationals. He actually did a national as a pro-am in 1978 and earned a 12th in his first 125 National in Omaha, Nebraska. By the time he was a full pro in 1981, he was a top-five contender, finishing the '81 season in fifth overall behind Mark Barnett, Johnny O'Mara, Jeff Ward, and Jim Gibson. Benolkin never won a pro national, but his best finish was a second-place at the '81 Washougal 125 National behind Barnett.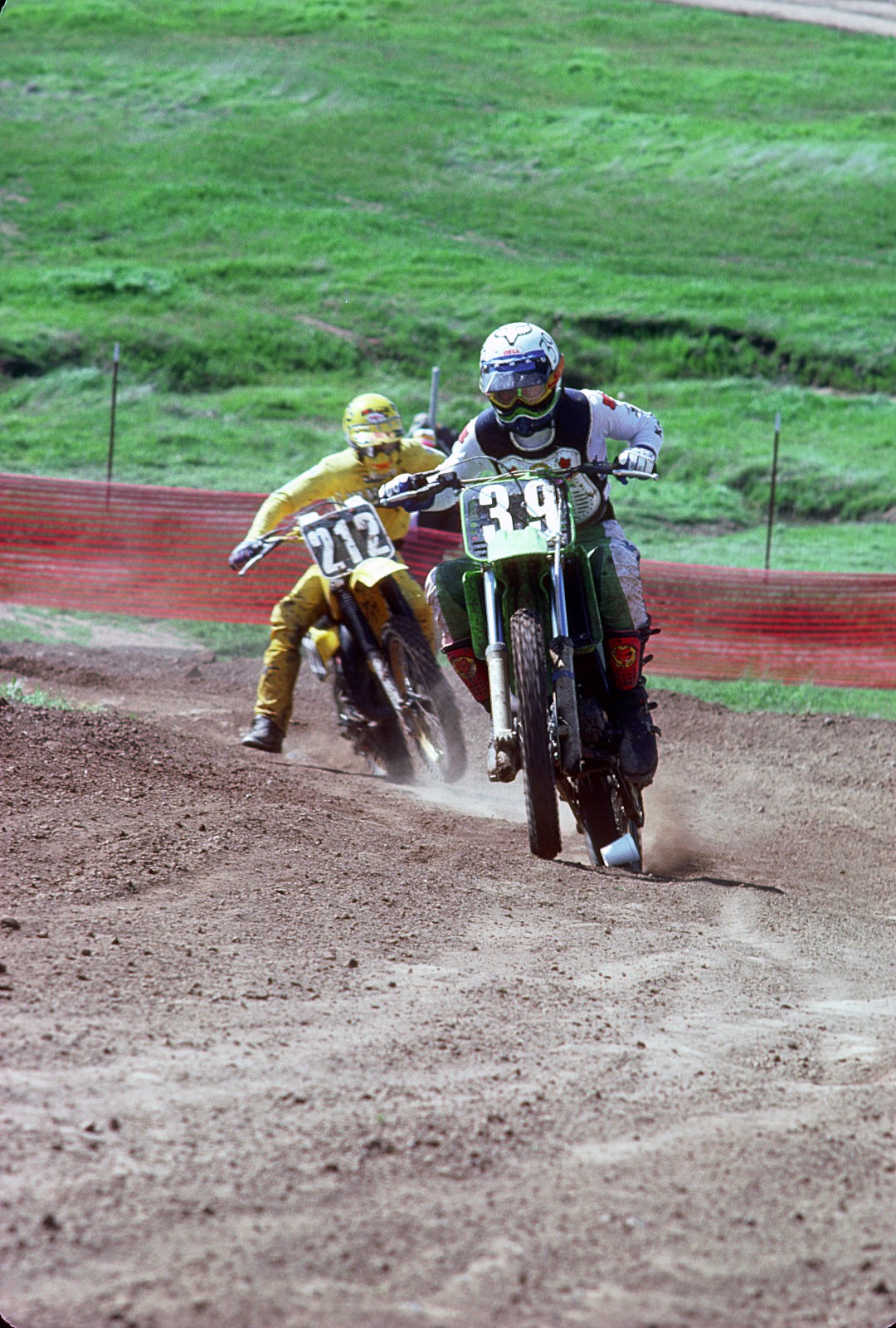 Both Dave Hollis and Tom Benolkin were solid pros and I apologize again for not recognizing them in the magazine.
And we finally figured out that the photo was from the '82 Unadilla 250cc Grand Prix, which is historical for a different reason: it was the first major motocross race on American soil won by a KTM rider, in this case Kees Van Der Ven of the Netherlands.
LORETTA LYNN'S REMASTERED MOTO OF THE WEEK: MINI SR 2 (12-14)—MOTO 3
In this final "Loretta Lynn's Remastered Moto of the Week," Weege, Wheels, Jimmy Albertson, and Kevin Kelly call the action as Kaeden Amerine, Nathaniel Thrasher, Joshua Varize, Maximus Vohland, and more do battle for the 2017 Rocky Mountain ATV/MC AMA Amateur National Motocross Championship at Loretta Lynn's Ranch Mini Sr 2 (12-14) class title.
Coming into 2017, Kaeden Amerine had never even finished on the podium at Loretta Lynn's. That would soon change, as the Rides Unlimited/KTM-mounted rider would end the week with 2-1-2 moto scores—earning the young rider out of Kansas the first Loretta Lynn's championship of his amateur career.
Head over to racertv.com to watch this moto and others, remastered in HD.
Hey, Watch It!
SX Preview Show: Episode 4, Changes Are Coming
SX Preview Show: Episode 3, Mystery Men
Jeff Emig was on the Colin Cowherd show yesterday to talk the 2018 season with guest host Doug Gottlieb.
Here's another clip of Emig talking about Dungey, Roczen, and Musquin on The Herd.
Season 2, Episode 2 of Supercross Racetrack is now online, check it out:
Random Notes
Attn: privateers. We received this note from reader David regarding a place to stay for Anaheim.
I live three miles from Anaheim stadium and I have room for some out of state privateer's that would like to safe some money and stay for free. I have two guest rooms RV parking and a motorhome in a motorhome garage that some one can stay in. Can you please let anyone that is interested in a free place to stay. Here is my contact info:
David Anderson
11436 Rainier Ct, Garden Grove, CA 92841
(714) 728-7587
sharearoll24384@gmail.com
We spotted news of the likely closing of MX 408 in San Jose and asked MX Sports' Nick McCabe, who lives in the area, what he knew about the situation.
"This one hits home for me," replied McCabe. "This is my local track, located 11 miles from my house. Despite being a flat 'fairgrounds'-style track, the owners have done a really good job keeping it prepped and fun. Plus they have lights and run on Tuesday and Thursday evenings. It totally sucks, and there is a still a fight going on to save it, but it doesn't look great. The track is on County-owned land and has been hosting motorcycle racing since the late 1920s, although its mostly been flat track. The motocross track is located on the infield of the once-famous San Jose Mile, which, like Carlsbad, was also featured on the ABC's Wide World of Sports back in 1984 or so. The local Bay Area media has been very supportive of the riders and have posted some good media (for us) on the place, including the Mercury News and the local San Fran CBS affiliate. The TV Clip includes a cameo from Ricky Ryan."
Congratulations to the race promoters and riders of Western New York. After years of infighting, overlapping dates, and just plain bickering, there is now a concerted effort of cooperation and a new Empire State Motocross district and series. It includes the Palmyra Racing Association, Silver Springs Motocross Park, Sick Bros MX, Area 51 Motocross, and Pavillion MX. The five tracks will run 30 races across the board and are hoping to consolidate the riders at the various venues to make for better racing events. For more info on how this is all going to work, plus a full schedule, check out www.empirestatemx.com.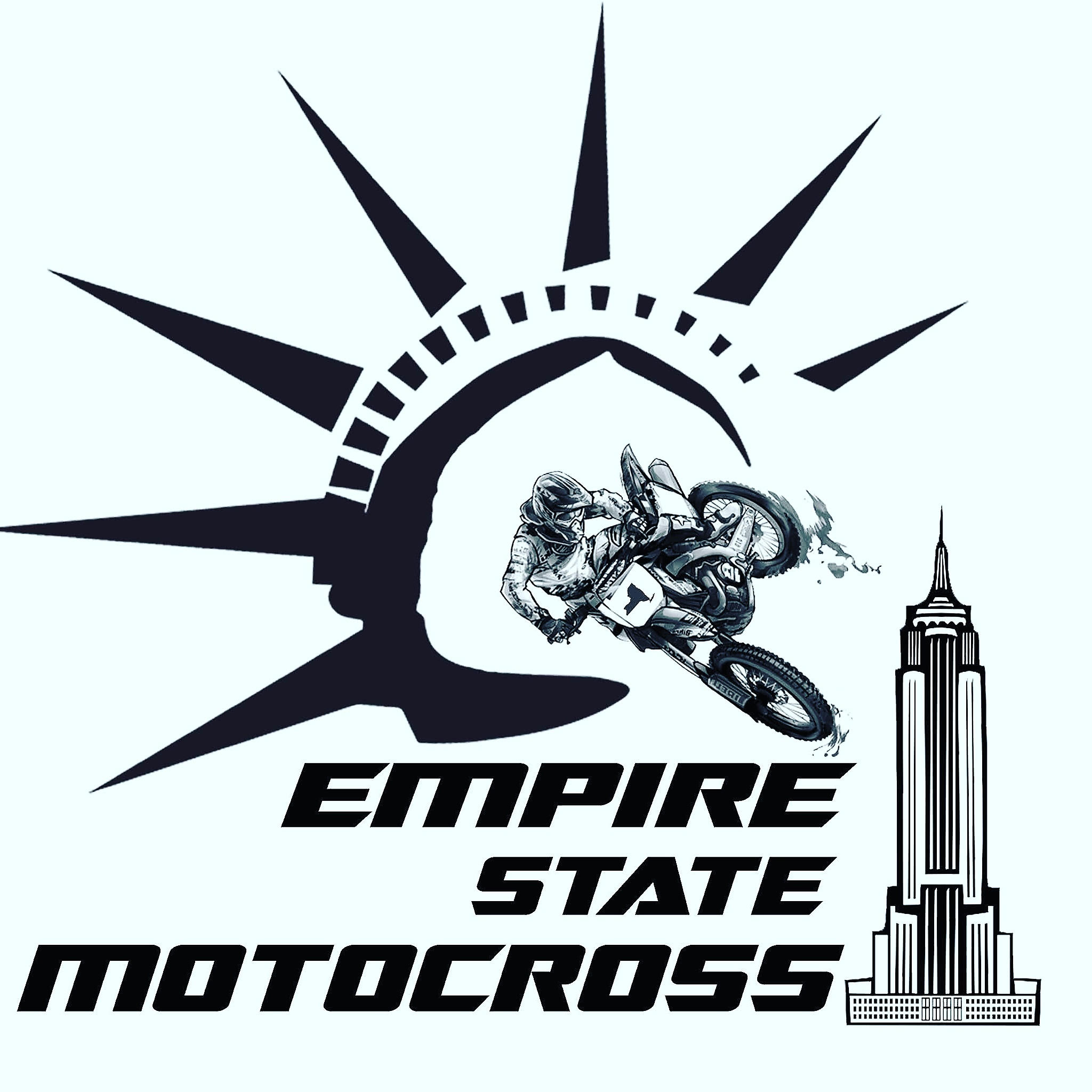 Subscribe now for as low as $9.98 and receive a FREE 2018 "Through the Decades" Calendar plus access to our digital edition.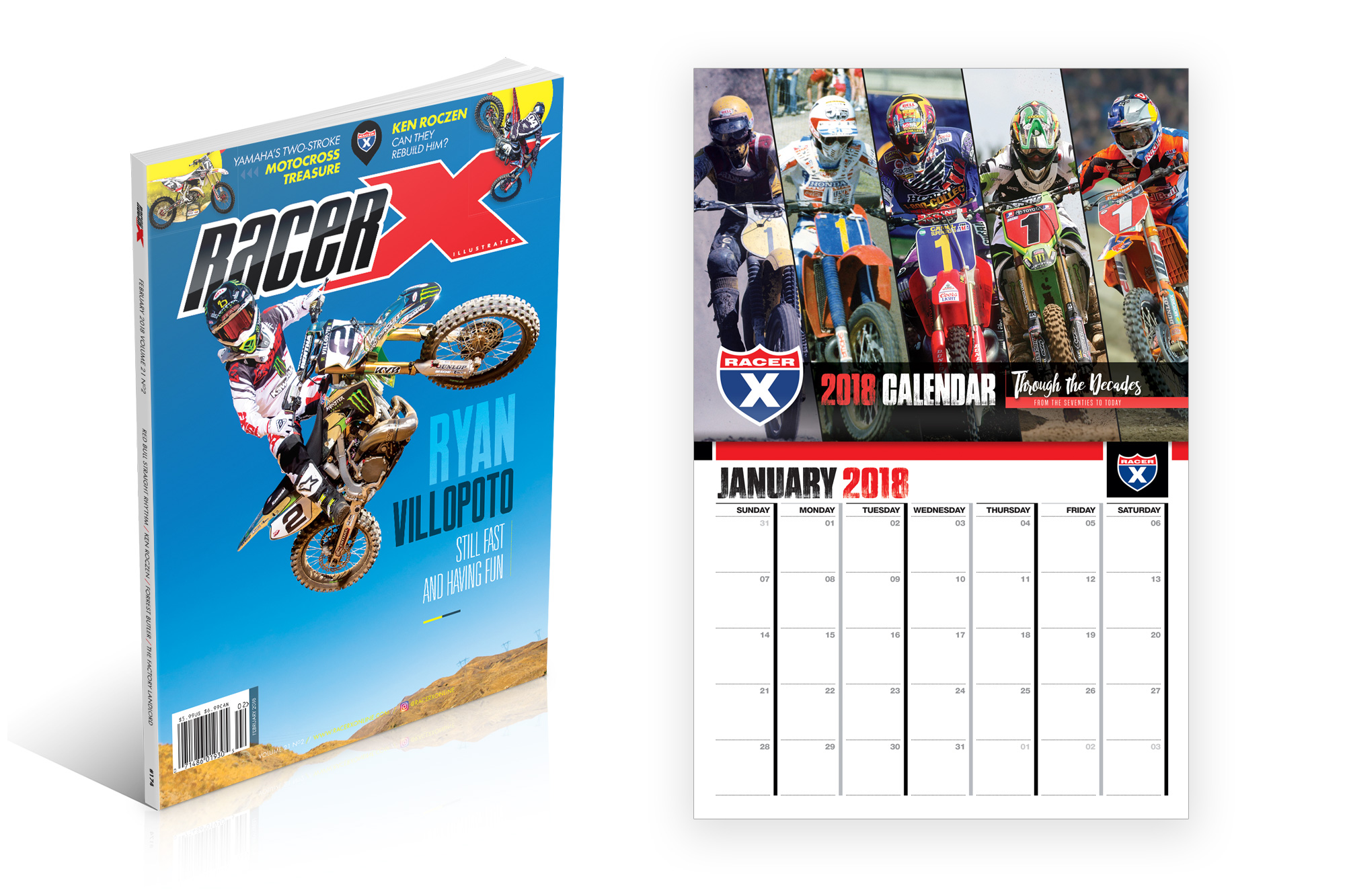 Dirt Cool cover of GEICO Honda's Jeremy Martin.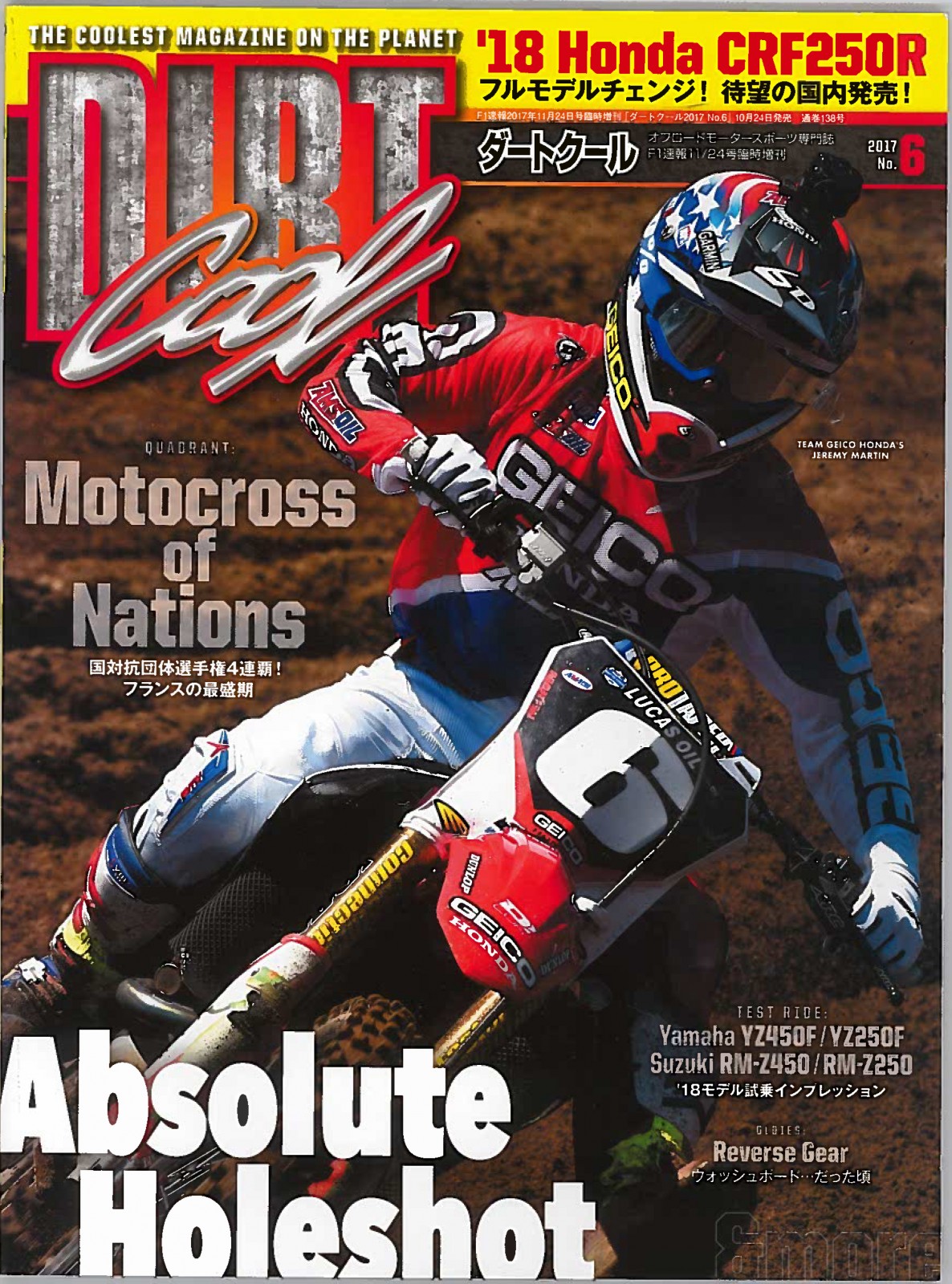 For the latest from Canada, check out DMX Frid'Eh Update #53.
Thanks for reading Racerhead. Have a safe and happy New Year, and we will see you at the races next year.