Things are changing quite a bit up in America's attic. The CMRC ran the main Canadian Motocross series for the last 24 years, but for 2018 and beyond, JetWerx promotions are the people in charge. Thankfully for Canadian moto peace, JetWerx bought the CMRC out (the deal was announced last week), and Canadian moto fans were spared an IRL/CART IndyCar-type battle, which decimated that sport (no split series or split sanctioning, thankfully.) They also changed their name from Jetwerx to MRC (Motorsport Racing Company), and although it was a bit dicey at times, all the OEMs in Canada are on board with this new series.
We ran an interview with Justin Thompson, the owner of JetWerx, when he announced the plans for the new series. That was before an agreement to purchase the CMRC was made.
So, like, what's the deal, eh?
Well, MRC's got Rockstar Energy Drink as the title sponsor and there are three portions of the series. First up in British Columbia on February 24 is the arenacross portion with four rounds—two in B.C. and two more outside of Toronto. There will be an arenacross champion in both classes.
Next up is the traditional nine-round motocross series that starts May 26, five weeks after the arencross series ends, and goes West to East. The folks at Jetwerx managed to hit up a couple of new tracks that weren't on the CMRC schedule, such as Popkum in B.C. and Minnedosa in Manitoba. Tracks that were banished from the series due to feuds with the CMRC—Sand de Lee and Walton, Ontario—are back, much to the joy of many teams and riders. Again, there will be MX1 and MX2 champs crowned.
About a month later, the supercross portion of the Rockstar Energy Triple Crown series will start with three races: one in Ontario that will be more of a mini-stade type of race, and then two more in huge hockey arenas that will be arenacross-sized tracks. All three venues hold many more people than the arenacross portion of the series in the spring. Yeah, yeah, it's not the type of supercross we see down here, but just go with it, okay?
There will be separate champions for all three disciplines, but the points are added up at the end of the year for an MX1 overall champion and the winner will get a nice $100,000 bonus. The MX2 winner is in line for $10,000.
The positives for expanding from 10 motocross races to 16 include increased coverage by the media and interest from fans stretched out for a longer time. The downside to this are that the teams in Canada are already stretched out in terms of budgets, and some contracts for riders were already completed for 2018 and will need to be re-calibrated. But in this reporter's opinion, I love it and can't wait to see all the different racing. (Then again, I don't pay the bills that the teams do!)
The team lineups are mostly set, and American racing fans are stoked that the Rockstar Energy OTSFF Yamaha squad of Matt Goerke will add Dillan Epstein to it. Honda Canada GDR Fox Racing got Colton Facciotti, KTM Thor Racing has Kaven Benoit, and the Huber Motorsports team will go from Hondas and become the new Monster Kawasaki squad. It will feature Tyler Medaglia and (we think) Mike Alessi. And, as usual, there will be some last-minute entries to the series that spice it up as well.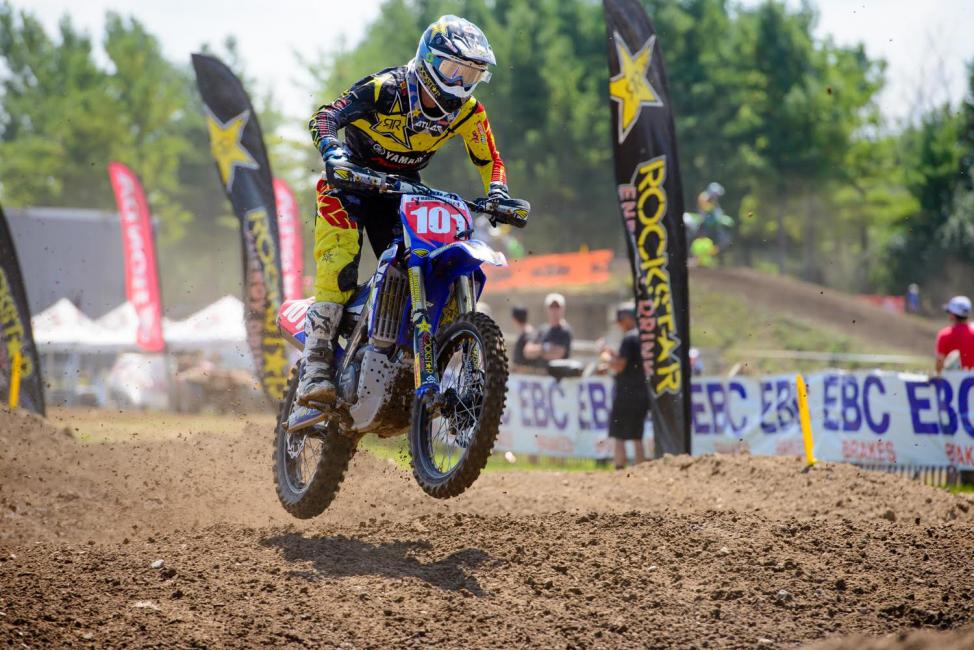 All in all, this is very exciting news for Canadian moto. Not everyone is stoked, though, as some initial promises from Jetwerx's news conference at the Toronto SX haven't been met.
"We are definitely excited for the new Triple Crown series, as they have some great ideas planned for the upcoming year. However, there are a few concerns that have come up. From the initial announcement of the new series at the final round this summer until now, a few of the perks of the new series have been altered, which make it not as appealing as it initially looked back in August," Derek Schuster, owner of the GDR Honda squad, said. "I don't get too involved in the politics, so I can't really comment on why some of those changes have happened. With that being said, we are still looking forward to seeing how things unfold and see the changes as a positive overall. I just hope the costs of the additional races don't play too big of a factor on riders being able to get to races."
No doubt there will be things that don't run right and things that are uncertain, but by the end of year one, I'm sure it'll be better than it was at the start. Hopefully the teams can use this platform to get some new and bigger sponsors by being in more markets for a longer amount of time. Team owners like Schuster have had a lot of things promised to them and not had them happen, so it's vital for MRC to make sure they start off on the right foot.
The CMRC series had seemed to run its course, and change will be good for everyone involved in the Canadian series. As with everything, change is sometimes scary and uncertain. But the guys who run MRC are fresh and exciting, and appear to have their hearts in the right spot.
A new era in Canadian moto is here, but what exactly will it be?