In this little corner of the internet, we normally profile personalities who have retired or stepped away from the sport. But this week's subject, Darryn Durham, is somewhere in the middle. He is still fast and can still race, but is doing it on his terms, where and when he gets around to it. He is certainly a personality and still having fun riding dirt bikes.
Durham, who originally hails from the hills of southwestern Pennsylvania, grew up in the shadow of Broc Hepler and Branden Jesseman, and has a family who is closely involved with the sport.
Durham was good—he managed to ride for Mitch Payton's Monster Energy/Pro Circuit Kawasaki team for three years and in 2012 won a Monster Energy 250SX main event in New Orleans—but after finishing a career-best second overall in points during that 2012 season, he suffered a rash of injuries. He is still riding today, but perhaps is more about the fun and enjoyment of riding than winning a supercross championship. We recently had the chance to talk with him about what he's up to now.
Racer X: Darryn, its grind time for supercross. What are you up to coming into the 2018 season?
Darryn Durham: Well, actually, I just started riding again. I broke my wrist in late September and am just easing back into things. I recently rode the new Alta out in Utah for their 2018 bike launch program. We did some really cool riding and video sessions out in Caineville, and it was a ton of fun. So, basically, I am just getting back into the swing of things and popping some wheelies with my friends.
You are still a competitive racer. Do you have any plans to return to full time racing?
Well, I did the East Coast series in 2016, and we did a video series for it. I was hoping that would open some doors and it might turn into something, but we didn't pull the budget we needed to do it again. So, I started working some other projects for Fasthouse, as well as doing some Hollywood stunt work. Basically, I've been just bouncing around and trying new things.
Sometimes the racing program, when you have been doing it your whole life, can become a grind, especially with injuries.
That's for sure. I'm still living in Menifee. I actually rent Broc Hepler's house where he lived, so it works out really well for me. It's cool because I'm still in the middle of things, but I can also still go back to Pennsylvania and visit the family and do the East Coast thing. But right now, I'm mostly in California. I would like to do some racing this year, but instead of just focusing on one thing, I want to do a little of everything. I am thinking a little outdoor motocross, maybe some arenacross races, maybe a supercross or two, as well as maybe some off-road, like the GNCC series. I know we can race the Alta in Canada in the arenacross series up there, so we are looking at that.
Will you be on Alta for all this, or how does that work?
I will race the Alta when and where I can, but I also still have my Yamahas, for when I want to ride a full-size normal bike and race where the Alta is not approved for competition.
So are you a factory Alta rider?
I'm working on it! Those guys do a great job with marketing and just keeping it fun. I told them that if they support the right people, then they don't really need to have a semi out there in the pits at Anaheim. The bike is competitive, but that's not what it's about. Like me, those guys see things a little differently, and I think it's cool. They are tech guys, they are based up in San Francisco up near Tesla, and they see things differently than your standard moto guys.
How did your relationship with them come about?
Well, I met those guys out in Mammoth last year, and I test-rode the bike both on the streets and the track. I was really impressed, as we were up in elevation and where the air was thin, but the bike was still amazing. So I did some supercross testing with them, then it sort of turned into something and we were signed up to do the Red Bull Straight Rhythm. But then I got hurt like two weeks before that, and that was it. So, for me, it's like a side gig, testing and racing it where we can. I was also going to race Bercy and some other things over the fall, but I couldn't with my wrist.
So, how is the bike? Does the bike compare to a 250F?
Oh, it definitely compares. It has four different maps, and you can control how the bike acts. So, on Map 4, it compares to a 250F, as that is the max power setting. But I would say that it is certainly comparable, except for the fact you don't have to shift it. So that took a little time for me to get used to not having a clutch or shifter. But it's a whole different game when it comes to the technology on those bikes. They are not following the established way, so you don't know where it will go.
Do the Alta folks want to race American supercross and motocross?
Well, I can't speak for them and their future plans, but they do need to take some steps to race at that level. They are working toward going supercross racing, but I don't think it's the number-one goal for them. If I were to say it, I think the goal for them is to have a good bike that people can ride anywhere and people can have fun with. But as for the racing, we will likely just do some one-off events like the Straight Rhythm, maybe Mammoth, and some stuff up in Canada.
Changing gears here, what about yourself? Are you retired from racing at the top level of supercross and motocross?
It's funny, I see all these people and they ask me if I have retired. No, I don't want to say I am retired, but I am a part-time guy. And until I have enough support, I guess my slogan is, "We race sometimes." If circumstances were right, and if it worked out with my gear and stuff and existing sponsors, I would come back and race a full series. But it's a tough sport to make a go of it, and I had a few good years already. I guess right now I'm trying to search out what happens next and how to keep it fun.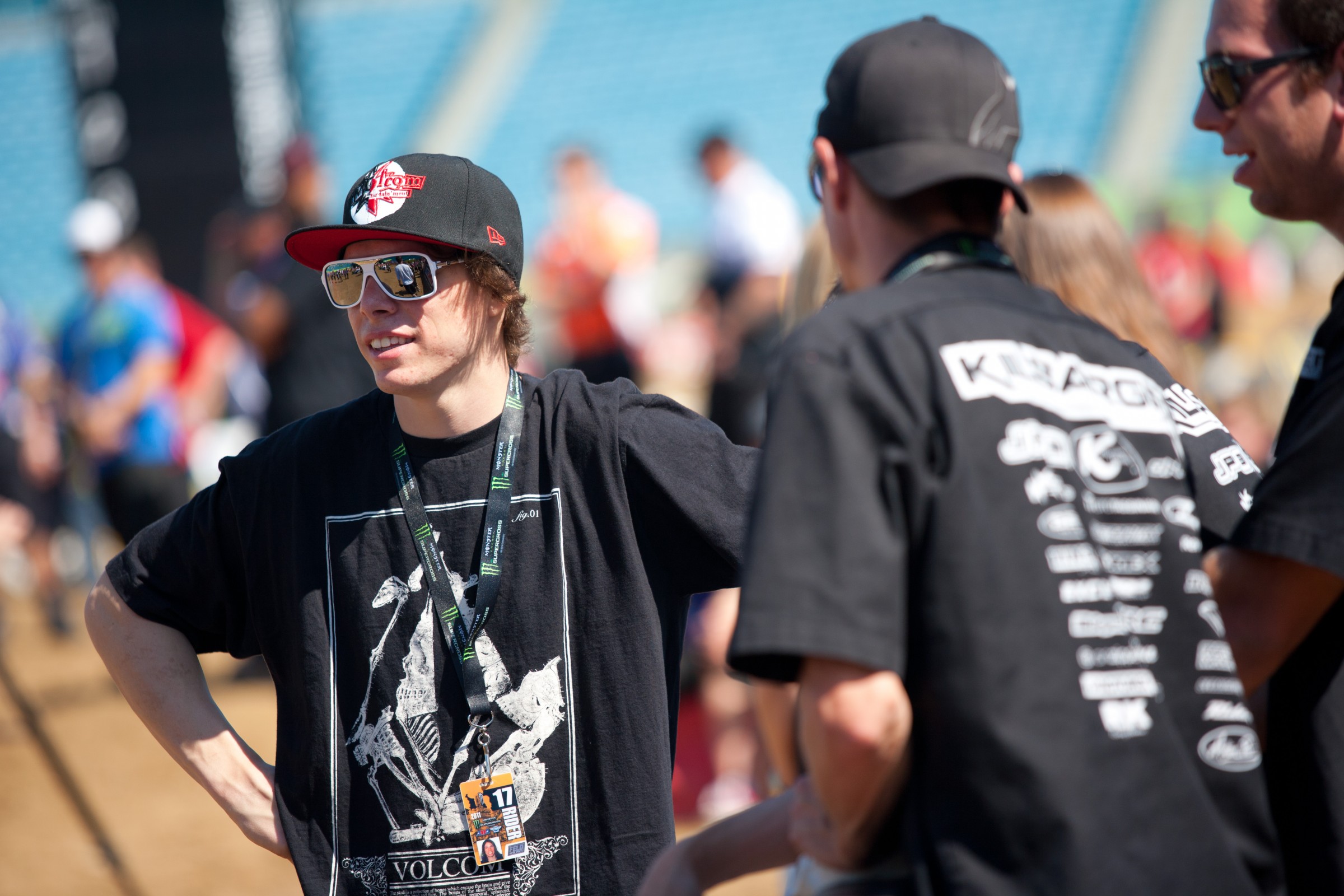 You got a win in the 250 class in supercross and finished second in points on the East Coast one season. That's pretty impressive.
Thanks. I turned pro in 2009, raced pretty much full-time until 2013, and then had injuries for three years straight. I came back in 2016. My last 250 outdoors was in Utah, and I got fifth overall. I really enjoy the outdoors, but haven't made it back out to many. In fact, I prefer outdoors to supercross, and I think that's because that's what I grew up racing back in Pennsylvania. So that's kinda what I have been thinking lately; it would be fun to do a few of the Nationals and get back out on a 450. The sport has turned to more of a focus on supercross, and I think trying to bring some fun and flair back to the outdoors would be cool. Plus, a lot of the races are close to my family back in Pennsylvania, so I can base out of there during the summer.
What about some off-road events? You mentioned doing some GNCC stuff.
Oh, for sure. Earlier this summer I did some Grand Prix style events at Glen Helen and had so much fun. I saw the GNCC series is going back to High Point, which would be awesome. With off-road, you can do so much variety. I was also looking at some of the Big 6 events out here in California as well. But it would be fun to sample a little bit of everything. Off-road is gnarly! When I was younger, I did some riding and training with Kalib Russell, so I know it's no joke. You really have to push through much more mental anguish and pain than in your normal moto race. That stuff is gnarly.
You have some close family connections to the sport, right?
My dad started PR2, [which is] a performance company in Pennsylvania. My brother now runs the suspension side of things and they are still going strong. My dad makes all kind of parts on the CNC machines. PR2 stands for Precision Racing Resources. He basically came up with it when we were kids, and started helping some mini bike kids. Over the years, he's helped a lot of kids come through the ranks, including Broc Hepler and Nico Izzi, and a lot of others. So, for me, being part of the Alta testing and development is like a full circle, as I did a lot of that as a kid. I grew up around testing and development; that's why I really like the Alta project.
Tell me about your time with Pro Circuit and Mitch Payton.
It was really good. What can I say? They are the best of the best. I got second in supercross with them and a win. I was hoping to follow that up with outdoors, but I messed up my shoulder. But those guys really supported me. Mitch and I get along well; it just didn't work out how we wanted to once I started getting hurt. For me, I grew up looking up to Pro Circuit and the program, so to make it to that level and be there for three years was awesome.
Looking back at your racing career, what are you most proud of?
I have had some really good races. The Eleven 10 days were really fun. We were really roughing it pretty bad, but man, we had fun. It was a low-pressure deal, and we got some good results. In fact, that's what got me the Pro Circuit ride. That was a building year for me, and it was just fun.
How was the money for you?
Oh, not enough, that's for sure! But it was ok. I made money riding my motorcycle, I am grateful for that. It's a business, and it's tough. I came in during 2009, which was probably the worst time to be looking for a paid ride in the sport due to the economy and lack of sponsorship. I got some good results, the money was there, but I had to work for it, that's for sure.
Well, good luck, Darryn. Hope to see you at maybe a few races next year.
Thanks! As of right now, anything I do comes out of my pocket, but I hope to be at a few of them, and maybe as early as Daytona, that's one of my favorites. But we will certainly be doing some stuff on the Alta and seeing what it can do.