Rockstar Energy Husqvarna Announces 2018 Roster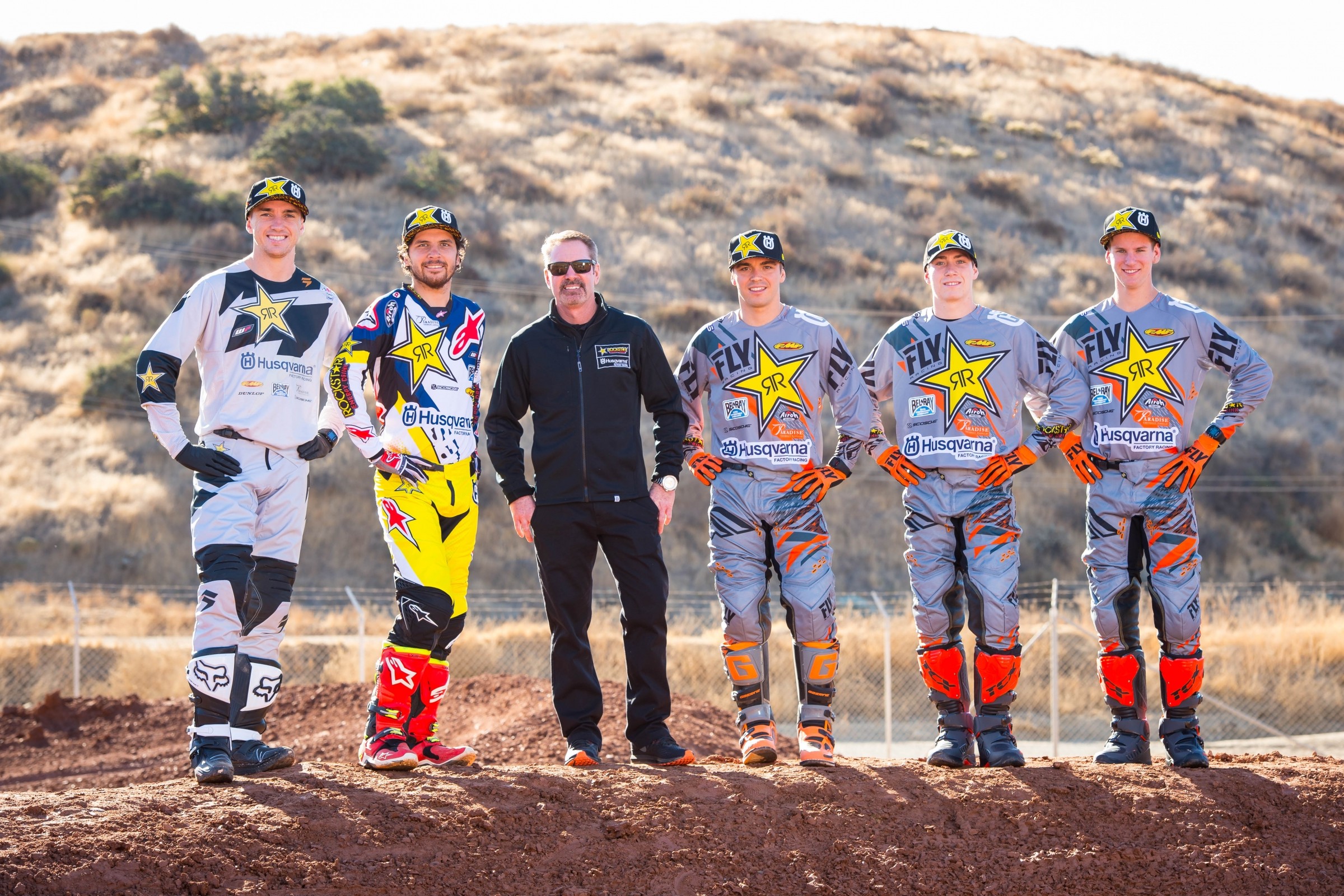 As part of the unveiling of the FC 450 Rockstar Edition last night, Rockstar Energy Husqvarna Factory Racing announced its official roster for the 2018 Monster Energy Supercross season.
As expected, Husqvarna announced a five-rider team that will feature Jason Anderson and Dean Wilson in the 450 Class, and Zach Osborne, Michael Mosiman, and Mitchell Harrison in the 250 Class. Osborne will defend his 250SX East Region title and will be joined by rookie Mosiman. Harrison will contest the 250SX West Region.
"We really have a powerhouse team this year," said team manager Bobby Hewitt in a statement. "There's so much talent under our tent and they're going to be amazing to watch. These boys have been training and preparing for a long time for this, and every one of them is ready for battle. I'm excited to see Jason and Dean race the new FC 450 Rockstar Editions. We've all put so much effort into that bike, it will be interesting to see the results. We're all ready for the gate to drop at A1."
Anderson, who has ridden for Hewitt since turning in 2011, said he's excited to return to the team. "It's great to be back on the Rockstar Energy Husqvarna Factory Racing team. We have a really great team this year and I'm excited to get the season going. I'm also looking forward to racing the new FC 450 Rockstar Edition, and hope to keep it out front all season."
After beginning the 2017 under a privateer effort, Wilson joined the team in Oakland last year when Christophe Pourcel announced his retirement from supercross. Wilson finished eighth overall in supercross and stayed with the team for Lucas Oil Pro Motocross where he finished a career-high fourth overall.
"I'm really excited to be part of the Rockstar Energy Husqvarna Factory Racing team again. I had one of my best years ever in 2017 thanks to this team, and I'm looking forward to an even more successful 2018," he says. "I've been working so hard in the off-season and the bike is amazing. I'm at a good place with my fitness and health and I'm definitely ready for A1."
Osborne will return to the 250 Class in Monster Energy Supercross where he'll defend his 250SX East Region title. He's expected to move to the 450 Class for Lucas Oil Pro Motocross. "2017 was a dream season for me," he says. "I checked off so many of my goals last year, and I'm looking forward to defending my 250SX East Championship in 2018. My FC 250 is perfect, and I'm feeling good for Arlington."
Mosiman made his pro debut for the team at the Lucas Oil Pro Motocross season opener at Hangtown in 2017. The California native missed eight rounds after sustaining a shoulder injury. Next year will mark his first appearance in supercross. "I got a taste of being on the team during the outdoor season, and I'm really excited to line up for them on the East Coast for Supercross," he says. "This is a great group of people and the FC 250 is on-point, so they really set you up for success. I feel confident that I'll be prepared and ready for the gate to drop at Arlington."
Following two years with Yamalube/Star Racing Yamaha, Harrison signed with the team this past off-season. He finished seventh overall in the 250SX East Region in 2017. "250SX West has always been a hard class, but I'm ready," he says. "I've prepared as much as I possibly can and the team is great. I'm focused and ready for A1."