Last year was supposed to be the year of Christian Craig. Following a little more than a year out of the sport, Craig finally broke through the netherworld of guys who quit who you always thought should've made it to guy who actually made it. In 2016 with GEICO Honda, Craig challenged Star Racing Yamaha's Cooper Webb here and there in the 250SX West Region, landed on the podium, and even managed to win a race in Glendale. To many, Christian Craig was the feel-good story of 2016.
Going into 2017, Craig was looking forward to racing the familiar-to-him 250SX West Region and hired 10-time SX and MX winner David Vuillemin as his coach, with the hope that this would put him over the top. Hopes were high for Craig, his team, the fans, and media that he would be a title contender.
Then a scrimmage happened. Under then-team manager Mike LaRocco, the entire GEICO squad liked to go through a simulated race to keep sharp. Sometime before Anaheim 1, Craig faltered in one of these scrimmages and teammate Jeremy Martin shined. That was all LaRocco needed to see; Martin was moved to the West, Craig to the East in a decision that, in hindsight, can be criticized, but at the time made sense in that everyone around Martin was impressed with his pre-season speed.
Martin logged the fastest time in practice at Anaheim 1, then crashed in the first turn. Rinse, repeat, as that basically became J-Mart's entire West Coast series. Craig went to the first East Region round in Minneapolis, was third-fastest in practice, won his heat race, and then promptly crashed back in the main event to a 12th. Two weeks later he rebounded with a somewhat fortunate third in Toronto, but after that, Craig repeatedly did not meet his nor the team's expectations with poor rides and/or crashes. The entire pre-season work with Vuillemin was scrapped as he and David parted ways midway through the 2017 SX season.
"I learned a lot from that guy [Vuillemin]. Say I'll make a mistake in a corner or something, I can just hear him in my head just drilling me," Craig said on the Pulpmx Show Monday night. "It's funny, though, just little things will pop up when I'm at the practice track that he taught me. Just like changing your lines. Standing up was one of his biggest things. Every time I would seat bounce something, he would just go crazy. So every time I seat bounce something, I think of him and I'm like, he would be pissed right now. I got to stand up next lap. So, little stuff like that. I take the good. He taught me a lot of good stuff."
"Christian is the most skilled SX rider that I ever had the chance to work with. I'm still bummed he didn't get the results that he has the potential of having," Vuillemin said of Craig. "Skills are very important in MX and SX but they don't mean everything, unfortunately for him. If he can ride at his full potential for the length of a main event, I don't see anyone beating him. But often in this sport, we fight with riders to simply do what they know on Saturdays around 9 p.m., and that's a challenge for many."
Smash cut to now and Craig's hit reset on all those expectations. He is going into the 2018 season looking to get back to where he was. If you'd like to make a small wager on your house that, barring injury, Craig will be back on familiar hard pack dirt of the West Coast, I'd advise to do so. For one, the team is ditching the methods it used last year.
"Well, there's no more scrimmage days, so that might help," Craig said about 2018. "They learned that practice times don't really matter. It matters in the race. The scrimmage days are gone now. Now you just focus on racing and not practicing.
"I'm not going to hide anything. I want to ride West, so if I'm ready and the team thinks I'm ready, I'm going to race West."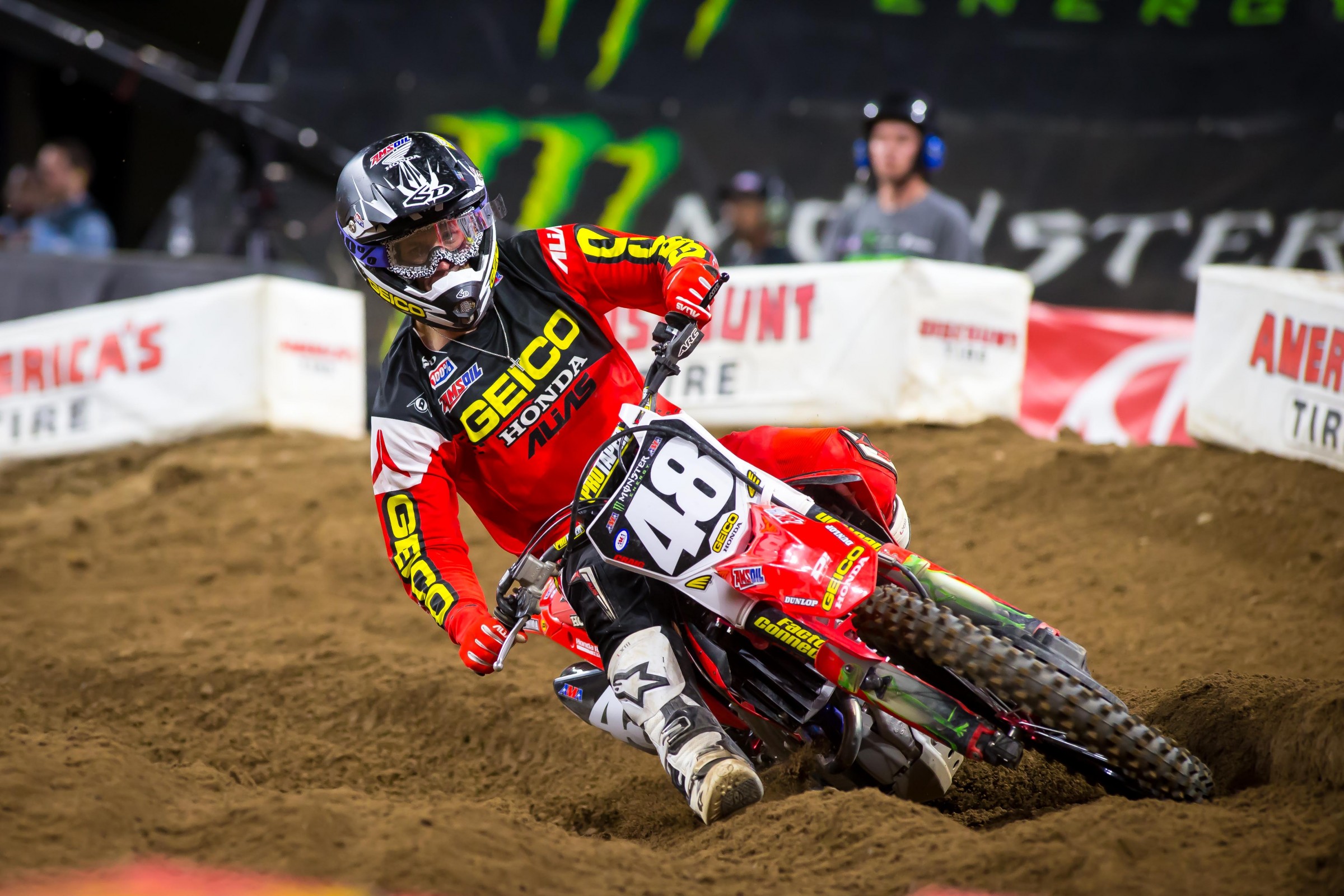 Craig's also excited about new team manager at GEICO Honda, Dan Betley. "It's hard to replace The Rock [LaRocco]. But Dan helps out with the setup with my suspension and just everything," Craig said. "He's not just there to be a team manager. He's there to make your bike better, too, which is cool.
"Every one of the riders on our team, whenever they get on the '18, they don't want to get back on the '17, so that kind of says something," he continued about the all-new CRF250R. "It's way better. Chassis-wise, it's like night and day. It feels kind of similar to the 450 chassis, but obviously the motor is different.
"It took a while to get the motor up to par and we're finally getting there now with everything, and the motor is getting stronger, but for a while there, that was the only thing that was lacking. Finally, it's getting there."
Anyone who's watched Craig ride knows that the new bike, the new team manager, and whatever else you want to throw in there doesn't matter all that much. What unlocks Christian and makes him a multiple race winner and championship contender lays between the ears. He's got the bike and team, and it's obvious he's got the talent. After a series of stops and starts in 2017, we'll wait and see if 2018 is the year in which he unlocks it all.