Evgeny Bobryshev Announces 2018 Plans [Update]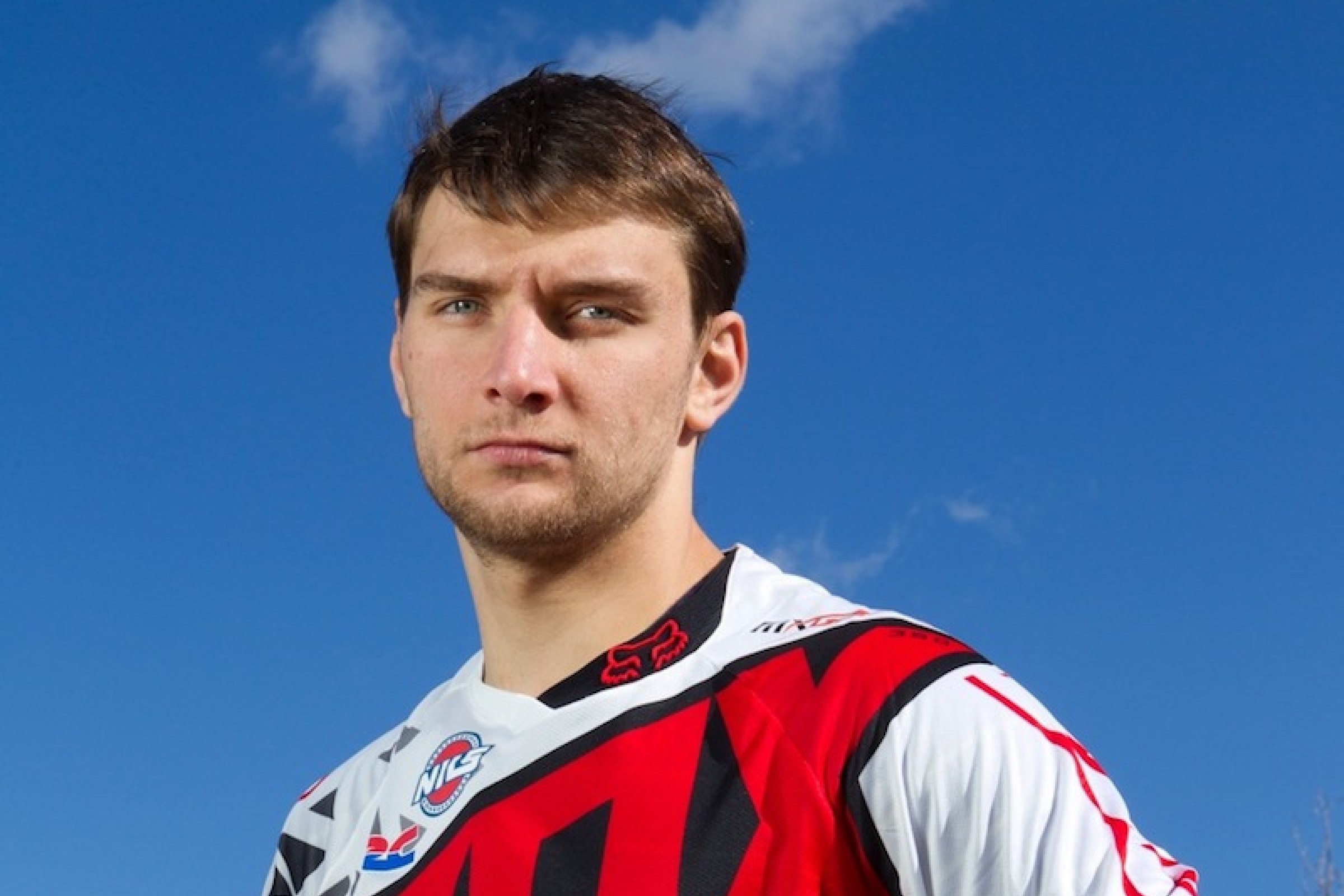 In a surprising move, former Honda HRC factory rider Evgeny Bobryshev has signed a deal to contest the 2018 Arenacross World Tour with RFX Suzuki. A fixture in the FIM Motocross World Championship since 2008, the Russian was let go this off-season after the team decided to bring on Dutch rider Brian Bogers.
After that late, and surprising, decision was announced, Bobryshev was limited in options, as KTM, Husqvarna, Yamaha, Kawasaki, and Honda were already full. (Suzuki shut down its factory effort in the series.) In September, he told MX Vice that he was looking at all possibilities:
"It is not secret, but I am looking at all possibilities. At the moment in Europe it is tough. All the seats were full, as my decision was too late. I was talking to [teams in] Australia and the USA also, to see what the future brings for me. I'm not ready to retire. I still want it and feel that I can do it. I just need to recover a little bit, get into shape, remove my plate, clear my head and then go for it again."
The 2018 Areancross Tour is an eight-round championship based mostly in the United Kingdom—with visits to Belgium and Germany—that runs from January 6 to March 10. The penultimate round of the championship in Belgium coincides with the opening round of the FIM Motocross World Championship in Argentina. There are no other conflicting dates. The final round of the Arenacross Tour runs March 10, and the second round of the GPs is scheduled for March 18 at Valkenswaard.
Bobryshev, who finished 11th in the MXGP Class in 2017, said the following in a press release.
"I am really happy to have made a deal with Suzuki England to race in the Arenacross World Tour for 2018. I have known Neil Prince for a long time and I am looking forward to working with him. I actually raced one round in Ireland in 2010, which I won, and it was a lot of fun. I was in a unique position where I could choose to ride in whatever I wanted and I decided that this was what I wanted to do. It is going to be so different to MXGP as the racing is only done in one day, which to be honest means I will probably enjoy riding the bike a lot more and having a bit of fun with it. I am planning to start riding on the bike next week and get focused. I will be ready for it."
[Update]
Per a post on the MX Nationals Facebook page, Bobryshev will compete in the Michelin MX Nationals and ACU Championships in addition to the Arenacross World Tour. Those events run in the summer, which means the Russian will not be competing in the FIM Motocross World Championship in 2018.
Evgeny Bobryshev returns to the UK for the 2018 season competing in the Michelin MX Nationals, Arenacross World tour & ACU Championships .
For the new season he will be racing Suzuki Machinery, outdoor events will see the 30 year old racing for Neil Princes Lombard Suzuki team & reigning team champions RFX Suzuki for Arenacross aboard an RMZ450.
The former GP winner is a previous winner of both the British & Russian National titles & will be looking to add to his championship haul. He joins two fellow 2017 GP racers namely Jake Nichols & Josiah Natzke on the line .
[Update]
In an interview with MX Vice, Bobryshev detailed his plans for the 2018, which will include "several" rounds of the FIM Motocross World Championship. You can read the entire interview here.
Are you happy about having a deal to race outdoors in Britain? Obviously you are a former champion, so you know what to expect.
Yeah! I like England, first of all. It is good to race there. There are a lot of good people there and a good crowd. There are lot of nice tracks too, so that is one reason why I am so looking forward to it. We will do several MXGP rounds too, for sure, but we are still working with Neil on a budget to get to more. It would obviously be good to do all of them, but we need to find the right partner and make it happen in a good way.