Welcome to Racerhead, where we're feeling a bit nostalgic. But, before we begin, it is never a bad time to acknowledge the men and women who serve this great country and allow us to run a motocross site—which is more fun than work. Tomorrow is Veterans Day, the official public holiday observed to honor our military veterans. We're sure most of you have someone in your family who have or are currently serving, so take the time to thank them, or any military member, tomorrow.
Back to Racerhead. While the riders and race teams are enjoying time at home or the practice tracks, or maybe racing Down Under at the AUS-X Open, we are missing being at the races. We just finished building the next issue of Racer X Illustrated, so it's a good time for a little office clean-up. And that includes the virtual office too. Aaron Hansel and myself have been combing through The Vault, cleaning up mistakes and typos or maybe just new information. The Vault remains in a constant state of beta testing, as we are constantly getting new results—or better and more thorough old results.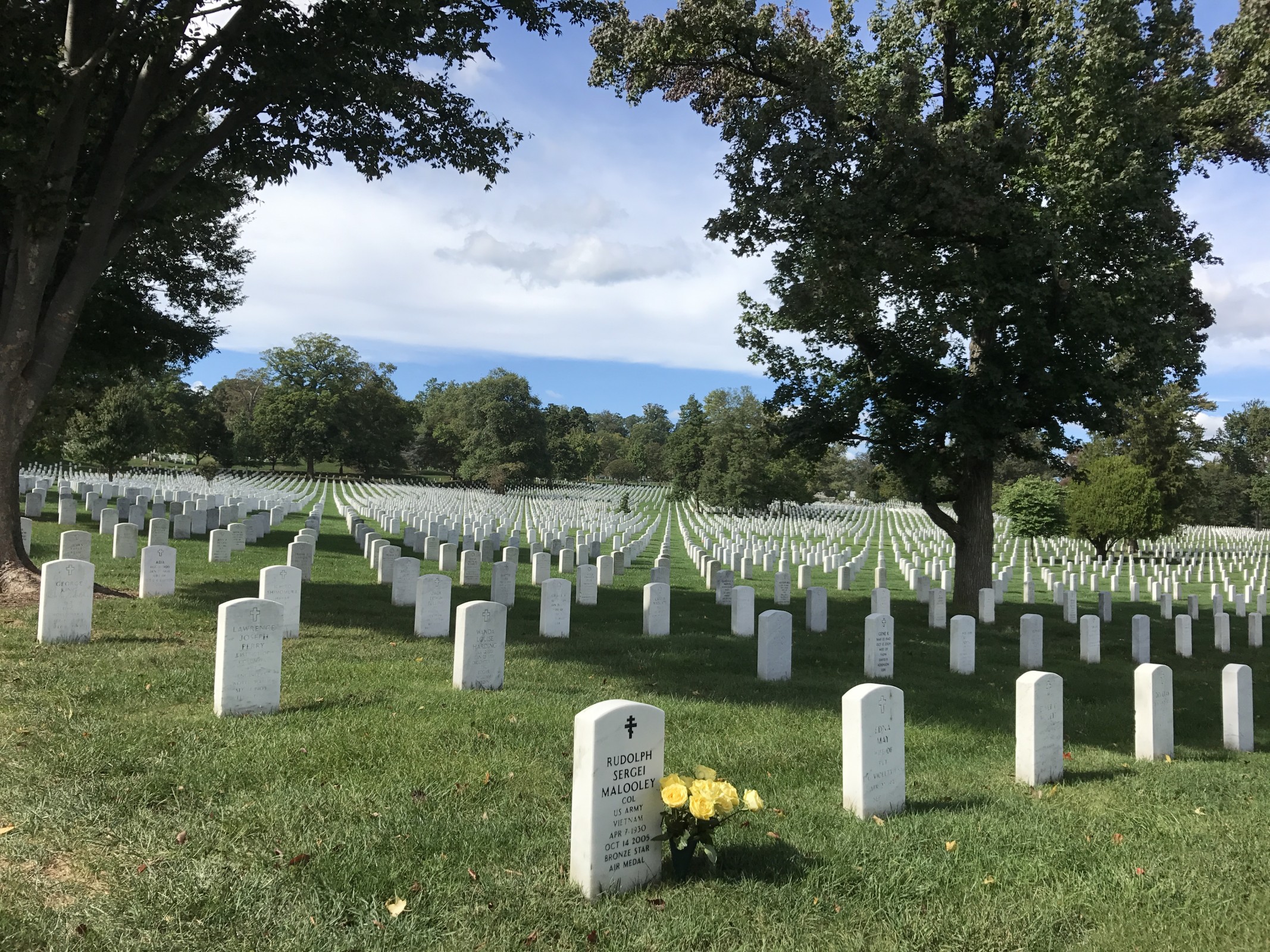 It's in going through The Vault that we see forgotten races, names, and moments that really stand out, be it for great memories or just head-scratching, what-the-heck moments. For instance, Ricky Carmichael has more wins and titles than anyone, and his consistency was as impressive as his dominance. The 2006 Glen Helen series finale is the one and only double-DNF of Carmichael's career. He had already wrapped up his tenth straight outdoor title but was battling James Stewart for one more win to cap the season. Instead, Carmichael crashed his Makita Suzuki RM-Z450 and injured his shoulder. He's listed with 36-38 finishes but never actually started the second moto.

This race would also mark the last time Stewart would beat Carmichael in an outdoor national. One year later, during the GOAT's farewell tour, Ricky won all six of the AMA Pro Motocross races he entered, scoring his 150th and final AMA SX/MX win at Spring Creek in Millville, Minnesota.
Chad Reed's first race listed in The Vault is a hidden gem: 17th place in the 125cc class at the San Diego Supercross aboard a Suzuki RM125. The Australian then went home, and then to Europe. When he came back three years later, he was the second-best prospect in the sport—a Florida kid named James Stewart who had just turned 16 was considered The Future. Hard to believe looking back that Reed, who finished that '99 race in between Billy Payne and Brad Hagseth, would be the man to someday break the all-time record for podium finishes in AMA Supercross.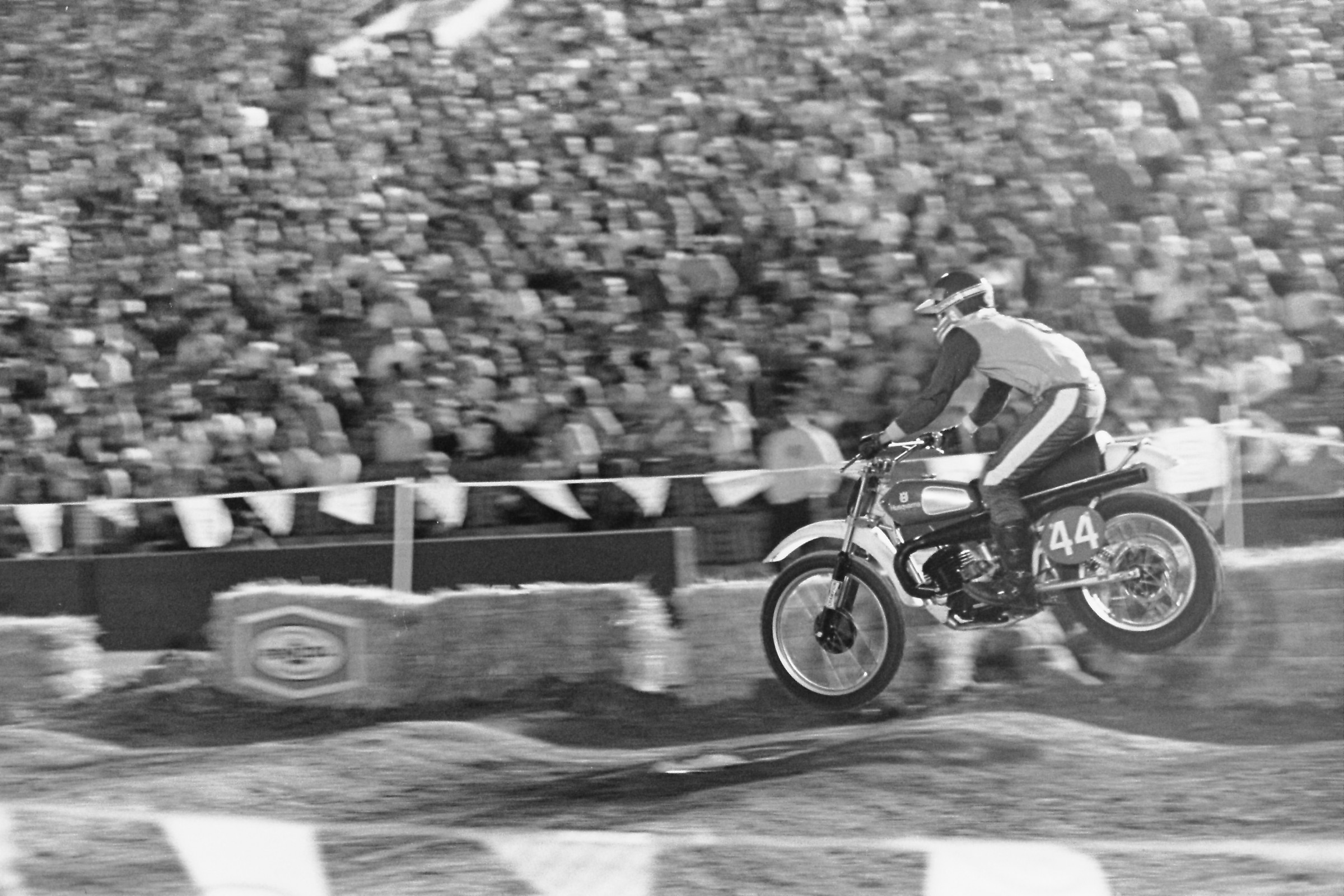 Sometimes there are finishes that are supposed to be there but were almost lost to memory. Growing up, my two favorites riders were Marty Smith in the U.S. and Heikki Mikkola in Europe. They raced together in the 1975 Superbowl of Motocross, with Smith famously forgetting there was a detour turn at the end of the start stretch on the first lap, and instead hitting the whoops that followed and landing in early supercross history with maybe the gnarliest crash of the first generation. Mikkola, riding in his one and only AMA Supercross event, crashed while running third in the first of three motos. He was done for the night, as was Smith. So, when you look in The Vault, there are two missing positions in the '75 Superbowl of Motocross: Mikkola's 19th and Smith's 20th, as they were both counted as DNFs instead. And that means that Mikkola's name is not actually in The Vault—or at least it won't be until we start getting USGP races in there!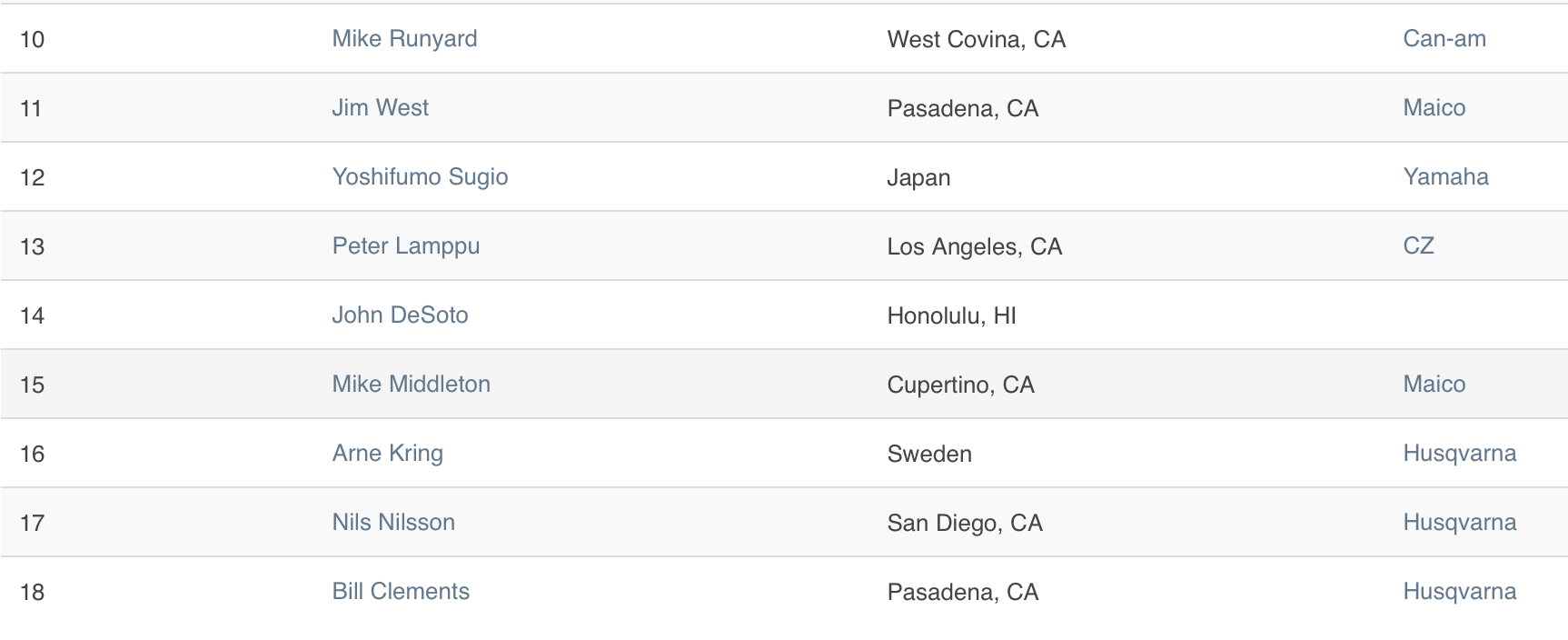 Here's Smith's 250 start crash, at right around the 1:00 mark.
Eli Tomac has a rare spot in The Vault. He's the only U.S.-based rider to have his first entry in The Vault be a win since the very early days of motocross. Tomac won his professional debut, the 2010 Hangtown 250 National, while riding for GEICO Honda.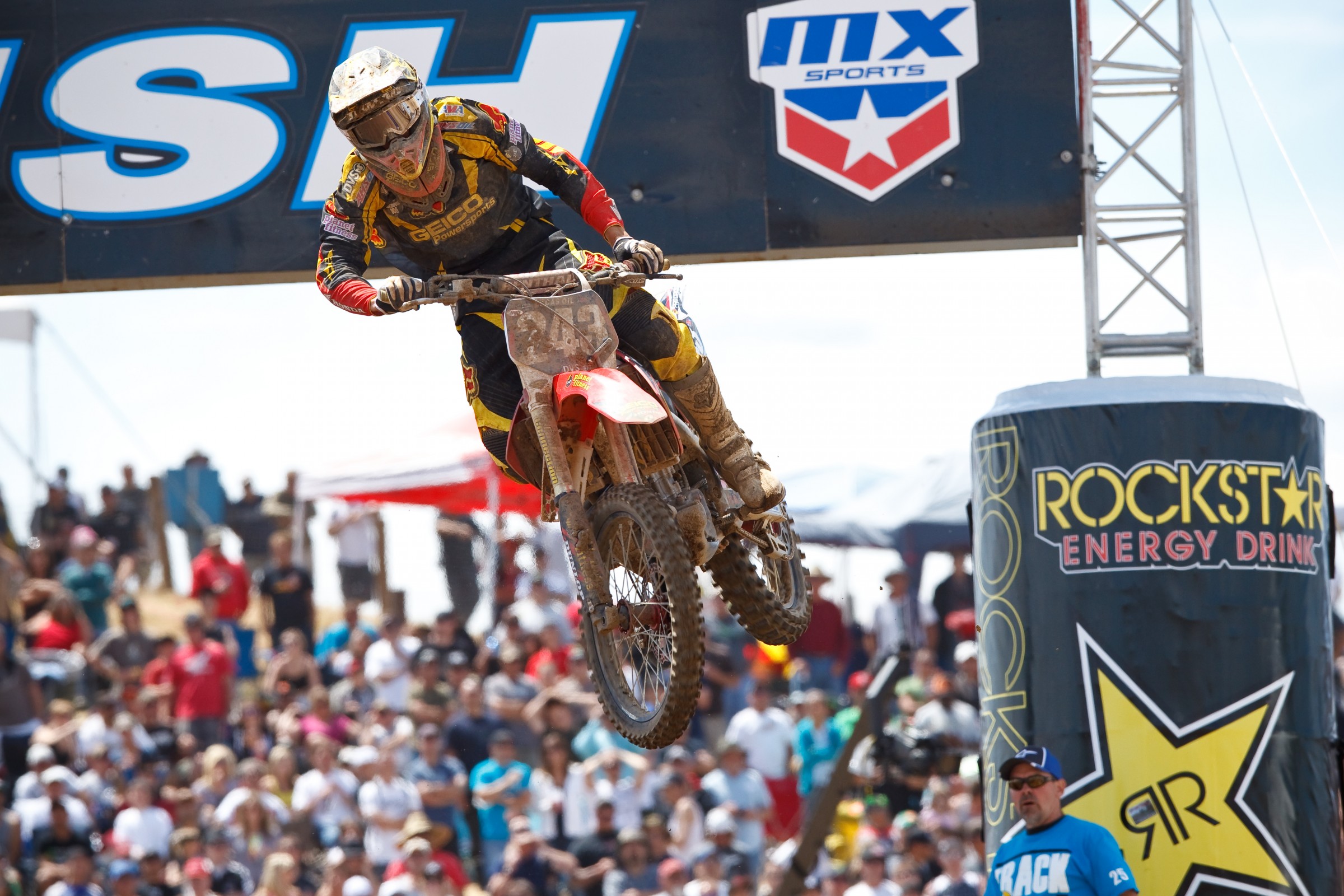 Jimmy "The Greek" Gianatsis is widely regarded as the best motocross photographer of the 1970s. His prolific work in Cycle News, Motocross Action, and numerous other publications documented the seventies like no other shooter was able to do. But he didn't start out as a photographer. If you look very closely at the very first race in The Vault, the 1972 AMA 250cc National at Road Atlanta—literally the birth of the series—the 19th-place finisher in the 250cc Class was one James Gianatsis Jr. of Biloxi, Mississippi, riding a Yamaha. He soon parked his bike, picked up a camera, and become a motocross legend.
Peter Hichens of Bound Brook, New Jersey, has one of the more interesting set of entries in The Vault. It's two finishes, one in a 125 Supercross, the other in a 125 National. They happened with five weeks of one another. The SX finish was a third-place podium behind 125 SX champions and Suzuki factory riders Keith Turpin and Ronnie Tichenor in the East Rutherford 125 SX. The other is a 23rd place finish at the Lake Sugar Tree 125 National, where Hichens scored one point in one moto. That's it. No more entries for Peter Hichens. Interestingly, the privateer Hichens was on a Honda at the SX, then a Suzuki at the MX.

Carey Hart has three entries in The Vault, but only one as a points-scoring finish: 20th place in the 1998 Minneapolis Supercross, a race with a podium of Jeremy McGrath, Kevin Windham, and Ezra Lusk. He went on to change the game in freestyle motocross by landing the first backflip just a few years later, then started up Hart & Huntington Tattoo, and then his own race team (which won the 2016 Lucas Oil 450 Pro Motocross Championship), and somewhere along the way met and married a girl from Philly named Alecia Moore, who became a singer you may have heard of called Pink. But knowing Carey, that one career point in AMA Supercross is something he's still very proud of.
Some of the unique entries involve brands. Of course right now we have six major brands on the AMA circuit, but back in the seventies there were a whole bunch. Bikes from all over Europe are in The Vault: Maico, CZ, SWM, Cagiva, Husaberg … and then there is the Mexico-made Carabela. It was ridden in 1978 by Billy "Sugar Bear" Grossi, scoring points in five different events—including an astonishing fifth-place finish in the Hangtown 250 National. Grossi rode a lot of different bikes, but he's the only Carabela rider in The Vault.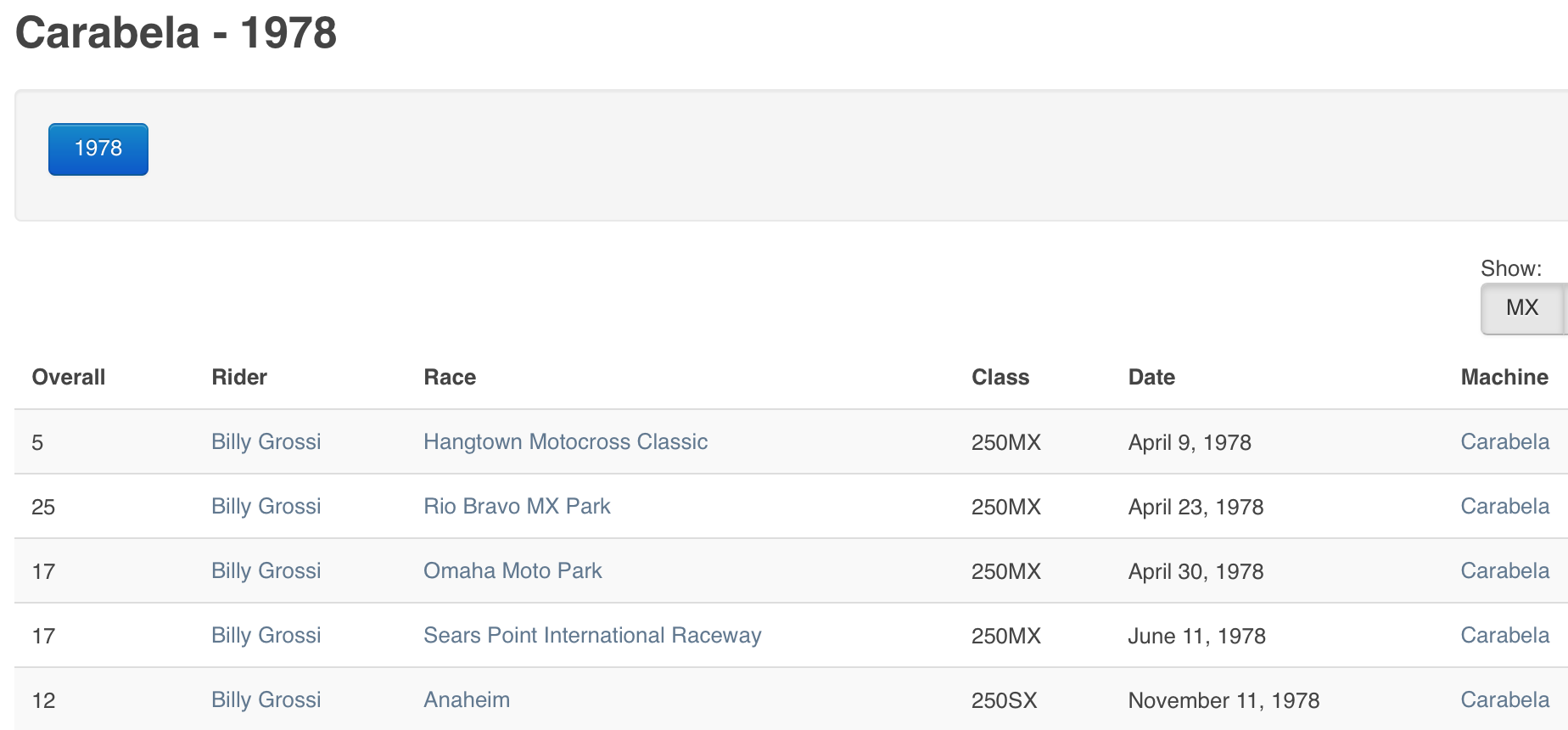 And then there's Gene Cannady. Never heard of him? Me neither, until we found him in The Vault. He rode a Honda—the most popular brand of all in the history of AMA Supercross/Motocross. In 1972, when the Trans-AMA races counted as part of the 500 AMA Nationals, Cannady finished 14th on a prototype Honda Elsinore. That would mark the very first entry ever for a Honda motorcycle in The Vault. But it should be noted that the finish came only after all of the European riders were taken out of the results. The top American, sixth-place Marty Tripes on a CZ, was given first-place 500 National points.

But that same day at Saddleback, in the 250 Support Class—which you won't find in The Vault because it did not give 250 National points like the 500 Class did—Bruce Baron won his qualifier aboard an experimental Honda 250—the precursor to the Elsinore CR250M that was coming. It was Honda's first win in the U.S. in a motocross event, even if it was just a qualifier. Baron did not finish in the top ten in the main race. However, the brand evolved so fast that one year later Honda won the 1973 AMA 250cc National Championship with Gary Jones.
Finally, let's end this by coming back to today and the Ironman 2017. Three-time FIM World Motocross Champion Jeffrey Herlings' one and only line in The Vault comes from his 1-1 win at the season-ending Lucas Oil Pro Motocross race in Indiana, where he put on a passing clinic in the second moto, coming from last to take the win when Red Bull KTM's Marvin Musquin fell late in the moto. He's the only man in the entire Vault with a one-race, one-win entry.
We are proud to have The Vault on our site, but it's a never-ending task to keep it up to date and correct—and a blast if you're Student of Moto like we are!
Here's Racerhead.
THREE MOTOS... AND EVEN FOUR MOTOS (DC)
The 2018 Monster Energy AMA Supercross Championship is undergoing a few format changes to shake things up a little, employing the three-moto format that's been used for the Monster Energy Cup in Las Vegas for several years. The Monster Cup is a one-off event that Feld Motor Sports often uses as a laboratory to see how different things might work. But back in 1974 in the very first AMA Supercross Championship (known then as the Yamaha Super Series of Motocross), the format for the very short series—two weekends, first Daytona International Speedway, then the Houston Astrodome—called for two different formats. At Daytona, an afternoon race, there three motos per class with two classes: 250cc and 500cc. At the Astrodome, which was a Friday-Saturday night doubleheader, they actually ran four motos, two per night, with one overall winner per class.
We decided to go digging in The Vault, as well as Cycle News' epic archives, to see what those events at Daytona International Speedway and the Houston Astrodome looked like.
The 250cc Class was not necessarily considered the premier class, but history would treat it as such. Yamaha's hired gun Pierre Karsmakers was considered the man to beat, having won the previous year's AMA 500cc Motocross Championship, as well as the Daytona round (then part of the Nationals). But the fastest man according to Cycle News was probably Jim Pomeroy, the "First American" to win an FIM Grand Prix the year before, but also riding a very unreliable Bultaco Pursang. Pomeroy won the first moto at Daytona but then had his rear wheels collapse in each of the last two motos. The Dutchman Karsmakers ended up winning the overall with a 2-1-1 score.
In the 500 Class, fans were treated to an appearance by Roger DeCoster, the reigning three-time FIM 500cc World Champion, who was not actually biggest star of the event. Instead, it was multi-time World Road Racing Champion Giacamo Agostini, who showed up from Italy to race against Kenny Roberts in what was arguably the most interesting Daytona 200 ever. DeCoster would win the 500cc class with 2-1-3 moto scores, sharing moto wins with upstart Americans "Rocket" Rex Staten, in his first ride for Team Honda, and Husqvarna's Gary Semics.
As for the big Agostini-versus-Roberts showdown in the 200, the 13-time World Champion "Ago" topped the future "King" Kenny by some 40 seconds.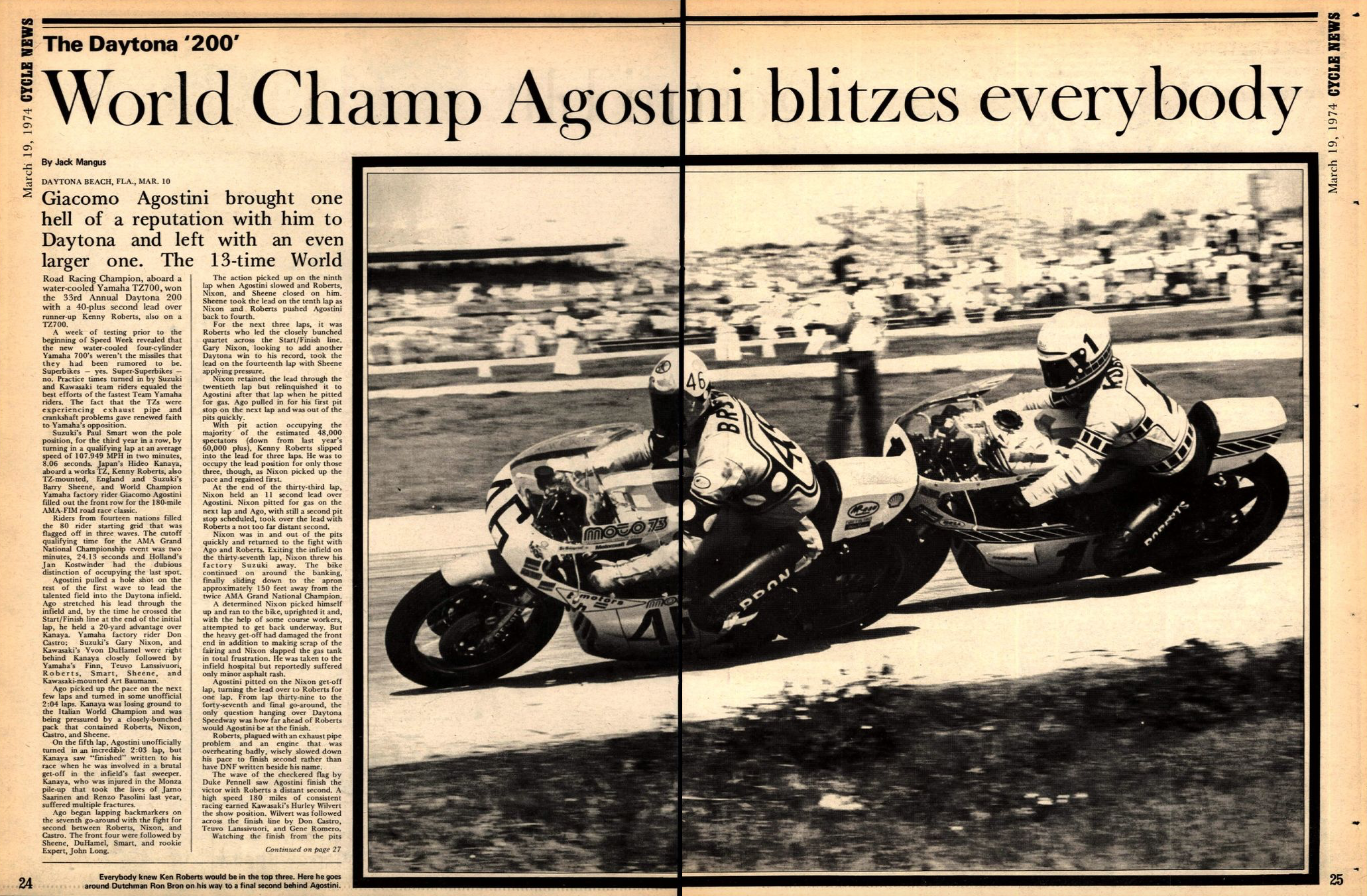 The following week at the Houston Astrodome, Bultaco rider Jim Pomeroy claimed the overall win in the 250 Class with 3-1-1-2 finishes, but Karsmakers won the brief series by finishing second overall with 2-2-2-5 finishes. (The winner of the first moto was the late Buck Murphy, who won aboard a Penton—the first and only major win by the Ohio brand that would eventually be absorbed into its mother brand, KTM—but it doesn't show in the record books or in The Vault because only overall winner Pomeroy is credited with a race win, and Murphy did not finish two of the other motos.)
In the 500cc class, DeCoster had a miserable weekend of DNFs. The overall winner was the late Tim Hart, who had an unlikely winning score of 2-5-2-3. Bultaco's Bryar Holcomb won two of the four motos but, like Pomeroy at Daytona, couldn't finish enough motos to win an overall.
Supercross was still trying to find its way back then—it wasn't even called supercross yet—and there was lots of experimentation, both good and bad. Here's guessing that this year's "triple crown" rounds are much easier to follow (and the bikes more dependable) than they were back in the nascent days of "stadium motocross."
And BTW, the biggest stadium race of the year, the Superbowl of Motocross at the Los Angeles Coliseum, would not count in the first Yamaha Super Series of Motocross, because it was part of Edison Dye's Inter-Am Series. It would be won by Czech CZ rider Jaroslav Falta, over Suzuki's DeCoster, riding a 250 for that race.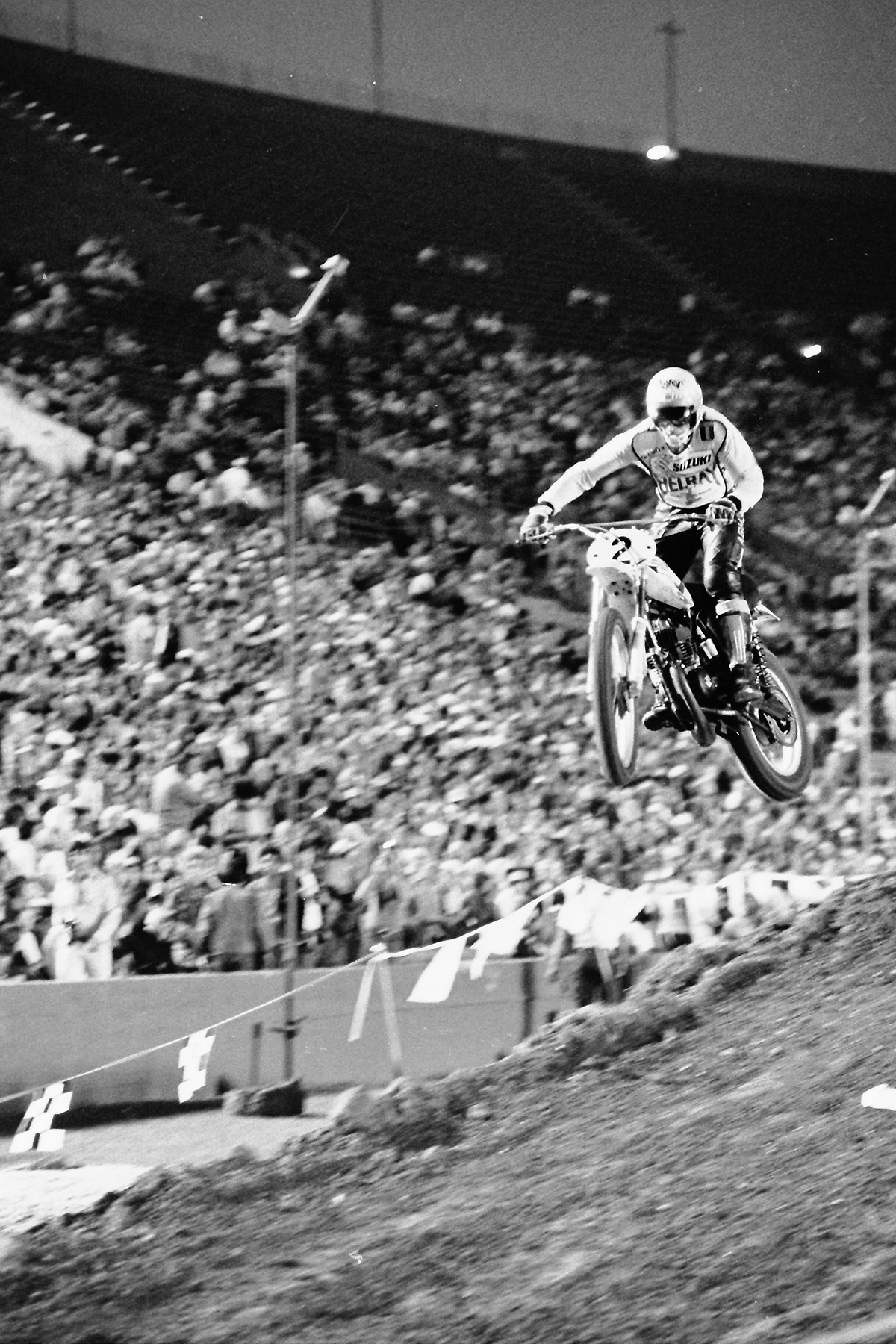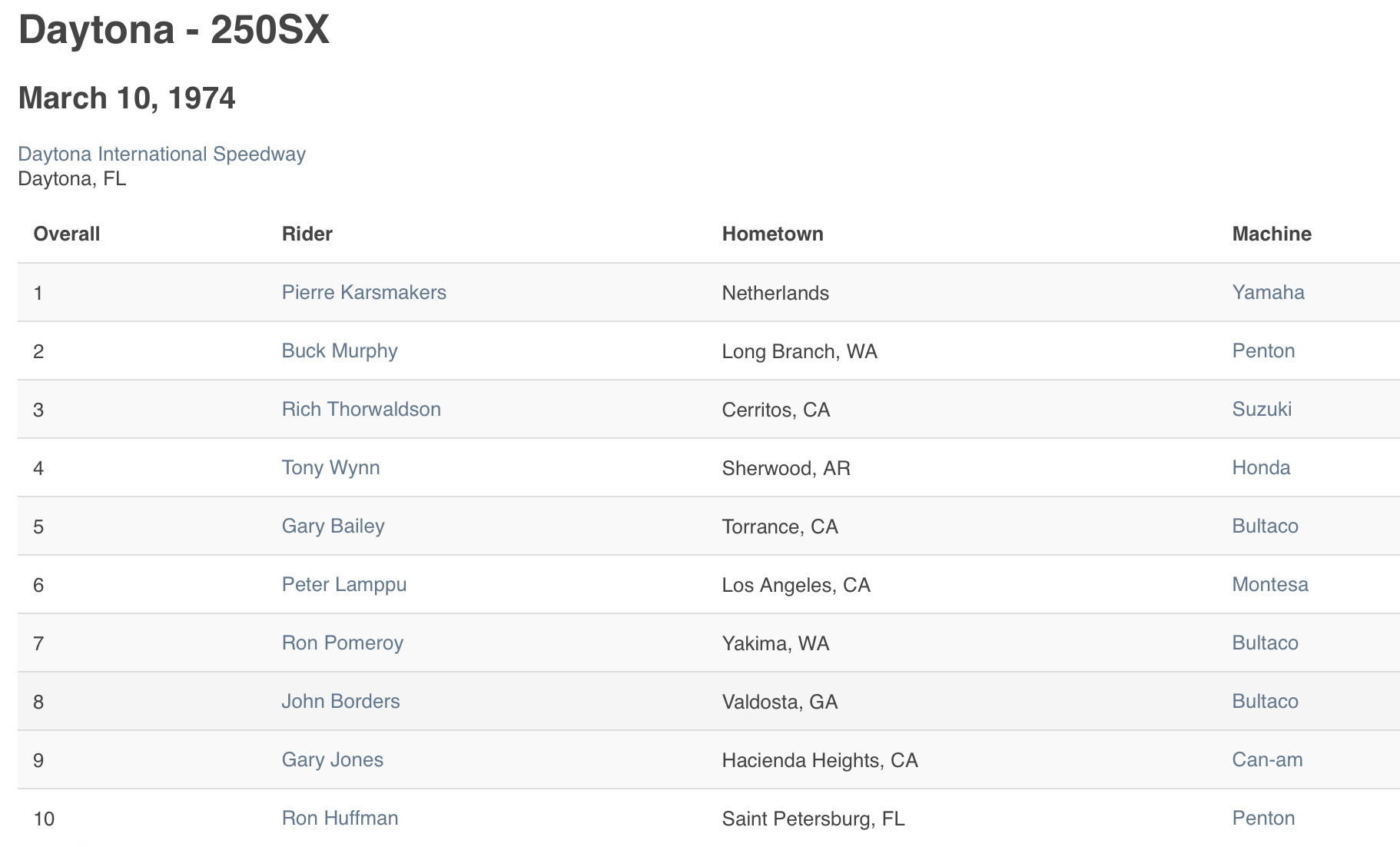 Here's the Super Something PDF for readers.
No Champion on the Gate (Jason Weigandt)
I'll just keep DC's retro theme going here with some talk of more supercross format changes from the past. I recently watched the 1983 Anaheim opener on YouTube and had a chance to call the race winner himself—David Bailey—to talk about it. If you watch the TV show from that race (a big NBC production using legendary Indy Car announcers Paul Page and Johnny Rutherford), much of the talk centered on the physical demands of the sport and the fitness of the riders. This was bolstered by the new format that year, which required everyone to race both a heat and a semi to make the main. Yes, win your heat, and you still race the semi! The idea was to keep the stars of the sport out there in front of the fans more. Sound familiar?
You can just watch the race and see how taxing it was on those old bikes on those rudimentary tracks. There's no flow, no timing, just dudes hucking it off of singles and small doubles. It looked hard! Oh, and the Anaheim 1983 track had a built-in mud hole. The riders were not happy.
I talked to Bailey about that race for an upcoming issue of Racer X Illustrated. Anaheim '83 was a rare case where the defending series champion wasn't on the gate. We'll have that scenario in 2018 with Ryan Dungey's absence. In 1983, the '82 champion, Donnie Hansen, was out while still trying to recover from a major head injury suffered while training in Europe for the 1982 motocross des nations. Bailey had only scored one 250 supercross podium in his career prior to the 1983 season, but he won the Anaheim opener and went on to win the championship. Hansen, sadly, never regained his form and never returned to racing.
Along the way, David stumbled on something big. He'd spent his formative years traveling the country with his dad, Gary, who hosted what are probably the most famous riding schools in the sport. They settled in Virginia and built up the Lake Sugar Tree MX track, which David developed into a riding and training haven as well. David was the rare rider at the time who had a base on both the East and West Coasts—Hondaland in California and his own track in Virginia.
"I can't say it was my grand vision or anything, but I did have a great place to train in Virginia with mountain bike trails, running trails, a Jet Ski lake, and supercross and motocross tracks," Bailey says. "Then they built Hondaland in California. The terrain was unbelievable. I don't know how they got those guys to drive dozers on those hills. It also had a super-sized supercross practice track. It was three miles from Johnny's [O'Mara] house. So we could ride there on the West Coast and ride at my place in Virginia. When you think of those types of resources, it's a wonder that we didn't just go 1-2 in every race."
Bailey essentially stumbled on today's dual-coasts model, generally between California and Florida, that everyone uses today. Pretty cool!
Here's that Anaheim 1983 race:
HANNY (Steve Matthes)
On Monday's PulpMX Show, we had the mechanic legend Skip Norfolk on, who's now the technical director at Traders Yamaha. We had team riders Luke Renzland (El Dozer) and Jayce Pennington on to talk about working with Skip, give their outlook on 2018, and more. We also had Tony Berluti in, which led to Skip and Berloot swapping stories on the road and the box van days. It was great to sit back and listen to these guys talk about the good ol' days and all the shenanigans they got into on the road. And it sounds like everyone back then owed Skip money from poker at some point or another.
Kenny Watson called in to talk about his plans post-RCH Racing, and those include starting up a team with Josh Hansen for next year and beyond. Watson's been instrumental in starting Moto XXX, Plano Honda, and RCH, so he does know how to do this kind of stuff. Sounds like it's 450SX and they have enough sponsors to hit all the rounds. If #100 gets injured, they'll be looking for a fill-in, and Josh will ride a Suzuki. This could be the start of another operation for the OG K-Dub.
If you're into off-road, Kris Keefer did a podcast with WORCS and Hare and Hound champion Gary Sutherlin about his year, trying to make racing work as a single dad and more here.
RacerTV Goes Prime Time! (Chelsea Taylor)
With the 2017 race season coming to a close, it's the perfect time to reflect on this past year. For the first time ever, the Loretta Lynn MX highlight shows on NBC Sports Network will be one-hour each and the first episode is set to air tomorrow, November 11, at 4:30 p.m. Eastern. It features an in-depth look at Jazzmyn Canfield's program, the Masterpool family, and the newly crowned Nicky Hayden AMA Horizon winner, Justin Cooper. Already have plans to be gone riding on Saturday? Then make sure to check out the re-air on Wednesday, November 15, at 3:30 p.m.
The second show makes its debut just two days before Christmas on Saturday, December 23, at 3 p.m. Eastern with highlights from the 250 A and B classes, an interview with the ultimate motocross fan, Brian Spencer, and a salute to the 2017 champs. Make sure to mark your calendars for November 11 and December 23.
Later tomorrow evening, RacerTV continues with Unadilla GNCC bike highlight show at 9 p.m., marking the first time RacerTV has been featured during prime time. If that's not enough racing action, then tune back in on Sunday, November 12, for the Powerline Park bike highlight show set to play at 5:30 p.m. You can always check out www.RacerTV.com for archived shows from Loretta Lynn's, GNCC, ATV Motocross and more.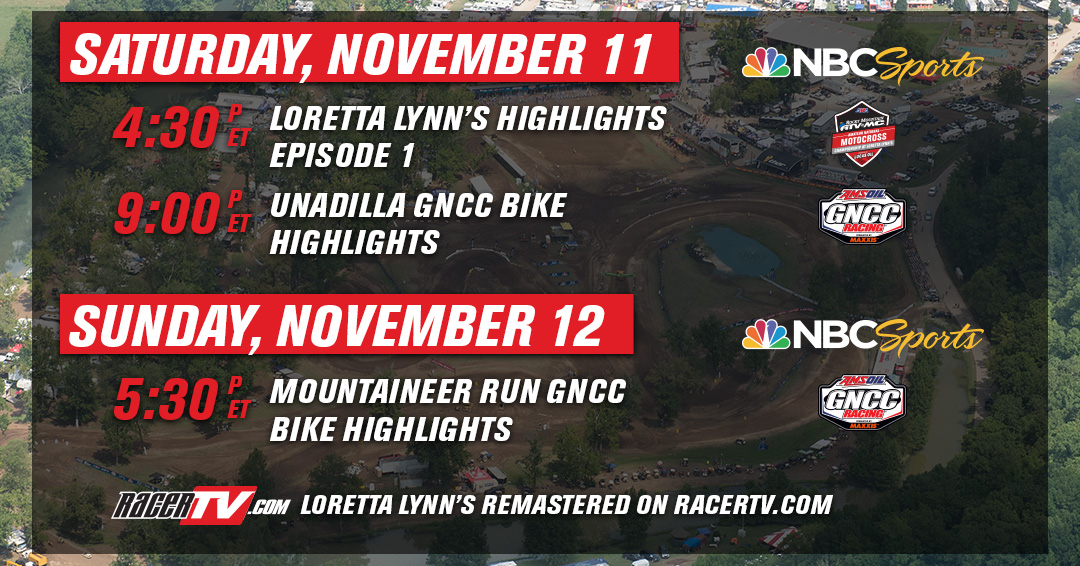 Amateur Pick-Up (Kyle Scott)
Yamalube/Star Racing Yamaha has expanded its roster. Ty Masterpool, the 16-year-old from Texas, will be riding a YZ125 and racing Schoolboy 2, 125 B, and 125 A in 2018. I met Ty, his dad, and the team yesterday out at Glen Helen, where Ty was getting his second day on the bike.
This is a big deal, especially considering the tragedy the Masterpool family experienced with the loss of Ty's older brother, Jesse, who passed away after injuries sustained while racing the Lake Whitney Amateur National in 2010. Nobody would blame the family if they gave up motocross altogether after a tragedy like that, but instead they used it as motivation to do it for their brother. All the sacrifice and dedication has paid off with Ty's signing with the team. After watching him ride for the first time yesterday, all I can say is Ty is just as big of a deal as this contract. Expect to hear his name a lot more often.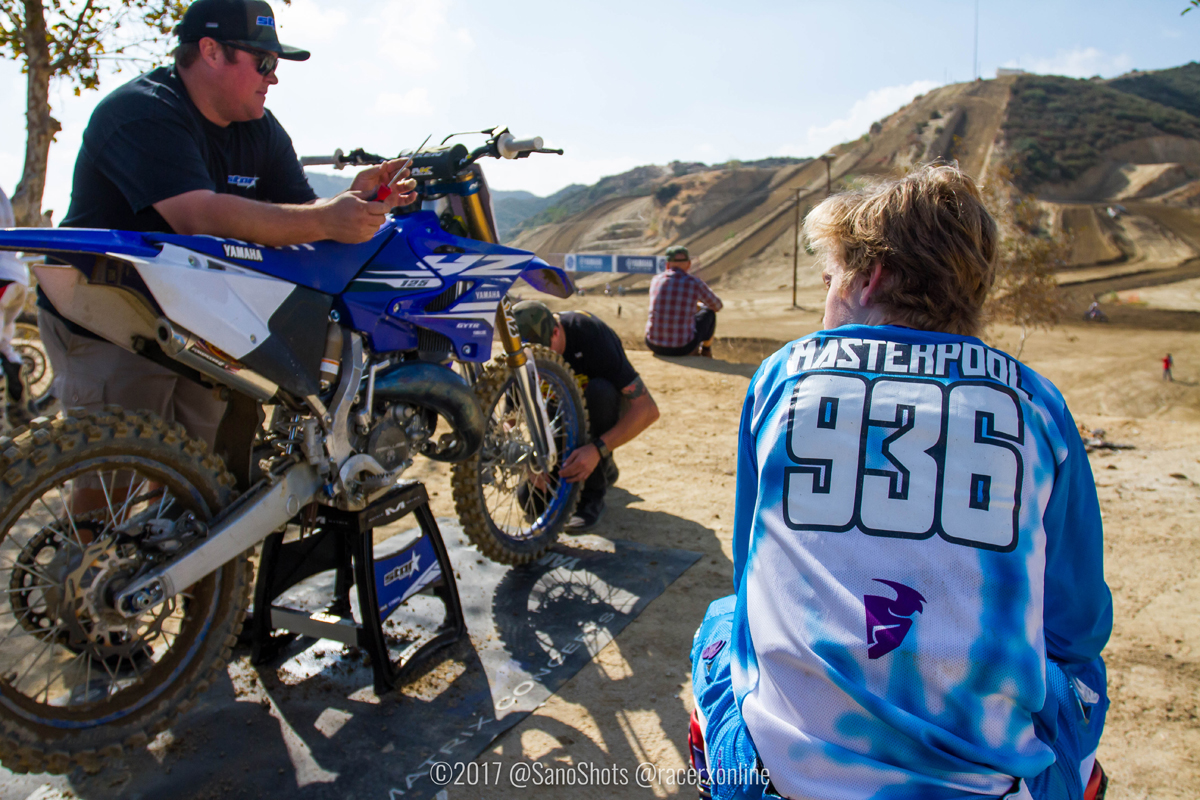 This is now Yamalube/Star Racing Yamaha's second amateur rider. They recently added 85cc and Supermini racer Matt LeBlanc, who made his racing debut at Monster Energy Cup last month. With the addition of Ty and Matt to the squad, the team is having to up their bike development, as they've never had an 85, Supermini, or 125 before. I asked assistant team manager Wil Hahn if the additional amateur riders have anything to do with the recent addition of amateur races in supercross, and he said it's really just a result of the team growing. Bringing these kids in at a young age is obviously a great way to really prep them for the big leagues and helps them get used to testing and training with a real team. It's helps develop them and helps them know what to expect when they do reach the pros. It also serves as a way to connect give even more exposure to the team's sponsors.
Aussie Time (Weigandt)
We're back to racing this weekend with the AUS-X Open in Sydney, Australia, which has become one of the biggest races of the off-season. Jason Anderson, Dean Wilson, and RJ Hampshire are the American-based headliners for the event, and Justin Brayton, who competes in the entire Australian Supercross Championship, will also line up. Chad Reed will be on hand but will not be able to race due to the ankle injury he suffered at Red Bull Straight Rhythm.
Yes, injuries happen at these off-season races sometimes. As mentioned above, Donnie Hansen's life changed forever during his off-season foray to Europe in '82, where he raced a GP (and won) and then stayed there to train for the Nations. His crash there while training ended his career.
I talked to Jason Anderson himself about racing these off-season events (Anderson finished second at Monster Energy Cup and will line up this weekend in Australia, and also in Geneva, Switzerland, in a few weeks). Anderson raced for Team USA at last year's Motocross of Nations and broke his foot on Saturday. He returned Sunday in heroic fashion to win a moto, only to be landed on while he rolled the finish line. Anderson got lucky and somehow avoided major injury in that crash, but his foot injury never healed right, and he admits now that it hampered him a bit early in supercross this season.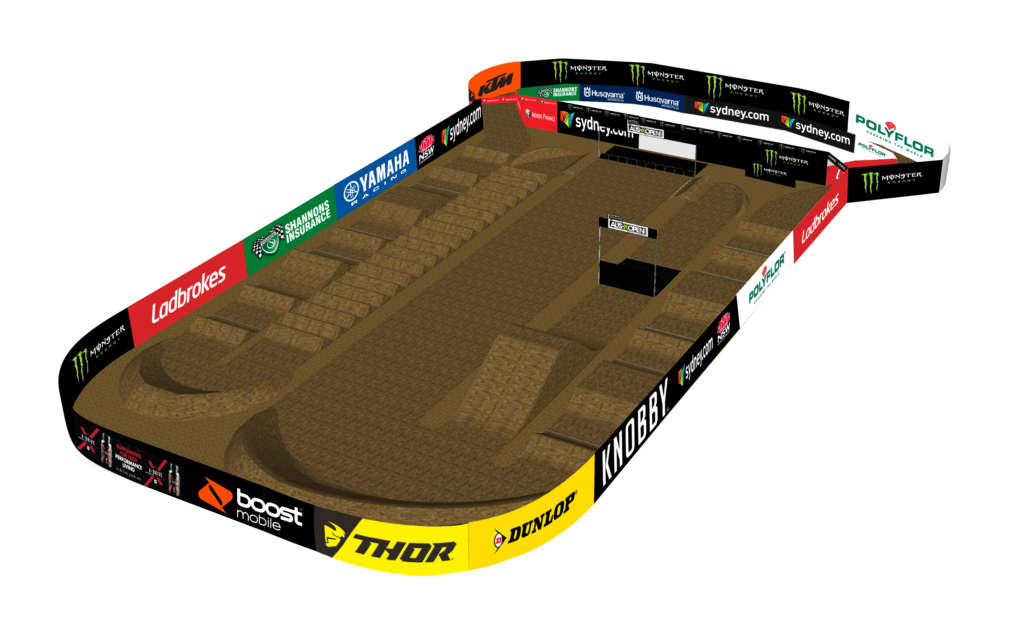 "I was like a hero [last year] for a week after, and then Monster Cup came around and it was like no one knew anything about it," Anderson said. "It was like talk of des Nations was over. It was like, no one else had to deal with a broken foot in January. It sucks because you're just caught in the middle. You don't want to make people mad, but you also have to do what's right for yourself. For sure, [winning that moto] was one of the greatest things I ever did. Yes, you're doing it for your country, and that's awesome. But I don't know if everyone realizes, but you're doing it for free. You don't get paid any money to do that race, and you risk ruining your next season, and if your next season doesn't go good, you're ruining how much your worth for the next year. Just something to think about. But if you don't go, you get a lot of flak for it, that's for sure."
These off-season supercross-style races are different, because the riders actually are paid well to do them—it's a risk to their regular income but also a nice bolster to it. If you talk to most retired riders now, they'll tell you they wish they had taken more of these off-season paydays because the bank account can never be big enough once the checks stop rolling in. But for riders in the thick of it, these will always be tough decisions to make.
You can read more of my chat with Anderson here.
Racer X Amateur Film Festival (Chase Stallo)
The second round of the 2017 Racer X Amateur Film Festival presented by MotoSport, WASpcam, and Yamalube, has been finalized. Indiana's Damon Smith defeated Switzerland's Stephan Guido to advance to the finals.
VOTING PERCENTAGE
Damon Smith - 77%
Stephane Guido - 23%
Congratulations to both contestants for making the semifinals against a stacked field of entries, and best of luck to Damon Smith in the finals. You can watch Damon's video HERE and Stephane's HERE.
The third round of the semifinals will feature Canada's Bryan Allie taking on fellow Canadian Mitch Goheen. Voting is open now.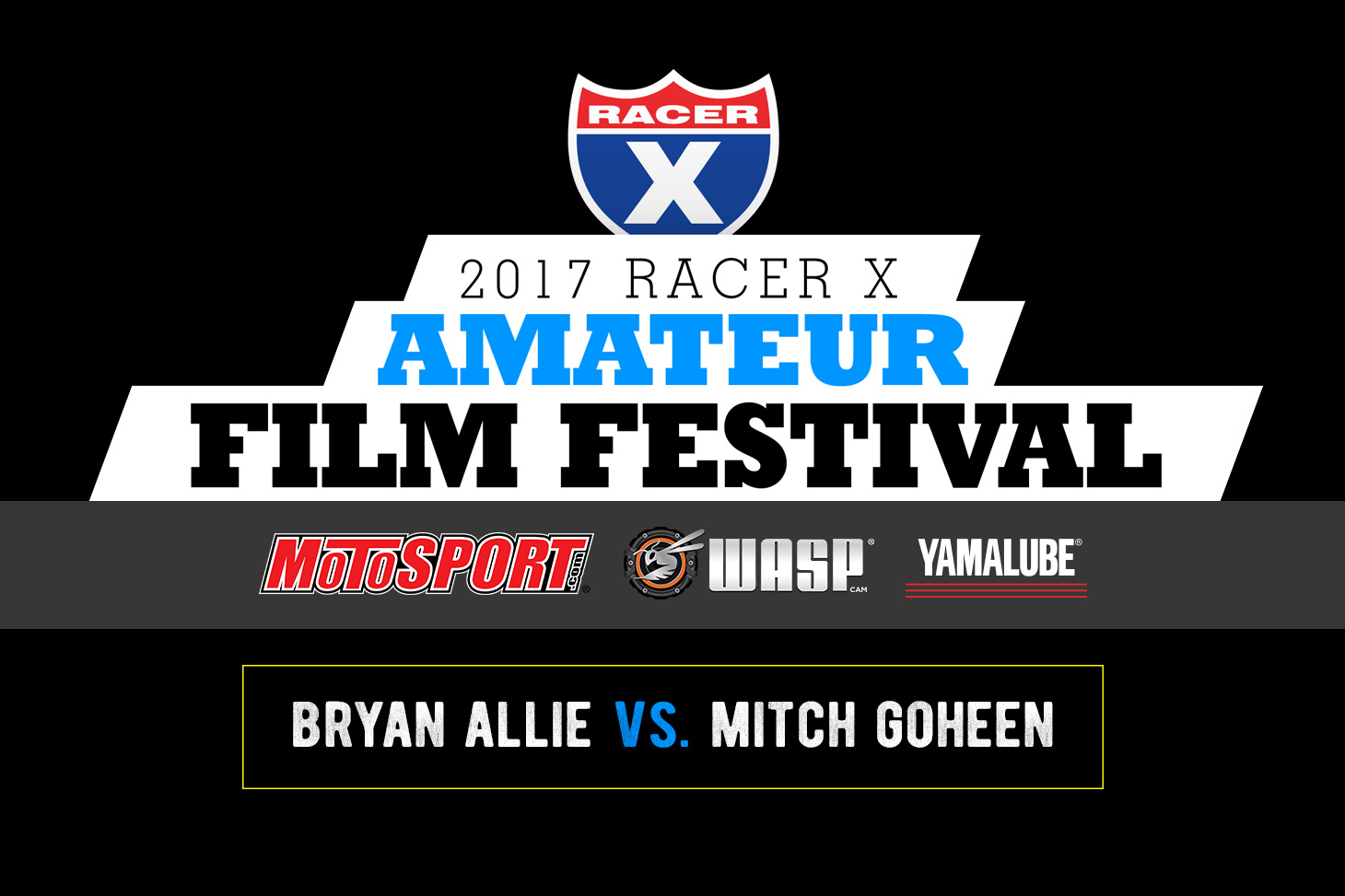 Ricky Russell Wins Big in Japan (Chelsea Taylor)
Twelve years ago, Masami Hoshino contacted the Grand National Cross Country series to get suggestions on how he could start an off-road racing series in Japan. The series adopted similar rules to GNCC and is referred to as the JNCC series (Japan National Cross County), which quickly grew to be the most popular destination for dirt bike riders each weekend. A partnership grew and still continues today. Each year, Masami elects a JNCC rider to compete in a single round of the GNCC series and invites a GNCC rider to their season finale.
Earlier this year, Yamamoto Hiroshi traveled to West Virginia and raced in the XC1 Open Pro class at the Snowshoe GNCC in June, where he finished 14th in class. The Snowshoe GNCC also marked Ricky Russell's first overall GNCC win. This victory put Russell in the spotlight, and he was selected to race in Japan this past weekend.
Russell got off to a top-five start and battled in the three-hour race with Japan's best off-road talent, such as former GNCC competitor and current JNCC champion Takeshi Koikeda, but came out with the victory. GNCC junior trail boss Ryan Echols also participated in the fun and finished second in the AA2 class, which is equivalent to the XC2 250 Pro GNCC class.
I caught up with Ricky and Ryan, and they said the trip was unbelievable and couldn't thank the JNCC staff enough for the hospitality they received while they were there. Congratulations to both Ricky and Ryan on a successful showing in Japan.
Hey, Watch it!
Caught between Pennsylvania seasons with Darryn Durham.
Honda has a new commercial out for their line of automobiles, but there's a nod early on to motocross.
Head-Scratching Headlines of the Week
"COLUMBINE: It's now 11th deadliest shooting in modern U.S. history" CNN.com
"Don't Call Him Diddy: Sean 'Puffy' Combs Changes Name To 'Brother Love'" - Forbes
Random Notes
January 2018 Issue of Racer X Illustrated Digital Edition Now Available
Pick up your copy now and read about Zach Osborne's long-overdue breakout season, why the U.S. is struggling to win races at the Motocross of Nations, and how Suzuki tries another private/factory tie-in. Also read about Justin Barcia facing an uncertain future on his privateer Honda, and our Holiday Gift Guide with the best moto gifts from across the industry.
Subscribe now for as low as $9.98 and receive a FREE 2018 "Through the Decades" Calendar plus access to our digital edition.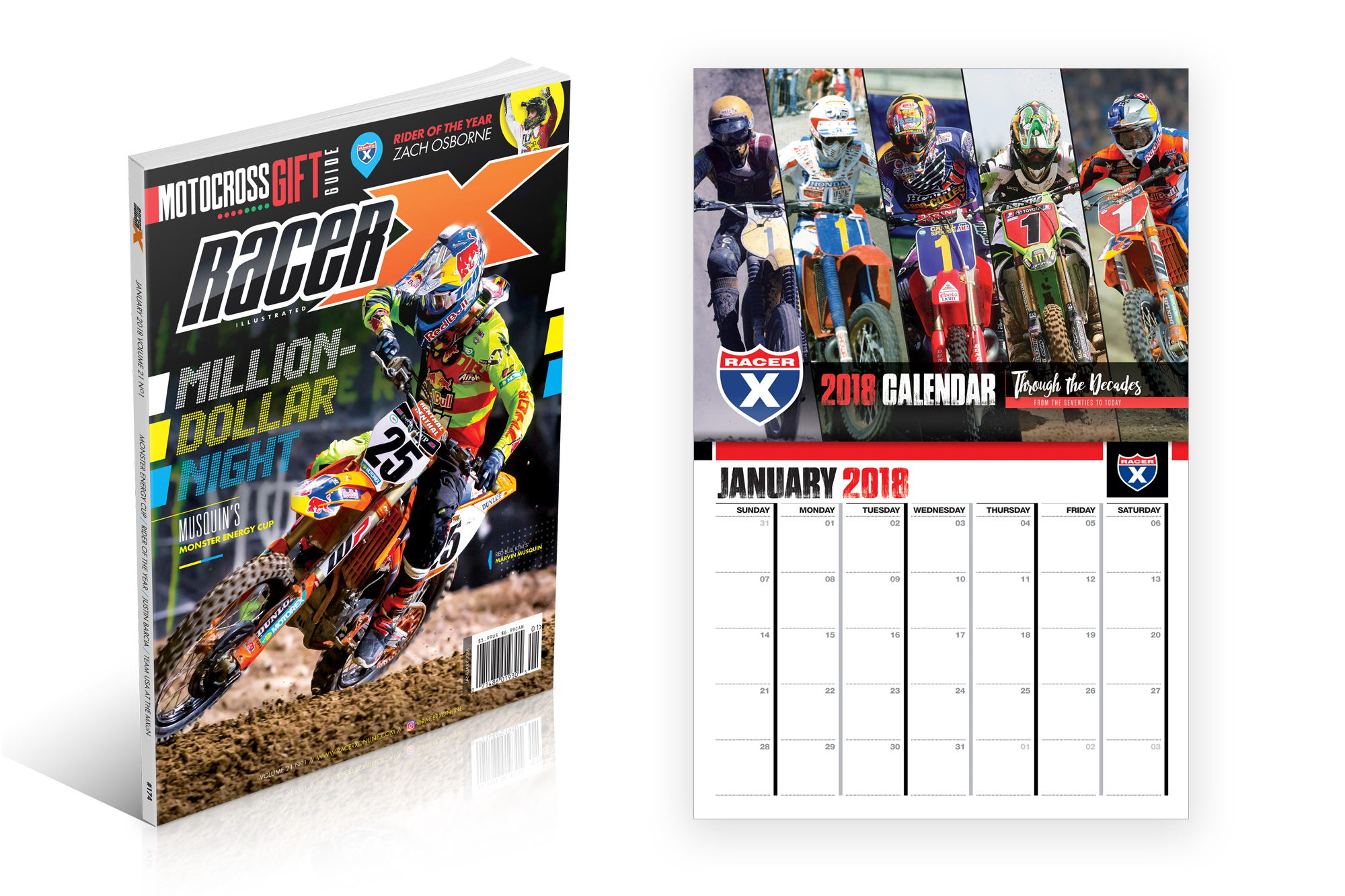 Got this note from our longtime friend Mike Zont of DeCal Works:
Have a moto trivia going here in the office…The guy in the lower right next to Jones in the Feroce ad—Isn't he a PA local as well??? What's his name, story? I coulda swore I've seen him around years ago…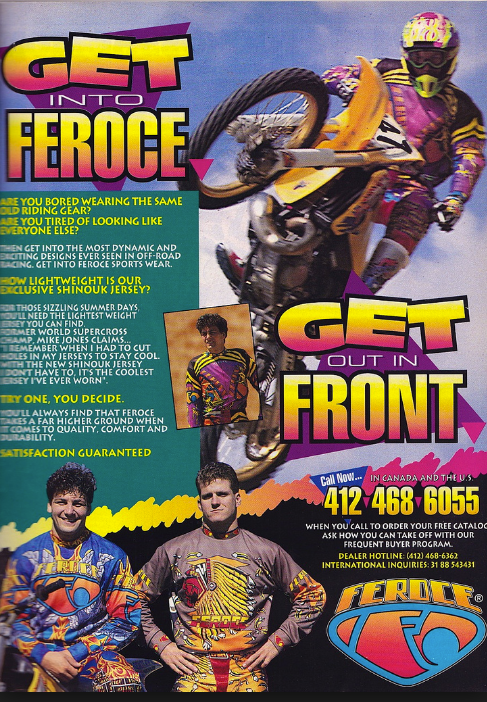 Great memories, Mike—we forgot all about that Feroce gear that Mad Mike used to wear. The man on the right is Kirk Kruze, and yes, he is a longtime PA local rider as well as a former U.S. marine. Kirk still comes down to High Point every year with his boys and helps out with the grass and landscaping all week. Solid moto man. He will get a kick out of this.
Blake Baggett is in Boise, Idaho, today for the Boise premiere of Moto 9: The Movie. It's airing at the historic Egyptian Theatre in downtown with a Fly Racing after-party following the viewing next door at TapHouse. There is autograph stock for him and he'll be signing starting at 7pm with the movie starting at 7:30.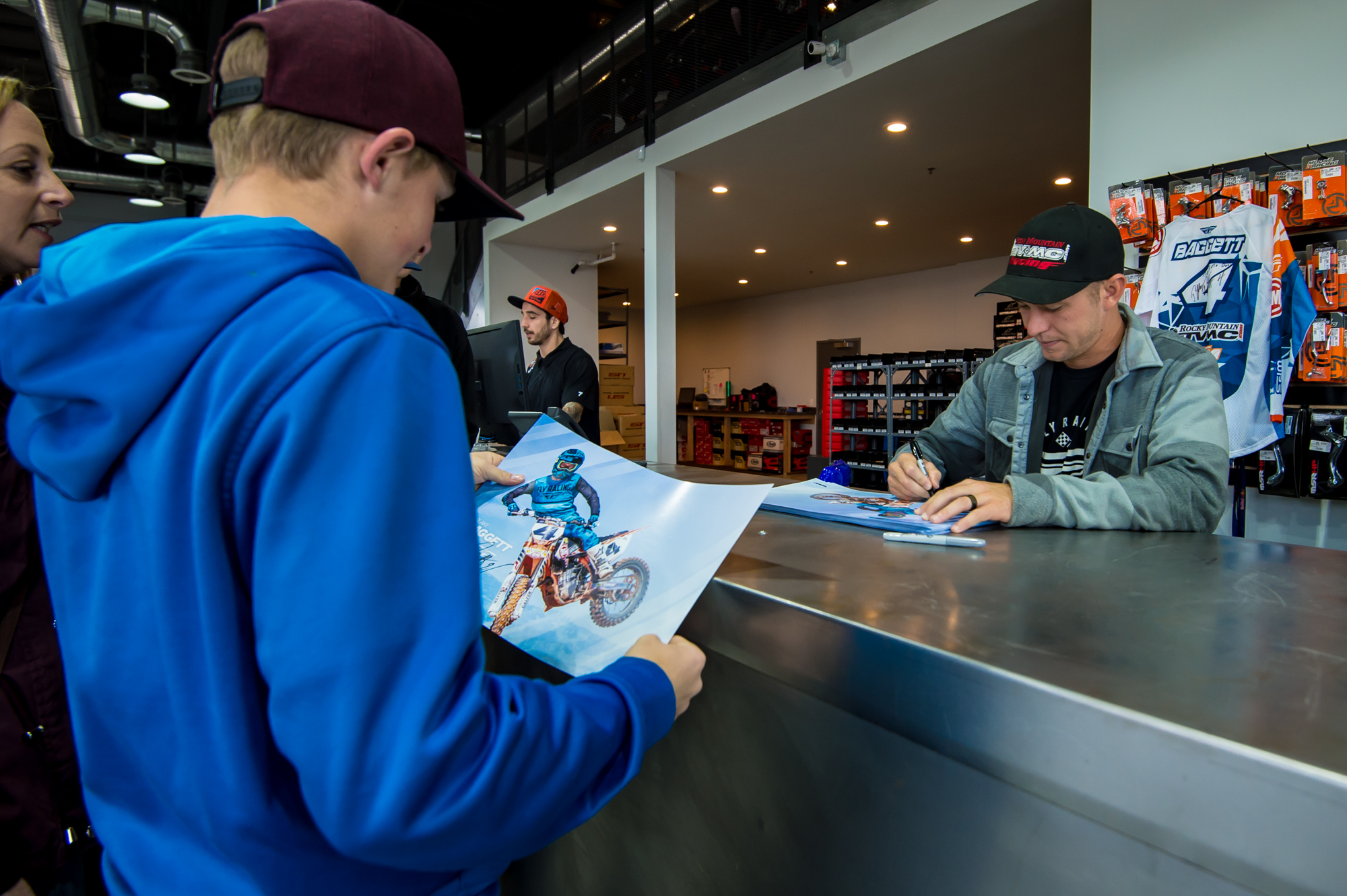 Mike Hathaway, operations chief for EnduroCross, was injured yesterday while trail riding in central Florida. He was involved in a collision with another rider. Mike has numerous broken ribs, a couple of compression fractures of the back and a collapsed lung.
He's being treated and is recovering at the Orange Park Medical Center in Orange Park, Florida. Mike was part of the infield flagger and spotter crew at the MXGP at Jacksonville. We will keep you posted, but get well soon, Mike!
Finally, here's a bumper sticker for the 2018 Motocross of Nations that we had Throttle Jockey print up for us and RedBud.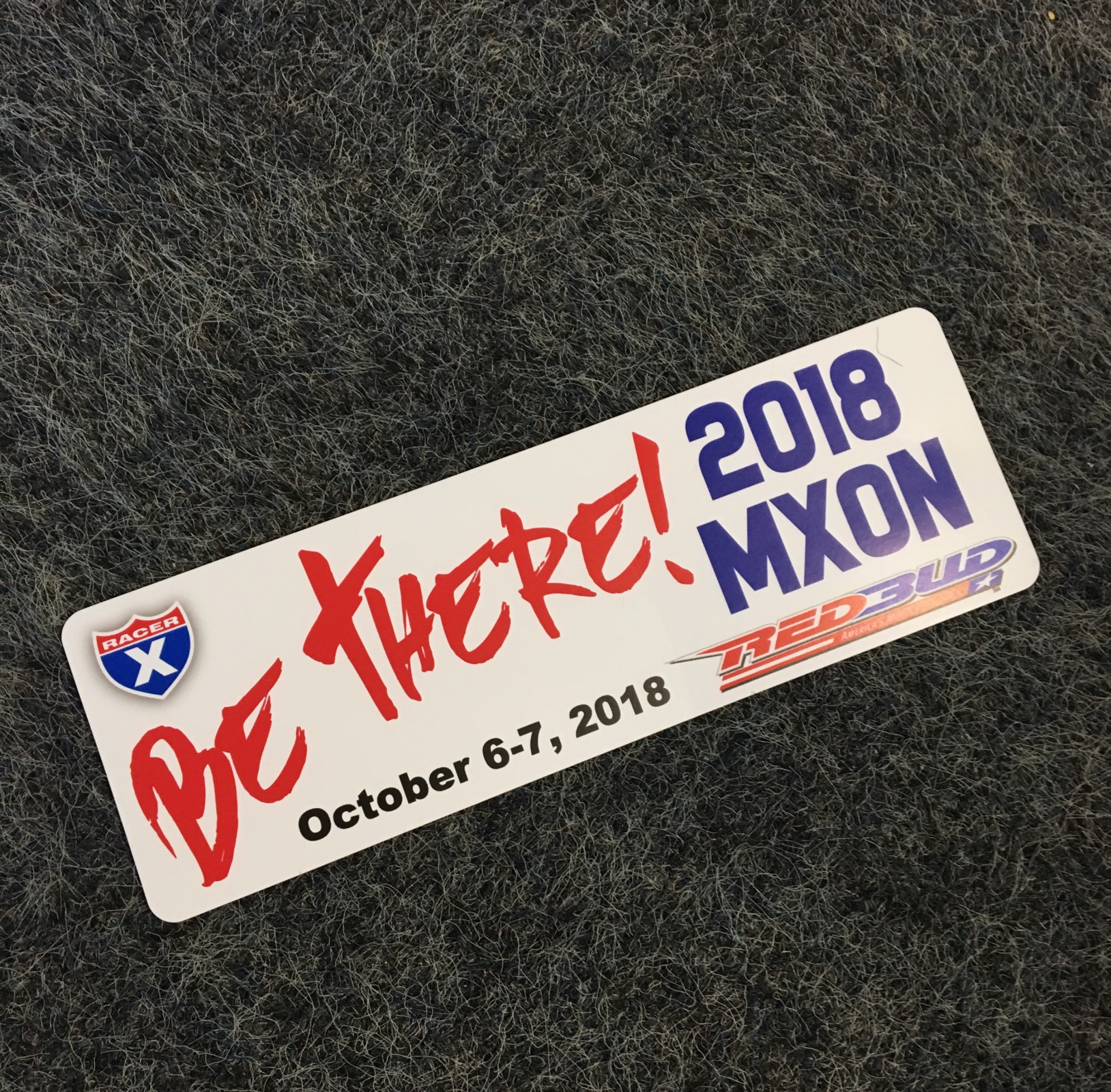 Thanks for reading Racerhead. See you at the races.