When Andrew Short retired at the end of the 2016 racing season, it appeared he found the perfect landing spot in a new job with Honda HRC. And it was perfect, expect the racing itch was still bothering him, and then he tried some rally and off-road riding and started to fall in love with it. When Rockstar Husqvarna offered him a factory ride for the famous Dakar Rally, he couldn't pass it up. Andrew Short was back as a racer, only of a totally different kind.
We talked to him last Friday about the big transition.
Racer X: So you're still overseas?
Andrew Short: Yeah I'm in Spain, we've had our media week, some testing and a training camp. Basically, the team, they build the bikes here and you get to ride them a little bit, then they go into a shipping container to head to Dakar. Also, it's a big week for the Husqvarna group, and also KTM, there's a lot of logistics, a big group that has to get together. It's amazing the logistics that go into this event.
This came out of nowhere. It's the morning of Motocross of Nations, October 1, and suddenly we all get a press release showing you in a Rockstar Husky hat, and it says you're becoming a full-time rally racer. I thought this was some new thing—October fools day! How did this come about?
[Laughs] I had been pursuing and trying to get better at this, and this position was sort of a dream come true. I loved the people I worked with last year [at Honda] and the position that I had. When you race for so long and you have an opportunity to step away from the starting gate but still be involved in the community you love, that helped me to not go crazy. But along the way I had developed this passion for rally. The first time I tried it I was hooked. With the previous brand I was involved with [Honda], I could do it but not the same way I'm doing it now. I'm involved with a group that's won Dakar for the last 16 years in a row or something like that. This didn't really make sense on a lot of levels, except for one—in my mind, I had passion for it, and I knew as I got older if I didn't follow my heart and pursue this opportunity, it would be a big regret.
You have ridden within the KTM group a few different times. Are there some familiar faces over there or is this a totally different group of people?
It's totally different, but at the top, Robert Jonas and Pitt Beirer are involved, and Mr. Pierer, the CEO, he has a real passion for Dakar. But the actual group I work with is a lot different. Harry, who does the EFI, his brother worked on our air suspension. That's about it.
When the press release came out, it also said "Andrew will start racing right now in Morocco!" How prepared were you for that?
It was completely different than anything I'd done. Obviously, riding a bike in Africa is completely different than Anaheim, Unadilla, or RedBud. I did Senora in Mexico and that's a really well-run event, but I went there basically on vacation just for fun. So, for me, I need a lot more experience. I did well enough where Senora would basically qualify me to get in to Dakar, but finishing Morocco kind of validated that I could race this.
How did the Morocco race go? Had to be crazy
[Laughs] Yeah it was really crazy! Obviously I'm on a new bike and I'm navigating at speed. I knew it could be really dangerous, and the other guys were really fast. I'd done some riding with some of these guys outside of an actual race—[Joan] Barreda, Ricky Brabec, Toby [Price] but to see these guys at an actual event, the way they compete, how fast they go, and to throw the danger and speed in with it, it was a little more I expected. But the community is cool, and the vibe and camaraderie is much different than motocross, and much better, I believe. I think the racing is just as serious, and you get way more adrenaline. It's more like climbing Everest or doing the Tour de France on a motorcycle. It's so much different because these are multi-day events.
So, with the limited amount of events you've competed in, do you have any idea if you're going to be good at this? Have you shown some potential? Do you have any idea if you can get really good at this?
Um, no! That's what's so exciting. Yeah I can ride a motorcycle fast, but that doesn't matter if you're riding it in the wrong direction! [Laughs] And that's happened a few times! It's hard. Motocross and supercross isn't one-dimensional. It's not just fitness, it's also a test of your abilities to ride the bike. Well, rally is several times that. You have the physical part and the technical part and your ability to ride, and the navigating is crazy. You have to be able to adapt to different environments all the time. It's so crazy that it becomes almost addicting and a drug to me in a sense, plus it combines motorcycles with it, so to me that's cool.
What I'm getting at here is, they surely don't just hand out factory rides to anyone. So they must have seen something in your to give you this chance?
It's definitely hard to get into, so for me I'm really thankful to have this chance. That's kind of why I jumped at the chance to take it, because these opportunities don't come around often. It's a real honor to be involved with the KTM group, Husqvarna, Rockstar, and this team, and that's why I did it. It doesn't even make sense at a lot of other levels, like, financially, I was really disappointed that I can only wear a Fly Racing helmet and a few other things, but I can't wear the gear. We have a partner with Alpinestars. I've had a relationship with them for a long time with the boots, but we have to wear the gear. That's how this team is, it's a team and a huge effort for them to go race. You have to all have the same stuff with the bike and the gear to make it all work.
You mentioned a training camp coming up. Are you just working on learning navigation, or are there actual riding techniques you have to learn to deal with all of these different terrain you'll have to ride on?
Yeah, basically what you said. The approach is like cycling, the way I see it, with team training camps. We have an all-new bike that will be debuting at EICMA, the big motorcycle show over here. They've been working on the bike for a long time, but we have our chance to try it. Honestly the bike is the least of my worries, though. I feel like I can make the biggest gains from navigation. We'll be running through road books and all of that, but while you're doing that riding, you're working on your bike skills as well.
How much time are you able to spend back home?
Since I've retired I've been home less than I was in my previous life! I was gone quite often with my previous role, and now I'll be gone quite often with this. But after the race in January there isn't a race for five months, and I'm not sure what they do for five months. I'll find out after Dakar! From what I understand, you're so physically tired and in the weeds after Dakar that you have to just sit on the couch for a long time just to recover. After that, I'm looking forward to time at home, but I'm kind of scared of all that time at home because I've never had anything like that. Hoping to be able to keep riding and make it to some motocross and supercross races to watch and enjoy it—for me, I just love racing. That's another reason to do this. I loved the people I was working with in my previous role, but just to be able to race again, there's no feeling quite like it. I know that void will come, but at least I've filled it for now with this.
I don't believe an American has ever won Dakar on a motorcycle, but here's your chance to explain to everyone that you're new at this and we shouldn't be expecting you to win in your first try. This is more of a long-term plan, I would imagine?
Yeah, my expectations are lower than what they're going to be next year. With Rockstar and Husky the end goal is to win, and they spend a lot of money to do that. But right now I have to be realistic, and I don't want to ride over my head and get hurt, because then there will be no improvement. I'll just try to stay on the bike and be consistent. The end goal is to improve and maybe someday be in position where I can win. If I don't, I don't think this opportunity will be around anymore, anyway.
Husky has other guys with experience that are expected to win this year?
Yeah they have one other guy, Pablo Quintanilla, and he's crazy fast and won a world championship. He's amazing. The KTM team has lots of good riders, and it's one big happy family. I'm actually replacing a guy, Pela Renet, a French guy, he was really good but he got hurt badly in South America, and that's where the opportunity came for me. I'm not sure if he's going to come back or not, but everyone has said great things about him.
Your old job at Honda, I saw what you were doing there from the outside and it seemed like you were working really hard to establish something. You were handing out awards to the team at the end of the night, and it just seemed like you were doing so much more than just standing around and offering some advice every once in a while. I feel like you tried to make the most of it.
Yeah, I love those people and that team. For me, it was a really hard decision to leave. Cole [Seely] and Kenny [Roczen] are good kids and good racers. Everyone over there, I care about them a lot and I still do, that hasn't changed. But, like I said, this opportunity was too good to pass up.
Kenny is a free spirit and a young guy, and you were a veteran when he came on the scene. I think people forget how close you two where. He even stayed at your house that first summer he was here in the U.S. I'm assuming it's not a coincidence you came over to the Honda team in your new role at the same time when he came over?
Well, I don't know, maybe part of that is true, but Kenny is his own dude, he's grown up, he's matured, and he has a good group around him. When he first came over [to the U.S.] we did hang out a lot initially, yeah.
But I'd imagine that eased the transition for both of you in your new roles at Honda? You guys go way back.
Yeah. And when he first came over [to Honda], I do think it helped, I knew how he worked and his background. I had spent time around him and his Papa, his mom, and I understood how he worked. I also knew how the Honda crew worked as well, with communication with Japan. That was part of my role, to bridge that gap, and also on race day to try to help communicate so you don't have 10 people talking at once. I didn't know Cole hardly at all, really, when I first started. I got to know him. He has a great group of people around him and he knows what he's doing, as well.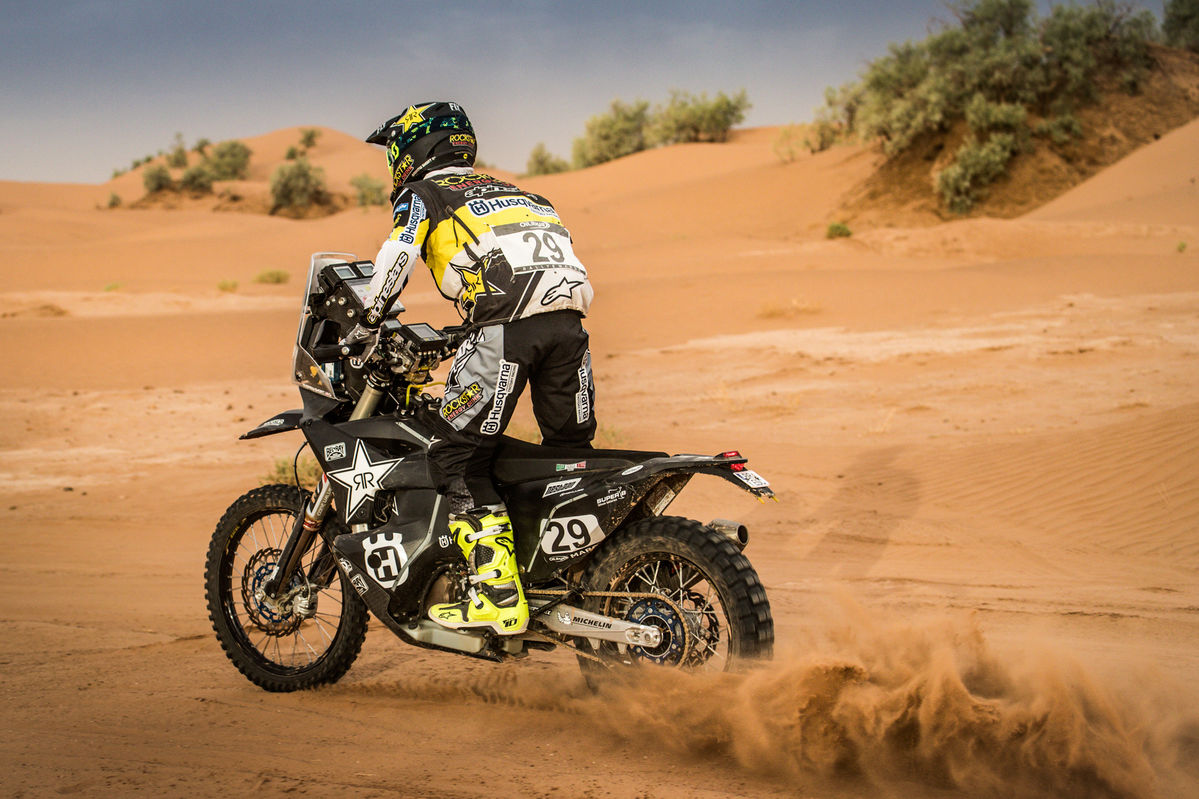 Here's the obvious question but I'd like to hear your perspective. Kenny's Anaheim 2 crash. What kind of blow was that? Everyone tried to keep their chin up and stay in it for Cole after that, but how crushing was it, that night in Anaheim?
Yeah you invest a lot of time, effort, and money into a project like that, with an individual that has a lot of expectations if everything goes well. So to see that happen, it's disappointing, but that's life and it's not going to be perfect. Now it's pretty amazing to see how far he's come since. Everyone saw what he was capable of back in January. If he can get back to that same level again, and I believe he will, it will be that much sweeter for him and the crew around him this year. What's done is done, you can't look back, and I think they've done a great job looking forward and being prepared and smart and making the most of each situation. This time I think they'll be even more invested together. Before, it was early on and, I don't want to say that they bought it, but now they've stuck together and worked together and grown together and committed to each other and they've invested more in him than just money. If he's able to win and get to that ultimate goal for him, which is that championship, especially in supercross, it would be special for not only him, but for management and all of the people who have stuck behind him.
As for you, you'll be racing Dakar right around the time Anaheim comes around?
Yeah exactly, it starts in January. Fourteen days. Start in Peru, go to Bolivia, end in Argentina. I've been told it's the equivalent of riding from Alaska to Florida. I'm not sure if that's true, but that's a long way on a motorcycle.
Wow!
Yeah! Pretty crazy! You pretty much just ride all day, every day. One day you're at sea level in the dunes, the next day you're in the mountains at altitude. When I raced Morocco, I felt like my eyes were wide open every day. You come into a turn way too fast and you come around the corner and there's a big pack of camels! It's crazy when you don't know what's around the next turn.
At no point did any of that make you think you don't want to do this?
No, if anything it just feeds the addiction. I don't know how to describe it. It's pretty amazing.