Welcome to Racerhead. Or better yet, Racegrh;age#Q.… This is what happens when you have a lunch meeting with old friends in town for the big football game tomorrow between WVU and Oklahoma State and they want to go to a long lunch. But I did get to catch up with some old moto friends, and we got to catch up on all things SX/MX over some PBRs….
Speaking of PBRs, when and how did Ronnie Mac get so fast and popular? I watched Red Bull Straight Rhythm last Saturday and felt like it was the Uncle Ronnie Games. He took a star turn in the Two-Stroke Challenge, as did Stank Dog, who got to finally race some top stars on his terms. But Ronnie Mac was impressive as well as frightening. No wonder people are popping up all over the place in Ronnie Mac costumes for Halloween. Only in an alternate world does Ronnie Mac face off with Stank Dog in a race that includes Ryan Villopoto, Mike Brown, and Ryan Sipes—and might have included Chad Reed if not for an ankle injury.
Speaking of Villopoto, it was weird to see him riding in something other than Thor gear. After what must have been the longest gear relationship since Torsten Hallman himself formed Thor, RV showed up at RBSR in Answer gear. He had been wearing Thor since 2002, I believe—the last gear company I remember him riding for otherwise was No Fear, when he was on a Yamaha YZ80! But still, to his credit, Villopoto's tenure with Thor was among the longest I can remember. I know Ricky Carmichael has been in Fox since 1999 or so, and Jeff Emig has been with Shift/Fox since leaving Thor in '96. And I believe Roger DeCoster wore Alpinestars boots from the very beginning. The gear business is a lot like the shoe business, and unless you're a Michael Jordan with Nike, it's hard to stay with one brand forever.
The other thing I noticed about Ryan at RBSR was just how happy he looked. Retirement becomes him. He's much different than the narrowly focused champion he was when he was racking up a record-tying four straight Monster Energy AMA Supercross titles. It was fun to see him racing again, even if just in a straight line on a two-stroke, but it was even better to see him grinning from ear to ear, glad to be back on a dirt bike and competing. The sport has become highly pressurized from top to bottom, and guys like RV and Ryan Dungey retiring at such relatively young ages is a testament to how difficult it can be to race, train, diet, test, race, train, diet, test…. You get the point.
So yeah, seeing #2 back out there was pretty cool. I hope like hell he comes back to Loretta Lynn's soon and takes a run at that +25 title that #3 Brownie owns right now. I'm thinking this time at the Ranch would be a lot more fun than last time, when he was on his way up as a 125/250 A prospect with all the pressure in the world upon him.
What would be cool is if he looked to his right or left and saw #80(0) back, too, as Mike Alessi is probably ready to come full circle as well. Lord knows they both deserve it.
Happy Halloween. I would be going as Ronnie Mac myself, but Kelly Kirby beat me to it. So it's Tall Ricky again. Here's Racerhead.
Time for Change (Jason Weigandt)
Feld Entertainment finally got its wish this week by announcing some tweaks to Monster Energy Supercross in 2018. Feld billed these as changes, but compared to some of the stuff in the rumor mill for the last two years—more international races and a playoff format, for example—these changes are relatively minor. After speaking to Feld's Todd Jendro and Dave Prater, it's clear to me that they weren't in a position to make a radical overhaul this year. The rules of the sport have changed very little over the course of 40-plus years. You can't blow up the whole system at once.
We've analyzed these changes all week. If you want to know all about them, go here, here, or here.
The obvious question, though, is why even make changes at all? Well, Feld and Fox Sports have been studying the numbers, and the data shows the way. When the star riders aren't racing, people change the channel. That big gap between the heat races and mains, when guys like Ryan Dungey weren't competing, made ratings sag. That's why the semi races have been cut this year, and that's why three rounds will feature the Monster Cup-style Triple Crown format. Feld could have tried running all 17 races under that format this year, but again, they didn't want to change too much, too soon. If the Triple Crown races are a hit, expect more in the near future.
As for the playoff format rumors or even just the points structure tweaks that are now locked in, the goal is to prevent the title from being wrapped up early. More often than not, someone clinches the 450SX championship before the final round. That's just not exciting, and again, Feld has proof of sagging attendance and TV ratings when this happens. This 2017 campaign with Dungey and Eli Tomac was magical, but we only get it once every six years, on average. Most seasons do not take the title down to the wire. That's just not exciting, and by the way, we even feel that on this very website via our own numbers. Tomac vs. Dungey was straight fire.
So Feld's trying to nudge things in that direction: closer points near the end of the season, and more racing with the star riders throughout the night.
Prater and Jendro explained that it has taken a two-year process of working with the teams to be in the position to make any changes at all. It appears some people are puzzled by this. Why do the teams get to vote? Isn't it Feld's championship?
Well, yes and no. Bottom line is these teams and manufacturers spend a lot of money supporting racing. The top riders make most of their money from teams and sponsors. The teams get the riders and bikes to the races. They're spending millions to make supercross happen. They deserve to have a voice in these matters. It's that simple, really.
Previously, teams always voted on no changes at all. Want to know what happens when you cram rule changes down the teams' throats? Just go look at AMA Road Racing, which tried to do it a generation ago, and the teams pretty much left the sport. It's a scary thought, and one the teams and Feld are well aware of.
I bring this up because any changes usually fall into this strange crevice. Fans don't want too much to change. They like the racing as it is—that's why they're fans already. I understand the appeal of a playoff format, but each time we bring it up, it immediately becomes the one topic that produces a universal answer from the fans. Just watch the comments sections below and you'll see. People aren't pumped on the concept. However, as I always say, I challenge anyone not to be excited if we rolled into round 12 with five riders tied in 450SX points. But is that enough to outweigh the drawbacks?
Some will say NASCAR's popularity decline can be traced directly to the Chase format, but that data is murky. NASCAR changed a lot of things at the same time (the Car of Tomorrow, which basically made every Ford, Chevy, and Dodge look exactly the same except for different stickers on the grill was also hugely unpopular with the fans. The racing is also less exciting than it used to be, which is blamed on a combination of cars and tracks). The economy tanked and hit NASCAR's audience especially hard. The sport failed to convert new, young fans. There are many things besides the Chase that can be blamed for NASCAR's decline from its peak days. If the sport knew what the magic bullet was, it would make that change right now.
Prater says he's not letting the playoff concept go. It could still happen a few years from now. However, while that change is something many fans feel is too big, there is an even bigger change everyone is rooting for: bring back the two-strokes. Well, remember, the teams have a vote. They've spent millions of dollars developing four-strokes because the AMA rules in the mid-1990s forced them to. Changing things back won't be easy. Plus, we're in a catch-22 because two-stroke sales will always be hampered by the existing rulebook. A 125 might be fun, but for as long as it has to race a 250 four-stroke, its appeal and sales will always have limits. No one knows for sure how big the two-stroke market could become.
It would be popular, though. Red Bull Straight Rhythm, which has the luxury of not having any sanctioning body or having to match up to any sort of existing rules or points structure, decided to run two-strokes based on sheer fan support. Turns out that support isn't just a bunch of keyboard warriors but actual people who showed up at the event, who cheered, and who watched the RedBull.tv live broadcast. The streaming numbers were double what they were last year! Ronnie Mac got the loudest cheers of all!
Things are happening, but right now, change is very small. The 2018 changes are just tweaks to the stuff you already like. I don't think it's going to hurt the championship one bit. The bigger question is what comes next. With the industry hurting, it's now more open for change than before. Feld and the teams have established common ground and communication to a higher degree. Change is not just here—more change is coming. Will that change be too much, not enough, just right, or just not the one the fans really want?
Two-Strokes, Two Altas, and What Could Have Been (Kyle Scott)
Last year, the Alta Motors bike racing in the 250 class was the talk of the pits at Red Bull Straight Rhythm. This year, that hype was overshadowed by the addition of the two-stroke class. There were supposed to be two Altas on the line this year, but Darryn Durham didn't receive the blessing this year from the moto gods and sustained a dislocated and broken wrist a few weeks ago. Durham was supposed to be on the electric machine next to Josh Hill, but all that was over after he stuck his hand out in a crash. He went over the bars while practicing supercross at Brian Deegan's house. What could have been.…
The hype of the ultimate two-stroke showdown between Chad Reed, Ryan Villopoto, Ronnie Mac, and Gared "Stank Dog" Steinke settled down the day before the race Red Bull Straight Rhythm when Reed hurt his ankle on press day. His suspension couldn't handle all the pressure, and we were left with another what-could-have-been; the smack between Reed, Villopoto, Uncle Ron, and Stank Dog was deflated.
Even though Reed needed to withdraw from the competition, the show went on, and once race day rolled around and the premix filled the air, everyone focused back on the two-strokes, as they were the highlight of the event this year. Stank Dog beating Villopoto in the qualifier and then taking the win over Ronnie Mac in the finals was pure love from the moto gods. Check out the full video from Straight Rhythm talking to the riders themselves, some raw racing, and some classic commentary from Stank Dog and Ronnie Mac themselves after the race.
Pro Perspective (Jason Thomas and David Pingree)
JT: The off-season international supercross world was primetime for me. I made almost as much money in these races as I did in my full season of racing in America. These races are all about availability and communication: knowing the promoters and teams, knowing when and where the races are located, and most importantly, being able to adapt your skills to different environments was key to making money overseas.
It wasn't always first-class flights and envelopes full of cash, though. My first few years over there were full of frustration, disappointment, and doubt. It takes effort and persistence to figure out how to win over there. And make no mistake, to make good money, you need to win. Whether or not the race is purse-heavy or start-money-based almost doesn't matter in the long term. If you gain a reputation as a rider who can show up with his parts and gear bag, sleep a few hours, and win the next night, you will be asked to race all over the globe, and your asking price will skyrocket. This was exactly how I went from netting $200 in my first few weekends in Germany to making big start money before I even left America.
In 1999, I was calling everyone and anyone trying to get invited to race in Germany's annual supercross series. I had finished ninth in the East Region SX series, and while that wasn't head-turning, it was good enough to validate a chance. I parlayed that chance into a royal butt-kicking in Germany. My speed wasn't bad, but I wasn't polished in the nuances of European SX success. I had a lot to learn and over the years was able to pick up on the tricks of the trade. It's a different type of racing, more arenacross than supercross. The dirt is much softer and offers more traction than most are familiar with. That means that the aggression can be ramped up, and in a 6- to 8-minute main event, intensity is key.
Once I learned how to win the German races, the door opened up for races like Barcelona, Geneva, Bercy, Madrid, Prague, Vienna, Sheffield, Genoa, Montreal, Sydney, Tallinn, and many more. Those other races offered big start money, and while there was a small learning curve, the same lessons I learned in Germany were applicable anywhere on the globe. Adapting to different bikes, tracks, food, time zones, competition, and performing while jet-lagged are all acquired skills. Once mastered, though, there's a lot of money to be made. I went from $200 weekends to five-figure weekends. Not only was the money improving, it was guaranteed. And that guaranteed money is the stratosphere that the supercross elite lives in. Riders like Chad Reed and James Stewart made six figures to show up at a race like Bercy, Geneva, or Sydney.
The next tier of riders, like Justin Brayton or Nick Wey, could still string weekends together making more each weekend than some make in a year. Good work if you can get it, right?
All of this racing comes with risk, of course, but such is supercross life. Michael Byrne injured his wrist at Bercy in 2010 and ruined his '11 SX season. A couple years ago, Adam Cianciarulo hurt himself at Geneva and set himself back for that following season as well. For me, though, the risk was worth it. Injury is always in the back of everyone's mind, but I was there to make money. Long flights aren't fun. German food is not something I enjoy. Cold, dark hallways that become makeshift pit areas aren't my idea of a good weekend.
However, making $10,000 a night (and much more for the guys better than me) is worth all of that. Even more valuable as I grow older are the memories of winning a supercross race thousands of miles away. As a kid in rural Florida, that seemed like the impossible once upon a time. Opportunity is out there if you are willing to work for it. I never even boarded an airplane until I was a senior in high school. Ten years later, I had raced in over 40 countries and logged nearly 2 million miles of flying. Never underestimate the power of persistence and determination.
Ping: Off-season races are a gamble. Yes, you can put some serious coin in your pocket, but if you injure yourself and sabotage your season in the U.S., it will cost you money. If things go right, it can be a good test of where you are physically and mentally, as well as a good test of your setup. If it goes poorly, there isn't much gained.
I got connected with an agent through Phil Lawrence. This particular gal acted as an agent to quite a few riders, and she was connected with all the main European races. She traveled from race to race in a miniature motor home that looked like the first attempt at a space shuttle from the Russian military. It was a sight to behold. Anyway, this agent would get offers from the promoters and handle all of the travel and lodging arrangements for you. She took 10 percent of your start money, but any purse money you won was yours to keep (at least that's how my deals worked). I wasn't pulling in what MC, Fro, and those guys were, but I had a few $20,000 weekends back in the day, and those were good checks to cash.
It's a lot of travel in the months leading up to your season, which is filled with more travel. Each rider has to make his own decisions about whether or not the "easy money" now will undermine his ability to perform when it counts in January.
One thing to consider: Ricky Carmichael left many, many zeroes on the table by rarely going to those off-season overseas races. I think he did Bercy once. But he also won more AMA races and titles than anyone, and that came with even more zeroes. They say you should be wise as you pick your battles. Ricky was wise in picking his paychecks.
NETS! (Steve Matthes)
One of the things not covered at the 2018 SX press conference but our intrepid reporter Jason Weigandt did get out of Feld execs Todd Jendro and Dave Prater was that there would be some installation of netting in some of the outside turns at races. This is good news for all of us who watch the races, as it will allow bowl turns to be built on the outer edges of the track. No more watching 60hp 450s all jam on the brakes and get into a single-file line to creep around the inside of a turn because it's by far the fastest way to get through it.
The nets will help out any bikes that decide to hit a berm and launch into the crowd (which has happened twice to my knowledge, Broc Glover in 1984 and Matt Goerke in, I think, 2003), and vision won't be impaired by having them there. Just like MLB or NHL games, your eyes adjust to see right through it.
We saw one net set up at the Monster Energy Cup out in the back section, but I never saw anyone come even close to getting out of hand in that turn. Having the bowl berms back on the outsides will improve racing by allowing riders to come in and make a pass, they'll help the tracks flow better with more speed and overall, and they'll just give more options for the designers. Kudos to Feld for trying this out. I can't wait to see it in action—though I hope no one gets hurt in the crash that will come with it.
FAREWELL, RED KNIGHTS (DC)
A tip of the visor to Joel Smets, the five-time FIM Motocross World Champion and one of the sport's all-time great people. He announced this week that he is going to end his tenure as team manager for his home country of Belgium at the FIM Motocross of Nations. Smets, who first won the MXoN as a member of Team Belgium in 1995, and then as team manager in 2013 in Germany, is stepping down after 11 years at the helm.
Said Smets:
After 11 beautiful years, with Team Belgium MXoN, I are proud to say goodbye to our job as team managers of the Belgian team. When I entered the footsteps of my legendary name mate Joel Robert 11 years ago, it was perfect in my idea of a so-called conversion. I had a half-time job and therefore had some time off to keep up with things I thought during my career: could not be better, including a professional (top sports) youth training for mx and Team Belgium MXoN.
However, my professional situation has changed drastically from 'I've got a hand free' to 'my hands more than full' throughout those years. In addition, an active teenage daughter and son who occasionally ask for some attention! Furthermore, my wife does not mind when I'm home for a day.
Finally, I dreamt of government support as one of the overarching and professionally structured federations, as in most other sports and in our neighboring countries. In the ideal world, both of the above-mentioned projects should be sent from that federation … the realization that after more than 10 years, that ideal world is still not tomorrow, I feel sad and undermine my faith in a flourishing future for mx in Belgium.
Under Smets' guidance, Belgium never finished outside the top five in the Motocross of Nations. It's a far cry from the glory days of the seventies for Belgium at the Motocross and Trophee des Nations, given the challenges in that country to riding areas and racetracks closing down left and right due to environmentalists and noise issues that have dwindled the talent pool there. But Smets did his best to field a team of Red Knights that upheld the honor of what was once the world's greatest motocrossing nation, which one would expect of one of the world's best motocross racers ever. On the all-time list of world title winners, six of the top seven names hail from Belgium: Stefan Everts (10), Joel Robert (6), Roger DeCoster, Georges Jobe, Gaston Rahier, and Joel Smets (5 apiece). Only the Italian superstar Antonio Cairoli breaks the Italian stranglehold on the top spots with his nine (and counting) titles. Team Belgium won't be the same without Joel Smets in charge.
PRIVATEERS (Matthes)
Look, 85 percent of the people who go to a supercross (all figures estimated by me) are there to see the stars of the sport, so the three races that have the three main events in them are awesome. More time to see Tomac, Musquin, and Roczen, which is a good thing. But one of the sneaky good undercurrents to the program now is all the TV time that the 450 semi and LCQ races give the privateers. There are companies like FXR Racing and Fly Racing, for example, that really support the privateers in the sport, and when one, two, or three of these dudes are battling for one of the four LCQ spots, that's a lot of TV time for these guys, and the companies that sponsor them and pay them very little for great exposure. And they are also sometimes the best races of the night!
With the new Triple Crown format, the LCQs are going to take place during the day to set the field for the three mains. So guys who were on the bubble of making it aren't getting TV time or featured at all. And even if a privateer or two do sneak into the main, well, there's not much time to show them farther back, so exposure is limited again. It's a big change for these riders and companies. I'm the dude who's been yelling for changes to the SX program for years, so I'm now not sitting here saying "Privateers are getting screwed!" and blasting the guys at Feld. I'm stoked on the changes and look forward to seeing them in action, but just pointing out that there are some dudes that are definitely going to suffer with the changes at those three rounds.
Racer X Amateur Film Festival Semifinalist (Chase Stallo)
We have narrowed down the more than 60 entries we received for the 2017 Racer X Amateur Film Festival presented by MotoSport, WASpcam, and Yamalube to the eight semifinalists.
This year is truly a global affair, with five different countries represented between the eight semifinalists. Without further ado, here are the eight semifinalists:
Bryan Allie – Canada
Griffin Denbesten – USA
Stephan Guido – Switzerland
Katie Homewood – Australia
Adam Vidovics – Hungary
Damon Smith – USA
Lauz Deen – Israel
Mitch Goheen – Canada
The first head-to-head matchup began today (you can vote here), and the four semifinal rounds will run through November 23 to determine the four finalists. Voting for the Finals will begin on November 24.
The panel judging portion of the contest is new for 2017 and features a who's who of industry videographers:
Wes Williams - Vurb Moto Cofounder
Luke Parmeter – Producer, Monster Energy Supercross Chasing the Dream
Danny Stuart – In-house Videographer/Editor Feld Entertainment
Jason Crane – Freelance videographer/Former Director of the Racer X Motocross Show
Simon Cudby – Racer X Videographer
Ryan Walters – Producer, Golden Era, Stagnation, and Youthful Edge
The panel judging will award one winner; the other four winners will be determined by, you, the fans. So make sure to vote (once per day) on filmfestival.racerxonline.com.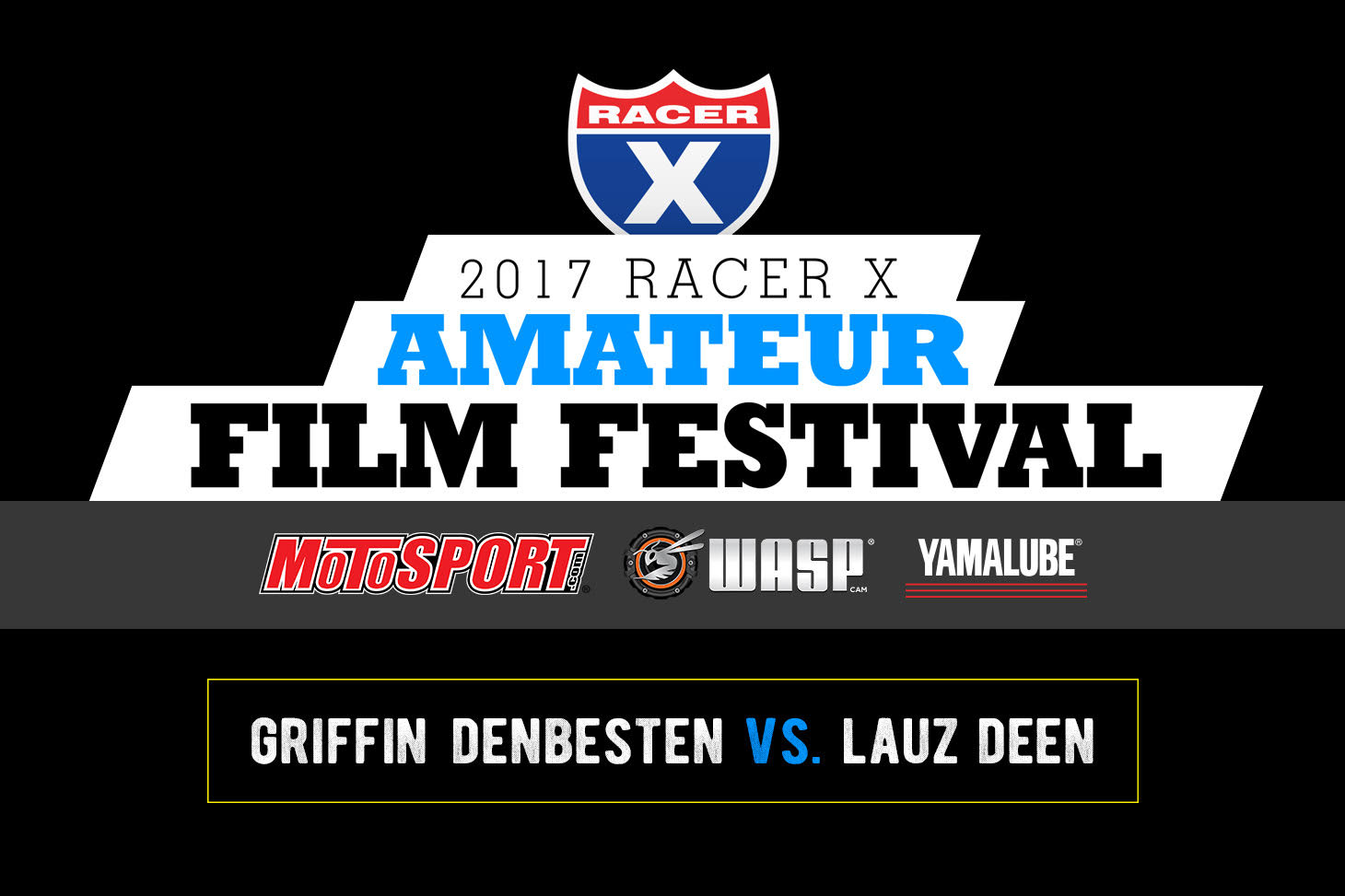 Hey, Watch It!
Our longtime friend Ken Block and Hoonigan Media Machine announced GymkhanaTEN, the 10th installment of the award-winning, Gymkhana viral video franchise.
Check out the Best Whip event from Monster Energy Cup via Dirt Shark.
We received a nice signed thank you mini plate and card from Eli Tomac and the Kawasaki PR crew.
For the latest from Canada, check out DMX Frid'Eh Update #44.
That's all for this week. Thanks for reading Racerhead. See you at the races.