DC's "Jeffrey Herlings Meets America" ran in the December issue of Racer X Illustrated. Subscribe today to read this full feature and for more in-depth stories about the controversial Honda CRF150R, how promoters from Europe and the States settled their differences and put on the USGP together, Henry Miller, the Racer X Maine Event, and more.
When Jeffrey Herlings of the Netherlands showed up at the season-ending Ironman National in Indiana, it marked the latest—and ultimately most successful—foray of top Grand Prix talent from Europe making cameo appearances on the AMA circuit. Herlings had a weekend off before the MXGP of USA in Jacksonville and he decided to use it to fulfill his longtime dream of participating in an AMA National.
(He had tried to do it a few years ago while he was vying for the MX2 World Championship but crashed in a minicycle race and broke his femur, costing him not only his trip to Unadilla but the 2014 MX2 world title.)
As you probably recall, the trip was an incredible success for Herlings, the Dutchman rider winning both motos on the #784 Bull KTM.
Riders from the FIM Motocross World Championship coming to America to race mid-season has been happening since the very birth of motocross in this country. In fact, it was Torsten Hallman himself, the godfather of the sport in this country, who started the trend. He was invited to America in 1966 by Husqvarna importer Edison Dye to race the Hopetown GP in California and show off how fast a Husky could go in very capable hands. The whole adventure was a success, and one year later Dye brought Hallman back, along with a few other top Europeans, and the Inter-Am Series was born. Fast imports have been coming to America ever since, though Herlings' trip is the focus of my magazine feature "Jeffrey Herlings Meets America."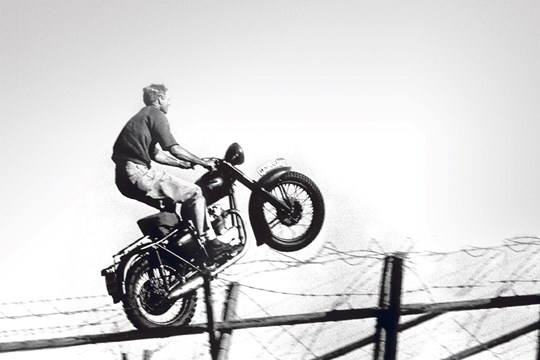 In the magazine, we listed some other adventurous riders who have dropped into the AMA series like Herlings did: Stefan Everts, Alessio Chiodi, Joel Smets, Frederic Bolley, Marc de Reuver, and more.
But this international exchange goes both ways. Americans have been known to pop up here and there on the Grand Prix circuit. Some built their legacies abroad, including FIM World Champions "Bad" Brad Lackey, Danny LaPorte, Trampas Parker, Donny Schmit, and Bob Moore. Others just popped up for cameo appearances, some with similar success to what Herlings did when he came here.
It begins way back in 1952, when Bud Ekins (the Californian who would be the stunt double for Steve McQueen in The Great Escape and jump the barbed wire fence in the movie's climactic scene) turned up in England for an off-road event. Ekins heard there was a 500cc Grand Prix in Gloucester on September 13. It was the first year for the FIM Motocross World Championship, so the setting must have been very quaint. The versatile Ekins ended up finishing fifth, marking the first points ever scored by an American at a Grand Prix. No other points would be scored by U.S. riders until 1972, when Mark Blackwell moved there to compete full-time in the FIM 500cc Motocross World Championship. He was joined at times by fellow Californian Billy Clements and Ohio's Bryan Kenney, all aboard Husqvarnas.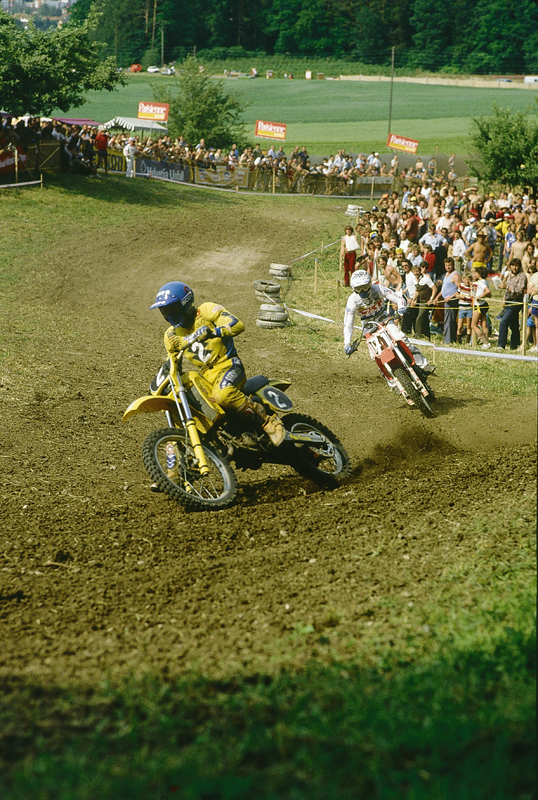 Marty Moates is best remembered for winning the 1980 500cc U.S. Grand Prix at Carlsbad Raceway, but three years earlier he parlayed a factory ride with the fading Spanish brand Ossa into a trip abroad for several 250cc GPs. His best finish was seventh in Czechoslovakia.
In 1978 Chuck Sun got picked up halfway through the season by Husqvarna and would score 35 points and finish the series 13th overall. Two years later he would win the AMA 500cc National Championship.
In 1982 Johnny O'Mara used an off-weekend in the AMA 125 Nationals to go race the Swiss 125cc Grand Prix in Frauenfeld and took a pair of moto wins away from soon-to-be 125cc World Champion Eric Geboers. O'Mara was followed by his American Honda teammate Donnie Hansen, who swept both motos at the final 250cc Grand Prix of the season in Vimmerby, Sweden. No one could have known that it would be Hansen's last race, as the '82 AMA Supercross and 250 Motocross #1 would crash while practicing in West Germany the next week and suffer a career-ending concussion.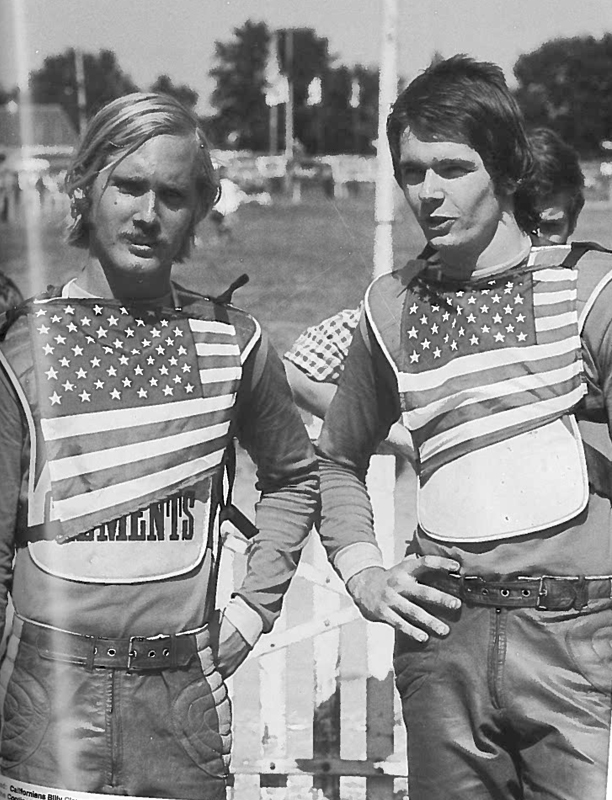 Bob "Hurricane" Hannah made a cameo appearance at the 1987 French 250cc GP, winning the second moto from the aforementioned Geboers, who won the overall that day as well as the '87 250cc world title.
In 2002 Robbie Reynard went to Genk, Belgium, and finished eighth in the single moto 250cc Grand Prix. And in 2005 both Mike and Jeff Alessi turned up in Desert Martin, Ireland, for the 125cc Grand Prix aboard their KTMs. Mike's best moto was a third-place finish in the first moto; Jeff's best was a fifth in the second moto.
And most recently, in 2012, California's Michael Leib was invited at the last minute to join a Yamaha MX2 team in the FIM Motocross World Championship. His first race was in Bulgaria and he finished in the top 10. His second race went even better, as Leib went 3-3 to finish second overall at the Italian Grand Prix in Fermo. An injury soon brought the trip to an end, but his runner-up finish in Italy was quite a surprise to many in Europe.
Back to Herlings. When Jeffrey made his decision to race Indiana, I remember first thinking that the AMA riders were lucky that the schedule didn't work out so that he would show up at Southwick, because he's a fantastic sand rider—arguably the best ever. But after seeing him in Indiana, it was obvious to all that Jeffrey Herlings is just a fantastic rider, period!
Subscribe now to read about Herlings' U.S. adventure and more.