Las Vegas, NV
Monster Energy Cup
Monster Energy Cup
Someone won a million dollars! Good job, Marvin. Here's some other news and notes from the night that was in Las Vegas.
- Jordon Smith of the Troy Lee Designs/Red Bull KTM team was a real surprise all night long as he lurked just behind the big names in the class to come away with a fifth overall. He battled the whole way, too, dueling with guys like Josh Grant and Justin Barcia to get that position. He had been riding a 450 for about three weeks before the race with the big boys like Musquin and Broc Tickle at the KTM test track and said he felt he matched up pretty well with them. In a rare strategy, Smith waited to use the Joker Lane after not getting great starts. He used it to pass a bunch of riders that he felt he could beat. In another race, when he did get a good start, he followed the top three riders and ducked into the Joker Lane when they did which allowed him to latch on to the top guys and get away from the rest of the pack.
- Two-time World Champion Tim Gajser was a real interesting wild card at this event. He was the talk of the pits as everyone wanted to know how he looked, how he would do, and if he really has a potential future racing in America. Unfortunately the sketchy moments Tim had in practice came back to bite him in the first main event when he went down hard in a rhythm that claimed more than a few riders. Gajser was okay but his night was done with a banged up CRF and body. Interesting that he shipped his entire MXGP machine over, used Pirelli tires, and simply stiffened up MX suspension, as opposed to running full SX specs from Honda over here. His suspension looked to be very soft compared to the riders he was around.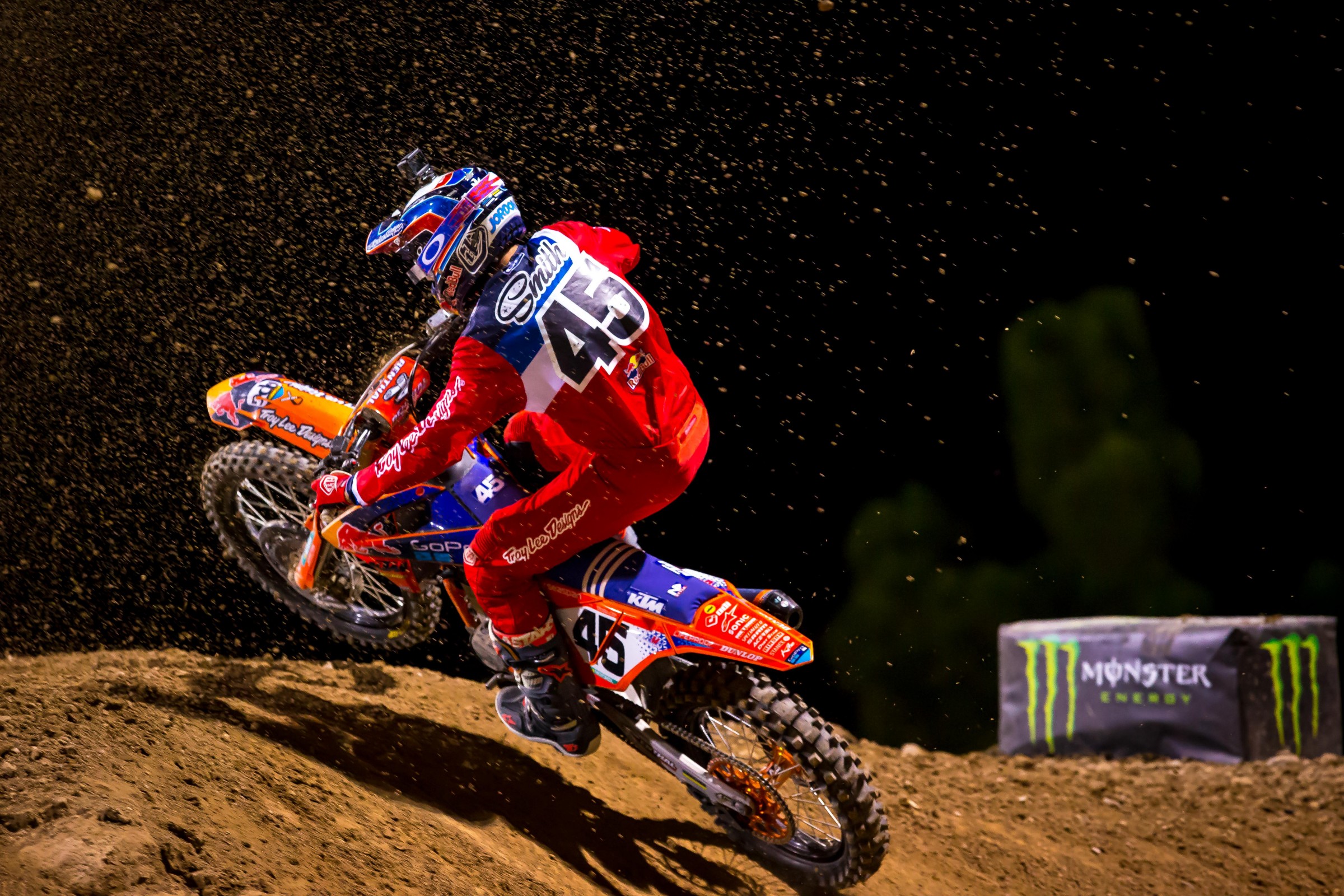 - Well, the Broc Tickle on Red Bull KTM was very much like the Broc Tickle that rode Suzukis (and even Kawasakis or Yamahas) before that—quietly effective. Broc was in the fight all night and ended up going 4-3-4 in the results. That tied him with Dean Wilson, but Wilson's better third race won the tie-breaker to make the podium. After only a few weeks on the new bike, it was a pretty strong debut for Tickle on orange.
- Rocky Mountain ATV/MC-WPS-KTM's Benny Bloss looked off the pace on press day which means basically nothing whatsoever. But Bloss did have some work to do, and after a 7-8-7 for eighth overall day, it looked the changes worked. He qualified eighth and then was consistent throughout the night. Bloss said that riding supercross on the 450 is still new to him and he got some valuable experience from the MEC.
- Speaking of Bloss, he and Tyler Bowers (who was racing on a privateer Kawasaki) spent a couple of laps engaged in a ram-a-thon in the second main event. Lots of checking up, squaring turns and brake checking going on out there but Bowers said it was "fun" afterward and told Bloss as much. Bowers was 10th overall with steady rides and mentioned that if he doesn't get a ride for 2018 SX, he'll hit the opening rounds as a privateer on a Kawasaki KX450F.
- GEICO Honda's Christian Craig was back in the factory Honda HRC truck for this race on a 450, like he was all summer, and at times in qualifying he was on top of the board. He didn't get the starts he needed in the first main event and then in the second one came together with MotoConcepts Vince Friese, which left both riders on the ground. When I asked CC about his night, he mentioned that I would have to go talk to Friese about it.
- Gajser wasn't the only European to show up. French veteran Cyrille Coulon was there and qualified for the main event via the LCQ. Once there he went 16-17-15 in the three races. We'll see him pop back up at Paris SX in about a month or so.
- Alex Ray was there and rode for the CycleTrader.com/Rock River Yamaha team. Ray, like Coulon, had to make the 22 rider main event through the LCQ and put in consistent rides. He hopes to ride for CycleTrader.com/Rock River team for 2018 supercross but the deal isn't quite done yet.