Welcome to Racerhead, and welcome back from the off-season. Justlikethat, it's back to work, back to the races at Las Vegas, and then back to the gym, the practice tracks, the cycling, and everything else that comes with getting ready for the new season. While it may seem like the 2017 season just ended ... wait, it did just end. Time flies when you're having fun, right?
This is the conundrum of AMA-based racers, whether you're from Florida or France. The time between the last race of one season—for all intents and purposes, the Motocross of Nations—and the first race of the new "pre" season—the Monster Energy Cup—lasts all of two weeks right now. Not a lot of time for living a life. That's why Septembers are so precious to the people who work and compete on the AMA circuit. The grind of it all is something that manifested in the relatively early (and unexpected) retirements of superstars like Ryan Villopoto and Ryan Dungey. It's also a testament to the competitive drive of our sport's elder statesman, Chad Reed. It's also a bigger and more complex problem than we can solve here, so like everyone else, I will sit back and enjoy the chance to see a fun race, get a preview of what's to come in January, and then wish all these guys luck and safety as they go off to their boot camps and training grounds.
Will anyone go off to camp with a million-dollar bonus for sweeping all three main events of the Monster Energy Cup? It's absolutely possible. Will anyone throw a sizable chunk of change away for forgetting to take the Joker Lane? That's less doubtful now that they have flipped the layout and the Joker Lane is a shortcut, not a long cut. But that means they need to be on the lookout for some joker who tries to use it twice, right?
Many of the top stars of supercross will be at this race, but no past premier-class supercross champions, as the aforementioned Villopoto and Dungey are retired and Reed is still looking for a home for 2018. He's been riding a Babbitt's Honda in Florida (if we're reading those Instagram tea leaves right) but not to prep for Las Vegas. The only other active past champ—James Stewart—has been completely inactive and off the grid for some time now.
The main favorites must be Monster Energy Kawasaki's Eli Tomac, the defending champ of this race, and Red Bull KTM's Marvin Musquin, who is looking to make a run at the 2018 title, which was vacated by former teammate Ryan Dungey. Justin Barcia is getting a lot of buzz on that privateer Honda, and we are all curious to see how two-time FIM Motocross World Champion Tim Gajser does in his first appearance on a U.S. supercross track, albeit it a somewhat tame one. It should be a fun race to watch.
I wish I were in Vegas to enjoy the races as well as all the off-track fun, but today is Friday the 13th, which either means bad luck is coming your way or my little girl is having a birthday party. Yes, Sloane Michael Coombs reaches double digits today, and I promised her a big sleepover. She chose a #RandomPanda theme, which means most of our living room and her bedroom is being transformed into a black-and-white mess.... Tomorrow night, though, that living room will be all about the Monster Energy Cup. Enjoy the races.
MEC TIME! (Matthes)
Sorry for filing late here in Las Vegas but forgot the laptop at home so couldn't get a report out from Sam Boyd Stadium. The press conference has come and gone and I'll spare you the details. Everyone is feeling good, they're all excited to get out there and ride and hopefully they can win the million bucks.
There was a short practice afterwards to test out the split start and the rest of the track. I will say that although no one was pushing it that hard, this year's track looks to maybe be the best one yet at this race, as there are some options out there that are pretty big if you want to air it out. Remember, there are no whoops on this track and it also has to be work for Superminis and Amateur All-Stars so the degree of difficulty for MEC isn't high. So Ricky Carmichael, who designed it, seems to have done a good job with it. Oh and Carmichael also mentioned that he really wanted to go run the start on top of the stands this year but the rest of the design didn't work with that setup, so they had to scrap that from last year.
Some other news and notes:
- With one turn being a left and one being a right, it's mandatory that all racers start once from each side so that the guys with the left hander (who can use a rear brake) aren't favored for all starts. I guess for the third main it will go on overall position.
- Justin Barcia's debut on the privateer Scott goggles Honda didn't go great as he high-sided at the bottom of the ramp where it meets the dirt and crashed on the very first start. Back to the pits he went for repairs and he didn't make it back before late in the session. Rumors had Yamaha reaching out to #51 to ride the injured Davi Millsaps bike for this race but he's still on the Honda.
- Tim Gajser looked very good out there and seemed to pick up the rhythms right away. He's on a factory Honda and rumors said he wasn't on the pace of Christian Craig earlier this week but today, albeit with low effort from many of the riders out there, he looked good.
- In all the "fake" starts the riders did it was Autotrader.com/Yoshimura JGR Suzuki's Justin Bogle who got a lot of the holeshots. Please don't take this seriously though.
- The big news if you're a gamer is the new Supercross 2018 video game on all platforms that was announced and will come out in Feb 2018. It's got real racers, real stadiums, real tracks and the demos they had there look great. It's based on the MXGP game that's been out for a couple of years so I'll let you nerds battle over whether that's a good engine or not for a game.
Pro Perspective (David Pingree and Jason Thomas)
Ping: The MEC is here, and just like that, a new season is essentially upon us. That happened quickly, didn't it? There is certainly going to be a somber tone there this year with the Route 91 shooting still fresh in everybody's minds. I drove to Las Vegas two weeks ago for the PulpMX Show, and as I drove past the Mandalay Bay hotel, the mix of sadness and anger was overwhelming.
This year's MEC will be interesting because of the number of unknowns. As JT mentions below, there are plenty of riders showing up on new teams, Gajser making his U.S. debut, and the always-quirky track design that encourages bizarre results. The Joker Lane is going to be particularly interesting since it will be an advantage on this course. As we've seen in the past, riders get so focused on racing that they completely forget to take the lane, let alone run through the mental exercise of when to most effectively use it. I don't know the exact odds on riders forgetting to take the Joker Lane this year, but I'm guessing they're high.
I'm quietly rooting for Justin Barcia. Despite results way below his ability level and some questionable moves on the track over the last couple of seasons, Justin is a good guy with incredible talent. It's hard to say where things went sideways for him, but it would be an amazing story to see him come out on a privateer bike and put it near the front.
Good luck to all the riders this weekend.
Thomas: The MEC is always an interesting event. There is typically a lot of change going on for the teams and riders. Riders debut new teams and bikes, a la Broc Tickle, but even for the riders on the same team, oftentimes they will be on new motorcycles for the first time in a race environment. Justin Bogle is an example of this, as he will race his 2018 RM-Z450 for the first time. Watching everyone shake down the newness will give us insight into next year's expectations and also give the teams and riders information on strengths and weaknesses.
For we the fans, though, it's a great opportunity to whet our supercross appetites. This race will kick off the banter for who will be the man to beat come January. Eli and Marv will want to prove they're "the guy," Jason Anderson will want to show he's back, Justin Barcia is backed into a corner, and Ken Roczen will be at home champing at the bit. The storylines will be plentiful leaving Las Vegas, but for the next 30 hours, let's sit back and enjoy!
2018 Schedule (Chase Stallo)
MX Sports Pro Racing and NBC Sports released the 2018 Lucas Oil Pro Motocross schedule yesterday, once again featuring 12 rounds at the top racetracks across the country. The tracks remain consistent with the 2016 schedule and the only change is Southwick and RedBud flipping with the series visiting New England first before heading to Michigan for the traditional Independence Day celebration weekend.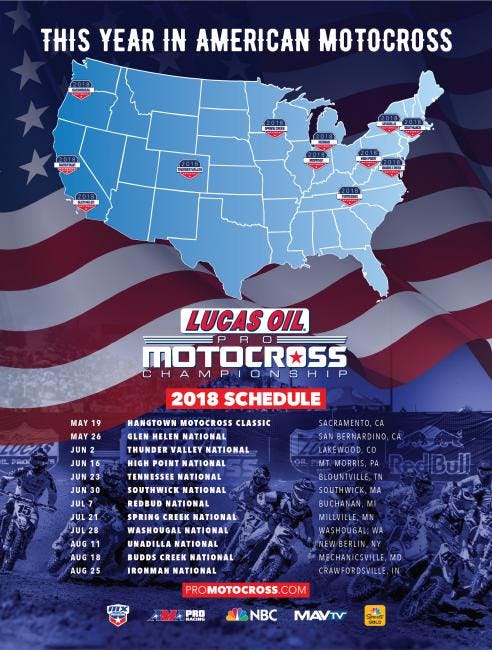 The championship will kick off in the shadows of the California state capital of Sacramento on May 19, with the Dirt Diggers of Hangtown celebrating a landmark 50th year. The championship then heads down south to Glen Helen before traveling across 10 states as the 450 and 250 classes take on arguably the most difficult championships in all of motorsports.
The best way to keep track? New for this year, Racer X is introducing a Race Subscription Calendar to add the 2018 Lucas Oil Pro Motocross schedule and your other favorite race series automatically to your phone, computer and tablet's calendar. Just click the button below and your calendar will always be up-to-date with the race dates including special information, broadcast channels and times. Click HERE or the button below to sign up today.

In the Mag
Pick up your copy of the December issue of Racer X Illustrated now and read about Jeffrey Herlings' standout performance in America, the 2017 Motocross Grand Prix at WW Motocross Park in Jacksonsville, and the 10-year-old Honda CRF150R minicycle. Also read about Henry Miller and his privateer quest in the 2017 Lucas Oil 450 Pro Motocross Championship and our trip northeast for some grassroots racing at the Maine Event. These are all exclusive stories not available anywhere else—we don't post magazine content on the web, and vice versa.
Jeffrey Herlings Meets America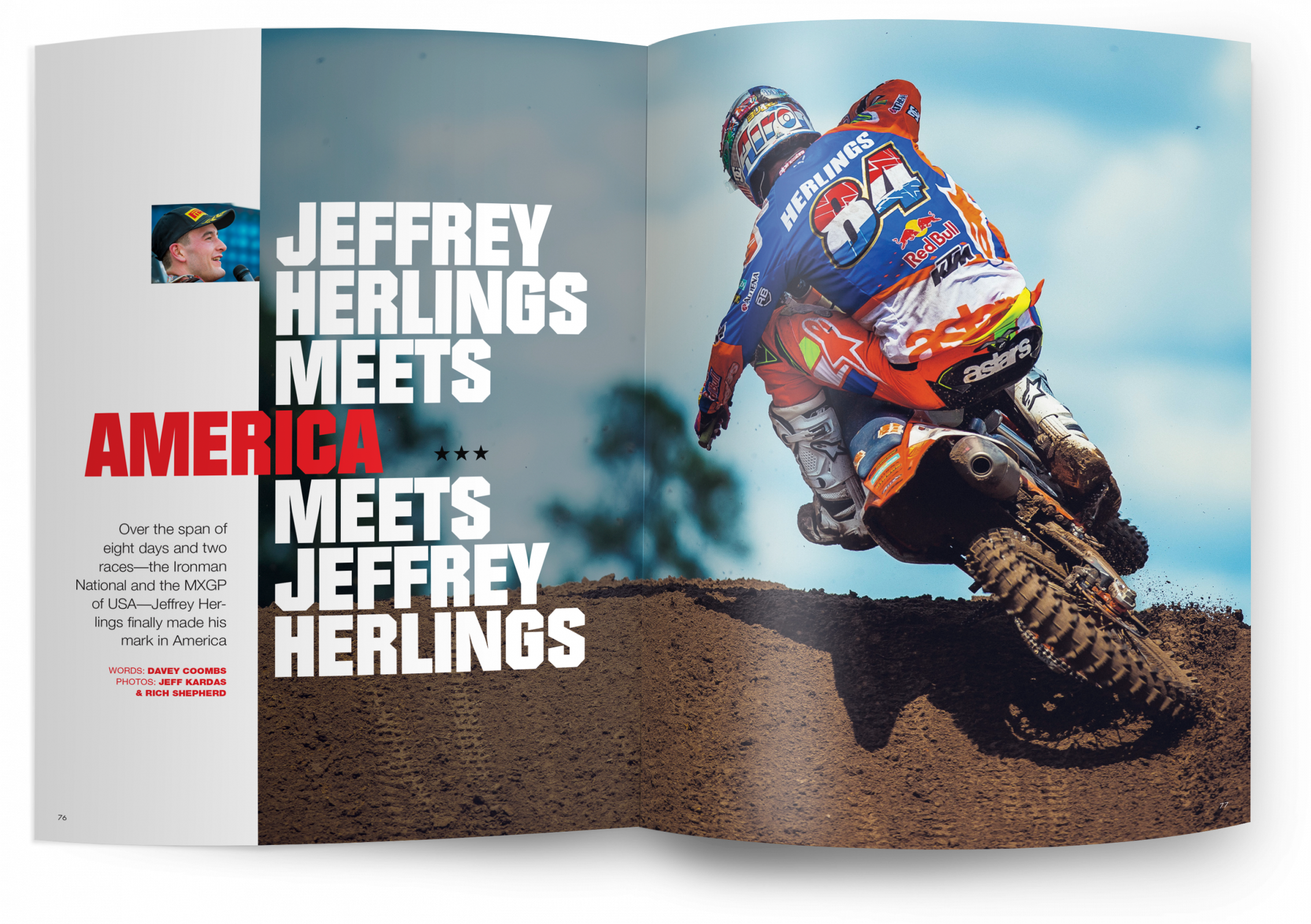 Grand Prix hotshot Jeffrey Herlings visited the Ironman National and the MXGP of USA to see if he could finally make his mark in America.
One Of A Kind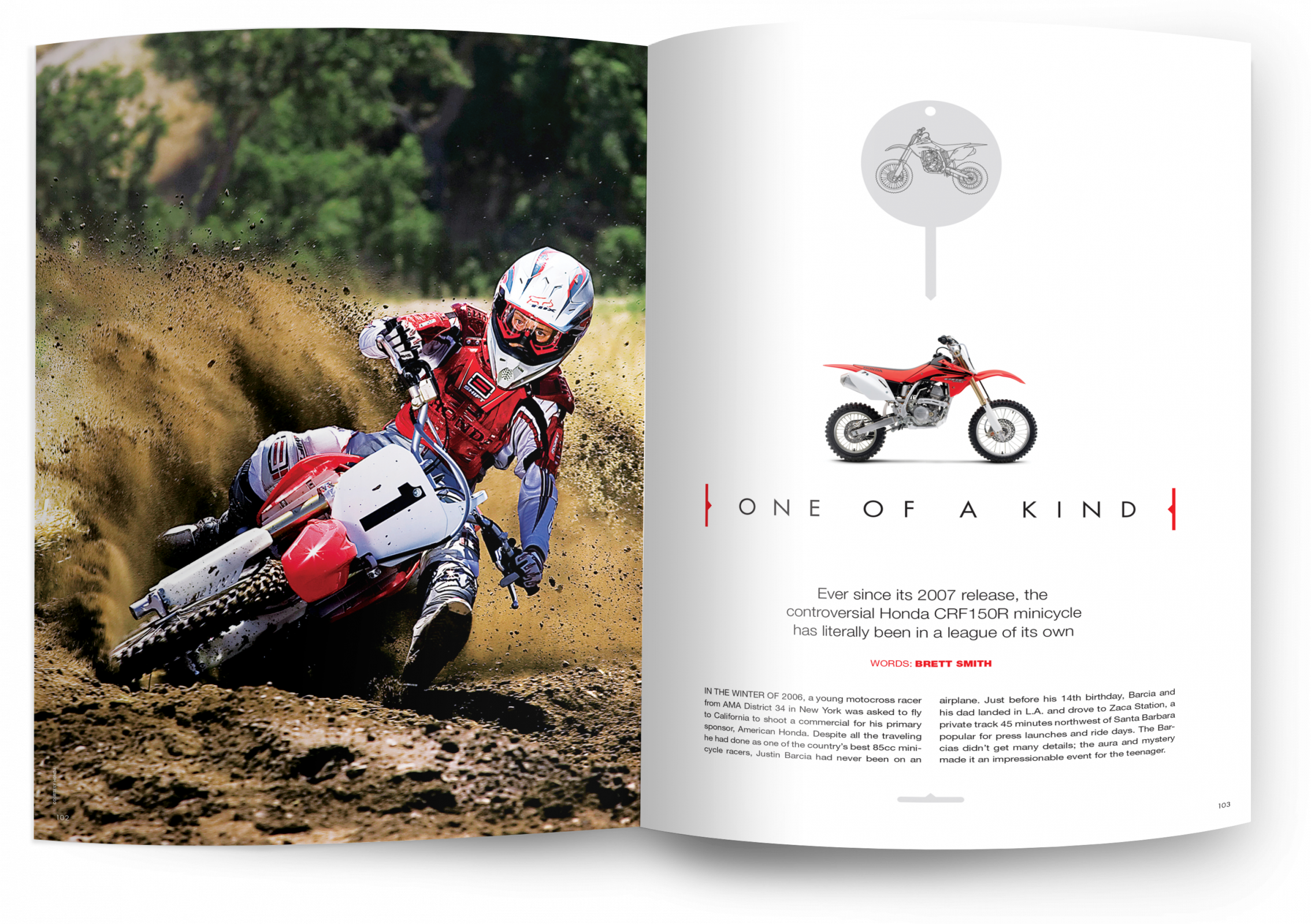 Now 10 years old, the controversial Honda CRF150R minicycle is still a bike in search of a class.
Born Again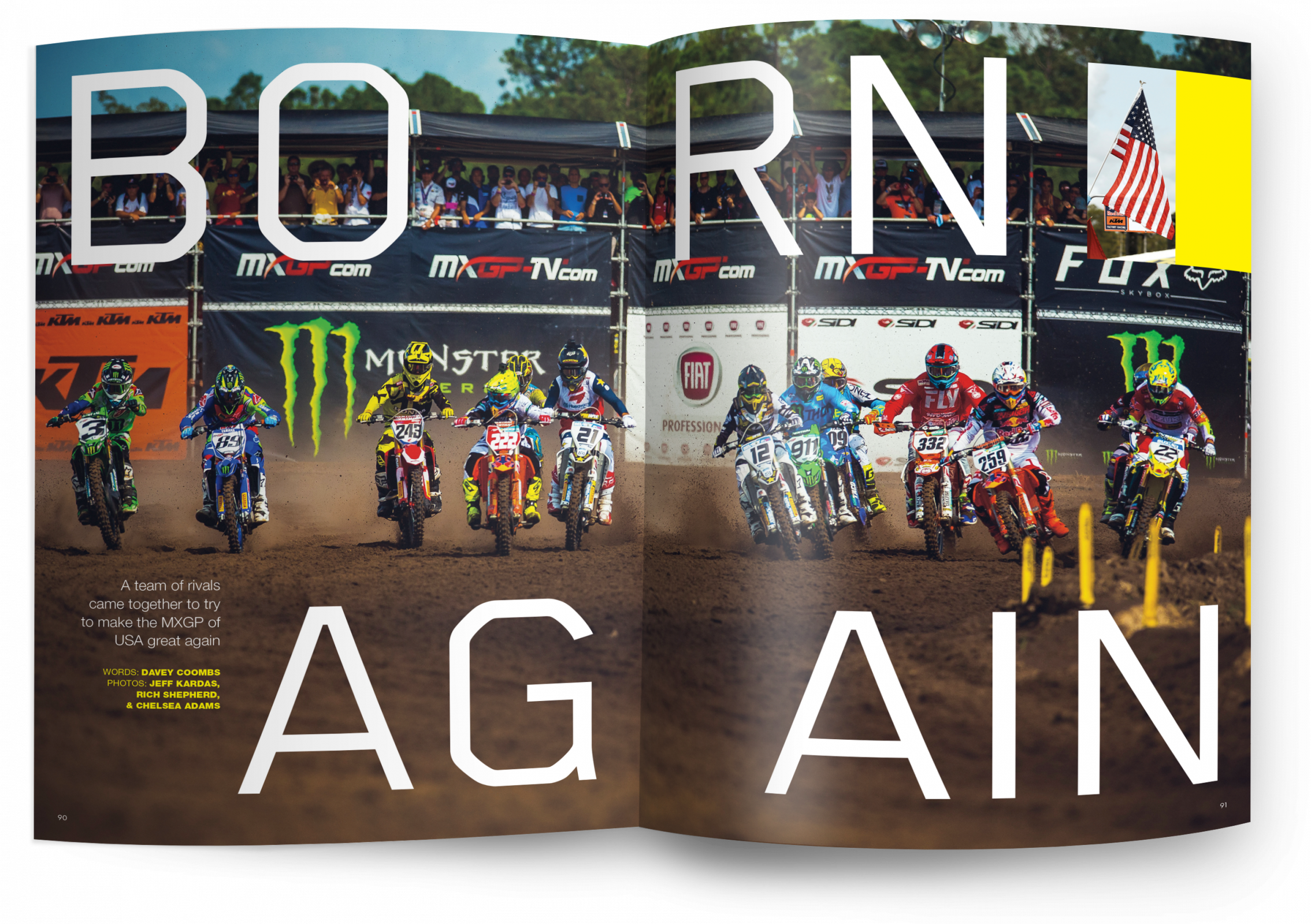 They said it might never happen, but promoters from Europe and the States settled their differences, came together, and put on a United States Grand Prix to remember.
It's Miller Time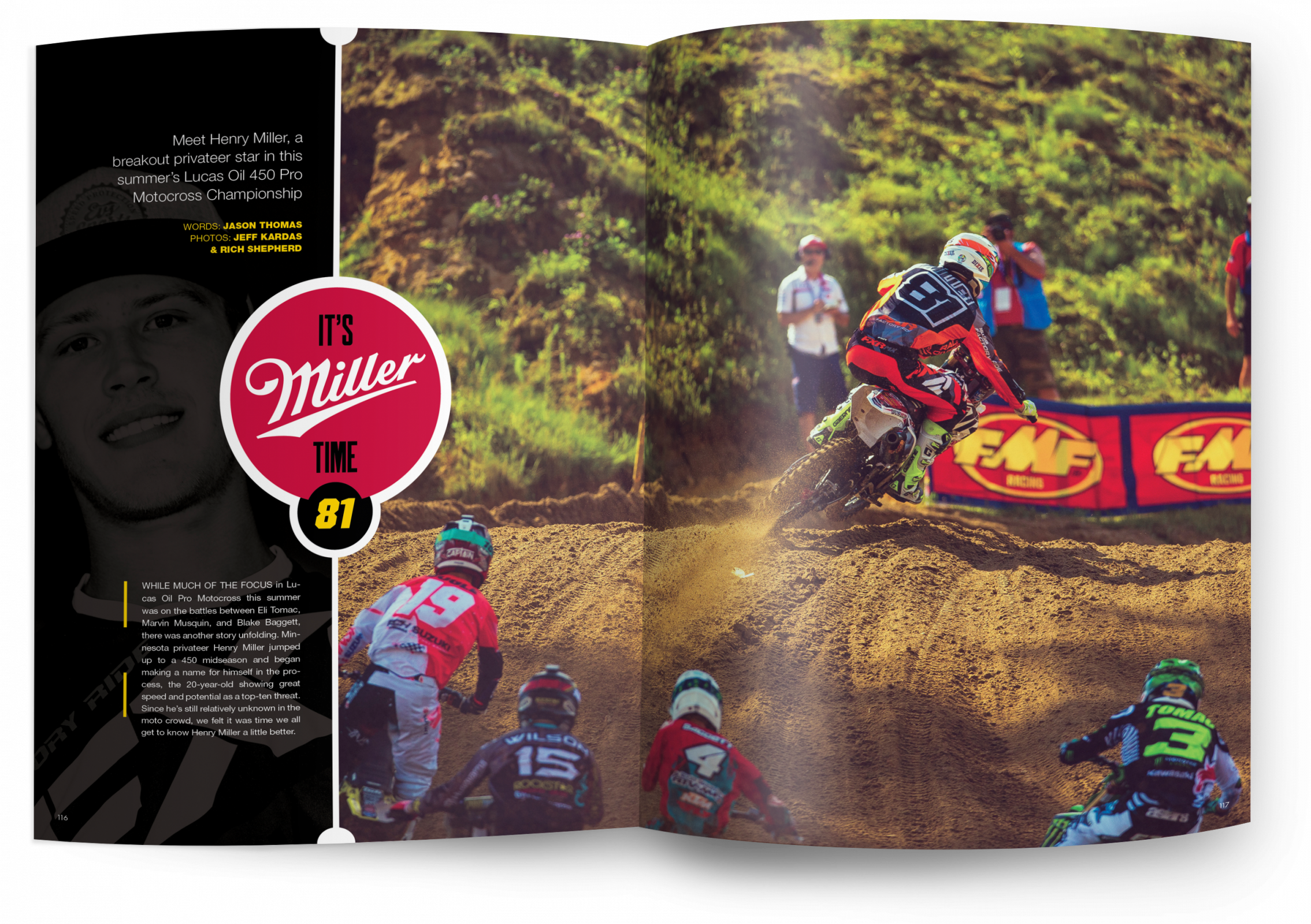 Catching up with Henry Miller, the breakout privateer of the 2017 Lucas Oil 450 Pro Motocross Championship.
The Maine Event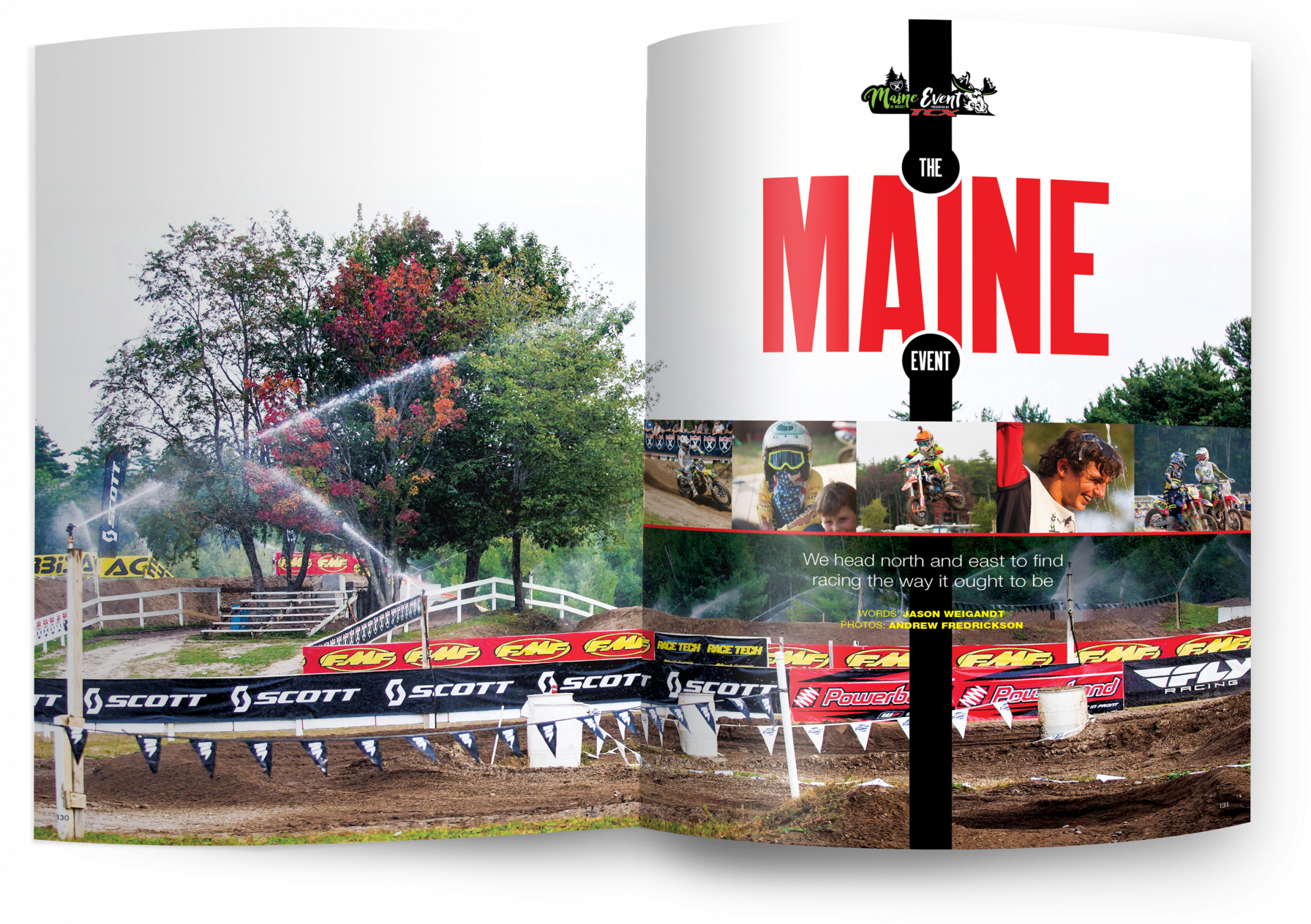 We teamed up with a Northeast classic for a weekend of grassroots racing the way it was meant to be.
Eastern Europe (Andras Hegyi)
Two-time FIM Motocross World Champion Tim Gajser is racing the Monster Energy Cup this weekend. He is most successful Slovenian motorcyclist ever (though not the most famous Slovenian in America—that would be First Lady Melania Trump). He is also the youngest MXGP World Champion, winning the 2016 title at 19 years, 11 months, and 26 days old.
Among Eastern European racers, Gajser has the most GP wins, with 15. But Gajser is not the first Eastern European world champion. There have been six in all—two from the former Soviet Union (Victor Arbekov and Gennady Moiseev), one from the former East Germany (Paul Friedrichs), two from Slovenia (Gajser and 2013 MX3 champ Klemen Gercar), and one from Latvia (Pauls Jonass).
It should be mentioned that Eastern European motocross became famous in America primarily through the former Czechoslovakian motocross stars who raced here in the early seventies and a former Czechoslovakian brand, CZ. In the old Inter-AMA series, Vlastimil Valek (1971) and Zdenek Velky (1974) won championships in the saddle of CZ motorcycles, and the legendary Jaroslav Falta was able to win the 1974 Superbowl of Motocross at the Los Angeles Coliseum. This was before the fall of the Iron Curtain and end of the Cold War that helped make Eastern Europeans who raced in America seem so mysterious and fascinating.
Back to now. How will Gajser do? In his career, he's had success in European supercrosses. In 2016, he won the Arnhem Supercross in the Netherlands, and he also won a moto at the one-and-done Supermotocross Cup in Germany last year, overtaking the multi-time AMA champion Ryan Dungey. Nevertheless, Gajser will be a rookie on Saturday night because it will be his first indoor race in America (albeit an easier track than most AMA Supercross races). Still, the MXGP star is throwing himself in at the deep end.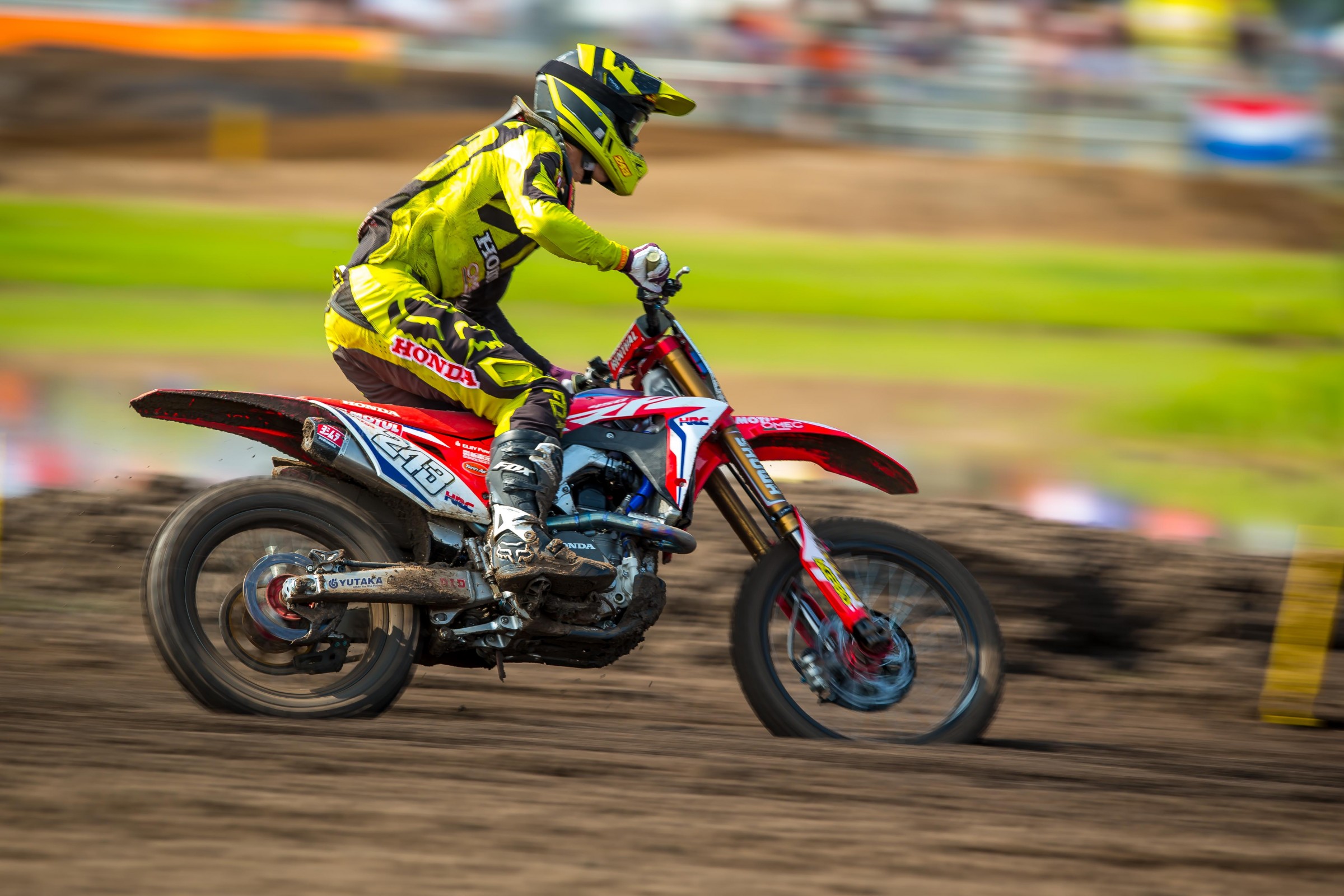 Film Festival (Chase Stallo)
The deadline for the 2017 Racer X Amateur Film Festival presented by MotoSport, WASPcam, and Yamalube is quickly approaching. We will be accepting submissions until October 19 at 2:00 p.m. Eastern. Semifinalists will be announced on October 26, with the first round of videos beginning October 27. There are some really great prizes being offered this year, including a chance to shoot a round of Lucas Oil Pro Motocross next year. Winners are selected in two categories: fan vote and by our panel. Or maybe the same video will win both? For more information, visit filmfestival.racerxonline.com. Good luck.
Fan Voting
The first step to winning is impressing our panel of judges. Our group of experts will watch and analyze every entry we receive, and we'll narrow the submissions down to eight semifinalists. (Our decision is final.) From there, we'll run two videos against each other each week for a month. The winner of each week, as determined by viewer voting, will advance to the finals. A final round of viewer voting will then determine our Racer X Amateur Film Festival winner and runners-up from the four finalists.
Prizes
Winner
A $500 ShopYamaha.com shopping spree
A $400 MotoSport.com shopping spree
WASPcam 9905 Wi-Fi Camera
Two Racer X Brand T-shirts
A Racer X Brand hat
A one-year digital subscription to Racer X Illustrated
Second Place
A $500 ShopYamaha.com shopping spree
A $300 MotoSport.com shopping spree
WASPcam 9905 Wi-Fi Camera
Two Racer X Brand T-shirts
A Racer X Brand hat
A one-year digital subscription to Racer X Illustrated
Third Place
A $500 ShopYamaha.com shopping spree
A $200 MotoSport.com shopping spree
WASPcam 9905 Wi-Fi Camera
Two Racer X Brand T-shirts
A Racer X Brand hat
A one-year digital subscription to Racer X Illustrated
Fourth Place
Two Racer X Brand T-shirts
A Racer X Brand hat
A one-year digital subscription to Racer X Illustrated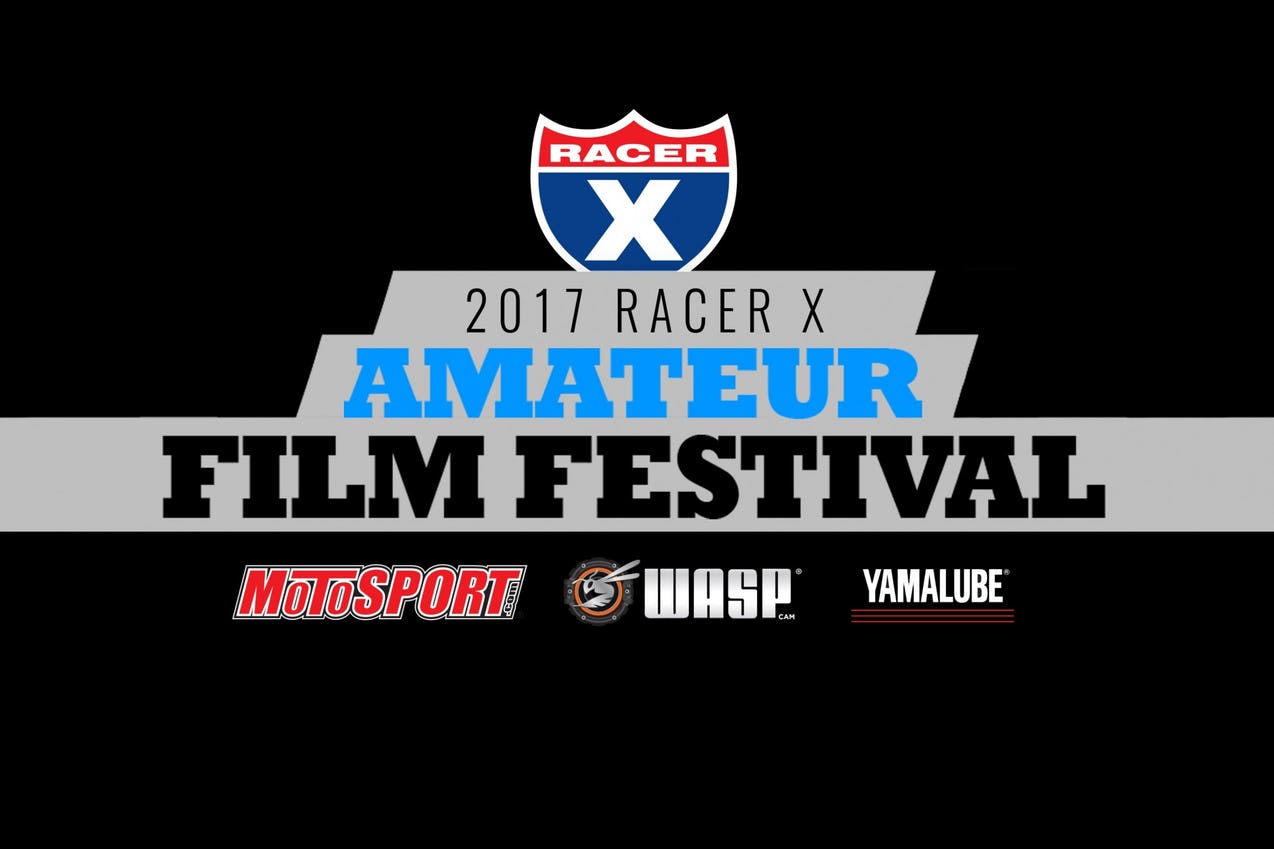 Panel Judging
Our all-star panel will also analyze the eight finalists and pick a winner. The winner of the Panel Judging gets…
A $500 ShopYamaha.com shopping spree
A $400 MotoSport.com shopping spree
WASPcam 9905 Wi-Fi Camera
Two Racer X Brand T-shirts
A Racer X Brand hat
A one-year digital subscription to Racer X Illustrated
On-track access to shoot a Racer X Films Remastered at any round of the 2018 Lucas Oil Pro Motocross Championship. (Note: We will not pay for travel or accommodations, so please choose a round that is near you.)
Reader Survey
Our annual Racer X Reader Survey is ready for you to fill out, and we're offering a killer prize for participants. Upon completion, you'll be entered into a drawing to win a filled Troy Lee Designs Moto Toolbox from Sonic Tools, valued at $600. The survey should take approximately 10 minutes to complete; you may enter one time using a valid email address.
The innovative Sonic Tools/Troy Lee Designs Moto Toolbox Solution comes equipped with three filled drawers, complete with chemical-resistant and laser-cut foam inlays with tools carefully placed and clearly labeled. The SONIC Tools and Troy Lee Designs Moto Toolbox Solution is the result of a collaborative effort between two forward-thinking companies with a focus on improving functionality and efficiency in the moto world. The toolbox is lightweight and high-quality, featuring strong aluminum handles with comfortable grip. Professional-grade hardware and construction combined with smooth, rounded front top lid with "SONIC" stamped into the steel creates a sleek design. All three drawers feature ball-bearing slides and are retractable and a front centralized safety lock.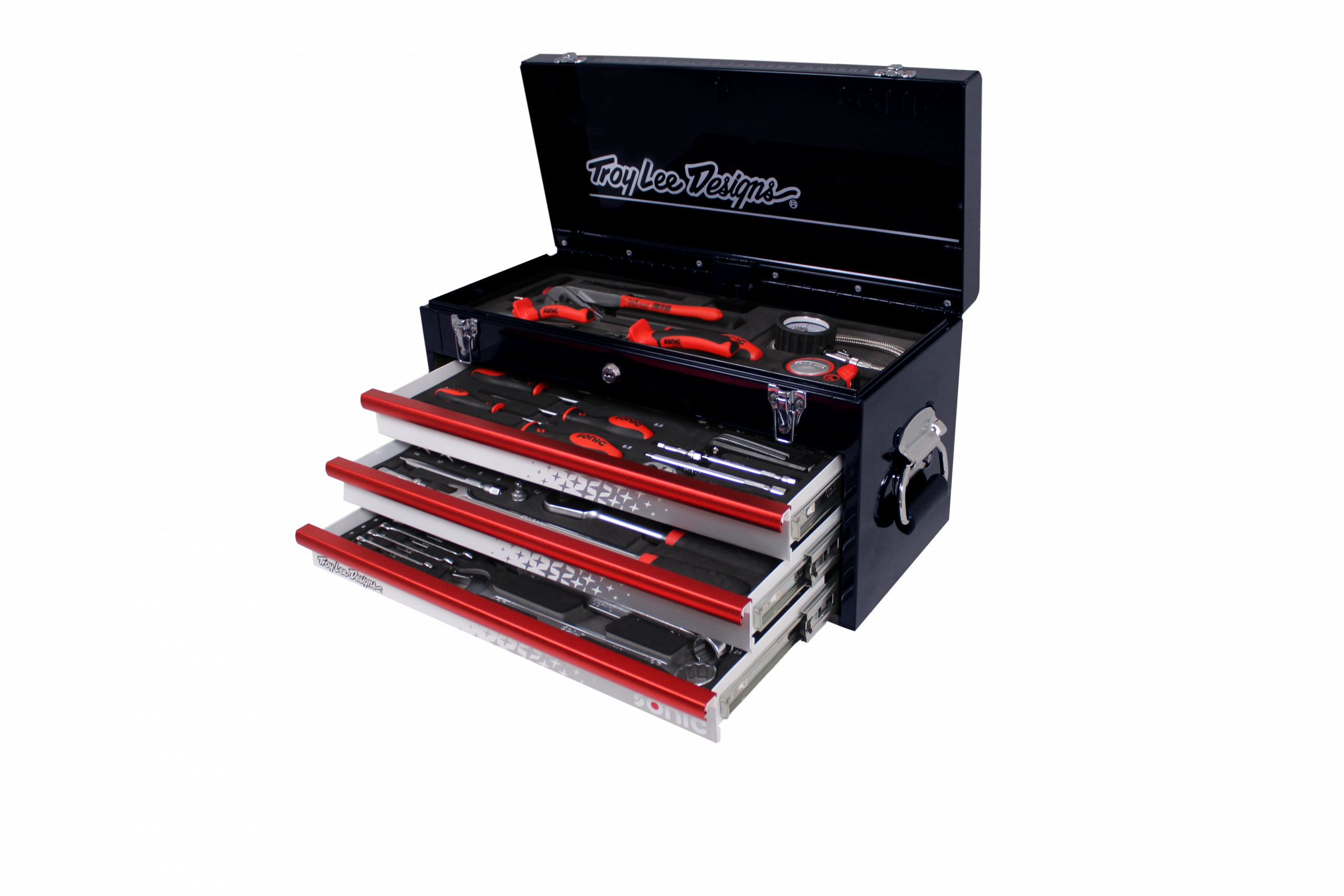 TEAM USA (CONT'D) (DC)
If you're a motocross fan still reeling from the Team USA defeat in the Motocross of Nations, imagine what it's like right now for Team USA men's soccer fans. On Tuesday night, the American men lost a must-win (or even must-tie) match with Trinidad & Tobago, a set of islands off the coast of Venezuela that has just over 1.2 million residents. (That's 319 million less than the United States.) That loss eliminated the Americans from next year's World Cup in Russia. And what stings worse is the fact that unlike the Motocross of Nations, which happens on an annual basis, the World Cup only happens once every four years. Thirty-two teams qualify for the final tournament, and the whole Russia thing makes it even worse—pretty sure the Russians and President Putin will use the glaring absence of Team USA to troll our country as a whole throughout the run. Iceland made it to the World Cup, and they have fewer people (334,000) as a country than Anaheim, California, does as a city.
I also feel bad for Fox Sports. They outbid ESPN for the right to televise next year's World Cup from Russia here in the U.S., paying $200 million—and now the Americans are not even going to be there.
Kind of makes getting ninth in the mud at Matterley Basin a little easier to swallow, although seeing Team USA line up next year with numbers 25, 26, and 27 will be really, really weird.
Oh, Fox paid $400 million for the World Cup in 2018 and 2022. And adding to Team USA's soccer woes, a member of the women's team, which is among the world's best, was kicked out of Walt Disney World in Florida for being overly intoxicated.
Moto the Movie (Kyle Scott)
This week Moto the Movie came out with their latest iteration of the series, Moto 9. They began their tour schedule this week to promote the movie and I must say, it was great. With riders like Baggett, Craig, Mumford, Parsons, Marshall, Foster, Palmer, Townley, Webb, Osborne, Kranyak, Beckering, Decotis, Plessinger, Musquin, Cianciarulo, Dungey, Anderson, Bink, Hill, and more you can't not be entertained. Their amazing cinematography and editing combined with these amazing athletes is a real treat.
Be sure to check out their tour schedule to see if they're coming to a city near you. At each stop they will be raffling off Plaeco hat and shirt, Mob armor phone mounts, DVS shoes, $60 Bolt gift card, 100% goggles, Fly gear, Fly helmet, and $500 Motosport gift card. They are also raffling off a 2018 KTM 350 SX-F, F2 Carbon Fracture Helmet, and more at the end of the tour. For those of you can't make it to a tour stop, the film will be released globally November 21.
The Blake Baggett segment was my personal favorite. Having personally been to Baggett's El Chupacabra Ranch it was rad to see how they filmed the property. Blake and his wife were in the house at the premiere I attended in Santa Ana. He told me he's supposed to be wearing a cast on his right hand for three months following his thumb surgery last month, but he's already cut it off after less than a month and is just running it. Classic Blake.
Be sure to check out the Moto 9 tour schedule at https://www.motothemovie.com/tour.
Hey, Watch It!
Carson Mumford doing some supercross testing on the Factory Connection Honda CRF150 by our own Kyle Scott @sanoshots:
The privateer getting the most talk as we head into the Monster Energy Cup and the 2018 season, Justin Barcia, shot by Simon Cudby:
Cool video Bell Helmets just released of John Tomac's cycling career and involvement with son Eli's motocross program:
Tim Gajser has been using his time in the U.S. wisely. Here's a Fox Racing video of him visiting 15-time AMA Motocross/Supercross Champion Ricky Carmichael at The Farm near Tallahassee, Florida:
Head-Scratching Headline of the Week
"Austrian 'burqa ban' confuses police—and sharks" MSN.com
"Positive testing for Penrite Honda in the lead up to round 2 of the Australian Supercross Championship." www.motoonline.com.au
That's all for this week. Thanks for reading Racerhead. See you at the races.