Welcome to Racerhead. The Motocross of Nations was held in Great Britain last week. In case you missed it all, I can sum it up like this: It rained. We lost. Again.
Looking forward to the real off-season, which is now finally, thankfully underway. It's just 92 days away from Anaheim 1 and the start of the 2018 Monster Energy AMA Supercross Championship. Yes, there are a few events left to go, including the Monster Energy Cup, Red Bull Straight Rhythm, the Paris Supercross, and AUS-X Open, then we roll into the holidays and everyone hunkers down and gets ready for Anaheim. It's not much rest for the guys who raced just last weekend....
Just thought of a couple of interesting stats from the MXoN: There was only one rider in the race who had ever won an AMA 450 Supercross (Team USA's Cole Seely) and one rider in the race who had ever won an AMA 450 National (the Netherlands' Jeffrey Herlings).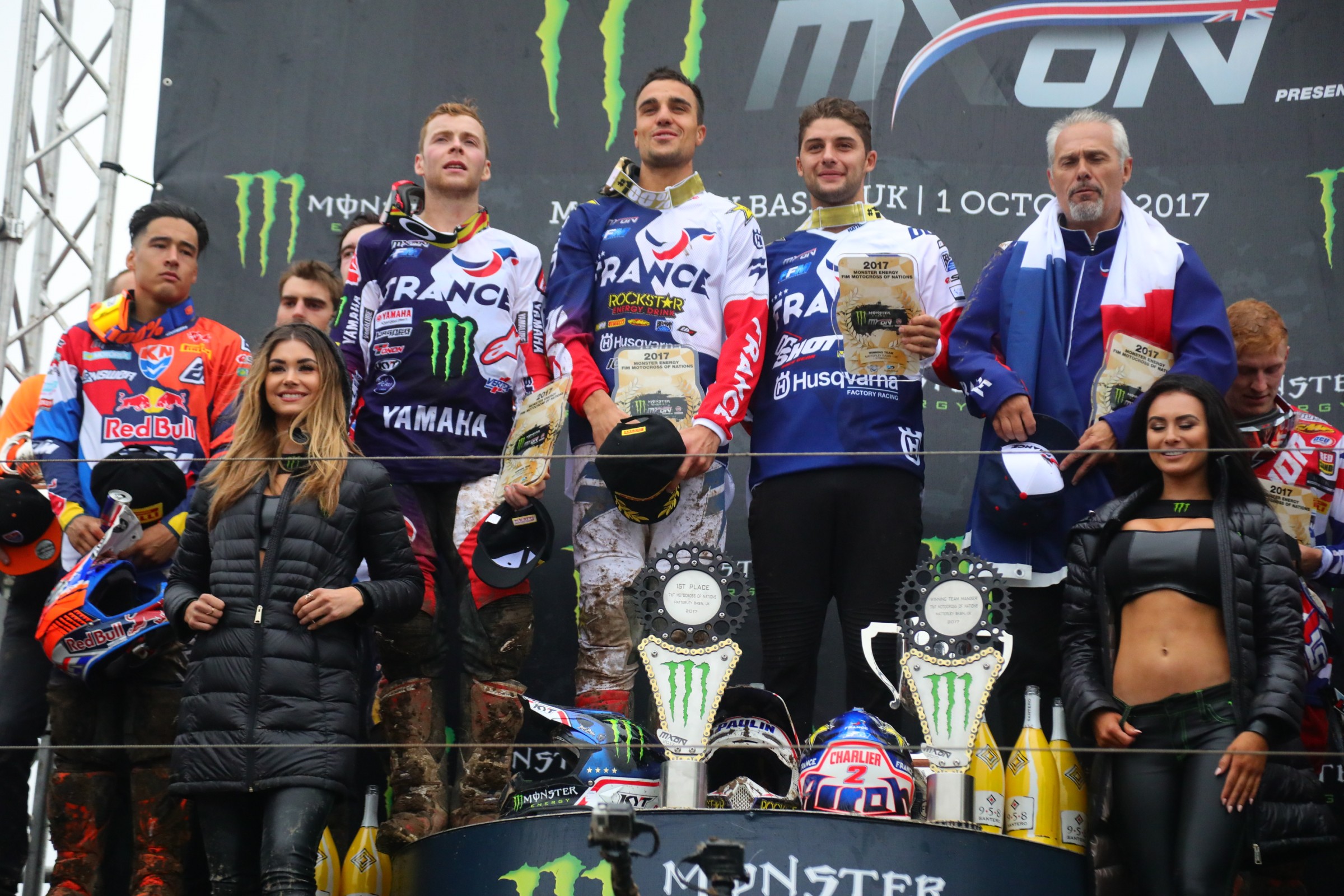 The music is about to stop in the game of musical chairs that is our silly season, and superstars Chad Reed, Justin Barcia, and the Stewart brothers are all still without a ride. Team Honda's Ken Roczen remains a question mark, though he is adamant that he will line up at Anaheim 1. Yamaha has signed Davi Millsaps to be the second rider on their team, we'll see if his veteran knowledge helps Cooper Webb reach his full potential as their lead 450 rider. Jake Weimer is in the healing process, having crashed heavily while testing for his new ride with SmarTop/MotoConcepts Racing.
The biggest news of the week was the announcement we've all been waiting for. Youthstream announced last Saturday night that the 2018 Monster Energy Motocross of Nations will be held at RedBud MX in Buchanan, Michigan, just as it was promised back in March when Youthstream and MX Sports got together. The provisional calendar has the date set for October 7. It's a very big deal that we are getting the race back in the United States for the first time since 2010, and hopefully Team USA can get back on top. The flip side of it was the news that there will not be an MXGP of USA in 2018, as Youthstream and MX Sports are both hoping that the focus on the RedBud MXoN will bring out all of the best AMA-based riders. The MXGP of USA will return in 2019.
In the meantime, let's give you everything else we know. We'll start with Chase Stallo and this week's news roundup. A lot happened on the silly season front this week.
This Week in News (Chase Stallo)
A big news week actually started Sunday, with Kawasaki getting the jump on the October 1 deadline when new contracts can be announced. The big news: Martin Davalos is returning to Monster Energy/Pro Circuit Kawasaki alongside holdovers Adam Cianciarulo, Joey Savatgy, and Austin Forkner. Justin Hill, who won the 250SX West Region Championship, is moving to a new team (more on him below). Josh Grant will return to Monster Energy Kawasaki along with 450MX champion Eli Tomac.
What about Hill? AutoTrader.com/Yoshimura Suzuki announced a two-year deal with him this week that will see the 250SX West Region Champion defend his title in 2018 before moving to the 450 Class in 2019. That's big for Suzuki's rebuilding process in the 250 class.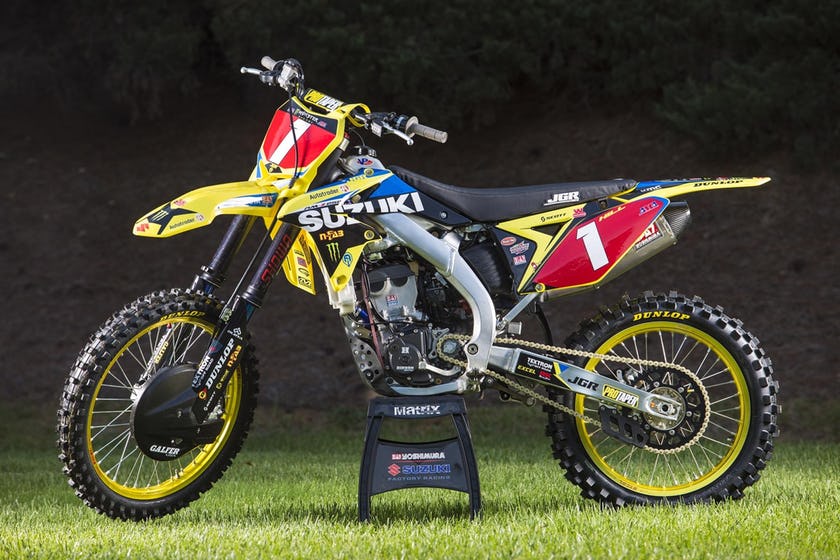 On the other hand, GEICO Honda has locked in promising young Australian Hunter Lawrence for three years beginning in 2019. Lawrence will race the FIM Motocross World Championship in 2018 with Team Honda 114 Motorsports, which is owned by Giacomo Garibolid, amidst rumors of Suzuki pulling support in MXGP and MX2. Lawrence originally had a deal in place for the 2018 GPs with Suzuki.
Andrew Short has left his role as Honda brand ambassador and will return to racing full-time. No, not in supercross, but rally, with Rockstar Energy Husqvarna. Short is currently competing in the OiLibya Morocco Rally with the team.
Team USA's Thomas Covington confirmed on Tuesday that he suffered a torn ACL in Saturday's qualifying race at the Motocross of Nations. Covington underwent surgery earlier this week. No timetable on a recovery has been announced.
Rockstar Energy Husqvarna's Dean Wilson is joining Chad Reed, Jason Anderson, Josh Grant, and Ricky Carmichael Down Under at the AUS-X Open in Sydney on November 11-12.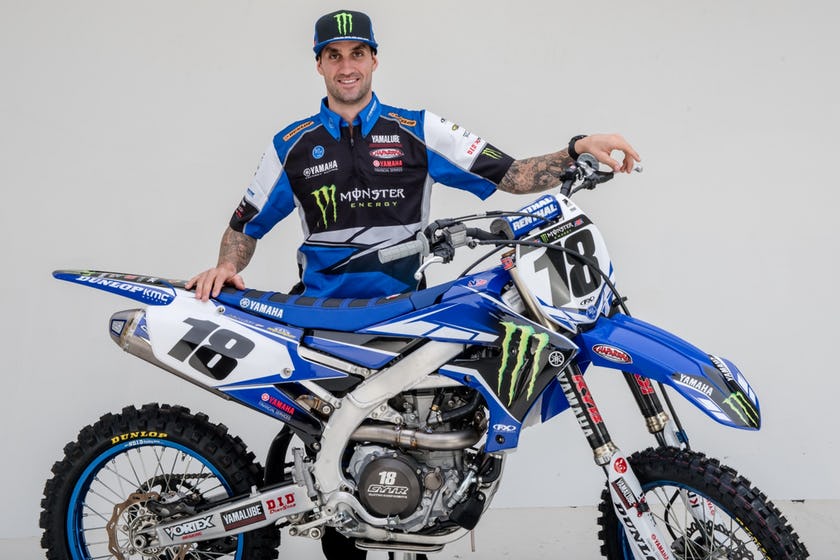 Following two years with Rocky Mountain ATV/MC-WPS-KTM, Davi Millsaps is returning to Yamahas with factory Yamaha alongside Cooper Webb. He will make his debut at the Monster Energy Cup next weekend. Millsaps, who missed all of Lucas Oil Pro Motocross due to surgery on both wrists, previously rode Yamahas with JGRMX in 2011-12.
Cole Seely underwent surgery this week to have a plate and four screws removed from the pinky finger on his right hand and will miss three weeks, per the team. Christian Craig will race the Monster Energy Cup alongside 2016 MXGP World Champion Tim Gajser.
Chad Reed and Ryan Villopoto are set to battle on two-strokes at the upcoming Red Bull Straight Rhythm. The two will compete in the new Ken Roczen Two-Stroke Shootout.
Straight Rhythm Finds a Way (Jason Weigandt)
Off-season races always revolve around one question: Who is going to race? Big appearance money used to be a sure-fire strategy for attendance (that's what got top guys to go to Europe in the winter) but even that stopped working once dudes started making so much money at home that they could skip the payday to get a break. Ryan Dungey and Ryan Villopoto never raced the Bercy Supercross, just as an example.
The Monster Energy Cup generally packs the strongest field but even that event, despite being backed by Monster and run by Feld and taking place in the same stadium as an actual supercross, doesn't get everyone. Just as an example, Justin Bogle is in on his new AutoTrader.com/Yoshimura JGR Suzuki, but Weston Peick has decided he won't race it. That's just the way it goes. The first event, in 2011, was pretty much the Ryan Villopoto show. Ryan Dungey made a late entry, but most of the other top contenders stayed home. Since then, most top riders do compete but it's not quite the full Anaheim 1 gate.
Similarly, many top riders stayed away from Red Bull Straight Rhythm in year one, then Red Bull big names Dungey and Ken Roczen joined in for year two. James Stewart versus Dungey and Roczen certainly gave it some heat, but then Stewart and Roczen didn't race last year … yup, we've seen this trajectory before. Riders stop coming, and eventually the event goes away.
The Red Bull Straight Rhythm folks are going to work an alternate strategy. Dungey is retired, Roczen is recovering, and not even the Red Bull knows if James Stewart will show up. Marvin Musquin and Broc Tickle will be the headliners as Red Bull KTM guys (Marvin even beat Dungey last year, which ended up being a preview of how several actual supercross races would go during the season). The rest of the event? Pure chaos!
It started when Red Bull allowed Josh Hill to race the Alta electric bike last year, and he actually beat 250F mounted Kyle Cunningham. That got huge buzz—no pun intended—so now the event is doubling down on weird. Hill and the Alta will be back (Darryn Durham was going to race one but was recently injured) but Red Bull also announced a two-stroke class, which will be hosted by Roczen. Everyone thinks two strokes are cool, but this race went next level when Chad Reed and Ryan Villopoto confirmed to race each other on them.
Next, some crazy marketing videos. Ronnie Mac pumped out a new video yesterday in which he has to go back to the future to stop the Alta from winning this year's race, which would start an electric revolution and thus ruin his old two-stroke. Watch this video. There are real special effects, laser pointer jokes, goon riding, beer drinking, and even a look at a 2027 issue of Racer X Illustrated! (Just glad to see print will still be around.)
That's not all! Alta itself has a new salesman in Alta Don, who apparently is super rich in the future once the Alta takes over.
Finally, this crazy Instagram video promoting Straight Rhythm. So goofy it works.
Embracing the weirdness and working the edges. Two-strokes, Reed and RV, electric bikes, Ronnie Mac, and more. Coming October 21—you can watch live on RedBull.tv or on NBC in December. It's definitely going to be … something else!
Pro Perspective: Monster Energy Cup (Jason Thomas)
One more week until the first supercross of the new season. The Monster Energy Cup is a debut event for many riders showing off their new bike, gear, and team. Most will still be working through new settings and this race gives them a chance to try them in a race environment. It also can act as a barometer for where both they and the bike are strong or weak. The track isn't exactly identical to a supercross event but it's close enough to understand where efforts need to be spent during November and December. For a rider like Justin Barcia, he will get a chance to turn things around and also get an idea of how his privateer bike fares against the world's best. For Eli Tomac, it provides an opportunity to try any new parts that Kawasaki has built and work out the bugs before the hard training months ahead. It's not a high pressure event like Anaheim. It is more of an opportunity to prepare for 2018 than anything else.
Next week will be the return to a race week schedule. There are big differences between the down time in September, a training week in the off-season, and the lead up week to the race itself. After nearly two months off, most are probably itching to get back out there and mix it up. The low pressure atmosphere helps that aspect and makes this race one to look forward to. The only drawback is the timing as many are healing from injuries and others are simply not ready yet after a team change. For those that line up, though, it's a great time in the desert!
71st Motocross of Nations in Numbers (Andras Hegyi)
4
Team France collected its fourth consecutive win, and is only the third nation to do that. Between 1963 and '67 Great Britain won five times; Team USA won 13 in a row between 1981 and '93 and then seven straight between 2005 and 2011.
3
Gautier Paulin is a MXoN specialist. While he has not been able to get any individual world championship titles, he has become only the third rider ever to win at least four consecutive Motocross of Nations. David Bailey was victorious in five successive MXoN between 1982 and 1986, and Jeff Ward won four MXoN in a row between 1987 and 1990.
It should also be noted that in the old Trophee des Nations, which featured four-man teams on 250cc motorcycles, a great Belgian streak ran from 1969 through 1978. Roger DeCoster rode on 10 straight winning teams! The lanky Jaak Van Velthoven raced on eight of those teams ('72-'78) and Stefan Everts' father Harry on five of the winning teams ('74-'78). Sweden's Torsten Hallman rode on four straight winning Swedish teams in the Trophee des Nations from 1963-'67, with the '65 race cancelled due to poor weather.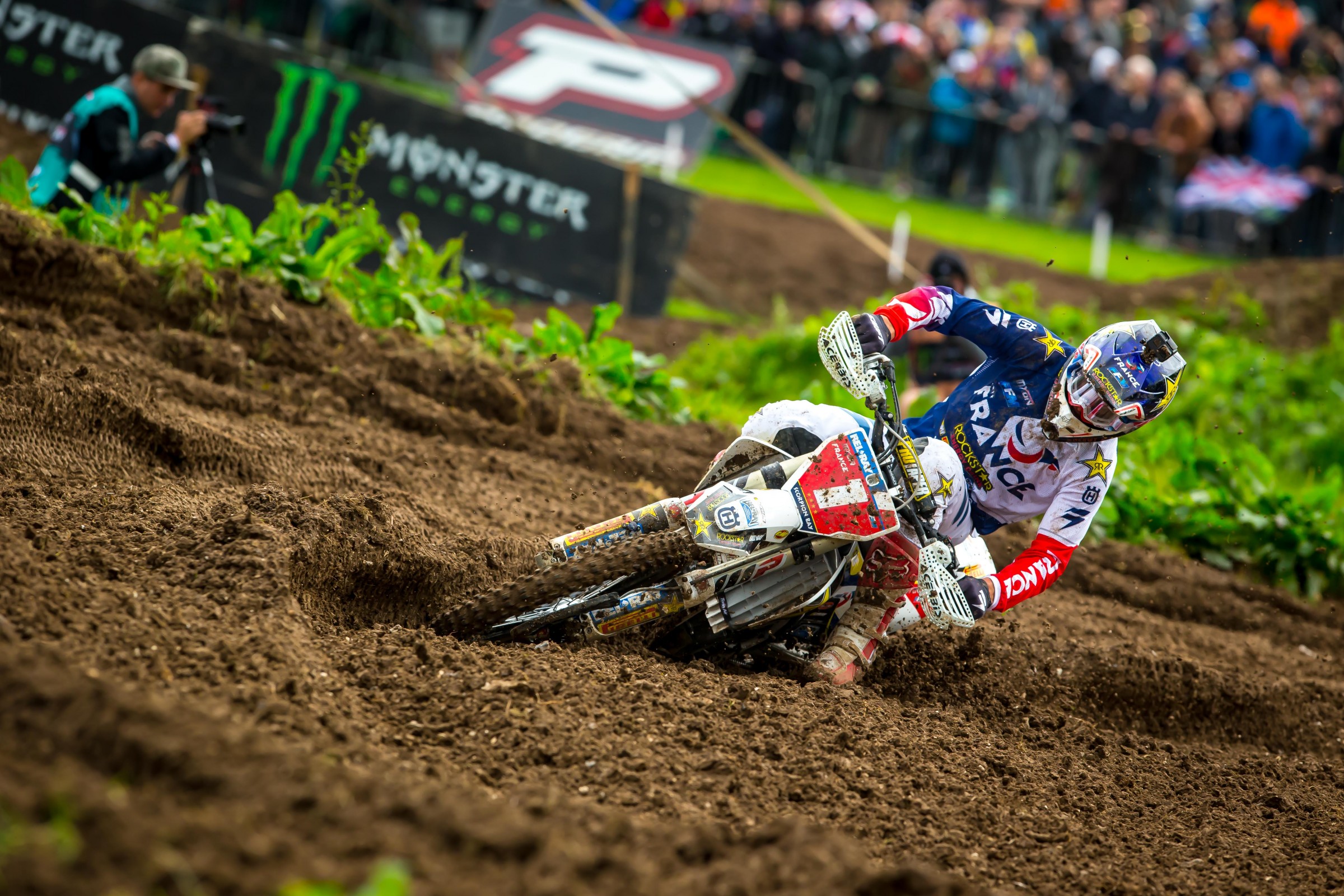 1
Like in 2001 and 2014 when Team France was able to both the 'Nations and the International Six Days Enduro (ISDE). This year Christophe Charlier took part in both winning versions of Teams France. Charlier becomes the first ever rider to win both ISDE and MXoN in the same year. And besides Team France, only Team Great Britain has been able to win both ISDE and MXoN in the same season. The British got double victories in 1949, '50, and '53.
2
Team Netherlands repeated its 2016 result by finishing second again. It's the 12th podium for the Dutch and first in consecutive years. Ironically, the first Motocross of Nations took place in the Netherlands at a place called Wassenaar in 1947, just two years after the end of World War II, yet the Netherlands have never actually won in 71 years.
1
The 18-year-old Hunter Lawrence, a GEICO Honda rider in the USA beginning in 2019, has rewritten Australia's history at the Motocross of Nations by winning the MX2 class. Lawrence became the very first Australian rider to win a class at the MXoN. Chad Reed, the most successful Aussie racer ever, won MXoN motos but he never won a category like Lawrence did.
9
Team USA finished ninth, tying its worst placing in the history of the Motocross of Nations. Back in 1975 Team USA's Brad Lackey, Tony DiStefano, Kent Howerton and the late Jim Pomeroy finished ninth in Maggiora, Italy (though Pomeroy actually won a moto, the first American ever to do so in the MXoN). The previous worst result for the modern-era of Team USA—after its 1981 win streak began—was an eighth place in 1997.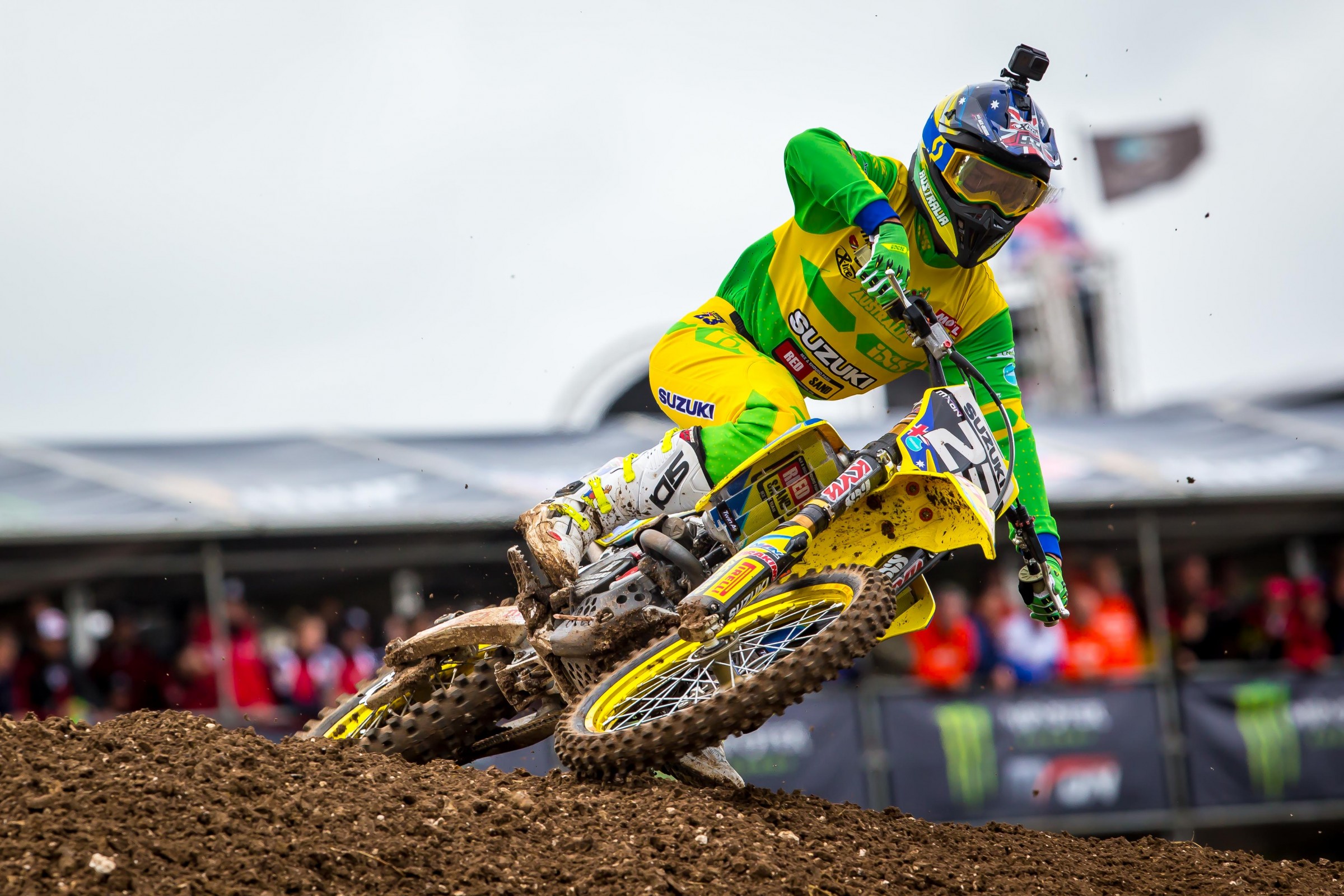 ARENACROSS 2018 (DC)
The schedule for the 2018 Amsoil Arenacross Championship was released by Feld Motor Sports this week. The tour begins on January 6 in Dayton, Ohio, and concludes May 4, the Friday night before the Las Vegas Supercross finale. All told there are 12 rounds, spread evenly across the country. They also have come up with a decent travel pattern where the series spends January pretty much in the Northeast (Ohio, Massachusetts, Pennsylvania, and North Carolina), then heads to the middle of the country in February (Wisconsin, then back to South Carolina, then Colorado, Idaho, and Kansas) and finally concludes out west with Oregon and two stops in Nevada (Reno and Vegas). The tagline for this year's tour? "Motocross, More Intense." Here's the official series trailer, as well as the full schedule:
Tickets for the 2018 Amsoil Arenacross season go on sale Tuesday, October 24, 2017. For more information on the 2018 Amsoil Arenacross season and to purchase tickets, log on to Arenacross.com.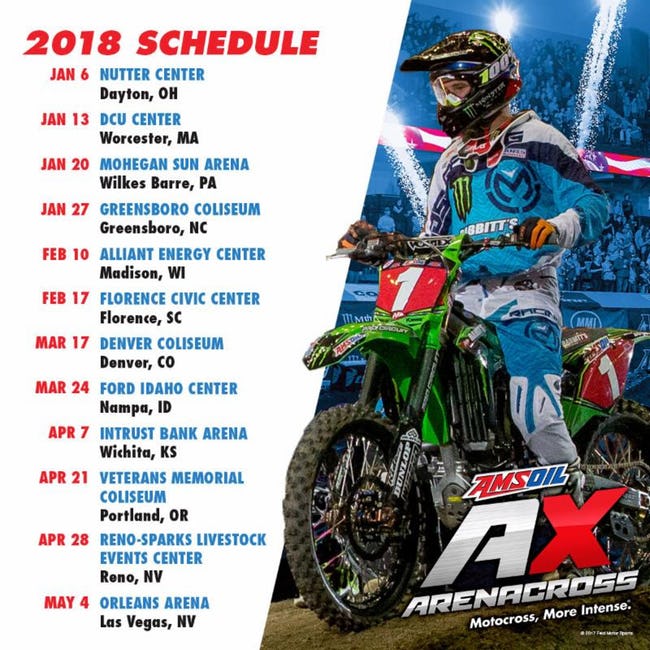 THE WEEK THAT WAS IN PULP (Steve Matthes)
Back from the Motocross of Nations on Monday afternoon, I immediately came down with a wicked head cold and overall felt pretty run-down. It could be from watching Team USA losing its sixth straight, but more than likely it was from standing in an English field in the drizzling rain with good sized wind and a cloud that felt like it was fifteen feet above my head. Every stereotype you've ever heard about English weather was right there at Matterley.
Just now, four days after coming back do I finally feel decent and able to process what I saw. This was the least competitive Team USA's been at an MXoN since Lommel in 2013. The Saturday qualifying went ok and left fans of the stars and stripes thinking a podium could be possible and maybe, just maybe, a win. But once the skies opened up overnight and continued throughout the day, those hopes were all but gone. I'll leave it for the online bench racers to go around and around on the state of USA MX after the six years of losing. I'll take a bigger picture look at this race and realize that until USA sends its three best riders, a win will always be a long shot. Oh, and not having a rider get injured at the event also, something that has happened three out of the last four years.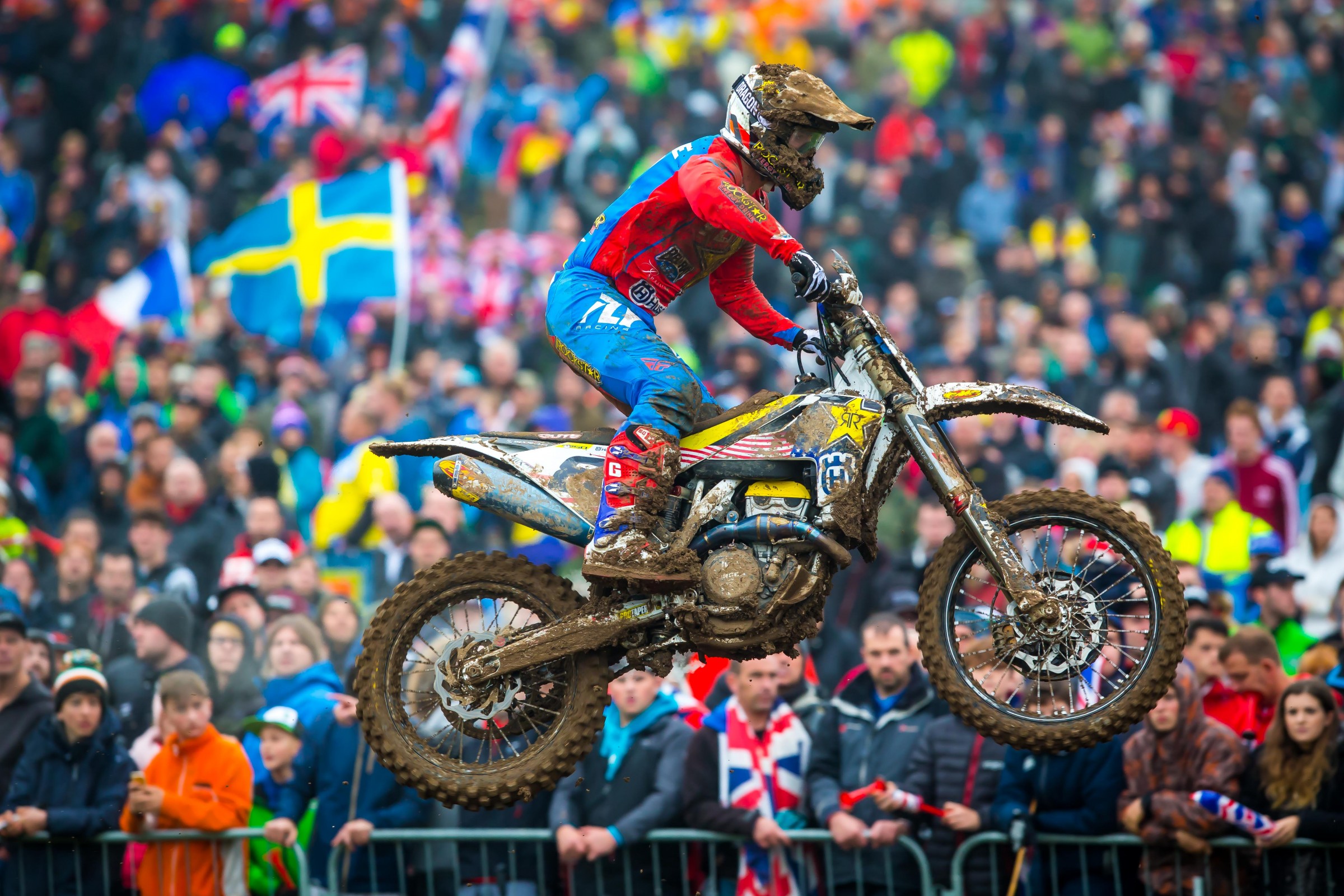 We had Zach Osborne on the Pulpmx Show and he talked about his race. Osborne rode great, had some goggle issues in moto one (like a lot of riders) that held him back but his Saturday qualifying race was something special. I was really happy to see Zacho get a shot with Team USA; he's mentioned over and over what a dream it was to be selected. Unfortunately, he and I are now tied at 0-1 as members of Team USA.
Cole Seely also came on and props to him for owning his race. Yes, he DNF'd both motos when his KYB shock spring holder came off but he mentioned that even without that DNF, he didn't ride that well. He mentioned that he was trying very hard but just nothing was working for him. And he gave full props to the European riders for how fast they went in the mud.
By the way, I spoke to people at Honda and they've been in meetings with KYB to talk about the shock failure because it's got them mystified as well. It's not like we haven't had muddy practices this past summer or motos even to test the reliability of the spring holder. To see it come off twice made the team think it was more the rocks on the track (that came up later in the weekend) that caused the retainer to slide off than it was the mud. And of course, KYB is re-designing the holder now to prevent this from happening again. It's definitely one (and two!) of the stranger DNF's I've ever seen at a race. Although my choke on a PWK carb backed out one moto in 2001 despite me never touching it all season.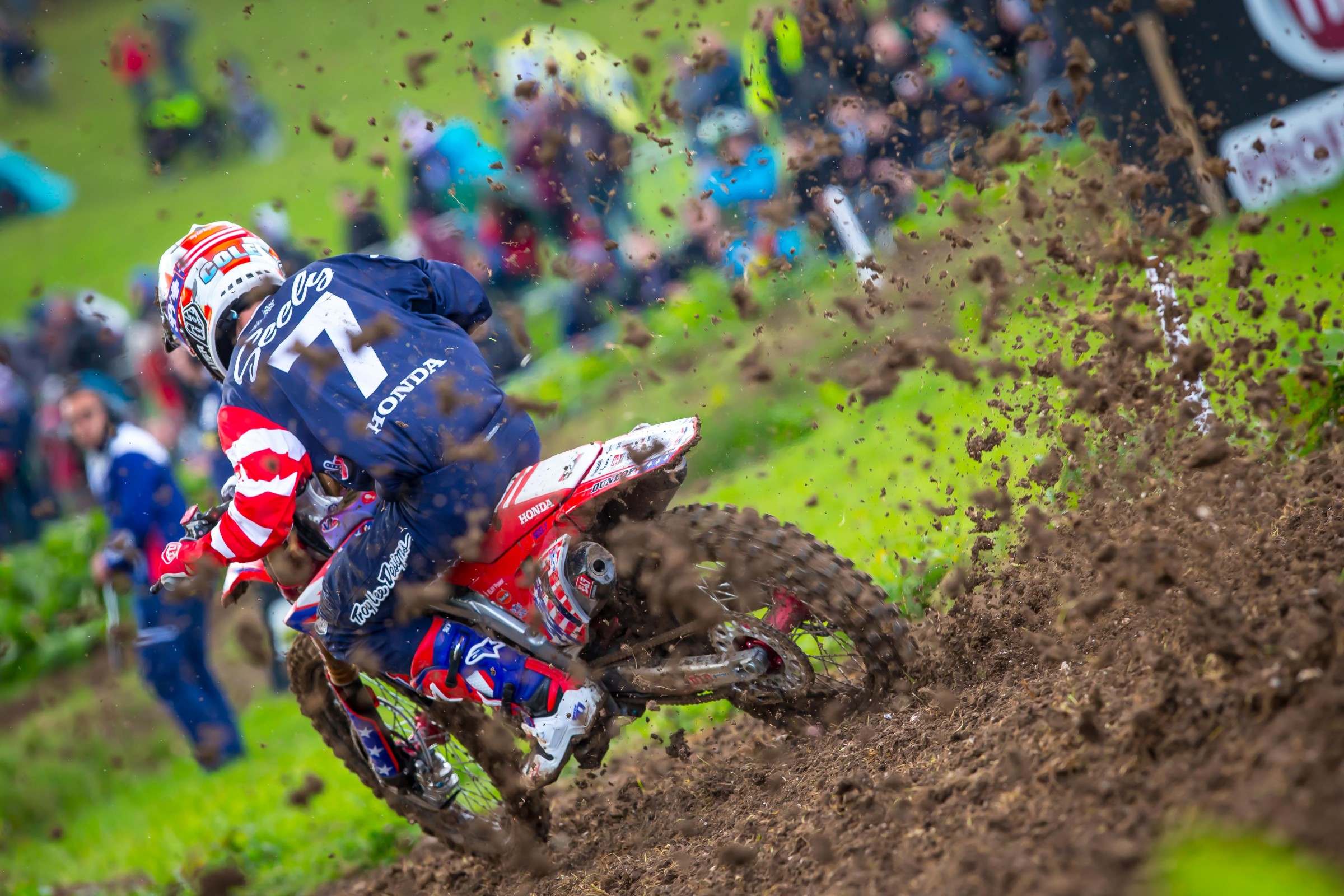 Ping was up for the show as co-host and thought that maybe Team USA should look at replacing Roger DeCoster as manager and I get that, it's been six years in a row, but to me, how much can be blamed on RD? I wrote about that subject over on MX Vice and to me having Eli Tomac and Blake Baggett there along with Osborne might've made Roger look like a genius. Until the USA teams and riders put the MXoN as a priority, I think USA is doomed to battle for a podium and need luck to win.
By the way, I still stand by my thoughts that Youthstream needs to look at the date of this race and help out the American team with travel subsidies or whatever. So does DeCoster (well, with the date anyway), who sounded frustrated in my post-race interview with him about how picking Team USA has turned into a bit of disaster lately.
I did a cool podcast with Adam Cianciarulo, who gave me his 10 favorite songs ever (only one per band) and then told me why he liked them so much. It's a different way to look at an athlete and why he or she thinks a certain way. Give it a listen.
Kris Keefer took the five 2018 450 bikes and rode them over three days with approx. 747 different riders. He did a daily podcast with each rider ranking them and then took all those numbers and encapsulated what the best and worst bikes for 2018 in the 450 division.
KROC Gallery (Scott Lukaitis)
Raceway Park, in Englishtown, New Jersey, hosted the 41st annual Kawasaki Race of Champions last weekend. Kawasaki and their local participating dealers have been the title sponsor of the event since the early 1980s. Check out a few photos from Scott Lukaitis.
Leatt 2018 (Kyle Scott)
Last week, Leatt hosted a 2018 product intro at their U.S. headquarters in Santa Clarita, California. They've added youth gear to their lineup, a new helmet, a new neck brace, a new dual-hinge knee brace that many were asking for, and a bunch of accessory-type items.
Leatt has come a long way since their 2004 introduction of a neck brace. With everything from socks, to pads, to knee braces, to neck braces, to chest protectors, to gear, to gloves, to helmets, they're practically a one stop shop for everything moto; they've got everything you need to ride, minus the boots, goggles, and talent.
Their new helmet is the 4.5 which has an updated mouthpiece and sides for a more aggressive look. Two ventilation ports were removed in the back, but so was $200-plus from the price tag when compared to the 5.5. The shell size is also reduced 10 percent, which brings down rotational forces on the head and brain by an additional 20 percent. All of their helmets feature the injected V-Foam and Turbine Technology which helps reduce impacts by 30 percent and rotational acceleration by up to 40 percent. All of their helmets also feature a built in hydration pack mount so you can rider further and longer. Their visors have break away screws under impact to keep your head from digging into the dirt and causing neck problems—the replacement screws are even designed to allow help you de-thread the original screw piece that may still be stuck inside the helmet. Now you can choose between the 4.5, 5.5, and 6.5 Carbon helmets from Leatt.
Their new neck brace is called the 3.5. and weighs only 500 grams for adults and 450 grams for kids. The 3.5 for moto and the 3.5 for mountain bike are the exact same brace, so feel free to pick up either depending on your graphic. Their neck brace catalog includes the 3.5, STX RR, STX Road, SNX Trophy, SNX 5.5, GPX 5.5, and 6.5 Carbon.
Their C-Frame knee brace features Leatt's single-hinge system located on the outside of the knee to give you maximum feel of the bike—there is a complete opening on the inside of the knee, a bit too much feel for many. I actually wasn't a fan of this brace myself when I tried it last year. Others expressed a similar opinion and Leatt listened and created the X-Frame for 2018. The X-Frame is a dual hinge system that brings back that regular knee brace feel. The composite carbon material on the X-Brand is 40 percent thinner on the inner knee to help maximize bike feel while giving you the support that you're used to. What is cool about both knee braces is they have a break away point in the thigh area to help reduce the likelihood of a broken femur. Their knee braces are also certified medical devices so some insurance companies will even pay for them. If you've already got a bad knee and would like some extra support for another sport, Leatt's got you covered. Both the left and right braces are sold in singles in adult sizes. The X-Frame begins shipping in November.
The 3DF Body Protectors from Leatt this year are some of my favorite items. With eight different versions of protection ranging from just chest and back, to full coverage on the shoulders, arms, and hips, you'll be sure to find the level of protection and comfort you're looking for. The padding is made of their 3DF foam which is soft to the touch, but hardens on impact to absorb the energy before quickly returning to its original state. All eight come with built-in tabs to secure a neck brace while riding so you can focus on riding only.
Other new items include: hydration packs, jackets, and gloves. Be sure to check out their mountain bike line—it's full of products that will help you trim your waistline without trimming your pocketbook.
Head-Scratching Headlines of the Week
"#Drone apparently dropped cellphones into Michigan prison and went undetected for nearly two months." AP
"Shark 'EATS' fisherman then spits out camera in HORROR GoPro clip." Daily Star
"Israel launches creepy clown crackdown..." The Times of Israel
"Honda to Cease 150 European Championship as Part of Renewed Motocross Strategy" PR from Youthstream on the demise of the Honda-only class.
Hey, Watch It
Justin Brayton on his time with Team Honda in both America and Australia.
Alpinestars athletes at the Motocross of Nations.
Finally, it was a sad week in America, and not because of the loss at the Motocross of Nations. Everyone knows the tragedy that stuck Vegas this week. Vegas is a city supercross fans know well. It's hosted the final round of Monster Energy Supercross for more than a decade, as well as the Monster Energy Cup and the U.S. Open before that. It is also home to our very own Steve Matthes. Our thoughts and prayers go out to the entire community there.
That's it for Racerhead, folks. Enjoy the weekend off and get ready for the Monster Energy Cup next Saturday. See you at the races.