Honda Shifting Strategy, EMX150 Championship Done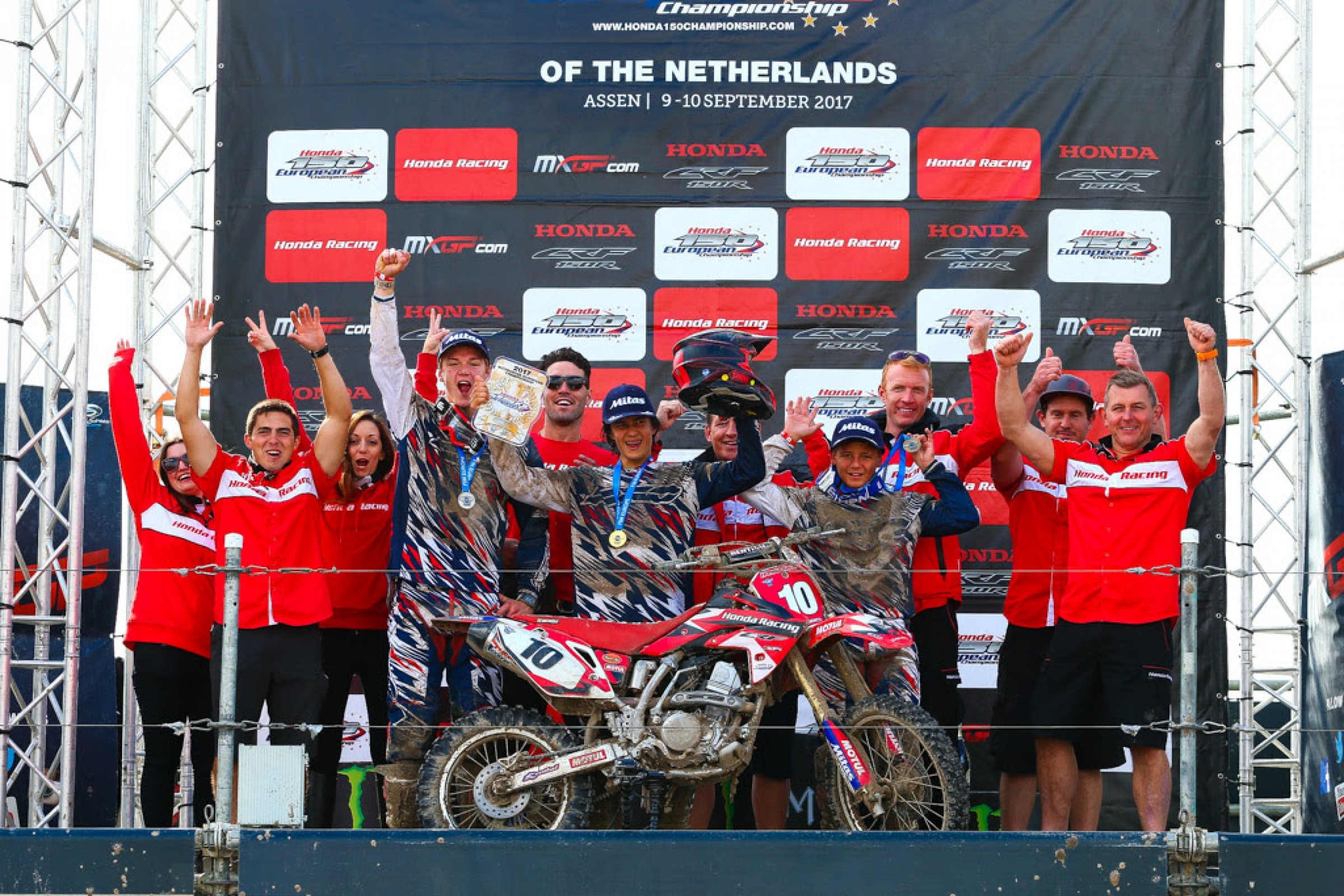 Honda has pulled the plug on the 150 European Championship, a youth support series to the FIM Motocross World Championship, Youthstream announced today.
According to the release, Honda will shift its focus to "increasing support" of the EMX250 and MX2 championships.
The program, which began in 2013 and was designed to help guide young riders into EMX250 and MX2, ran in conjunction with five rounds of MXGP in 2017: Germany, Portugal, Belgium, Sweden, and The Netherlands. Adrea Adamo won the 2017 title, in which all racers were equipped with the Honda CRF 150R.
Gordon Crockard, off-road manager at Honda Motor Europe, added:
"I am proud to have been involved in the Honda European 150 Championship which provided such a fantastic opportunity for the young riders of tomorrow. I can only imagine how amazing it must have felt for them to be racing on the same MXGP circuits as their heroes on the same day in front of a global audience.
"It was amazing to be able to help guide the riders, parents and mechanics throughout the championship seasons and I would like to thank them all for presenting the bikes so well on race day. It was great to see the families show so much love for motocross and also to see the Honda CRF150R perform so well in various conditions in World Championship racing.
"I remember many emotional moments and sharing both the highs of success and the disappointment of defeat together with the riders. A highlight was seeing the progression of the riders who have competed in the 150 series performing in more senior championships. This year we witnessed a great example of this with former 150 Championship runner up, Alberto Forato, racing for Honda and enjoying success by winning EMX250 races in 2017.
"I also have great admiration for Shana van der Vlist, having previously raced in the 150 Championship, Shana has finished 8th and 10th in the overall Womens World Motocross Championship rankings in the last two years. All this while she is still a teenager.
"Honda will continue to invest in the future stars of motocross. We will strengthen our support in EMX250 and MX2 and with the all-new 2018 CRF250R -- which is designed to offer ultimate performance -- we will give our supported teams and riders the best possible chance of success.
"I would also like to thank all of the Honda 150 Championship sponsors and partners, who provided material and technical support to Honda over the past five years, thank you.
"A special thanks has to go to Gerry Bryce and his Racedays team of staff for all the dedicated hard work over the 5 years, delivering a truly wonderful championship for Honda.
It's been fantastic, thank you to everyone."