Welcome to Racerhead, coming to you this week from the Racer X booth at the AIMExpo motorcycle industry show in Columbus, Ohio. The show is open to dealers and the public this weekend, but right now it's mostly just dealers and industry folks, so there's not a lot going on. Jason Weigandt and Chase Stallo are here doing some videos so look for them elsewhere on the site. There are lots of cool new things here, and it's also something of a reunion for the whole motorcycle industry. I came to my first one in 1977, back when it was at Cincinnati and I was just a sticker collector. The show has changed a lot since then, and so has the industry. Things are looking up compared to how it was a half-dozen years ago, though we are definitely haven't gotten back those halcyon pre-recession days.
It's hard to believe the Motocross of Nations will finally be upon us next weekend. I know Team USA has been preparing for a run at trying to win back the Peter Chamberlain Cup for the first time since 2011, and we appear to have as good a chance as anyone with Zach Osborne, Thomas Covington, and Cole Seely. Osborne should be the favorite in MX2 and Covington is coming off a Grand Prix win in the MXGP finale in France last weekend. Seely was solid all summer in the 450 Class and should be reliable in MXGP.
Of our 450 SX and MX Champions—Ryan Dungey and Eli Tomac—are not going to be there, with Ryan done and Eli taking a well-deserved break. But we aren't the only team that won't have their very best in the line-up. For instance, Marvin Musquin is not riding for the French this year, and they've also lost MX2 Dylan Ferrandis to injury, as well as his replacement Benoit Patural. Their MX2 rider will be Christophe Charlier, a former GP rider who actually races World Enduro now. Belgium will be without Clement Desalle and of course Germany won't have Ken Roczen in their lineup. (Kenny is out of the Monster Energy Cup too). The point is, a lot of teams are cobbled together this year, and if our guys have a good day and get the right breaks—and some Japanese rider doesn't land on one of their heads—we could be back on top. It should be a great race no matter what; we will have TV details next week.
Covington is the big question mark—he's never raced an AMA Motocross or Supercross, as he has been on the Grand Prix circuit since he turned pro. But we've had GP-based riders before, in a pinch, and they performed quite well. In 2000 Ryan Hughes was living and racing in Italy and jumped up to a Honda CR500 to win the first moto and help teammates Ricky Carmichael and Travis Pastrana win. And in 1992, when virtually no one would go for Team USA, and even Roger DeCoster wasn't involved, team manager Roy Janson got ex-pat Billy Liles to ride a 500cc Honda along with Jeff Emig and Mike LaRocco and they ended up winning it all in Australia.
What is unprecedented is that we haven't had two Husqvarna riders on the team since 1970—the very first time Team USA showed up at the Motocross/Trophee des Nations. In fact, all three riders on the team at the time—Mark Blackwell and Bob Grossi of California and Dick Robbins of Pontiac, Michigan—showed up in Knutstorp, Sweden, for the 250cc Trophee des Nations. The team was organized by the Godfather of American motocross, Edison Dye, who was a Husqvarna importer in the U.S. I recently exchanged emails with both Blackwell and Robbins about the experience, and it was amazing what they remembered from a race that happened 47 years ago.
"We didn't know each other until we met in Sweden," wrote Robbins, who was a Husqvarna dealer in Michigan at the time. "We all where racing Husky and Edison Dye wanted to introduce us Americans to the Motocross Des Nations. Mark was already over there as an exchange student, Bob was well known on the west coast and John Penton knew me on the East Coast and asked me if I could go.
Thanks to my parents and one of my sponsors, Dr. Gilkey, we came up with the money to go to Sweden. We all met at Husqvarna Factory for the first. time, and I was the old guy at 27, Mark was the youngest at 17, Bob was 18. We all hit it off right away and have remained friends ever since."
The team didn't do so well—they were racing against well-experienced moto countries, including the winners from Belgium: Joel Robert, Sylvain Geboers and Roger DeCoster. Team USA finished eighth (and last) on that muddy day, and Dick Robbins sent me the only two bits of this history that he had, a photo from opening ceremonies and a newspaper clipping. If anyone out there has more from the 1970 Trophee des Nations, please send it to DC@racerxonline.com and I will get it to the riders who were actually there.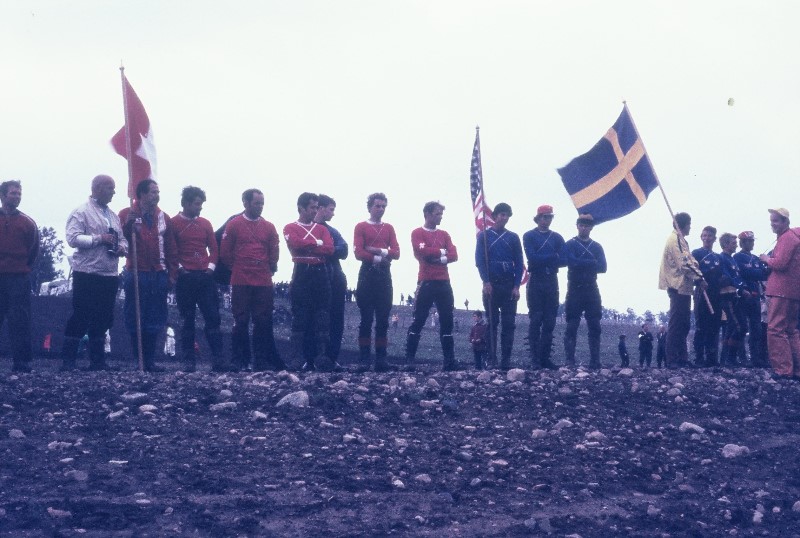 Here's the rest of Racerhead..
KEN ROCZEN UPDATE (Kyle Scott)
I was out at Pala today and spent some time filming and talking with Ken Roczen who has been in California for the past week. He even went to an Angels baseball game in Anaheim. I asked him if that was weird for him, going back to Angel Stadium where he got hurt last January, but he said, "No, it didn't bother me. I'm not superstitious like that. If anything it was probably good for me to go there before the race though."
Today was his third day riding this week so he's a little more sore than normal as he's been on the twice-a-week program for a little bit. His soreness is mostly just getting back into riding shape, not necessarily from his injuries. The lack of callouses on his hands and all those extra muscles you only use while riding take some time to re-adapt. His lack of mobility in his wrist is also affecting him as he is having to relearn how to ride the bike because of the lack of flexibility and stiffness. He's now using a wrist brace as well, which he likes for the support. One side effect of his elbow and wrist stiffness is his left shoulder is having to overwork and as a result is also sore. He said he's got a ways to go until he's back to 100 percent, but hey most didn't even expect him to be riding yet, so he's way ahead of schedule. His style and flow is still there, but you tell he's definitely taking it easy while out in the track. Stay tuned for a full video interview that includes shots of him on the track. He is planning to begin riding supercross around mid-October.
I also spotted Josh Hansen on a Suzuki today. He's been with Husqvarna for the past few years, but has recently switched from the FC to the RM. He's on a 450 and is looking to race Monster Cup next month, but it all depends on putting some things together. He's on a stocker at the moment and is waiting for some suspension to come in before he hops on any supercross tracks. Hanny has some of the best skill and style in moto and we hope to see him on the line come October 14.
Martin back to 250s (Jason Weigandt)
Well, I hope this doesn't send Matthes on another 250SX rant, but Jeremy Martin has made it official—he's staying in the 250s for the next two years with GEICO Honda. He will, however, also race a CRF450R at some 450SX races on the opposite coast of his 250 exploits. When Martin signed with GEICO at this time last year, his deal was said to be for 250s in 2017 and 450s in '18, but as soon as Honda showed off it's all-new 2018 CRF250R, it would give that bike an obvious chance to win races and titles. Martin himself stayed pretty mum on the subject though, I even asked him about it after he won Unadilla and he simply said it was his decision and he hadn't made up his mind yet. Today the team announced Martin's new deal in a press release.
The new Honda 250 is much-anticipated but a bit late in coming—kind of like the 450 last year. I saw one on display here at the AIMExpo but that's said to be a rare piece, and I know that GEICO Honda is testing this week with RJ Hampshire but the whole team literally only has one or two bikes to work with. I talked to Jeremy and he told me he's headed to California to get his shot on the bike next week, and he's also going to race one in Japan in October. He really, really liked the handling on the 450 that he raced last year and Daytona, so he's pumped on the 250 changes, which mimic the 450 chassis.
But the new bike isn't the only reason Martin is staying in the class. When I talked to him, he acknowledged that this season wasn't what he wanted—he's a proud guy and finishing second in the 250 National points doesn't make him happy. Supercross, also, was about as bad as it gets. J-Mart wants to get back to the front and win races on the regular like he's done in the past, and although he didn't tell me this specifically, his lack of a 250SX title is probably a box he really wants to check.
There's more GEICO Honda news in the works, but I'm not sure when the team will have all the t's dotted and i's crossed. Silly season keeps on rolling!
One Week (Andras Hegyi)
In history of motocross there are 20 riders in all to win both an AMA Motocross and the U.S. Grand Prix round of the FIM Motocross World Championship: Marty Smith, Broc Glover, Mark Barnett, Johnny O'Mara, Eli Tomac, Kevin Windham, Eric Kehoe, Jeff Stanton, Ricky Johnson, Ken Roczen, Bob Hannah, Ron Lechien, David Bailey, Kent Howerton, Jean-Michel Bayle, Marty Tripes, Chuck Sun, Danny Chandler, Marvin Musquin and now Jeffrey Herlings.
But there are only four racers who could win in both series within only a week in between.
Marty Smith: First, the three-time AMA champion won the 125cc USGP at Mid-Ohio on July 6, 1975, then one week later he won also in the 125 National on July 13 at Omaha Motor Park in Herman, Nebraska.
Ricky Johnson: The seven-time AMA champion did it twice. First, he was the winner in the 500 National at Lake Sugar Tree in Virginia on the 12th of July 12, 1987, then one week later on the 19th of July he was victorious also in the 250cc USGP at Hollister Hills, California. Johnson was able to repeat his big show also in 1988. First he won in the 500 National again on July 17, 1987, at Steel City in Pennsylvania, and then he won the 250cc USGP again on the July 24, 1987, at Unadilla.
Jeff Stanton: First the six-time AMA champion won the 250cc USGP on of July 14, 1991, then he won in the 250 National too on July 21 at Lake Sugar Tree.
Jeffrey Herlings: The Dutch prodigy had eight fantastic days in America. In his maiden AMA race he won the last round of 450 Nationals in Indiana, grabbing two moto wins on August 26, 2017. Then he won also the new MXGP of the USA on September 3 at WW Motocross Park in Jacksonville, Florida.
And here's another cool one on Stanton: In 1992 he won the Los Angeles Supercross and the Camel AMA Supercross Championship, and then one week later won the 1992 Unadilla 250cc USGP with a three-moto sweep. One week later he clinched the AMA 250 National Motocross Championship with a runner-up finish to Jean-Michel Bayle at the Kenworthy's finale. Two titles and two wins in three weeks is impressive!
Pro Perspective (Jason Thomas)
We are now almost a month past the end of the Lucas Oil Motocross Championship. Most of the riders have had a good break from the daily grind over the last few weeks. Thoughts of Monster Energy Cup are looming large and the 2018 season is becoming a reality. The supercross test tracks are back in prime shape and the testing season is ramping up. September is the best month for completely disassociating from the sport for a couple of weeks but that is long gone now. It's back to work for the racing world.
The focus right now is on the motorcycle and testing any parts that need to be built for 2018. Building factory level race equipment can take a while so the riders need to finalize their choices soon. Choosing between all of the spring, air, or hybrid suspension systems is a big focus, as well as engine setup and all of the chassis components. Giving Japan enough time to create the parts needed is vital. This testing process will continue through the MEC with a good trial of these settings in race conditions. Hopefully by then, everyone has a good base setting and then it's down to fine-tuning based on conditions that particular day or track. That's the idea anyway. In reality, though, everyone will go to Anaheim and hate their setup and back to the drawing board we go!
REMEMBERING DONNY (Steve Matthes)
I got a chance to talk some people in the industry that knew the late, great Donny Schmit this past week and it was a lot of fun. It was no problem for anyone on the show to find time for me to talk about a friend of theirs that went on to do some great things: 125cc and 250cc World Champion and just all-time badass. Thanks to Mitch Payton, Bones Bacon, DC, Pete Fox, Bob Moore, and Jeff Clark, his mechanic at Suzuki, for the time and I hope everyone can get a sense of who Donny was like as a person and a rider. I know I learned some things in it as well, like I didn't know that Donny had a CR250 in '89 and was fully intending to do SX until press day when, for whatever reason, he decided to go to Payton's place and tell him he didn't want to. I just always thought that his plan was to do motocross-only in '89. I thought he lost his ride at Suzuki for '89 because he didn't want to do supercross, so if it wasn't … now I can't figure out why Suzuki cut ties with such a promising rider.
Think about it. Back then Schmit was a rising star in the sport, he was a past 125SX Champion, had won Nationals and even got a fourth on a 250 in Tampa in 1987. Everything seemed to be breaking his way to be one of the next ones when he said that was it, no more supercross. And again, it wasn't like he couldn't ride indoors—he was a past 125 SX champ! Well, whatever the case is he went to Europe and became only the second American ever to win two world titles. Great career and thanks to everyone who took the time to talk on the phone, DC recommended calling Moore and I'm glad I did. You could tell how close those two were and the story Bob told about being out on bicycles with Donny and how he could picture it like it was yesterday was chilling.
Give it a listen and let us know what you think.
NUMBERS (Matthes)
The 2018 numbers came out this week and some of you people were wondering why riders like Jeffrey Herlings and Gustavo De Souza didn't get numbers. We've seen this over the years as riders from other countries often end up riding the nationals under a license from their own country and it doesn't make them eligible for numbers over here. So there's that.
Something new this year that was not explained in the press release for whatever reason is that past and current 250SX champions now get permanent numbers so Malcolm Stewart picked #27 and Justin Hill picked his 2017 number of #46. I suppose Shae Bentley and Wil Hahn are just a phone call away from getting a permanent number also. Hey Wild Willy Surrat, want a number? Just call!
Just add that decision to the baffling one of letting riders in the 250SX class, who race against HALF of the competition that the 450 riders do, get full points for their finishes in the regional classes. So yeah, that fifth place in Dallas in 250SX east? It's the same in the AMA's eyes as a fifth at A1. Insert eye-rolling emoji here.
What exactly are we doing to the 250SX class? They get full points, they get permanent numbers, on the weekly TV show they're treated and given the same treatment as the 450SX guys and the rule just changed last year to keep guys that were going to point out back down! There was FINALLY going to be a bit of change but greed, ethics and self-interests got in the way.
With everything else changing in the 250SX class, the last thing we need to do is just get rid of the charade of an East/West series as that was designed to help privateers do a full series and get a riders feet wet. With guys in the class for five, six, seven or 12 years and making 200K plus year after year while winning the title, combine the coasts and make it a national title—I'm fine with that. Or get this class back under control to where riders WANT to get to 450s; but I suppose being half-pregnant is fine with the powers that be.
I wrote about this last year HERE and although many didn't agree with my ideas to fix the class, I'm open for that, just drop pretending the class is regional. Will it cost jobs? Yeah, maybe but we're already there anyways with younger riders not getting jobs because 30 year olds are in it and don't want to leave.
TEAM BELIEBER (DC)
Got a hilarious note from longtime motorcycle industry man Scott Cox that literally made me laugh out loud:
So I noticed a Suzuki jersey in an H&M store window Sunday. Turns out it was Justin Biebers shit.
You better belieb it!
Hey, Watch It
Time to start prepping for next weekend's Motocross of Nations, here are some old-school videos we found of past races...
1976 in St. Anthonis, the Netherlands
Here's a cool one from Finland in 1984, featuring Jeff Ward, David Bailey, Rick Johnson and Johnny O'Mara.
And finally, Ryno, Ricky and Travis Pastrana in 2000
We are very sad to report that Mark Andredas, 62, of Scenery Hill, PA passed away unexpectedly Friday September 15th, 2017. Mark and his son Craig were on-call AMA officials for several years, assisting with AMA Live Timing & Scoring at supercross and motocross events across the country. Godspeed, Mark.
Finally, Godspeed to District 37 desert racer Michael Jason Patrick, who passed away Monday, September 18, 2017 in Vincennes, IN, at Good Samaritan Hospital. A winner of both the Mint 400 and the Baja 1000, Mike Patrick was 75 years old.