It was the classic clash. Local types defending their home turf, hired guns coming in looking for bounty, and a rough racetrack to settle it all. The first-ever Racer X Maine Event presented by TCX boots offered the big-race feel while also giving the locals something to rally around. This was their race, turned up to a higher level. It offered some great racing, too.
The Maine Event featured Friday practice and then a four-moto race format through Saturday and Sunday. The A classes did not disappoint, with one class taken by a grizzled, local hero and another by a high-flying amateur from far, far away. In 450 A, New England's own Chris Canning came away with the overall via 2-1-1-1 moto scores. Canning got the bounty courtesy of the Loud Fuels Pro Purse, which totaled nearly $12,000 dollars—he grabbed nearly $1500 for the win. Canning will make that money go a long way. This is a man who basically lived in his moto van for two years, and now still spends about six months in it, chasing Lucas Oil Pro Motocross and Amsoil Arenacross. His bikes are basically stock, and he got injured badly earlier this year, breaking the ball off of the top of his femur. It's only now that he's starting to feel better, and it showed as he worked his way through the pack on the 450.
Canning was also in the 250A division (also on a stock bike—even the exhaust!) but had to deal with up-and-comers like Jake Pinhancos, who races primarily here in New England, and Florida's Ramyller Alves, who is a top Yamaha amateur prospect. Combined with Gabe Guiterrez, who just jumped up from the B class for a shot at the big pro purse, they put on a show. Alves was already out of contention for 450 A after his bike broke while he was running second in a moto. He started 250A with a 1-1, but moto three on Sunday morning turned out to be an instant classic. Alves led early but came under fire from Pinhancos. Twice Pinacos showed him a wheel and seemed assured of taking the lead, but Alves held tough and didn't give it up—and then Canning snuck up and made a quick pass on Pinhancos to steal second. It didn't take him long to then get Alves, also, but then he started having bike issues and making mistakes, allowing Alves to re-take the lead. But Pinhancos wasn't done, and he passed the ailing Canning and then finally made it stick on Alves to take the lead—but then he fell! Alves found himself leading for a third time and hung on to win the moto. Everyone was pretty spent by moto four, and Alves got a good start and held a late-charge by Canning at bay to get the moto sweep.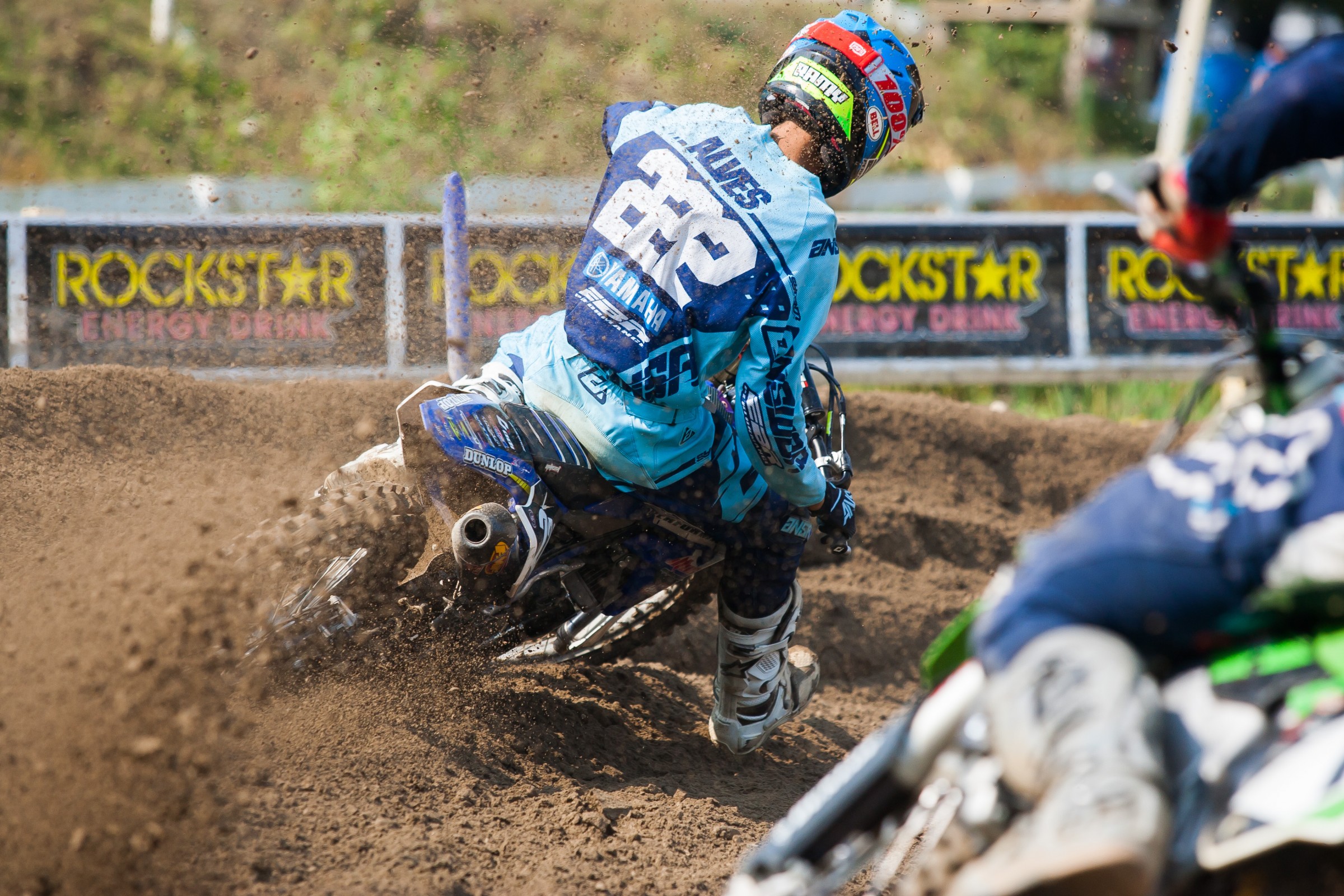 Pinhancos got edged for both A class titles but did taste the champagne in the much-hyped 125 class. GEICO Honda's RJ Hampshire was there fresh off of his MX2 win at the MXGP of USA in Florida, but Hampshire was certainly not on his standard race bike. He was racing a 2007 CR125, stock, black-painted pipe and all. He rode well but was no match for Pinhancos, who was racing on a very fast but borrowed KTM 125SX. He dominated the tiddler division, which was a fan favorite.
Just below that level, North Carolina's Luke Neese made his long drive up to Maine worth it by taking Schoolboy and 250 B. Neese, the son of former Arenacross race winner Jim Neese, looked very impressive all weekend on his Triangle Cycles Yamaha, especially over the technical jump sections. He even spent the summer under the watchful eye of Gareth Swanepoel, riding alongside Cooper Webb, Aaron Plessinger and others. Neese has serious skills, and he plans to finish his B career at the Mini Os on Thanksgiving and then head to Amsoil Arenacross to start building toward his supercross career. Watching him, it appears he'll be very comfortable in the jump-lined indoor tracks of those series.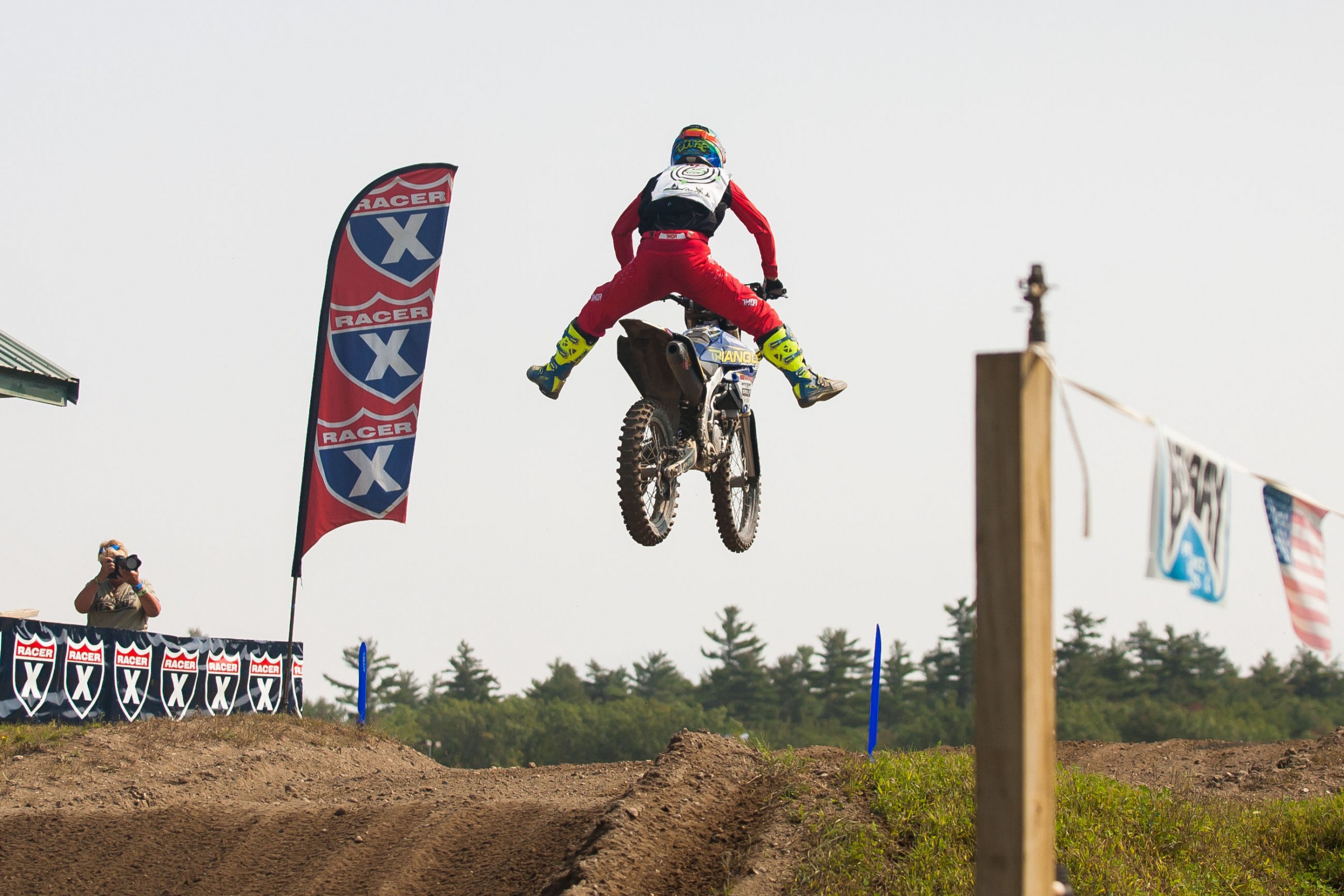 Another second-generation rider won in 450 B, with New Jersey's Bryton Carroll, who is the son of Brian Carroll (who you may remember as the rider famous for wearing an American flag as a jersey) scoring the win. In Open A, Travis Delnicki scored the victory thanks to some wrenching on Saturday from the author of this story (I basically did nothing).
Plenty of young rippers out here, too. The two most successful riders of the event where Owen Covell, who won eight motos by sweeping both of his 65cc classes, and Canyon Richards, who swept all eight of his 50cc motos and even grabbed one 65cc win. With nine moto wins, Richards, of New Jersey, was named the King of the Maine Event. Yeah boy, a 50cc rider getting it done. Also a shout to Justin Allen, who showed crazy speed all weekend but had a bike problem in one moto end his bid for multiple titles. Only big bummer in the mini classes were All-Stars Nick Romano and Bryce Shelly, who didn't have the weekends they were hoping for. Romano had bike problems that eventually ended his weekend, and Shelly crashed out and hurt his shoulder—nothing too serious but enough to stop him from racing. Cool that they came, though.
Brittney Gagne dominated the Women's class with a four-moto sweep. Her boyfriend hauls freight in a semi truck, so she hopped in for the summer, threw her bike in it, and rode pretty much everywhere in America. She made it back in time for her home race, though, and even with a bum knee-or two bum knees, actually—scored the Women's win.
Throughout the weekend we met a lot of people like Gagne, who have spent plenty of time up in New England and at MX207 in Maine specifically, but went on to race or train elsewhere at times. They all wanted to come back for this one, though, where their home track was tuned to perfection thanks to copious loads of sand. The track was mint and Maine managed to hold onto summer weather for one more weekend which led to good times and great fun—just the way racing is supposed to be.