Northern Ireland Circuit A Go
According to a report from Motorsport.com this week, the Mid Ulster District Council approved a new £29million, 2.23-mile, 12-turn circuit located in Coalisland, 40 minutes from Belfast. The circuit, which is set to open in spring 2019, hopes to attract major series like British Touring Car Championship and the World Superbike Championship, per the report. More from Motorsport.com:
But noise restrictions will limit the venue to only 12 days of racing per year with a maximum of four Saturday and Sunday meetings allowed.
Lake Torrent will become the third track in Northern Ireland, alongside Kirkistown and the rarely-used Bishopscourt venue.
The news comes just months after another new track – the Circuit of Wales – was denied council funding, leaving it unlikely that construction will ever begin on the £433million project.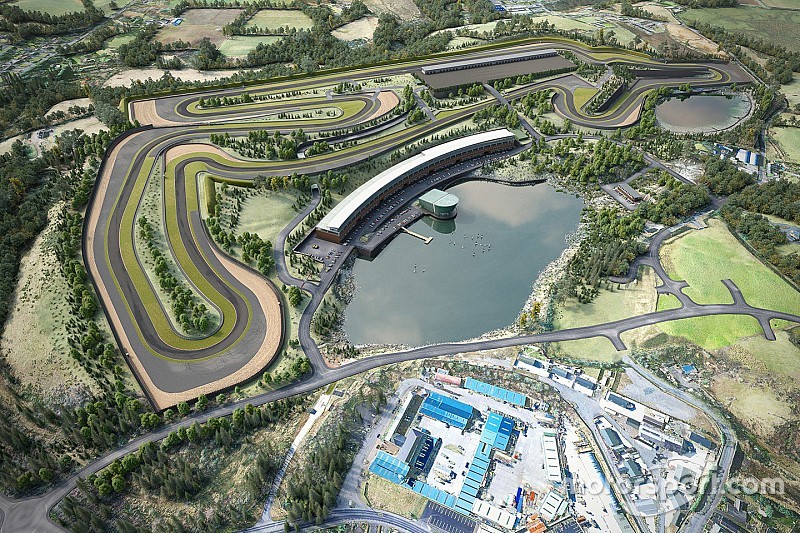 Hey, Look, It's Rihanna on a Dirt Bike
According to Time, "it was the three motocross riders who opened and closed the event with some death-defying tricks who stole the show," at Fashion Week. At Rihanna's Fenty X Puma show on Sunday in New York, the singer rode off on a dirt bike, which was driven by seven-time X Games Step Up gold medalist Matt Buyten. Dirt bikes and Fashion Week, two things I never thought I'd type in the same sentence.
Warriors Cashing In
If you're a frequent reader of this column then you're aware of the three-year pilot program for jersey sponsorships coming to the National Basketball Association beginning in the 2017-18 season. A small 2 ½ x 2 ½ inch logo on the left shoulder will be featured on team jerseys and most are fetching between $2.5 and $8 million annually. Even Harley-Davidson is getting in on the action, announcing a deal with the Milwaukee Bucks. Well, the defending champion Golden State Warriors just signed a huge deal with Japanese tech company Rakuten reported to be worth $20 million per year, according to ESPN.
Rakuten, which owns cash-back site Ebates, messaging app Viber and e-book brand Kobo, has ratcheted up its sponsorship spending as of late. In July, its name started appearing on FC Barcelona's kit in a deal worth 220 million euros ($262 million) over four years.
"We love sports," Rakuten founder and CEO Hiroshi Mikitani told ESPN. "There's a lot of emotion to it -- great stories, smiles and tears."
Because the Warriors have won two titles in the past three years and have the league's top star power of Stephen Curry, Kevin Durant, Draymond Green and Klay Thompson, interest was said to be high for brands to put their logos on the Warriors' jerseys.
You can read more here.
Aprilla Is Changing the Game
Aprilla Racing has partnered with DAQRI and Realmore and is hoping to bring the augmented reality helmet to MotoGP in the future. This helmet looks absolutely amazing and will be a game-changer when it debuts.
Here is more from the press release:
With AR, Aprilia mechanics are able to visualize content related to motorbike and infographics that respond to the user's control in real time.
The mechanics can interact with models of pinout connectors and see the wiring capabilities by looking at each connector individually. This feature involves speeding up the cable connection activity and virtually zeroing the risk of error by the mechanics.
Through a 3D hologram of the entire racing bike, the mechanics will then be able to see in real time the telemetric data of the temperature of water, oil and tires at the point where they will be most useful. They will also be able to make a checklist of the wear on some parts of the bike and evaluate when to do the replacement.
Remote Expert allows the chief engineer to communicate remotely with the mechanics by displaying overlay on the helmet screen strategic information such as the type of tires to be mounted, the kilograms of petrol to be in the tank or the lap number of the exit.
Using DAQRI's Thermal Camera, you can scan the motorbike and receive information about the temperature of the oil and the water in the radiator and check for any anomalies.
Ken Block Goes Off Road
The latest from Ken Block is a bit different than his previous Gymkhana videos. Yes, it has all the bad-assery (yes, I'm aware that's not "technically" a word) that his previous videos had, but in "Terrakhana: The Ultimate Dirt Playground; Swing Arm City" Block takes it off road—and it's sick. Block told Topgear.com, "There's one hill that we call 'knife edge' that, if I were to go off the back side, it would be a 100ft drop to my death." Sounds fun.
This Video Is the Definition of Cheating Death
If you ever thought you had the cojones to attempt breaking a land speed record, you'll probably reconsider after watching the video below. David Tremayne, a 64-year-old journalist, recently tried to break the UK land speed record, and while decelerating his dragster swerved and flipped. Amazingly, he walked away with only a few bruises, according to The Press. And get this: HE WANTS TO TRY AGAIN!!!!
He said he only suffered bruises, never dreamt of going to hospital, and is determined to get the car back into shape so he can have another attempt at the 301mph record.
"It was interesting how detached you can be, how devoid of serious heart-in-the-mouth fear or adrenaline surge," he told The Northern Echo last night.
Mr Tremayne, who follows Grand Prix around the world in his work as a journalist, has spent the past five years getting the car ready with a team of dedicated friends and volunteers.
You can read more here.
What Is Honda Teasing?
Earlier this week American Honda released a vague press release in which they announced a five-video series that was "intended to drive excitement surrounding the autumn global unveiling of an important 2018 motorcycle model." The series, dubbed "What Lies Beyond," focuses on what brings motorcycles to the open road and doesn't really give any insight on what the model is. Let the speculation begin.
No One Tell Aldon About This
Cars and iPhones
Earlier this week, Apple had a big event and announced their new iPhone—the iPhone X. Good news: it will only cost you $999. Seems reasonable. Jalopnik put together a list of 10 cars you could buy for the less—and it's amazing. Check it out here.