WW Motocross Park
Jacksonville

,

FL
MXGP of USA
FIM Motocross World Championship
With the American National Anthem playing, I stood alongside my buddy Stefan Everts and looked around. An ensemble cast of world class U.S. racers were assembled in something of a small, loosely knit circle. All were being respectful to the flag and the song that was playing over the PA system, but one could also sense that everyone around was anxious to see what the day held.
The date was Sunday, July 20, 1997. The place was the Unadilla Valley Sports Center in New Berlin, New York. The race was the Unadilla AMA 250cc National. Jeff Emig was there, as were John Dowd, Ezra Lusk, Mike LaRocco, Ryan Hughes, Greg Albertyn, and the rest of the American-based racing contingent. While all around were polite and respectful, Stefan Everts was, literally and figuratively, the odd man out.
Already a multifold FIM Motocross World Champion, the Belgian was there for a reason—and that reason was to earn respect. "I'm just trying to relax and have fun today," he told me that morning at breakfast. "But I know this race is a big deal because all of Europe is behind me. I sure hope I do good today at Unadilla, both for myself and the European riders, who deserve more respect."
Ultimately, Everts fared quite well that sunny and breezy day in upstate New York, placing third to winner Emig and runner-up Dowd in moto one, and fifth in moto two (while battling intensely with Dowd with mere minutes left in the race).
He had raced in the U.S. before and won here before, and once again, Everts had risen to the occasion. But, that was then and this is now. Flashing forward precisely 20 years and Stefan Everts is back in the USA, this time at WW Motocross Park in Jacksonville, Florida, for Sunday's Monster Energy MXGP of USA. Now a 10-time World Champion and the general manager of the Team Suzuki World MXGP effort, a lot has changed in global motocross and supercross throughout the past 20 years—and, as we're all seeing, it continues to change. On Saturday morning, we caught up with the motocross legend who talked about the brave new world of intercontinental motocross.

Racer X: Stefan, what do you make of the WW Motocross Park venue and track having cast your eyes upon it today?
Stefan Everts: You know, I'm an old school racer, so for me, these types of tracks I'm not in favor of. I don't want to say anything negative to the organizer or the track builder—I mean they've done their best and made the best out of the place. I think the dirt is quite good and they put in a lot of jumps. For me, too many jumps. I like it more natural. We'll see on Sunday how the racing will go. Maybe it's going to be a good racetrack to see some good racing. This is possible and something that I cannot judge at the moment. And the weather is quite extreme; it's very humid and we just had a thunderstorm. The weather changes quite fast and really goes up and down. It's different for the European riders.
What did your riders have to say about the track?
Jeremy Seewer was quite excited and so was Hunter Lawrence. They're from the younger generation and they saw this track with all these jumps and these guys like that. They were quite happy to see that.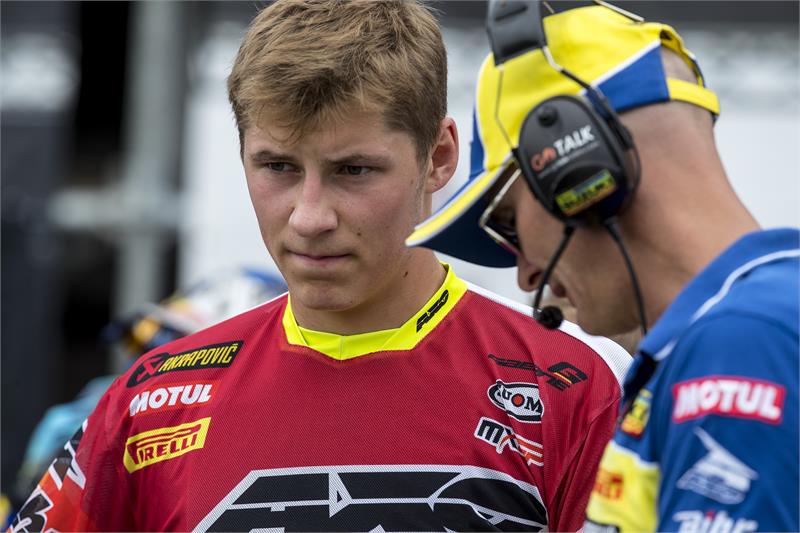 You're 250cc guys have been in the mix all season. That said, Jeremy and Hunter looked very strong while running up front at the MXGP of Sweden a fortnight ago. As the general manager of the Team Suzuki World MXGP effort, seeing all that had to be very encouraging.
Yeah, overall, I mean Jeremy won five GPs. He messed up a few others and also had times where he was a bit unlucky, but we had to work really hard to get the bike better and we got it better. Yeah, Jeremy had good speed and has been fast and fit. He just struggled a little bit with the starts. But like I said, we got the bike better and his starts are getting better now. He made some mistakes this season and racing for the championship, it's going to be really tough with three rounds to go. We still have a big gap, but we'll see what happens. I was really hoping to go and race for the championship, but [Pauls] Jonass has also done a great job and he has been fast and been riding really consistently and mainly, for me, he has been winning from his starts. I was happy to see Hunter finally back where he can be and that's up front. He had good momentum, but he injured himself in the middle of the season and that as a pity. That set him back a bit. Like we saw in that second moto in Sweden, he had a good start and he just picks up the speed really easy and that's good. He's a great kid. He just sometimes wants to move faster than he should; he wants to move forward too fast and should give himself a little bit more time and be patient but, in a way, it's also a good attitude because he's a very determined and motivated kid with a big ambition.
Jeffrey Herlings last weekend at the Ironman National here in America. It was impressive. Did you see any of it or know much about it, and if so, how do you interpret it?
Yeah, I saw some bits and pieces from the race, so yeah, he rode good. We know how he can ride, so for it wasn't a big surprise how he rode. In a way, okay, Marvin [Musquin], he did good, I think he was quite close to the pace of Jeffrey; Jeffrey just had that little extra. Eli Tomac was riding for his first championship. For me, though, in the whole class, the depth of the riders, was just missing from five or 10 years ago. There were a lot of good, top riders here and that's what I'm missing at the moment. You just have Tomac, Musquin, and Baggett right now—these three names. The racers are there and they are racing but are just a bit off the pace. That kind of disappoints me for such a big country like the USA to not have enough strong, good riders. What Jeffrey did was fantastic, and again, it's not the biggest surprise to me because I know what he can do on a motorcycle and how strong he is and how fast he can go. It's not the biggest thing that he won. It was good for him, but like I said, for me it was more of a bit of a disappointment to see the rest of the racing.
I was with you at the Unadilla AMA 250cc National in the late July of 1997 and the competitive spirit between the American and European racers was very pronounced in that part of the decade. Agreed?
Yeah. Where it all went to, I don't know. Okay, there are some good kids coming through, but at the time that they move over to the 450 class, they can just not back it up anymore or the injuries step in. I don't know what's happening there. Yeah, it's a bit strange. It looks like only KTM is doing a good job there with giving the riders what they need.
Are you looking forward to watching Eli Tomac race on Sunday?
Yeah, I want to see him race at his best like last year at Glen Helen. He was really super-fast there. I don't know if you can really take last week as a reference because he just wanted to wrap up his championship, which I can understand. It's going to be interesting on Sunday to see how he will race without any pressure of the championship or anything. He can just go full gas.
What are your thoughts on Eli Tomac not racing the Motocross of Nations for Team USA?
I don't know. I don't his situation and why he doesn't race. I think that the problem that we are facing on both sides of the ocean is the racing schedule. We only have 20 GPs, but you guys have 17 supercrosses and then 12 Nationals. That's a lot of racing and a lot traveling. It's tough. It's tough mentally and tough physically. It's very tough on the riders. That's also one of the reasons why they retire so early. Look at Ryan Dungey. I mean he's still young. He's too young to retire to my point of view, but I can also understand what he went through the past 10 years and how tough it was and how much he had to put in to achieve all the things he did. With those racing schedules he faced, it's just tough mentally and physically. I can understand in a way. But in my point of view, it's just too young because, as a man, you're at your best between the age of 28 and 34. That's when a man is at his best—physically. We haven't seen the best of him yet and now he is already retired. That's a pity because there are not enough kids coming through in America. In Europe, we have a lot of kids coming through, so we have too many now in the MXGP class and a lot of young kids with good qualities are without rides next year. Here in the U.S., I see the opposite, you know?
There has been a lot of rhetoric somewhat recently— both in and around the MXGP community—that seems to point out that everyone is getting somewhat tired of the "excuse" that America is now more of a "supercross-only nation." What do you think about that?
I think that should not forget from where motocross is coming from. It didn't come from supercross. I grew up with motocross and GPs, and for me, this is it. I'm a European and in Europe we like supercross, but it's not our main goal. Our main goal is the GPs and motocross. Here it is a different world. What can I say about it, you know? It's everybody's free choice as far as what he likes and what he doesn't like. Motocross was born on natural terrain motocross tracks and not in supercross. That's the history of the sport and I like that.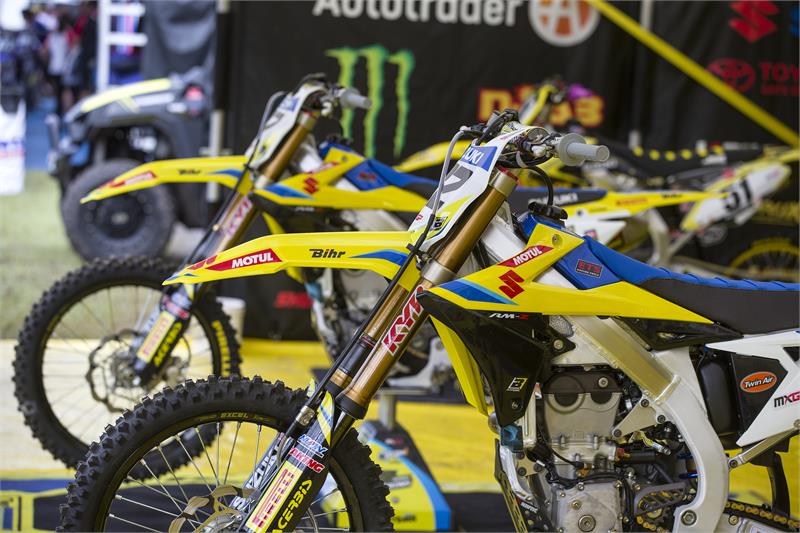 I understand what you're saying.
I also like supercross—don't get me wrong. Motocross is just different.
I was able to speak with Antonio Cairoli a few days ago. In doing so, it was very evident that he loves the sport, and in his role as an eight-time World Champion, wants to do all he can to continue to grow motocross around the world. It was the first time I had ever been able to talk with him, and to be honest, he reminded me a lot of you. The veteran is having a good year, huh?
Yeah, this year we actually saw the old Cairoli back. He rode a lot better and he had his speed back. Yeah, I mean he had the magic again like he had in the past and he showed that a number of times. For me, he's the best out there; he's the best out there, he's the best ambassador for motocross overall. What he does for the sport, for me, is fantastic. We should have more Cairoli's, to be honest. He's a great, fantastic rider, so I have a lot of respect for him. This year he is back and he proved that.
Last question: Stefan, you won the 1993 250cc USGP at Budds Creek against one of the most prolific fields in international motocross history. In 1999, you won the opening moto and narrowly missed out on the overall to Kevin Windham. Looking back, did those races mean a lot to you?
Yeah, for me, of course they were important. Especially the one in 1993 when I won Budds Creek. In those days, I think the appreciation of the American crowd was much higher than it is these days. The USGP race was usually one of the highlights of the entire year. Now a lot of things have changed on both sides and it's not the same anymore. It's not the same emotions. It's just different. Times have changed and we cannot compare anymore. Yeah, what else can I say? For me, the USGP races were important. I had great times and I have good memories.