2017 Motocross of Nations Entry-List Released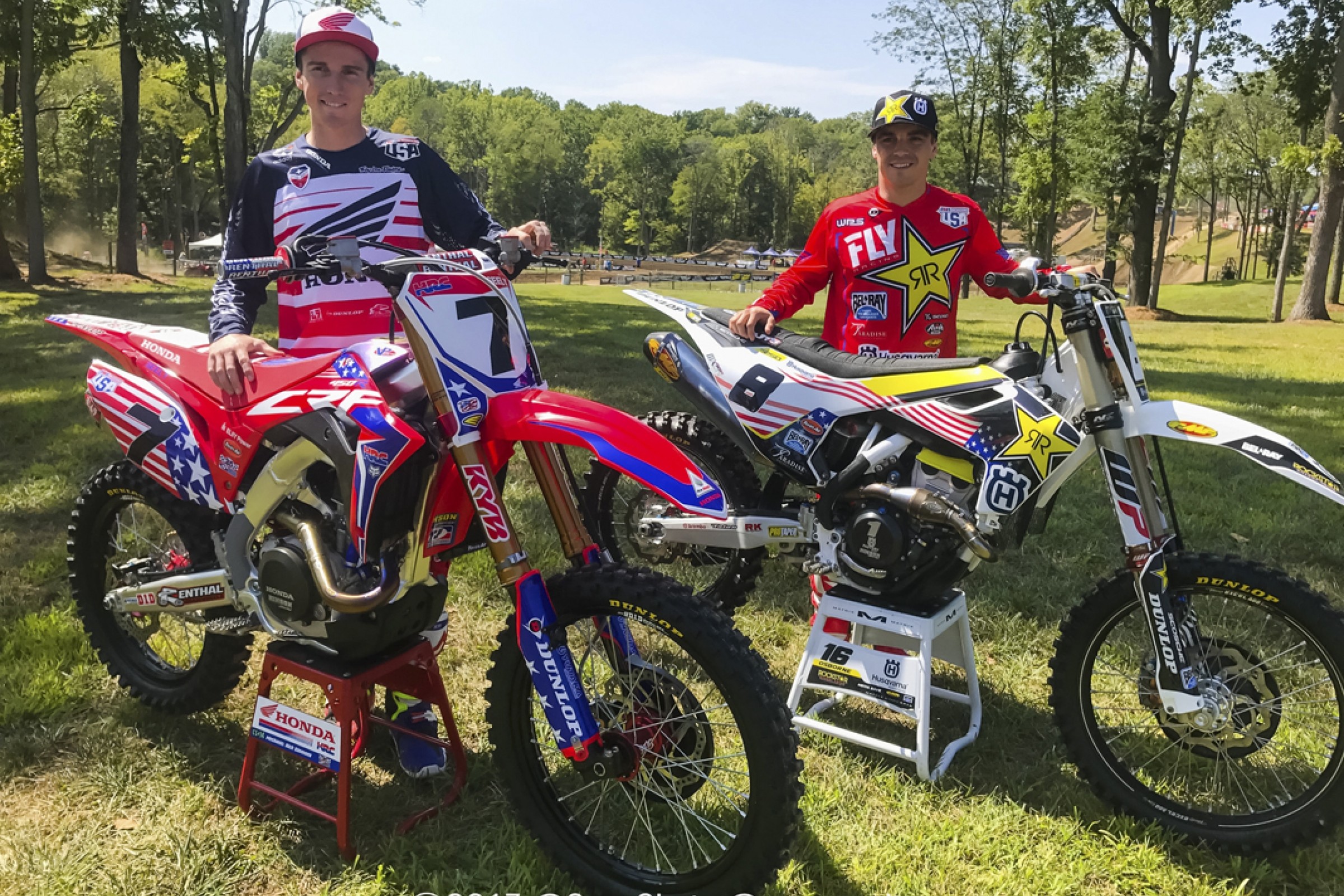 Winchester, United Kingdom
Motocross of Nations
Motocross of Nations
Youthstream and the FIM have released the official pre-entry list for the 2017 Motocross of Nations set to take place in Matterley Basin, England, on September 30 and October 1.
France, the defending champion, will send a team of Gautier Paulin, Romain Febvre, and Dylan Ferrandis. Ferrandis suffered a broken wrist at Budds Creek, but is currently still listed as the team's MX2 rider. Benoit Paturel has already been announced as the replacement rider if Ferrandis is unable to race.
Last year's runner-up, the Netherlands, will be represented by Glenn Coldenhoff, Brian Bogers, and Jeffrey Herlings.
The United States, who finished third overall in 2016, will send Cole Seely, Zach Osborne, and Thomas Covington.
Below are the official rosters of the 39 countries scheduled to compete.
| | | | | | | | |
| --- | --- | --- | --- | --- | --- | --- | --- |
| | COUNTRY | Nr | RIDER | CLASS | FMN | MOTORCYCLE | TEAM MANAGER |
| 1 | FRANCE | 1 | PAULIN Gautier | MXGP | MCM | HUSQVARNA | FINOT Pascal |
| | | 2 | FERRANDIS Dylan | MX2 | FFM | YAMAHA | |
| | | 3 | FEBVRE Romain | OPEN | FFM | YAMAHA | |
| 2 | NETHERLANDS | 4 | COLDENHOFF Glenn | MXGP | KNMV | KTM | HARTMAN Marcel |
| | | 5 | BOGERS Brian | MX2 | KNMV | KTM | |
| | | 6 | HERLINGS Jeffrey | OPEN | KNMV | KTM | |
| 3 | UNITED STATES | 7 | SEELY Cole | MXGP | AMA | HONDA | DECOSTER Roger |
| | | 8 | OSBORNE Zach | MX2 | AMA | HUSQVARNA | |
| | | 9 | COVINGTON Thomas | OPEN | MUL | HUSQVARNA | |
| 4 | BELGIUM | 10 | DESALLE Clément | MXGP | FMB | KAWASAKI | SMETS Joel |
| | | 11 | LIEBER Julien | MX2 | FMB | KTM | |
| | | 12 | VAN HOREBEEK Jeremy | OPEN | FMB | YAMAHA | |
| 5 | ITALY | 13 | CAIROLI Antonio | MXGP | FMI | KTM | TRAVERSINI Thomas |
| | | 14 | CERVELLIN Michelle | MX2 | FMI | HONDA | |
| | | 15 | LUPINO Alessandro | OPEN | FMI | HONDA | |
| 6 | SWITZERLAND | 16 | TONUS Arnaud | MXGP | FMS | YAMAHA | RISTORI Marc |
| | | 17 | GUILLOD Valentin | MX2 | FMS | HONDA | |
| | | 18 | SEEWER Jeremy | OPEN | FMS | SUZUKI | |
| 7 | GREAT BRITAIN | 19 | ANSTIE Max | MXGP | ACU | HUSQVARNA | CHAMBERLAIN Mark |
| | | 20 | SEARLE Tommy | MX2 | ACU | KAWASAKI | |
| | | 21 | WILSON Dean | OPEN | AMA | HUSQVARNA | |
| 8 | AUSTRALIA | 22 | FERRIS Dean | MXGP | MA | YAMAHA | BENN Gary |
| | | 23 | LAWRENCE Hunter | MX2 | MA | SUZUKI | |
| | | 24 | GIBBS Kirk | OPEN | MA | KTM | |
| 9 | ESTONIA | 25 | RÄTSEP Priit | MXGP | EMF | HONDA | ROOSIORG Lauri |
| | | 26 | KULLAS Harri | MX2 | EMF | HUSQVARNA | |
| | | 27 | LEOK Tanel | OPEN | EMF | HUSQVARNA | |
| 10 | CANADA | 28 | FACCIOTTI Colton | MXGP | CMA | HONDA | LLOYD Kourtney |
| | | 29 | MAFFENBEIER Shawn | MX2 | CMA | YAMAHA | |
| | | 30 | MEDAGLIA Tyler | OPEN | CMA | HONDA | |
| 11 | RUSSIA | 31 | BOBRYSHEV Evgeny | MXGP | MFR | HONDA | PARSHIN Dmitry |
| | | 32 | MIKHAYLOV Evgeny | MX2 | MFR | KAWASAKI | |
| | | 33 | ROGOZIN Semen | OPEN | MFR | HONDA | |
| 12 | SPAIN | 34 | PRADO Jorge | MXGP | RFME | KTM | ALONSO Josep |
| | | 35 | LARRAÑAGA Iker | MX2 | RFME | HUSQVARNA | |
| | | 36 | BUTRON Jose Antonio | OPEN | RFME | KTM | |
| 13 | SWEDEN | 37 | BENGTSSON Filip | MXGP | SVEMO | KTM | ENGDAHL Jonte |
| | | 38 | ÖSTLUND Alvin | MX2 | SVEMO | YAMAHA | |
| | | 39 | NORÉN Fredrik | OPEN | SVEMO | HONDA | |
| 14 | DENMARK | 40 | LARSEN Nikolaj | MXGP | DMU | KTM | LARSEN Emil |
| | | 41 | OLSEN Thomas Kjer | MX2 | DMU | HUSQVARNA | |
| | | 42 | OLSEN Stefan Kjer | OPEN | DMU | KAWASAKI | |
| 15 | CZECH REPUBLIC | 46 | NEUGEBAUER Filip | MXGP | DMSB | KAWASAKI | CEPELAK Jiri |
| | | 47 | SMITKA Petr | MX2 | ACCR | KTM | |
| | | 48 | ROMANCIK Jaromir | OPEN | ACCR | KTM | |
| 16 | NEW ZEALAND | 49 | COOPER Cody | MXGP | MNZ | HONDA | WEAL Bevan |
| | | 50 | NATZKE Josiah | MX2 | ACU | KTM | |
| | | 51 | HARWOOD Hamish | OPEN | MNZ | KTM | |
| 17 | LITHUANIA | 55 | JASIKONIS Arminas | MXGP | LMSF | SUZUKI | BUCAS Vytautas |
| | | 56 | KARKA Dovydas | MX2 | LMSF | KTM | |
| | | 57 | MILEVICIUS Arnas | OPEN | LMSF | YAMAHA | |
| 18 | IRELAND | 58 | EDMONDS Stuart | MXGP | MCUI | TM | McCULLOUGH Philip |
| | | 59 | BARR Martin | MX2 | MCUI | HONDA | |
| | | 60 | IRWIN Graeme | OPEN | MCUI | honda | |
| 19 | PORTUGAL | 61 | GONCALVES Rui | MXGP | FMP | HUSQVARNA | RILEY Ross |
| | | 62 | ALBERTO Paulo | MX2 | FMP | HONDA | |
| | | 63 | BASAULA Hugo | OPEN | FMP | KAWASAKI | |
| 20 | GERMANY | 64 | NAGL Max | MXGP | DMSB | HUSQVARNA | THOMAS Wolfgang |
| | | 65 | JACOBI Henry | MX2 | DMSB | HUSQVARNA | |
| | | 66 | ULRICH Dennis | OPEN | DMSB | KTM | |
| 21 | SLOVENIA | 67 | GAJSER Tim | MXGP | AMZS | HONDA | GAJSER Bogomir |
| | | 68 | PANCAR Jan | MX2 | AMZS | YAMAHA | |
| | | 69 | IRT Jernej | OPEN | AMZS | HUSQVARNA | |
| 22 | BRAZIL | 70 | LIMA Marcello | MXGP | CBM | KAWASAKI | HERMANO Manuel |
| | | 71 | SANTOS Fabio | MX2 | CBM | YAMAHA | |
| | | 72 | LIMA Eduardo | OPEN | CBM | KAWASAKI | |
| 23 | SOUTH AFRICA | 73 | VAN DER WESTHUIZEN Richard | MXGP | MSA | HUSQVARNA | FITZ-GERALD Darrel |
| | | 74 | FITZ-GERALD Kerim | MX2 | MSA | KTM | |
| | | 75 | BRADSHAW Neville | OPEN | ACU | SUZUKI | |
| 24 | PUERTO RICO | 76 | STARLING Justin | MXGP | AMA | HUSQVARNA | CATALA Gabriel |
| | | 77 | SANAYEI Darian | MX2 | ACU | KAWASAKI | |
| | | 78 | WELTIN Marshal | OPEN | AMA | KAWASAKI | |
| 25 | HUNGARY | 79 | SZOKE Márk | MXGP | MAMS | KTM | KERNER László |
| | | 80 | TOMPA Krisztián Róbert | MX2 | MAMS | YAMAHA | |
| | | 81 | FIRTOSVÁRI Gábor | OPEN | MAMS | KTM | |
| 26 | SLOVAKIA | 82 | SIMKO Tomas | MXGP | SMF | SUZUKI | PREDANOCY Dusan |
| | | 83 | SIKYNA Richard | MX2 | SMF | KTM | |
| | | 84 | KOHUT Tomas | OPEN | SMF | KTM | |
| 27 | FINLAND | 85 | MATIKAINEN Juuso | MXGP | SML | HUSQVARNA | VEHVILÄINEN Jussi |
| | | 86 | SAVASTE Kim | MX2 | SML | KAWASAKI | |
| | | 87 | HAAVISTO Jere | OPEN | SML | KTM | |
| 28 | POLAND | 88 | WYSOCKI Tomasz | MXGP | AMOTOE | KTM | STYPA Dariusz |
| | | 89 | CHETNICKI Gabriel | MX2 | AMOTOE | KTM | |
| | | 90 | STASZKIEWICZ Szymon | OPEN | AMOTOE | KTM | |
| 29 | CROATIA | 91 | MARTINAC Janko | MXGP | HMS | YAMAHA | BRAIM Danko |
| | | 92 | CRNKOVIC Luka | MX2 | HMS | YAMAHA | |
| | | 93 | KELAVA Matija | OPEN | HMS | KTM | |
| 30 | LATVIA | 94 | MACUKS Toms | MXGP | LaMSF | KTM | LAZDOVSKIS Martins |
| | | 95 | SABULIS Karlis | MX2 | LaMSF | YAMAHA | |
| | | 96 | IVANOVS Davis | OPEN | LaMSF | YAMAHA | |
| 31 | UKRAINE | 97 | ASMANOV Dmytro | MXGP | FMU | YAMAHA | TARASOV Volodymyr |
| | | 98 | TARASOV Volodymyr | MX2 | FMU | KTM | |
| | | 99 | MOROZOV Roman | OPEN | FMU | YAMAHA | |
| 32 | GREECE | 103 | ILIOPOULOS Georgios | MXGP | AMOTOE | KTM | KRIMPALI Georgia |
| | | 104 | TOURATZIDIS Ioannis | MX2 | AMOTOE | YAMAHA | |
| | | 105 | KRITIKOS Emmanouil | OPEN | AMOTOE | KAWASAKI | |
| 33 | ICELAND | 106 | BIRGISSON Ingvi Bjorn | MXGP | MSI | KTM | GUNNLAUGSSON Karl |
| | | 107 | GUDMUNDSSON Andri | MX2 | NMF | HONDA | |
| | | 108 | REYNISSON Eythor | OPEN | MSI | KAWASAKI | |
| 34 | LUXEMBOURG | 109 | TABOURAING Eric | MXGP | MUL | KAWASAKI | KAUFFMANN Jean-Pierre |
| | | 110 | LUX Billy | MX2 | MUL | HONDA | |
| | | 111 | FRANK Björn | OPEN | MUL | HONDA | |
| 35 | ISRAEL | 112 | HAREL Tomer | MXGP | MEMSI | KTM | |
| | | 113 | MAYA Dan | MX2 | MEMSI | KAWASAKI | |
| | | 114 | KARMI Ziv | OPEN | MEMSI | KTM | |
| 36 | THAILAND | 115 | HALLGREN Ben Prasit | MXGP | FMSCT | YAMAHA | POSTEMA Jan |
| | | 116 | POTATON Kritsapa | MX2 | FMSCT | YAMAHA | |
| | | 117 | ROMPHAN Chaiyan | OPEN | FMSCT | YAMAHA | |
| 37 | NORWAY | 118 | MINDREBOE Hakon | MXGP | NMF | YAMAHA | KLINGHSEIM Gunhild |
| | | 119 | HORGMO Kevin | MX2 | NMF | KTM | |
| | | 120 | KLINGSHEIM Magne | OPEN | NMF | KAWASAKI | |
| 38 | ARGENTINA | 121 | POLI Joaquin Alberto | MXGP | CAMOD | HONDA | ANDRIS Kelly |
| | | 122 | LUZZARDI Juan Pablo | MX2 | CAMOD | KTM | |
| | | 123 | FELIPE José Gerardo | OPEN | | | |
| 39 | IRAN | 124 | SABETIFAR Amirreza | MXGP | MAFIRI | HONDA | MEHRAN Hematian |
| | | 125 | BORZOOZADEH Ali | MX2 | MAFIRI | HONDA | |
| | | 126 | PARVARESHBALADI Alireza | OPEN | MAFIRI | HONDA | |