Ironman Raceway
Crawfordsville

,

IN
Ironman
Lucas Oil AMA Pro Motocross Championship
If there's a theme for Eli Tomac's 2017, it's this: You know it don't come easy. Tomac had all the tools this year—he's fast, he's talented, he works hard, he rides for one of the most successful teams in the pits. His sore shoulders were back to strength, his confidence was up, his bike was dialed in (by round four of supercross in Glendale), and he avoided major injury. And yet, this season was like walking through fire.
Good lord the drama. From having his back against the wall for nearly the entire supercross season, to coming through with seven wins in nine races, including a spectacular last-to-first charge in Salt Lake City to take sole possession of the points lead, to the flame out seven days later in New Jersey, to the Vegas #BunchUp controversy, to a Lucas Oil Pro Motocross season that appeared to be all his as soon as he started it with a 1-1, but quickly splattered into front-brake problems, to Marvin Musquin getting hot, to Blake Baggett's "I don't have a famous father" quotes and win streak, to Jason Anderson getting hot, to then Musquin getting hot again while Tomac tried to avoid throwing away the points lead—like he painfully remembers doing in 2015.
The advice and chatter must have been coming from all sides, closing in on him like walls, especially after he announced he would not race the Motocross of Nations, and then struggled in the mud at Unadilla, and Budds Creek's first moto.
Sheesh!
It just goes to show you that no matter how tough, talented, and determined a rider is, titles at the highest level of this sport command respect. They do not come easy.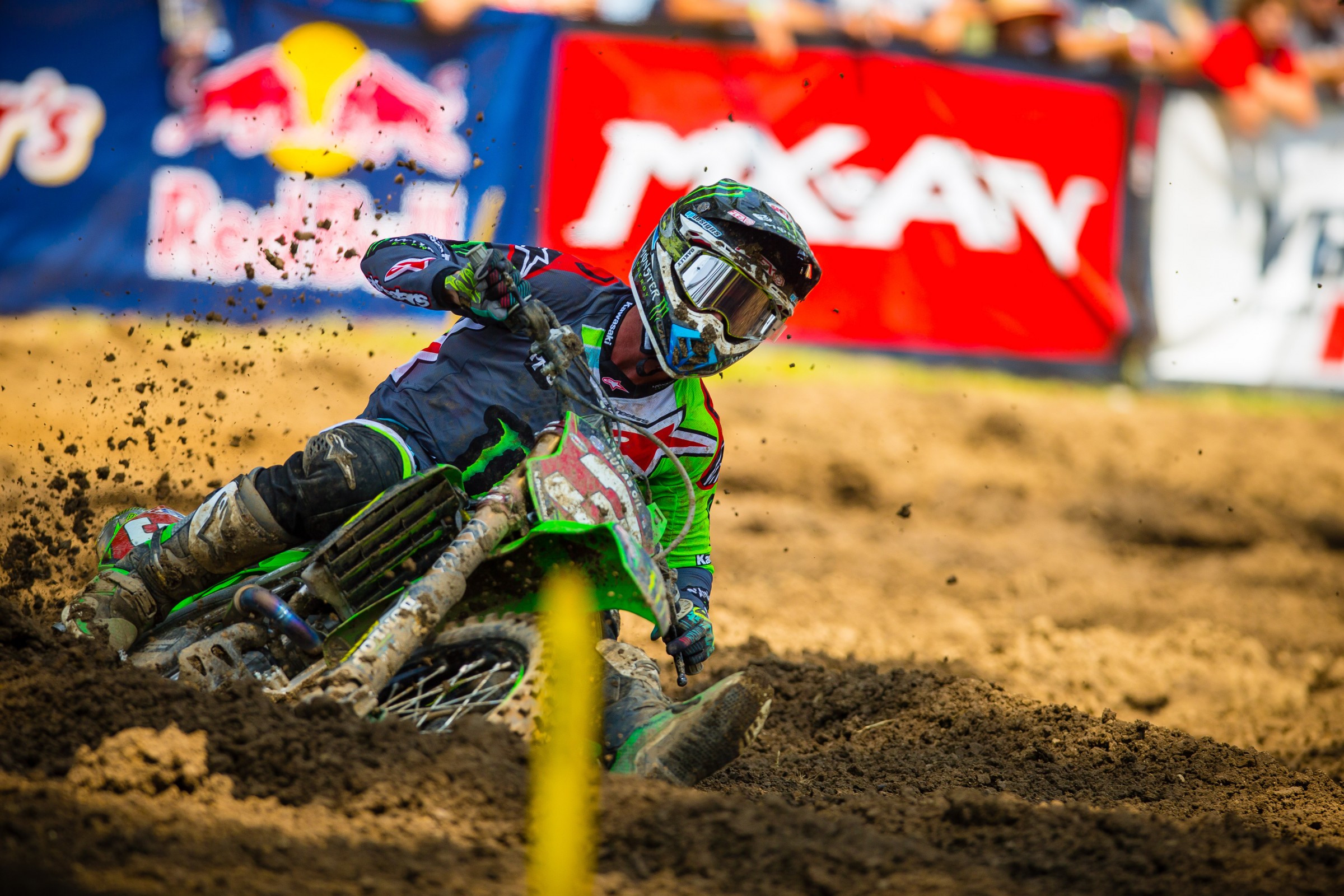 Yes, a few rookie seasons have gone the other way. Ryan Dungey won both 450 titles in his rookie year, Ken Roczen won the 450MX title in his first crack, and Jeremy McGrath of course won the 250 Supercross Championship in his first season. Ricky Carmichael won the 250 AMA Motocross Championship in his first try. There will always be exceptions, but we have much, much more data showing how tough it is to get this done.
Carmichael might have been great outdoors as soon as he jumped on a 250, but he struggled big time with the bigger bike in supercross. James Stewart was a complete dynamo on a 125, but found the going much tougher when he jumped to the 250s. Roczen appears to have the right stuff to win the 450 Supercross title, but all four seasons have ended in disappointment. This year Cooper Webb, coming off of a double-title 250 season, logged one podium finish all year in his first crack at the 450s.
All of these riders struggled with different things. For some, the longer season was the biggest obstacle. For others, dialing in a 450, which is much more sensitive to set up, was a whole new lesson. And really, most of the time, the biggest issue was the increased competition. No one graduates out of the 450 class—they stay there and you have to beat them at their own game. Tomac might have been faster than Ryan Dungey this year, but Dunge was battle-tested.
Tomac has learned the way. At first, he had some ups and downs based on bike settings. He jumped into various 450 races on the East Coast in 2013, but his results varied wildly as he tried different forks and settings, and experienced different tracks. Most of those 2013 attempts on a 450 where mediocre, except for soft, gnarly tracks like Daytona and Seattle, where he recorded a fourth and second, respectively. His full-time rookie season in 2014 was quickly washed away with a shoulder injury in the first heat race of the season. He spent much of the next 18 months battling inconsistency—one week he'd appear unstoppable, the next week he'd be back where he started. He could be the fastest guy on any given weekend, but you never knew which weekend. Surely, Tomac was trying everything, and no one probably scratched his head more than he did. Someday, those pieces were going to fall into place.
It did for three weeks in 2015. Tomac probably wants to move away from the ghost of 2015, he likely wants to just clip that history off and start now, fresh, with a number-one plate in his hands, but no one will ever forget just how amazing he was for the first five and a half motos that summer. Such speed is a blessing and a curse. He would have to live with it for the next two years—he simply never got back to that level in 2016, and while his shoulders might have been the problem, Tomac doesn't like to make excuses, so he never used it.
Recommended Reading
Inconsistency. There was always something. After sweeping four MXGP motos last year and winning the Monster Energy Cup, the Kawasaki folks were telling me Tomac was so much better, stronger, and faster heading into year two with the team. He was absolutely at the top of the title favorites list beside Roczen and Dungey—and then a new problem blew up: his arms. Tomac never had a track record for arm pump, but there it was, sabotaging his supercross title hopes right from the start.
It took a minor miracle to turn it around: rain in California. The Golden State clawed back from years of drought this winter, and as great as it was for the water system, it wreaked havoc on supercross teams trying to test. The rain forced teams east, to Arizona, for some impromptu testing. While there, Kawasaki had its back against the wall—they needed to fix the bike and fix the arm pump problem ASAP. In one week in Arizona, on some beat up tracks, they found what they needed. The Glendale Supercross changed everything. Tomac was back.
Speed, arm pump, and bike settings were no longer an issue. Tomac had the stuff to win it all now, which led to one more lesson: how to manage the championship.
They don't put calculators on the handlebars. There isn't a mapping setting that says 90 percent. Motocross racers are trained to go as fast as they can. Backing it down seems like a good idea on paper, but is very hard to do on the track. Further, it's often said momentum is greater than points, and when Tomac tried to go into protect mode, Marvin Musquin caught fire, and in a sport that's so mental, it's impossible to ignore a win streak no matter how big your points lead. For example, Tomac tried to manage the points in the mud at Unadilla. He surely left that race feeling like he had the dark clouds were following him home.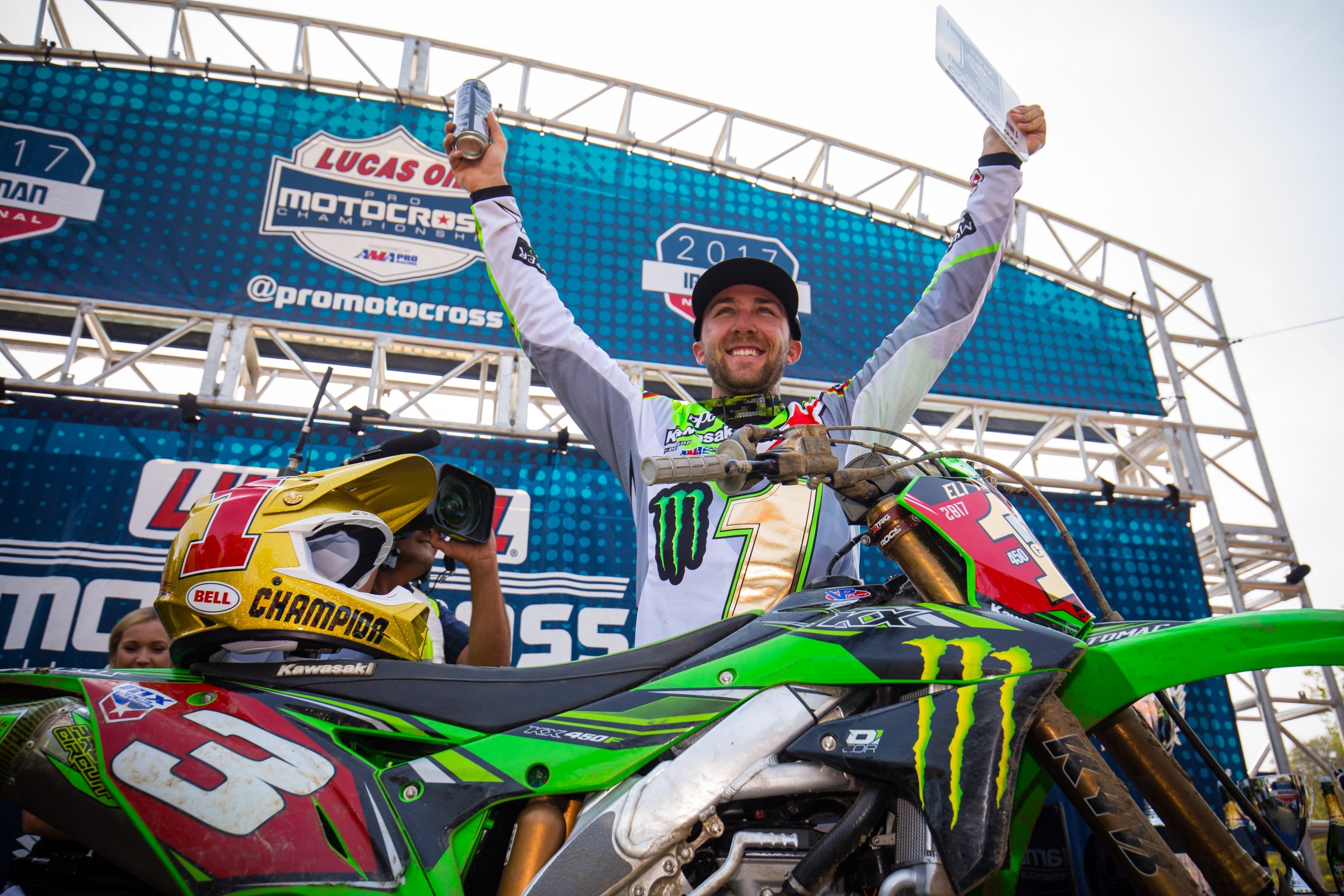 Finally, at Budds Creek in the second moto, Tomac went back to the old way. Just win, baby. He did that, he brought that mentality into the finale, and even pulled his first holeshot of the season. He chose to not manage the race, but battle Jeffrey Herlings for the win. It almost bit him. One more lesson learned.
The long journey to this point should only make the victory only seem sweeter. Maybe. Honestly, this column discusses the glory of a championship, but used over 1000 words to discuss bad breaks, heartbreaks, and bad days. It wasn't all roses. There's something great for Team Tomac to celebrate here, though, something that goes beyond finally grabbing that Lucas Oil Pro Motocross 450MX Championship, beyond the money and accolades that go with it. More important than all of that—the lessons learned this year are going to help Tomac in the future. It's going to make it harder for anyone to stop him from getting the next one. It felt like a walk through fire, but, you know, fire forges things. Tomac emerges from 2017 a much stronger person, and that could lead to more bad days for everyone else.