Mechanicsville, MD
Budds Creek
Lucas Oil AMA Pro Motocross Championship
Budds Creek was my favorite track on the calendar. It was very similar to the dirt I grew up on and I always felt comfortable from the first lap of practice until the checkered flag flew. My first time there was in 1996 in the B class and I remember winning by a huge margin. That's not really something to brag about, but it was a preview of the good feelings and good results I would have in my professional career.
That success would culminate in my best career finish of fifth overall in 2006. Any racer can tell you that a good result creates a good vibe around an event, even if the track isn't all that great. Budds Creek was special in that I seemed to ride well and also loved the dirt and layout of the course. That good vibe continues on now, five years removed from my pro career. Driving into the track on Saturday morning, I will still have that smile and positive outlook for the day.
The track itself has been run in both directions, but recently has been consistent to the counter-clockwise variation. My best result was run going the same direction but on a fun scale, I like going clockwise. I like the jumps and flow better, but whatever works, right? In any case, this track has a ton of off-camber turns, but the traction is usually great and reduces the difficulty level. The tight off-cambers usually funnel to the inside line, but there is always someone who decides to dive bomb down the hill and hopes to make it work. That usually ends up in contact as it's too tough to stop on the steep decline and lack of a berm. Look for that dynamic on the far hillside in the tightest right hand turn.
In fact, all of the downhills represent the best passing zones. There are many long declines that reward the bravest of the bunch. That also puts big emphasis on the suspension technicians to dial in their riders' machines. Blasting down a rough downhill in the second moto is a sure fire way to find out if your bike handles or if it doesn't. Watch these downhills when a pass seems possible, that's where the riders will make their move.
The start here is a big source of conversation. When the Motocross of Nations came to Budds Creek in 2007, the start was changed and now favors the inside heavily. It's essentially a straight line from the inside gate to the first turn, meaning anything outside of the inside gate has a longer distance to travel. That puts the outside gates at a huge disadvantage and almost guarantees an average start or worse. I am not really a fan of this start setup as I feel a holeshot should be possible from any gate. Life isn't always fair, though, so a word to the wise is to make sure you drop the hammer in qualifying practice. A good qualifying spot will go a long way toward getting a good start and vice versa.
In a vacuum, Eli Tomac would be the favorite on a track like this. Budds Creek rewards aggression. If I hadn't watched the last three races, I would pick him to win this race without hesitation. I was watching, though, and now have to lean toward Marvin Musquin to keep the ball rolling. His starts are putting him in good positions to succeed and his riding is finishing the deal. Tomac has the ability to win, of course, that's why he has four overall wins and a big points lead. He just hasn't looked like himself lately and I am not confident that he will turn it around on Saturday. Watch in qualifying to see if he comes out swinging or struggles like he did at Unadilla. That may be the first sign of which Tomac we'll get Saturday afternoon.
---
Questions I Want Answered:
Can Zach Osborne wrap this thing up a week early?
Who is going to sign Martin Davalos to a 450 deal?
Can Justin Cooper back up that muddy runner-up finish?
Can Adam Cianciarulo finish the job?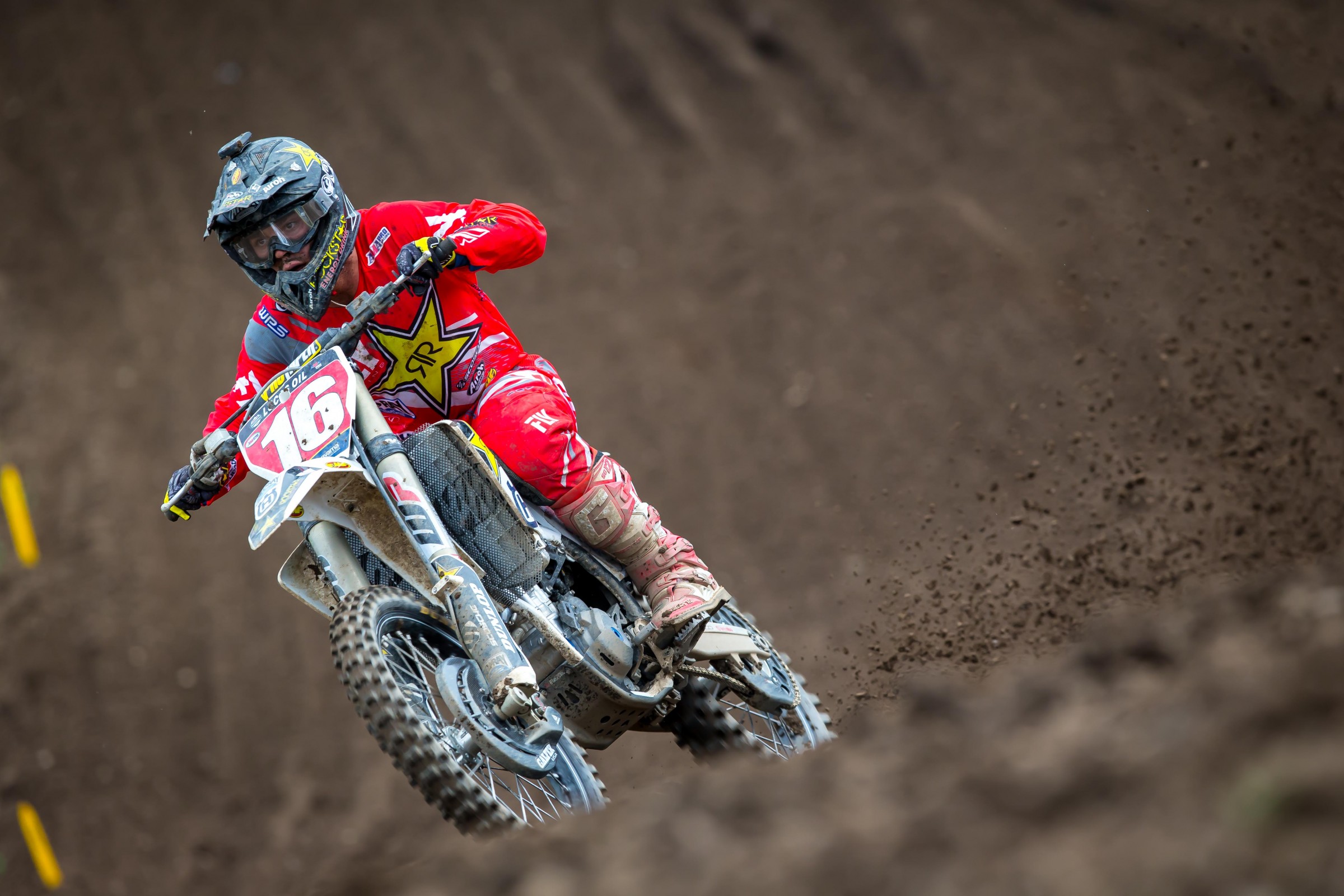 Who's Hot:
Marv has won six motos in a row. Nuff said.
Jeremy Martin bounced back in a big way to win the overall last weekend.
Joey Savatgy may not have won the overall, but he has been great lately.
Davalos has two podiums in a row and was even catching Musquin last week.
Who's Not:
Tomac hasn't been as good lately as many expected. Maybe this weekend is different.
Justin Barcia wasn't allowed to ride Unadilla (doctor decision) after riding press day on Thursday.
Phil Nicoletti had a tough return to racing and then had his shirt ripped in half by Jeremy Martin.
Bold Predictions:
Wacko goes 1-1 and takes home the title.
Justin Barcia brings his actual doctor to the race to make sure he is indeed allowed to race.
Forrest Butler surgically donates his thumb to Blake Baggett in hopes of pulling off a title.
Monster Energy/Pro Circuit Kawasaki holeshots both motos.
Cooper Webb gets an overall podium.
My Picks:
250
Zach Osborne
Joey Savatgy
Jeremy Martin
450
Marvin Musquin
Eli Tomac
Cooper Webb