Tristan Charboneau Claims Second Straight Win in Switzerland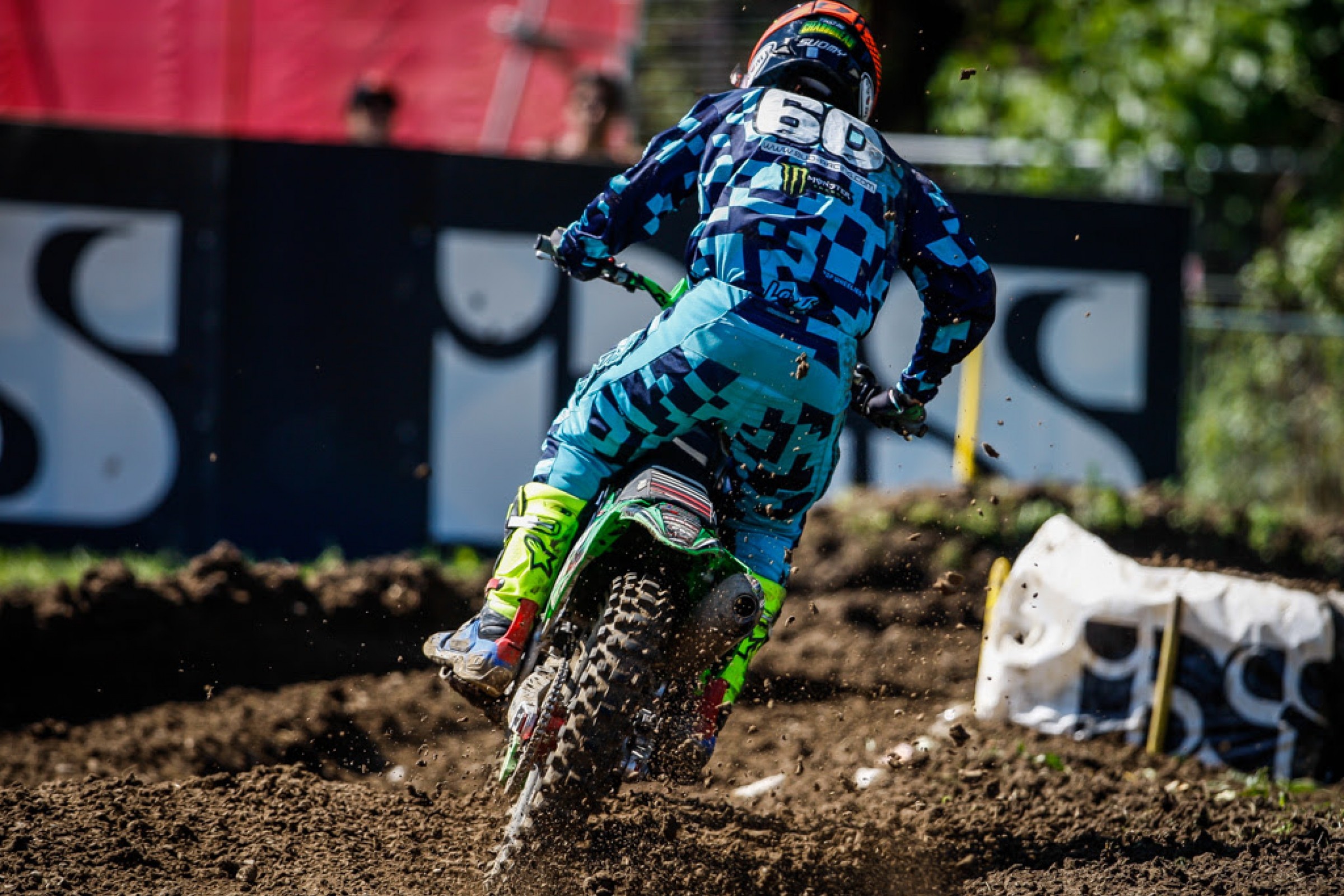 Gachnang, Switzerland
MXGP of Switzerland
FIM Motocross World Championship
American Tristan Charboneau collected his third straight moto win and second consecutive overall at round eight of the EMX250 Championship, which ran in conjunction with the 15th round of the FIM Motocross World Championship at Frauenfeld-Gachnang in Switzerland.
Charboneau led every lap of the first moto en route to his third consecutive moto win. In the second moto, he finished third behind Italy's Morgan Lesiardo and Australia's Jed Beaton, but it was enough to claim the overall by four points over Lesiardo.
"It was a good weekend, pretty easy actually, though that second moto was probably the hardest," said Charboneau in a team statement. "Those guys had a lot of drive to get their best finishes of the season, but I gotta give it to Bud Racing and my mechanic for supporting me through the hard times and the good times, giving me this chance to race the European Championship."
Charboneau's Bud Racing Kawasaki teammate, and fellow American, Marshal Weltin also had a good weekend, finishing fourth overall.
EMX250 Overall Finish
| | | | | |
| --- | --- | --- | --- | --- |
| OVERALL FINISH | RIDER | RACE 1 POINTS | RACE 2 POINTS | BIKE |
| 1st | Tristan Charboneau | 25 | 20 | Kawasaki |
| 2nd | Morgan Lesiardo | 16 | 25 | Kawasaki |
| 3rd | Mathys Boisrame | 15 | 18 | Honda |
| 4th | Marshal Weltin | 18 | 14 | Kawasaki |
| 5th | Jed Beaton | 9 | 22 | Honda |
| 6th | Adrien Malaval | 14 | 16 | Husqvarna |
| 7th | Ruben Fernandez | 22 | 8 | Kawasaki |
| 8th | Pierre Goupillon | 10 | 15 | KTM |
| 9th | Todd Kellett | 12 | 13 | Husqvarna |
| 10th | Jere Haavisto | 11 | 11 | KTM |
EMX250 Championship Standings
| | | |
| --- | --- | --- |
| STANDING | RIDER | POINTS |
| 1st | Morgan Lesiardo | 268 |
| 2nd | Simone Furlotti | 242 |
| 3rd | Alberto Forato | 192 |
| 4th | Ruben Fernandez | 192 |
| 5th | Marshal Weltin | 175 |
| 6th | Jago Geerts | 171 |
| 7th | Ken Bengtson | 170 |
| 8th | Tristan Charboneau | 159 |
| 9th | Mathys Boisrame | 157 |
| 10th | Miro Sihvonen | 126 |