Unadilla MX
New Berlin

,

NY
Unadilla
Lucas Oil AMA Pro Motocross Championship
Nick Gaines turned pro at the end of 2014, but due to injuries he's only raced five supercross races through three seasons. The first was a broken scaphoid bone in his wrist three rounds into the 2015 supercross season that forced him to the sidelines for five weeks. The second was a broken femur in 2016 just a few weeks before the 250SX East Region was set to kick off. He missed the entire supercross season. But it wasn't the actual femur that kept him out for so long, it was a problem with a blood clot.
"It was really bad, knowing that. The bone was healed, but I couldn't do anything that would cause bleeding or something," he said. "The doctors were really worried about that. Once we got all of that behind us I was ready to go because I had been in the gym and cycling all the time. So, my leg was good, but it was a real bummer [having that blood clotting issue]."
Gaines put in a solid season in Lucas Oil Pro Motocross in 2016 once he recovered, and had a good off-season training with his new Traders Racing Yamaha teammate and good friend Luke Renzland. Then the third injury came at the first round of the 2017 250SX East Region Championship in Minneapolis.
"Supercross has just not been my friend since I turned pro. It just always seems to … something happens pretty close to the start of the season," he said. "This year I stayed at Dreamland for the whole off-season and I was feeling really good. Then the first practice [in Minneapolis] went pretty good. Then in the second practice, on the last lap or second to last lap, I just endoed on this jump."
Gaines fractured his collarbone in the crash and was initially hoping to have it plated and be back in two weeks, but the break was too close to his sternum and the doctors weren't able plate it. He missed six weeks of supercross and made his return at East Rutherford where he finished 17th.
All of this information seems like it might be leading to the classic story of the motocross rider who couldn't stay healthy and fades away after a year or two, but every time Gaines has injured himself during the supercross season, he's bounced back to have a solid summer in Lucas Oil Pro Motocross. This year is no exception.
In his fourth season with the Traders Racing team, Gaines has logged five top 15 overall finishes through nine rounds and matched his career best overall finish with a 12th place at Millville.
"My season's been going pretty good," he said. "I want to be getting 10th or better every weekend, but everything's just got to go really, really good for that to happen because it's so stacked. I've been consistent this year and I've just been making smarter decisions I feel like."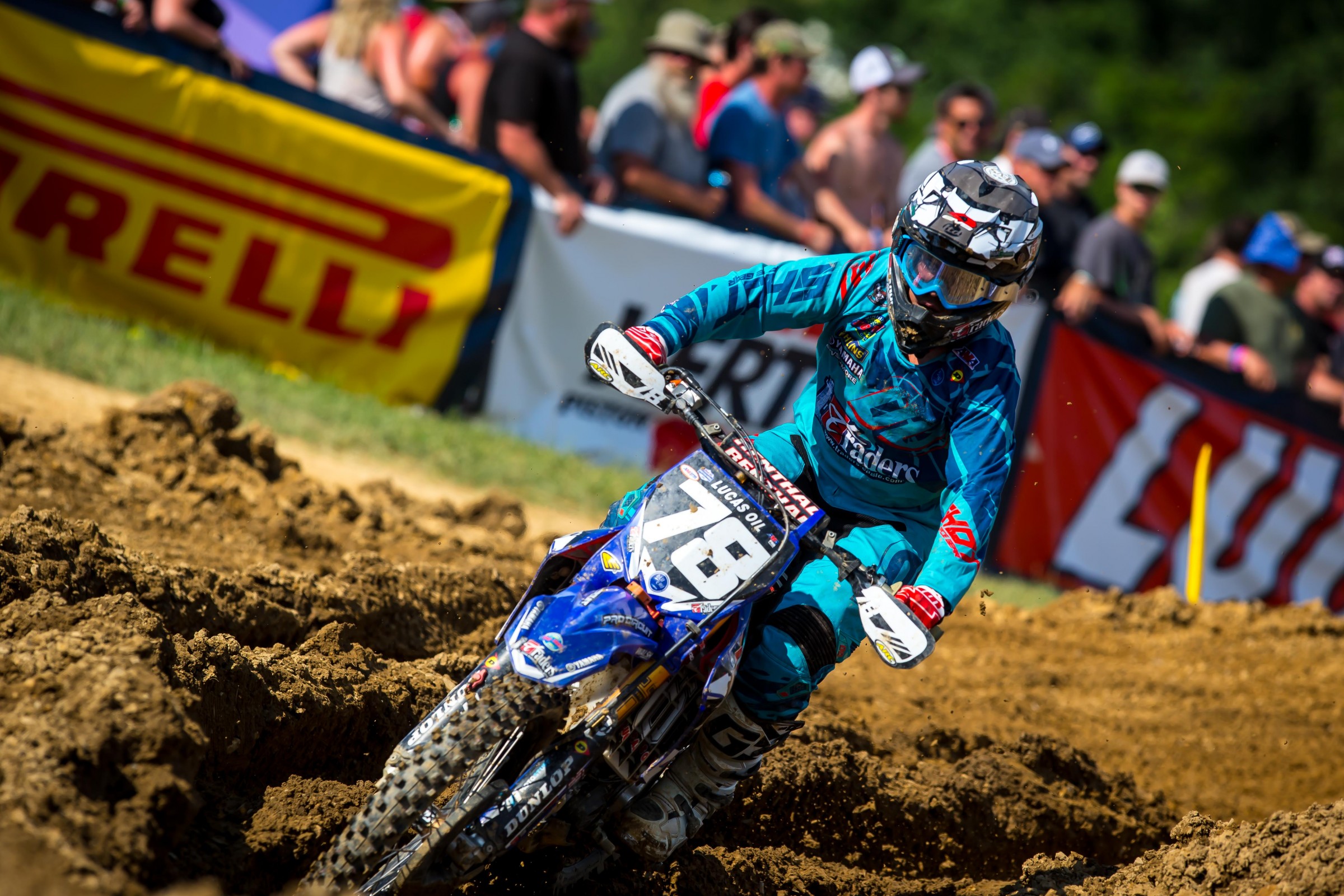 Like a lot of riders who are on that bubble of just breaking into the top 10, Gaines said the opening laps are his biggest issue. "It's really hard when you're behind somebody that's not as fast as you," he explained. "You just get caught in their speed and once you get by them all the factory guys are gone. If I can just start up there and make the first couple of laps really good, then I can stay there."
The results are nice, but perhaps the more important thing is that Gaines is on track to line up at the gate for every single moto this summer and set himself up for a good off-season. Gaines hasn't started talking to the Traders team about returning for next year, but he's looking forward to finally having a season where he stays healthy all the way through.
Gaines would like to thank: Traders Seafood Steak & Ale, Tic Tabs Winning Games, Eagle, Amusements, Ohlins, Yamaha, ATVs & More, Shot Race Gear, Limited Decal, Renthal, ARC Levers, Bundy Built Motorsports, Pro Circuit, Lucas Oil, X Trig, Motostuff, Dunlop, Flo, EK Chain, Moto Hose, GET Ignition, Von Zipper, VP Fuels, Cycra plastic, Traction MX, Pit Posse, RNB Racing, Garene Boots, Walsh Racecraft, Pro Pegs, Dubya, DT1 air filter, P3 Carbon, Engine Ice, and EVS.