Brett Smith's "Blake the Builder" ran in the October issue of Racer X Illustrated. Subscribe today to read this full feature and for more in-depth stories about Americans racing the Canadian Motocross Nationals, America's 1992 Motocross of Nations team, what a dozen top riders and circuit coordinator John Ayers think about the ruts, bumps, and mud of Lucas Oil Pro Motocross, and much more.
If you think you know Blake Baggett just from listening to his podium and press conference interviews earlier in the 2017 Lucas Oil Pro Motocross Championship, I've got news for you:
You don't know Blake Baggett.
I'm in a really fortunate position in that I get to choose what I want to write about—and when—and my favorite genre of writing is the profile. I love talking to people, listening to them, and hearing their story. Getting individuals to open up usually isn't hard for me (see Austin Stroupe).
Four days after Baggett won the 450 Class at Thunder Valley I was in central Florida for work and, due to bad weather, I unexpectedly had time on my hands. Baggett's win made me think, "Who is he? What's his story?" Outside of some quirky interviews between him and Jason Weigandt (which left me more confused, no offense Weege), I realized there was an opportunity here. In an episode of dumb luck and perfect timing, I found myself in team owner Forrest Butler's Ford pickup, driving toward Leesburg, Florida, and the El Chupacabra Ranch.
I had never met Baggett before and if I didn't already know what he looked like from TV I would have mistaken him for a gopher on a construction crew ("go for" this, "go for" that). And construction is mostly what we talked about for several hours. Not once did we discuss the previous weekend's race. That's sort of a trick of mine when profiling athletes. I don't always talk about their "jobs." That often creates an impenetrable barrier and the subject feels like they're under a spotlight the whole time.
Blake was so open and honest. He has this love of laughter that the race fans don't get to see. It was like he was happy simply because the sun came up that day.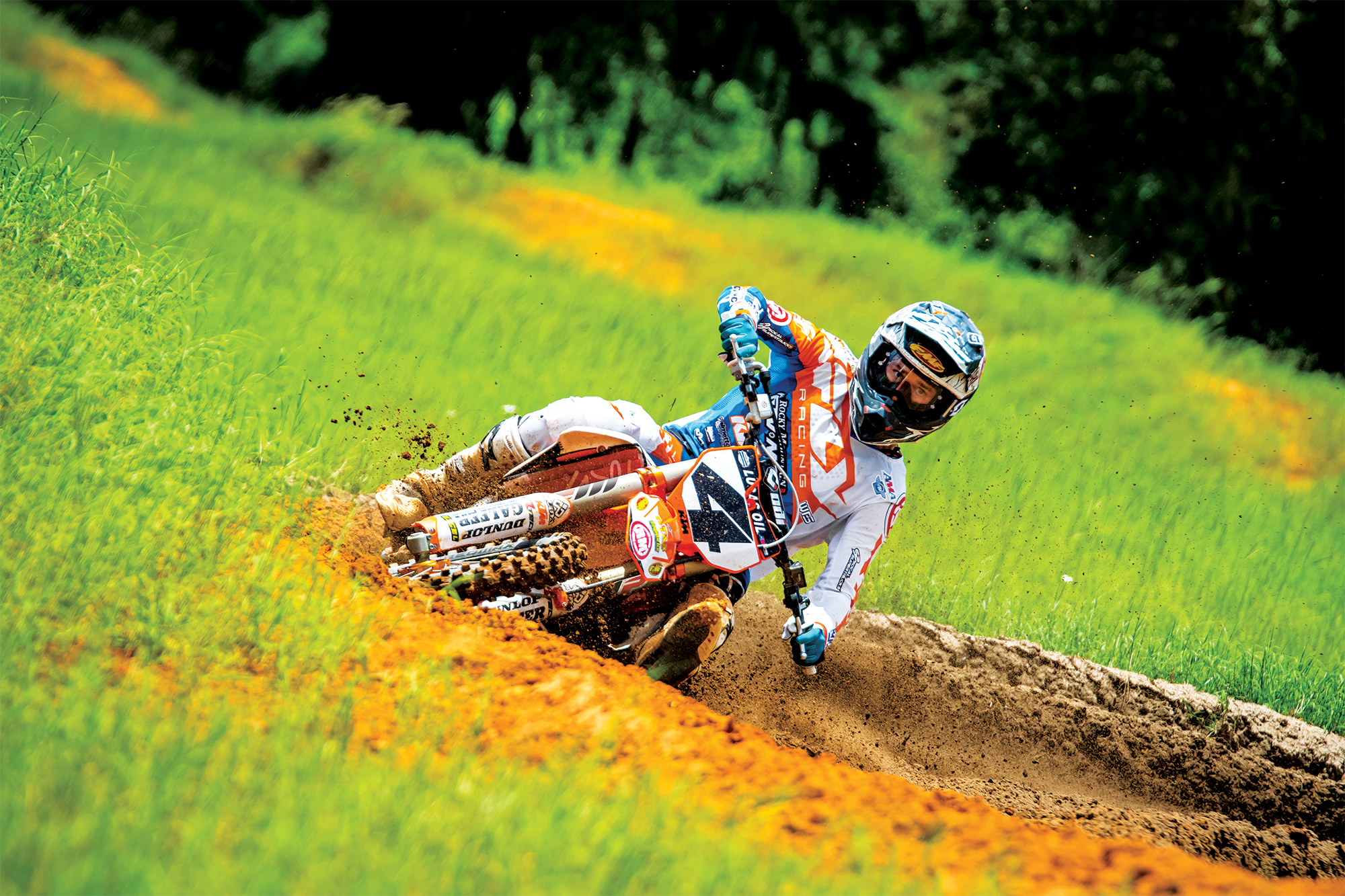 Three hours isn't very long to get to know someone, however, and 10 days later I went to High Point Raceway for round four. I spent the whole day at the Rocky Mountain ATV/MC-WPS-KTM truck (I didn't see a single lap of 250 Class action) because I wanted to soak in as much of Blake's atmosphere as I could. I kept my distance and saw a completely different Blake Baggett. I talked with his father, Tom and his wife, Keleigh, who joined me at one of the hospitality-area tables. But most of my time was spent observing. What I noticed was surprising and seeing him in two completely different settings back-to-back like that (home and office), made for a great story. Hopefully, you'll get a chance to read the article.
Baggett caught some flak earlier this season for saying some inflammatory comments in various interviews. I always thought fans wanted some personality in their racers, but as soon as one tries to make things interesting, he gets backlash for it. You can't judge a book by its cover and you certainly can't judge a racer by a post-race interview. For an example, pick up the October 2017 issue of Racer X Illustrated.