Justin Cooper Wins the Nicky Hayden AMA Horizon Award
Loretta Lynn Ranch
Hurricane Mills

,

TN
Rocky Mountain ATV/MC AMA Amateur National Motocross Championship (Loretta Lynn's)
Amateur National Motocross Championship
Morgantown, W.Va. – The 36th Annual Rocky Mountain ATV/MC AMA Amateur National Motocross Championship, presented by Lucas Oil, came to a conclusion on Saturday, August 5, at the historic Loretta Lynn Ranch in Hurricane Mills, Tennessee. Thirty-five National Championships were bestowed upon completion of the third set of motos with five dominant riders emerging victorious in two different classes.
The coveted Nicky Hayden AMA Horizon Award is given to the A-class rider who shows the most promise as they prepare to enter the professional ranks. This prestigious honor was awarded to CycleTrader.com/Rock River Yamaha's Justin Cooper who dominated the Open Pro Sport and 250 A divisions. In addition, Cooper set the fastest lap time of the week, clocking a 1:54.820 time during his third lap of the second Open Pro Sport moto.
The AMA Motocross Youth Rider Award goes to a rider under the age of 16 chosen for his or her performance in the Youth classes at the AMA Amateur National. This year's recipient was Ty Masterpool who claimed both titles in Supermini 1 (12-15) and Supermini 2 (13-16) classes.
The AMA Motocross Amateur Rider Award is designed to recognize an outstanding non-A-class rider at the nationals who is ready to make an immediate impact in A-class competition. Kawasaki Team Green rider Garrett Marchbanks earned this award with his dual first place finishes in both 250 B and Schoolboy 2 (12-17) B/C.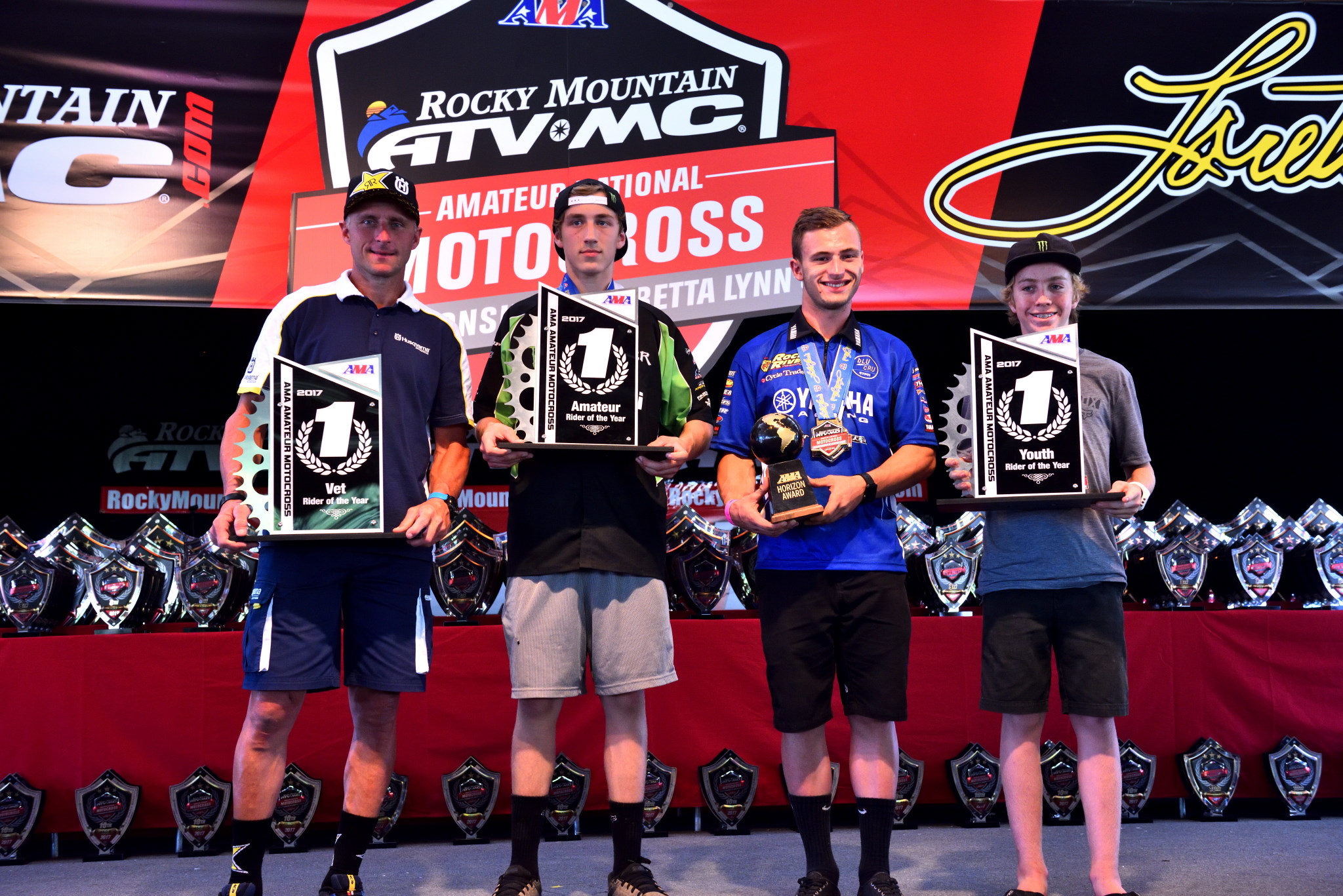 The AMA Motocross Vet/Senior Rider Award acknowledges an outstanding rider over the age of 30. Results from all Vet classes are taken into consideration when selecting the winner. In this ultra-competitive division, Tennessee native and Husqvarna's Mike Brown proved to be a front-runner by capturing all six-moto wins in the Junior (25+) and Senior (40+) divisions.
California added yet another State Championship award to the books by having the most racers out of any other state to win overall titles. California claimed six National Championships between Ryder DiFrancesco, Jett Reynolds, Tanner Basso, Derek Drake, Wyatt Thurman and Haiden Deegan. This brings the Golden State's state championship tally to 23 of the 36 years the award has been bestowed.
Returning to the Ranch was Georgia Practice Facility (GPF) who teamed up with On Track School to provide two lucky racers a full academic and athletic scholarship ride. The program encourages athletes competing at this high level to do so while continuing to receive an accredited education. Applicants submitted an essay detailing why the scholarship program would benefit them and their family, and how it would help them achieve their educational goals. Palmer Neely and Jordan Renfro outshined the rest of the applicants and will be enrolling in one of the On Track School educational programs, along with full access to the GPF facilities, for the 2017-2018 school year. Accompanying the scholarship award was the tenth annual On Track School Graduation Ceremony where all alumni were recognized for their academic achievements.
South of the Border MX (SOBMX) also partnered with On Track School for the inaugural Chris and Cody Gragg Memorial Scholarship. Privateer racer, Cody, and his father, Chris, were tragically killed when they were traveling to a GNCC race in Georgia earlier this year, but their legacy still lives on in the racing world. Applicants also submitted an essay describing how their relationship with their dad is an intregral part of their life. Dylan Kucowski was presented the scholarship which includes access to SOBMX and the On Track School for 2017-2018.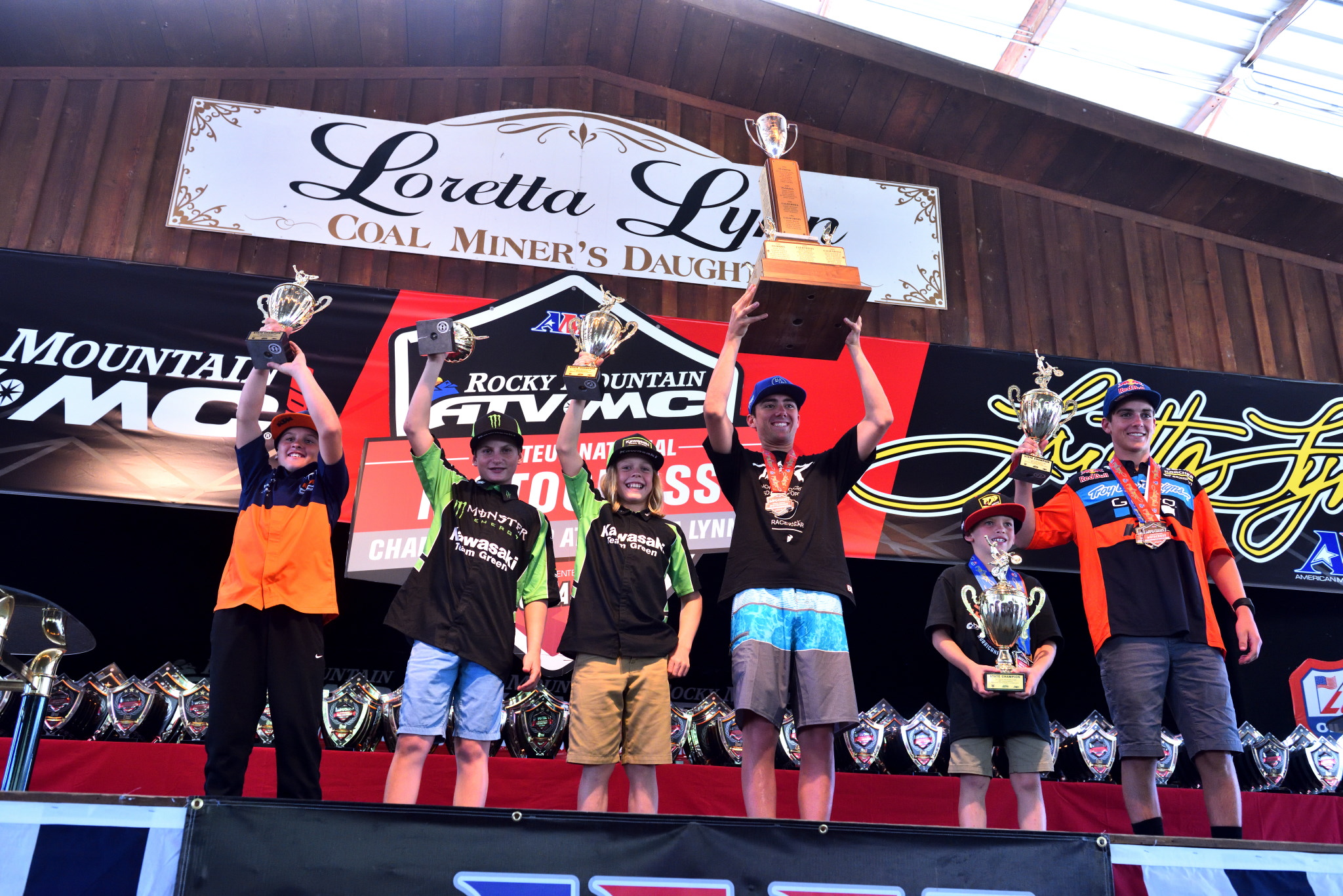 RacerTV.com provided an unprecedented 46.5 hours of LIVE race coverage throughout the week, resulting in over 269,000 live views. The archived footage is now available for viewing HERE. In addition, two one-hour highlight shows featuring the event will air on NBC Sports Network on Saturday, November 11 at 2:30 p.m. and Saturday, December 23 at 3:00 p.m. EST.
Complete results from the 2017 National Championship can be found HERE. For additional information, visit the event website at www.mxsports.com or call (304) 284-0101. Also follow the official Facebook, Twitter and Instagram accounts for exclusive content and to catch the latest news.
MX Sports wishes to thank everyone who participated in the Loretta Lynn National program, and congratulates all the 2017 Champions on their accomplishments.
2017 AMA Specialty Award Winners
| | | |
| --- | --- | --- |
| Nicky Hayden AMA Horizon Award | Justin Cooper | Cold Spring Harbor, NY |
| AMA Amateur Rider of the Year | Garrett Marchbanks | Coalville, UT |
| AMA Youth Rider of the Year | Ty Masterpool | Paradise, TX |
| AMA Vet Rider of the Year | Mike Brown | Bluff City, TN |
| Chris & Cody Gragg Memorial | Dylan Kucowski | New Egypt, NJ |