Washougal Motocross
Washougal

,

WA
Washougal
Lucas Oil AMA Pro Motocross Championship
Welcome to Racerhead, coming to you from the shipping & receiving trailer at Loretta Lynn's Ranch. We're working here because the Wi-Fi is nearby and someone needed to log packages, and the track is being taken care of with dozers and dump trucks. Tomorrow will be the time to mark and banner the track and put the finishing touches on the 36th Annual Rocky Mountain ATV/MC AMA Amateur National Motocross Championship, which begins next Tuesday morning. We will be streaming most of the races live on www.racertv.com beginning that same morning, and it should be quite a fun week here at the ranch. I've already been here for a few days pitching in where I can, and also trying to complete the arch of stories from the history of this place. This weekend we will have 1998 up, which was the usual Loretta Lynn's year—fast, rough, heat, mud, pit bikes, golf cart traffic, beer tent—with one big, huge development: my dad, the event co-founder and promoter, Dave Coombs Sr., died on the first day of the week. He was battling leukemia back home in the hospital in Morgantown, West Virginia. We knew he was sick and we knew he was in a hell of a battle, but we also knew he wanted the race to go on, which it did. It was a tough week, but we got through it.
So please forgive me for cutting my part of Racerhead short. We've been getting slammed a bit by everything, just as we always have at Loretta Lynn's Ranch, which is a big part of why we love it so much. Good luck to everyone here next week, got to get back to work….
FOLDING UP (Steve Matthes)
It's never good when a team folds up shop in the pits but when it's RCH Suzuki, well, that's definitely not ideal. There's already a bit of a death of good 450 rides, and this was a team with factory equipment saying see ya. I'm not going to sugarcoat this: when a team with owners as famous and with as many personal connections to rich people like Carey Hart and Ricky Carmichael, and who work with an agency like WMG, can't get a title sponsor, that's not a good thing. Ironic that just a few years ago the team had two massive casino deals and a Dodge RAM trucks sponsorship, right?
In talking to some people around the team it does seem like there was a bit of internal struggle with leadership in the sponsorship department and people weren't quite sure who was doing what and all that usual stuff that goes on with a big organization, but it's still depressing for us in the sport that they're going away. I also personally feel (and I could be wrong here) that Hart's interests had drifted into other areas and RC's involvement has been more hands-off than many people thought. So when there are difficulties getting funding, a lack of deep passion for the team may have been the final deciding factor.
With that said, look at what they did. From beer pong and smoke machines in the early years to a premier 450MX Championship last season! That's pretty remarkable for a private team. In fact, I think it's only the second time that's happened in the sport after Chapparral Yamaha. They almost won the US Open SX a few years back with Josh Demuth and had top privateers in 450SX year after year before getting Suzuki support and going factory.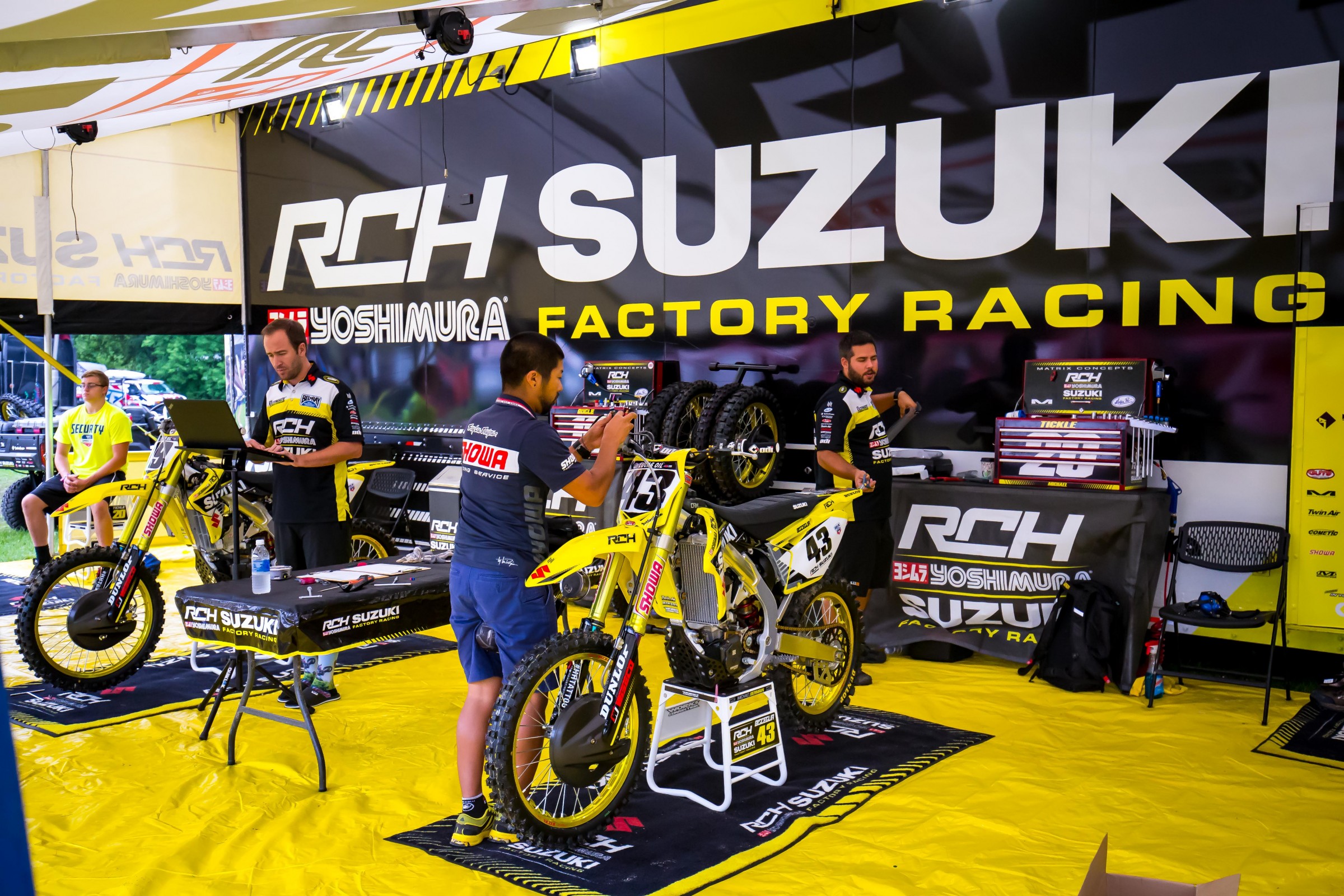 This Week in News (Chase Stallo)
Not a good week in the world of racing. As Steve Matthes touched on above, RCH Racing as we know it is done after Lucas Oil Pro Motocross, just a year after winning the 450MX Championship as a privately funded team.
Unfortunately, that wasn't the only bad news that broke this week. The first shoe dropped on Wednesday, when Troy Lee Designs/Red Bull KTM announced that Alex Martin, currently second in 250MX points, would miss Washougal after injuring his collarbone and scapula earlier this week in Florida. Then came the news that Cooper Webb injured his meniscus in the second moto last Saturday at Millville and would not make the trip to Washougal. Webb said on Instagram last night that he expects to return for the final three rounds. Finally, Racer X learned that Jason Anderson would also miss this weekend due to a road rash injury on his hands sustained in a road bike accident prior to Millville. It's been a rough few weeks for Anderson, as he suffered a big crash in Florida prior to Southwick, and pulled the plug after attempting first practice.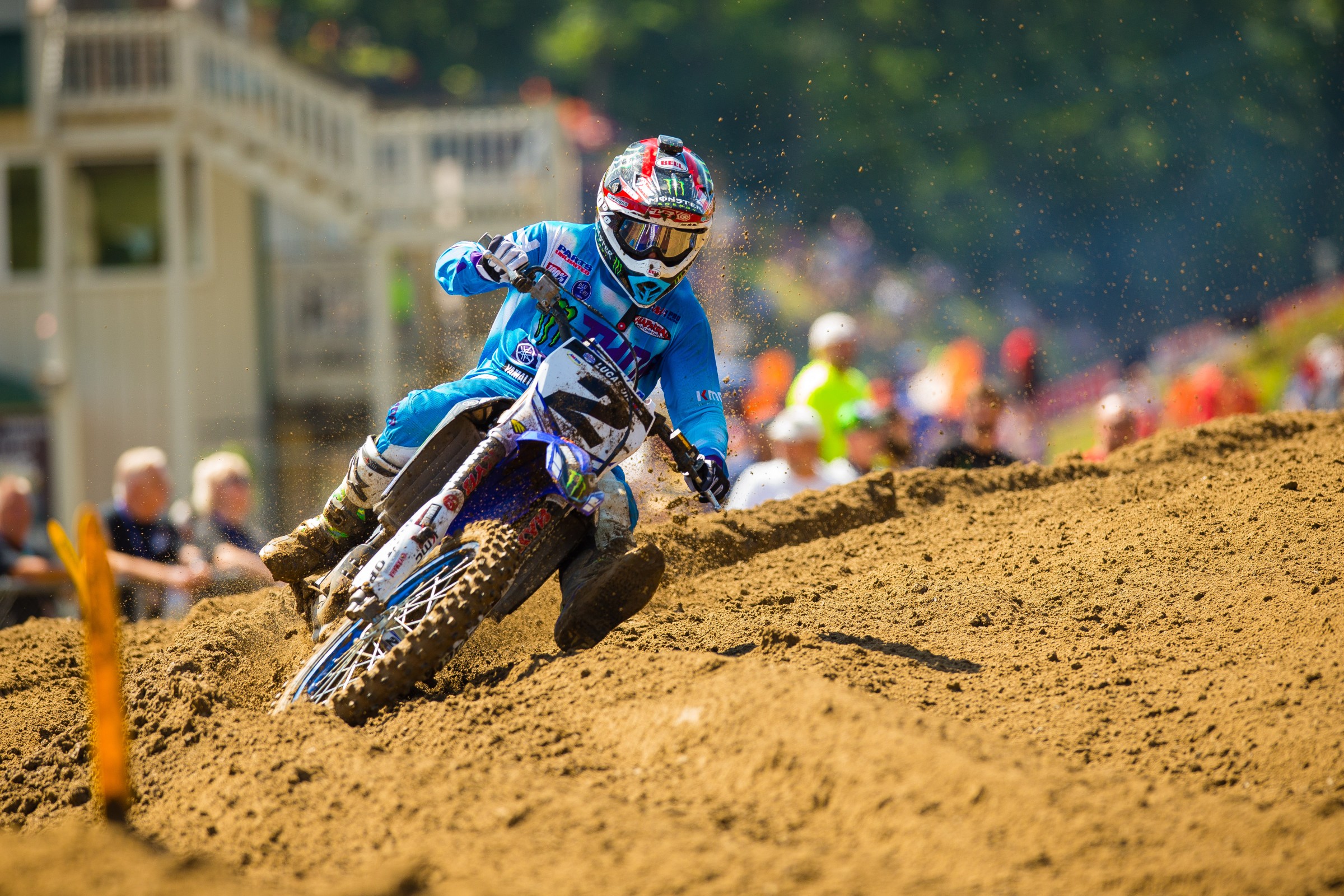 On Sunday, the racing world lost three-time FIM Motocross World Champion Gennady Moiseev, who passed away at the age of 69. During his career, Moiseev collected three World Championships (1974, 1977, and 1978) and was a member of the winning Russian team at the 1978 Motocross des Nations. After his career, Moiseev went on to manage the Russian Motocross des Nations teams in the early 1990s and in December 2000 was elected president of the Russian Motorcycle Federation.
There was some positive news, though. Team Puerto Rico announced a three rider all American squad for the Motocross of Nations. Thomas Covington and Darian Sanayei, both of whom currently compete in the FIM Motocross World Championship in MX2, will join Justin Starling on the team. New Zealand has also announced their team, led by veteran Cody Cooper.
Pro Perspective (Jason Thomas)
This Motocross of Nations situation is really getting messy. A month ago, it seemed pretty straight forward that we would have our choice from Zach Osborne, Eli Tomac, Jason Anderson, and Blake Baggett. Having options was a huge coup for Team USA and put us in a great position to win. Sitting here today, though, we are in a predicament. Osborne is still the easy choice for MX2, but the rest of the team is in a tailspin. Tomac has scheduling issues with the USGP and Monster Energy Cup in his contract and that doesn't leave a lot of down time, just like last season. Baggett is dealing with a thumb injury that looks to be getting fixed as soon as this series ends. Anderson is about to miss his third straight race after a big crash before Southwick, and he has surgery for a plate in his foot planned as soon as the season is over. Those situations basically just may have removed the benefit of options. We are now in a spot where we have to evaluate everyone.
So, who's next? Justin Barcia could be in this mix, but with a team switch looking imminent, I don't think he would be in a great position to peak in late September. Cooper Webb was my most likely choice but now he is injured with a meniscus tear. So, who knows? Every time I feel like a clear picture begins to appear, someone goes down to injury. We still have two months until it's go time but these decisions need to be made in August to give prep time for teams and riders. This MXoN is a huge effort and cost to teams which can't just happen overnight.
Whatever happens, I hope we can send the best team possible. We have lost five years in a row. I hope we don't suffer a sixth. If we take our best guys and we get beat, hey, that's racing and kudos to whoever wins. If we take a battered group of guys that aren't into the race to begin with, that's just a disservice to the whole event. Hopefully our guys heal up and are ready for this year.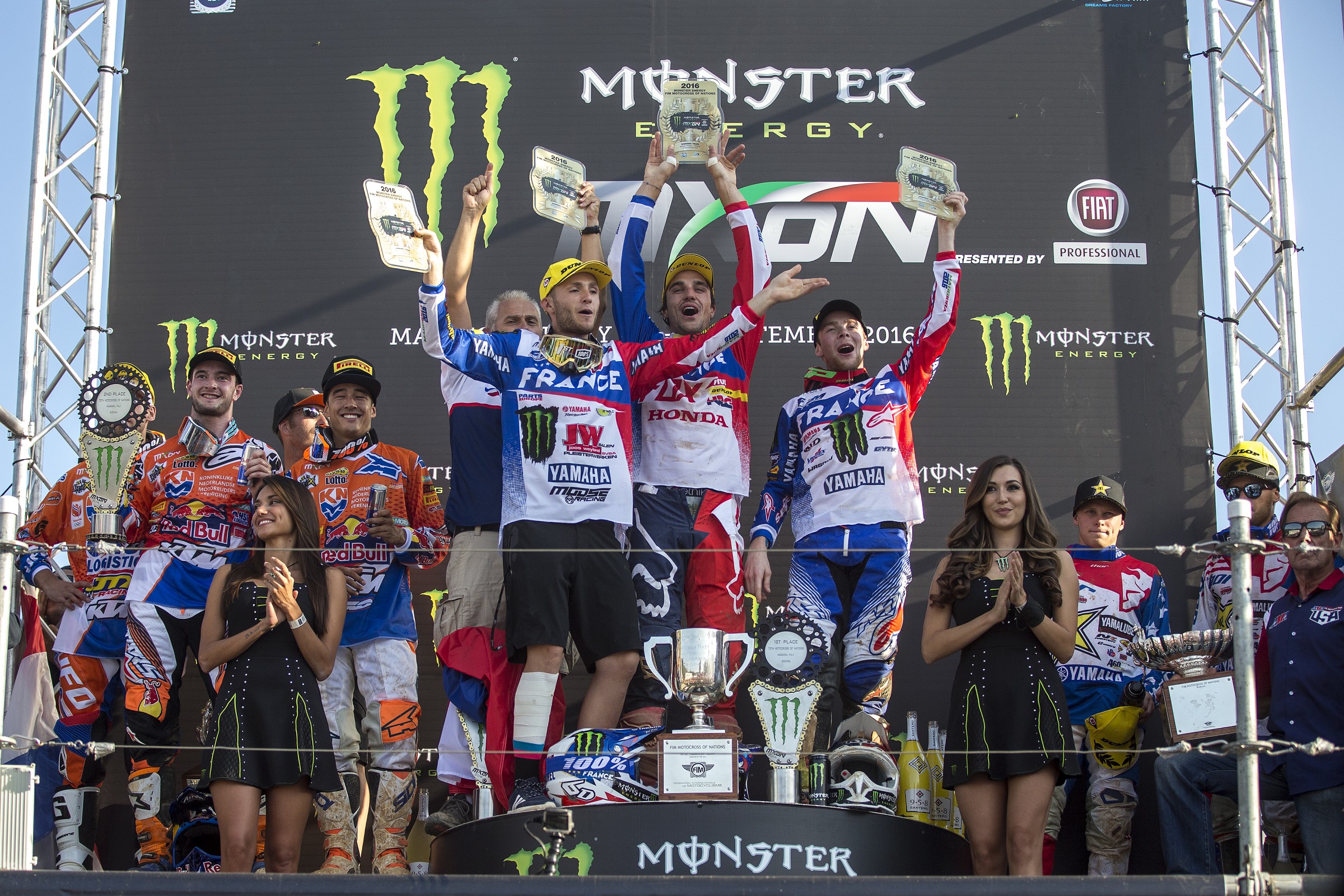 2001 (Steve Matthes)
Please set aside some time to ignore your family and/or work and read the oral history of the 2001 125MX National Championship that Weege and I did this week. These things are always fun to do, but a ton of work also. I've done four of them (Moto XXX, Eleven-10 Mods, MC's almost-perfect '96 season and Pro Circuit's '93 title) and this time Weege jumped on board to help out, which was nice.
This one was good because as a member of Red Bull KTM back then (wrenching for Kelly Smith) I can attest to the hard feelings that were going around between the riders and the teams. As always with time passing, the hard feelings aren't quite as intense as they once were, but trust me, things were tense back then! Grant Langston's wheel exploding was so depressing for our team, he was that close to winning it and as the story explains, looking back on it and then looking at my time at factory Yamaha, KTM wasn't anywhere close to the level of a factory Suzuki or Pro Circuit Kawasaki back then! So in a sense, I felt like we were underdogs with this kid from South Africa and it was so damn close. I'll never forget being the first guy to come over the radio as I was spotting in the center tabletop section (Smith hadn't qualified that day due to two first turn crashes) and say, "Hey guys, check out GL's wheel, it looks wobbly," and then the deafening silence back at the truck packing up after it was all over.
Thanks to everyone that gave us some time for the story and believe it or not, Lee McCollum was the hardest guy to track down to give us some time for his memories! Well, after Mike Brown, who is always very elusive and we had to tell Kris Keefer to text us when he was literally sitting next to Mike and then Mike STILL didn't pick up the first time! Harry Nolte lives back in Holland, but he was easier to talk to than Mike and Lee. Anyways, good times and thanks for checking it out.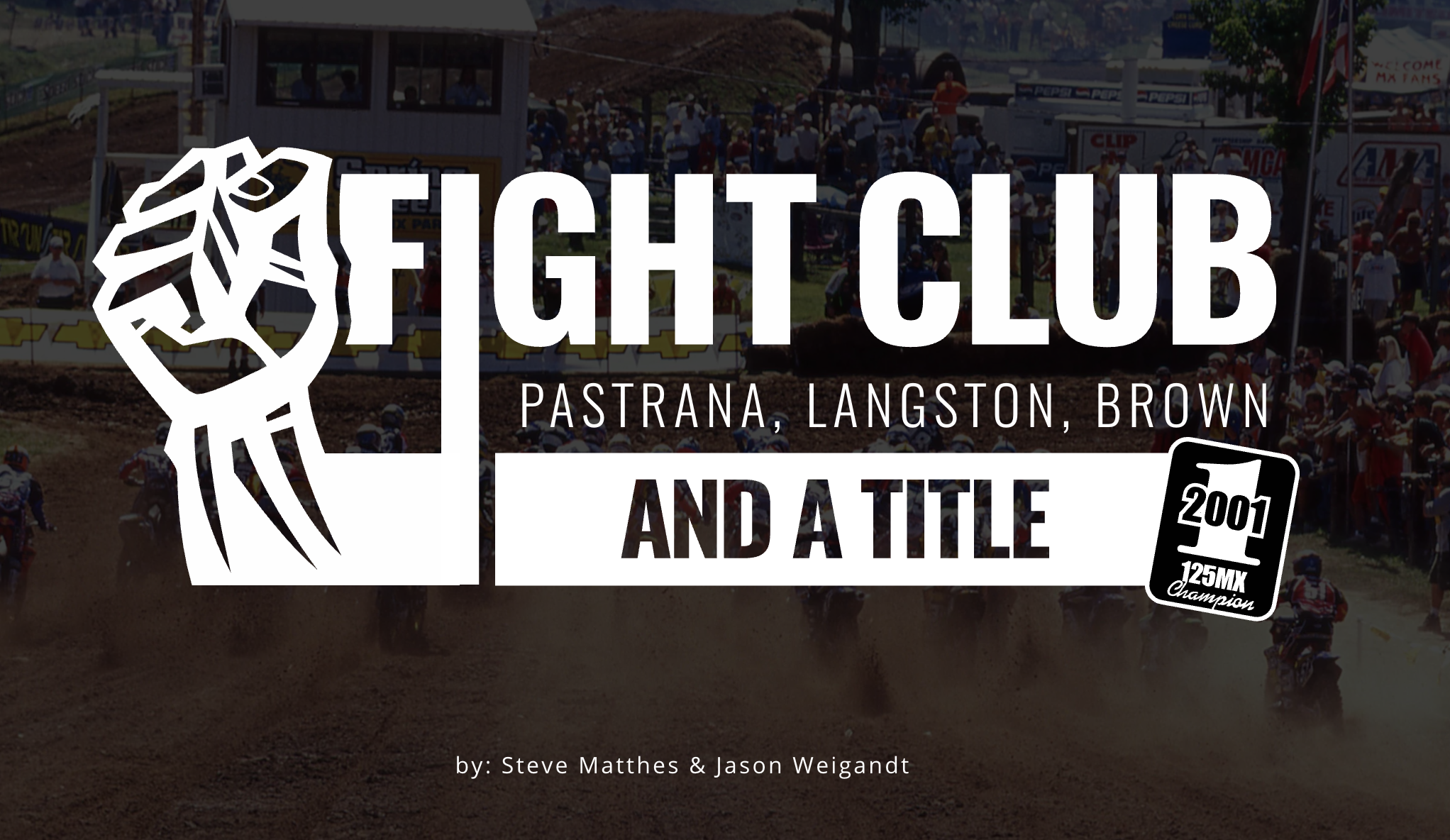 TREY CANARD (Andras Hegyi)
Trey Canard has retired. He was one of the most popular riders in the sport over the last decade, as well as one of the friendliest riders of all. He was a two-time AMA champion—250SX and MX—but also suffered a lot of injuries during his career. He leaves behind his mark in the record books, and although he retired a Red Bull KTM rider, all but one year of his pro career was spent with Honda.
Canard is the only Red Rider who was able to win every title in the small-bore category. He won 250 West Region SX and 250 Pro Motocross titles, as well as the Motocross of Nations in saddle of a 250cc Honda. Canard debuted in 250SX in 2008 and he won his very first race. In the history of 125/250 SX there have only been 10 riders who've done the same: Todd Campbell, Eddie Warren, and Mike Healey (all in 1985, the first year for 125SX), Mike LaRocco, Damon Bradshaw, Brian Swink, Ernesto Fonseca, Ryan Dungey, and Adam Cianciarulo.
As a rookie Canard also won the championship. There have been eight riders who won a championship in their 125/250SX rookie year: Warren and Bob Moore ('85), Donny Schmit, Bradshaw, Swink, Fonseca, and the New Zealander Ben Townley (though a seasoned GP rider).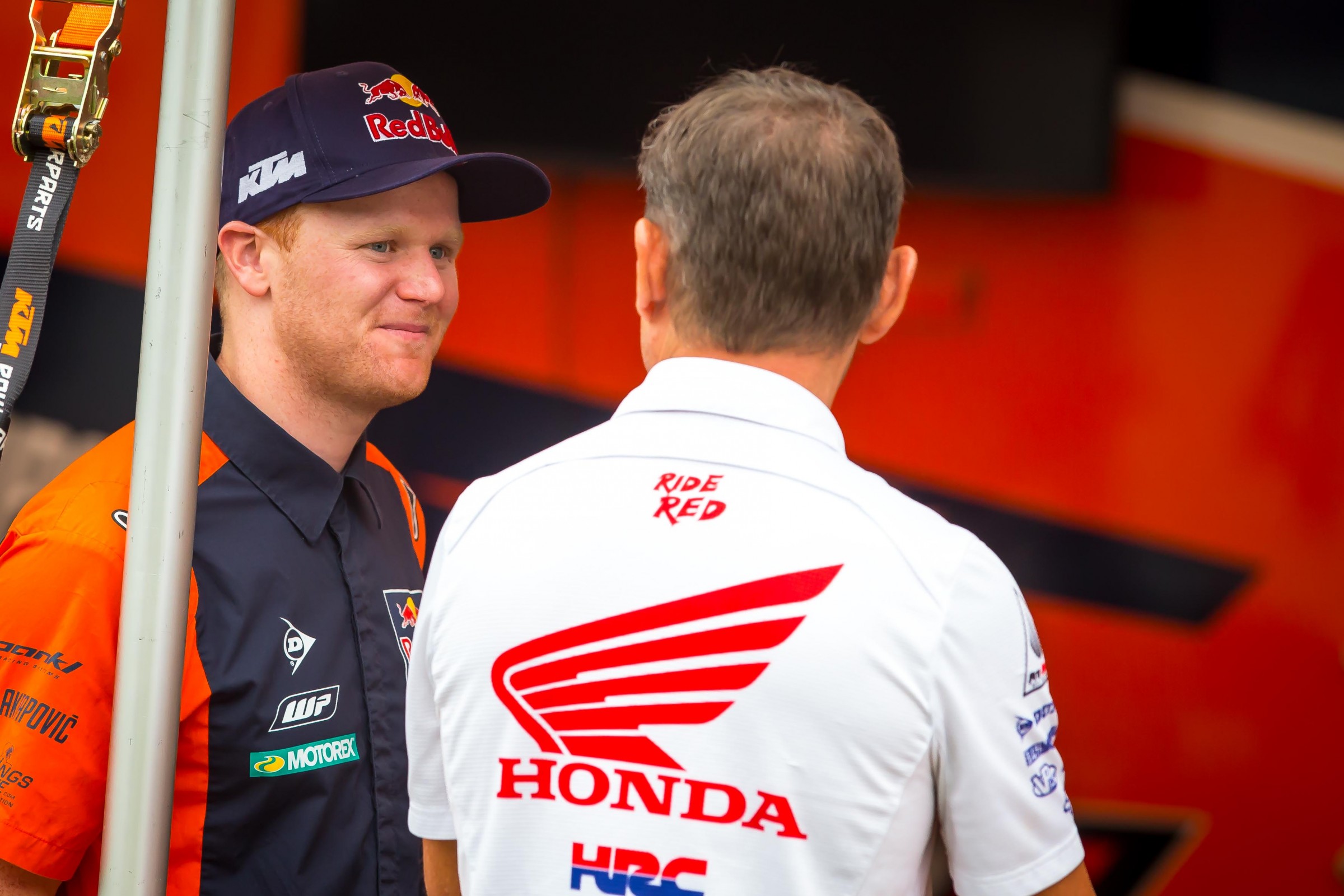 Between 1997 and 2009 Honda didn't win a championship in 125/250 Class in the Nationals. But this winless streak was ended by Canard in 2010, when he became the brand's first champion since Steve Lamson. Canard was also the first Honda rider to win a motocross championship in the saddle of the four-stroke CRF250R.
Canard had victories in all the AMA championships—250 SX and MX and 450 SX and MX. There are 19 riders in history who have done the same: Carmichael, Jeremy McGrath, James Stewart, Ryan Villopoto, Ryan Dungey, Kevin Windham, Mike LaRocco, Mike Kiedrowski, Jeff Matiasevich, Damon Bradshaw, John Dowd, Jeff Emig, Doug Henry, Eli Tomac, Justin Barcia, Ken Roczen, Chad Reed, and Marvin Musquin.
THE WEEK IN PULP (Matthes)
Busy week at Pulpmx HQ as we had a very full Monday night show with Trey Canard talking about his decision to retire from the sport. Canard spoke openly and honestly about sitting on the line for RedBud this year and being scared to crash again. That's when he knew it was time to hang it up and, oh by the way, he still crashed! Canard doesn't know what's next, but he hinted at trying to work between the riders and promoters for track safety, which I think would be great. And we got lots of phone calls from fans wanting to talk to the #41 about his career.
We had Christian Craig on to talk Millville and training at The Nest. CC told us where to find Cole Seely at 8:30 a.m. every single morning in Clermont, Florida, also. I think I may have put the fear of Freddie in him for this weekend as I said he better watch out for "Fast" Fredrik Noren this weekend at Washougal as it's one of Noren's best tracks.
We had Josh Mosiman on to talk about his nice 450MX season as a privateer and how many parts he can get from the Rockstar Husky guys during the year. Josh also told us about how he's been taking Fast Freddie around the country with him as they become privateer buddies.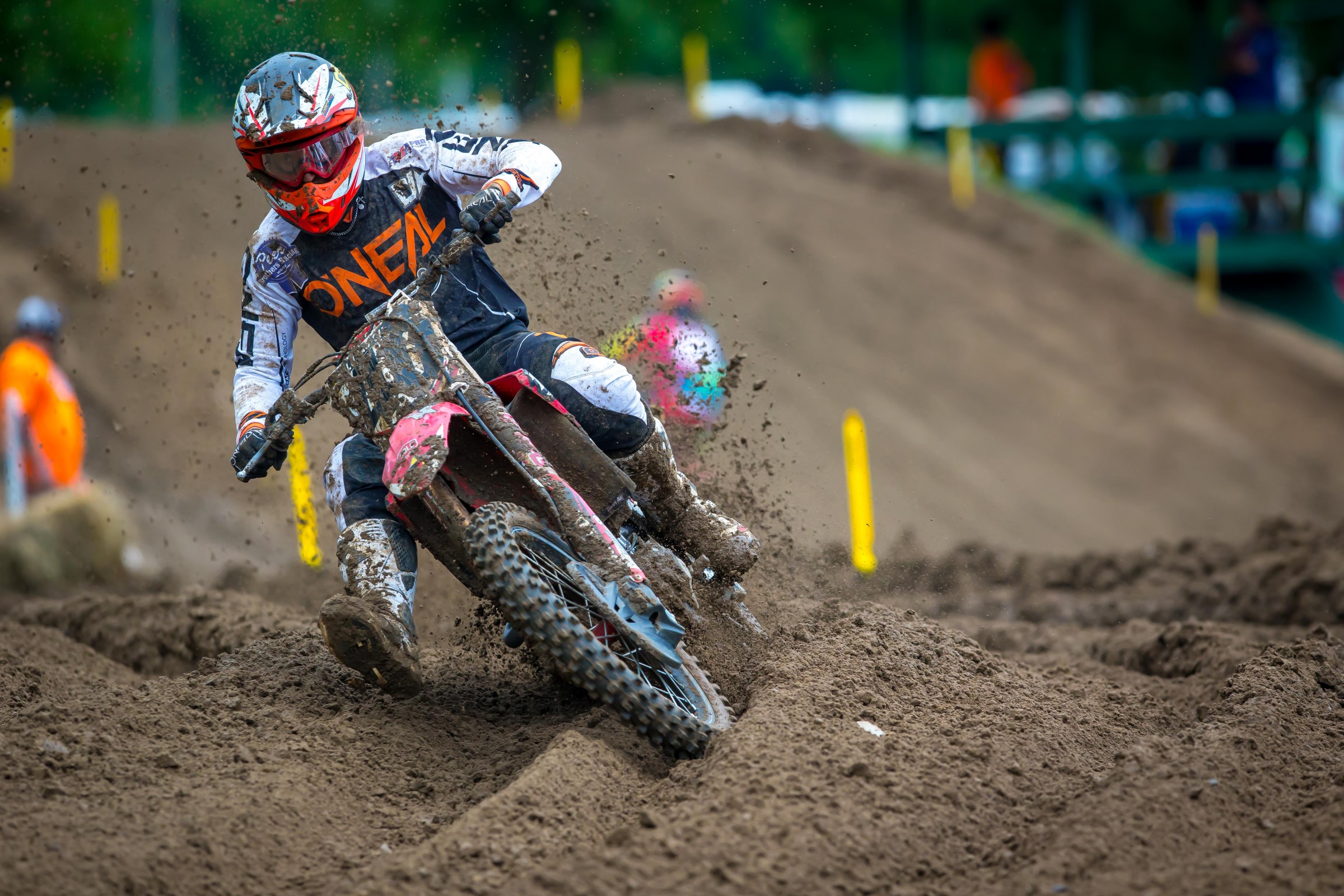 Josh and Donnie Hansen were on to talk about Donnie's MX Schools and how Josh said he wished he would've listened to his dad more growing up (which we can all relate to, right?). Donnie talked about some simple things that most riders can do better. Josh then said that his 2017 250SX tour was a complete mess and he hopes to be back out there if he can get a program together.
I had Jake Weimer sit down with the 2012 450SX Phoenix DVD and give me his thoughts on the night he got second in the main in a Pulpmx Classic Commentary HERE.
Adam Cianciarulo called in from Washougal for the Fly Racing Moto:60 Show and talked about his outdoor year and how he can't believe he doesn't have a moto win yet. He then said that the testing the Pro Circuit team did last week in Florida was a big help and he's much happier with the bike. He also mentioned that he's working on a contract extension with the green guys and it should be done soon. It's all right HERE.
(Editor's note: Adam Cianciarulo not having a moto win in outdoor motocross at this point in his career is as baffling as neither Steve Lamson nor Mike Alessi not having ever won an AMA Supercross in either class.)
And finally, the 2018 Fly Racing embargo is over. We can see the gear now and Keefer tests it HERE. Let's all hope we don't have to go through that again.
Fox 2018 Intro (Kyle Scott)
This week Fox Racing gave us a two-day intro in central California to their new 2018 gear line. Monday evening included a presentation on the new threads, helmets, and boots. The color ways are fresh, the V3 helmet has been updated, and they are introducing a new boot line—Fox's main focus this year was the hard goods.
One update to the V3 is there is a new specific medium shell size for improved scaling & fit. Previously the medium helmets used the shell of a large with additional foam, now the size has been reduced and medium helmet sizes have their own specific shell size for precise fit and reduced weight.
The main update to the V3 helmet is the addition of the Magnetic Visor Release System (MVRS). It's been race tested by Ken Roczen, Ryan Dungey, and Chad Reed. Looking back at Ken's crash in January at Anaheim 2, despite the more than serious injuries he sustained to his arm, he did not sustain any injuries to his head or neck. If you watch the video closely you can see his visor fly off when he hit the ground—that's what it was supposed to do. That can be attributed to the MVRS.
Instead of using traditional screws to hold the visor in place, Fox is using magnets in the new V3 helmet. Many other companies use plastic screws that are designed to break away in the event of the crash, but that wasn't good enough for Fox. There are still three mounting points like a typical helmet visor, but one thing I did notice is the visor is now set to a fixed position without adjustability to the angle. The idea behind MVRS is help protect the head and neck. With Multi-Directional Impact Protection System® (MIPS) already a feature of the interior shell, Fox went one further to help protect from the exterior of the shell. The visor magnets are strong enough to withstand 450 roost, but they're also designed to detach from the helmet in the event of a crash. This prevents the edges of the visor from digging into the dirt and tweaking your neck—whenever I think of a bad example of this, I think of Jimmy Button's crash where the fin on the back of his helmet stuck into the ground and left him paralyzed. Thanks to the combination of the interior MIPS, the helmet shell, and MVRS system, Roczen wasn't knocked out or even dazed from his Anaheim 2 crash this year. The V3 exceeds ECE and DOT certification so you can be confident it protects your melon too.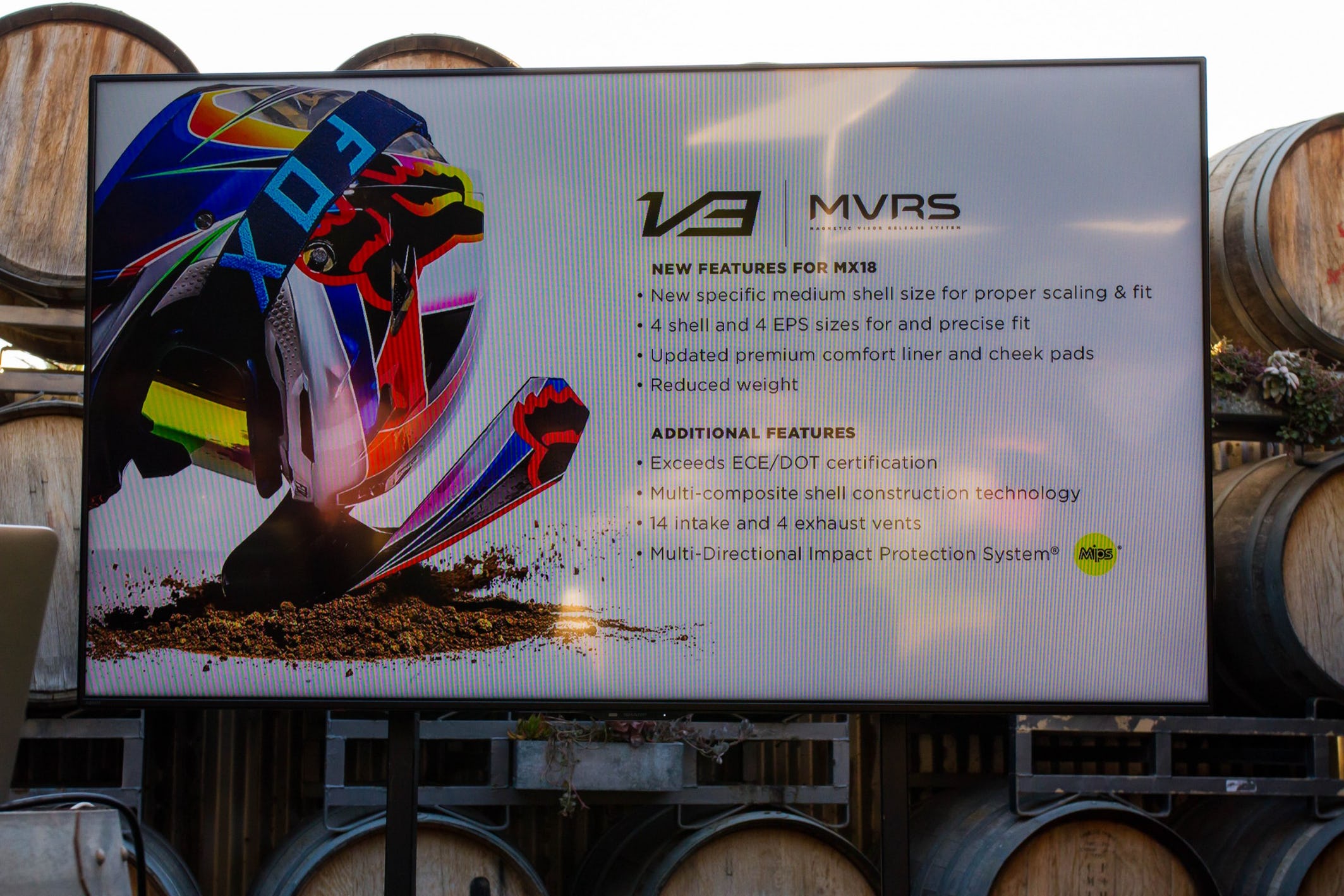 The Instinct boot has been around for several years now and this year Fox is introducing an all new boot line, based off what they've learned with Instinct called the Fox 180. It's designed to be more affordable than the instinct, without sacrificing quality. There is a unique rubber strap at the top of the boot and uses two Instinct style buckles on the lower portion. There is a cuff system designed to give flex for fluid movement, but protects to prevent hyperextension. The 180 their entry level boot, but is designed to be just as durable as it's bigger brother, the Instinct. With a silicone closure system on shin plate, it allows the shin to flex with motion of the boot and the durable rubber medial and burn guard provides excellent grip and feel on the bike.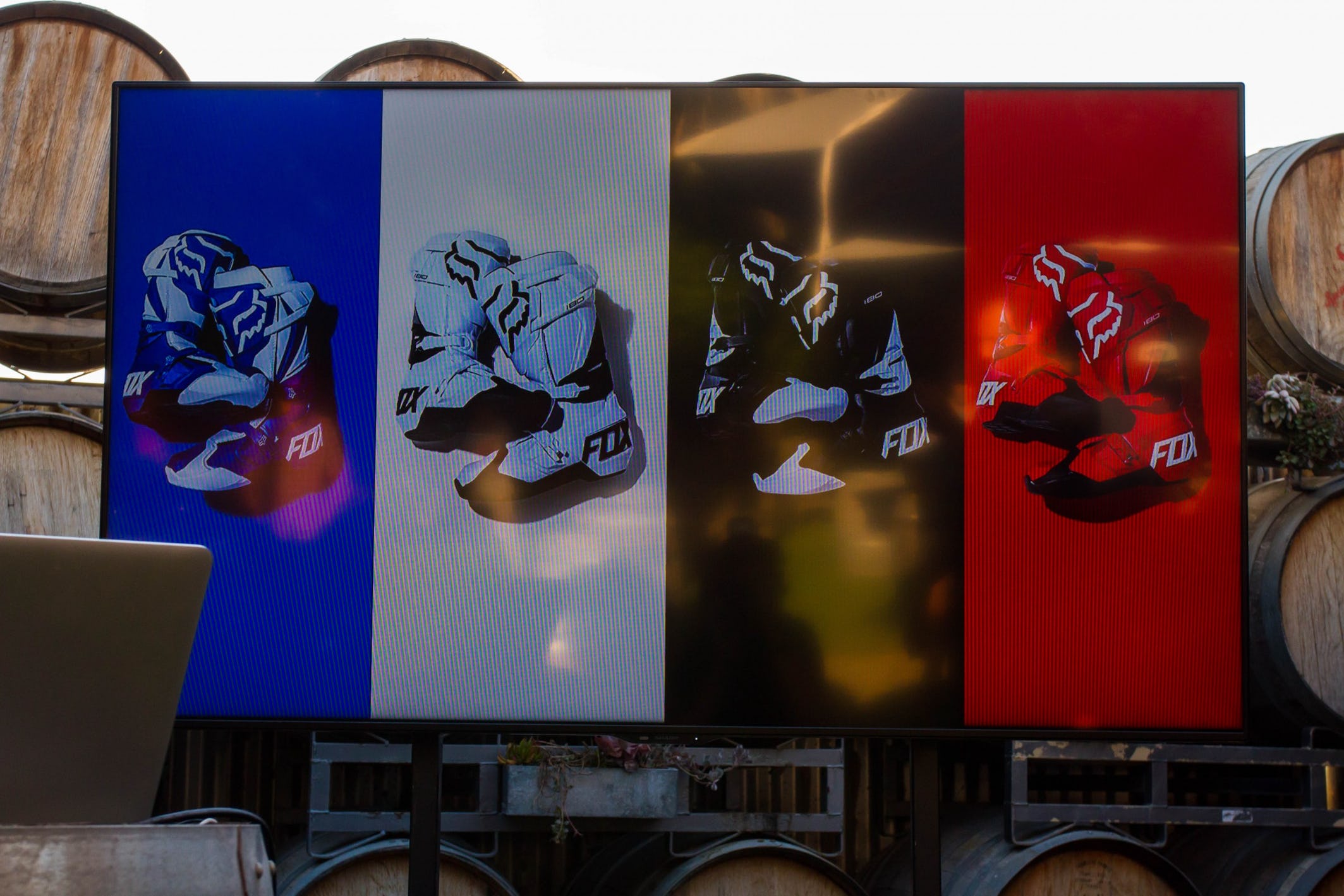 Hey, Watch It!
Racer X Films: Washougal Press Day
Racer X Films: Henry Miller
Racer X Films: Trey Canard's Exit Interview
Racer X Films: Trey Canard's Retirement Press Conference
Racer X Films: The Best Post Race Show Ever: Millville
Take an in-depth look at what it takes to run a professional British Motocross Championship race team.
Yamalube/Star Racing Yamaha's Aaron Plessinger put on the Vital MX Garmin for One Lap Around Washougal.
Random Notes
Come out and learn from the Legend Donnie "Holeshot" Hansen at Washougal MX Park on August 5-6.
The Donnie Hansen Motocross Academy is a motocross riding school that teaches
techniques and skills to all levels and ages whether they are racers or just want to
improve their riding skills. For more information and to sign up, click here.
---
Subscribe now for as low as $9.98 and receive a free Fly Racing Draw String Bag plus access to our digital edition.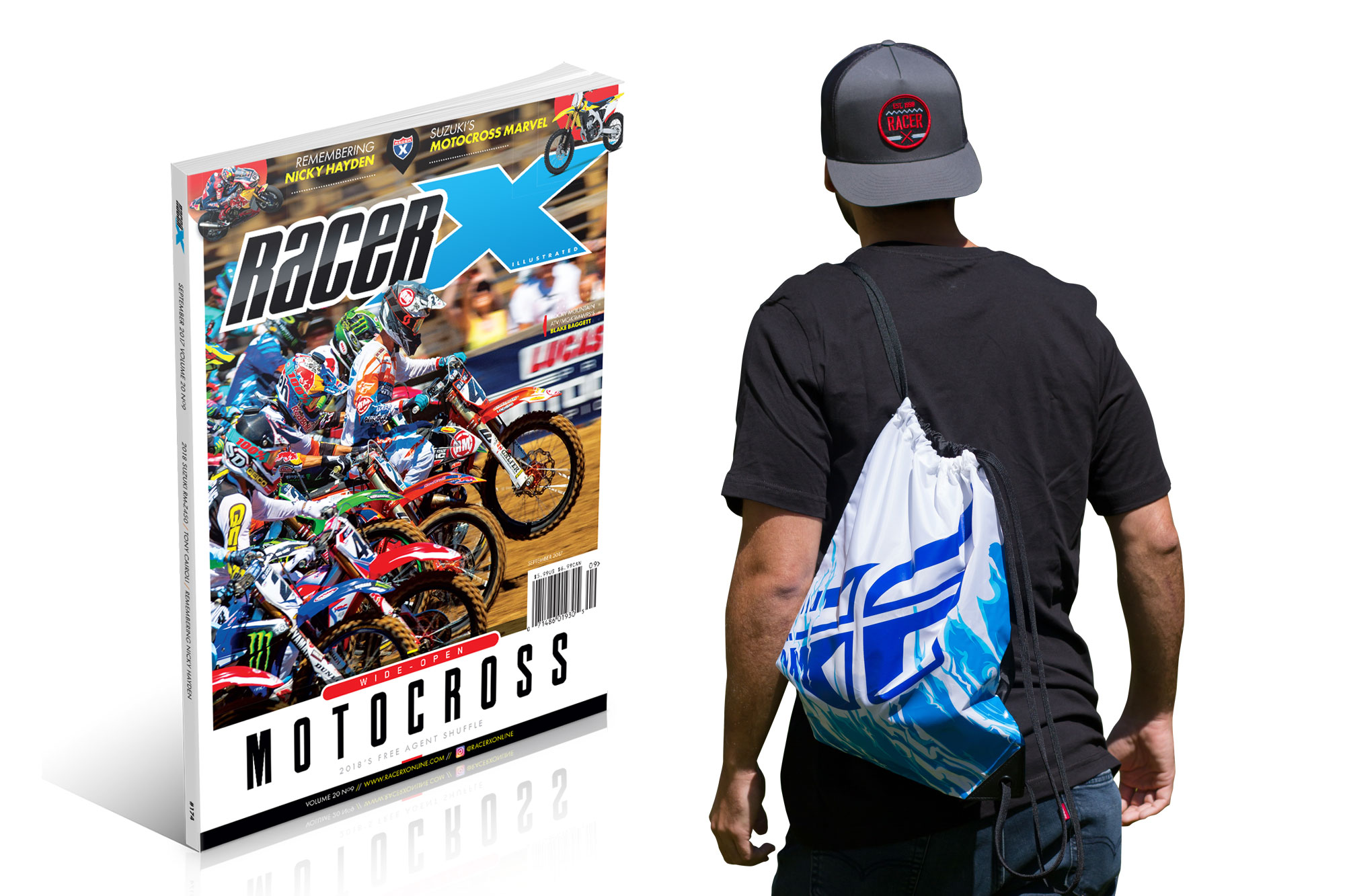 Going to Washougal this weekend? Want to be able to get into the pits all day?
The only way to cruise the pits whenever you'd like is with the Racer X All-Day Pit Pass, but quantities are limited! Get yours today while they're still available and get all-day pit access plus a one-year subscription to Racer X Illustrated for just $50. Preorder ticket sales end Thursday, July 27th at 11:59 PM.
If you preorder online for this event, you'll need to pick your Racer X Pit Pass up at the Racer X Pit Pass Booth, which will be located in Sponsor Village, where you'll also receive an extra copy of Racer X, the official event sticker, and Racer X stickers.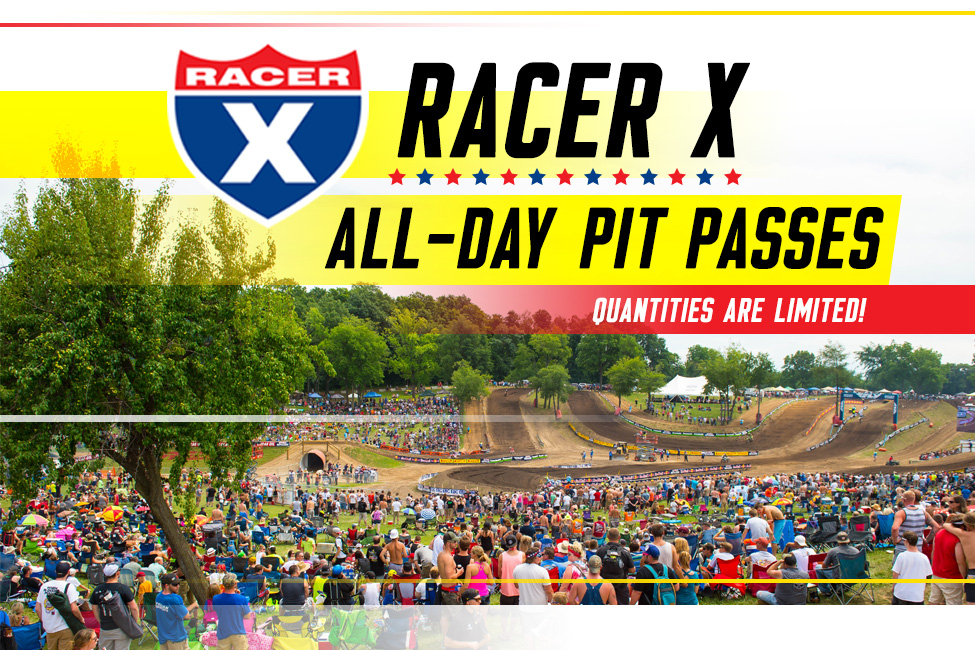 Headed to the Washougal National this weekend? Be sure to stop by the Racer X Booth in Sponsor Village, and subscribe to Racer X Illustrated for as low as $10 to receive a FREE $20 Motosport Gift Card, a one-year subscription to Racer X Illustrated, an extra copy of Racer X, the official event sticker, and Racer X stickers.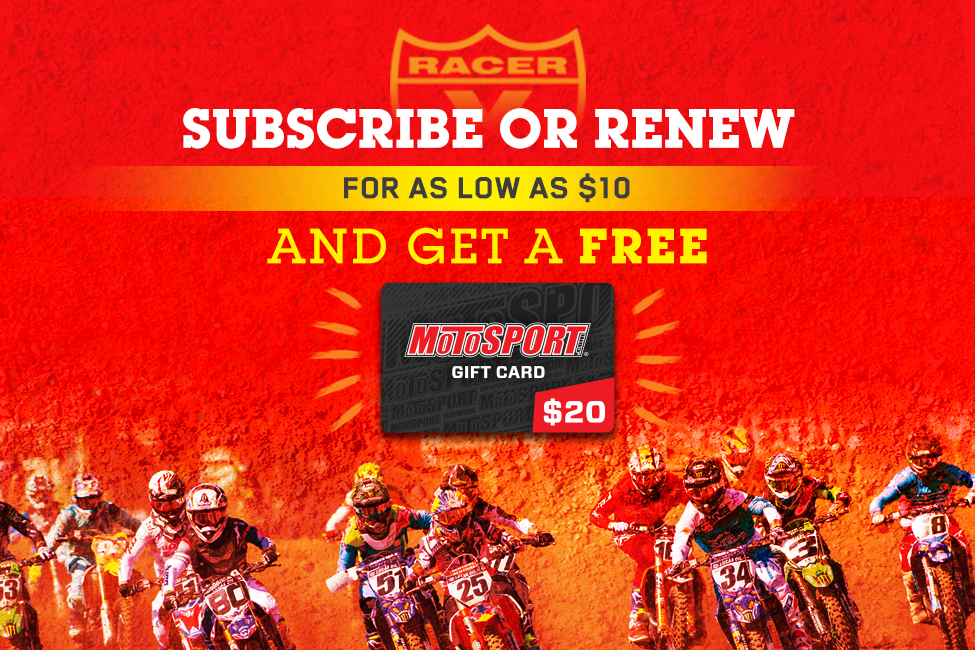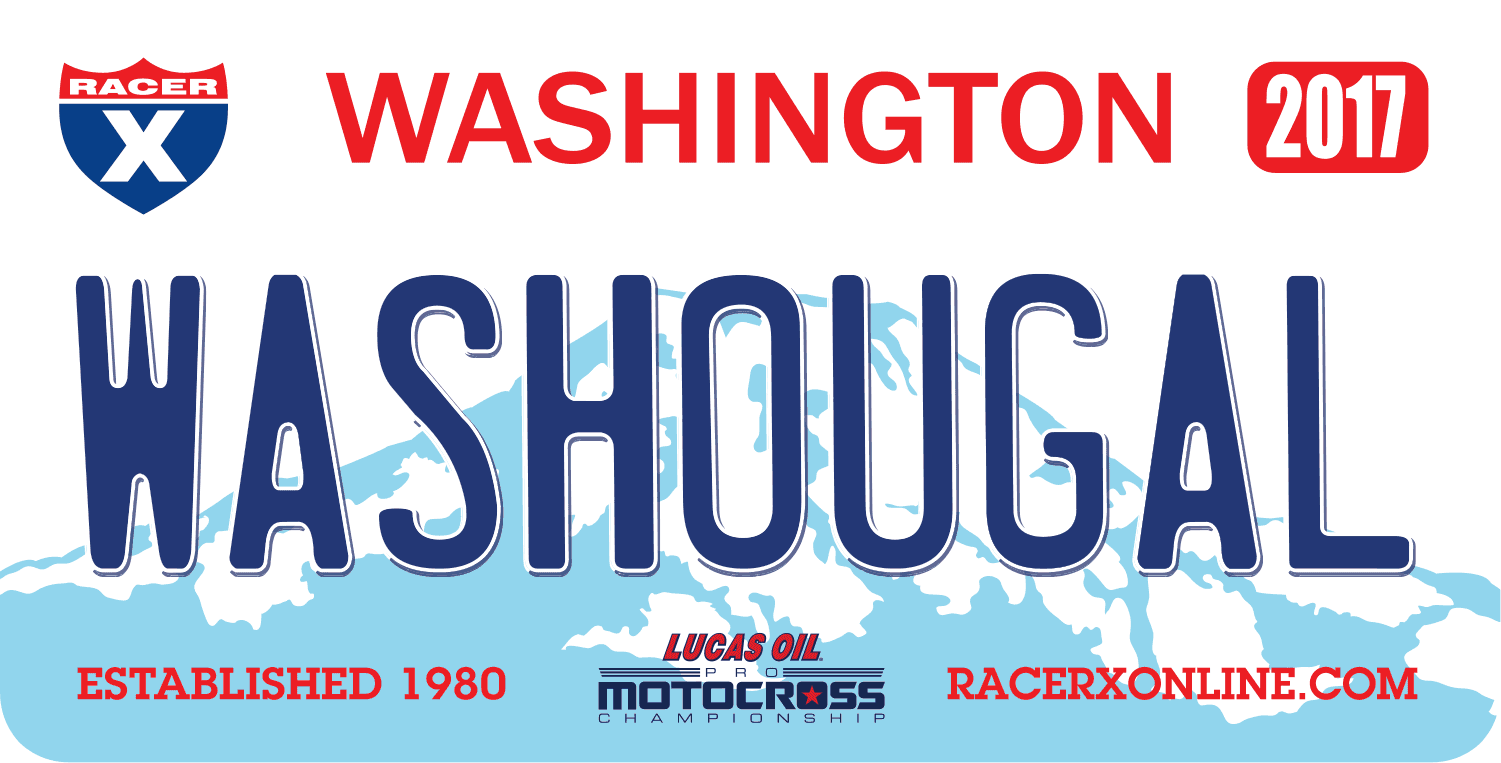 If your headed to the Rocky Mountain ATV/MC AMA Amateur National Motocross Championship at Loretta Lynn's next week, don't forget to stop by the Racer X Booth and get your Loretta Lynn's Event Sticker.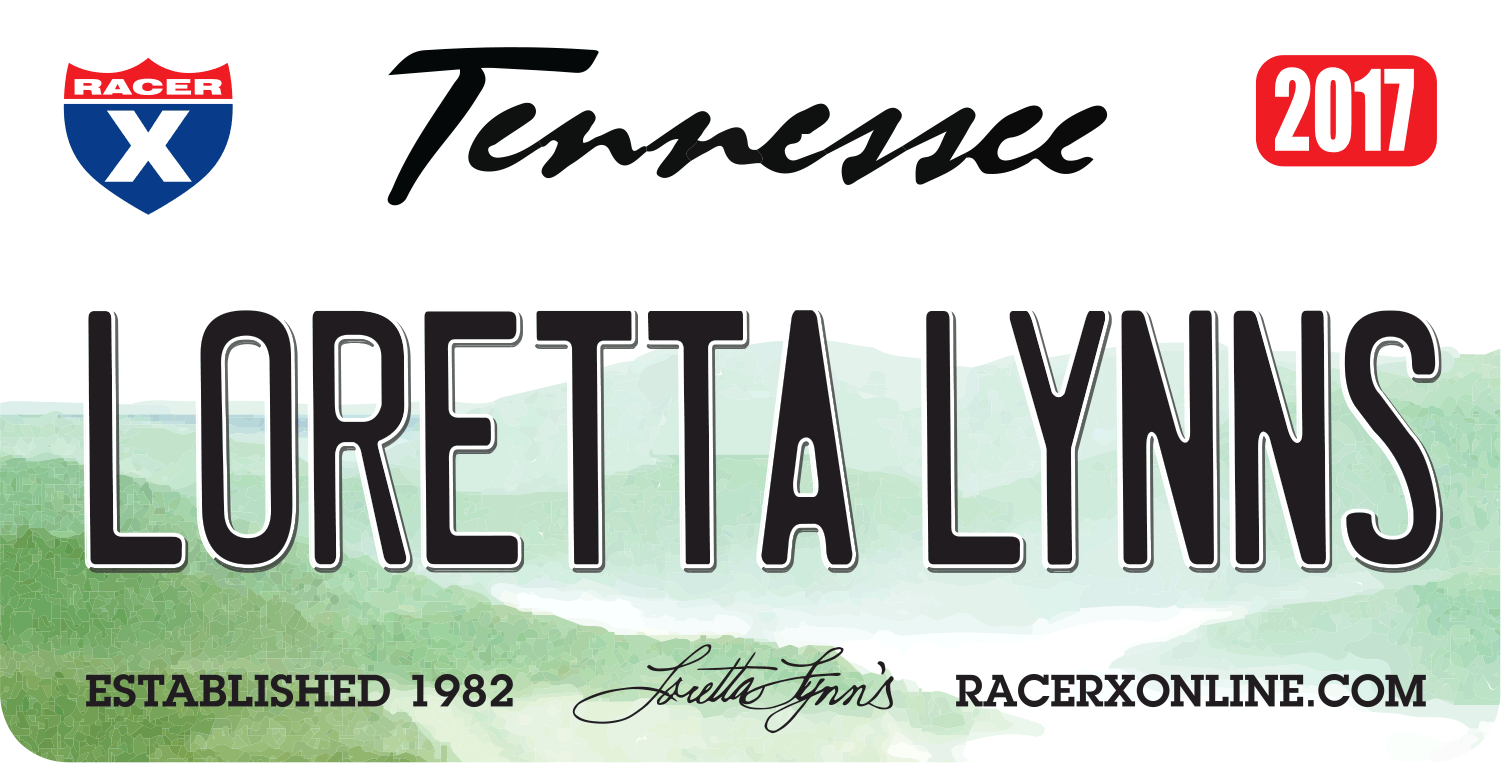 Don't forget to stop by the Racer X Booth at Loretta Lynn's next week and get a FREE 6-Pack Racer X Cooler Sleeve with the purchase of a one-year subscription for as low as $10. You also will receive free Racer X stickers, event stickers, and a free issue of the magazine. The Racer X Booth will be stocked with Racer X Brand items such as shirts, koozies, hats, and many other things. So be sure to stop by and grab some gear.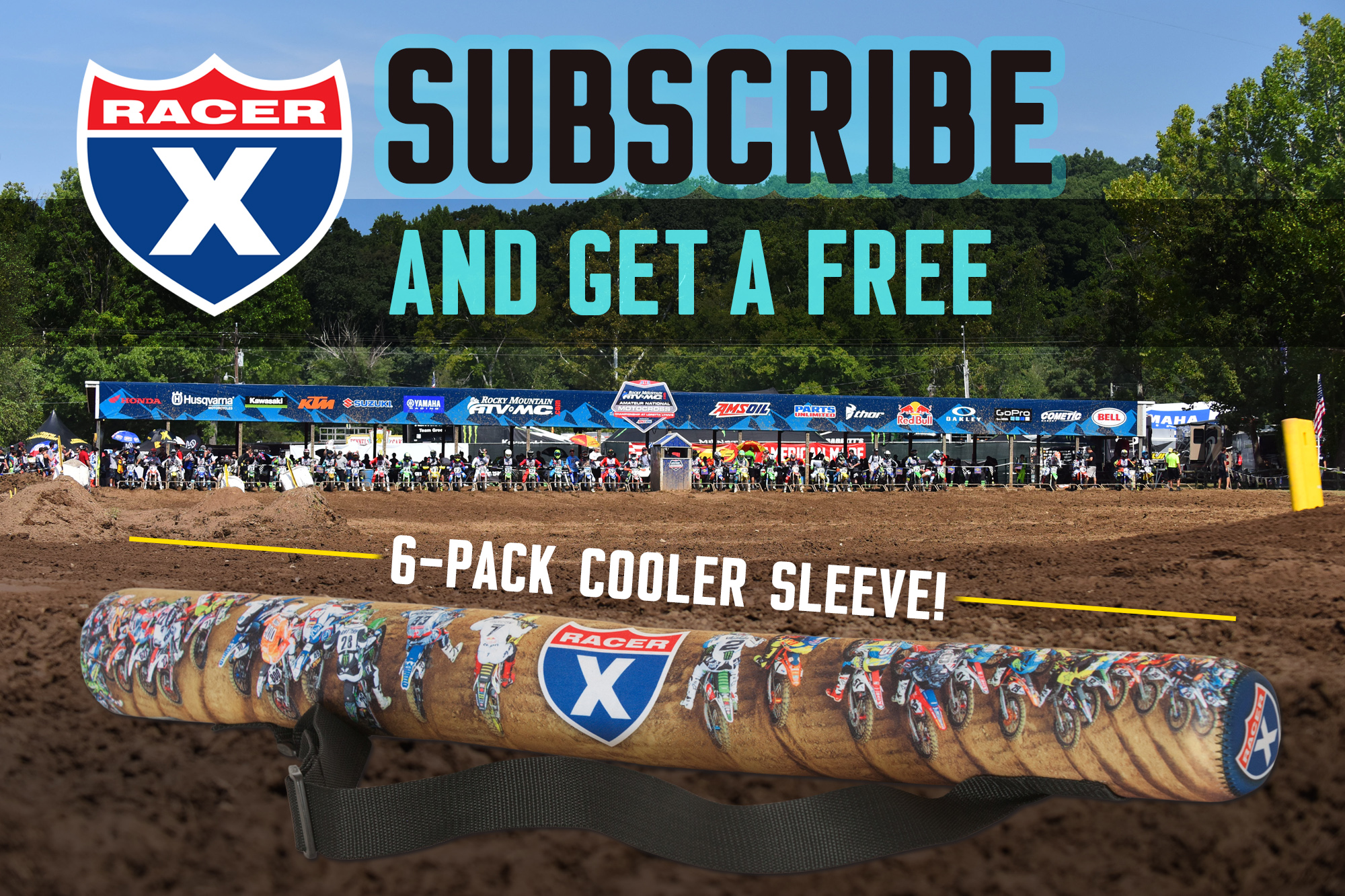 The MotoXpod Show had Dean Wilson and Matt Bisceglia on this week. You can listen to the show here.
For the latest from Canada, check out the DMX Frid'Eh Update #31
Thanks for reading Racerhead, see you at the races.