Millville, MN
Spring Creek (Millville)
AMA Pro Motocross Championship
You may remember Steven Clarke, who was born and raised in the U.K., from back in 2009 and 2010 when he was racing for Team Suzuki City and got several top 10 finishes including a fifth place at the Indianapolis Supercross in 2009. Well, since making his pro debut in the U.S., Clarke has bounced around the world racing in Australia, Germany, the U.S. again, the British Motocross Championship, the Motocross European Championship, and now he's making another run at racing here in the States.
For Clarke, having smoke pour out of Zach Osborne's engine last weekend at Millville was probably the best thing that could have happened. The focus of the TV broadcast immediately switched to the 250 Class points leader, and right behind Osborne was Clarke, putting in his best ride of the season battling with Chase Sexton for eighth place. He finished 10th in that moto and let the moto world know that he's officially back.
We called up "Scuba" Steve to talk about his journey around the world, what inspired him to come back to the States, and how he feels his season has gone so far.
Racer X: I've got you racing in Australia, Germany, the EMX series, the British Motocross Championship, and over here obviously. What's it like racing in all these different series?
Steven Clarke: To be honest it is kind of hard to switch between different places. But after you've been there for a little while and you settle in and everything gets in a groove it's good. I think it's helped me in my career. I've rode all different tracks with different conditions and stuff. I think it's made me a well-rounded rider. I actually just turned 27 [years old] a few weeks ago, so I'm quite experienced and getting a bit older for motocross, but I feel better now in my career than I ever have. I've been back down at MTF [Millsaps Training Facility] for the last … almost a year now. I've had a few injuries through supercross, but everything seems to be falling into place now.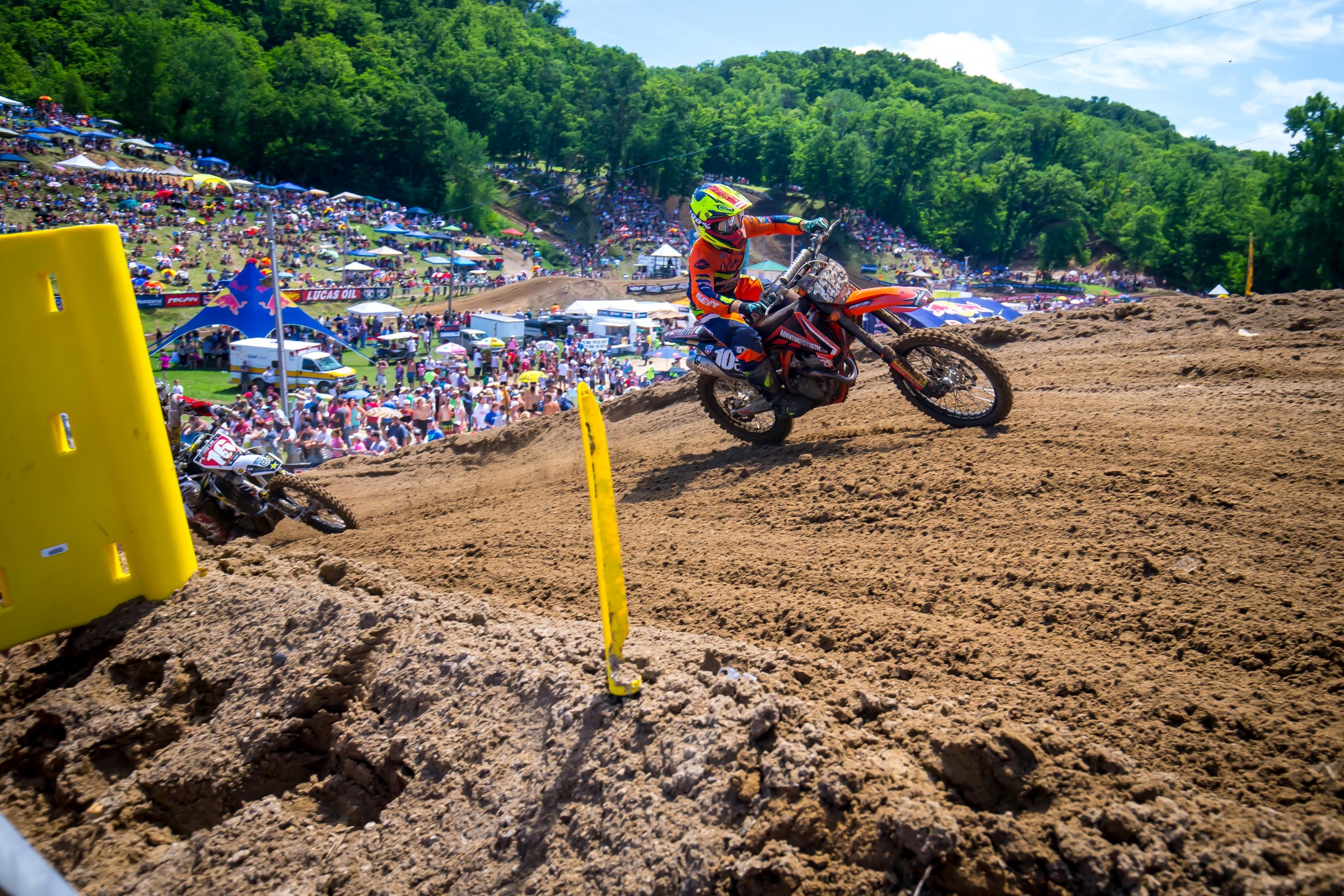 Do you remember a specific time when the culture shock of another country hit you pretty hard?
The hardest was, I guess, over here when I first started coming over. I came in 2001 to stay with Colleen [Millsaps] the first time with Davi Millsaps. To go from like an average weekend warrior in England on a 65 to seeing how big you guys do it … I was actually at the Mini Olympics [Mini Os] and I was like shell-shocked. My parents just decided that we wanted to continue to race over here and make a career out of it. After that it was sweet.
You must have been 10 or 11 when you came over for the first time?
Yeah, I was 11 when we came for the first time. It was just a one week stay with Colleen and then we raced Mini Os and we were hooked. We started coming back more and more for training before my season in Europe on 85s. Decided to move over here at the beginning of 2007, I think. Then that just kind of snowballed from there. I wanted my career to be here, but one thing led me down a different path and I'm thankful for the races I've been in and the people I've met along the way.
So you've been at MTF for pretty much your entire career then, even when Davi was developing himself. What was it like to see the progression of that place?
I pretty much owe my whole racing career to that place. Colleen's developed a lot of time for me and taught me everything I know as far as racing goes. The facility itself is incredible. If anyone hasn't been to see it or trained here, I suggest trying to at least come check it out because it is one of kind. When I first came here I used to train with Colleen at her house at the track with Davi and stuff. Then in 2003, they built MTF and I've been there ever since.
I'LL KIND OF GO WHEREVER I CAN RIDE MY MOTOCROSS BIKE AND GET AWAY WITH MAKING A LITTLE BIT OF MONEY ALONG THE WAY TO SUPPORT MYSELF. THAT'S WHAT I ENJOY DOING.
What exactly sparked your return to the U.S.? Is it something you've been thinking about for a while?
It's always been in the back of my mind to try and return over here, but it never seemed like the right time to do it. Then after last year I led the British championship all year and it came down to my favorite track at the end and things were looking good. I had a small electrical failure that was crazy to even happen. But I felt like I had already won the championship, if you know what I mean. I didn't win it, but inside I knew that I did everything I could. After that we sat down and thought now's the time to do it. It was my third year in a row doing the British Championship. I'm thankful that I've decided to do it now, because it's been fun and I've had some good results already.
With that British championship … I know you said you felt like you had won it, but how hard was it to swallow that loss?
Yeah, it was sour. It sucks that we put in so much work and everything went right all the way down to the end. But it is what it is. The guy who actually won the championship, Adam Sterry, he's a great rider and is actually on factory Kawasaki [in MX2]. It was just fun mixing it up for a win and being a contender.
And how do you think your time in the U.S. has gone this year?
To be honest, it went pear shaped right before it even started. I was super prepared. I was fit and healthy and excited for supercross and I actually crashed and broke my collarbone nine days before the first round. Coming back from that I rode maybe three or four days of supercross before St. Louis. I had some good starts and had some good speed but I just didn't have any bike fitness which killed me. I wasn't happy with that and it was back to the grind during the week. Then I just had a small fall in a turn and broke my thumb. It just seemed like one thing after another. Originally, I was only staying for supercross and then I was going to go home, but after missing it all we decided to try and hit some outdoors that we can afford to get to as a privateer and just try to do it that way. It's gone well so far. I've been getting better and better and my results are getting good. I've had a little bit of bad luck, I've crashed a few times and had a bike malfunction at Muddy Creek, I believe it was, but we're getting everything ironed out. It's a tough road driving to the races, me and my mom, racing and getting back for training by Monday morning. But I wouldn't change it for the world, it's been sweet.
A quick peak at Clarke's Instagram page and you'll quickly realize he's a big fan of memes. I'd go so far as to say he's the meme king of motocross riders. Here are some of his favorites that weren't too inappropriate to show on this site.
Do you feel a little extra pressure on you to perform well because you come from overseas to race and there's not really a backup plan for you if things go wrong? Your only option is to go back home, really.
I don't really see it as pressure. I just see it more as like I've got an opportunity to try and further my career and jump start back over here for next season. As far as pressure goes, no. I always try to envision motocross as like, I'm there to have fun and if I'm having fun and riding how I know how to ride, I'm going to do good.
Any plans right now for doing supercross next year, or more just living in the moment right now?
I'm going to try and get through the rest of this season and then see if can pick up some support to do supercross next year. If I don't get any help it will be hard, but I want to try and stay over here. That's my goal. We'll see. I can't plan that far ahead yet if I'm honest. I'll kind of go wherever I can ride my motocross bike and get away with making a little bit of money along the way to support myself. That's what I enjoy doing.
Any sponsors you'd like to thank?
First I have to thank my parents for always believing in me and supporting my career for all these years. Next is Colleen Millsaps and everybody at MTF for all their help and for putting up with me! [Laughs] I'd also like to thank Adventure Moto KTM, Kenny Racing Products, BRP Imports, 100%, HGS Exhaust Systems, Pirelli, Renthal, Sunstar, Talon Wheels, Boyesen, Forma Boots, and Braking.