Eric Johnson's "The Kentucky Kid" ran in the September issue of Racer X Illustrated. Subscribe today to read this full feature and for more in-depth stories about Jason Thomas' trip to Japan to shake down the all-new Suzuki RM-Z450, how two-stroke racing is picking up momentum—finally—in Lucas Oil Pro Motocross, Antonio Cairoli's path to becoming one of Europe's all-time greats, and much more.
When I found out that Nicky Hayden had been gravely injured in a cycling accident on the Rimini coast a handful of days after racing at the nearby Autodromo Internazionale Enzo e Dino Ferrari in Imola, Italy, I was at a loss. As the next few days went by and more information came in from Maurizio Bufalini Hospital in Cesena, the word was things looked very bleak for the 35-year-old American World Superbike racer. Tommy Hayden, Nicky's brother, and a friend and co-worker of mine, was already in Italy and by his brother's side.
A few days later, on Monday, May 22, Nicky Hayden passed away.
As I'm absolutely certain happened with all of Nicky's friends, confidants, and fellow racers, my mind wandered back to a particular time where I shared an experience with the Kentucky Kid.
It was September, 2001, and I was fortunate enough to be sitting around a table in a bar deep within the MGM Grand Casino in Las Vegas.
"That's you, Nicky. You're going to be the next Valentino Rossi," said Ricky Carmichael, patting the young road racing prodigy on the back. It was late September, and Carmichael, Hayden, and fellow Honda rider Ernesto Fonseca were all sitting around that same table, in town for American Honda's annual dealer show. Together, the trio absolutely made up a large part of Honda's future in American motocross and supercross, U.S. Superbike racing and—eventually—the MotoGP World Championship. "Valentino Rossi is the man in road racing, Nicky, and someday you're going to race against him," continued Carmichael. And with that, the ever-friendly Hayden just smiled and nodded in appreciation of RC's words.
Seven race wins and five months removed from the Carmichael and Fonseca round table, Nicky Hayden clinched the 2002 AMA Chevy Trucks U.S. Superbike Championship at Virginia International Raceway. At 21 years old, he was the youngest rider to ever win the title. A year later, he was off to MotoGP, where not only did he place fifth in the World Championship, he was named the MotoGP Rookie of the Year. The rest was history.
A mere three years later, on Sunday, October 29, 2006, Nicky Hayden won the MotoGP World Championship on a sunny afternoon in Valencia, Spain. Not a bad run at all for a self-proclaimed "hillbilly" from Owensboro, Kentucky.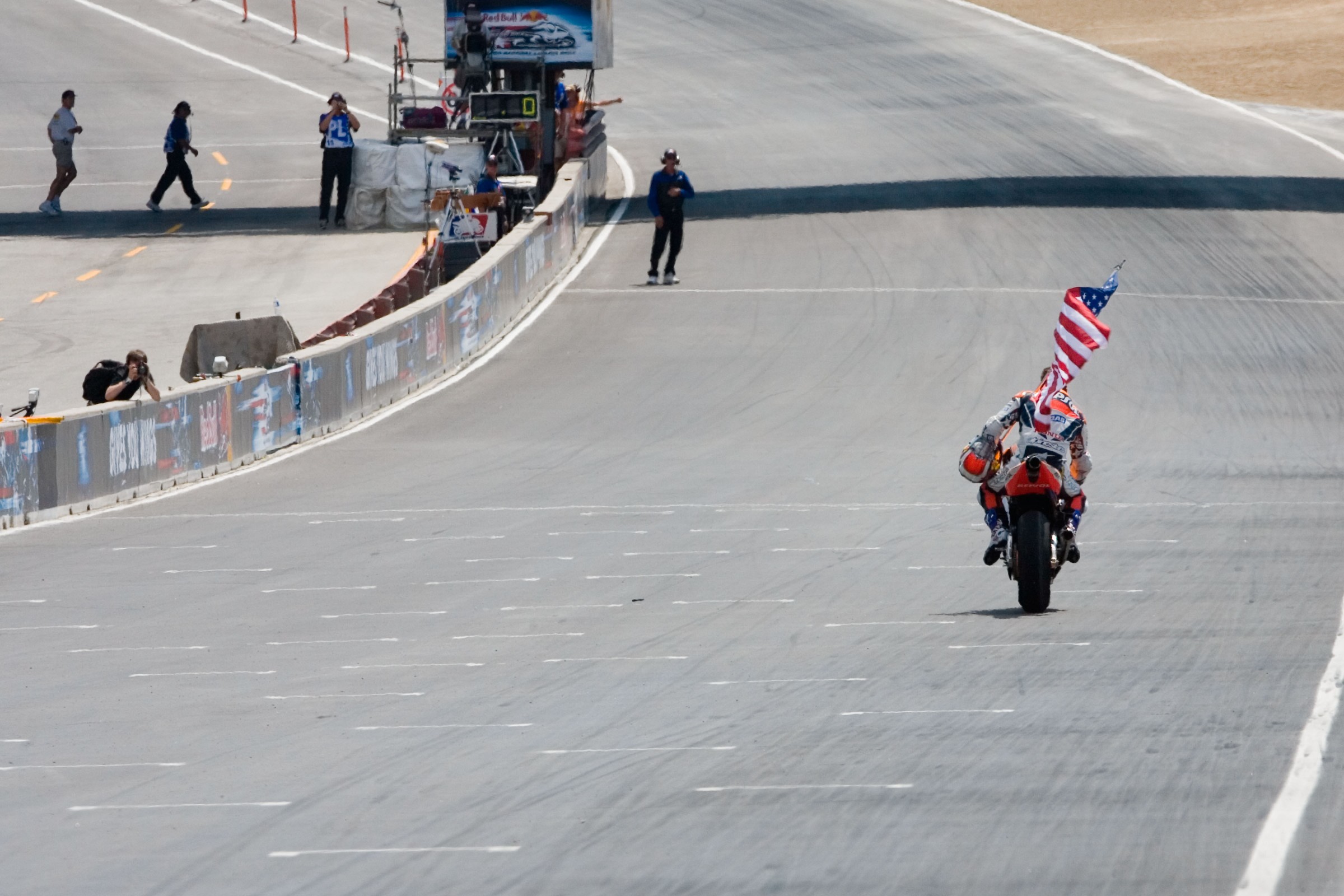 Taking all this into account, I got to thinking things through and came to the realization that if I had such memories of Hayden, certainly others who came into contact with him at or around the races did as well.
Davey Coombs and I began to put a list together of people we both felt played a key role in Hayden's rise in both American and global motorcycle racing, as well as a few racers Hayden was very close to. Once the list was complete, it didn't take very long to track down each and every one of them.
The first phone call I made was to Chad Reed. And I had a reason for doing so. Last year, during the summer break in the MotoGP World Championship, multifold World Champion Jorge Lorenzo came to California on holiday. One thing on his to-do list was to do some old school flat track riding. To that end, Yamaha Motor Corporation, U.S.A. built a few bikes and met up with both Lorenzo and Reed out at Perris Raceway in Southern California. The pair rode most of the afternoon, and as the sun started to fade, Lorenzo and the Yamaha box vans took off. Not long after, a small pickup truck with a heavily modified Honda CRF450R fastened down in the back of it rolled into the Perris pits. Chad Reed saw this and pointed out, "Hey, that's Nicky Hayden." Out to meet his brother Tommy, the two just wanted to get out there and put in laps. No fame, no cameras, no bright lights, no money. They just wanted to ride. Typical Haydens.
Reed walked over to Nicky's truck and the two, along with Tommy and I, struck up a conversation. I've been around Reed and his racing exploits for 15 years now and it didn't take very long to see and hear how much he respected and admired Nicky. That really struck me that evening. And Nicky, in his own, inimitable way, had a way of captivating Reed and those around him. I guess you had to be there, but Reed, as did many others, knew quite well what Nicky Hayden had achieved and accomplished during his great racing adventure.
As I continued to make phone calls and set up meetings to talk with the racing men who were involved in Nicky's racing adventures, I marveled at how each one of them had their own slant, observations, and anecdotes about the last American MotoGP World Champion. Ray Blank, retired senior VP of American Honda, had a very heavy hand in working closely with HRC to get Hayden to MotoGP. To Blank, Nicky had everything needed to not only contend for a World Championship, but to also help sell motorcycles in the United States. Interestingly, Blank set it up for Hayden to visit the very last round of the 2002 MotoGP World Championship at Valencia, Spain. At that point in time, Davey Coombs and I had decided to create Road Racer X and we were there with Hayden in Valencia as he scoped things out. On Saturday morning, Hayden asked me if I knew where the press room was as he had his first official appointment to meet the MotoGP global press corp. I walked Nicky up to the giant (and smoke-filled) room teeming with a hundred or so chain-smoking journalists and photographers (nearly all of them Spanish and Italian) who, upon seeing the new "American" began shuffling toward him. Of course, Hayden, even as young and unknown in this new world as he was, charmed the hell out of them.
When we caught up with Kenny Roberts to talk about Nicky, he was driving his motorhome across America. Arguably the greatest American motorcycle racer to ever live, Kenny was full of praise for the kid from Owensboro, insisting time and time again what a true, genuine, pure racer he was.
Chris Carr, a seven-time AMA Grand National Champion, spoke not only the flat track and TT racing battles he had with Hayden, but also of his admiration for Nicky for being a flat track racer at heart.
"If there was any one thing about Nicky where he really stood out above the rest was the fact that he didn't step on where he came from," Carr told me. "Many World Champion road racers in the past came through the flat track ranks and, on their way to world glory, said some less-than-stellar things about the sport of flat track. Nicky Hayden wasn't one of them."
Jeremy McGrath brought up what a "first-class" person Nicky was and talked about the great memories he had of trail riding with him and his brothers Roger Lee and Tommy. Gabriele Mazzarolo, owner of Alpinestars and longtime sponsor of Hayden's, reflected on the profound effect Nicky's World Championship clinching ride at Valencia in 2006 had on had on him and his entire company.
Ricky Carmichael, one of the hardest working racers in all of American motorcycle racing, brought up a moment he shared with Nicky at a MotoGP round in Barcelona, Spain: "When I was at Barcelona two years ago for MotoGP, I asked Nicky how much longer was he going to do this racing thing. He just looked and smiled at me and said, 'Man, I'm having too much fun, and I haven't even thought about when I'm going to stop racing.'"
And the last person we spoke with? Valentino Rossi. Said the nine-time MotoGP World Champion who lost the 2006 showdown with Hayden at the last round of the season, "Losing a world title to Nicky was less painful because he was so cool."