Millville, MN
Spring Creek (Millville)
Lucas Oil AMA Pro Motocross Championship
As we reported over the weekend, longtime Honda rider and current member of Red Bull KTM, Trey Canard called it a career on Saturday, citing the numerous injuries he sustained during his 10-year career. Canard earned two 250 titles and 18 career AMA Supercross and Motocross wins (250 and 450 combined) before hanging up his boots. Here is what he had to say in a statement:
"I love racing and my passion for doing so has not changed, but there comes a time in every racer's career where you come to the realization that although the spirit is willing, the flesh is weak, and I know in my heart it's time to call it a day. I've had many injuries throughout my career and have always done my best to heal and bounce back. However, I feel I am not able to push myself to the level I need to in order to be competitive at the highest level of racing. I am sad to say goodbye, but also extremely grateful and thankful for the last 10 years of my life. I never could have dreamed I'd do the things I've been able to do, to live out a childhood dream and meet and become close with so many wonderful fans and industry people."
You can watch the entire press conference below.
Prior to Saturday, it had been 329 days since the last time Matt Bisceglia competed in an AMA Supercross or Motocross race. Sidelined since January due to separate leg injuries, the past AMA Horizon Award winner returned to racing at Millville on a different bike and team than expected. Filling-in for the injured Broc Tickle at RCH/Yoshimura Suzuki, Bisceglia earned a solid 10th in the first moto. According to the team, Bisceglia suffered from heat exhaustion toward the end of moto one and did not start the second moto.
"First moto came up, I got a good gate pick and ripped a really good start. I hung up front, hung with those guys for as long as I could," he said in a statement. "Toward the end of the moto I was fighting some heat exhaustion, which I wasn't too pumped about but I still ended up in the top 10. Unfortunately, I didn't have enough left in the tank for the second moto. It was a huge accomplishment for me, even if I was only able to do it for one moto this weekend, it was still huge for me because I haven't raced in almost a year. I was really happy with it and happy with the team. I'm really happy with the bike and I can't wait until Washougal."
The team's second rider, Justin Bogle, also had his struggles on Saturday. Bogle went down in the first moto and sustained a shoulder injury, and after starting up front in the second moto pulled off after seven laps. In a statement, Bogle said he doesn't think he sustained any serious damage.
"We had a decent day going but once I fell on my shoulder, it was tough sledding," he said. "I was inside the top 10 for most of the first moto, made my way up to eighth and went down with like two to go. I was hoping the break between motos would be enough for me to be ready for the second one. I got a great start and led a little bit but my shoulder just kept getting worse and I had to pull off. I don't think there's any serious damage but it was enough to end my day early."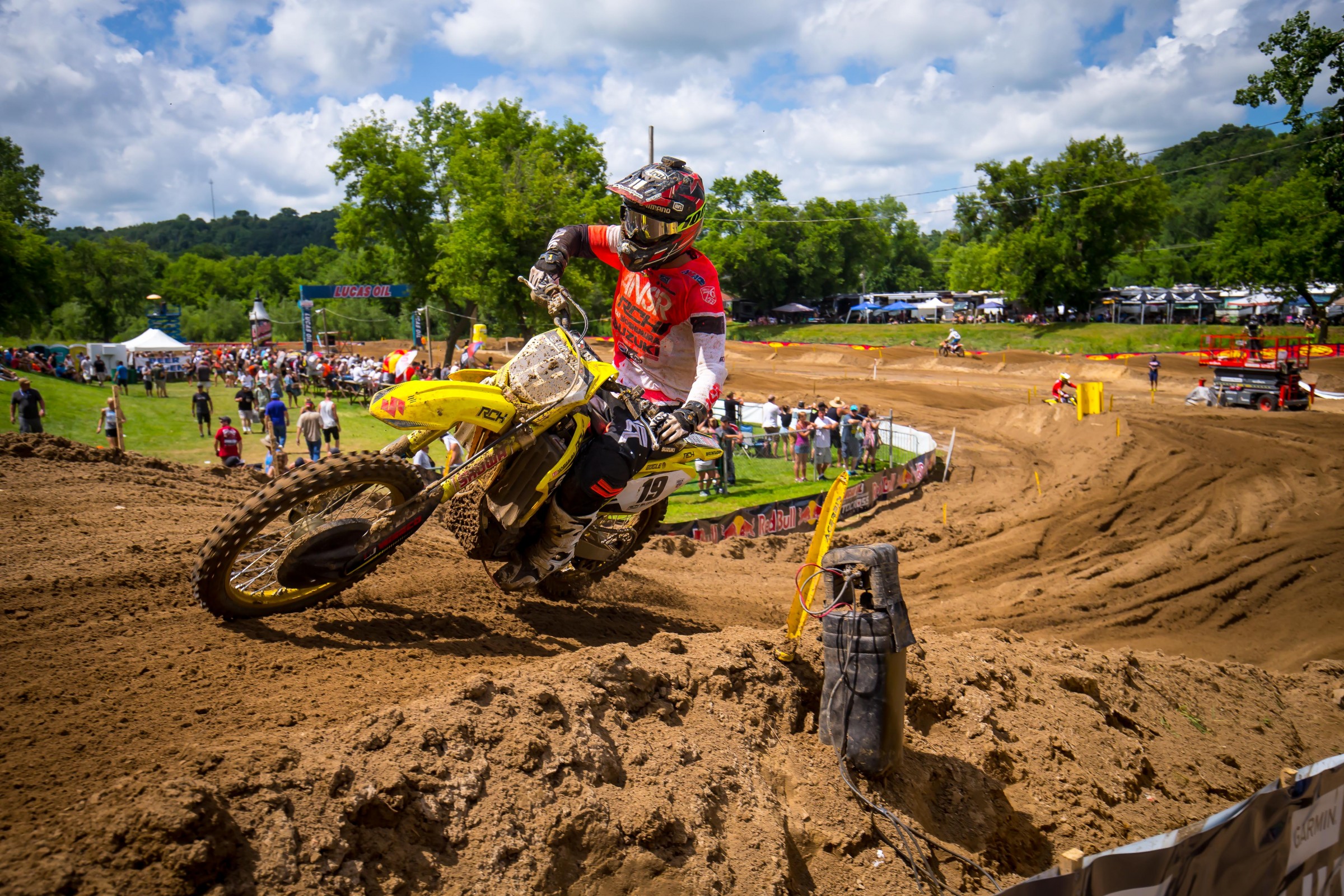 Don't look now, but for a second consecutive week Martin Davalos put in a strong top five performance in a second moto. After finishing 11th in the first moto after stalling his bike, Davalos charged to a fourth in moto two for seventh overall. "The track actually came around from this morning," said Davalos in a statement. "It rained a lot, and the guys did a great job getting the track ready for us—but it was brutal. It got really humid, especially in the second moto. The track was really rough and rutted. I made a little bit of a mistake in the first moto and stalled my bike. I got a top 10 start in the second moto and put in a charge for fourth. I feel pretty happy with how I rode, but hopefully I still get better for Washougal next weekend."
For a second straight race, Jason Anderson was forced to the sidelines early. Anderson crashed prior to Southwick and was hoping the week off would provide enough time to recover. But after qualifying 12th Anderson completed just two laps in the first moto before pulling the plug. We'll have an update on his status for Washougal later this week.
Rocky Mountain ATV/MC-WPS KTM got reigning AMA 450 Rookie of the Year Benny Bloss back for the first time in Lucas Oil Pro Motocross. Bloss had been sidelined since February due to shoulder and elbow injuries sustained in Monster Energy Supercross. Bloss went 14-24 for 17th overall in his first race back.
Jeremy Martin's fourth overall finish on Saturday matched the worst finish of his career at his home track. His fifth in the second moto didn't come without controversy. Martin made a mistake on the uphill of Mt. Martin and went through the banners. Instead of trying to reenter at that spot, Martin went to the other side of the track. He did not gain any positions, which is different than what Joey Savatgy did at East Rutherford and was penalized for. MX Sports, which is the sister company of this site, did not penalize Martin for the incident as it was determined to be impractical for him to attempt to get the bike in the correct direction and try and climb the steep hill. "Rough day at the home town race," said Martin in a statement. "Good starts but didn't have the speed nor the flow around the track today. I will study footage from the race and work on getting better."
Although he went 6-6 for fifth overall, Monster Energy/Pro Circuit Kawasaki's Adam Cianciarulo said he felt better at Millville than he had the previous two weeks. "This weekend was definitely better than Southwick and RedBud, but I didn't take enough advantage of my good starts," said Cianciarulo. "But considering how tough my past two races had been, I'll take it and try to build on it for next weekend at Washougal."
RJ Hampshire finished a spot behind in sixth via 5-7 moto scores. "Practice we ran into some problems again, but we turned it around for the motos," said Hampshire. "Pulled the holeshot in the first moto with 28th gate pick, but had a lot of mistakes the first few laps, wasted a bunch of energy. Then second moto I didn't have the greatest start but made some good passes and actually rode pretty smooth! Was pretty solid all day. We didn't have the speed to run up front this weekend, but man I'm having a blast! We will give it another go and try to get it on the box next weekend. It's coming soon."
Justin Hill qualified 11th on Saturday, but was a DNS for both motos. In a statement, Monster Energy/Pro Circuit Kawasaki said Hill hurt his wrist in practice and wasn't able to line up for either moto. Austin Forkner also missed the race due to a concussion.