I'm pumped on this sport, my job, and being at the races every Saturday. I'm not some dude who just talks crap on everything like Steve Matthes (each weekend someone tells me that's what he does). But through my 17 or so years covering the races, I've developed the following pet peeves. The list is small, but if you've listened to our seven seasons of Fly Racing Racer X Podcasts, you've probably heard me rail on these topics time and again.
If not, now you'll know where I stand.
Predicting Saturday Mudders on Tuesday
It happens about every three weeks. Someone texts me with a rainy Saturday weather prediction and then writes "Looks like we're in for a mudder." And then Saturday comes … and no mudder.
Modern track folks have prep down to a science. They look at the weather, too. In supercross, they build the track early and cover it, so all of that rain you're seeing on the Weather Channel App does nothing. If it's really bad on Saturday morning, they'll cut practice. Outdoors, they roll the track in and harden it, such as this year in Thunder Valley, were they waited out the rain and didn't rip it deep until 3:00 a.m. on Saturday morning—after the rain passed.
Bottom line is, it can rain and rain and rain and rain the days leading up to the event, but unless it rains hard at precisely 7:00 p.m. (at a supercross) or 1:00 p.m. (motocross) we won't have a mud race. That's a very small window for the rain to do damage. Beyond that, the track crews have a fix for anything mother nature can throw at them. Plus, how accurate are Saturday forecasts on a Tuesday? Relax, people!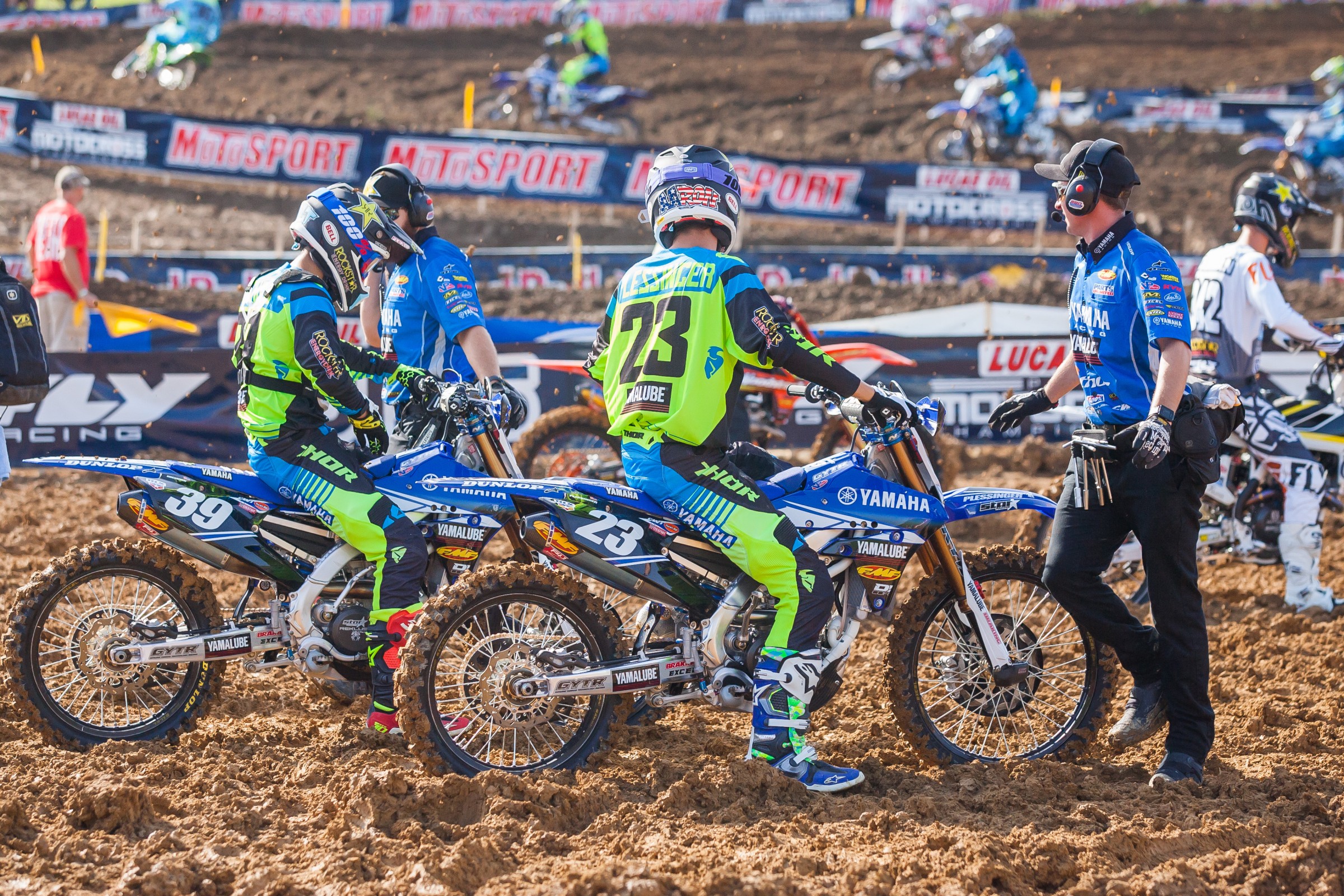 Using one crazy comeback to prove a track offered good passing
This happened as recently as Muddy Creek. It was hard to pass on that track. But I knew what was coming—if anyone dared say the track didn't offer much passing, someone would counter with, "Well did you not see Blake Baggett pass 35 guys in the second 450 moto?"
Yeah, I saw it. But using one crazy example ends up skewing all the data. In 2004, James Stewart won 23 out of 24 motos on a 125 against 250Fs. Did that mean a 125 is faster than a 250F? Of course not.
Baggett is on an incredible level right now and can do amazing things. In Daytona this year Ryan Dungey came from a first turn crash to fourth. That doesn't mean Daytona offered great passing, it just means Dungey is one bad mofo when he has to come through the pack and salvage points.
When deciding if a track offered good passing opportunities, be sure to look at the majority of the field, not just the one guy who did something amazing. All sports do this—I watched a NASCAR race yesterday and saw snark on Twitter when drivers said it was hard to pass, followed by the inevitable "But Kyle Larson just passed everyone!" Got it. But no one else was in a car as good as Larson's at that point.
Look, when a dude like Baggett is so fast that he can use the bad lines in every corner and still get around some of the best riders in the world, the track doesn't even matter. If you were to line up against him on a track in your backyard, he'd pass you, but that doesn't mean the track offered plenty of room. In the case of Baggett at Muddy Creek or Dungey at Daytona, the comeback requires somehow magically being 15 percent faster than everyone else on the track, which is extremely difficult at the highest level. It's better offense overcoming good defense. I'd rather look at what happened with 39 other guys than just one.
Counting points before the races are run
When Ryan Dungey won the Atlanta supercross, it was said that he "controlled his own destiny" because all he had to do was finish second at the final nine (!) rounds of Monster Energy Supercross to win the title, even if Eli Tomac won the rest of the races. Eli could only make up 27 points by winning out if Dungey finished second…. Okay, never, ever, EVER assume someone is going to win the rest, and someone else is "just" going to finish second each time. Not even Dungey, heretofore the most consistent dude ever, could pull off nine-straight seconds, he was fourth two weeks later in that Daytona race. Tomac didn't win nine in a row, either. Racing seems fairly predictable from week to week, but it's never nine-weeks-in-a-row predictable.
In 2010, Trey Canard was closing down on Christophe Pourcel in the 250 Nationals, but entered the season finale seven points behind. "All Pourcel has to do is go 2-2 to beat Canard for the title by one point."
At the finale Canard went 4-3 and Pourcel went 31-37.
Now, there is ONE TIME where this math actually worked out, when Chad Reed won the final six 250SX races in 2003, and Ricky Carmichael indeed finished second six-straight times to hold on for the championship. But if you want to use one example as proof, please see my entry above.
These above are my big three—predicting mudders five days in advance, counting points in advance, and using one odd-ball example to prove a point that 40-some other examples can prove otherwise. I've got a few others, such as forgetting to say "enough" after mentioning all the sponsors that you "can't thank," but for the most part I'm good. Just please, please, by the time we get to Unadilla, don't hit me up @jasonweigandt with any weather forecasts, or with genius math about Zach Osborne only having to finish second in the rest of the motos to clinch the title. Remember, that's why they run the races.