Southwick, MA
Southwick
Lucas Oil AMA Pro Motocross Championship
The venerable sand track in Southwick, Massachusetts always tries to throw a curveball at the riders, and the 2017 edition, the Red Bull Southwick National, was no exception. A lot of sand was trucked into the facility to try to return it to its deep, rolling roots, and that sand did its usual number on equipment, draining fuel tanks, cooking brakes and ruining goggles. Heat and humidity did its best to team with the rough track in draining energy, and rain came during the final moto of the day to further challenge the field. Through all these changes, though, the points leaders in each class simply rolled with it, and rolled on to overall wins an even larger gaps on the field. The upcoming week off will give riders the chance to recover from a rough day at the races, but to also think about what it will take to stop the momentum of Eli Tomac and Zach Osborne.
Tomac's 1-1 in the 450 class was definitely not a surprise, as he did the same last year even while battling eventual series' champion Ken Roczen. Tomac dominated both practice sessions, and was fast enough to overcame mediocore starts in both motos. After a couple of rough races near the start of the season, Tomac is now starting to make a run like many predicted he would at the beginning of the championship—and Southwick wasn't going to be any different.
"We only have one really good sand track of the year and that is here at Southwick," said Tomac "It seems most guys either love or hate this track, but I'm a big fan of it and enjoy coming here. I think we're in a good spot points wise. We're not really fighting anything on the motorcycle and it's nice to head into the off weekend on a good note."
Tomac's season is further aided by misfortune for his championship competitors. Rockstar Energy Husqvarna's Jason Anderson, third in points coming in, didn't compete after suffering a huge crash while training on Thursday—he tried the first practice and realized the injuries to his lower back and kidneys would be too much to overcome. Blake Bagget is second in points, but was suffering from a thumb injury suffered last week. He was happy to salvage second with a 2-2.
"I rode the best I could today with the injury [thumb] and salvaged points", said Baggett. "This isn't my favorite race of the year, so I was just looking forward to getting through it. I'm going to get an MRI on Monday and we will have to see what the results are. Worst case we will have to get a small operation and hope that it heals in time for Millville."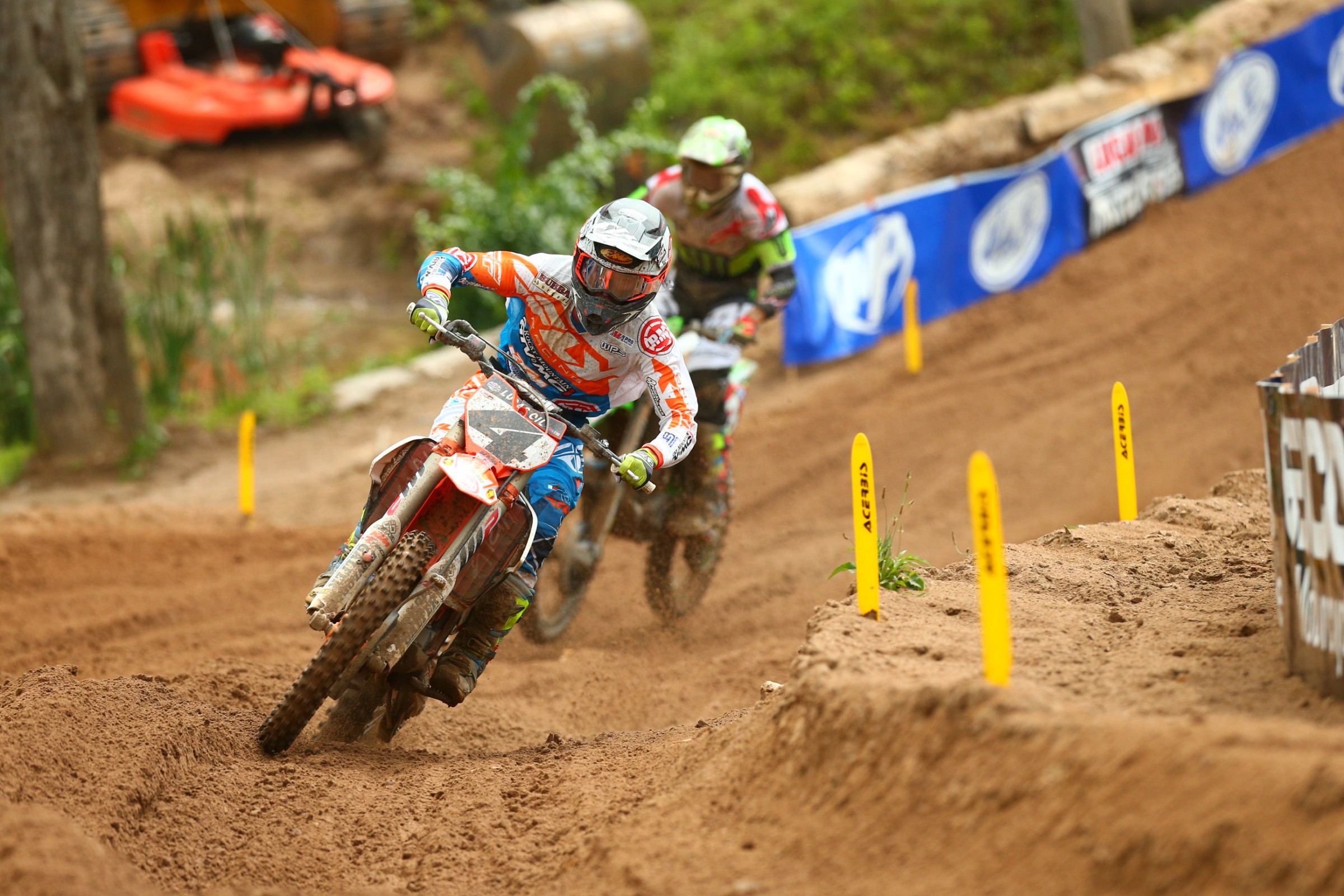 Baggett started ahead of Tomac each time, but quickly yielded to his rival in both races to bring it home in second. Tomac had his biggest challenge from Musquin in moto two. Marvin led for a bit, and when Tomac made the pass the Frenchman turned up the aggression to try to stay with him—until he crashed huge and went flying off the side of the track.
"I was really excited for Southwick race. We had a good week training and my knee has healed and improved a lot this week," said Musquin. "We knew the key to this race was going to be a good start. In the first moto I wasn't bad off the start but I went down in the third corner with a few others and had to restart from way back. I made a good comeback and by the end of the race I was fourth, so I was happy about that because it proved we had the speed to run up front. In the second moto I got a really good start and got the holeshot, and I felt really good battling with Eli up front for the lead. Eli had gotten by me and I was pushing hard right behind him when I cross rutted and had a big crash. I tried to get going again but the bike was too banged up, and unfortunately I had to pull off. It's such a bummer because I felt like everything was getting back on track and I was back to being up front again. But it is what it is and we will be back to fight up front in Millville."
As Musquin crashed out, it just added to the attrition of the class. Justin Barcia is always fast at Southwick but he ran out of gas on the last lap of moto one while running fourth, then crashed while running third early in moto two. After a strong third in moto one, Cooper Webb looked to have his first 450 podium locked up while running second again in moto two. Then he stalled late in the race while fighting through lappers, and dropped to sixth. This allowed Rockstar Husqvarna's Dean Wilson to inherit third in the moto and third overall with 6-3 finishes—Dean was emotional after this one, his first podium since the end of his 2011 250MX Championship season.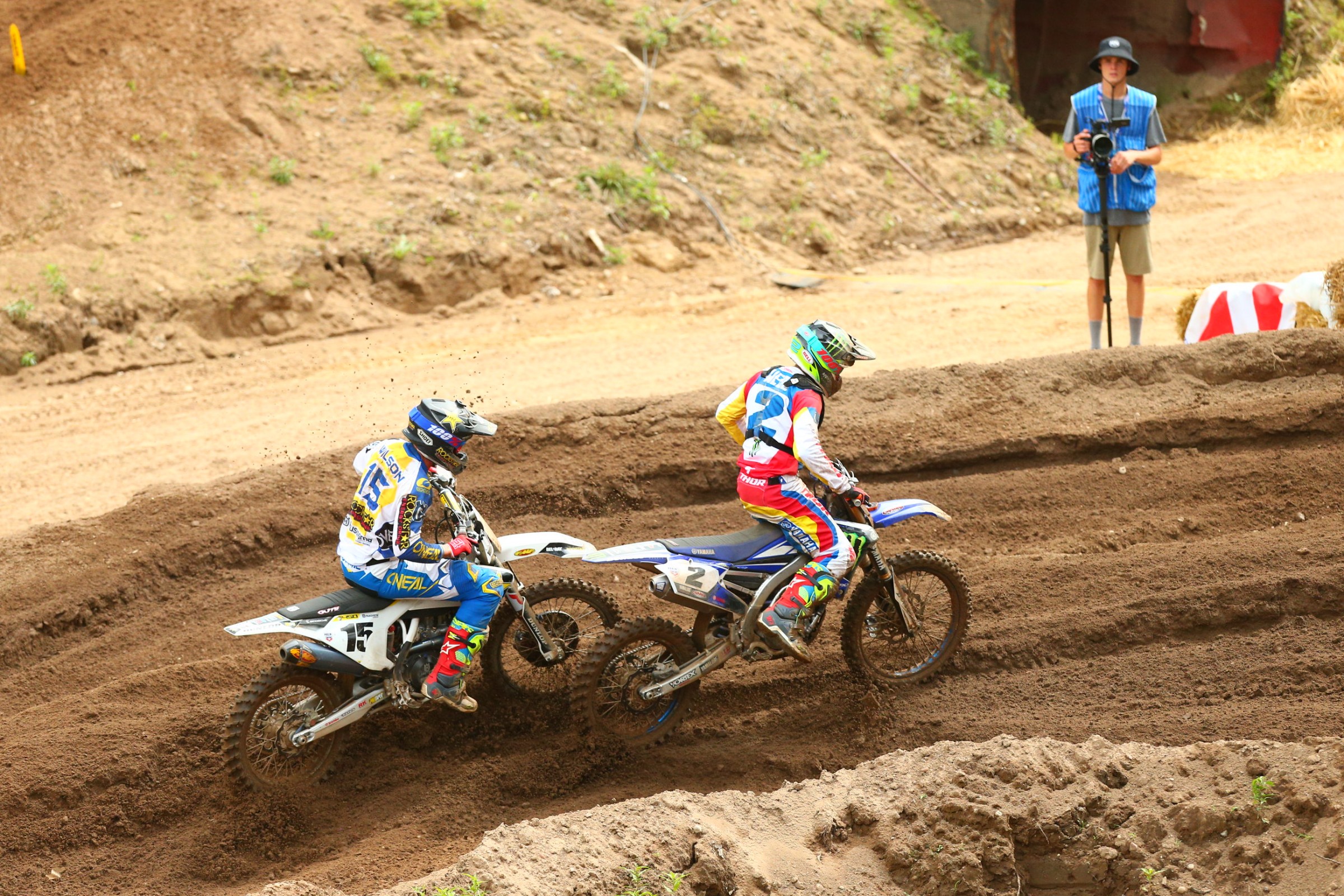 Webb ended up fourth overall, riding much better than previous races this season. Wilson's teammate Martin Davalos also scored an impressive fifth overall. Cole Seely was solid in the sand, with a 5-5 for sixth, ahead of his teammate Christian Craig, who was good but got tangled in a first-lap crash in moto one. He went 10-7. Justin Bogle salvaged a top-ten overall despite early crashes in both races. Also, a shoutout to privateer Henry Miller, who went 13-9 for ninth overall.
In the 250s, Zach Osborne once again prevailed on a day where it looked like the overall could have swung in another direction. Osborne spent most of the first moto in about fourth place, while Alex Martin led. Aaron Plessinger crashed out of second, allowing third-place Dylan Ferrandis, his teammate on Yamalube/Star Racing Yamaha, to get around. Ferrandis went after Martin and took the lead, only to crash, but he would remount and get back on A-Mart's rear wheel, and then make another pass for the lead. Late in the moto, Osborne started to mount a charge, making the move on Martin for second and then even closing on Ferrandis. He settled for second, though, adding that he knew he wasn't too worried about Ferrandis in points, so he didn't need to take extra risks.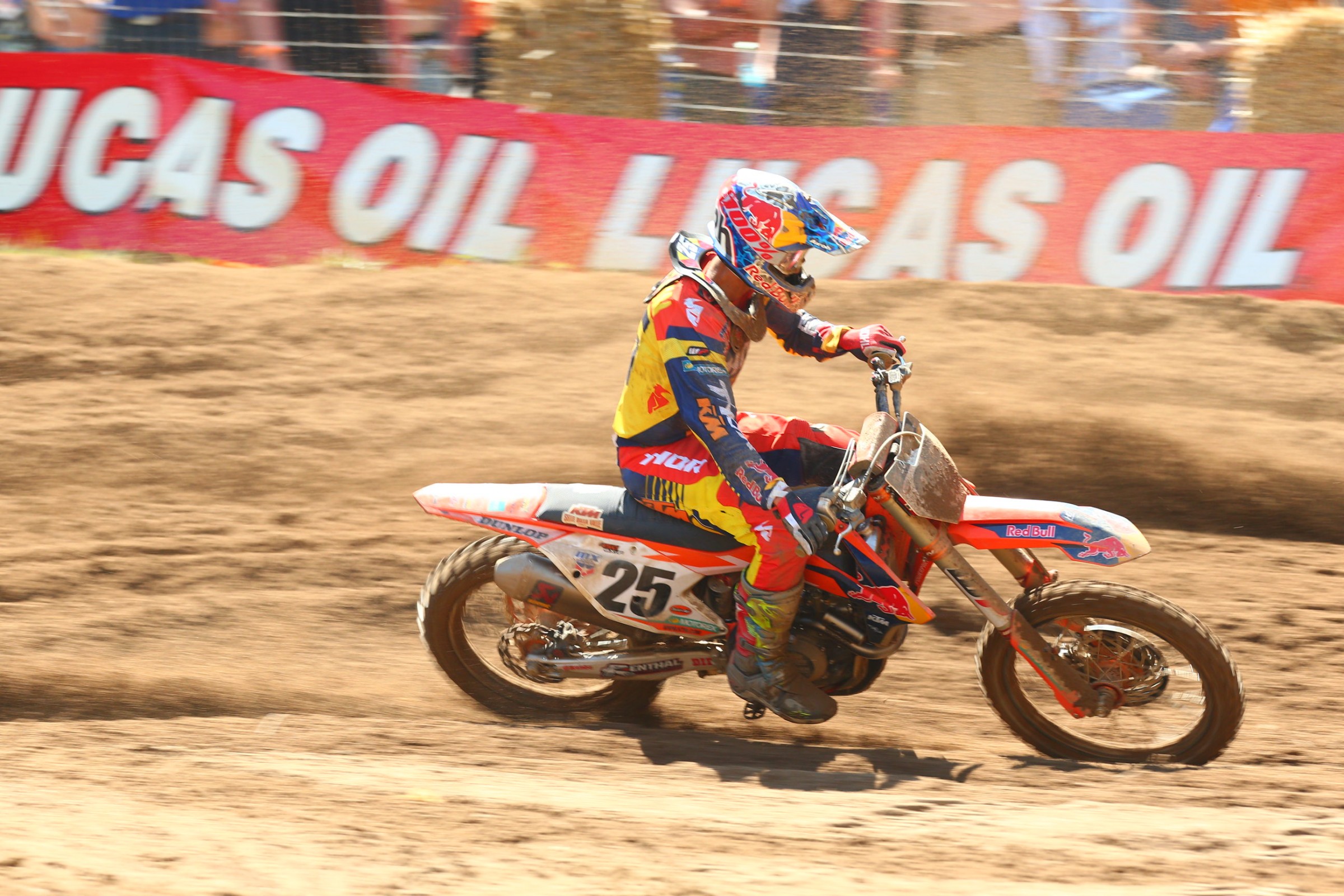 In the second moto, Osborne grabbed a rare holeshot, but Ferrandis was there too and ready to challenge for his first overall win. Then he bobbled, and Osborne got away, especially when it finally started to rain. Osborne is gnarly when conditions get nasty.
"The first rain wasn't so bad. It kind of just killed the dust and kind of made the top a little bit wet," said Osborne of the two rain showers that hit during the second moto. "There were a couple of hard spots though that got pretty slick. But then the second rain it started to change pretty quick. It just started to get kind of slushy and some longer rut, groove type deals that you really had to be careful with. So, it got a little tricky there at the end."
Ferrandis was fast in the sand, but ultimately second overall with the 1-2. Alex Martin went 3-3, happy with his day but also bummed to know Osborne added another seven points to his lead. But that was better than his brother Jeremy, who struggled with starts and went 4-6 on the day. Jeremy Martin left soon after his moto was over and was unavailable for comment, and Ferrandis was also gone, catching a post-race flight.
RJ Hampshire just missed the podium, but at one point was even gunning for the win as he rallied early in moto one and took the lead. Then he crashed, but rode a strong fourth until he lost his brakes. He lost his brakes in moto two, also, but 5-4 scores were good enough for fourth overall. Hampshire said this is by far the most competitive he's felt in his professional career.