Buchanan, MI
RedBud
Lucas Oil AMA Pro Motocross Championship
If you caught RedBud last Saturday, you saw a tremendous performance from Mitchell Harrison in the second moto. The Yamalube/Star Racing Yamaha rider nailed down a good start and took over the lead when Alex Martin went down, and put in a valiant attempt to hold off points leader Zach Osborne. He ended up giving up the spot, but he refused to fade, holding off an incredible amount of pressure from Martin and getting back to within a few bike lengths of Osborne on the final lap. He barely missed the overall podium (he went 7-2 for fourth), but the sophomore's efforts were still outstanding, and more than good enough to designate him as this week's Unsung Hero.
Racer X: Great ride at your home race! How far away from RedBud did you grow up?
Mitchell Harrison: I'm originally from Brighton, Michigan. It's about two-and-a-half hours away. I've been there [RedBud] quite a few times, but I didn't ride there all the time. For the National and for a qualifier or something, so maybe once or twice a year.
So it's not like you grew up practicing there every day then.
No. I know it, but it's not like it's been my home track or anything like that. But I've been there enough to know it.
Well, take us through that second moto.
I started out great, but I was kind of worried because beside me were Jeremy [Martin], Zach [Osborne], and Alex [Martin] and they all had paddle tires on. I thought I might get cut off—they had those tires and I thought they'd be getting better traction than me. But I got a great start anyway. Unfortunately, Jeremy went down, it would have been nice to have him there with us too. I started charging and was having a really good battle with Alex throughout the moto. He got the better of me though and started pulling away. But I wasn't done yet. I felt great about halfway through and I wanted to make a charge because he wasn't really gapping me. I wasn't really catching him, but the gap was staying there. Unfortunately, he went down. I would rather have taken the lead respectfully instead of him going down, but I'll take it however I can.
It was nice to be in the lead, and leading multiple laps was a cool experience. I just rode my heart out, but Zach was on a mission and he got the better of me. I never let him out of my sight, though, and Alex was right on me! I gave it my all and I felt good the whole moto. I never felt tired, even when I came off the track I wasn't that tired. The pace was all right for me and I think I can do it again.
When you saw Alex go down what was going through your head?
I saw him go down, I watched the whole thing. I was like, "Okay, I got the lead. Ride how you know how to ride." For two laps I rode a little tight before I started to loosen up. Unfortunately, if you lose any time they're going to be right back on you and that's what happened. Zach got right on me and I fought as hard as a could for a few laps. But, he got me through the rollers. But it felt good to be in the lead. I have the experience now and I know what it takes throughout the whole moto to maybe snag a win this season.
You were battling hard with Osborne and had you held him off you would have finished third overall. Were you doing that math at all?
I definitely wasn't doing the math. The only thing I knew was that I could win the moto. What I've been taught is to focus on the track and not the other riders. I thought about the other guys a little bit, but I knew I could ride the best if I just focused on the track and maintained my pace.
We've seen guys without experience leading get up there, tighten up, and fade. You didn't do that. Why not?
I've been up there before in previous races, and each race that goes by I feel better and better. My fitness feels great and once I got in the lead I just said, "Stay calm, don't panic. Ride like you know how to ride." I don't think I've done that all year. It's actually been pretty disappointing because I know I can run that pace every single round and I know my fitness level is one of the best out there. Knowing I can ride hard the whole moto without tightening up is going to help me out the rest of the season.
Which battle was tougher? Osborne or [Alex] Martin? You held Martin off but you had to be a bit more tired at that point.
Martin was tough, he was right on me. But we only had two laps left so all I had to do was last that long. I knew areas where he could possibly get me and the spots he couldn't so I was pretty relaxed. With Osborne, he was on a mission. It was a little tougher with him and I gave it all I had. He kept coming up the inside of me and he wanted to make a pass. I gave it a handful of throttle a couple times! One time after LaRocco's Leap he jumped way to the inside and I just gave it a handful and almost went off the track. That happened probably a few times on that lap. These guys are just fast, they're no joke.
You closed back up on Osborne on that last lap. Were you thinking you could get him back?
I just tried to maintain my pace and thought maybe I could make a little charge. I saw him make a couple mistakes and I tried to get back up to him, but it was too little too late. Even a one-second gap, it'd be hard to make a pass with one lap left. But I knew if I stayed there, if he made a major mistake I'd win.
You had a whole lot more family and friends there than normal. How cool was it to put in this ride in front of them?
It was amazing. I came in thinking it was my time to shine. I felt really good in Tennessee, I just didn't have any good starts. I put in a lot of hard work that week and wanted to come out at RedBud and give it everything I had. The fans were really hyped up for me, which was cool. When I got on the podium it seemed like they were cheering louder for me than everyone else! That's a feeling I'll never forget.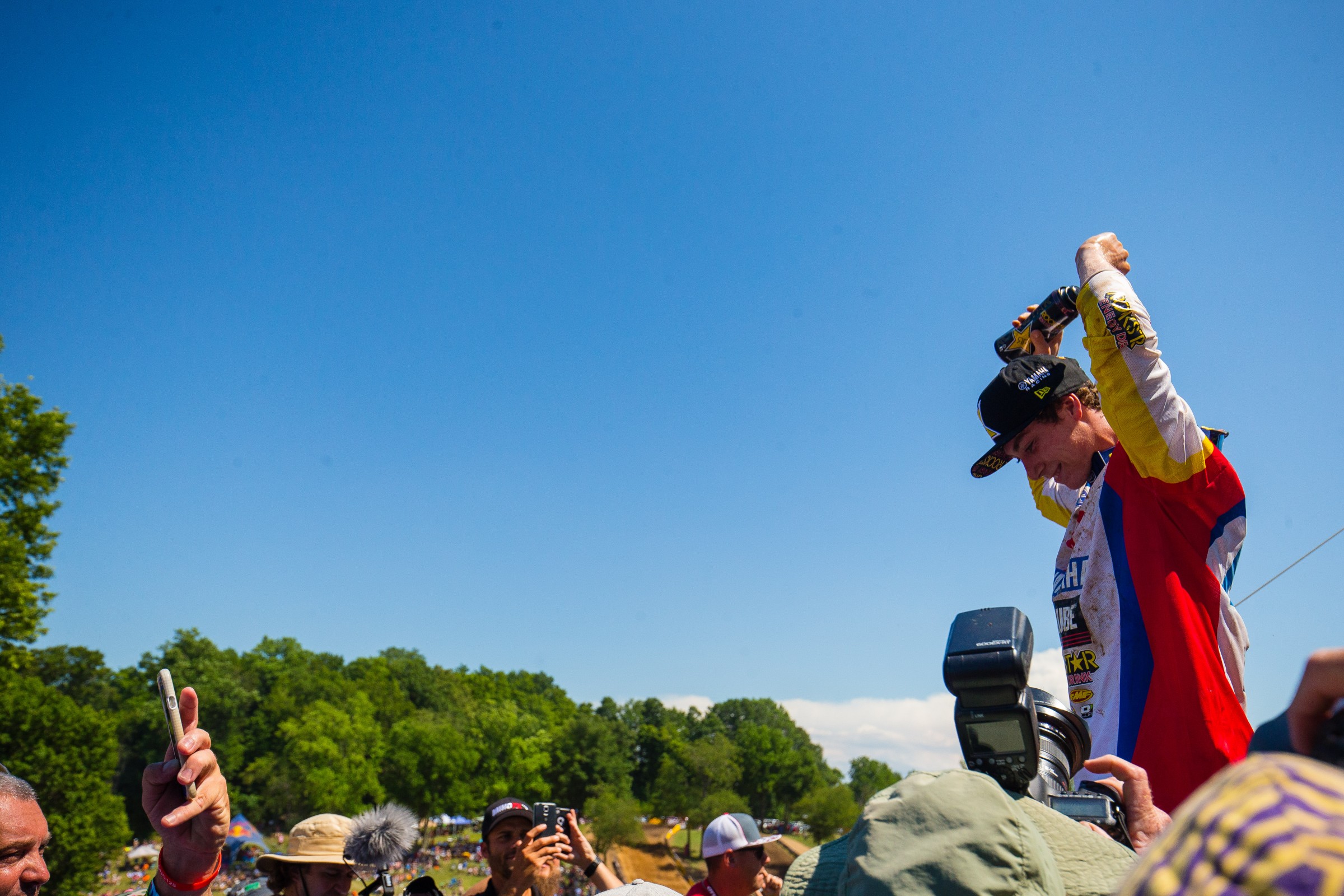 Has your phone just been blowing up since?
Oh yeah. Once you do good everyone loves to say good job. My Instagram was blowing up. But I just try to keep it simple. It's cool to have that feeling, but I want more. Everyone is pumped on it, and I was that day too, but now it's time to put my head down, focus, and do it again. It's a long series and you have to keep grinding.
What's the plan for Southwick?
To do the same thing. Now I know I have the speed, and I need to get a good start and give it all I have, just like every weekend. I love the fans and we're going to try to get a podium. I also want to thank Yamalube/Star Racing Yamaha, my mom and dad, and my whole family. They've given me so much support and I can't thank them enough for getting me to where I am. And my trainer, Dylan Turner, I've been working with him this year and I think he's brought me to another level and I can't thank him enough.