Ottobiano, Italy
MXGP of Lombardia
FIM Motocross World Championship
Red Bull KTM's Antonio Cairoli cooked his rivals and had the same effect as the unrelenting Italian sunshine that splashed the Ottobiano sand and left the crowd reddened and dizzy. The 31-year-old Sicilian's 1-1 was the fourth victory from eleven rounds of eighteen so far and the second double. The fact that it was achieved ahead of teammate Jeffrey Herlings and MXGP podium debutant Rockstar Energy IceOne Husqvarna's Max Anstie and not Monster Energy Kawasaki's Clement Desalle (the winner of the last two rounds was seventh) and IceOne's Gautier Paulin (sixth overall) meant his championship lead stretched up to 67 points.
Cairoli may have made headlines for his double in Italy and after claiming the first leg at Arco di Trento in April (with a comeback rally that will live long in the memory) and adding this next instalment with a streak of dominance, but it was the duel nature of the contest with Herlings that was also significant. For the first time MXGP fans savoured a real face-off between the KTM pair and the two most decorated FIM World Champions since Stefan Everts hit the kill switch in 2006. Both riders—split by nine years of age—were in their favoured terrain. Cairoli had home advantage but Herlings had the sand.
One factor that would ultimately prove decisive was the temperature. After morning thunderstorms had quickly cleared away Ottobiano was soon toasting again to a humid 34 degrees (mid-90s) and the sunshine was almost inescapable in the flat open expanses of the facility. Herlings had been off-kilter with a stomach complaint and although he could match and play with Cairoli in the first moto, he did not have the gumption or energy to follow #222 when Tony got serious and dropped his lap-times by more than two seconds. The Dutchman was more forceful in the second moto and at one stage opened a four second window between the two 450 SX-Fs but Cairoli chipped away and once through, made easy work of riding off into the dipping afternoon light. Herlings was one of several riders that needed treatment for dehydration.
"We were fast!" Herlings offered after emerging from the medical facilities at Ottobiano and in reference to the fact that the KTMs left Paulin over 35 second adrift in the first moto. "I think I passed him in the second moto but I cannot really remember that much. I was dizzy half way through and don't recall throwing my goggles. Apparently I got second! Just the heat got me. I had been sick all day so there was a reason why I blacked out; normally that would never happen. I wasn't fit and I had to deal with the heat. It was a shame.
"Tony is a great rider and a great athlete for the sport. It was nice to battle with him and hopefully many more will come," he sportingly added.
"At the beginning of the race there was a lot of playing in the corners but I have some experience with that so I was waiting for his pass and immediately answered back," Cairoli said while sweet with champagne for the 81st time in his career. "It was a fun race, I have to say. I had the sand king behind me! It was nice to fight with him and he is a pretty clean rider.
"I wasn't worried about the gap," he explained. "I was trying to see what lines he had. In the first moto after the pit lane I knew he had a better line than me and in the second moto I switched to that. When he passed me I tried to rest a little bit and see where he was better but he didn't have many different ones so I tried to push again and catch him back."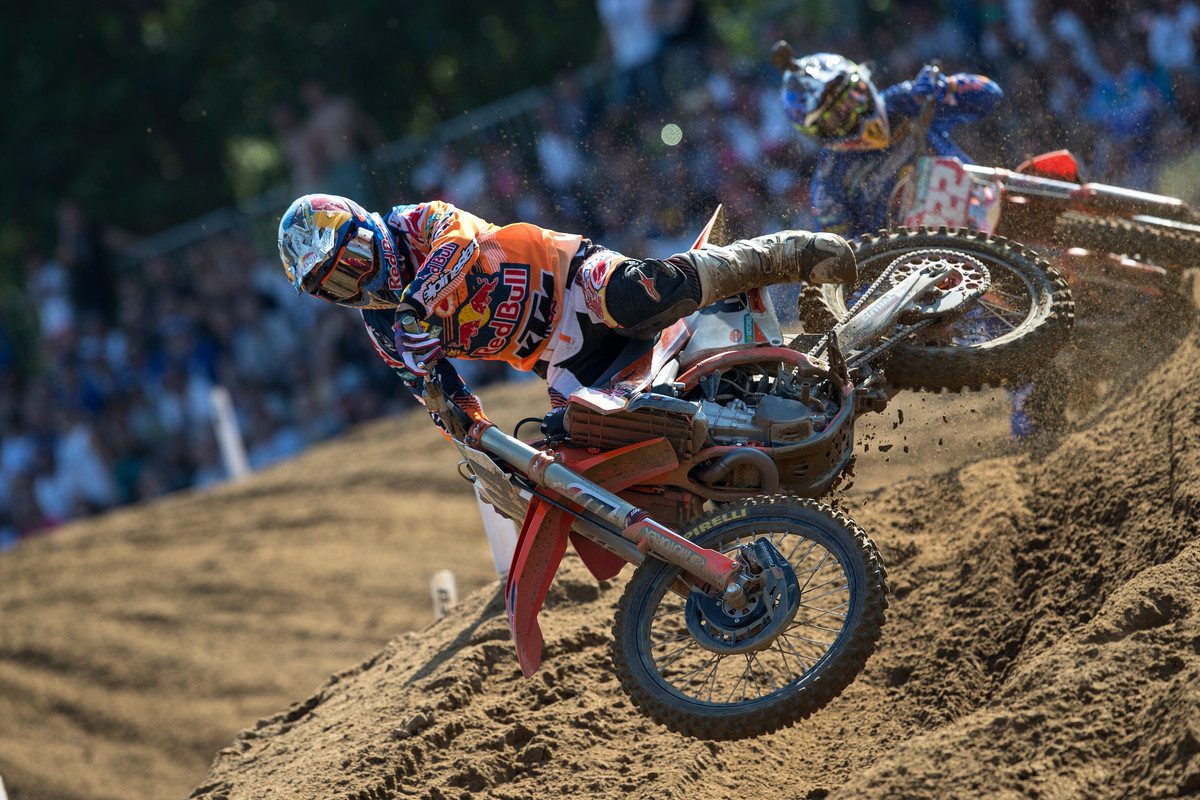 Sixty-seven points gives Cairoli more than a Grand Prix advantage from Paulin with Portugal, Czech Republic, Belgium, Sweden, Switzerland, USA, Holland, and France to go, but it is only a small and temporary example of the man's brilliance. Cairoli's press officer, Lorenzo Resta, offered some revealing stats Sunday evening: from 207 Grand Prix appearances Tony has taken 140 podium finishes (81 wins) and aced 161 motos from that total. A very decent percentage. His average point haul reads at more than 39 per Grand Prix; quite staggering and the bedrock of those eight titles, possibly soon nine.
Elsewhere in MXGP and Anstie's excellence in the sand and blooming working relationship with IceOne means he was the second rookie on the box and his focus and consistency—not always two words you could level at the Brit—were his assets in Italy. Monster Energy Yamaha's Romain Febvre regained some confidence and almost ruined Anstie's day. The 2015 champion was three points shy of his first rostrum of the year. Another rider, Wilvo Yamaha's Arnaud Tonus produced arguably one of the rides of the day after falling on the first corner and then ploughing a trajectory from almost last back to eighth. A thought was spared for the Swiss' teammate and Indonesian Grand Prix winner Shaun Simpson, who was hit on the first corner of the qualification heat on Saturday, meaning his recovery from a broken hand was set back by a broken arm and while Cairoli and co were thrilling Sunday afternoon the Scot was having more surgery back in Belgium.
IceOne had reason to view Ottobiano as a relative success with Max Nagl fifth overall just ahead of Paulin and Suzuki was pleased for 20-year-old rookie Arminas Jasikonis who was the only rider who could briefly live with the Cairoli-Herlings dynamic on Sunday. The Lithuanian is negotiating his first season as a works rider (and looks set to stay in yellow and as Stefan Evert's project for 2018) but has been operating as the team's sole presence with the new RM-Z450 as Kevin Strijbos is taking time to recover from an elbow problem.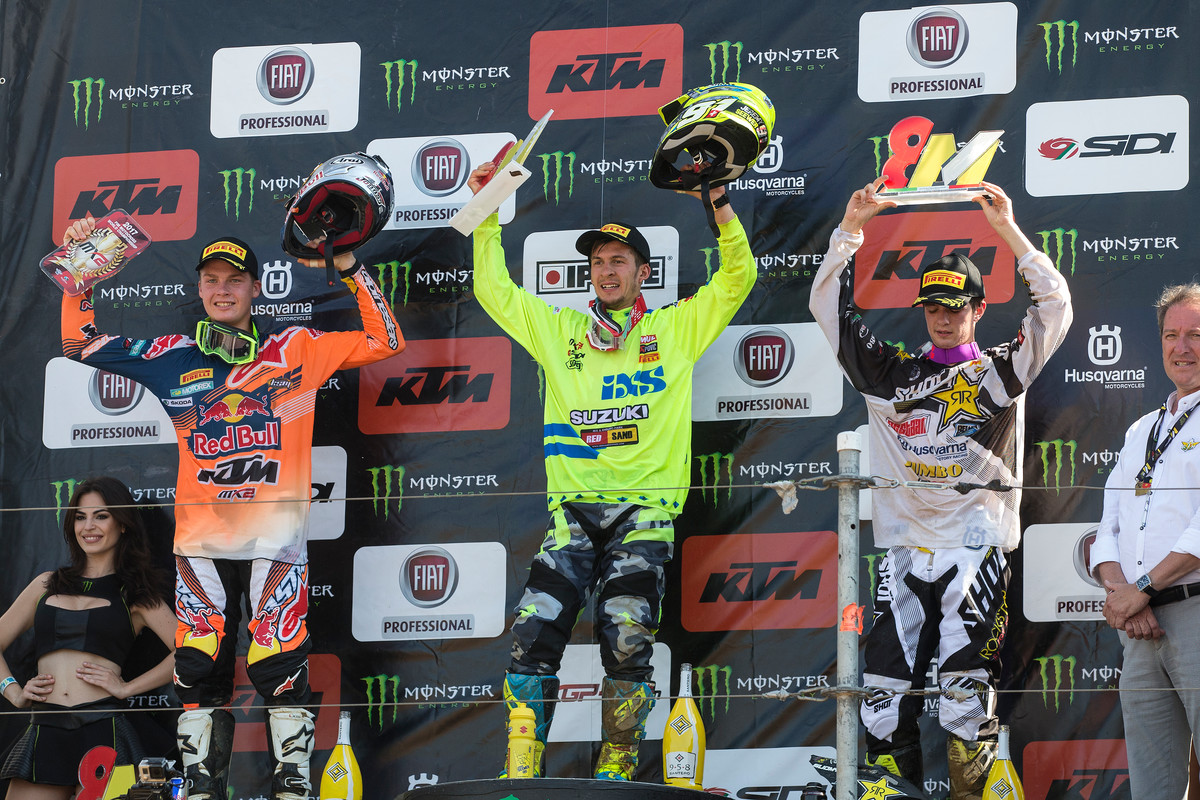 "I don't have so much pressure and the guys understand I don't have much experience," he said after finishing the second moto in fifth. "Stefan knows how it is and really helps me to deal with the stress. In the second moto today I thought 'just go for it, you have nothing to lose, just enjoy your riding…' although by the end I was not really enjoying it anymore! In the beginning when Tony and Jeffrey were fighting I was able to close up and it was a good experience to see how they race at the front."
Ottobiano was newsworthy in itself after stepping into the unexpected breach of Maggiora Park running foul of some environmental red tape. The forces that combined to move and sculpt a Grand Prix layout of a large sandy complex with several small tracks and a renowned supermoto/kart course was undoubtedly impressive. The heat however was oppressive to the point of distraction but there was no escaping the splendour and technical challenge of the terrain that is similar to Mantova; the previous host of the Lombardian fixture.
The paddock and a whooping three European classes where somehow squeezed into the site southwest of Milan and while dust and mosquitoes were very much the enemy across the weekend a packed attendance into the atmospheric stadium setting and some stirring scenes in the principal MXGP and MX2 classes were enough to generate a very positive vibe about Ottobiano's debut on the world championship stage.
In the 250s Suzuki's Jeremy Seewer walked away with his third triumph of 2017 largely on the back of a comprehensive first moto win. World championship rival Red Bull KTM's Pauls Jonass was out of sorts in the same dash and confessed to not really find a flow or feeling across the bumpy Ottobiano surface but grabbed a holeshot and broke away effectively to claim his 10th chequered flag in the second race, allowing Seewer to clip only seven points from his margin in the MX2 table.
Third was Rockstar Energy Husqvarna's Thomas Covington. The American was flying already on Saturday. A holeshot-to-flag outing in qualification hinted at great things. Always a good technical rider that has struggled to engage his pace from the outset of GP weekends (this was his biggest weakness for his first two GP terms) it is also impressive to see just what a fine sand rider Covington has become thanks to his Benelux residence and training programme. He can comfortably hold his own with anyone in the class and with Jeffrey Herlings now terrorising MXGP the MX2 porch door is swinging wide open.
That said his first moto start was limiting and he had to push to reach fourth. A brief battle with Seewer in the second outing for the slot behind a disappearing Jonass was an action highlight of the weekend and at one point Seewer actually dropped the Suzuki as the pair unintentionally clashed. The Swiss recovered and got the better of the FC250 rider on this occasion but Covington was still satisfied with a trophy and on a day where peers like Jorge Prado (struggling with an injured arm from Saturday) and Darian Sanayei needed a trip to the medical centre—the MX2 rookie in particular lucky to escape unhurt after veering off the track and careering down the side of the finish line jump with two laps to go.
"To get a podium in the sand is an awesome feeling; in my first couple of years in Europe I really struggled. Most Americans do because we don't really have anything like this back home. But I've put the work in and I'm stoked to be on the podium here. I've been feeling good in the sand and to get the win on Saturday helped my confidence even more," said Covington, and expect an announcement soon that he will remain part of Jacky Martens factory Husky squad and will probably attempt another two years in MX2 to bring him up to the age ceiling of 23 for the category.
A worthy mention to GP rookie Bas Vaessen for a strong fifth position overall on the works Suzuki and Kemea Yamaha's Alvin Ostlund looking competitive in seventh.
Ottobiano was a dash south for MXGP after stretching to the eastern point of Europe. Now the series barrels the other way and to the western tip, with the Grand Prix of Portugal and the first visit to Agueda (in the north and mercifully far from the devastating recent fires that have hit the country) since 2013.
FIM WORLD MOTOCROSS CHAMPIONSHIP
Round 11 – MXGP of Lombardia –Ottobiano
MXGP
| | | | | |
| --- | --- | --- | --- | --- |
| Overall | Rider | Race 1 Points | Race 2 Points | Bike |
| 1st | Antonio Cairoli | 25 | 25 | KTM |
| 2nd | Jeffrey Herlings | 22 | 22 | KTM |
| 3rd | Max Anstie | 18 | 20 | Husqvarna |
| 4th | Romain Febvre | 18 | 15 | Yamaha |
| 5th | Max Nagl | 14 | 18 | Husqvarna |
| 6th | Gautier Paulin | 20 | 11 | Husqvarna |
| 7th | Clement Desalle | 13 | 14 | Kawasaki |
| 8th | Arnaud Tonus | 12 | 13 | Yamaha |
| 9th | Glenn Coldenhoff | 15 | 8 | KTM |
| 10th | Tim Gajser | 11 | 10 | Honda |
| 11th | Alessandro Lupino | 8 | 12 | Honda |
| 12th | Arminas Jaskiknois | 0 | 16 | Suzuki |
| 13th | Tanel Leok | 6 | 7 | Husqvarna |
| 14th | Jose Butron | 9 | 4 | KTM |
| 15th | Evgeny Bobryshev | 3 | 9 | Honda |
| 16th | Jordi Tixier | 10 | 0 | Kawasaki |
| 17th | Pritt Ratsep | 5 | 3 | Honda |
| 18th | Gui Goncalves | 1 | 6 | Husqvarna |
| 19th | Milko Potisek | 7 | 0 | Yamaha |
| 20th | Ken de Dycker | 4 | 2 | Honda |
MX2
| | | | | |
| --- | --- | --- | --- | --- |
| Overall | Rider | Race 1 Points | Race 2 Points | Bike |
| 1st | Jeremy Seewer | 25 | 22 | Suzuki |
| 2nd | Pauls Jonass | 15 | 25 | KTM |
| 3rd | Thomas Covington | 18 | 20 | Husqvarna |
| 4th | Benoit Paturel | 22 | 14 | Yamaha |
| 5th | Bas Vaessen | 14 | 18 | Suzuki |
| 6th | Julien Lieber | 20 | 11 | KTM |
| 7th | Alvin Ostlund | 13 | 16 | Yamaha |
| 8th | Brian Bogers | 16 | 12 | KTM |
| 9th | Thomas Kjer Olsen | 11 | 15 | Husqvarna |
| 10th | Brent Van doninck | 12 | 9 | Yamaha |
| 11th | Michele Cervellin | 9 | 6 | Honda |
| 12th | Lars van Berkel | 6 | 8 | KTM |
| 13th | Ben Watson | 0 | 13 | KTM |
| 14th | Iker Larranaga Olano | 0 | 10 | Husqvarna |
| 15th | Anthony Rodriguez | 5 | 5 | Honda |
| 16th | Henry Jacobi | 10 | 0 | Husqvarna |
| 17th | Freek van der Vlist | 2 | 7 | KTM |
| 18th | Conrad Mewse | 7 | 1 | Husqvarna |
| 19th | Giuseppe Tropepe | 8 | 0 | Husqvarna |
| 20th | Anton Gole | 4 | 3 | TM |
MXGP Championship Standings
| | | |
| --- | --- | --- |
| STANDING | RIDER | POINTS |
| 1st | Antonio Cairoli | 431 |
| 2nd | Gautier Paulin | 364 |
| 3rd | Clement Desalle | 361 |
| 4th | Jeffrey Herlings | 335 |
| 5th | Tim Gajser | 282 |
| 6th | Romain Febvre | 275 |
| 7th | Jeremy Van Horebeek | 261 |
| 8th | Max Nagl | 255 |
| 9th | Evgeny Bobryshev | 245 |
| 10th | Arnaud Tonus | 227 |
MX2 Championship Standings
| | | |
| --- | --- | --- |
| STANDING | RIDER | POINTS |
| 1st | Pauls Jonass | 454 |
| 2nd | Jeremy Seewer | 416 |
| 3rd | Thomas Kjer Olsen | 343 |
| 4th | Julien Lieber | 339 |
| 5th | Benoit Paturel | 330 |
| 6th | Thomas Covington | 263 |
| 7th | Jorge Prado | 233 |
| 8th | Brian Bogers | 212 |
| 9th | Hunter Lawrence | 199 |
| 10th | Brent Van doninck | 195 |