Eli Tomac prefers to let his riding do the talking, and while recent mistakes have opened the door for others to contend for—or even get—wins, he always believed he was just one solid weekend away from regaining some control in Lucas Oil Pro Motocross. He finally had such a weekend at round five at Muddy Creek Raceway in Tennessee, logging a come-from-behind second in moto one, then dominating moto two to edge Jason Anderson for the overall win, 2-1 against a 1-2.
"Yeah, it's been a long time coming, really," said Monster Energy Kawasaki's Tomac. "It's been over a month now, exactly a month. I had a couple goofy mistakes in a few races. A couple tip-overs and one little mishap. We're supposed to be here. We were looking forward to this weekend."
Tomac showed little panic or alarm over his recent run of sub-par results, which included a freak front-brake issue at Glen Helen, a tip over crash in Colorado, and a first-lap crash at High Point, as well as some bad starts. He said he hasn't even really changed his bike since the opening round at Hangtown, which he won. "I've left everything the way from Hangtown. Just got to have everything fall in place to win these overalls. I had a few just goofy things happen these past few races."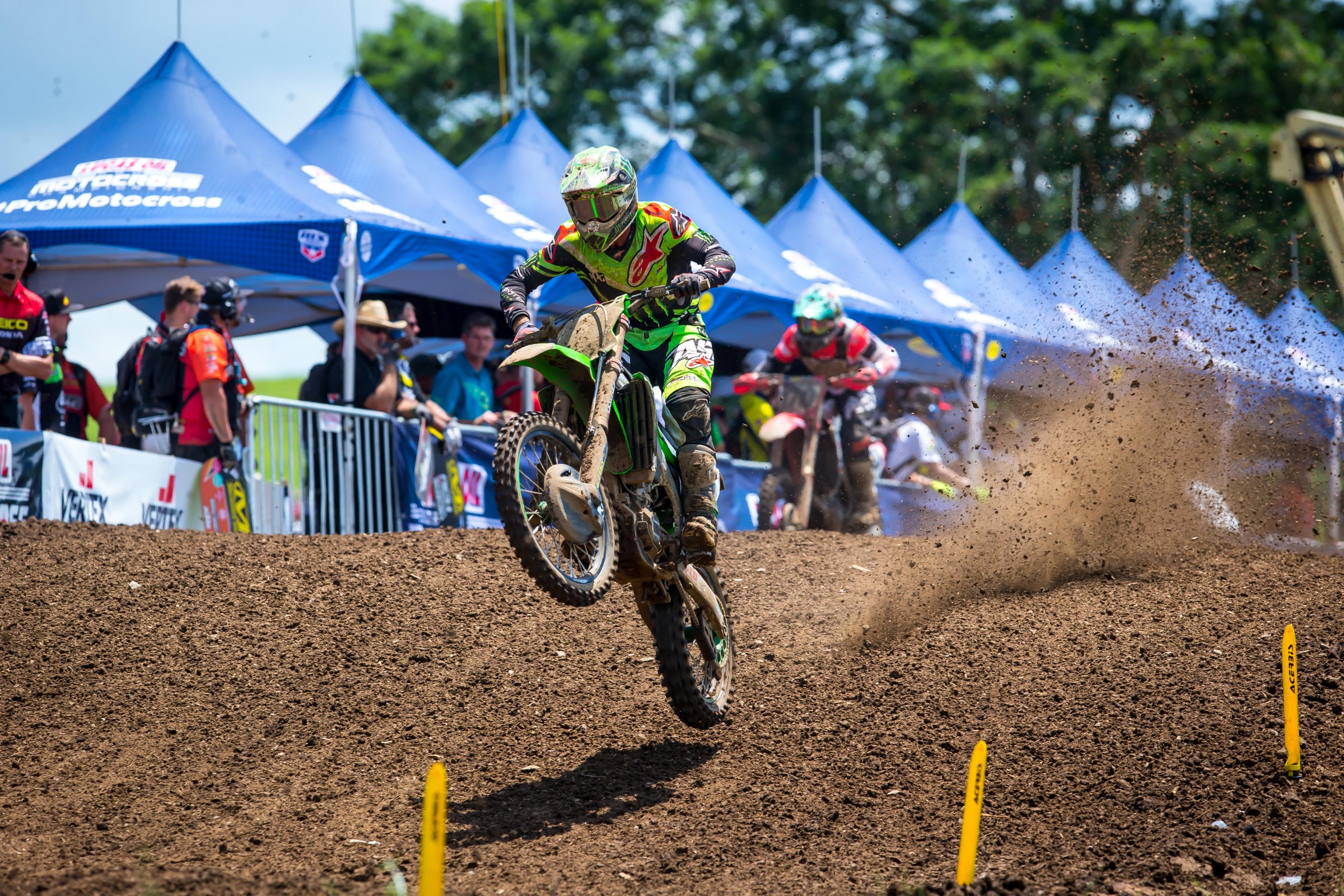 Tomac's blistering second-moto pace ended Anderson's hopes of grabbing his first-ever professional motocross overall win. The Rockstar Energy Racing Husqvarna rider has been knocking on the door with podiums lately, and then won the first moto with a strong ride, grabbing the early lead from Autotrader.com/JGR MX Suzuki's Justin Barcia and taking off. Anderson went into moto two fully focused on repeating that task and getting the overall, but he was bumped around in the first turn, which allowed Tomac to get ahead of him. Anderson tried hard to catch up, but Tomac simply went even faster.
"Yeah, for sure [I was thinking about the overall]," said Anderson. "I had a good first moto and I felt like I was out front and it was good. It was the most drama-free first moto I've had all year. I was excited about that and felt like I had the energy and everything to put in a good battle. The second moto I was trying my butt off but I think I was trying a little too hard. But all in all, everyone was ripping. I was glad I put myself in a position to win the overall. That's the first time I've ever tied for points overall. So, I feel like it's a step in the right direction, but at the same time I need to keep grinding. Just keep trying my best and hopefully that overall will come. It will be sweet when it does."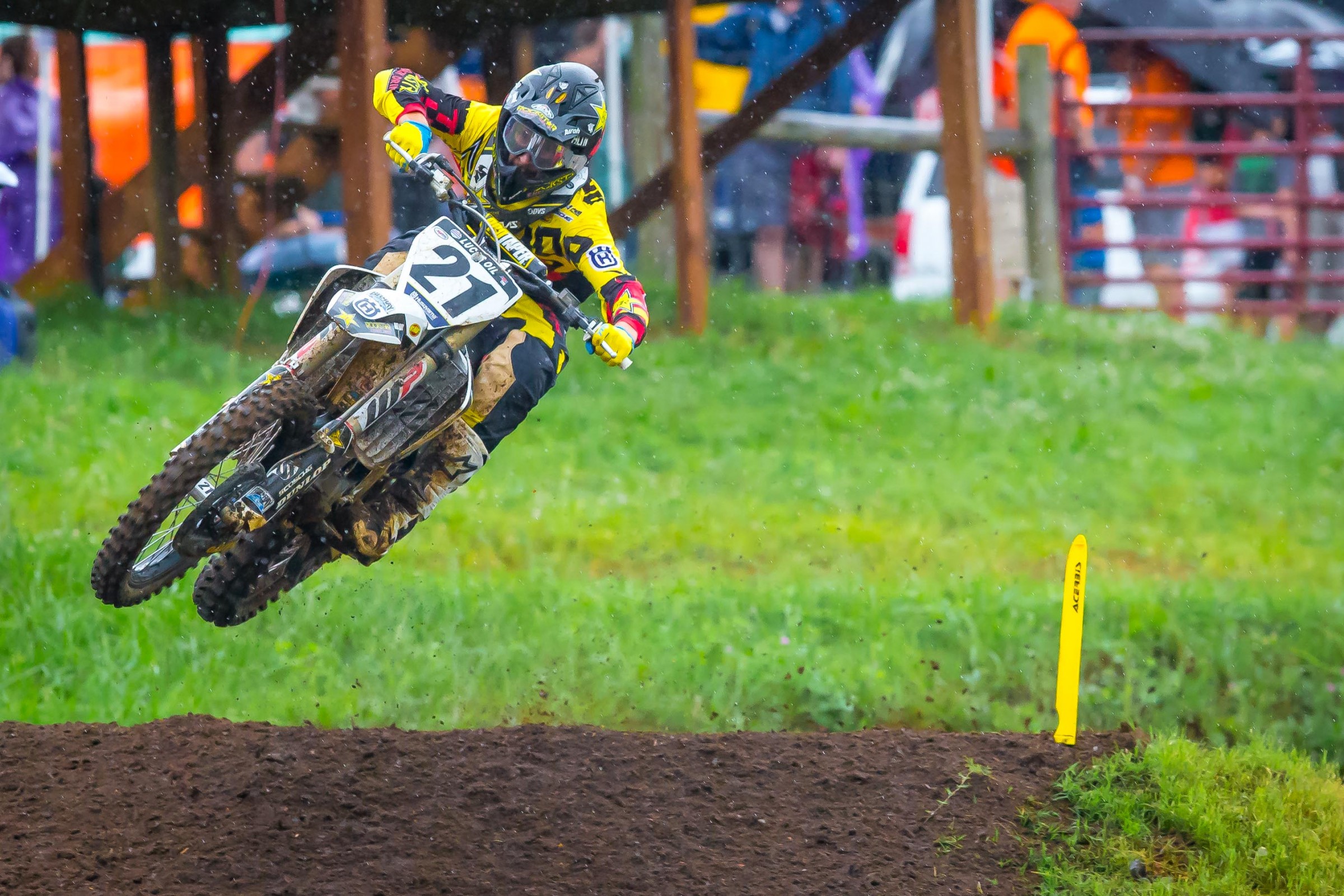 Blake Baggett's two-race win streak came to an end at Muddy Creek, but the Rocky Mountain ATV/MC KTM rider salvaged a podium with 3-3 scores. Baggett rode okay in moto one, coming from about ninth to third—but Tomac started right with him and got away to second. Baggett showed more of his recent speed in moto two, when he crashed in the first turn, picked himself up in about 38th place, and logged a miraculous charge to get all the way to third! "First moto was good, just got out-rode by these two guys," said Baggett. "That's the bottom line to it. They were faster and the results showed it."
Baggett's second moto charge was so good, he actually said he had fun despite having to pass about 35 riders. "If you can work your way forward then you can make it fun and switch up the lines," he said. "You're forced to take options that you wouldn't take if you were out front. It's a long series, so if you can get back to the podium from being down in the first turn, I look at that as a good day."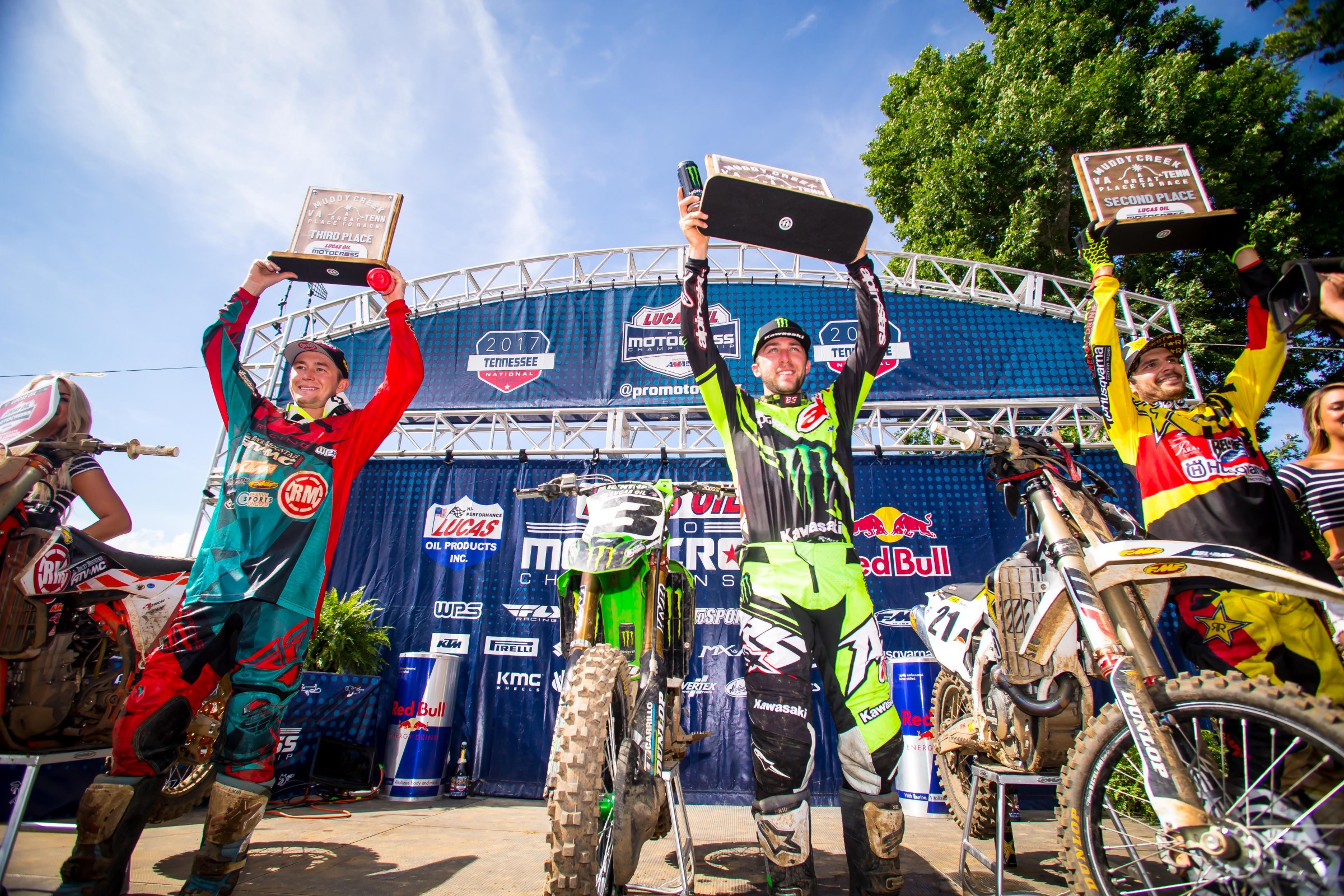 Tomac trimmed Baggett's points lead down to four, and Anderson, who DNFed the first moto of the season, is down just 19. Red Bull KTM's Marvin Musquin took a huge hit in points, though. The Frenchman led the series just eight days ago before suffering a knee injury. He was toughing through the day Muddy Creek, taking seventh in moto 1 and hovering around the same spot in moto 2 when he suffered front brake problems, leading to a costly DNF. "I ended up with a DNF in the second moto, which was disappointing. I had a problem because a rock hit the brake," said Musquin in a KTM statement. "Overall it was a bit better than last week regarding the feeling in my knee, but it's still difficult. I was able to practice pretty well over the week, so that's what I'm going to try and do again next week. I'm going to keep working and will try to get better and stronger. It's tough because I'm losing points in the championship, but it's mainly about me getting better."
The championship contenders were the day's headliners, but behind that came a wall of Suzukis, with Autotrader.com JGRMX teammates Weston Peick and Justin Barcia, and RCH/Yoshimura Suzuki men Broc Tickle and Justin Bogle nailing starts and putting in great rides. Peick, still dealing with a painful wrist injury dating back to supercross, rode exceptionally well with 4-4 scores for fourth overall—he even had the overall podium in his grasp until Baggett took it away with his charge. Barcia, still feeling the effects of banging his head and sitting out last weekend at High Point, still went 5-10 for sixth.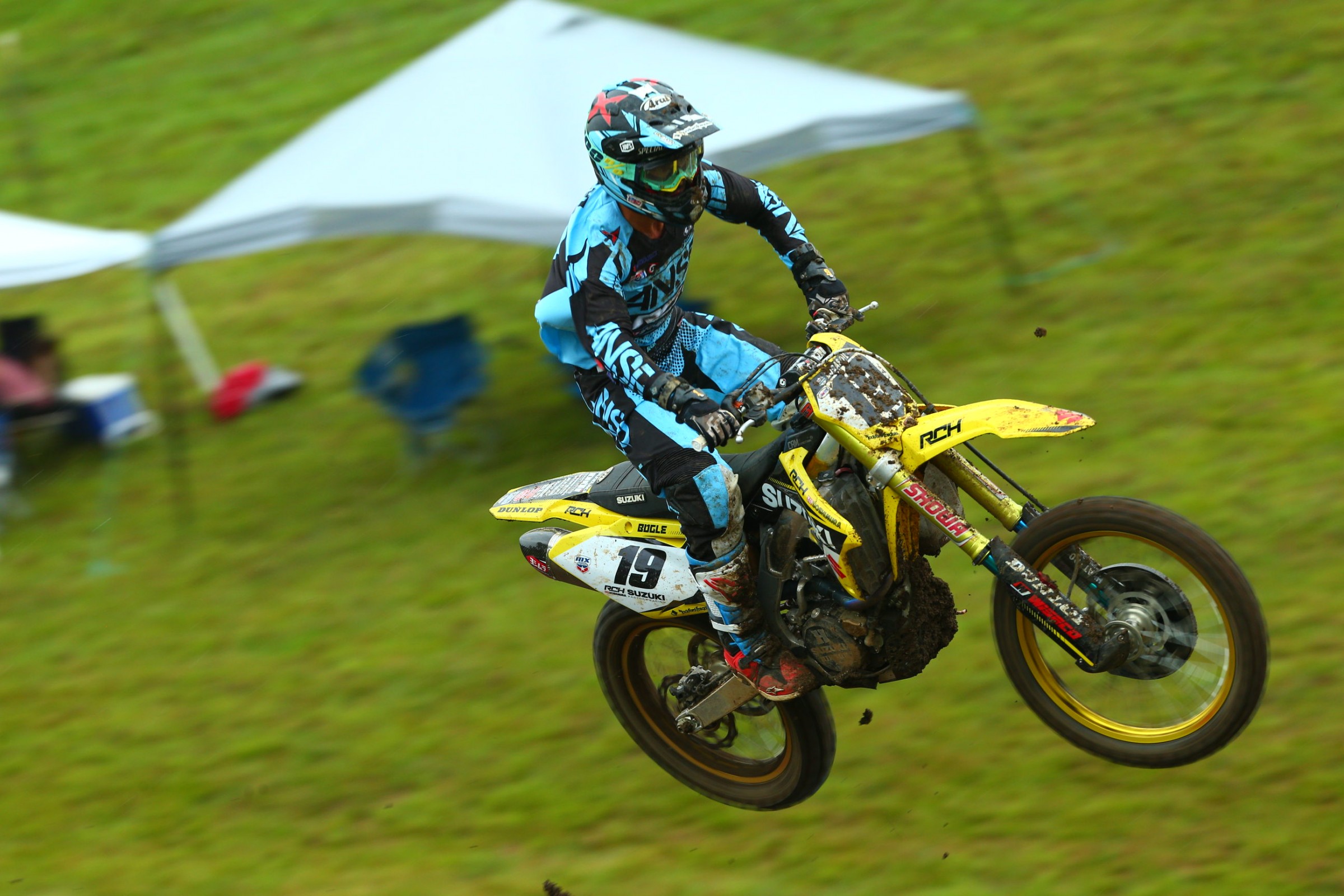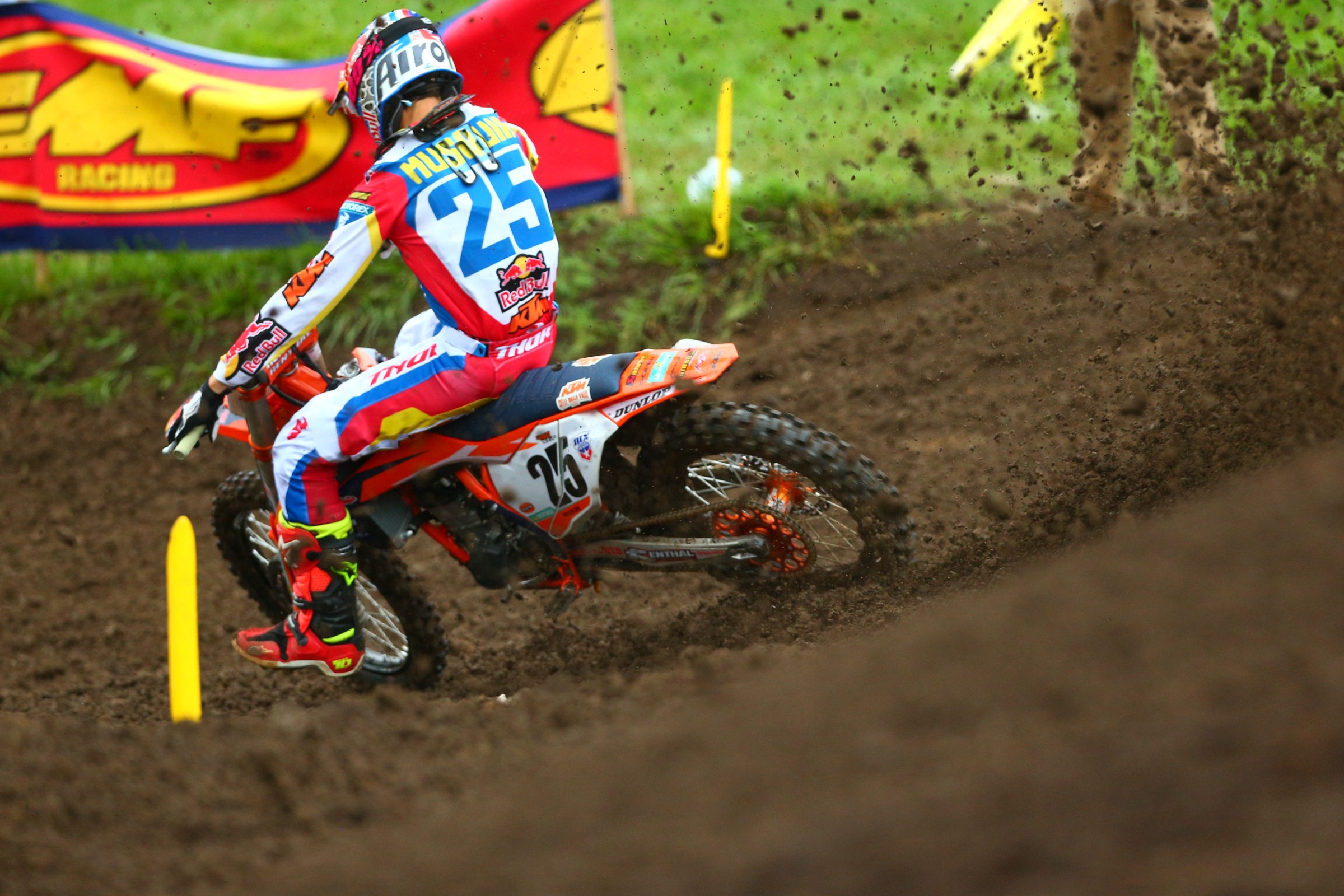 Tickle usually does well at Muddy Creek, but his results were hampered when he got into the same second moto crash as Baggett. He went 6-12 for tenth. Bogle was fast all day, but suffered a flat front tire in the first moto, dropping him to 12th. He came back strong for fifth in moto two.
Aaron Plessinger grabbed an overdue overall win in the 250 class by nailing two holeshots in one day and going 1-2 for the victory. Plessinger normally struggles with starts, so he was ecstatic to finally get up front both times, especially on a track that ended up offering little passing. Series' leader Zach Osborne didn't lose much ground, though, going 5-1 for second. Combine that with a rough day for last week's winner Jeremy Martin, and Osborne has stretched his series lead to a comfortable 31 points. But it was Plessinger leaving the track happiest, with his second career overall win.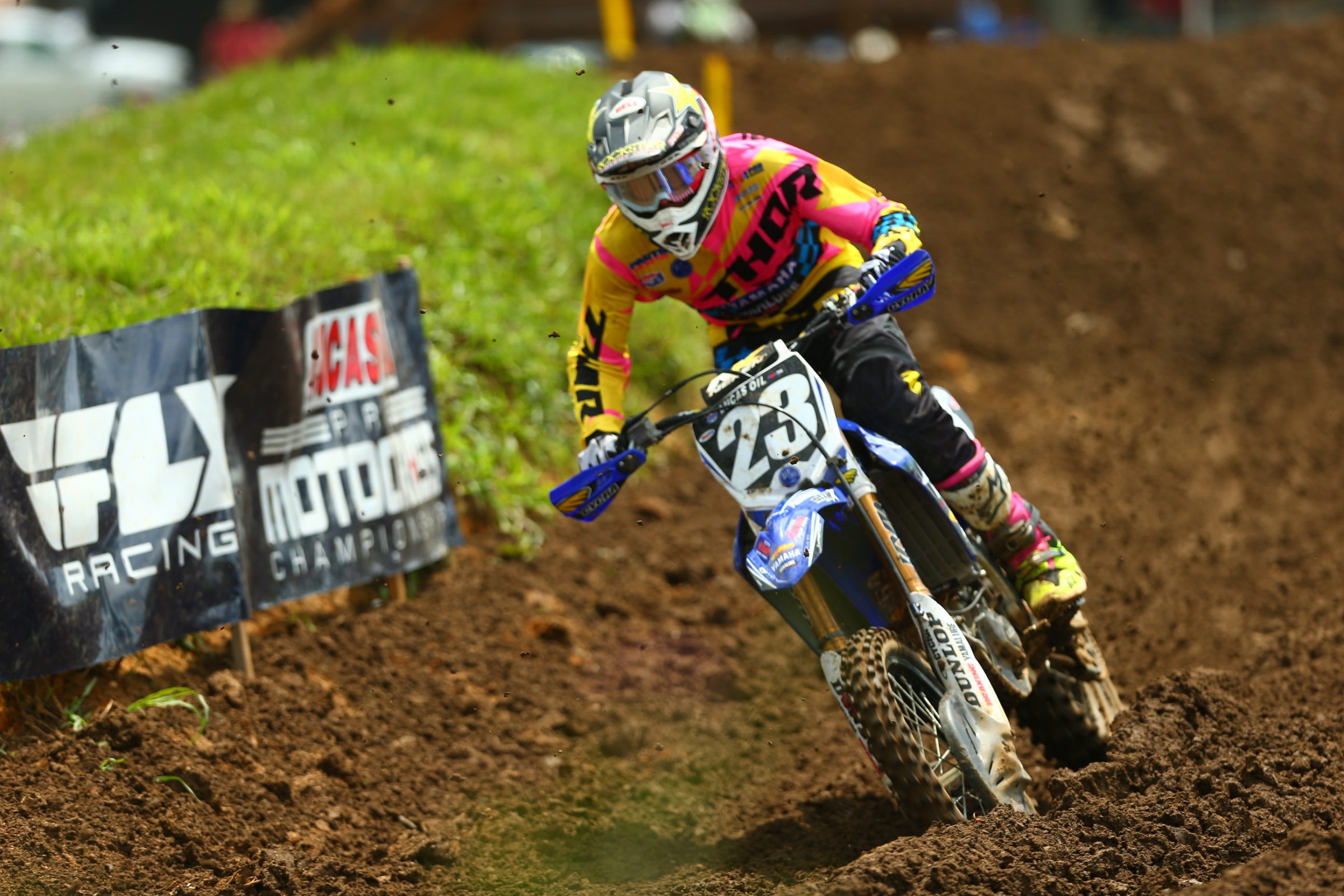 "Second moto I got the holeshot again, and if you've been around here for long you know that doesn't happen too often," said the Yamalube/Star Racing Yamaha rider. "Zach was riding good. He got by me and pulled away pretty good. I just rode it in for second and took the overall."
Osborne didn't get a great start in the first moto, and says he ran out of tearoffs, which slowed his charge forward. He dialed everything in to win moto two without much of a challenge. "I ran out of tearffs right after I passed Shane at 15 minutes," said Rockstar Energy Husqvarna's Osborne. "Then I caught Alex and I was just getting filled in, then the wipe with my gloves wasn't working anymore, so I just had to kind of drop back."
The track was smoother than the last few weeks, because the track was expecting rain, so the dirt didn't get dug in as deep or as early as usual. This led to all the racers being extremely close on lap times, as no one could make a move. This was especially true of Austin Forkner and Alex Martin. In both motos, Forkner ran third with Alex Martin glued to his rear wheel all day but couldn't make a pass in either moto. This allowed Forkner to get his first overall podium of the season (surprising, since he's ridden well most of the season). "You had to be kind of smooth and consistent, like the tracks have been this year," said Monster Energy Kawasaki's Forkner. "If we were all really close to the same speed and it wasn't rough enough to slow us down, so you could pretty much ride 100 percent the whole time. It was pretty hard to pass. I pretty much where I started both motos I finished. It was pretty hard to pass. We were all close."
As if spending the whole day stuck 1.5 seconds behind Forkner, and just out of a podium position, wasn't bad enough, Alex Martin's 4-4 only netted fifth overall. Adam Cianciarulo rode well in moto one, starting just behind Plessinger and staying there the whole way for second. He started just behind Martin in moto two, and finished third, but his 2-5 edged Martin's 4-4.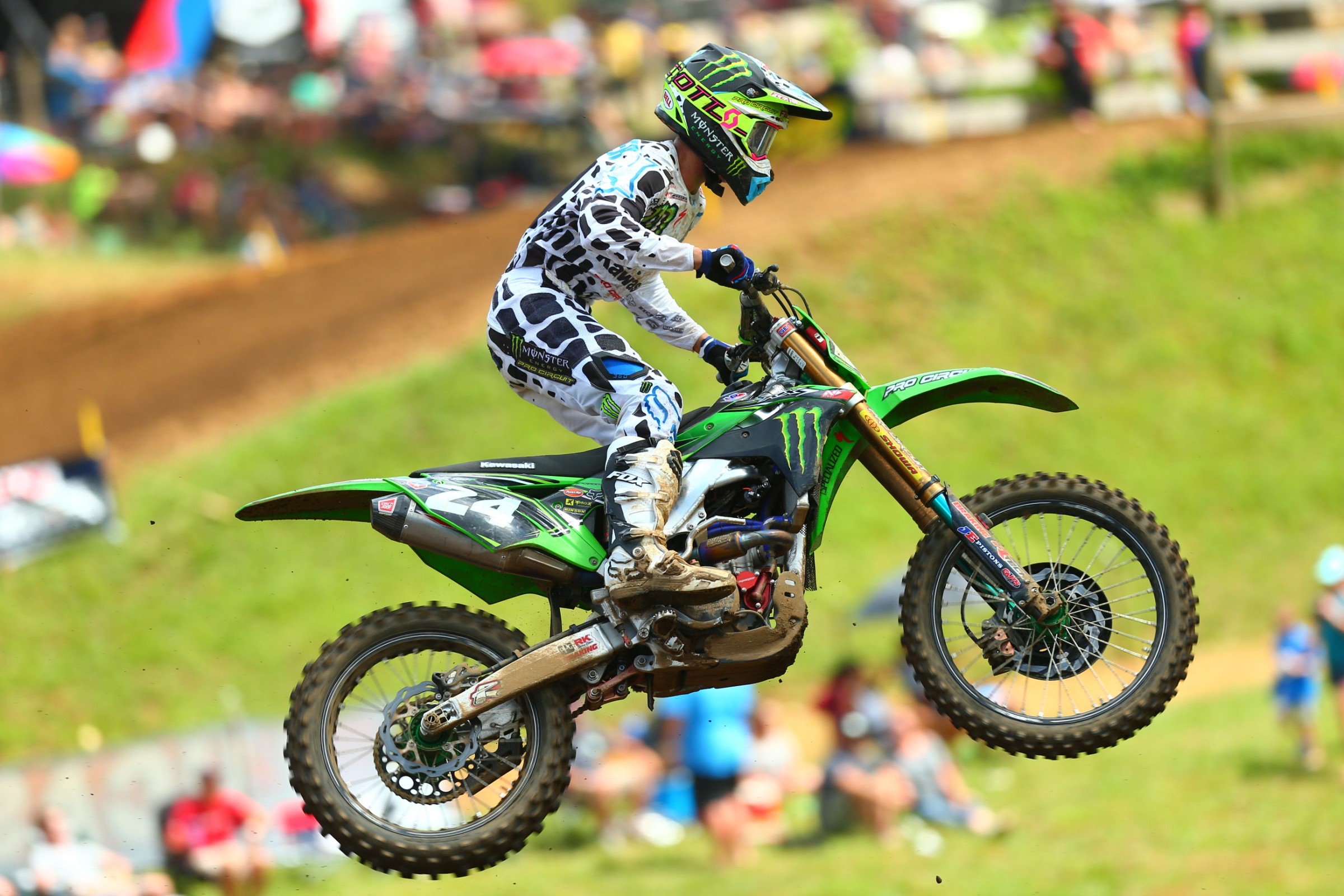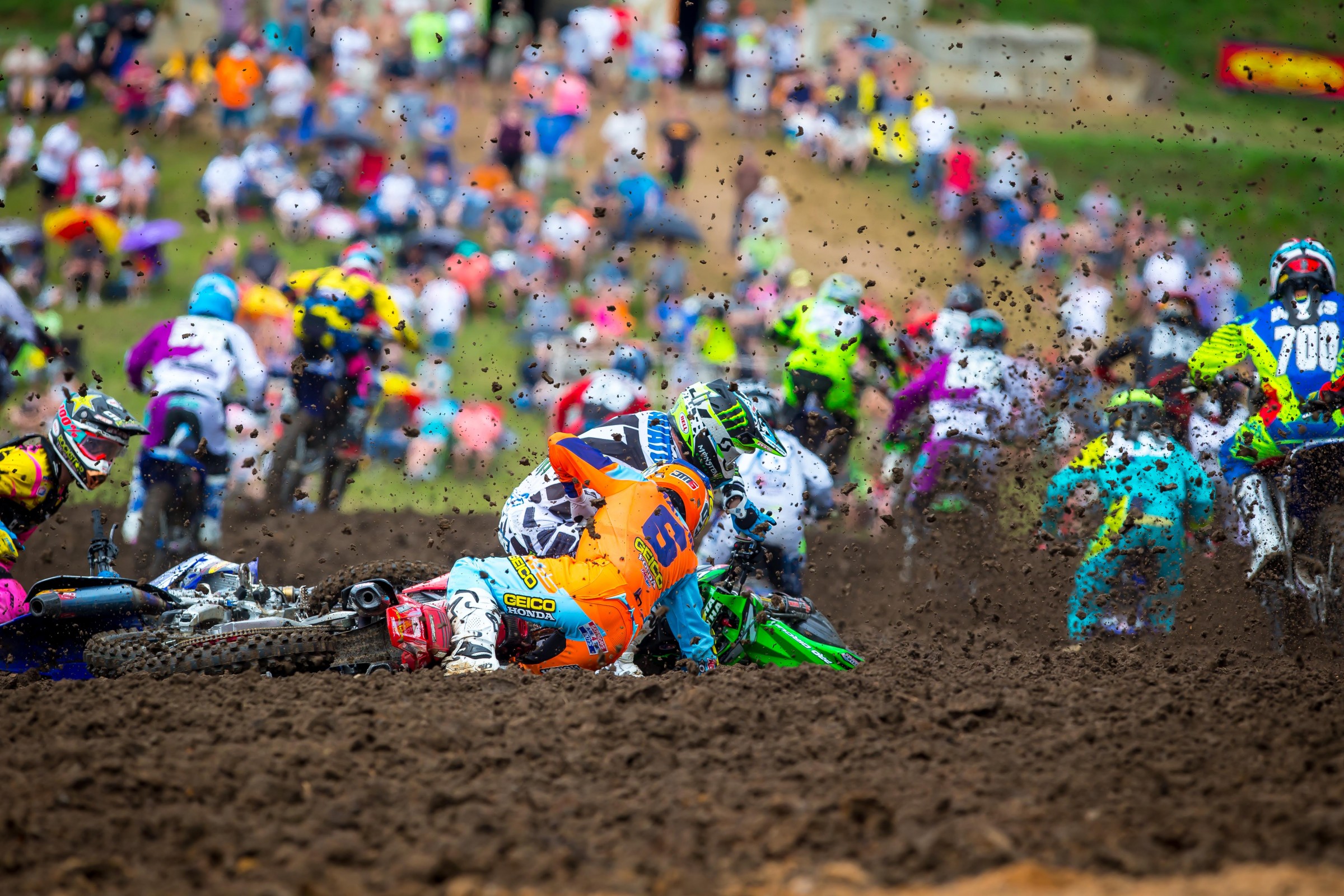 A rough day for a few contenders started with a first-turn crash in moto one. Jeremy Martin, Joey Savatgy and Dylan Ferrandis found themselves down early, and they raced through the pack together to try to salvage points. Ferrandis did the best with 10th, Savatgy was 11th and Martin, who crashed again later in the race, a disappointing 13th. Martin started about sixth in moto two and finished there, with Savatgy just behind. Jeremy Martin's ninth overall sends him back to third in points, with his brother Alex jumping back ahead to second.