Muddy Creek Raceway
Blountville

,

TN
Tennessee (Muddy Creek)
Lucas Oil AMA Pro Motocross Championship
Welcome to Racerhead. We're coming to you not from Muddy Creek Raceway in Tennessee, site of round five of Lucas Oil Pro Motocross, but rather from Snowshoe Ski Resort in the mountains of West Virginia. I'm taking a detour into GNCC for the weekend for a little family vacation after a long few weeks of helping set up for last weekend's big Red Bull High Point National. We got extremely lucky with the weather, as rain slammed our hometown last Thursday, Friday, and then again late Sunday and Monday. But race day—Saturday—was hot and sunny, and a great big crowd came out to watch the races on the revamped High Point course. We got a lot of compliments on the new track, and also some constructive criticism, but given the weather we had leading up to the race, I think it turned out quite well.
Had you told me one month ago that Zach Osborne would be leading Jeremy Martin in the 250 points chase after four races, I would not have blinked—Zach was great in supercross, and he started Hangtown with a solid sweep, while Jeremy had a tough stadium season and seems to be just coming to terms with his GEICO Honda. Had you told me that Blake Baggett would leave the fourth round on a winning streak, with the 450 Class red plate on his Rocky Mountain ATV/MC-WPS-KTM, I probably would have asked how long you had been drinking or dreaming or something. But that's exactly what happened at High Point. Blake won his second race in a row at Mt. Morris, and the Butler Brothers team has reached incredible new heights.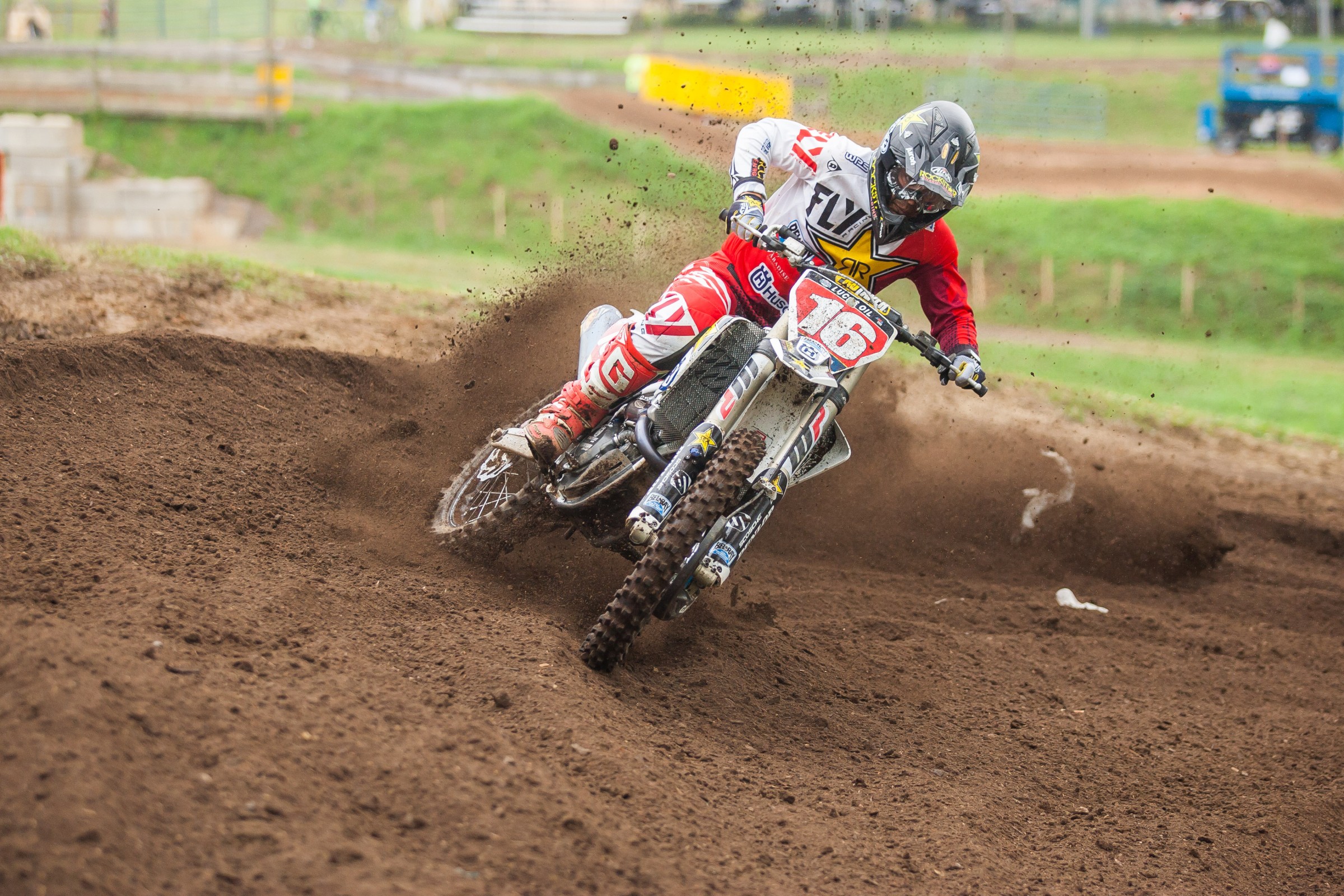 As they say in the music business, this is an overnight success story that's about ten years in the making. Baggett once again rode like a boss in the first moto, taking advantage of an early Eli Tomac miscue (and why does it always seem to take Eli a little longer to get going after even a minor spill?) to keep his Thunder Valley momentum going. In the second moto, Monster Energy Kawasaki's Tomac kept it on two wheels and rode hard, and after trying to go after him for the first two-thirds of the moto, Baggett seemed to accept second in the moto, first overall, and the most unlikely winning streak in this class since 2007, when then-Yamaha factory rider Grant Langston won the last three rounds (and the only three 450 rounds he ever won) on his way to a stunning title. Baggett has a long way to go for that, especially with a motivated Tomac chasing him, and Red Bull KTM's Marvin Musquin telling our Jason Weigandt yesterday at press day that his injured knee is feeling better.
The 250 Class has not been quite as surprising as the 450s, but Martin is now the third winner in four races, so it does have the same numerical competitiveness. And guys like Monster Energy/Pro Circuit Kawasaki's Austin Forkner and Adam Cianciarulo or Troy Lee Designs/Red Bull KTM's Alex Martin or Yamalube/Star Racing Yamaha's Aaron "Ouch" Plessinger and Dylan Ferrandis all seem on the verge of getting a W.
Into all of this we throw another curveball, the spitter. A tropical storm seems to be headed Muddy Creek's way, and the bullet we dodged at High Point may find its mark in the red clay there. My colleague Jason Thomas is already calling for a first-time winner in the 450 Class, and by that he must mean Jason Anderson, the Rockstar Husqvarna rider who will likely be lighter in the pocket when the race officials visit with him after his creative inside line in the first turn of the second moto, one race after being warned about his creative lines in Colorado. Whether or not the weather really is a factor in Tennessee remains to be seen, as the storm has been losing steam all week.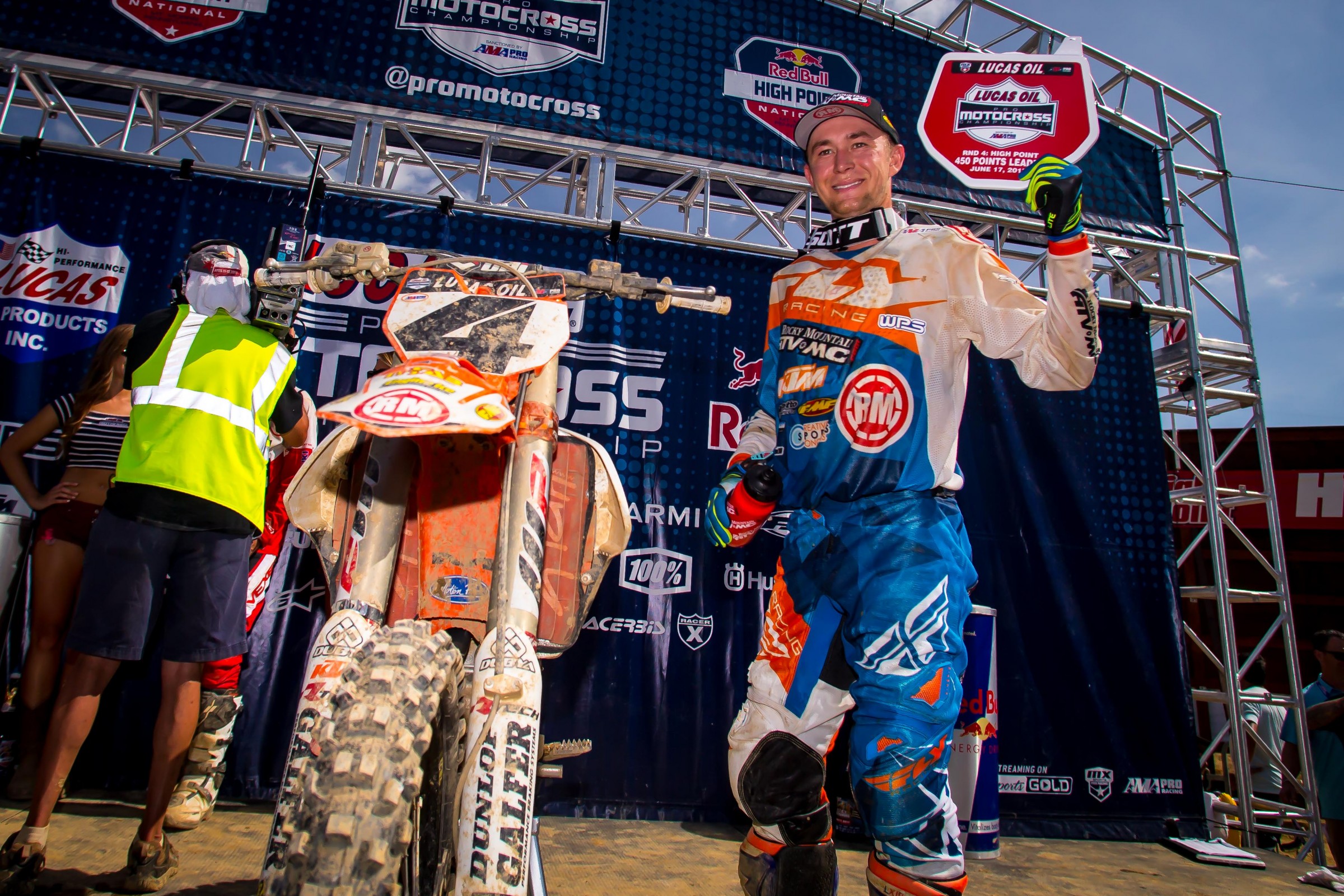 Another small storm developed out of nowhere: Privateer Cade Clason was notified seven weeks after the fact that he tested positive for a prohibited substance following the East Rutherford SX in New Jersey. Like James Stewart back in 2014, Clason had a prescription for Adderall, which is used by people with ADHD, and like Stewart, he did not have a therapeutic use exemption (TUE). Clason did post on his IG that he had submitted for a TUE, apparently three years ago, but was never notified if it was accepted. Cade was one of ten riders who were apparently tested that night back in April, and, other than Malcolm Stewart, the only privateer. Clason finished 16th in the 450SX division. Now he's racing in the Canadian Nationals. As I write this, I have no idea if he's going to try to race this weekend in Saskatchewan or not (he went on Steve Matthes' Moto:60 show yesterday to explain that, as far as he knew at that time, he could still race in Canada) but I do know he's facing a draconian four-year suspension if the WADA folks have their say. The Canadian Nationals are run by the CMRC, not the FIM, but the FIM can ask the AMA to rescind Clason's permission to race in Canada, and then it can get ugly and unfortunate for him.
Lesson for everyone in the paddock to learn: do not take Adderall (or anything else) unless you have written permission from WADA/USADA in the form of a TUE. It cost James Stewart 16 months, for starters, and it might cost Cade Clason even more.
Here's Racerhead.
Pro Perspective (Jason Thomas)
Round five takes the series to Tennessee. By now, the supercross cobwebs are long gone, and Lucas Oil Pro Motocross has found its stride. These rounds start to show what the second half of the season will look like as the pecking order shakes out. The early rounds are still full of hope and a bit of uncertainty as to where everyone fits in. After eight motos, though, things become clearer.
The biggest challenge for the next three rounds will be to improve if things haven't gone well. Some, like Justin Barcia, were expecting much more than they have shown us thus far. Not only that, he suffered a get-off at High Point that threatens to keep him out of action this weekend as well. When it rains, it pours, right? That might be the case this weekend also, as rains are in the overnight forecast. If the rain is heavy, look for an opportunity for Barcia to turn things around, just like he did at Budds Creek in 2015. Sometimes it only takes one shred of positivity to kickstart good results. Could Tropical Storm Cindy be the catalyst for a good weekend?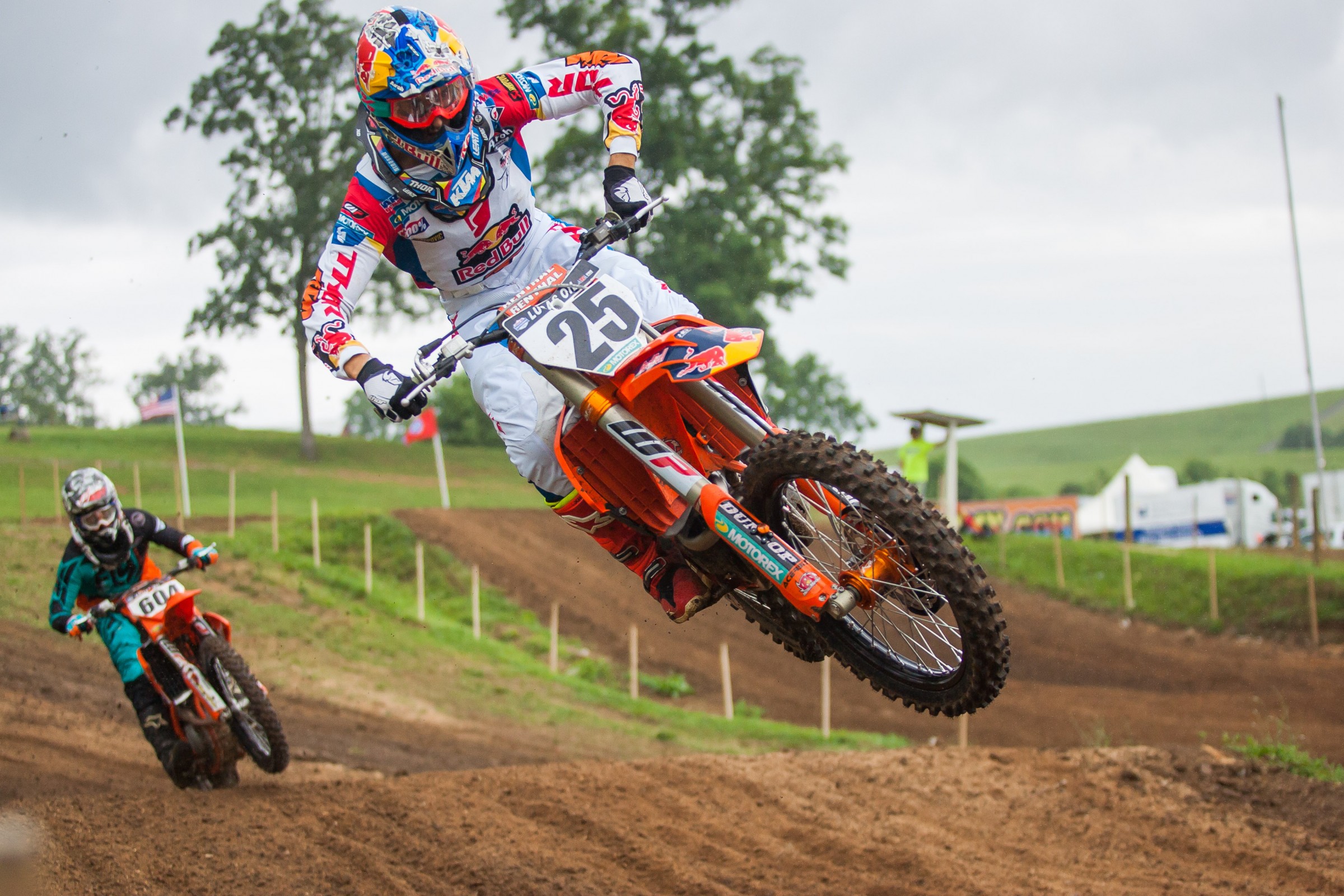 Muddy Creek Press Day (Jason Weigandt)
Yesterday I loaded up my camera and my two-year-old son Lane for a buddy road trip to Muddy Creek. I got to interview some riders and get some scoops, and Lane got to full-fill a lifetime (33 months of waiting!) dream of riding on an actual Lucas Oil Pro Motocross track! He was on his balance bike. No one else was allowed to ride on actual dirt bikes due to the rain. What was the track like? "It was muddy," Lane says.
It was cloudy all day but the sun was shining on the Red Bull KTM pits, as Marvin Musquin told me his knee is feeling much better this week, and he even rode a bit back in Florida and felt good. Marvin really wanted to ride yesterday and was bummed the press session was cancelled due to the rain. If a rider wants to go out and ride in the rain, his knee must be feeling pretty good! Marvin did get a chance to ride today, though.
Even more surprising, Marvin told me that Trey Canard will be back racing this weekend. I heard from someone in the Canard camp this week that he said he'll be back for RedBud, went riding, and then changed it to Muddy Creek. So Trey must have felt good!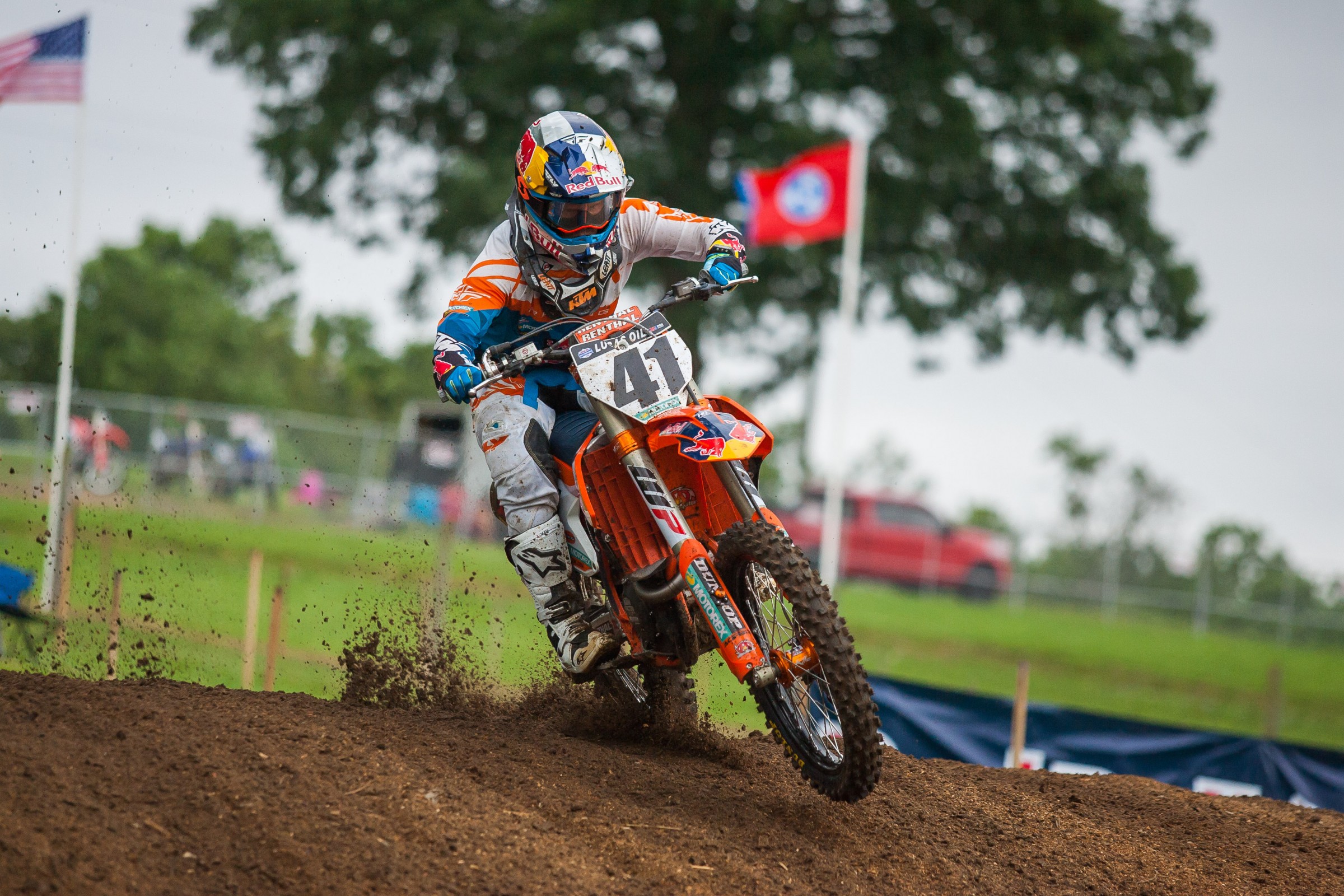 Next door in the Troy Lee Designs/Red Bull KTM truck, Shane McElrath told me this is the first week he's been back to normal training and testing since his hard crash at the Seattle supercross back in April. That explains Shane's sub-par start to the Nationals, where he has been battling just to get top tens. Remember, he won three supercross races this year and might even be better outdoors.
We were all thrown off because the week after Shane got hurt, he won the Salt Lake City supercross! He told me his hip was hurting badly that night, but he settled into second and when Aaron Plessinger crashed, just rode his laps and took the win. But he was still hurt! By the time Hangtown came around, he was riding as fast as he could but going five seconds a lap slower than the leaders. It's been a rough month for Shane, but he's finally feeling better. If you're playing fantasy moto, he might be a good pick--remember he nearly won the second 250 moto at Muddy Creek last year.
Roczen Back on the Bike, Hinting at A1 Return (Chase Stallo)
It's been exactly 153 days since Ken Roczen's horrific season-ending crash at Anaheim 2. Since that time, Ken has undergone a reported 11 surgeries, all performed by Dr. Randall Viola of the Steadman Clinic in Vail, Colorado. Dr. Viola specializes in hard, wrist, and elbow injuries and is a team physician for the Men's U.S. Alpine Ski Team and a medical consultant for the Denver Broncos. During this time, Ken has taken his fans and media along the ride en route to his recovery. He's shared the graphic images of his surgery, funny videos post-surgery, and even getting back to training.
In March, we visited Ken at his home in Florida, and he seemed very upbeat about his long-term prognosis but admitted it would be a long recovery.
Well, this week, Ken shared some great news—he's back on the bike. Roczen released a video on his Instagram page popping wheelies down in Florida on Christian Craig's bike (who is currently filling-in for Roczen at Honda HRC). A few days later, he posted an image with a simple caption: "Going to win again soon 198 Days till A1."
None of us are doctors, and we don't know every minute detail of his recovery, so, let's not armchair quarterback when Ken may or may not return. Consensus around the pits is that he will indeed race again in the future. When that is, no one but Ken can determine. But one thing is for certain: that kid is gonna bust his ass trying to get back. And the sport will be better for it.
UNSUNG HERO (DC)
If you're looking for a feel-good story to check out over the weekend, read Aaron Hansel's Unsung Hero bit on Pennsylvania privateer Steve Roman.
Steve was racing the pro race over the weekend, but pitted with the amateurs at High Point over the weekend because he had buddies racing. He ended up meeting a fellow rider from Germany who was on a graduation trip with his mom and visiting his first Lucas Oil Pro Motocross National. Roman ended up helping the visitors enjoy the trip of a lifetime while also qualifying for the 450 National. But what really caught my attention about the story was the fact that Steve Roman works full-time in a steel mill! Give it a read.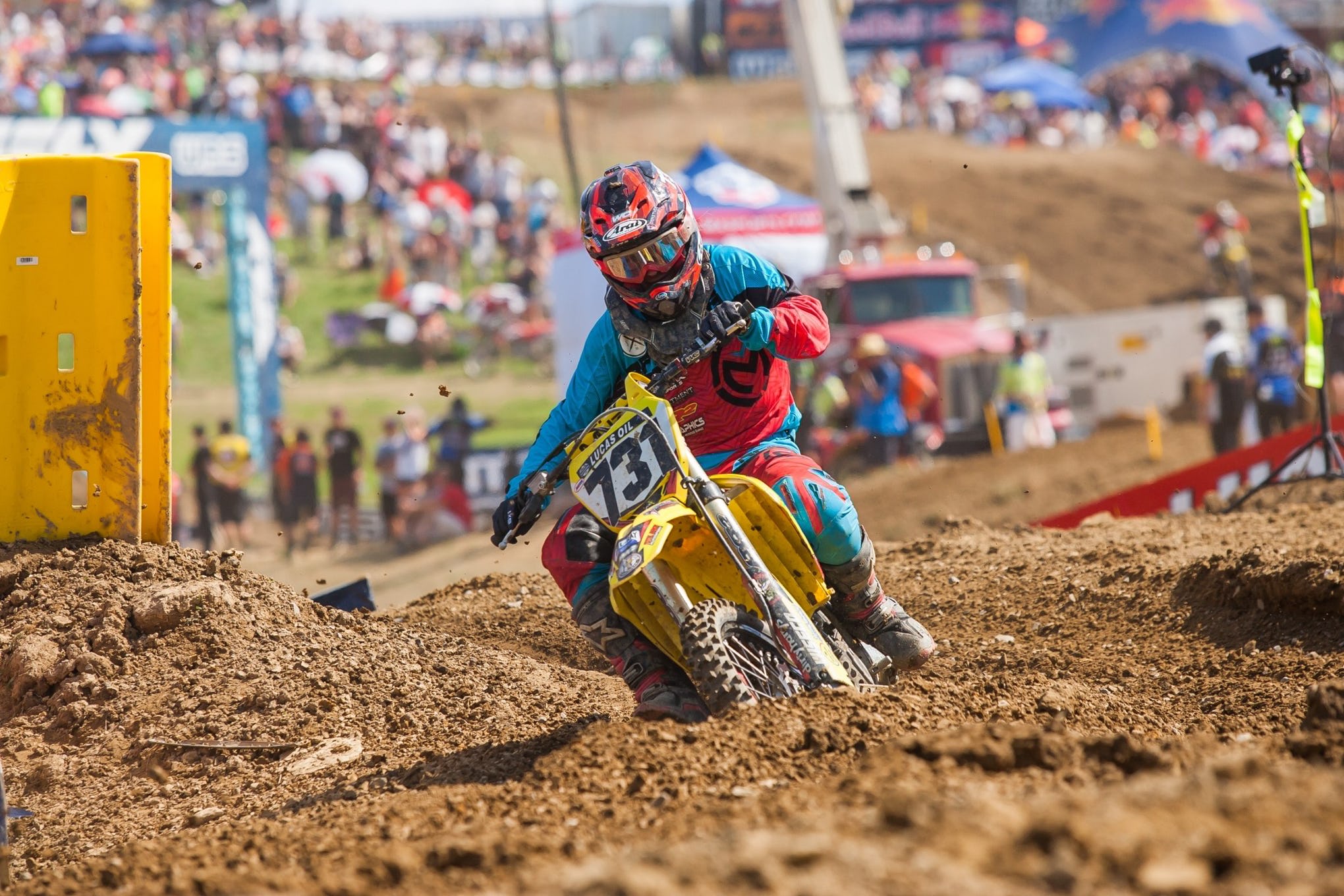 THE NUMBER: 2 (Andras Hegyi)
After winning two 250 Lucas Oil Pro Motocross Championships and 11 Nationals on a Yamaha, Jeremy Martin got his first win last weekend as a GEICO Honda rider. Martin became the first Honda rider to do so in the 250 MX category in four years. Honda's last winner was Eli Tomac, who was victorious in the last round of the 2013 season. Between 2014 and '16, only Kawasaki, Yamaha, KTM, and Husqvarna have wins in the class. There were 39 rounds without any victories for Honda. Jeremy became the 25th winner for Honda in history of the 125/250 National. He got the 115th victory for Honda in history of the 125/250 National. Martin is the 15th rider to win with at least two different brands in history of the 125/250 National. (Larry Ward and Mike Brown were able to win with three different brands!)
Riders to win with at least two brands in the 125/250 National
Larry Ward (Honda, Yamaha, Suzuki)
Mike Brown (Kawasaki, Honda, Yamaha)
Ron Lechien (Honda, Yamaha)
George Holland (Suzuki, Honda)
Guy Cooper (Honda, Suzuki)
Mike Kiedrowski (Honda, Kawasaki)
Mike LaRocco (Suzuki, Kawasaki)
Doug Henry (Honda, Yamaha)
Steve Lamson (Suzuki, Honda)
Robbie Reynard (Kawasaki, Suzuki)
Damon Huffman (Suzuki, Kawasaki)
Ryan Hughes (KTM, Kawasaki)
Grant Langston (KTM, Kawasaki)
Christophe Pourcel (Kawasaki, Yamaha)
Jeremy Martin (Yamaha, Honda)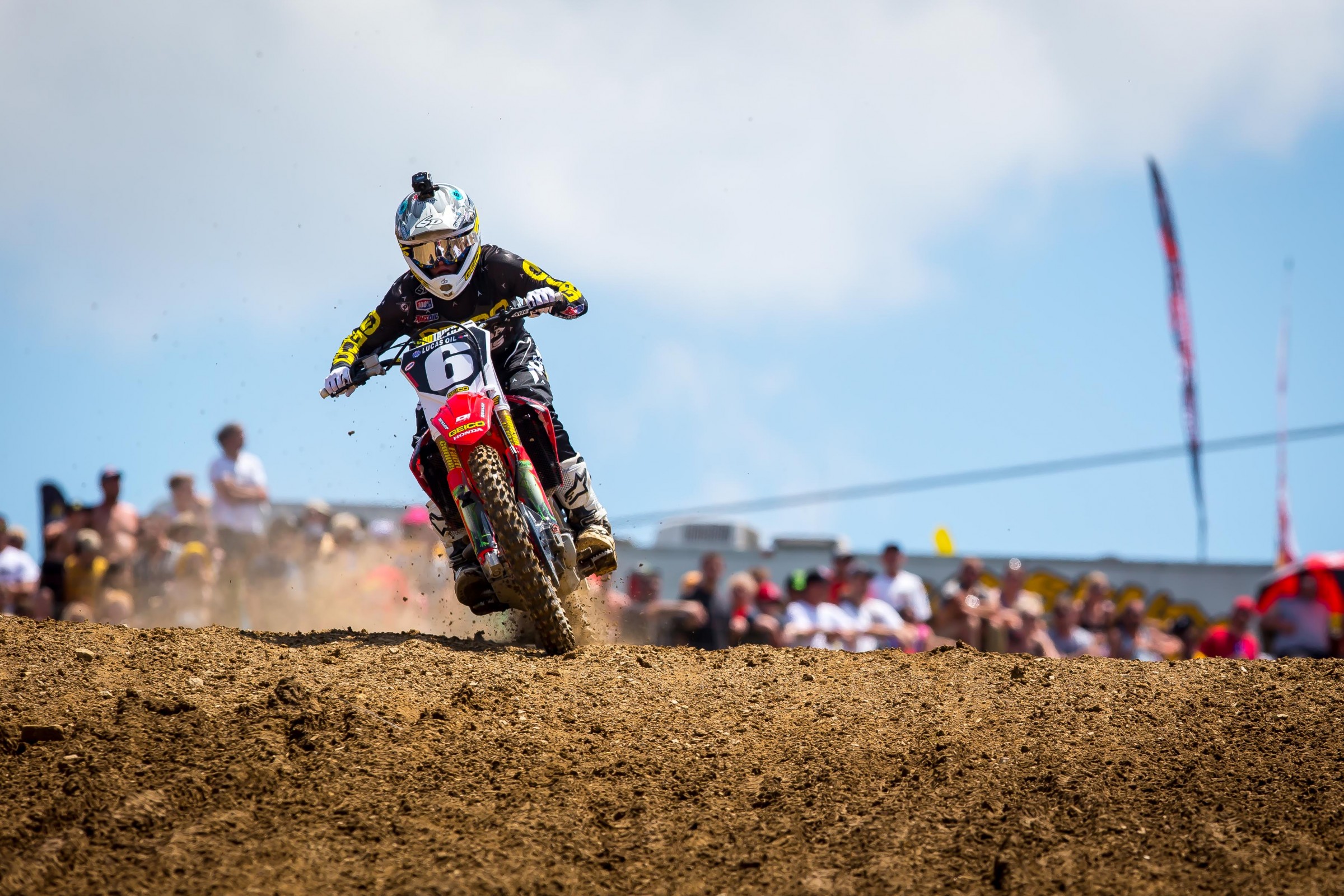 300! (MATTHES)
No Muddy Creek for me this weekend. Flights were expensive, it's a far drive from Knoxville, I wanted a break this weekend, and so on and so on. But I will be glued to my NBC Sports Gold App watching the action, and I hope it stays somewhat dry there.
It was our 300th PulpMX Show this past Monday night, and as we like to do for these big shows (#100 we reunited the Great Western Bank Team, #200 it was all our old co-hosts), we got the band back together. The factory Yamaha squad from 2003-2005 that I worked on was brought back in-studio when Chad Reed, David Vuillemin, and Tim Ferry showed up. It was great to have them all back together, and we went down memory lane of the years on the team and even called up our old (and still current) team manager Jim Perry.
Reed and Ferry came out from Florida for this, so that was greatly appreciated, and DV, well, he came up for the show and worked a gambling trip around it! At one point in the three years Ferry and Reed had some disagreements, and DV and Reed as well, over a "watering the track" incident, and it was funny to look back at that. They had a good time talking about racing back then and going up against RC, then DV yelled about how he hated motocross.
What was really cool was you could tell the three of them, all busy now with their lives (heck, Reed's still racing!), really enjoyed being back together. The laughs and smiles before, during, and after the show were great to see. It was a powerful team, with all three capable of winning supercrosses and nationals each and every week. Each guy made over a million bucks a year, which you don't see much nowadays. Bring back the super-teams!
The guys talking about how fast Ezra Lusk was in 2004 on the Mach 1 Yamaha team was interesting. Vuillemin talking about how his dad pushed him in racing, Ferry's initial thoughts about taking Reed under his wing and then seeing Chad start winning were all great stuff. Remember Rocky III when Rocky, after getting pummeled by Clubber Lang, hired old rival Apollo Creed to be his trainer? Well, I tried to get Reed to hire DV to recreate that in our sport, but Vuillemin kept yelling about how he didn't want to die like in Rocky IV.
We're all richer for hearing them, and it was cool they made the time for our show.
NEW ITALIA (DC)
The FIM Motocross World Championships pick up again this weekend in Italy, a fortnight after an incredible mudder in Russia where Clement Desalle got his second win in a row and moved up to second in the MXGP standings. Desalle has visited the States a few times before and had some exceptional outings; the last time he rode a national here was Muddy Creek in 2013, where he finished sixth overall. He's been injured much of the time since but has revitalized his career in 2017. But he's still got a ways to go to catch Red Bull KTM factory rider Tony Cairoli, who just keeps getting points and the occasional win and seems destined to earn a ninth world title this season.
This weekend the race in Italy was supposed to be in Maggiora, site of last year's Motocross of Nations, but the organizers got into an issue with local restrictions on some building permits and had to move the race to a different track all together. What's frustrating about that is the fact that Maggiora had fallen into total decay after it was abandoned early in the millennia, and the organizers got it back to it's original grandeur and more. Now the track could fall into the dustbin of history again, joining other famous European tracks like Namur in Belgium and Sabadell in Spain. Here's hoping that Maggiora doesn't go away again.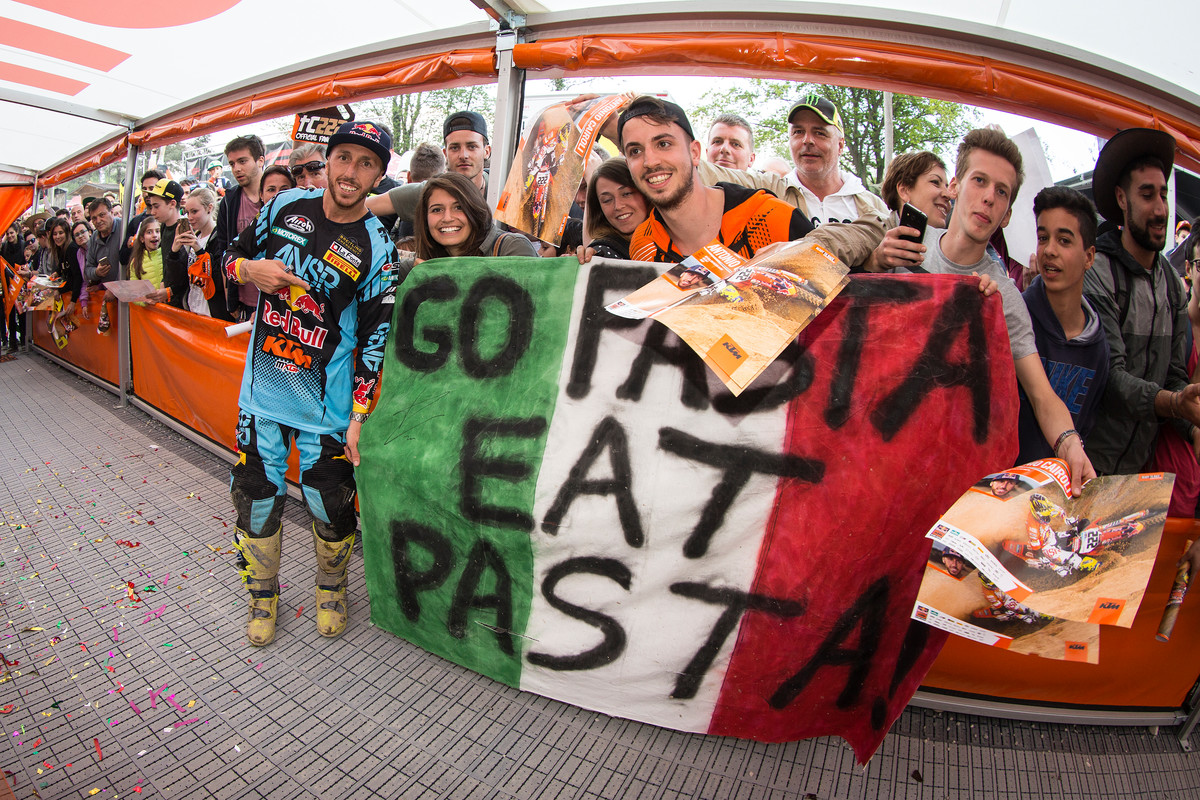 Hey, Watch It!
NBC Sports will present Nitro World Games, the revolutionary action sports competition, returning to Salt Lake City's Rice-Eccles Stadium for its second year. Showcasing the world's best athletes in the sports of FMX, BMX, Skate and Scooter, NBC will televise coverage of the Nitro World Games this Saturday, June 24, at 8 p.m. ET/PT.
Mammoth Mountain is up and running and Simon Cudby was there to watch the mini cycles on Wednesday. Here's his film, featuring glimpses of the future stars of American motocross.
Zach Osborne and Aaron Plessinger joined the Best Post-Race Show ever and it . . . well, just watch.
We went flat tracking with Twitch and Buddy Suttle.
We brought back our Remastered series for High Point.
Random Notes
Subscribe now for only $9.98 and receive a FREE Alias T-Shirt plus access to our current digital edition.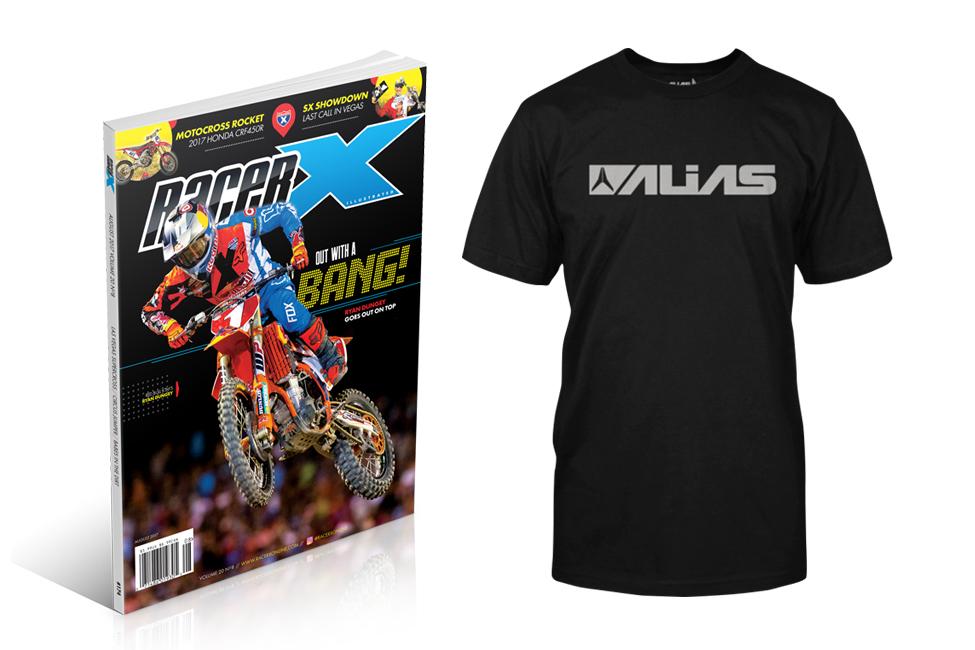 Going to Muddy Creek this weekend? Want to be able to get into the pits all day?
The only way to cruise the pits whenever you'd like is with the Racer X All-Day Pit Pass, but quantities are limited! Get yours today while they're still available and get all-day pit access plus a one-year subscription to Racer X Illustrated for just $50. Preorder ticket sales end Thursday, June 22th at 11:59 PM.
If you preorder online for this event, you'll need to pick your Racer X Pit Pass up at Will Call, where you'll also receive an extra copy of Racer X, the official event sticker, and Racer X stickers.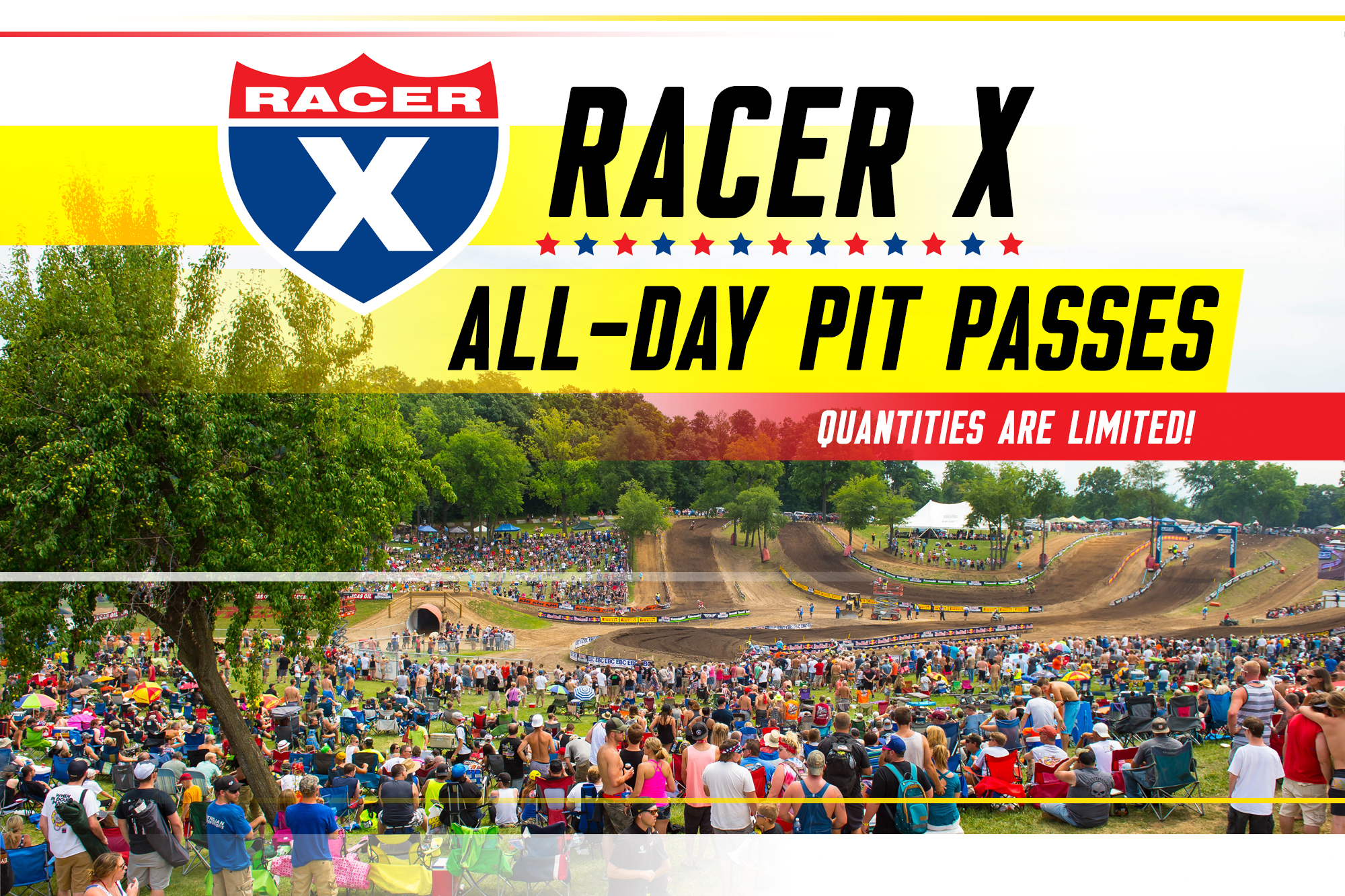 Headed to the Muddy Creek National this weekend? Be sure to stop by the Racer X Booth in Sponsor Village, and subscribe to Racer X Illustrated for as low as $10 to receive a FREE $20 Motosport Gift Card, a one-year subscription to Racer X Illustrated, an extra copy of Racer X, the official event sticker, and Racer X stickers.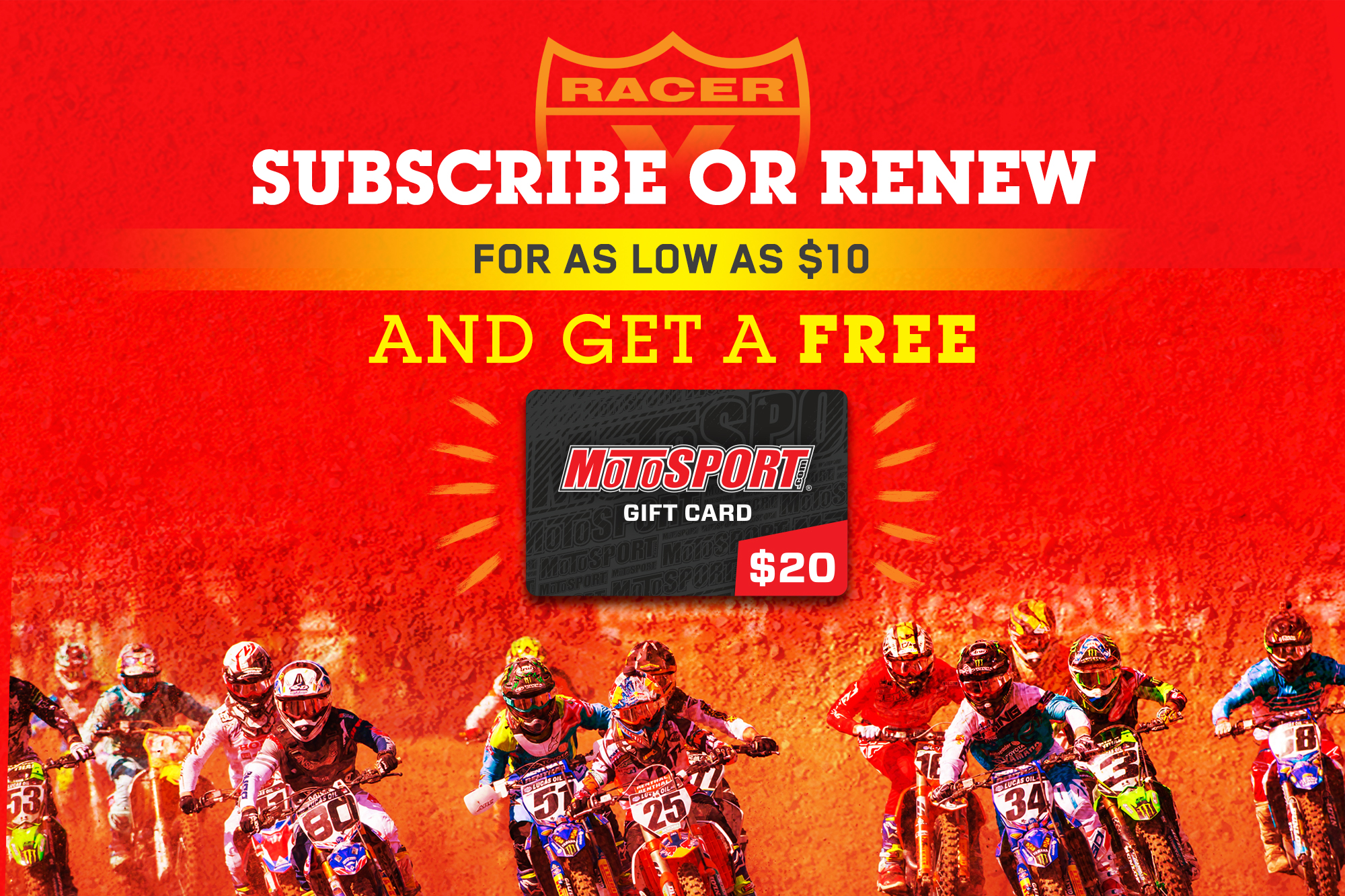 On the MotoXpod Show this week, Darkside hosts while Muscle Mark is recovering from working too hard on arm day. The guys talk with John Short about getting back to racing and running in the top 20. Then AMA Pro Motocross 450 MX points leader Blake Baggett is on while Producer TJ, BB4's biggest fan, sits in the corner drooling. Ronnie Ford then fills them in on plans to race a smoker in the outdoors, and they finish with a cold call to super producer Travis Marx. Make sure to Tune in each week to the MotoXpod on iTunes, Stitcher, Soundcloud or anywhere fine podcasts are found. You can also follow the MotoXpod Show on Facebook, Twitter, Instagram and Snapchat.
That's all for now—thanks for reading Racerhead. See you at the races.