Frankie Garcia is a workhorse. He's been to every supercross and motocross over the last four years, including one-off races like Monster Energy Cup and Red Bull Straight Rhythm. I was introduced to Frankie at the Racer X Ride Day at Castillo Ranch this year while he was running the dozer to have the track prepped to perfection for us before the crack of dawn. Talk about commitment.
Frankie's roots come from flat track but now he works for AC Systems, the company that is developing the magnet nostril system for athletes. You can find guys like Cooper Webb and Weston Peick with AC Systems sticker on their noses on race day.
What is it? What's it do? It's a magnet that opens the airway for increased breathability. I spent a few minutes between motos last weekend at High Point to get some more insight on what it's like to be Frankie Garcia.
Racer X: Where does the motorcycle scene start for you?
Frankie Garcia: My dad raced flat track. He got a bike when he was a kid and kind of figured it out on his own, did his own thing and just ended up racing flat track. When I was born I got a motorcycle PW50 for my first birthday. I was riding by two, racing by four. Obviously, first race was a flat track race. Just kind of stated there.
On your PW?
On the PW, the same one I got for my birthday.
Did they take the front brake off?
I don't remember. It was so long ago. I don't remember if we took a front brake off or the kids got to ride with it. I don't know if that's a safety thing when you're a 4-year-old. That's where it got started. Dad raced flat track and I just kind of followed in his footsteps.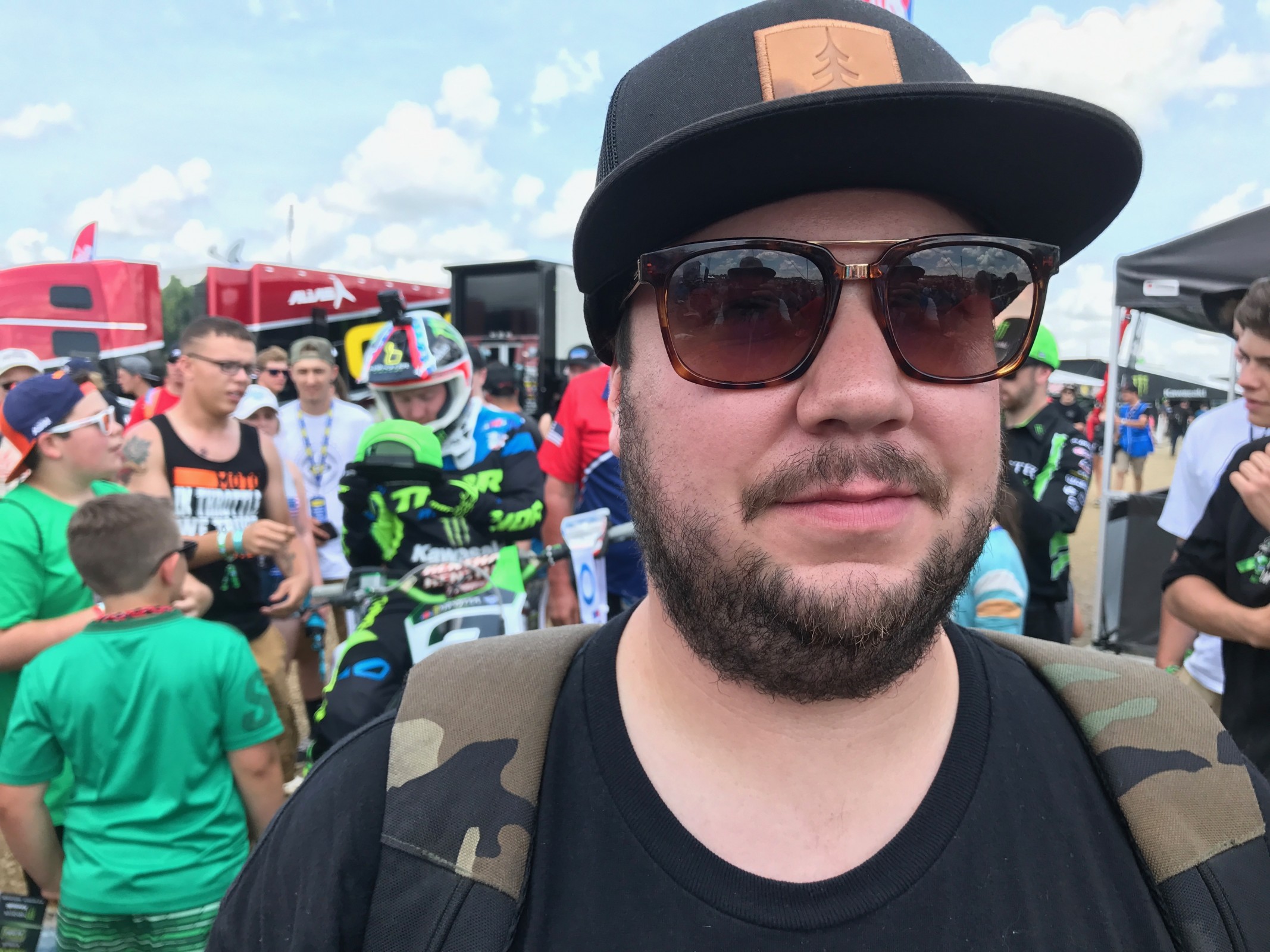 Where did racing go from your early start as a kid? Did you race moto or has it always been flat track?
No, I raced flat track until I was about 12 or 13. I did the very first Honda Junior Superoto Challenge at Laguna Seca. Danny Walker and American Supercamp had a lot into that. They ran that whole show. So, I did that supermoto race and then I was kind of hooked because I always wanted to road race. So, a stepping-stone between flat track and road racing was obviously supermoto. You had to get used to the pavement and the asphalt and the tires. So, I did that for a few years. Then when I was 15 I raced the X Games Supermoto. That was kind of toward the end of my supermoto days because I just got into road racing. Once we started doing that, that's not cheap and you've got to kind of stick with it. Moto track days are like $25 bucks or whatever. A track day on a road race bike, a cheap day is $170 bucks. You go through a whole set of tires in a day. It's just expensive. Once I started road racing I did that up until I was 19 or 20. The economy kind of went backwards and I hung it up and decided to take some college classes and get a job. Then I made a little comeback in 2012. I never raced an AMA road race though. Right before I stopped, it was right when I was going to transition in AMA and they made a bunch of rule changes and it just didn't work out. So, I came back. I stopped racing full-time in the beginning of 2009. Came back to racing again in 2012, got a little bit of a ride with a team called Tune Industries out of Bakersfield. Raced the Daytona 200 and then did some West Coast races at Miller, Laguna Seca, Sonoma. After that I did some club races. At the end of the day, it all kind of goes back to my roots and that's flat track. That's where it all started and that's where the most fun's at, I think.
Do you still do flat track?
Yeah. I ride every now and then. I don't get to ride as much as I like to, and when I do ride it's just moto now. But when I can, I like to ride flat track. It's so much fun. You get more people involved and stuff, like Tyler Bereman. I've known Bereman since I was five years old. Me and Bereman used to ride flat track together. Our dads raced together before we were even born. We're from the same area. But a lot of guys are getting into it. I think in the last week Twitch hit me up to get a steel shoe made. So, Twitch is getting into it. I'm helping [Ryan] Villopoto build a 450 dirt tracker right now. So, it's fun. I think people are kind of seeing the joys of it and how fun it is. It's kind of cool.
What's your path through the industry been?
I originally started working at Motorcycle USA back when that was a thing. They hired me when I was like 20 years old and I worked there for a couple years. Then I got a call from Suzuki one day and they needed a PR guy. I made the transition over there. Motorcycle USA turned into Motorcycle USA/Cycle News kind of collaboration under the same company, so I had a lot of guidance from Adam Waheed and Paul Carruthers over there. When I got the offer from Suzuki they totally supported it. So, I went over there and did the PR thing for them for a couple years. Now I'm just coming to the outdoors and supercrosses working for AC Systems.
What's that like?
It's cool. The AC Systems thing has been a big project between myself, Dave Castillo and Jim Castillo. It's a magnetic nasal breathing system that kind of started with Jim Castillo and we've all between the three of us put our efforts into coming up with our current product now. It's been a pretty cool adventure. It's just something new and different that no one's ever really done before. It's been up and down, but there have been more ups than downs. I definitely think it's going to be something that will be a normal thing in the future.
Who are some of your guys' athletes now?
I think our main guy right now is someone who's been with us since pretty much the beginning is Cooper Webb. We have [Aaron] Plessinger. We've had [Broc] Tickle on our stuff. Pretty much everybody—most of the top guys have ran it at some point or another. It gets a little hectic because we're always kind of doing R&D and we're changing this and changing that. So, it's basically all of our athletes have been kind of our test riders at the same time. So, it's been fun. But right now Cooper Webb is our main guy. We have Weston Peick, Plessinger, Adam Cianciarulo. We got guys in NASCAR—Justin Allgaier. We got world cup downhill mountain bike guys. We have road racing. We've got the [MotoAmerica] champ, Cameron Beaubier is on it right now. JD Beach. We got quite a bit of different discipline athletes on it. We're just moving forward with it.
What's a typical day at the races like for you?
A typical day is we get here and obviously our system works with sticker on the nose. It's got a magnetic disc in it that attaches to the magnet. So, just getting here, getting set up. I don't build the band. We have the band system now. Before it used to go in the goggle. I don't build them until I get here because the magnets just stick to everything and it just creates a mess. I have a little box that I carry around. It's got all the bands in it and all the stickers, but when you put the magnets on before, all the bands start sticking together and it's a mess. I usually have fresh ones, fresh bands right off the 3D printer when I get to the races and I build them when I get here. That way they're not sticking to things and getting lost and getting mixed up with different sizes. So, I get here, figure out how many guys I have. I know what size each guy wears, so I'll build a couple per each guy, go around and make sure they clean their noses. Stick stickers on their noses. Between every practice, every moto, every time the rider goes out I got to be there to put fresh stickers on them.
How long do the stickers last?
It depends on the guy. We've had guys like Blake Baggett that will run the same set of stickers both practices, both 30-minute motos, and then he's having to peel them off his face in pain at the end of the day.
So, it just depends on how sweaty they get?
Yeah. But then you got guys like Broc Tickle that sweat like nobody's business, and they'll come off after a couple sessions. I like to put fresh ones on before every moto for each guy. You never know how hot it's going to be, especially on the East Coast. It's humid. I just put fresh ones on. That's what we're here for. We're not here to have anything come off. We're here for business.
When do you plan on selling the AC System to the public?
Our AC Systems are going to be coming out here pretty soon, the new one. It's still a 3D-printed part. Right now a mold is being made, and our sticker machine is being manufactured, so just keep an eye out for it. It'll be here within probably six to eight weeks. Don't forget about us. It's a life-changing product for sure.
I met you back at the Racer X ride day at Castillo Ranch. You work there as well, right?
I work with the Castillos. Castillo Ranch is part of the thing. I think the majority of the people that want to use that place or utilize the ranch kind of contact me. We do a lot of fun stuff out there. We've done a lot of progress. Obviously Kenny [Roczen] trains out there. Red Bull's out there. The Racer X Ride Day was out there. We do a lot of different stuff out there, which is always fun. Castillo Ranch is legendary.
I think I saw some stunt classes going on or something recently at Castillo Ranch? Were you part of that?
The stunt guys—obviously Dave Castillo is a stunt man in the film industry. They do this event every couple of years called a Hooper Classic. Basically what it is is Logan Holiday, Dave Castillo and a couple other guys put on this event and the last two of them have been at Castillo Ranch. Basically it's just open to actors, film industry people and stuntmen and women. They do this Hooper Classic and it's bring your family, bring the motorhome, bring you dirt bikes, bring your pit bikes. They do pit bike races and team races. It's crazy because no matter what a stunt person's specialty is, most of them ride motorcycles. So, you got guys like Dave Castillo and Logan Holiday that are fast guys, but then you got guys that are just out there having fun. So, they put on just a fun event that all the stuntmen and women and actors and actresses come out to do. It's a cool event that they do out there.