High Point Raceway
Mt. Morris

,

PA
High Point
Lucas Oil AMA Pro Motocross Championship
Round four of the Lucas Oil Pro Motocross Championship took place at the historic High Point Raceway or Mt Morris if you're Motocross Action back in the day. But wait, the High Point track of 2017 wasn't what we were used to. It was hardly recognizable as massive changes were made to the facility and track itself. A ton of dirt was moved to make it perhaps the most drastic change of a national track that I've ever seen in my 20 years of going to the Nationals. It was THAT different.
Rain on Friday night didn't help things out, as the track was a mess for the first practice sessions and developed ruts as bad as Thunder Valley. In fact, after the first eight motos this year, the sport should be called "slot-car cross" and not "motocross" as they haven't looked like much fun to race. Let's hope Muddy Creek this weekend stays dry and not watered that much so we can see riders actually go inside to out and vice-versa in a corner.
So what did the riders think of the new High Point layout?
Zach Osborne: "I like the old High Point. But I'm not talking about last year's High Point—I'm talking about High Point where Bradshaw Boulevard was huge jumps and you went clear out in the back. High Point was actually the first National I ever came to in 1997 when Bradshaw won and [Scott] Sheak won the 125. (Writers note: I lost my shoe there by the uphill triple working for Ty Birdwell.) That's kind of the High Point I'm talking about, where you come back this way after the start. But I enjoyed it. I always enjoy this track. When it's muddy like that in practice, you know you're going to have a proper racetrack for moto. So, it was good."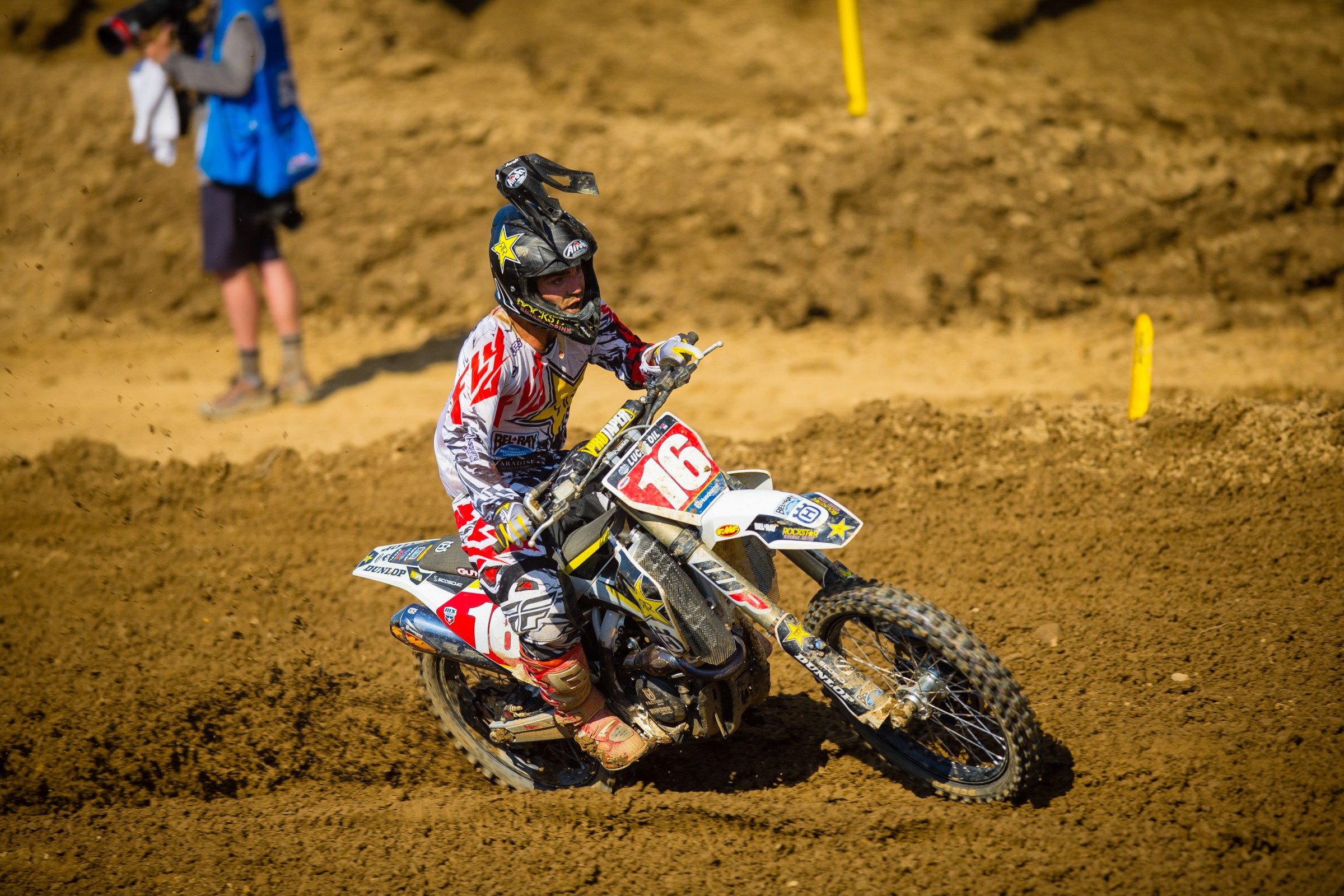 Ryan "Thomas" Sipes: "I like it better than two years ago, when the last time I raced here. I still think I like the design before that a little bit better, but this one's not bad. Like I said, the two tight corners that I thought were going to be pretty one-lined they still were a little, but not as bad as I thought. I think it's better than it was. It's not bad."
Aaron Plessinger: "It's pretty good. The track has been the same since I can remember, since I started racing here. I think it's a good change. It made for some really good racing. I like it. It's rutted like always."
Alex Martin: "Well I was a big fan of the old layout, so I was kinda bummed to see they changed it that much. But after racing it Saturday, I think they did a pretty damn good job with it. Made for better passing, there were plenty of lines to choose from. I'm sad they took out the uphill triple by the start though..." (Alex included a crying emoji face on this text at the end by the way.)
I'll tell you what, though, Damon Bradshaw was actually there working for WPS/Fly Racing and I wouldn't have wanted to be standing by him when he saw that his boulevard was gone.
MX Sports, the promoters, tried something new this year. They invited Ryan Villopoto to come in on Friday to participate in some events they had planned, all to get people out to the races early and back to camping out on the track like in the old days. In my opinion there isn't a National out there that has been hurt more by the switch to Saturdays and moving off a date (Memorial Day Weekend, in this case) like High Point. It used to be insanely packed and that's gone away the last few years. Well, I don't know if it was RV's presence (doubt it, but he was already claiming yes) or the events or whatever but the place was packed again. Brought back some good memories for me.
Speaking of RV, I couldn't believe it when I was in the Kawasaki truck and he grabbed a broom out of nowhere and started SWEEPING THE TRUCK FLOOR. I know that USADA was there doing some drug testing of the riders and I hope they grabbed Villopoto after the race as well because something was going on with him.
Well, Blake Baggett won again. Yep, the new #4 won his second 450MX national ever with 2-1 scores and took the red plate home with him as well. Impressive weekend for Baggett as he dominated moto one and then took a clear second in moto two—and don't forget him crushing Thunder Valley. There's no doubt that Baggett could walk away from High Point claiming that he was the winner because, well, he really was!
But then if you're Eli Tomac and Kawasaki, you could also say that High Point was a win for you as well. The first moto Tomac did what he's been doing for a while now (East Rutherford SX, Hangtown, Thunder Valley) with these little falls. He had another in the first moto and had to come from last to 12th. And can we get Tomac to practice crashing and running to his bike to frantically start it up? I don't know if I've ever seen a rider so causal after crashing, but whatever.
So Tomac was effed after moto one (he made a change in the bike for moto two that really helped) but in moto two he grabbed the lead early and took off. It was a Tour de Tomac performance as he crushed the field to grab his third moto win of the year (most in the class) and showed that without silly mistakes, he's the man. Yeah, yeah, I know Baggett passed him in the Thunder Valley second moto but insiders at Kawasaki tell me that Tomac did some sort of super workout before the race that left him a little too whipped on race day, so take that however you want to.
In the second moto when Baggett got into second he was pushing hard to catch Tomac. He wanted to, NO DOUBT, try and repeat Thunder Valley and in fact, he had a better lap time than the #3 but there were more better (yes, you read that right) laps by Tomac and he eventually pulled away from Baggett. Both riders were head and shoulders better than everyone else out there. It was impressive as Baggett wanted to back up his words after Thunder Valley and Tomac knew what Blake had been saying. Egos were on display at High Point.
So as I said, Baggett can claim victory at High Point because he's like, the real overall winner, nothing anyone can say about that. But if you're Tomac and Kawasaki, you're saying that Tomac came into the race 17 points down and left 11 down and head to head, Baggett couldn't beat you in the second moto. Yeah, it took Baggett some time to get into second but he never caught Tomac and actually lost ground. So in the end, all this means is I can't wait until Tomac and Baggett are one-two in some order off the start and the battle will be on. I'm not sure why Baggett made it personal with Eli but I think he did and we're all the benefactors for it. Great racing!
I have to admit that I wasn't sure about the GEICO Honda switch for Jeremy Martin. I mean, the Yamaha is a great bike in a class where motor means everything. And the Pro Circuit Kawasakis (that come stock with a second fuel injector) are a great bike and KTM has always built a fast small bike. Suzuki's an older platform now and Honda is as well. They aren't "crappy" bikes by any means as I know Kibby there at GEICO knows how to build a motor but what they started with wasn't an amazing motor like, say, a Yamaha or Kawasaki.
And J-Mart's SX season really didn't make me jump and down saying he made the right move leaving Yamalube/Star Racing Yamaha. Well, maybe it's time to think a little differently. Martin holeshot the crap out of Glen Helen, looked very fast on that tough demanding track and this weekend he pulled out his first overall on the season. And I thought his bike looked and sounded great. Martin and Zach Osborne might just start slowly making this a two-man race for the title if the other guys don't watch out.
At the last race Jason Anderson was given a suspended fine of $2,500 for some track cutting and also not slowing down when he was forced off the track after a crash at Thunder Valley. It was understandable in both cases that MX Sports did this—I wrote about the speed while off the track in my column that week. Well, this week he apparently raced up and down a hill beside the track at the end of practice which enabled him to get the fastest qualifying time. I didn't see this but our own Jason Thomas did. Then off the start off moto two, he pulls this move in the first turn:
There's trying to make an effort to stay within the yellow markers and then there's what Jason did. He turned an outside the top 10 start to third! I would guess another fine (that's probably not suspended) is coming his way. Of course Anderson will just hate me even more for pointing this out, but c'mon man, you've got to make an effort to stay on the track.
Let's take a look at the results shall we?
250MX Results
1 6 Jeremy Martin Millville, MN Honda CRF250R 2 1- Martin was leading but was then caught and passed by Osborne in moto one. Afterwards he told me: "He got me. He was just like, see ya! So hat's off to him." It's refreshing for a rider to say. No "got tight" and "bike set-up" issues as to why the 16 caught him.
2 16 Zachary Osborne Abingdon, VA Husqvarna FC250 1 2- Osborne had a good day, like Baggett and Tomac, he could point to his catching and passing J-Mart in the first moto and poor start to second ride in the second and feel pretty well about his day. He's still got the red plate, didn't lose any points and is one race closer to winning the title. I didn't like his move on Alex Martin when he tried to pull his goggles off but he didn't seem to care based on this post-race exchange:
Osborne: If he (A-Mart) had passed me back, I was going to the back because I couldn't see and he was going to be roosting me, so I had no option. So, I had to kind of ride out into his line.
Me: Do you feel bad about that?
Osborne: I mean, no.
That's racing folks.
3 23 Aaron Plessinger Hamilton, OH Yamaha YZ 250F 3 3- Plessinger suffered a penis injury in practice. Yes, I'm being serious. It sounded gnarly as he hit "it" on his handlebars as he was going over them in a crash. He got it wrapped up and still somehow made it through the day. He told me the tip was cut and then "around the base" there was some blood. I'm sorry but I'm just reporting the news. I thought late in moto two he was starting to get a bit tired but he regrouped nicely and got a second wind.
4 108 Dylan Ferrandis France Yamaha YZ 250F 3 4 4- Good day for Dylan as he came from the back in moto two and passed some good dudes. He's been the surprise of the Nationals so far. It's weird, my GP buddies have always told me he's fast but crashes a lot and I've seen that in the Euro Supercross races I've been to but for the most part, Ferrandis has been pretty in control so far.
5 26 Alex Martin Millville, MN KTM 250 SX-F FE 7 5- As anyone who listens to my shows knows, I'm all in on the "T Train" which is short for "Troll Train." That's the lovable nickname that we've given him. My wife gets mad at that because she thinks it's a horrible nickname but I think it's lovable. Better than "Ewok Warrior" I bestowed him a few years ago.
So at High Point "we" fell in the first turn and were so far back it was ridiculous. "We" got up, set some of the fastest laps of the race while ripping through the pack to an impressive seventh. Second moto "we" were gone with a holeshot and pretty good lead before "our" stupid brother caught and passed us. But man, "we" used up so much energy in that first moto that it caught up to "us" late in the second moto. I think "we" showed a lot at High Point and "we'll" be back at Muddy Creek to continue to crush it.
6 24 Austin Forkner Richards, MO Kawasaki KX 250F 6 6- I know Forkner is battling a bit of an injury and he did fall in the second moto while in fourth but I'm still waiting for that Austin Forkner we saw last summer. I mean, he's been "good" but I think he's got a 1-1 or 2-1 day in him somewhere. I'm gonna chill out for now but hopefully soon (when he wins) I'll be able to claim I believed in him the whole time. And I'll definitely make sure I attach him on Twitter.
7 17 Joseph Savatgy Tallahassee, FL Kawasaki KX 250F 8 7- A couple of crashes for Savatgy hurt him and he wasn't able to back up his Thunder Valley win from a couple of weeks ago. Even when he was up, like in the early laps of moto one, he didn't ride like he usually does so that's got to be a bit depressing for him.
8 31 RJ Hampshire Hudson, FL Honda CRF250R 9 8- Hey, welcome back RJ! Been a while since we've seen Hampshire out there but he did pretty well in his first race back. Got good starts (See! More proof of the GEICO bike!) and a couple of motos in the top 10 is a good beginning for the Floridian.
9 36 Adam Cianciarulo Clermont FL Kawasaki KX 250F 5 13- Second moto was a crash and a few other issues that held AC back. He was sort of yo-yo'ing out there from making a charge, then losing a bunch of spots and fighting back. First moto I was surprised that Ferrandis got by him.
10 45 Mitchell Harrison Brighton, MI Yamaha YZ 250F 10 9- I never really noticed Harrison all day long. Sorry, bro, but these are good scores.
11 38 Shane McElrath Canton, NC KTM 250 SX-F FE 7 11 14- Okay, I'm done with predicting big things for Sugar Shane. This weekend in Muddy Creek he breaks out with a sixth overall or better. You watch. Stamp it.
12 50 Luke Renzland Hewitt, NJ Yamaha YZ 250F 15 12- Because I'm me and sort of a jerk, I texted Luke after the race and said "Welcome back to the Nationals" even though he'd raced the first six motos. (And I wonder why some riders hate me?) Anyways, he replied that his High Point was "the biggest comeback since Tina Turner in 1984" which was awesome but also sort of weird because he was nowhere near being born by then.
13 486 Chase Sexton La Moille, IL Honda CRF250R 19 10- I went to find Sexton after the race because I wanted to know about his day. After all, we've all been waiting for this kid to start racing but injuries have held him back for a year and a half. Interesting answer when I asked him what was the biggest surprise for him out there: "Biggest surprise was probably I wasn't surprised with the speed. I think my speed's fine. The starts, it's chaos in the first couple of laps. Probably the first turn and the second turn. They go for it, for sure. I just got to learn that. I haven't raced in eight months or something, so it just feels nice to race and get a race in."
14 183 Lorenzo Locurcio Venezuela Yamaha YZ 250F 18 11- Lorenzo scores his best moto finish of his career and he's been lost in the Cantrell/Mosiman hype machines but for a rookie, he's been pretty solid.
15 129 Sean Cantrell Murrieta, CA KTM 250 SX-F FE 14 15- Cantrell was good, not as great as he's been, but he's a West Coast kid and the humidity and soil of the tracks out east are something else indeed.
16 42 Kyle Cunningham Willow Park, TX Suzuki RMZ 250 13 16- Cunningham lost the front end on the last lap of moto one while in 10th which is something that he's known to do over the years. Just small mistakes for Kyle have always held him back. Still, his Thunder Valley and High Point were improvements on his early motos.
17 39 Colt Nichols Muskogee, OK Yamaha YZ 250F 12 30- A DNF in the second moto for Colt after a crash. Last year High Point was by far his best race of the season so seeing as how good he's been this year, one would've thought that he'd kill it this weekend. But it was not too be.
18 78 Nick Gaines Ringgold, GA Yamaha YZ 250F 16 18- Gaines rides for the Skip Norfolk Traders Racing Yamaha team and if I worked there I'm not sure how I would be able to get anything done because I would just ask Skip to tell me McGrath stories over and over.
19 46 Justin Hill Yoncalla, OR Kawasaki KX 250F 35 17- Hill hasn't been very good this year in motocross. I ran the theory that a rider like Hill had to focus on a supercross title so maybe his motocross prep suffers by Chad Reed the other day. Reed just laughed and said, "He only races half the races!" So I guess that isn't it.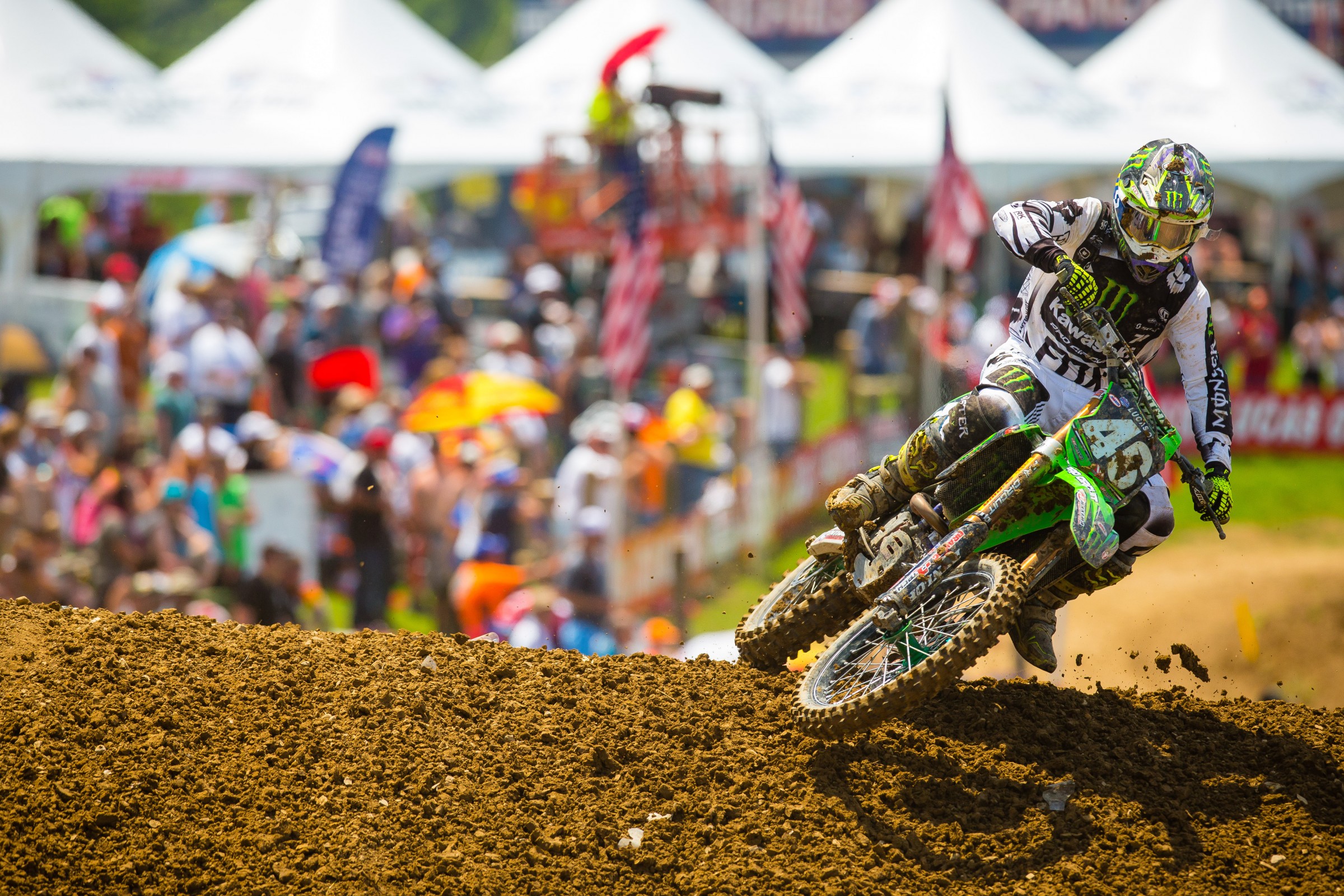 20 342 Michael Mosiman Sebastopol, CA Husqvarna FC250 17 36- A crash in the second turn in the first moto and then a DNF had Michael facing his first crappy race in his rookie season. So let's see what he can do this weekend on another East Coast track he's probably never raced before.
450MX Results
1 4 Blake Baggett Grand Terrace, CA KTM 450 SX-F FE 1 2- There's no mechanic out there that works as hard as Baggett's guy Nate Alexander. I refuse to believe that. He's the practice bike guy and race bike guy and has no life. He refuses to conform as well. #narcoNate
2 21 Jason Anderson Rio Rancho, NM Husqvarna FC450 5 3- A fall in the first moto kept Anderson from doing better and he rode well in the second moto, just not enough to stop the top two.
3 20 Broc Tickle Holly, MI Suzuki RMZ 450 4 4- Tickle's been very good this year and his 8-8 at Thunder Valley came when he said he didn't ride very well. So his 4-4 this weekend and podium finish overall was, I guess, when he rode well? Tickle also made the box at Muddy Creek last year and so it's possible he does the double this weekend. Someone needs to write a story on Tickle and just call it "The Invisible Man."
4 3 Eli Tomac Cortez, CO Kawasaki KX 450F 12 1- I asked a couple of people where Eli was because I wanted to talk to him about his race but was told he was in his motorhome and that was it—no post-race interviews, I guess. Eli's a nice guy, I like talking to him and whenever I ask him to come on the Pulpmx Show, he says no problem but I think talking to the media ranks right above "root canal" for him. I could be wrong but just an "Observation."
5 2 Cooper Webb Newport, NC Yamaha YZ 450F 6 5- I thought this was pretty good, right? I heard that Webb and Yamaha weren't stoked on his day but I mean, did they SEE how his first five motos of the year went? You gotta start somewhere, right?
6 33 Joshua Grant Riverside, CA Kawasaki KX 450F 3 11- Grant continued his strong outdoor season with that first moto third and hey, it wasn't even one of "his" tracks, you know? The second moto Musquin got him for sixth and then I thought that Grant should've checked up a bit and tried to accept seventh but he pinned it down a hill, came in hot and tipped over in the ruts. It wasn't that clever of a race move and probably cost him a sixth (because Seely really dropped off late in the moto), but hey, whatever.
7 111 Dean Ferris Australia Yamaha YZ 450F 2 14- What a surprise! The Aussie rider (probably tied with his fellow countryman Matt Moss for the title of "Riders Roger DeCoster hired that he's completely forgotten about") showed up on a borrowed CycleTrader.com/Rock River Yamaha bike (well, it was a brand new YZ450F) slapped on his parts and led one lap and finished an impressive second in the first moto! Wow. Where in the heck did that come from? Second moto he admitted he was a bit whipped from the first time out but he still came from last to 14th. What a day for Ferris and the team. Is it enough to get him a shot over here in 2018? I'm not sure; JT says yes.
8 15 Dean Wilson United Kingdom Husqvarna FC450 9 7- Ah man, Wilson was looking good in fourth in moto two before dumping it in a corner and losing a bunch of spots. Wilson shouldn't feel bad though, that corner only claimed about 74 other riders on the day.
9 19 Justin Bogle Cushing, OK Suzuki RMZ 450 7 9- Well Bogle didn't win again but he did get a lot of attention for trying to kick Jason Anderson when they collided in a turn. That was, uhhh, weird.
10 14 Cole Seely Newbury Park, CA Honda CRF450R 10 8- I'm not sure what happened to Seely late in moto two but I hope it wasn't a reoccurrence of his leg/groin injuries that hurt him in supercross. He looked to be struggling out there late.
11 25 Marvin Musquin France KTM 450 SX-F FE 16 6- Marv's got a knee problem from a Thursday crash prior to High Point. Not sure what he's going to do here—try to limit the damage I suppose—but he lost the red plate and with the meniscus issue he's got, it's not going to just get better. He's got to go under the knife to get it clipped. Another weekend of these types of results and I say Marv will miss a few weeks while he recovers. Too bad, he looked great to start the year.
12 30 Martin Davalos Ecuador Husqvarna FC450 13 10- Marty had an uneventful day out there and that's okay.
13 40 Fredrik Noren Sweden Honda CRF450R 11 12- Fast Freddie's best race of the year and in nasty, humid conditions, that's not a surprise. Despite his nickname, he's not going to wow you with blazing speed, but he's consistent and won't cheat you in effort.
14 70 Dakota Alix Jay, VT KTM 450 SX-F FE 15 13- Alix told me after the race that he's starting to set his goals toward getting into the top 10 and hey, why not? He's been pretty good. Dakota also had no idea why Tomac flipped him off while being lapped in the second moto, but found it amusing.
15 97 Ryan "Thomas" Sipes Flaherty, KY Husqvarna FC350 14 15- Man, first Pooh and then Ryan put in some great rides. And now "Thomas" Sipes comes out of nowhere and puts in some great motos. What a family!
16 32 Weston Peick Menifee, CA Suzuki RMZ 450 8 38- Peick's first moto was okay, his second moto he hurt his still tender wrist. That was bad.
17 88 John Short Pilot Point, TX Yamaha YZ 450F 17 16- Short's first appearance on the Nationals and I'd say that these are some solid scores.
18 606 Ronnie Stewart Easton, PA Suzuki RMZ 450 18 18- Look, I don't want to be "that guy" (anytime someone says that, that means they are going to be "that guy") but I think nothing points to the lack of depth in this year's 450MX class than Ronnie racing all year last year and scoring one point. This year Ronnie's got 13 through eight motos. Hey, maybe Ronnie's just riding better but I think with eight out of the top 20 in 450SX not racing, we're seeing some great racing up front and some guys like Stewart and Mosiman are benefitting.
19 151 Dakota Tedder Surfside, CA Kawasaki KX 450F 39 17- NYK coaching is working on Teds. By the way, looks like Wey's going to race RedBud, which is cool.
20 154 Brandon Scharer Los Angeles, CA Yamaha YZ 450F 33 19- Good job for Scharer because someone showed me a photo of his motorhome on fire on the way to the race! So all things considered, this is pretty good. His gear probably still reeked of smoke.
Thanks for reading, appreciate it and send emails my way to let me know what you think about this column or anything else at matthes@racerxonline.com