Kylie Fasnacht Clinches WMX Championship at High Point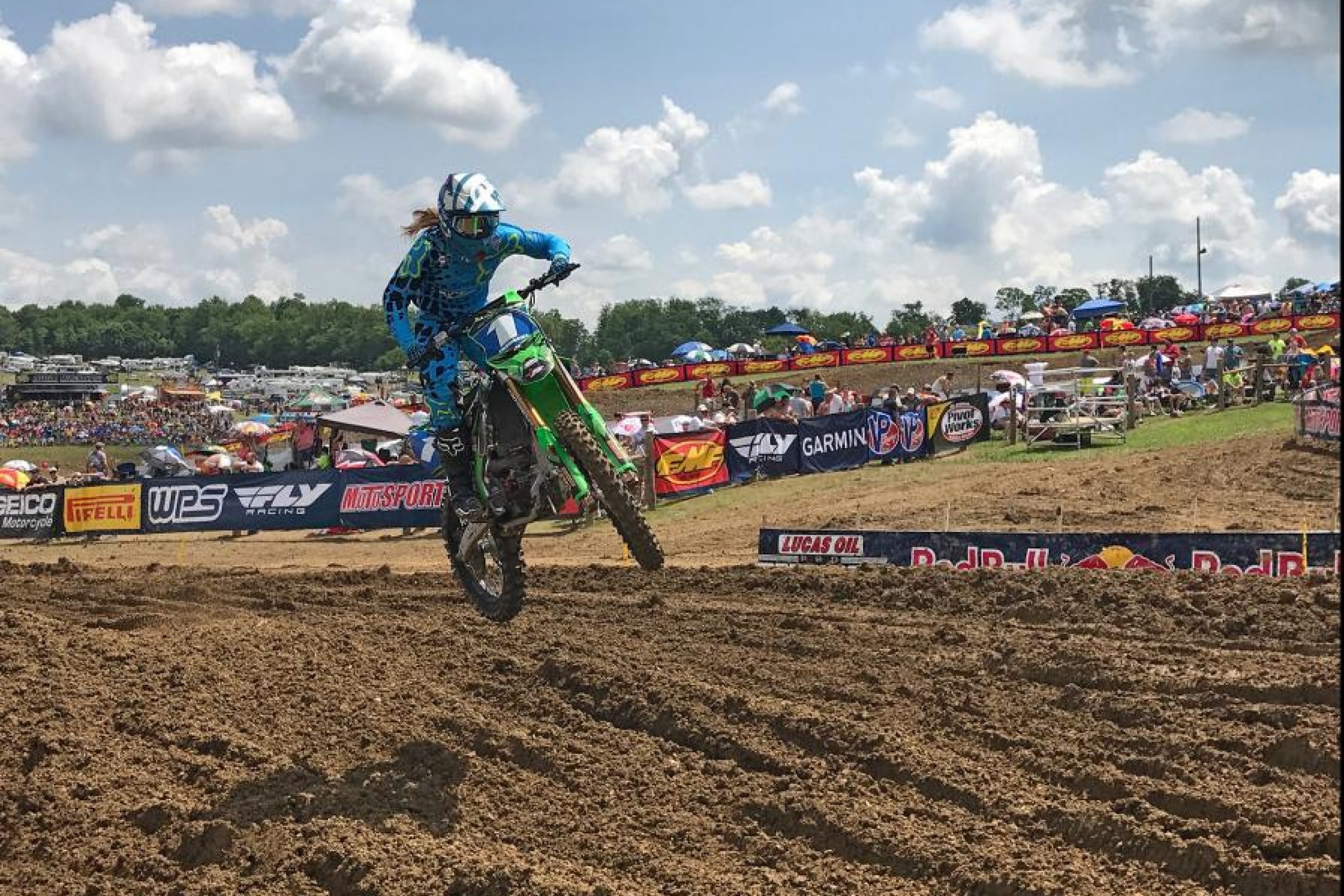 MOUNT MORRIS, Pa. - Originally scheduled as the opening act on Friday for Saturday's Lucas Oil Pro Motocross Championship, the Onsia Sound Art Women's Motocross Championship (WMX) didn't quite go as planned. Mother Nature dumped enough rain on Thursday night to make the track unrideable on Friday, where officials had to make the tough decision to postpone Friday's planned racing activities, and reschedule the WMX to take part in Saturday's main event.
This was an opportunity that all the women appreciated - to race in front of the largest crowd so far in their series and to be included with the male's professional event. In Moto One Kawasaki Team Green's Kylie Fasnacht didn't waste any time, rocketing off the line and taking the Lucas Oil Holeshot Award and the lead at the end of lap one. Not far behind Fasnacht was Shelby Rolen and Canada's Eve Brodeur.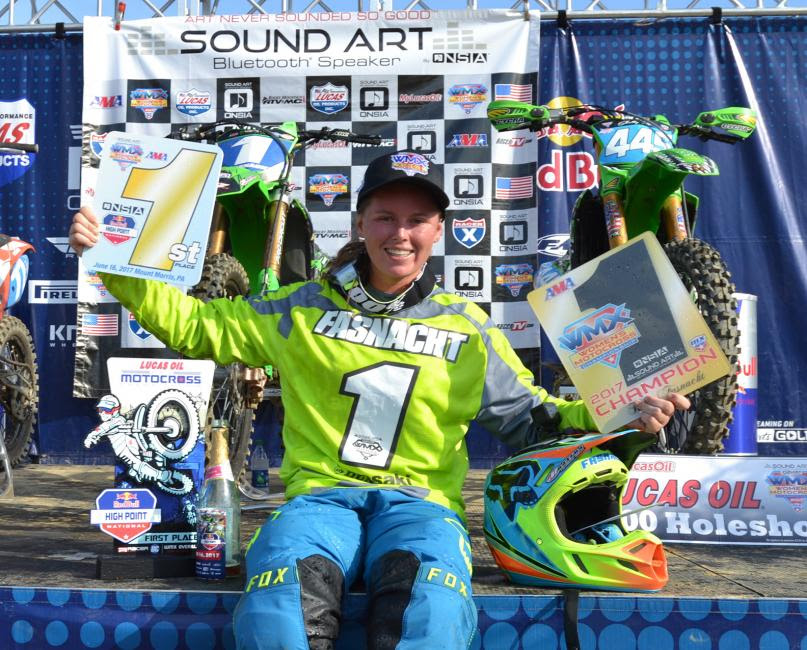 By lap three, Fasnacht had stretched out her lead but there was a great battle going on for second with Brodeur passing Rolen. There was great racing throughout the field; Amanda Brown and Marissa Polencheck were battling for the fourth spot while Eden Netelkos, Mikayla Inman and Brittney Bebout were duking it out for the sixth position.
Brodeur blew a berm on lap six and collected twenty feet of sponsor banners in her rear wheel, which quickly ended her race and allowed Rolen to secure second place. "It was a rough first moto for me, after battling for second for a couple of a laps and then tipping over," explained Brodeur. "I started battling with Amanda [Brown] and Shelby [Rolen] and then at some point I got caught up in the banners and that was the end of my moto."
"Downtown" Brown was riding her best race to date and took advantage of Brodeur's mistake, moving into third and holding that spot to the finish. "I was pushing as hard as I could to keep Marissa [Polencheck] from passing me. I was finally in a good position when I realized that Eve [Brodeur] tipped over in the off camber," said Brown. "She managed to get her bike going right before I passed her, then it became a battle. I believe I passed her and she passed me back, it was a great battle. Then Eve flew off the track and I passed her again. After a couple of minutes I realized I was in third place!"
Fasnacht continued increasing her lead and took the first moto win followed by Rolen, Brown and Polencheck. Inman, with her best race to date, won the battle for fifth, followed by Bebout, Carter Daughtrey, Eden Netelkos, Cheyenne McGuin and Tiffany Fanala rounding out the top ten.
In Moto Two, it was Rolen who nailed the start, collecting the $100 Lucas Oil Holeshot award. She was followed by Fasnacht, Brodeur and Brown. Fasnacht made quick work of Rolen and started controlling the lead. By lap four, Polencheck started putting the pressure on Brown and made the pass for fourth. "I had a great day at High Point," said Polencheck. "The fans were awesome and it was great to be at the front of the pack racing for a podium position. Plus, my dad was there so it made for a great Father's Day weekend."
The second moto top five were Fasnacht, Rolen, Brodeur, Polencheck, and Brown. Netelkos, Inman, Daughtrey, Bebout and Taylor Schuck rounded out the top ten.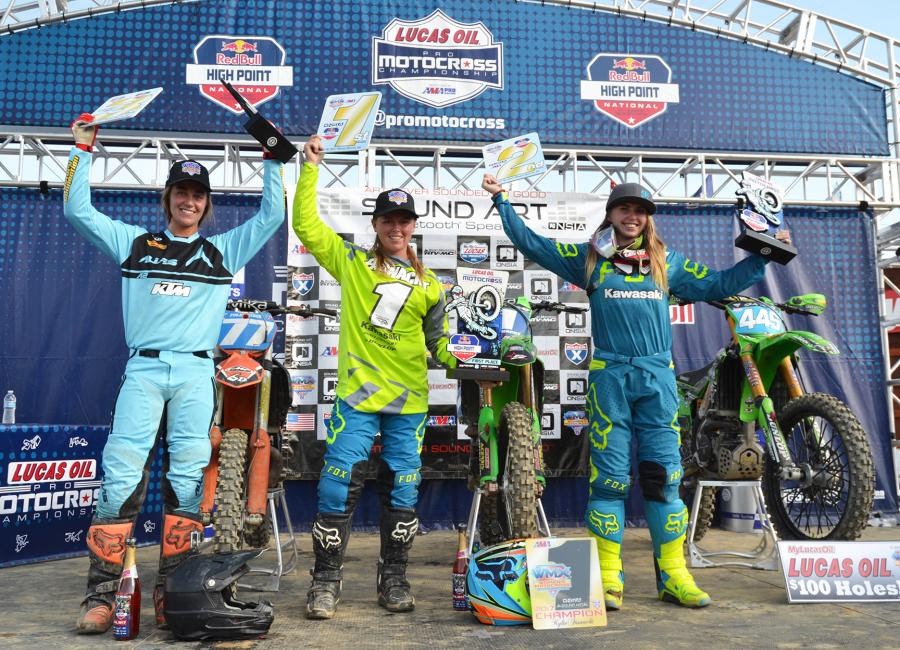 Even though there is still one more round in the WMX series, Kylie Fasnacht clinched the 2017 title with her two wins at High Point Raceway. "It was so great to ride the same track as the guys and on the same day, plus the fans were going crazy out there. And to clinch the WMX title - It's a day I won't soon forget."
The final round for the 2017 Onsia WMX series is set for Saturday, August 5, in Hurricane Mills, Tennessee. The race will be held in conjunction with the Rocky Mountain ATV/MC AMA Amateur National Motocross Championship, and will conclude the week-long event.
Event Results:
Kylie Fasnacht (KAW) 1-1
Shelby Rolen (KAW)2-2
Marissa Polencheck (KTM) 4-4
Amanda Brown (HON) 3-5
Mikayla Inman (KTM) 5-7
Eve Brodeur (KTM) 12-3
Eden Netelkos (KAW) 8-6
Carter Daughtrey (YAM) 7-8
Brittney Bebout (YAM) 6-9
Cheyenne McGuin (YAM) 9-13
Series Points Standings:
Kylie Fasnacht (326)
Eve Broduer (242)
Shelby Rolen (238)
Amanda Brown (206)
Jamie Astudillo (171)
Carter Daughtrey (134)
Marissa Polencheck (132)
Mackenzie Tricker (124)
Jaden Carlson (116)
Carrie Killebrew (113)