Cade Clason Provisionally Suspended for FIM Anti-doping Violation [Update]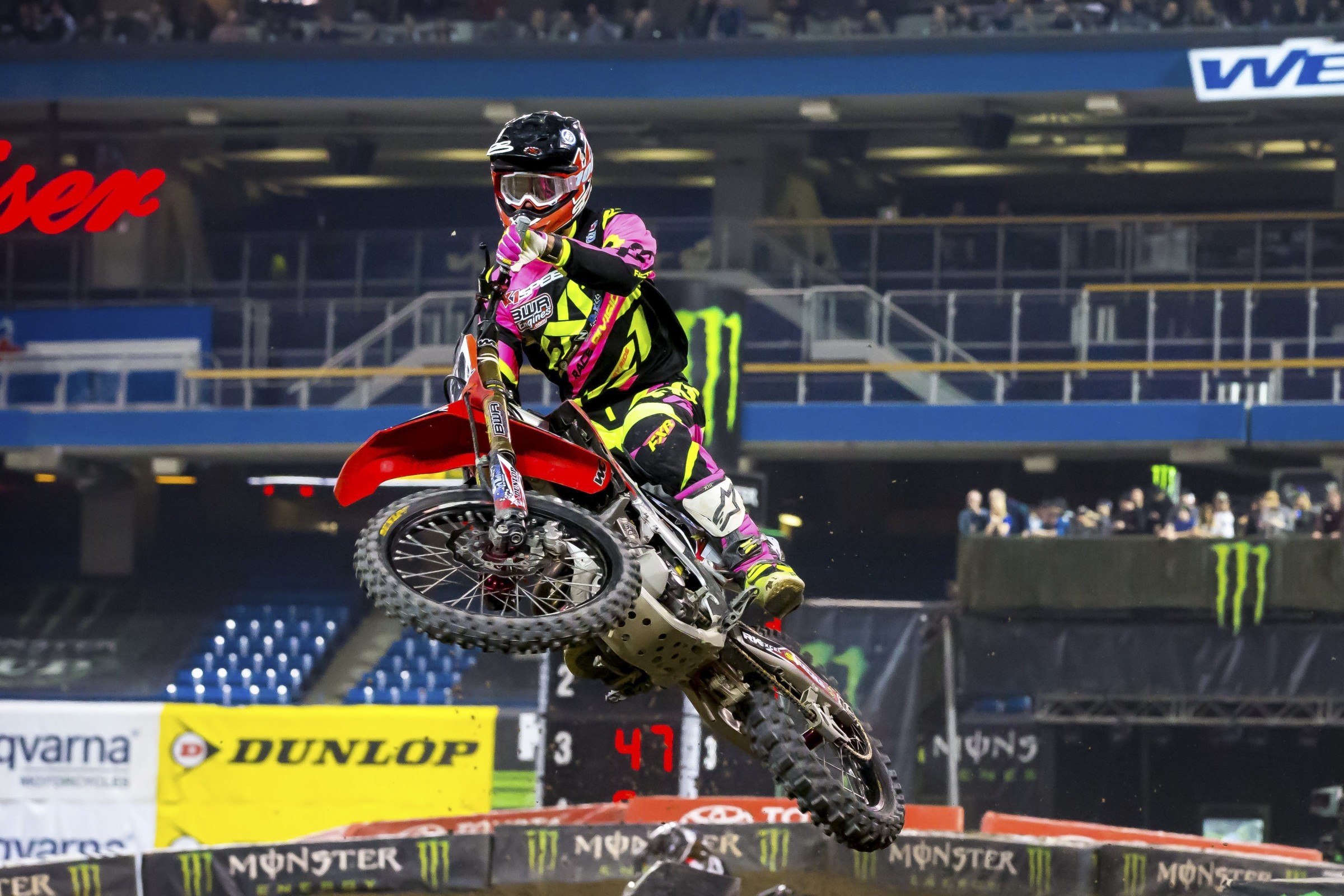 The Fédération Internationale de Motocyclisme (FIM) announced today that they have provisionally suspended Cade Clason from all competitions effective immediately for violating Article 7.9 of the FIM Anti-doping code. According to the FIM, a urine test conducted by WADA at the East Rutherford round of Monster Energy Supercross found that Clason's sample had an "adverse analytical finding of amphetamine." Clason is currently competing in the Canadian Nationals where he is eighth in MX1 points after three rounds.
Article 7.9.2 of the FIM Anti-doping code reads:
7.9.2 Optional Provisional Suspension: In case of an Adverse Analytical Finding for a Specified Substance, or in the case of any other anti-doping rule violations not covered by Article 7.9.1, FIM Administration may impose a Provisional Suspension on the Rider or other Person against whom the anti-doping rule violation is asserted at any time after the review and notification described in Articles 7.2–7.7 and prior to the final hearing as described in Article 8.
Clason, who raced Monster Energy Supercross for K1 Speed/BWR Engines, has the right to request and attend the analysis of his B sample under FIM rules. Under Article 7.9.3.2 of the FIM Anti-doping Code, Clason may request lifting of his provisional suspension.
Clason was not the only rider tested at East Rutherford. Per the FIM, Jason Anderson, Blake Baggett, Justin Barcia, Ryan Dungey, Davi Millsaps, Marvin Musquin, Malcolm Stewart, Eli Tomac, and Jake Weimer were all tested by WADA but "No prohibited substances or their metabolites, or markers, or the use of prohibited methods were found in the tested samples."
This is the fourth time since 2014 that a rider has been either provisionally suspended or suspended from competition for a positive test. James Stewart was suspended 16-months in 2014 for a positive test for Adderall. In December 2016, Australia's sports-governing body, Motorcycling Australia (MA), imposed a four-year ban on Jake Moss as a result of a positive drug test administered on May 22 in Murray Bridge, South Australia. In the May test, conducted by Australian Sports Anti-doping Authority (ASADA), Moss tested positive for Ostarine, a SARM (Selective Androgen Receptor Modulator) that mimics the effects of anabolic steroids. Jake's twin brother, Matt Moss, was also provisionally suspended from competition due to a potential anti-doping rule violation.
[Update: June 21]
Clason has released a statement via his Instagram page. He confirmed his positive test was for Adderall and that he had previously submitted a TUE that was never properly approved. Below is his full statement.
So as everyone has probably heard by now, I tested positive for Adderall in a drug test I did at the East Rutherford SX. Yes I took it, But I also had a TUE submitted. That, in simple terms, is a form we submit when a doctor prescribes us something that is on the prohibited list. The problem is my TUE never got properly approved. Something that I had no knowledge about until just finding out on Monday when I got the results of the tests. I also haven't even been in contact with the FIM yet since receiving the results and am doing my best to clear it all up since I thought I had all the proper paper work and such done and turned in. I understand that it is something that is prohibited, but I did go through all the proper steps to be able to take it while racing since it is something I take everyday. I want to thank each and every person who is behind me on this journey. I am taking all the proper steps to get this problem resolved and I hope to be on the line for supercross next year.