Red Bull Straight Rhythm Returning Oct. 21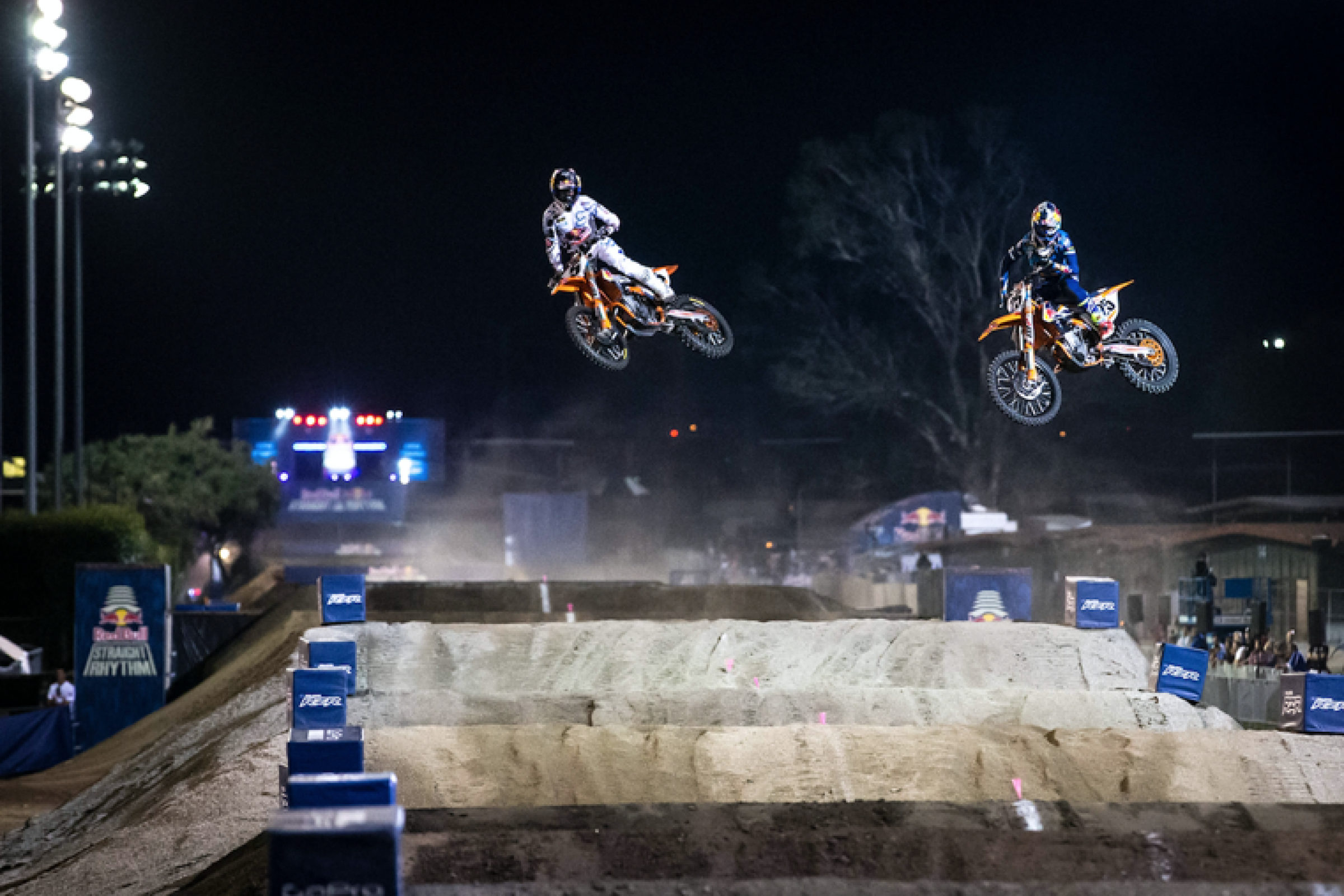 Pomona, CA
Red Bull Straight Rhythm
Red Bull Straight Rhythm
Santa Monica, Calif. – Red Bull Straight Rhythm is set to return to Fairplex in Pomona on October 21, once again bringing back the 1⁄2 mile, straight Supercross track and all the exciting, head-to-head racing it entails. In its fourth year, the event will continue the new format started last year where practice, qualifying and racing will all take place on the same day, with the finals taking place at night under the lights. Straight Rhythm takes place as part of the Red Bull Signature Series, a collection of the most progressive and innovative events in action sports.
An evolution of the sport of Supercross, the event features head-to-head racing on a 1⁄2 mile rhythm track with no turns. Red Bull Straight Rhythm debuted in 2014 at the Auto Club Raceway at Fairplex in Pomona, and saw James Stewart win in the Open Class, with Marvin Musquin taking home the top spot in the Lites Class. In 2015, James Stewart defended his title, once again landing on the top of the podium in the Open Class, with his brother Malcolm taking first place in the Lites Class. Last year, Marvin Musquin returned to the event and dominated the Open Class, with Shane McElrath taking the win in the Lites Class. Many of the world's top Supercross and motocross riders are expected to return to the competition in 2017.
Tickets for the event are on sale now with "Holeshot" special pricing available only until July 13. Each single-day ticket gives access to practice, qualifying and the finals. With over 10,000 grandstand seats, plus an infield, spectators will be treated to a one-of-a-kind experience while watching an all-out sprint to the finish line. For those that need a break from the action, spectators will also have access to the race pits, numerous concessions and side acts throughout the day, offering something for the whole family. Tickets can be purchased at redbull.com/straightrhythm.
Other Ways to Watch Red Bull Straight Rhythm
For those that can't make it to the event, Red Bull Straight Rhythm will air as part of the Red Bull Signature Series - live October 21 on Red Bull TV and as a 90-minute highlight program December 30 on NBC.