High Point Raceway
Mt. Morris

,

PA
High Point
Lucas Oil AMA Pro Motocross Championship
Get on a plane, spin wrenches, scrawl messages to your rider on a pit board during the motos, fly home, see your guy at the next race. That's how much interaction there is between a lot of riders and mechanics at the factory level. Okay, maybe that's a bit oversimplified, but the truth of the matter is the relationship between rider and wrench at the upper echelon of this sport simply isn't as involved as it used to be. Of course, there are always exceptions to the rule, and the Nate Alexander/Blake Baggett duo happens to be one of them.
Unlike most top-tier riders, Baggett doesn't have separate practice bike and race bike mechanics. Alexander fills both rolls, which gives him a much better understanding of Baggett's life during the week.
"I used to be a race mechanic," Alexander recalls. "You fly to the race, you build the bike, you do that one thing and you're out. You have no relationship with the rider. Everything is bland at the races. It's a totally different feeling. When you're with that person and you see him day in and day out, you know the work they put in. You can't get upset with them on the weekend because you see all the work they put in during the week. I'm with Blake every day. I see him when he's pissed and when he's happy, and I can't ever get upset at him. I know what he does during the week and I don't doubt him one bit. It makes it more meaningful to me because I feel like I can win with Blake. When he does well, I feel like I did well too."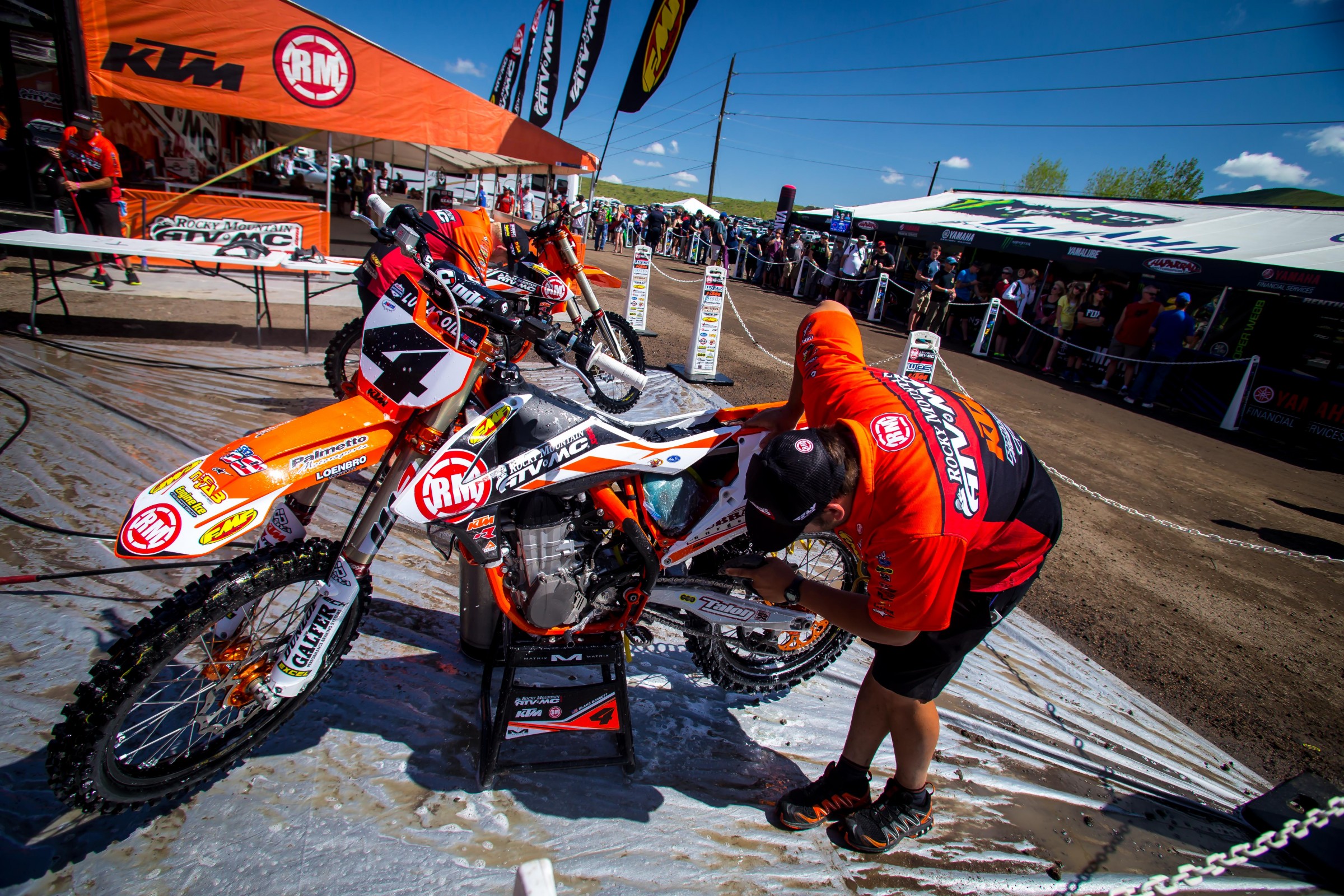 Alexander's enhanced insight has, at times, prompted slight frustration at the races.
"At first it would actually bum me out at the races a little. I'd be like, 'Man, if the guy from during the week would show up on the weekend, he'd be unstoppable. There's not one person on the track that could beat him!' I honestly thought this win [Thunder Valley] would happen a lot sooner. In supercross I was dead set it was going to happen. Nobody wants to win more than Blake. We spent all our time working on supercross, we really believed we could make something happen there. We weren't even thinking about the outdoors."
Baggett never did end up winning a round of Monster Energy Supercross in 2017, but he did deliver the Rocky Mountain ATV/MC-WPS-KTM team its first 450SX podium when he took third in Atlanta. When he won in dominant fashion at Thunder Valley, despite going down early on the first lap of the first moto, he handed the team its first National victory as well. Coincidentally, it was the first 450MX win for both Baggett and Alexander. Surprisingly, Alexander says he has to force himself to remember to enjoy his momentous achievement.
"I have a problem with putting a lot of pressure on myself in general and not giving myself enough credit for anything," he says. "I just took the win and was stoked, but then I was like, 'Okay, you still have goals and you want more and more.' That's a problem I have. Instead of being in the moment and cherishing that moment, I'm already thinking about the next one, or how much better we can do. I should definitely savor that moment. Sometimes I regret not being as pumped as I should, just because I'm so focused on the future. I don't want just one win. I want more."
Recommended Reading
It's a startling admission from Alexander, who just over five years ago literally lived in a tent while working for the now defunct Eleven10 Mods team. When his extreme progress is pointed out to him, Alexander reluctantly answers, "I mean, if you think about it like that, yeah. But I don't know, I guess it's all about improvement."
Maybe that's just who he is, or maybe that's just what keeps him hungry. One thing's for sure—Baggett is going to win more races, and when he does, the man who's in the trenches with him during the week and holding the pit board on Saturday will deserve a portion of the credit.