Lakewood, CO
Thunder Valley
Lucas Oil AMA Pro Motocross Championship
Blake Baggett has entered his hat into the ring as a 450MX title contender, taking a scintillating overall win at the True Value Thunder Valley National with 3-1 scores. It's the first win at this level for the Rocky Mountain ATV/MC-WPS-KTM team, and Baggett's first 450MX win.
Marvin Musquin (Red Bull KTM) and Jason Anderson (Rockstar Energy Husqvarna) rounded out the podium. The post-race press conference was hosted by Jimmy Albertson.
Racer X: Did you come into this day expecting a win?
Blake Baggett: After watching Jason's [Anderson] race in moto two of Glen Helen I knew what I needed to work on. I saw his strong points. I felt like once we both got out front we pretty much had a pretty good gap. I knew that we had the pace and I had the speed. So I just went back and worked on a few things on the bike. The goal is to win races, and I've done it before so it's not like we're trying to do something that's never been done before. But it's a new bike, new team. Everything's new, so still trying to get everything figured out and figure out what I like. Coming in, first lap of practice I just felt good today.
I know you don't want to give away all your secrets but it kind of seemed like when you did make the move on Eli [Tomac] it was like, "Okay, now I'm going to go my pace." The gap broke out fast. What happened with that?
Baggett: I felt like I had the speed. He had it the first few laps, so I didn't really put up a fight. I let him kind of lead it out. Then I felt like from there I got in a good pace and found some good lines and I was able to search around behind him and found some lines that I didn't find the first moto. The goal was to do what he's done to us many times and that's just break him. That's the bottom line. He's done it to all of us a lot. I felt like today was the day to do it. When he gets a lot of confidence he gets on a roll. For the whole KTM/Husqvarna team, it felt like it was just there and I needed to take the opportunity and run with it.
Marvin, in that first moto when Eli picked his bike back up and you guys were neck and neck, everybody was kind of focused on that. When you made that move, is that just like the confidence boost that you needed to actually finally pass Eli?
Marvin Musquin: For sure. When you look back at Hangtown Eli was much faster than me. At Glen Helen we were able to be in front of him, but he was still faster. To be with him that first moto, especially after the crash on the start, it was good to battle with him and then be able to pass him and make up some points. It was a tough first moto. It was a boost of confidence for sure. Both of my levers were pretty far down from the crash, so that was a little bit tough, but I'm happy I made it happen.
We were kind of all shocked up there. We were watching you come through the pack, and we had no idea that Blake was right there behind you. Were you kind of shocked as well when you saw Blake come into the picture?
Musquin: No, because I think I saw him. We were at the same spot on the start, so I think he wasn't far back. We came back together through the pack. I think it was a pretty good first moto. Obviously, Blake did a little bit better than me and got around me, but it was good to get a fourth position and get good points for the championship. We just want to be very consistent.
Jason, you had so many problems last year where you weren't even able to race. Kind of seemed like that first moto was in reach [but maybe you settled for second]. Was that something where you just wanted to make sure you could make it through the whole day?
Jason Anderson: Yeah, for sure. Obviously, I struggle here and even this track in general I'm not good at riding it. I feel like Blake rips here. I just feel like for me getting through the day and getting good starts—that first moto luckily my start put me in a good spot. I kind of just rode around and tried to stay within myself. I really wanted to make it strong through both motos. To be on the podium is great for me here. So, from here on out I kind of want to do what I did last weekend and battle for those wins and definitely stay on the box. I feel like I've been settling up here, but to be honest I really want to get some wins. That's where I'm at right now.
There is some controversy about you coming off the track and coming back onto the track. I saw the thing. I didn't think there was anything wrong with it. Just kind of run through both of those scenarios.
Anderson: I came down the hill and I was trying to just follow Marv and kind pace off of him. Then I got a little squirrely off that roller. Honestly, there was no spot to get back on the track, so I was just following the banners. I followed the banners all the way around the whole track and then just hopped on. I was definitely wide open on the side of the track. It's not like I was gaining time because that fake grass or whatever was slick. I almost ate crap like three times. I pulled that off and I was like, man. To me, the track was kind of sketchy for me. It's not my style of track. It was more technical and stuff like that with the long ruts. I feel like I'm more like a Southwick type of guy. I'm not really like the hard-pack, ruts.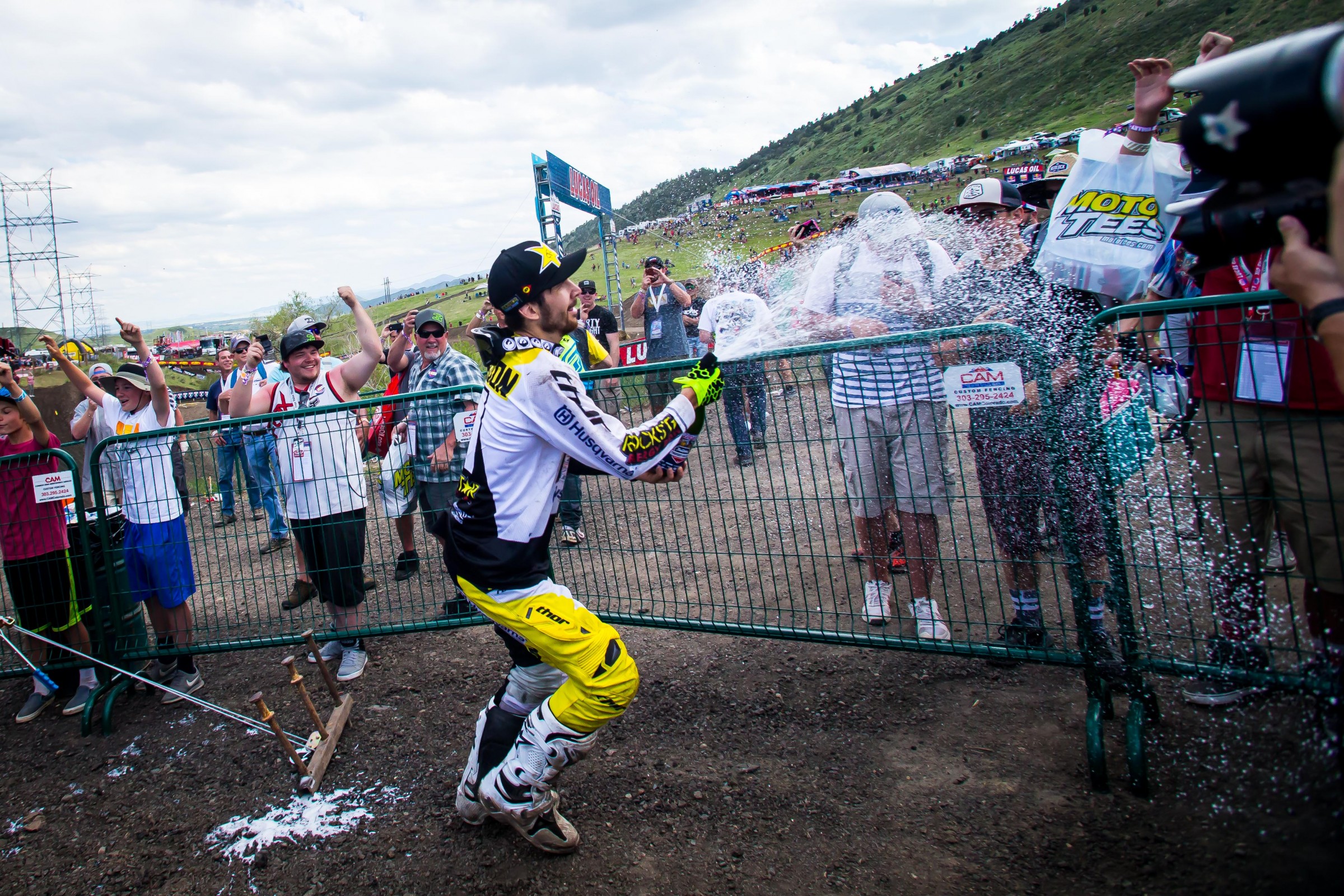 Blake, when you were able to make the pass going up the hill and then around that right-hand turn, it looked like you were on the edge of that track. Take us through that.
Baggett: Basically, the track markers, the yellow things are the guidelines of the track for us, so I was using every centimeter I could find!
Marvin, could you talk for a minute about now you're the lone guy in the Red Bull KTM semi. Is it good or bad?
Musquin: How it can be bad? When you're in the best team in the pits, obviously I'm the only one rider. I wish Trey Canard was here too. It would be cool. But anyway, focus on myself. The team is putting a lot of work. I try not to put pressure on myself. I just try to do my best. It's been good. We've been consistent for the first three rounds. I'm happy to do good for the team. Being the only rider, when [Ryan] Dungey retired you kind of want to step it up and be one of the best. It's good. I'm showing the team that I'm doing the work and giving 100 percent and doing good things on the track. Everything's been good and we keep going.
Jason, did you do anything significantly different than last year to feel better or was it more just managing your energy in the motos? What did you do to get through it?
Anderson: I got some new techniques, but they're secret. I got some things that we're doing but it's nothing crazy. Kind of similar to the Salt Lake [City Supercross] thing, trying to get in late and be here as little as possible. To be honest it's kind of a bummer that I struggle here. I feel like I got it figured out to at least manage a day and still be on the podium. Salt Lake I was on the podium and here I was on the podium. I kind of got lucky. A 2-6 usually doesn't land you up here, but I'll take it.
What kind of crazy ideas did you have? I heard rumors like, you might fly private to get in the morning, or connect in another city that was closer. Were you coming up with ideas to try to make this work?
Anderson: I thought about the whole thing in the morning to fly private, but it's too much money. Honestly, I flew in last night and I slept with an oxygen mask, so that kind of helped me out. I got some different little things that we've been working on. But the oxygen thing is really the biggest thing, even in-between motos.
Blake, when you passed Eli in the second moto you started looking over a lot. Were you surprised the lead was growing or what were you looking for right there? I caught it at least twice.
Baggett: Just management. I didn't know if somebody was coming behind him and that somebody else was going to get him. I knew Marv was there, but with the lappers and everything and the way the track is it was tough to see. There was a few spots that I was just checking to see where I was at and trying to manage it.
Your team, they've never won at this level before. What was it like for Forrest [Butler, team owner]? What was it like for Byrner [Michael Byrne], you, your family, your crew?
Baggett: It's been a goal for myself to win a 450 race, but Forrest has been at this a long time and he hasn't been able to do it. It's definitely big for him to be able to finally get up on the top spot. Byrner coming aboard as well, it just makes everybody appreciate the hard work that they put in and they can look at it and go, it paid off. I think everybody's happy. It's over. There's a weekend off and we're going to be right back at it. Kind of got to get right back in the mode of figuring out what you can better yourself on and go racing.
Did you surprise yourself today or did you know where you were coming into this?
Baggett: I just kept on working on the bike. I knew that the first round I wasn't as comfortable as I wanted to be. After Glen Helen I knew what I needed to work on. As far as getting comfortable and what line choices I needed to change and the way that my brain was thinking. Coming into here I felt good today and was able to make stuff happen that maybe on a bad day I wasn't able to make happen. So, today was a good day.
Jason, in some of the previous years, last year and the year before, it seems like there were a couple guys maybe winning. But it seems like this year a lot of different guys can win and get on the box and stuff. Would you agree with that? What do you think about that?
Anderson: I would definitely agree with that. You've seen three different winners in three different rounds and four different moto winners. I think the door's open for there to be another winner. I think it's cool. I think it's good for the sport and I think it's cool to keep it fresh. You don't know what's coming every weekend as a fan. Even for us, between Blake, Marv and Tomac, you don't know who's going to step up the weekend and be the dude. Every weekend there's been one guy that's been the fastest. It's pretty killer. I'm really looking forward to it. I just want to be one of those guys that's got it to win. Hopefully I can get some wins.
Blake, we heard between round one and two you made a ton of changes on your bike. Are you comfortable now? Do you think you're done making changes or are there still some things that you want to have changed?
Baggett: There's always room for improvement for sure. I think you'll make changes depending on the track. Here's hard pack, like Jason said. The ruts get hard and crusty and there's not much give whatsoever. It's mainly your tires that are giving. Of course, we're going to keep changing things and trying to make things better. With us being part of the KTM factory support program the options are unlimited. We're just trying to keep getting more comfortable and more comfortable. The more comfort you have, the more the speed goes up and the more you can pull off stuff that you couldn't on the days when you're not comfortable.