San Bernardino, CA
Glen Helen
Lucas Oil AMA Pro Motocross Championship
This 2017 Lucas Oil Pro Motocross Championship is shaping up to be pretty competitive. There seems to be some real parity in both classes and we saw some nutty scores this past weekend at round two at Glen Helen to affirm that. We *think Eli Tomac will take off with this 450MX title, but he's just two for four this year and other than that, I don't think there's any certainty in either class—although Zach Osborne is looking like a consistent podium threat in the 250 Class.
As far as Glen Helen is concerned, count me out as a fan. They sell all the premium seating areas on top of what spectators pay, the track has had ridiculous jumps on it, they drown sections out to create ruts, you need a special pass on top of your season hard card to get in, they were selling spots in normal credentialed parking which made getting into the track a longer wait, and the beat goes on.
As far as the track is concerned, I heard fewer complaints this year than in others. I think MX Sports stopped that 70 MPH-plus triple jump from coming back, and I think they somewhat stopped the flood from coming to fruition and probably some other things the track designer wanted to do. The chain link fence though? Yeah, still there. All in all it was a better Glen Helen than we've seen recently and it didn't lose its signature traits of hills and being rough, nasty, and hard on equipment.
Eli Tomac's 1-1 Hangtown ride was a distant memory at the end of the day when he looked at his 2-19 scores. The first moto he didn't get a great start and worked his way up to a second—thereby ending all the 24-0 talk, and thank God for that. Second moto he got a rock in his master cylinder that took him into the mechanics area for some repairs. Not a great day for Eli, who the last time he raced Glen Helen, put in an amazing ride at the USGP. He's fine, though, and I'd look for him to take his frustrations out on everyone this weekend. And maybe go a tad slower on that downhill right-hand sweeper.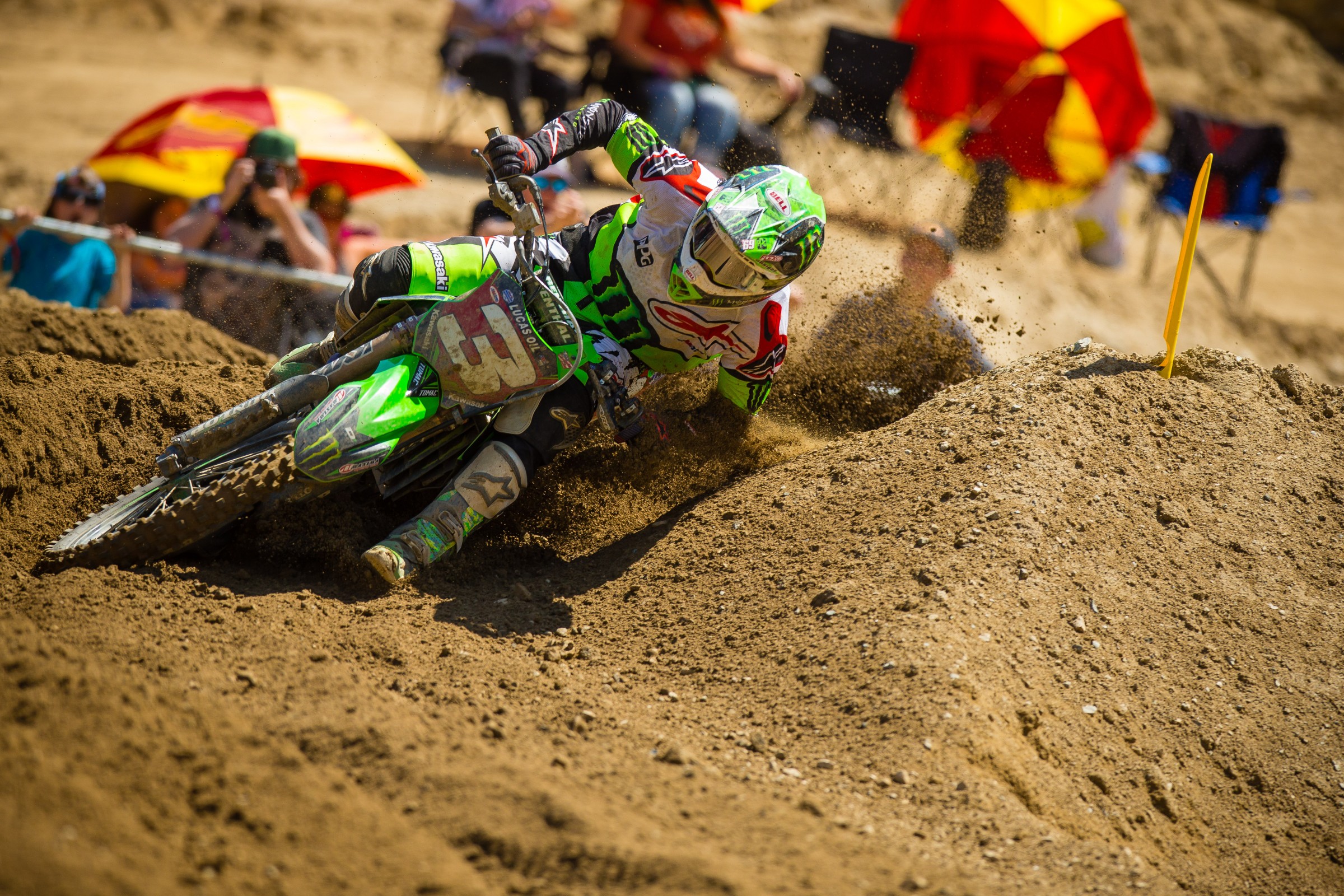 We talked about Marvin Musquin, Jason Anderson, Cooper Webb, and Blake Baggett all being a "guy" to challenge Tomac at times and us "experts" all thought that it would be a potpourri of these guys and maybe some others (Justin Barcia?) as to who would be "best of the rest."
But through four motos, maybe, just maybe Musquin is the 2016 Eli Tomac to the 2017 Eli Tomac, who is replicating the 2016 Ken Roczen? Marv won his first 450MX moto and overall at The Helen with some fancy riding. A track like Glen Helen—that's rutty as all heck and rewards line choices—is right up Musquin's alley. High Point is as well, but this weekend in Thunder Valley, not so much. So we'll see if Marv can consistently be the guy and fight off the others. Orrrrrr what if he takes on Tomac all summer long?
At the start of 2016, Josh Grant had no ride and really, no interest from any factory team to hire him. He looked to be done after many years of injury and sort of average rides when he was healthy. So, he gets a Suzuki, drives out to Daytona and does Josh Grant stuff, pulling off a top 10 off the couch. Kawasaki needed a fill-in rider when Wil Hahn got hurt and called up JG. He stepped in, was solid, and then the team said "come back in '17 and go get your ankles fixed" to which he did and now this year he has performed very well and should be back with the team in 2018. I say "should" because if the big green claw really wants Justin Hill there, that will happen and JG might be out.
All of this brings us to Dean Wilson. The Scottish/Canadian/American had no interest from the big teams due to two years of ACL injuries where he raced just 14 out of a possible 58 races. He got a van, his dad, some Yamaha support for supercross and did fairly well. Then when the Rockstar Energy Husqvarna guys wanted to move away from Christophe Pourcel, they brought him in. Pourcel for Wilson is a great trade in my opinion because there's a lot more to racing than results when you're not winning. Anyhoo, Wilson fit right in over there and put in solid results. He's started off the Nationals with two strong rides and the team rewarded him with a deal for 2018 and option for 2019. Let this be a lesson to you kids—never give up. Well, I should say, never give up if you're a former factory rider with race wins.
Look, we know Jeremy Martin is good. The two 250MX titles tell us that but outside of one weirdo ride on a 450 on a weirdo supercross track where he started in third gear, 2017 hasn't been very good for the #6. Hangtown was a mixed bag as his bike broke and then he scored a third so we left round one thinking, "Well, he's sort of back ... but I'm not really sure…."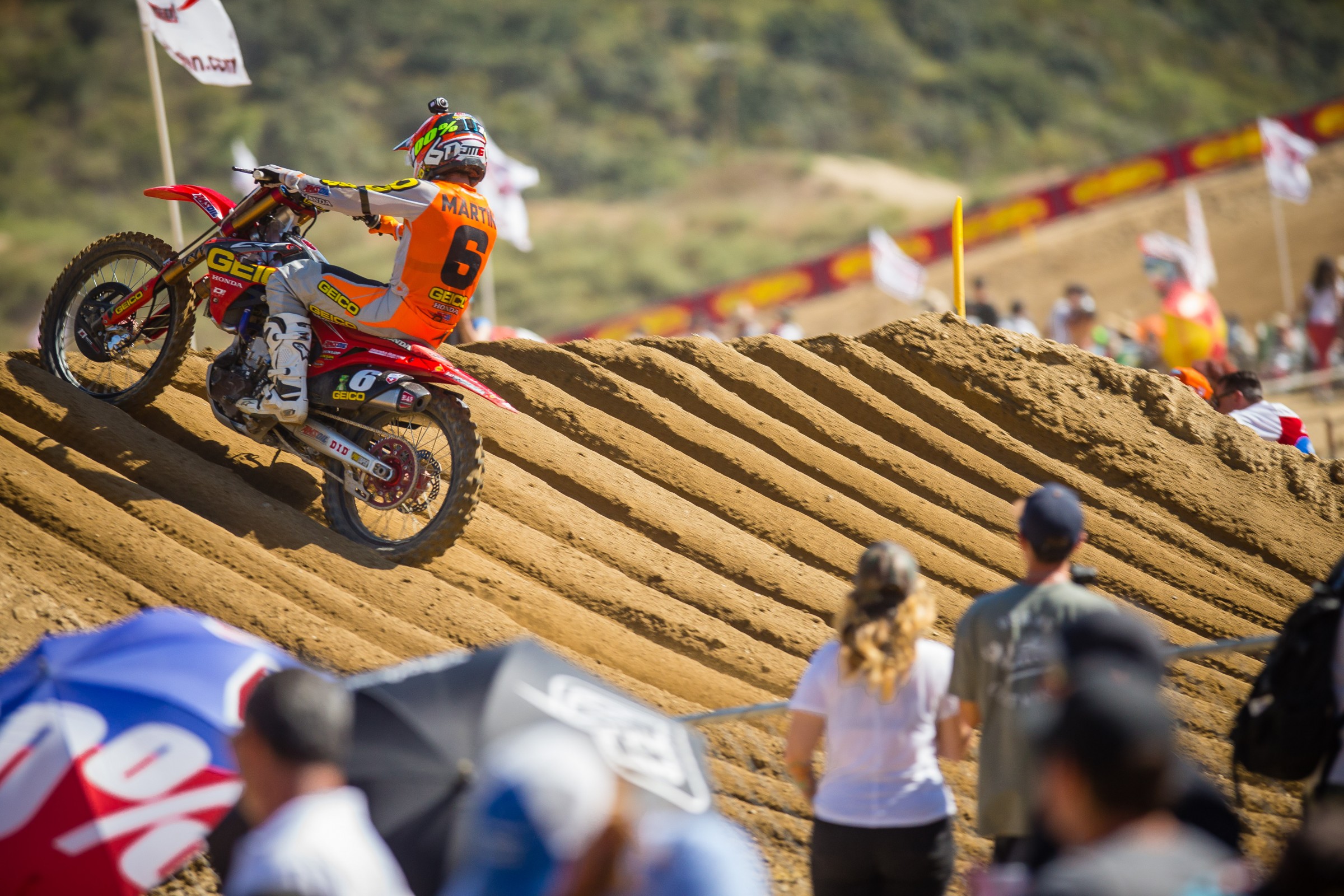 Well, it says here that he's back and great again. Martin got a ginormous holeshot in the first moto and took off in vintage J-Mart fashion. Second moto another good start and I'd have bet my house he was going to go 1-1 again until he hit a slick spot, kicked his back end out, and shot off the track.
Dead, dead, dead last, Martin started picking dudes off one by one and was all over Austin Forkner for sixth by the end. An amazing ride and combine that with the first moto win and I'm okay with saying he's officially great again.
Let's take a look at the results, shall we?
250MX Results
1 16 Zachary Osborne Abingdon, VA Husqvarna FC250 4 2- Zach did what title contenders do—limit the damage on a bad day. Well, not really, but you know what I mean. He put himself in position with his fitness to move up after a bad start in moto one. You know you're living right when you get the overall with 4-2 scores. He left Hangtown with a 14-point lead, now he's up 21. Man, did he almost bite it on the start straight in one moto. Bet he had to throw away his pants after that one.
2 6 Jeremy Martin Millville, MN Honda CRF250R 1 7- As I wrote above, J-Mart's back! I don't know what ride was better because as great as that win was, the second moto ride from last to seventh was awesome. That sound you hear is the GEICO Honda guys exhaling.
3 108 Dylan Ferrandis France Yamaha YZ 250F 9 1- Uhhh, where did this come from? The guy was so concussed last week that he had to ask his mechanic where he was in the mechanics' area. Then he rides to a so-so ninth (but understandable) in the first moto before coming out in the second and laying waste to the best 250MX riders in America. He won by an astounding 23 seconds. His best lap time was almost two seconds faster than Osborne and J-Mart, it was amazing. I've got to admit that I was wrong about Ferrandis not being a good signing by the Star guys—he's been very good. Heck, if he quits the sport tomorrow and flies back to France, he'll always have the second moto at Glen Helen.
4 36 Adam Cianciarulo Clermont FL Kawasaki KX 250F 7 3- VERY impressive ride by AC in the first moto as he came from a fall in the second corner to seventh. Now based on what we saw last week, you might think that charge through the pack might've left him with little in the tank for moto two but nope, he rode great again to grab a podium. And he moved into second in the points. Oh, and one more thing, his bike didn't break!
5 39 Colt Nichols Muskogee, OK Yamaha YZ 250F 5 4- Last season through 16 motos, Nichols averaged a 15th place finish before exiting the year with a knee injury. This year he's averaging a fifth place per moto and he's coming off a pre-season supercross broken femur and then a knee injury (and some other stuff) after he got back from that. As I said on Twitter, I think the real Colt Nichols perished in that first crash and has been replaced by a Terminator.
6 26 Alex Martin Millville, MN KTM 250 SX-F FE 6 5- A quiet day for Martin. He was good but not great. Remember last year he won this race with a 2-2? One would think he'd be pretty good at this track. Consistency is one of Martin's strong points and he showed it at The Helen.
7 23 Aaron Plessinger Hamilton, OH Yamaha YZ 250F 3 13- Great first moto for AP and he had just passed two guys, moved into fourth in the second moto when he went down pretty good. From there the long climb from outside the top 20 started. Oh, what could have been for Plessinger.
8 342 Michael Mosiman Sebastopol, CA Husqvarna FC250 8 10- I don't know, man, pretty good, right? Mosiman was impressive from a speed standpoint and yeah, he looked to get a bit tired at the end of the moto, but he's a rookie, that's fine. Top 10 is awesome and another test awaits Mike (and Sean Cantrell) when the series heads east and he rides on tracks that he's never been on before that require a bit different skillset.
9 17 Joseph Savatgy Tallahassee, FL Kawasaki KX 250F 2 29- Joey didn't have a good Hangtown (by title hopeful standards) so he needed a rebound at GH and he got just that with a fine first moto where he chased J-Mart around. Second moto he got a bad start but came from 15th to seventh before his bike blew up three laps from the end. When it rains, it pours. But the good news is, like J-Mart, we know Joey is still fast and overall he can look at that first moto and be pleased.
10 45 Mitchell Harrison Brighton, MI Yamaha YZ 250F 13 8- Good race for Harrison and the entire four man Yamalube/Star Racing Yamaha team made the top 10, which is solid. All hail Wil Hahn!
11 38 Shane McElrath Canton, NC KTM 250 SX-F FE 12 9- Bummer for Shane's teammate Mitchell Oldenburg who broke his collarbone and will be out for a while. I'm not even worried about McElrath's sort-of slow start, he'll come around. You watch!
12 129 Sean Cantrell Murrieta, CA KTM 250 SX-F FE 10 11- Cantrell's starts have been on point so far this year and he got another set of good finishes. If you were starting a team tomorrow, would you pick the KTM rider or the Husky rider (Mosiman)? Tough choice through the first four motos as both have been impressive.
13 24 Austin Forkner Richards, MO Kawasaki KX 250F 38 6- Forkner's had two mechanicals in four motos and that's not good for someone that can win this title. Monster Energy/Pro Circuit Kawasaki didn't have a great day and from what I hear it was the same problem with all the bikes (Forkner and Hill moto one and Savatgy moto two), but I can't verify this for sure.
14 78 Nick Gaines Ringgold, GA Yamaha YZ 250F 15 15- I don't know what kind of world I'm living in where Gaines goes fast, stays up, and is consistent for two motos. Skip Norfolk at the Traders Racing Yamaha team has to be loving this. Good start to the season for Nick.
15 183 Lorenzo Locurcio Venezuela Yamaha YZ 250F 17 14- Lorenzo has been lost in the Mosiman/Cantrell hype machines, but his first motos have been solid.
16 74 Bradley Taft Nixa, MO Yamaha YZ 250F 14 17- Remember Taft? Pretty highly touted youngster to start the year before he crashed practicing supercross and then was gone with a traumatic brain injury. He came back this week, got great starts, and ran up front both motos. Nothing wrong with this finish.
17 57 James Decotis Beverly, MA Honda CRF250R 11 34- Jimmy D had a terrible Hangtown and redeemed himself with a good first moto. Second moto his bike broke along with about 13 other guys.
18 46 Justin Hill Yoncalla, OR Kawasaki KX 250F 40 12- Hill's bike blew up early in the first moto, so that was it for him. The only good news is that he didn't waste too much energy before it went. Second moto with a bad gate pick he came up to 12th so that was a decent ride for hm.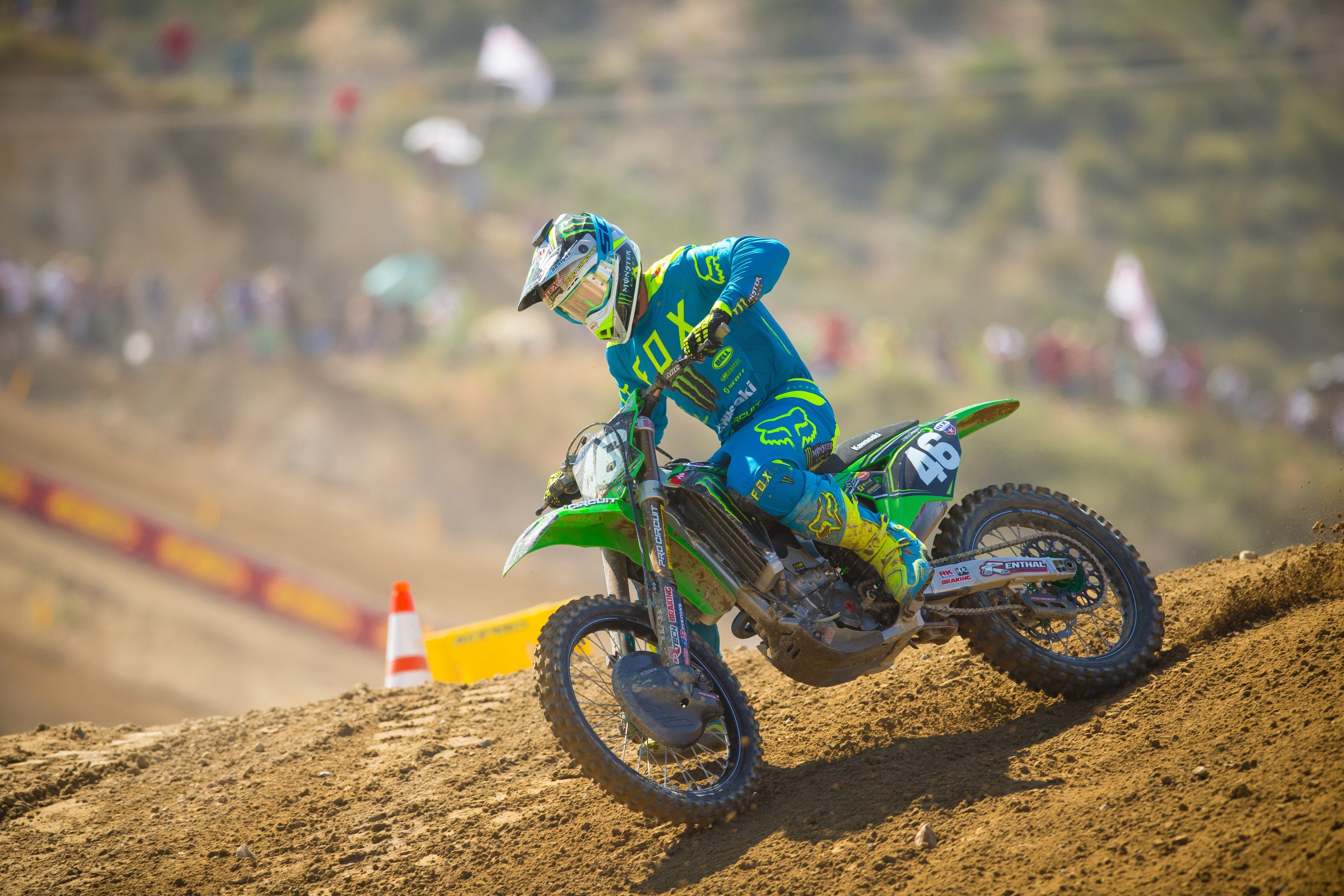 19 791 Gustavo Souza Brazil Honda CRF250R 20 16- Yeah Gustavo! Strong ride for him two weeks in a row.
20 172 Mark Worth Queen Creek, AZ Yamaha YZ 250F 18 18- Worth is heading up to Canada for the Nationals that start this weekend so this was a good pre-race for him to get ready for that rough and tumble series.
450MX Results
1 25 Marvin Musquin France KTM 450 SX-F FE 1 3- Another thing to think about with Marv is how great his starts have been through the first four motos. He's not as gnarly of a package as Dungey in terms of a rider, but he's not that far off. He's Dungey-lite (pre-2017) where he'll always be fast, he'll always get good starts, and rarely beats himself. I still like Tomac for this title, but Marv will be there the whole way.
2 21 Jason Anderson Rio Rancho, NM Husqvarna FC450 5 1- Hard to believe that Anderson only had one career moto win in the 250MX class, right? Well, he got his second at GH with a great ride to pass and pull away from Baggett. You'd think he'd be a better outdoor guy than indoor guy the way he rides, which is sort of a controlled chaos style, but so far he's been better in SX. Big test for Jason this week as he tries to race Thunder Valley while suffering from altitude sickness. The pills he needs to fight it aren't WADA approved so his move is, like at the Salt Lake City Supercross, get in as late as possible and leave as early as possible.
3 4 Blake Baggett Grand Terrace, CA KTM 450 SX-F FE 8 2- Baggett's mechanic Nate made a comment about me not coming around after last week to which I replied that I only talk to winners and good riders with Baggett right there. Blake said, "Well, I guess you'll be coming to talk to me after today." I tried but he was in meetings afterward. First moto was not the Baggett we thought we'd see, but second moto was and much like J-Mart, we can exhale because we know Blake is good after that second moto. By the way, Tom Baggett, Blake's dad, bet Ronnie Stewart that if he finished a moto inside the top 20, he'd fix a broken trailer hitch for him. Ronnie did that and Tom's now hooking him up—literally.
4 15 Dean Wilson United Kingdom Husqvarna FC450 6 7- A 6-7 for fourth overall? Like Osborne, that's living right for Dean-O. Two straight weeks and two fourths for Wilson. In talking to him after the race, he wants more, though.
5 32 Weston Peick Menifee, CA Suzuki RMZ 450 9 6- Peick's got to be hurting with his wrist so I find it interesting how good he's doing to start the year. I asked him about the pain of racing and then the recovery: "Today was probably the worst it's hurt just with the types of jumps. The jumps are the worst because it was so rutted that we couldn't downside the jumps, so I was just landing on top of every jump, so it was hurting that much more. So that was the biggest part.
"Obviously the braking bumps are massive here and whatnot, so that doesn't help with the wrist injury as well. Being able to get another shot of Toradol before the day starts, it helps with swelling but not with pain so much. I'm doing what I can. That was the goal, is not push too hard and not do anything stupid and finish the season." Ladies and gentlemen, welcome to pro motocross life.
6 14 Cole Seely Newbury Park, CA Honda CRF450R 7 8- Seely did pretty well, he'd probably be mad at me if he read this, but to me, if he's in the top 10 in the Nationals, that's cool with me. On certain tracks he can certainly do better, but he's just not as good outdoors as he is in. Sorry, not sorry.
7 20 Broc Tickle Holly, MI Suzuki RMZ 450 14 4- Tickle stalled late in the first moto and lost a bunch of spots otherwise he might've finished where Wilson was overall. Second moto he was great as he basically matched Musquin's pace the entire moto. I spoke with Broc about his good start: "Hangtown and Glen Helen for me, you can go back and look, it's not very good normally. This is the best Hangtown and Glen Helen I've had since I've been pro. So for me it's upswing from here heading into Colorado. I enjoy that place. I really start having some fun once we hit High Point and those kind of places." Look for good things from the #20 this summer.
8 19 Justin Bogle Cushing, OK Suzuki RMZ 450 12 5- Nice second moto and nice start overall for the Bogle Monster. He's been, like teammate Tickle, quietly doing pretty well.
9 3 Eli Tomac Cortez, CO Kawasaki KX 450F 2 19- Well, that wasn't great huh? Tomac's front brake problem was reminiscent of Dallas SX—in that one it was a front master cylinder issue. But at The Helen word is he got a rock into the m/c and that's why he had issues, it wasn't a part failure for no reason. Can we talk about Tomac only having a best lap time of five seconds off the fastest with no front brake at Glen Helen and how amazing that is?
10 33 Joshua Grant Riverside, CA Kawasaki KX 450F 3 28- Grant had his usual GH ride the first time around and the second was in position for another one until he fell. Then his gas line came out and flopped around, he had to go to the mechanics' area for more gas, his suspension change didn't work that well, and I think there was a crash in there as well.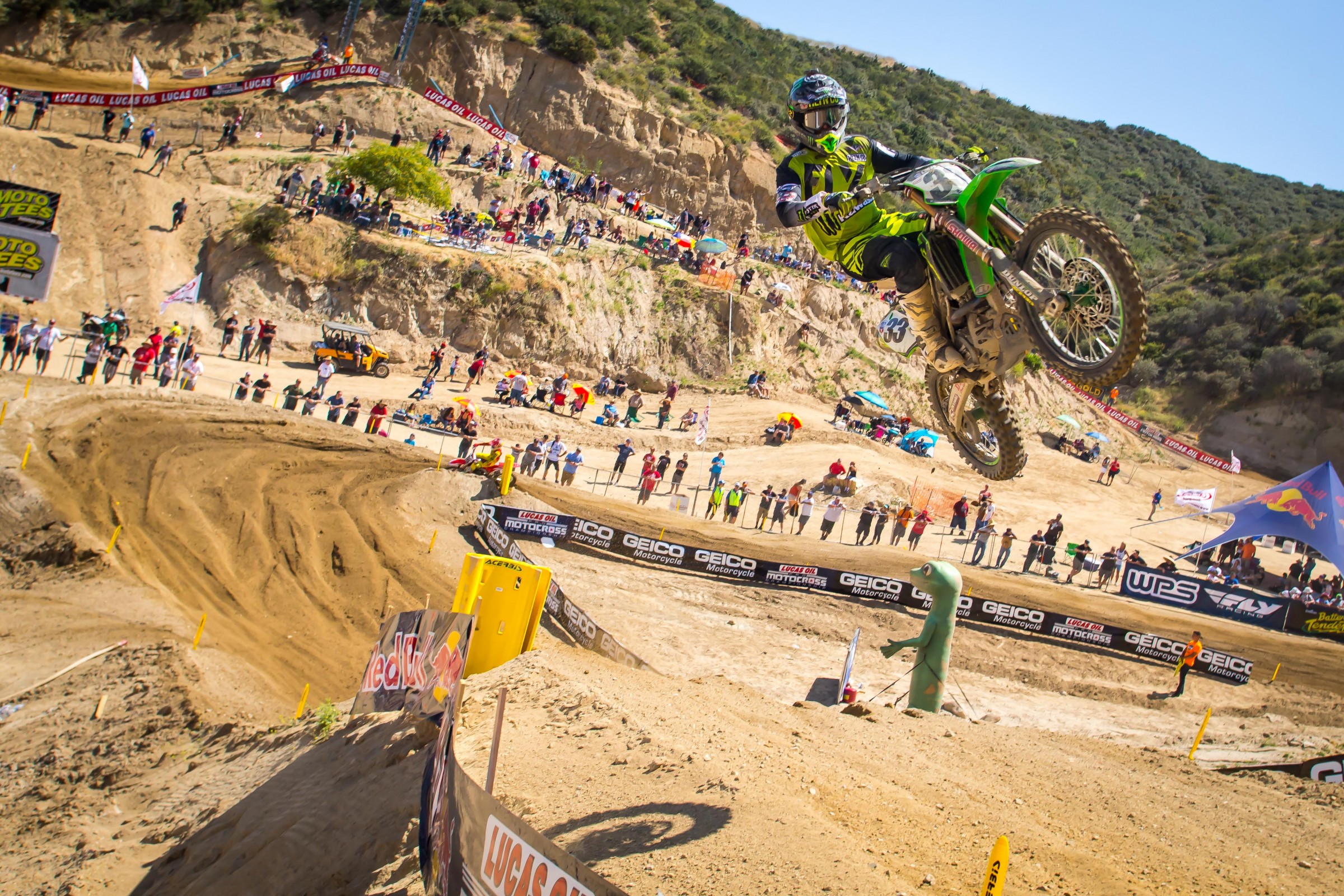 11 51 Justin Barcia Greenville, FL Suzuki RMZ 450 13 10- Barcia got a great start in the second moto and it was odd to see him shuffled back fast, but he stabilized it just outside the top five when he fell or something happened. From there he salvaged a 10th.
12 48 Christian Craig Corona, CA Honda CRF450R 4 29- Oh man, Craig holeshot the second moto and looked to be in a great spot to get on the box with Tomac's and Grant's issues. Then he plowed the front end into the sand, went over the bars into the face of a jump and suffered a broken hand. He looked fit and fast in the first moto also. Let's see if he'll keep the same speed/fitness when he comes back in 2-3 weeks.
13 30 Martin Davalos Ecuador Husqvarna FC450 16 9- In the second moto Marty had about 10 good laps in him before he got tired and dropped back, but still, a top 10 is a good result for him in his second 450MX ever.
14 244 Justin Hoeft Castaic, CA Yamaha YZ 450F 11 14- Full privateer, Hoeft showed some great speed out there as he ran near the top 10. Combine this ride with some good 250SX rides and maybe someone takes a chance on this kid for next year? Don't be surprised.
15 40 Fredrik Noren Sweden Honda CRF450R 15 11- Good second moto for Freddie. I need to go over and see his bike, but he's pretty much a full privateer this year. I'm sure because he's Fast Freddie and everyone loves him, he's probably got some good stuff on that Honda.
16 90 Dillan Epstein Thousand Oaks, CA Kawasaki KX 450F 18 12- Justin Hoeft stole all of Epstein's thunder, bro. Welcome back Epstein / Your dreams were your ticket out / Welcome back, to that same old place / That you laughed about.
17 2 Cooper Webb Newport, NC Yamaha YZ 450F 10 34- I couldn't figure out why Webb didn't finish the second moto. I checked with some people on the team and all I got was "He's fine" and "I have no insight for you" so … uhhh … yeah.
18 68 Heath Harrison Silverhill, AL Yamaha YZ 450F 21 13- Nice work by Heath Cliff in the second moto; that was impressive and as I said last week, once the series heads east, he'll get better.
19 70 Dakota Alix Jay, VT KTM 450 SX-F FE 19 15- Alix is going to stay with the team when Benny Bloss gets back (should be around RedBud) and he's been doing a good job for the team.
20 125 Josh Mosiman Sebastopol, CA Husqvarna FC450 24 16- Nice work here by Josh, that second moto in 450s was really tough and he rode consistently to score some points. It didn't look like much fun, that's for sure.
Thanks for reading, bros. Email me at matthes@racerxonline.com if you want to chat about this or anything else.